September 2, 2021 by General Administrator
My lovely sister in law Sue served this when we visited her this weekend, along with couscous and labneh (thickened yoghurt). It's fresh, light and vibrant with the green chermoula, a flavoursome blend of fresh coriander, cumin, smoked paprika and lemon.
The recipe makes more chermoula than you'll need for the recipe, but it's very tasty and can be used on other vegetables; try it on boiled potatoes, or roasted carrots. It would probably also be delicious on a little escalope of grilled pork.
Courgettes, Sweetcorn and Green Chermoula
Serves 2-3 as a main
Ingredients
4 courgettes, topped and tailed
salt
3 tablespoons olive oil
2 ears of sweetcorn, outer leaves and 'silk' removed
squeeze of lemon juice
for the chermoula
10g garlic
15g red fresh chiles
1 preserved lemon
200g fresh coriander, roughly chopped
150ml rapeseed oil
10g ground cumin
4g smoked paprika
about 15ml lemon juice
salt to taste
Preparation
Slice the courgettes lengthwise and sprinkle with salt. Leave them 30 minutes in a colander to draw out the moisture. This will make the final dish more crunchy and fresh tasting.
While the courgettes are salting, make the chermoula: combine together the garlic, chile and preserved lemon in a blender or other blending device. Once it's reduced to a paste add the coriander, oil and spices, and blend until smooth. Season to taste with the lemon juice and salt, and set aside.
When the courgettes have had their thirty minutes, brush off the salt and drizzle 1 tablespoon of the oil over the courgettes and sweetcorn.
Heat a griddle plan on high heat. When it's hot grill the whole ears of corn, turning them regularly, until they are slightly charred on all sides. Remove and set aside.
Place as many courgettes as will fit without crowding in the pan, and cook for about 5 minutes, or until slightly charred on the bottom. Flip over, and cook for 2 minutes on the other side, or until cooked through but retaining some bite. Remove and set aside, and cook the other courgettes, if necessary.
Shave off the kernels off the now-slightly-cooled sweetcorn: hold each cob upright and use a sharp knife to slice down its length to remove the individual kernels. Place the kernels in a mixing bowl. Chop the courgettes into 2cm chunks and add them to the bowl. Toss with the remaining 2 tablespoons of olive and a squeeze of lemon juice.
To serve, place some of the sauce on the bottom of a serving plate and top with the courgettes and grilled corn.
Recipe adapted from the Observer Food Monthly, 25 July 2021.
August 26, 2021 by General Administrator
This week's recipe is a bit of a weird one. I haven't tried it yet, but the celery gin cocktail that I shared last summer became a firm favourite in our house so hopefully this will be the same!
Courgette Martini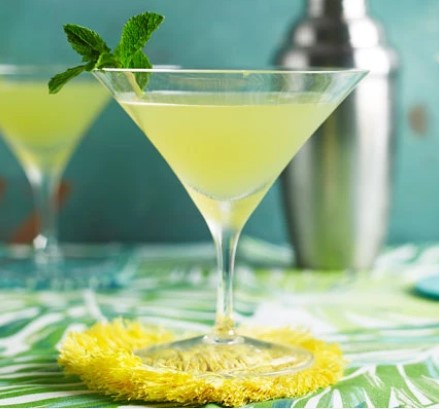 Ingredients
1 courgette , coarsely grated
juice 2 lemons
2 tbsp caster sugar
25ml vermouth
50ml gin
ice
mint leaf to garnish
Method
Mix the courgette with the lemon juice and sugar and leave to steep for 1 hr. In the meantime, place a martini glass in the fridge to chill.
Strain the courgette mixture through a sieve into a jug. Fill a cocktail shaker with ice then add 25ml of the courgette syrup followed by the vermouth and gin. Stir gently a few times then strain into your chilled glass. Garnish with a mint leaf and serve.
From BBC Good Food
August 19, 2021 by General Administrator
'A zucchini and a steak may not have much in common, but, like steak, zucchini takes incredibly well to the method of quickly searing in a smoking hot pan'. So states Lidey Heuck in the New York Times, and she's right. In this easy recipe courgettes are cooked fast to develop an appetising char, and then basted with butter, garlic and rosemary. We ate these topped with ricotta, alongside a tomato salad and some good bread.
Pan-Seared Courgettes
Serves 2-3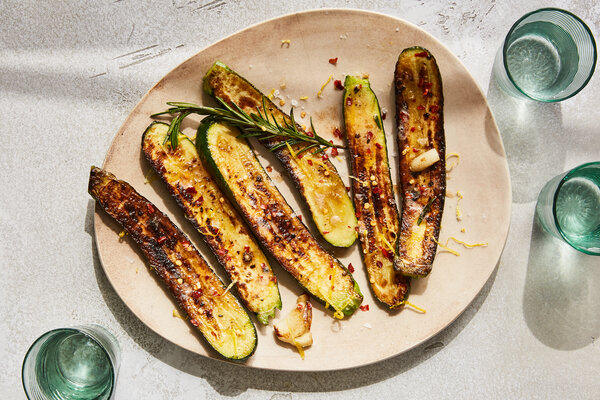 Ingredients
3 small courgettes (6 to 8 inches each)
1 tablespoon grapeseed, safflower or other high-heat cooking oil
salt and pepper
1½ tablespoons unsalted butter, or more to taste
1 garlic clove, peeled and smashed
1-2 tablespoons fresh rosemary, chopped
To garnish:
coarse sea salt
lemon zest
red-pepper flakes
Preparation
Trim the ends off the courgettes and cut them lengthwise into planks about ½-inch thick. Pat them dry, pressing gently but firmly on both sides to absorb any moisture.
Heat a large (12-inch) cast-iron or stainless-steel skillet over medium-high. If you have a ridged pan this is a good opportunity to use it. Add the oil and heat until it's almost smoking.
Add the courgettes to the pan and press lightly with a spatula so that the planks make contact with the pan. Don't crowd them—if you do they will steam rather than sear.
Sprinkle the tops with salt and pepper, and cook for about 3 minutes, until the courgettes are nicely charred on the bottom. Lower the heat to medium, flip over the courgettes, and season again with salt and pepper. Cook for 2 to 3 more minutes, until the bottoms are charred. 
Turn the heat to low and add the butter, garlic and rosemary. Carefully tilt the pan, letting the garlic and rosemary cook in the butter for 30-60 seconds, until the butter has begun to brown. Spoon the butter over the courgettes, and cook for another minute, flipping them a few times to coat both sides with the butter. 
Transfer the courgettes to a serving platter, along with the garlic and rosemary, and spoon any butter that's left in the pan on top. Garnish with sea salt, lemon zest and red-pepper flakes, and serve hot.
Recipe adapted from New York Times Cooking
August 20, 2020 by General Administrator
Every summer I treat the first courgette with excitement but as I'm sure is the case for everyone, my enthusiasm begins to wane as the summer goes on. To try and help with this myself and Rebecca have been trying out some more courgette recipes. My favourite so far is courgette fritters (sorry there's a bit of a fritter theme at the moment!), they made for a reasonably quick work-from-home lunch.
Courgette fritters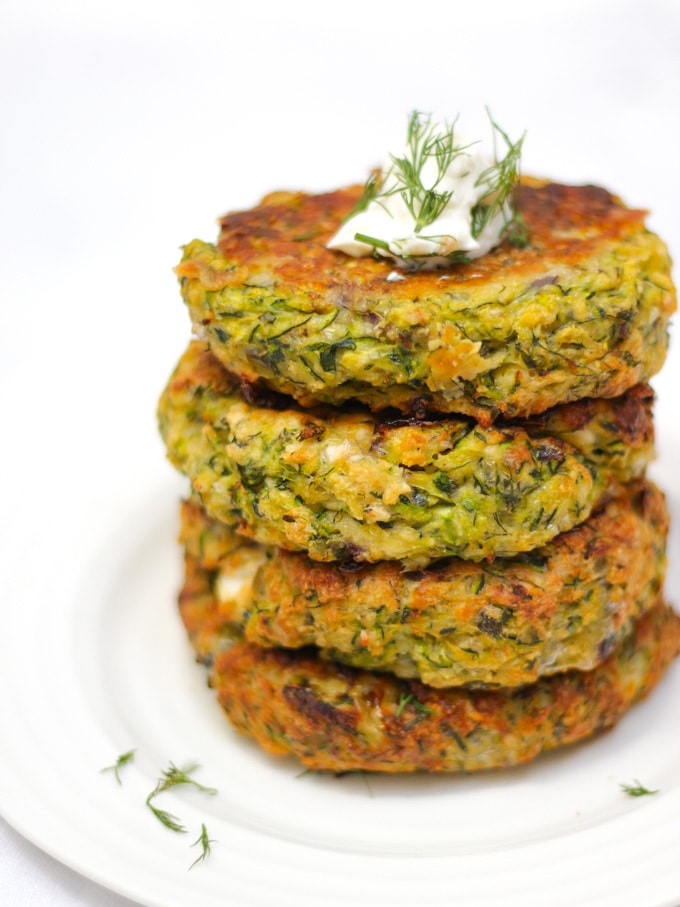 Ingredients (8 fritters):
1 kg Courgettes Grated
100 g Feta cheese Crumbled into big chunks
2 Medium free range eggs
2 Cloves Garlic Peeled and crushed
15 g Fresh dill Chopped
15 g Fresh mint Chopped
1 tsp Dried oregano
75 g Plain flour
200 g Breadcrumbs
1/2 Red onion Peeled and finely chopped
Fry light spray or Olive oil for greasing
Method:
Preheat the oven to 220C
Take your grated courgettes and over a colander, squeeze out as much of the liquid as you can. Use the colander and your hands, there will be lots!
When you've squeezed out the liquid, put all of your courgette fritter ingredients into a large bowl and mix well with clean hands.
Shape into 8 patties and put onto a greased (or sprayed using Fry Light) baking sheet. I got the strongest shapes by compacting a firm ball and then squash down into a disc
Bake for about 30 minutes of until browned, firm and cooked through (I fried them instead to speed things up)
From: https://www.tamingtwins.com/courgette-fritters-recipe/
August 13, 2020 by General Administrator
This week's recipe is from Matt. He says: 'This is really simple but very tasty way of cooking courgettes to their best'. It's based on a classic Italian pasta dish called caccio e pepe, in which the pasta is dressed with grated cheese and lots of black pepper. That combination turns out to work equally well on courgettes.
This dish is delicious served with sausages, or some grains tossed with pesto, which, incidentally, is a further good use of the bountiful crop of basil we're currently enjoying from Canalside.
Seared Courgettes with Black Pepper and Cheese
Serves 3-4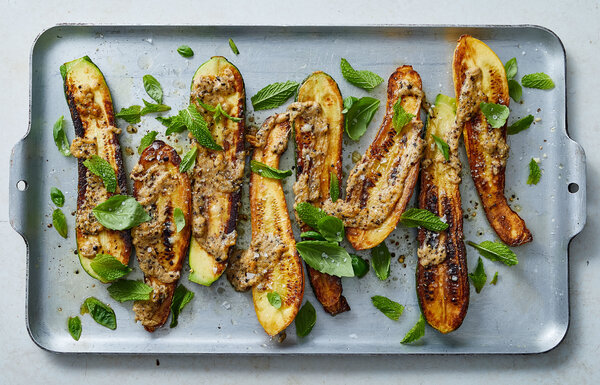 Ingredients
700g courgettes
3 tablespoons oil
Salt
2 teaspoons coarsely ground black pepper
4 tablespoons butter, cut into 4 pieces
50g hard cheese, grated
Handful of basil and/or mint leaves, torn into pieces
Preparation
Halve the courgettes lengthwise. If they are large, cut them into lengthwise quarters. Cut each length into 5-7cm sections. Sprinkle them with salt.
Heat the oil in a large, heavy frying pan for 2 minutes over medium-high heat. This will help you get a good sear on the courgettes. Once the oil shimmers, begin to sear the courgettes. You will need to do this in several batches so as not to crowd the pan—they need to be in a single layer. In batches, lay them cut side down in the hot oil and leave them undisturbed for 2-3 minutes, or until they begin to turn golden brown. Flip them over and cook for another 2-3 minutes on the other side, ensuring all sides are seared and golden brown. Remove them from the pan, setting them aside on a serving platter, and repeat with the remaining courgettes.
While the final batch cooks, add the pepper to a small saucepan and toast over medium-high heat for about 2 minutes, or until it becomes fragrant. Add the butter, which will quickly start to foam. Stir until the butter is melted and the foam subsides. Remove from the heat and quickly add the grated cheese. Stir vigorously, so the cheese doesn't stick to the bottom of the pan. It will begin to melt, but will also cling together in pieces, which is the result you want.
Spoon the butter over the seared courgettes, making sure to include all the black pepper and melted cheese. Scatter the herbs over the top and serve.
Recipe adapted from NYT Cooking
July 23, 2020 by General Administrator
Text and photo from: https://www.cuisinefiend.com/242/courgette-and-spinach-tian
What's a tian? In spite of sounding rather middle-Eastern or even oriental, it's a Provençal pan made of clay, enamelled in bright colours, which they use to cook vegetable gratins in. Or, indeed, tian, as it's also the name of the dish.
They sell tian pottery at the markets all over Provence and you can hardly pass by the stalls without stopping to admire the vivid colours, the glaze and the various shapes. If pottery wasn't fragile and rather heavy, I'd have a collection brought over from my French voyages… As it is I need to use boring mass-produced vessels to cook my tians et al in.
They come in all sorts, being basically roasted vegetables with cheese. Rice is a common ingredient, sometimes potatoes, and spinach is a veritable tian king. Eggs are frequently added but I skipped them here, aiming for a less quiche-y flavour. And make a note of the courgette treatment – that's how this boring vegetable needs to be handled. Squeeze the living daylights out of it and it might just be vaguely tasty.
Courgette and Spinach Tian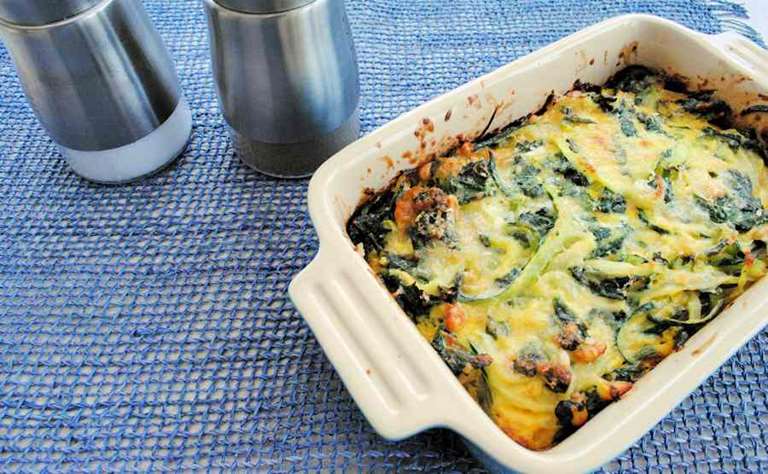 INGREDIENTS
1 large courgette
200g fresh or frozen spinach (thawed)
2 tsp sea salt
2 cloves of garlic, peeled and finely chopped
2 spring onions, chopped
a handful of pine nuts
60ml double cream
1 egg yolk
30g grated hard cheese, Gruyere or Cheddar
20g grated Parmesan
a little olive oil
METHOD
Wash, top and tail the courgette and cut it into ribbons or noodles on a mandolin or in a spiralizer. Sprinkle with salt, stir it around and place in a colander for at least 10 minutes. After that time rinse it with cold water, squeeze out as much moisture as you can without squashing the courgette, and pat dry with paper towels.
Rinse the spinach, if using fresh, and wilt it in a microwave or blanch briefly in boiling water. When cool, squeeze out the liquid and chop finely.
Mix the cream with the egg yolk and add the hard cheese. In a bowl mix the courgette with spinach, pine nuts, garlic and spring onions and most of the Parmesan. Pour over the cream mixture and stir through.
Preheat the oven to 220C/425F/gas 7.
Drizzle a little olive oil in the bottom of a tian or gratin dish, transfer the vegetables into it and sprinkle with the remaining Parmesan. Bake for 20 minutes until brown and bubbling. Best serve very warm, instead of piping hot.
From https://www.cuisinefiend.com/242/courgette-and-spinach-tian
September 5, 2019 by General Administrator
I picked up this recipe whilst living in Gothenburg and it has great connotations for me with sunny breakfasts on the pier… Hopefully I don't just see it with rose tinted glasses!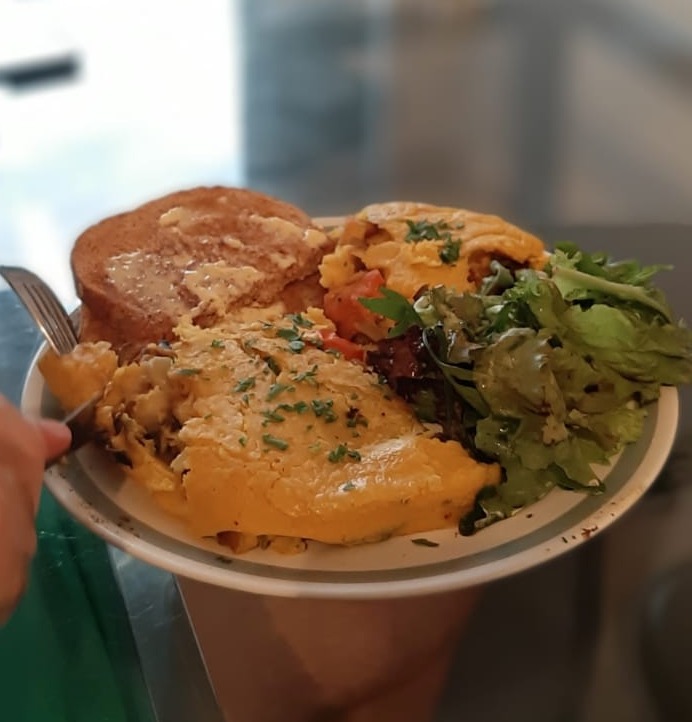 Vegan chickpea flour (kikärtsmjöl) omelette
Ingredients
1 cup (120 g) chickpea flour
1 Tablespoon flaxseed meal or chia seed meal (optional)
1/2 tsp (0.5 tsp) salt
1/4 tsp (0.25 tsp) each of turmeric garlic powder, baking soda, cumin powder
1ish cup of water
Fillings!
Fried tomato, onion, mushrooms, lots coming in our shares that could suit!
Method is simple, mix the all the dry ingredients then add the water slowly and mix with a whisk until they take on the same consistency as whisked eggs. Fry up the fillings, then poor on the omelette mix and reduce pan to a medium to low heat. Make sure you cook it slower and longer than an egg omelette – it tends to burn before solidifying enough to flip if you rush it.
July 25, 2019 by General Administrator
I've never tried this but my girlfriend assures me it's a great summer recipe and a slightly different way to make use of courgette!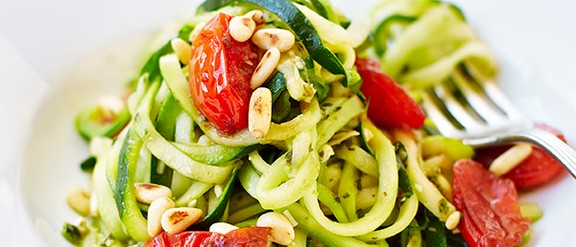 Courgetti with pesto and balsamic tomatoes
Ingredients
baby plum tomatoes 8, 4 halved and 4 whole
olive oil
garlic 1/2 clove, crushed
balsamic vinegar 1 tbsp
courgette 1 large, spiralised or very thinly shredded into noodles
fresh vegetarian pesto 2 tbsp
pine nuts 1 tbsp, toasted
Method
STEP 1: Toss the tomatoes with 1 tsp oil, garlic and balsamic vinegar and some seasoning. Tip into a frying pan and cook for 5 minutes until the whole tomatoes start to burst and they are coated in the balsamic.
STEP 2: Pour a kettle of hot water over the courgette spaghetti and blanch for 30 seconds. Drain really well, toss with the pesto and season well. Stir, coating the noodles, then add the tomatoes and toasted pine nuts to serve your courgetti.
From Olive Magazine
April 25, 2019 by General Administrator
Rebecca's having a break this week and hopes to be back with another recipe next week.
With the cauliflower crop getting going, the moment may have arrived to do the first preserving of the year (that is, if you haven't already made marmalade, perhaps using some delicious La Jimena seville oranges).
Piccalilli is as versatile as any savoury preserve in that you can flex the recipe according to what is available. Most piccalilli recipes call for courgettes, green beans, tomatoes, and other summer veg. However, if all you have is roots and PSB (purple sprouting broccoli) that combination will also make a perfectly good version of this tangy preserve. Luckily my book of preserves from the Women's Institute can oblige with a suitably flexible recipe for any time of year! I've been know to make a version with cauliflower, onions (admittedly these are perhaps the two essential vegetables), carrot and swede!
Many piccalilli recipes call for the vegetables to be brined overnight, but this one breaks that rule, which simplifies the recipe and results in a delicious accompaniment for a ploughman's lunch. And unlike chutneys which rely on evaporation of the liquid to thicken the preserve (which can sometimes take hours), as this one is thickened with flour it has a much shorter cooking time.
Accommodating Piccalilli from the W.I.
Makes about 2.7kg (6lb) = 6 average sized jam jars
Preparation time: 45 minutes
Cooking time: 30 minutes
Ingredients
1 large cauliflower, broken into florets
450g (1lb) pickling onions – if you've still got any little Canalside onions left, they'd be perfect!
1.4L (2 1/2 pints) white malt vinegar (apple cider vinegar also works well)
900g (2lb) mixed vegetables, diced or cut into 2.5cm (1 inch) lengths
2 fat cloves of garlic
450g (1lb) caster sugar
50g (2oz) dry mustard (i.e. mustard powder)
115g (4oz) plain white flour, sieved
25g (1oz) ground turmeric
1 tsp ground coriander
2 tsp salt
Preparation
In a large preserving pan, summer the cauliflower and onions in 1.1litres (2 pints) of the vinegar for 10 minutes.
Add the other vegetables, garlic and sugar and cook for a further 10 minutes.
Mix the mustard, flour. spices and salt with the remaining vinegar and add to the cooked vegetables, stirring all the time to prevent lumps from forming.
Stir well and simmer for a further 10 minutes.
Spoon into cooled and sterilised jars and cover with vinegar proof tops. Label and store for at least 2 weeks before using. It will keep for months (I think I've even kept it for more than a year) with the flavour improving and mellowing as it ages.
From 'Best Kept Secrets of the Women's Institute: Jams, Pickles and Preserves' by Midge Thomas
September 21, 2018 by General Administrator
A friend gave me a very long courgette. It was about ¾ of a meter long. Actually, she gave me two. Research suggests that they are 'Sicilian courgettes'—genuine courgettes (not hard-skinned marrows) that simply grow to extraordinary lengths. Anyway, we've been eating courgettes. Fortunately they are delicious, and came accompanied by several recipe suggestions. This one is for an exceptional courgette soup.
The courgettes are roasted together with onion and garlic, which gives the flavour an unexpected complexity. Peas bring additional sweetness and this is a good way to use the fresh basil we're enjoying in the shares. As with most soups you can vary the proportions and quantities a bit to match what you have to hand. Serve with crusty bread and some grated cheese.
Roasted Courgette Soup with Peas and Basil
Serves 3
Ingredients
2 tablespoons rapeseed or olive oil
1kg courgettes (approx.)
4 garlic cloves (unpeeled)
7 tiny Canalside onions (or 2 medium onions)
Salt and pepper, to taste
200g frozen peas
20g fresh basil
750 ml stock
4 tablespoons full-fat milk
Parmesan or pecorino, to serve
Preparation
Preheat the oven to 200C. Drizzle the oil onto a large baking sheet.
Trim the ends off the courgettes and slice them into rounds about 1 cm thick. Place them on the baking sheet and scatter the unpeeled garlic cloves around them. Peel the onions, and if they are the tiny Canalside ones leave them whole and scatter them alongside the courgette and garlic. If they're a bit larger slice them into thick slices before adding them to the baking tray.
Season with salt and pepper, toss them around a bit, and roast them for 40-45 minutes, until the vegetables are golden brown and roasted. Don't let them char to a crisp but let them get toasted. Remove from the oven and let cool a bit.
Once the vegetables are cool enough to handle squeeze the roasted garlic flesh out of their paper skins into a pan. Add the remaining vegetables, the peas and the basil.
When you're ready to serve, heat the stock and add it to the pan together with the milk. Blend the soup using an immersion blender and heat gently until warm. Add some additional water if you'd like the consistency to be a bit thinner. Serve with grated cheese on top.
Recipe adapted from The Veg Space, courtesy of Jean Noonan.