May 18, 2023 by General Administrator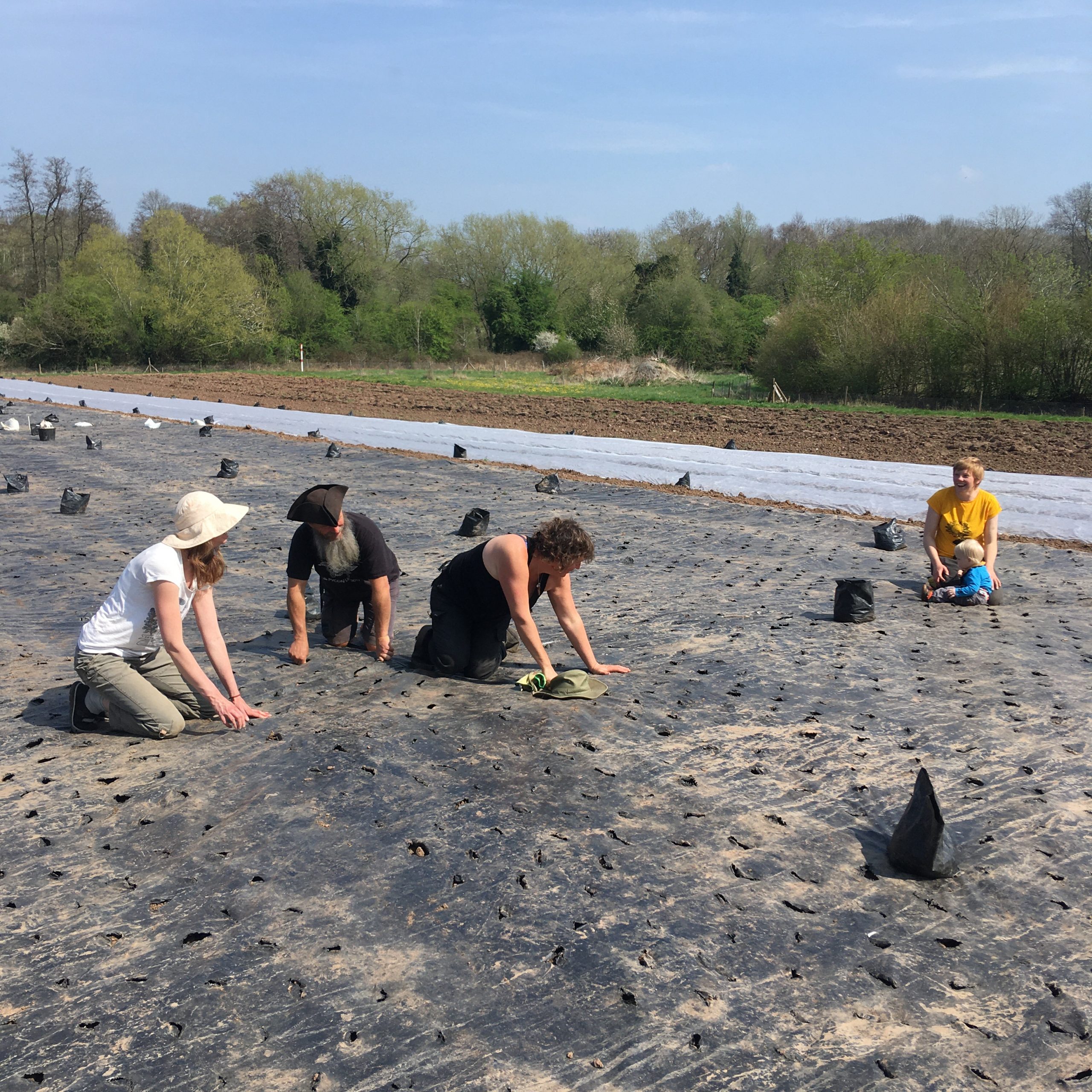 You may have noticed that the onions are beginning to be a little past prime condition as they have been in the store since last August: many are beginning to sprout in a bid to put in some growth this year, and we're grading them carefully before each collection to try to ensure we only put out edible ones. As they won't be usable for much longer, and the autumn planted onions in the field and spring onions are nearing readiness, the growers have increased the share of onions this week to 600g for a medium share – double what it's been over the winter. We're expecting another couple of weeks of last year's crop.
So, what to do with this abundance of onions? Here are some ideas from Chef Lena, with a distinctly continental European flavour!
Fermented onions: turn them into a delicious condiment that softens the texture and the spiciness of raw onions – this blog post will tell you how.
Flammekueche: a Franco-Germanic version of pizza topped with onions, bacon and soured cream/creme fraiche. If you're interested in the ins and outs of the perfect flammekueche, this Guardian article can oblige. If you just want the recipe, scroll down quite a way, or seek out a different website!
Tartiflette: similar to flammekueche without the pastry/bread base and with the addition of cheese, from the slightly more northern French region of Haute Savoie – try this BBC Good Food recipe for it.
French onion soup: you're spoilt for choice when in comes to recipes for this classic soup which needs plenty of onions – it could easily use 2-3 weeks' worth of shares (depending on your share size). This one makes a grand claim – see what you think!
Tarte tatin aux oignons: another classic, though tarte tatin more commonly made with apples. Why not give Jamie Oliver's recipe for a version with onions a go?
Text from Ali, ideas from Lena
May 4, 2023 by General Administrator
Now is the time of year to forage for nettles and wild garlic. There are lots of things you can do with nettles, but a nettle-onion pakora is one of the best uses. Serve them with a bit of raita made from yoghurt, Canalside coriander and a chiffonade of wild garlic, and perhaps a beer. I hardly need to tell you to wear gloves whilst you collect your nettles, but it's perhaps worth saying that the nettle tops are the best bits to use for this recipe. Once you blanch the nettles in hot water they will lose their sting, allowing you to enjoy their minerally, spinach-like taste. They combine perfectly with the nutty flavour of chickpea flour. If you can't find any wild garlic, use double the amount of coriander instead.

Nettle-Onion Pakoras with Wild Garlic Raita
Serves 4 as a snack or 2 as a main

Ingredients
Raita
100g natural yoghurt
1 tablespoon fresh Canalside coriander, chopped
1 tablespoon wild garlic leaves, chopped (or use double the amount of coriander instead)
1 pinch sea salt

Pakoras
1 medium Canalside white onion, peeled
1 tablespoon lemon juice (or cider vinegar)
½ teaspoon salt
100g nettle tops
1 tablespoon fresh ginger
¼ Canalside dried chile (or more to taste), finely chopped
1 clove garlic, mashed to a paste with a little salt
1 teaspoon turmeric
1 teaspoon fennel seeds or cumin seeds
1 teaspoon ground coriander
½ teaspoon baking powder
100g chickpea (gram) flour
Up to 100ml tap water
Vegetable oil for frying

Method
For the Raita
Mix all the ingredients together and set aside while you prepare the pakoras.

For the Pakoras
Slice the onion into fine strips, place in a small bowl, and mix with the lemon juice (or vinegar) and salt. Set aside and leave for at least 15 minutes, to allow the flavour to mellow.

Pour some boiling water into a large pan and (wearing gloves) plunge in the nettles. Blanch in the hot water for 60 seconds and then drain thoroughly. They will no longer sting. Let them cool a bit, and then, using your hands, squeeze out as much water as you can.

Roughly chop them and place them in a large bowl. Add the ginger, garlic, spices and baking powder to the nettle bowl, along with the onion and any accumulated liquid. Mix everything well. Sift in the chickpea flour and slowly add water to make a sticky dough.

In a frying pan heat enough vegetable oil to coat the bottom of the pan over medium heat. Once it's hot, drop in spoonfuls of the pakora batter, to make pakoras of your preferred size. We made 5 but you can make smaller ones if you like. Flatten the tops a bit with a fish slice and fry for about 2 minutes before turning over and frying the other side for another minute or so. As they cook remove them from the pan onto some paper towels to absorb any excess oil.

Serve with the raita, and perhaps a small glass of beer.

Recipe adapted from The Foraging Course Company
March 9, 2023 by General Administrator
This light, spring-some stew is green from the peas and spinach, and full of subtle fennel flavour. A punchy garlic mayonnaise adds richness and complexity. It's really good with sourdough bread.
When we served this a week ago the guests were very surprised to learn the recipe comes from Sainsburys Magazine.
Simple Fish Stew with Aioli
Serves 4
Ingredients
For the Aioli
1 teaspoon salt
3 cloves garlic, peeled
1 egg yolk
1½ teaspoons lemon juice (or more to taste)
150ml olive oil
For the Fish Stew
2 tablespoons olive oil
400g celery stalks, finely chopped
400g fennel bulb, finely chopped
300g onions, finely chopped
3 springs dried or fresh thyme
Salt and pepper, to taste
3 bay leaves
1 teaspoon fennel seed
3 whole cloves
4 strips pared lemon zest
600-800ml water or fish/vegetable/chicken stock
800g skinless haddock or pollock fillets, cut into 4cm-wide chunks
3 tablespoons Pernod or other anise-flavoured liqueur
200g frozen peas
200g fresh spinach
To Serve
The aioli
Lemon wedges
Pepper flakes, if desired
Method
For the Aioli
Crush the salt and garlic in a mortar and pestle and place in the mini-bowl of a food processor, or the mixing container of your hand-blender. Add the egg yolk and lemon juice. Wizz up. With the motor running, very slowly drizzle in the olive oil, drop by drop. Continue adding the oil very slowly until the mixture begins to thicken, at which point you can increase your rate of drizzling in the oil to a thin stream. The mixture should thicken up nicely to form a thick mayonnaise. Set aside to let the flavours mellow.
For the Fish Stew
Heat a large pan with a lid over medium heat and add the oil. Once it is warm add the celery, fennel and onion, along with a pinch of salt and a grind of black pepper. Stir, reduce the heat to low, add the lid, and cook very gently for 5-15 minutes, until the vegetables are soft but not coloured. Add the herbs and spices, and strips of lemon, and stir for a few more minutes. Add 600ml of liquid and bring to a simmer. Simmer for 5 minutes (maybe 10 if you're using water), to let the flavours meld. Now take a look: if there is not enough liquid to your taste, add the remaining water or stock and bring to a simmer.
Add the chunks of fish, cover again, and cook over low heat for about 3 minutes, or until the fish is beginning to look opaque on the top. Add the Pernod, peas and spinach and replace the lid. Turn the heat to medium and continue to cook for 2-3 more minutes, or until the spinach has wilted. The fish should be opaque on the top. Stir gently to blend everything together.
To Serve
Taste the aioli. Add more lemon juice, salt or pepper if you think the flavour needs boosting. Fish the bay leaves, cloves and thyme stems out of the stew if you wish (and can find them.)
Serve the stew, and let each person add a dollop of aioli to their bowl. Provide some lemon wedges and perhaps some red pepper flakes so people can personalise their bowl to taste. This is very nice served with good bread, and perhaps an additional drizzle of olive oil on both stew and bread.
Recipe adapted from Sainsburys Magazine, Feb. 2023
January 26, 2023 by General Administrator
Meera Sodha says she created this recipe largely because she liked the sound of 'hasselback
celeriac'. Name aside, this is very good. Serve the rich, miso-roasted celeriac and Turkish
salad inside a flatbread, topped with a drizzle of tahini sauce and you will have yourself a
sticky, messy treat. The recipe has several different components but is actually very
straightforward.
Incidentally, Hasselback is the name of a restaurant in Stockholm. The better-known
Hasselback potatoes were supposedly invented there in the 1950s.
Hasselback Celeriac with Miso and Red Onion
Serves 3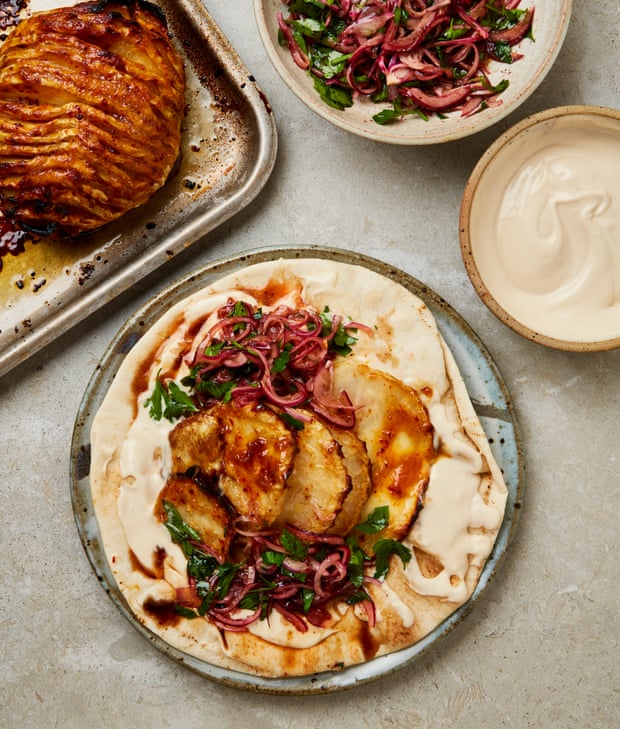 Ingredients
For the celeriac
1 large or 2 small celeriacs (about 1-1.2kg total)
2 tablespoons olive oil
pinch of salt
For the miso glaze
60g white miso
½ tablespoon Turkish pepper
2½ tablespoons honey or brown rice syrup
1½ tablespoons lemon juice
For the tahini sauce
100g tahini
5 tablespoons water
1 tablespoon lemon juice
½ teaspoon salt
For the salad
1 large red onion, peeled, halved and sliced into thin half-moons
1 tablespoon pomegranate molasses
1 tablespoon lemon juice
1 teaspoon sumac
3 tablespoons olive oil
¼ teaspoon salt
1 large handful parsley, coarsely chopped
To Serve
6 flatbreads (look here for an excellent recipe)
Preparation
Heat the oven to 200C (180C fan).
Chop off the base of the celeriac, and peel off the skin using a peeler or a sharp knife. If it is
large, cut it in half and lay it flat on its cut side. Using your sharp knife, cut slices at 5mm
intervals that go nearly but not all the way through, so that the slices are still joined at the
base, like the pages join the spine of a book. The illustration shows one way to ensure that
you don't accidentally cut all the way through: place a wooden spoon handle or chopstick on
either side of the celeriac, so that when you cut, they prevent the knife from slicing all the
way to the work-top.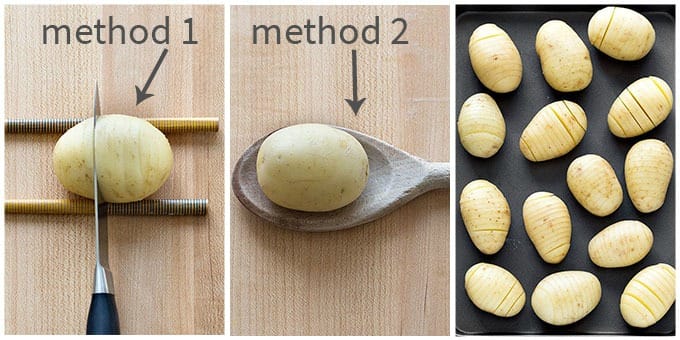 Now place the celeriacs on a baking sheet and drizzle with 2 tablespoons of oil and a pinch of
salt. Place in the oven and roast for 70-90 minutes. Check partway through and drizzle with a
little more oil if necessary. When they golden brown, they are ready for the glaze.
While the celeriacs roast, prepare the other components of the meal.
For the miso glaze: mix all the ingredients together in a small bowl.
For the tahini sauce: whisk all the ingredients together and put in a serving bowl.
For the salad: combine all the ingredients except the parsley in a serving bow. Mix together
using your hands, and scrunch up the onions a little to soften them. Then add the parsley and
set aside so the flavours can blend while the celeriac roasts.
Once the celeriac is golden and tender, brush with the miso glaze. Try to get some of the
glaze between the slits. Bake for another 8-15 minutes, or until the celeriac is sticky and
golden brown.
To serve, take the celeriac, salad, tahini sauce and bread to the table. Assemble your own
combination of flatbread layered with celeriac and pomegranate-onion salad, topped with a
generous serving of tahini sauce.
Recipe adapted from Meera Sodha, The Guardian, 13 Feb. 2021
October 27, 2022 by General Administrator
Perhaps you have been tempted by the mysterious yellow quinces in the 'extras' section. Here is something delicious you can do with them. Claudia Roden reports that honeyed chicken with quince is a classic of Moroccan cookery, and it is very good. The chicken is simmered with honey and North African spices, and adorned with slices of quince. Serve it with rice or couscous.
But if it all seems a bit much you can enjoy the quinces simply for their delicate fragrance, which will perfume your kitchen if you leave them in a bowl on your worktop. Quinces have long been famous for their aroma, as this poem ascribed to the tenth-century Andalusian diplomat Jafar ibn Uthman al-Mushafi illustrates.
It is yellow in colour, as if it wore a daffodil
tunic, and it smells like musk, a penetrating smell.
It has the perfume of a loved woman and the same
hardness of heart, but it has the colour of the
impassioned and scrawny lover.
Its pallor is borrowed from my pallor; its smell
is my sweetheart's breath.
When it stood fragrant on the bough and the leaves
had woven for it a covering of brocade,
I gently put up my hand to pluck it and to set it
like a censer in the middle of my room.
It has a cloak of ash-coloured down hovering over
its smooth golden body,
and when it lay naked in my hand, with nothing more than
its daffodil-coloured shift,
it made me think of her I cannot mention, and I feared
the ardour of my breath would shrivel it in my fingers.
Isn't that Aphrodite's apple?
Honeyed Chicken with Quince
Serves 4
Ingredients
2 quince
500g shallots or very small onions
1 medium onion, chopped
4 tablespoons sunflower oil + an additional tablespoon of oil for frying the quinces
2 teaspoons ras el hanout, or 1 teaspoon ground ginger + 1 teaspoon ground cinnamon + a pinch of saffron
1.6kg chicken, cut into pieces, or the equivalent in chicken pieces
250ml water
1 teaspoon salt and black pepper to taste
1 tablespoon honey
Method
Bring to the boil a pot large enough to hold the quince. Simmer the quince in the pot until they are tender. This will take between 20 and 60 minutes, depending on the quince, so you will need to check regularly. You don't want them to fall apart completely. Once the quince are tender, remove them from the pot and leave to cool.
Meanwhile you can prepare the shallots (or onions): bring another pot of water to the boil and add the unpeeled shallots or onions. Boil for 5 minutes, and then drain. Once they are cool enough to handle, peel them and remove the rooty end. Set aside.
Over medium heat, warm 4 tablespoons of oil in a pan large enough to hold the chicken. Add some of the chicken and brown on all sides. Don't crowd the pan too much, or else the chicken will steam rather than brown. As it browns remove it and continue with the remainder of the chicken.
Remove all the now-browned chicken from the pan and add the chopped onion. Lower the heat and sauté for about 10 minutes, until it has softened. Add the spice and stir for a minute or two, until it smells fragrant.
Return the chicken to the pan and add the water, salt and several grinds of black pepper. Cover, and cook over low heat for 15 minutes. Remove the chicken breasts, which should now be cooked, and set them aside.
Add the peeled shallots (or onions) to the pot and continue to cook for about 25 minutes more, or until the remaining pieces of chicken are tender. Keep an eye on this while it is cooking and add more water if it seems to be drying out, which I think is unlikely.
While the chicken is cooking finish preparing the quince: cut the cooked quinces into quarters and remove the core, but leave the peel on—this will help hold the slices together. Cut each quarter in half the long way to make 8 thick slices from each quince. Heat the additional tablespoon of oil in a frying pan, and put in the cooked quinces, with a cut side down. Fry until they are brown and caramelised, and then turn them over to brown the other cut side. Lift them out of the pan and drain on a bit of kitchen paper. Set aside.
Once all the chicken has cooked remove it from the pan and add the honey. Increase the heat to medium-high and cook uncovered, stirring, until most of the liquid has evaporated and the onions are beginning to turn a beautiful caramel brown.
Return the chicken to the pan and add the quinces. Heat through and then see if it needs more pepper. You want a nice balance between sweetness and peppery sharpness.
Serve with with rice or couscous.
Recipe adapted from Claudia Roden, Arabesque: A Taste of Morocco, Turkey & Lebanon (2005).
April 14, 2022 by General Administrator
This Easter I am going to make a Torta Pasqualina, or Italian Easter Tart. It combines creamy ricotta with fresh greens baked in a flaky crust—so it's a bit like a Greek spanakopita. To give it an Easter twist you crack some whole eggs onto the greens before baking. When the finished tart is sliced you get a lovely mass of green with little pockets of soft-cooked egg nestled under the crust. Very seasonal!
Ricotta, Spinach and Egg Easter Tart (Torta Pasqualina)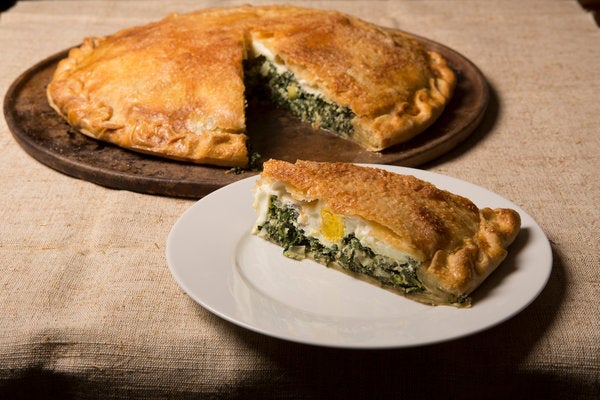 Serves 6-8
Ingredients
Pastry
160g cold butter, diced
250g plain flour
200g ricotta
pinch of salt
a little beaten egg or milk to brush over the top of the tart
Filling
600g kale, spinach, chard or other mixed greens
2 tablespoons olive oil
3 large onions, chopped
300g ricotta
6 eggs plus extra for brushing
Salt and black pepper
80g parmesan, grated
A pinch of nutmeg
Method
Make the pastry: Rub the butter into the flour with your fingertips until it resembles breadcrumbs. Add the ricotta and a pinch of salt, mix and bring together into a soft ball. Turn the pastry on to a floured work surface and knead until smooth. Cover with clingfilm and chill for 30 minutes.
Make the filling: Bring a pot of water to the boil. Meanwhile pick over the greens, discarding any tough stalks and discoloured leaves, then wash them. Working in batches, add some of them to a pan. Bring back to the boil and cook for a few minutes, just long enough to wilt the greens. Remove the cooked greens to a colander and repeat with the remaining greens. When they're all cooked let them drain for at least 10 minutes. Once they are cool enough to handle, use your hands to squeeze out as much water as possible, and then chop roughly.
Heat the olive oil in a pan until warm and then add the chopped onion. Sauté for 5 minutes, and then add the greens. Stir and heat for a few minutes and then remove from the heat. Mix in the ricotta, 2 lightly beaten eggs, salt, pepper, parmesan and nutmeg.
Butter and flour a 26cm round tin, preheat your oven to 190C and put a flat baking tray in to get hot.
Cut the dough into two pieces, one twice the size of the other. On a floured surface roll the larger piece into a circle large enough to fill the tin, come up the sides and hang over the edge. Lift the dough into the tin and press it in. Add the filling. Using a spoon, make four deep indents in the mixture. Break the remaining four eggs into these indentations.
Roll the smaller piece of dough into a disc large enough to generously cover the top of the tin. Place it over the top of the tart and, using wet fingertips, press the dough to make a firm seal, and then fold any excess dough back towards the centre to make a little fringe. Prick or slash the centre of the tart. Paint the top with beaten egg or milk, put onto the hot baking tray, and bake for 50 minutes or until golden.
Allow to cool a little before turning out. Serve warm or at room temperature.
(Recipe adapted from Rachel Roddy, The Guardian and New York Time Cooking.)
March 17, 2022 by General Administrator
In Memoriam: Jonathan Nicholls
This week's recipe is in memory of Jonathan Nichols, a friend and Leamington resident who sadly and suddenly died this past week. He served for a number of years as Registrar at first Warwick University, and then at Cambridge. This recipe, for Registrar's Spanish Chicken and Chorizo Shepherd's Pie, comes from a different Warwick Registrar (Ken Sloan), but through its name it can perhaps also celebrate Jonathan, and his enthusiasm for good food and a nice glass of wine.
Registrar's Spanish Chicken and Chorizo Shepherd's Pie
Ingredients
1 tablespoon Sunflower oil
2 Onions, diced
100 grams Leeks, thinly sliced
3 cloves Garlic, crushed
50 grams Chorizo, chopped
1 teaspoon Paprika
5 sprigs of Thyme
500 grams Tomato Passata
1 tablespoon Tomato Purée
250 millilitres Chicken Stock
100 millilitres Spanish Red Wine (optional)
500 grams chopped Chicken Breast
800 grams Sweet Potatoes, diced
1 ounce Butter
Salt and Pepper
30 grams Jalapenos
2 Red Peppers, diced
75 grams Ewe's Cheese, grated
Mixed Salad
Method
Heat oven to 180C.
Heat the oil in a large frying pan. Fry the onions and the leeks for 5-10 minutes. Add the garlic and chorizo and cook for another 5 minutes. Stir in the paprika, thyme, tomato passata, tomato purée, chicken stock and the optional red wine, and bring to a simmer. Add the chicken, cover, and cook over a low heat for at least an hour until the sauce has reduced.
Meanwhile, boil a pan of hot water. Add salt and sweet potato chunks, and return to the boil. When the sweet potato has softened drain it, add butter, salt and pepper, and then mash. Leave to one side.
Once the sauce in the chicken mixture has reduced, remove the thyme stem, and then put the mixture into an oven-proof dish. Stir in jalapenos and peppers. Spread the mashed sweet potato over the top. Sprinkle the cheese on top of the sweet potato.
Cover with foil and bake for 25 minutes, then remove foil and bake for a further 10 minutes. Remove from oven and serve with mixed salad.
Ken Sloan's recipe appears in Simple Scoff The Anniversary Edition, ed. Rebecca Earle (2015).
March 10, 2022 by General Administrator
Some of you may have seen that Russian chef Alissa Timoshkina has teamed up with Ukrainian chef Olia Hercules to raise money for Ukraine. I thought this week I would repeat this recipe for their excellent borscht.
Borscht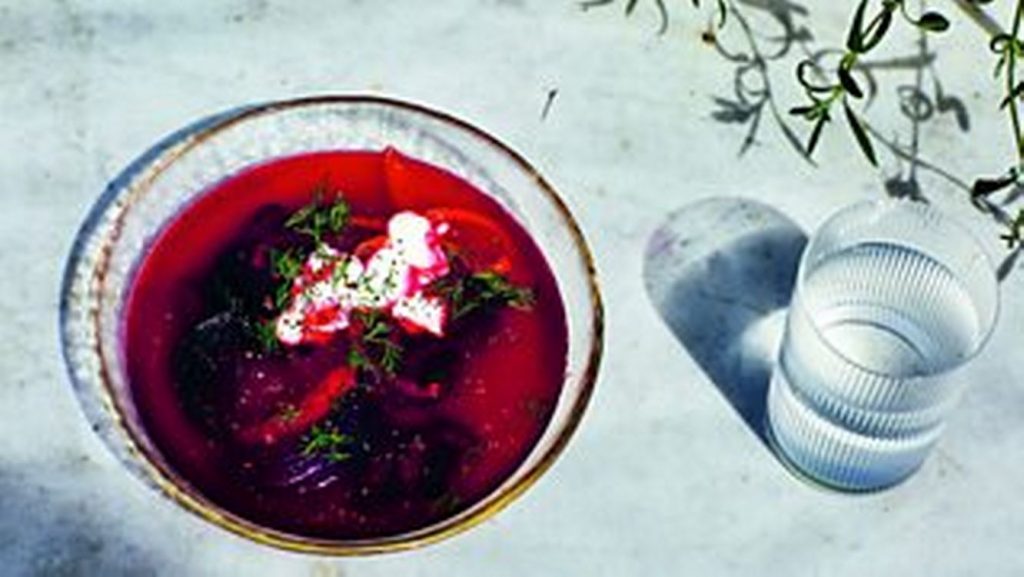 Serves 4
Ingredients
unrefined sunflower oil, for frying and roasting
1 large onion, finely diced
1 carrot, peeled and grated
6 raw beetroots
2 red peppers
2 tablespoons tomato purée
2 litres cold water
2 bay leaves
1 tablespoon black peppercorns
1 tablespoon coriander seeds
1 tablespoon fennel seeds
4 garlic cloves, peeled
bunch of dill
small bunch of flat leaf parsley
2 garlic cloves, grated
500g red cabbage sauerkraut
2 tablespoons pomegranate molasses
1 red onion
1 tablespoon brown sugar
400g can red kidney beans
2 teaspoons smoked paprika
4 tablespoons soured cream
salt
Preparation
Heat up a tablespoon of sunflower oil in a large pan and fry the onion and carrot for about 8 minutes until golden. Meanwhile, peel and grate 2 of the beetroots and core, deseed and thinly slice 1 red pepper. Add the vegetables to the pan together with the tomato purée and a splash of water. Season with salt to taste and fry for a further 5–8 minutes.
Top with the measured cold water, add the bay leaves along with the peppercorns and all the seeds, whole garlic cloves and half the bunches of dill and parsley. Season with a tablespoon of salt and bring to the boil. Reduce the heat, add the grated garlic and half the sauerkraut with its brine and simmer, covered, over a low heat for 40 minutes–1 hour.
Turn off the heat and let the borsch rest for another hour, while you prepare the rest of the elements.
So far, so good, but here is where the recipe starts to deviate from the norm quite a lot: to prepare the vegetables that will grace the plate and also add extra flavour and texture to the soup, you will need to do a bit of roasting.
Start by preheating the oven to 160°C fan/Gas Mark 4. Peel the remaining 4 beetroots, cut into wedges and dress with oil, salt and the pomegranate molasses. Peel the red onion, cut into wedges and season with salt and the brown sugar to bring out their sweetness and promote caramelization. Place on a roasting tray with the beetroot and roast together for 30 minutes. Drain the kidney beans, then dress them with salt, oil and the smoked paprika. Core and deseed the remaining red pepper, then cut into thin strips and dress with salt and oil. Roast the beans and pepper together, as they will need only 10–15 minutes.
When ready to serve, strain the broth through a sieve or a muslin cloth, discarding the solids. All we need is that rich broth! Reheat again if necessary. Next, create layers of texture and flavour in each bowl by adding a heaped tablespoon of the remaining sauerkraut to each, as well as a handful of roasted beetroot, onion, kidney beans and red pepper. Top each bowl with the hot broth and add a dollop of soured cream and a generous sprinkle of the remaining dill and parsley, chopped. The intensity of the flavours and textures of this dish is beyond words, while the look of the bowl will seduce the eye without a doubt.
Recipe from Alissa Timoshkina, Salt & Time: Recipes from a Russian Kitchen (2019).
February 18, 2022 by General Administrator
This makes a very good Friday night dinner. The pumpkin (or squash) soup is silky and rich, despite its simple ingredients, and the multiple toppings add complexity and, in the case of the pumpkin seeds, crunch. The rice provides a backdrop for the ginger-spiked soup and rosemary butter. You will leave the table feeling well-fed and comfortable in your tummy.
Pumpkin and Rice Soup, Serves 2-3 as a main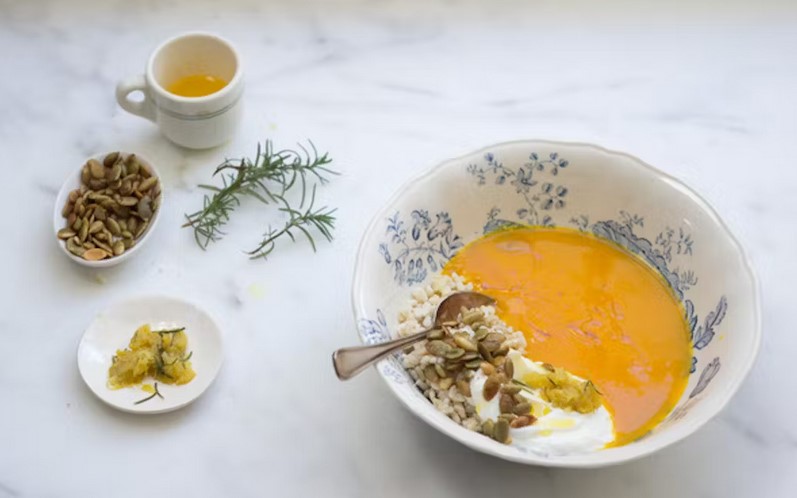 Ingredients
For the Soup
1 tablespoon butter
1 large onion, peeled and chopped
½ dried chile, chopped and de-seeded if you prefer
1 teaspoon salt
1kg squash or pumpkin
1.2 litres of water
2 teaspoons grated fresh ginger, or a bit more, to taste
To Serve
cooked brown rice, warm
plain yoghurt
toasted pumpkin seeds
lemon-ginger-rosemary butter (see below)
Method
In a large pot melt the butter over medium-high heat. Add the onion, chile and salt. Turn the heat to low and cook for 5-7 minutes or until the onion is softened.
Meanwhile, prepare the squash or pumpkin. Peel it, remove any seeds and cut it into 2cm chunks. You need about 700g once it's been peeled and de-seeded.
When the onion is soft add the squash or pumpkin and water. Bring to a simmer and cook gently until the squash or pumpkin is soft. This will take between 15 and 25 minutes, depending on the squash or pumpkin.
Remove from the heat and add the ginger. Use a stick blender to puree until it is smooth. Add a bit more water if it seems too thick for your taste.
To serve, put a big scoop of rice in each soup bowl and top with the soup. Decorate with some yoghurt, toasted pumpkin seeds and lemon-ginger-rosemary butter.
Lemon-Ginger-Rosemary Butter
Ingredients
50g butter
rosemary leaves from a 10cm sprig, chopped
zest of 1 lemon
1 teaspoon grated fresh ginger
pinch of salt
Method
Melt the butter in a small pan over medium heat, until the butter starts to brown. Keep an eye on it so it does not burn.
Remove from the heat and stir in the other ingredients. Let sit for at least 5 minutes, to let the flavours meld.
Recipe adapted from 101 Cookbooks
January 13, 2022 by General Administrator
Here is another winter soup recipe from Hugh Fearnley-Whittingstall. Ginger and cayenne give a bit of a kick, while the parsnip provides a mellow, sustaining backdrop. Serve with some good bread.
Parsnip and Ginger Soup
Serves 4
Ingredients
1 tablespoon olive oil
15g butter
1 large onion, finely chopped
2 garlic cloves, finely chopped
4–5cm piece of ginger, peeled and finely chopped
¼ teaspoon ground cardamom
¼ teaspoon ground cumin
¼ teaspoon cayenne pepper
500g parsnips, peeled and cut into 1cm cubes
800ml vegetable stock
200ml whole milk
Sea salt and freshly ground black pepper (to garnish)
2–3 tablespoons flaked almonds or pumpkin seeds (to garnish)
1–2 tablespoons double cream or thick, plain (full-fat) yoghurt (to garnish)
Preparation
Heat the olive oil and butter in a saucepan over a medium-low heat and sauté the onion for about 10 minutes, until soft and translucent.
Add the garlic, ginger, cardamom, cumin and cayenne and stir for a couple of minutes. Tip in the parsnips and stir until well coated in the spices. Pour in the stock, season with salt and pepper and simmer until the parsnips are very soft – about 15 minutes.
Allow the soup to cool slightly, then purée in a food processor or blender, or using a stick blender, until smooth. Return the soup to the pan, add the milk and adjust the seasoning. Warm through gently – if the soup is a bit thick, thin it with some hot water from the kettle.
While the soup is warming, toast the almonds or pumpkin seeds in a dry frying pan until just beginning to turn golden.
Serve the soup in warmed bowls with a trickle of cream or yoghurt and the toasted almonds scattered over the top. Finish with a grinding of black pepper.
Recipe from Hugh Fearnley-Whittingstall, River Cottage Veg Every Day! (2011).