March 4, 2021 by General Administrator
Very good straight off the stove, and even better the next day. The grated carrot and spinach lighten the dhal, and also add beautiful little green and golden flecks to the duller gold of the lentils. The coconut milk stays in the background, adding sweetness and rich flavour without overwhelming the balance of tastes. This is good served with rice or bread, yoghurt and a pickle.
Quick Carrot Dhal
Serves 4
Ingredients
2 cloves garlic, peeled
thumb-sized piece of ginger, peeled
1 green chile, chopped—remove the seeds if you prefer
1 red onion, peeled
vegetable or coconut oil
1 teaspoon cumin seeds
1 teaspoon coriander seeds
1 teaspoon black mustard seeds
1 teaspoon ground turmeric
1 teaspoon ground cinnamon
½ teaspoon salt
200g red lentils
400ml coconut milk
600ml water
6 medium carrots, peeled and topped and tailed
2 large handfuls of spinach, coarsely chopped, or about 8 'cubes' of frozen spinach
Juice of 1 lemon
Big handful of coriander, coarsely chopped
Preparation
Finely grate the garlic and ginger. Mince the onion.
Heat a large saucepan over medium heat and then add the oil. When it is hot add the garlic, ginger, chile and onion. Turn the heat to low and cook for 10 minutes until everything is soft but not browned. Stir periodically, so that it does not stick.
Meanwhile, toast the cumin and coriander seeds in a dry skillet for a few minutes, until they release a lovely smell. Set aside to cool for a few minutes, then put them into a mortar and crush them a little—they needn't be ground.
Add the crushed cumin and coriander to the pan along with the other spices and salt. Turn up the heat to medium and cook for a minute or two. Now add the lentils, coconut milk and water and bring to a simmer. Turn the heat to low, cover and cook for 30 minutes, or until the lentils are tender. Add more water if it seems dry, and stir every one and then so it does not stick to the bottom of the pan.
While the lentils are cooking, grate the carrots coarsely and add to the lentils after they've cooked for about 20 minutes.
Once the lentils are tender, add the spinach and cook for a new more minutes until the fresh spinach wilts, or the frozen spinach defrosts and amalgamates into the dhal.
Stir in the lemon juice and the coriander. Taste, add more salt if you feel it necessary, and serve.
Recipe adapted from Anna Jones, The Modern Cook's Year (2017).
January 22, 2021 by General Administrator
The potato haul was very good this year and this seems to have resulted in a slowly growing bag of potatoes in our house. So this week I've been thinking about some new ways to get through them all. Today's recipe may not be new for all of you but I've never tried it and I'm excited to give it a go!
Hasselback potatoes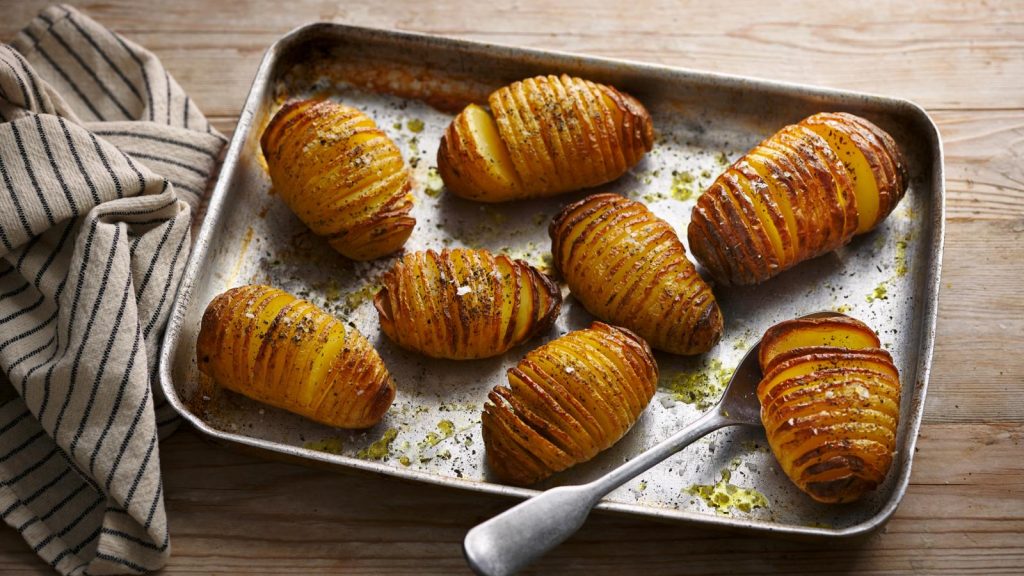 Ingredients (serves 4)
½ tsp dried thyme, rosemary or mixed herbs
½ tsp flaked sea salt
½ tsp coarsely ground black pepper
3 tbsp sunflower, vegetable or olive oil, plus extra for greasing
8 small–medium potatoes, each one approx. 75g/2¾oz, scrubbed (ideally, all-rounders or floury potatoes)
small knob of butter, approx. 15g/½oz (optional)
Method
Preheat the oven to 200C/180C Fan/Gas 6. Lightly oil a baking tray. Mix the herbs, salt and pepper in a large bowl. Pour the oil into a second bowl.
Place two wooden spoons or chopsticks on a chopping board, about 5cm/2in apart. Place the potatoes one at a time between the handles. Using a sharp knife with a thin blade, cut the potatoes very thinly and vertically almost all the way through – the knife will stop slicing when it meets the spoons. Each slice should be a little narrower than a pound coin.
As you prepare each potato, add it to the oil and turn to coat, then add to the seasoning mix and rub all over the potato, making sure a little of the seasoning mix gets in between the slices.
Place the potato on the baking tray, cut-side up. Prepare the remaining potatoes in the same way. Drizzle any remaining oil over the potatoes and bake for 40 minutes.
Take the tray out of the oven and dot each of the potatoes with a little butter, then bake for a further 10 minutes, or until golden, crisp and tender. Check for tenderness with the point of a knife or the tip of a skewer. (If you don't want to use butter, cook the potatoes for around 50 minutes in total.) Serve immediately.
I'll probably try slotting some cheese in between the slices, and maybe topping with bolognese or sour cream.
Adapted from BBC Food
January 14, 2021 by General Administrator
Here we have a warm, sustaining main-course salad made bright with greens and the bite of mustard. It's a good use of that parsnip that's still in your fridge. You can make a meal of this, along with some good bread and a glass of red wine.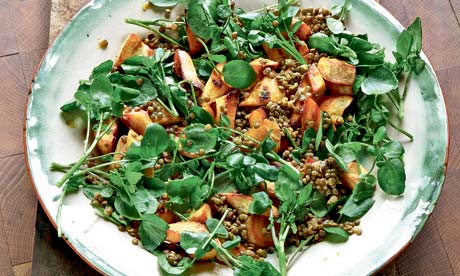 Roast Parsnip, Watercress and Lentil Salad
Serves 3
Ingredients
Salad
5 medium parsnips
2 tablespoons oil
salt and pepper
125g Puy or green lentils
2 bay leaves
1 medium onion, unpeeled
several parsley stems (optional)
several big handfuls of watercress or rocket
any hard cheese, to shave over the top
Salad dressing
1 clove garlic
½ teaspoon salt
1 teaspoon English mustard
2 teaspoons runny honey
1 tablespoon lemon juice
4 tablespoons rapeseed oil
Preparation
Preheat your oven to 190C.
Peel the parsnips and cut them into chunky batons. Toss them with the oil and a sprinkling of salt and pepper. Tip them onto a baking tray and roast for 30-40 minutes, or until they are tender and a bit golden. The time will depend on how large they are. You can poke them with a fork to see if they are soft inside. Remove from the oven and leave them to one side.
Meanwhile, prepare the lentils: cover them with boiling water and bring back to a boil. Boil for one minute, and then drain.
Return the drained lentils to the pan and add just enough water to cover them. Add the bay leaves, onion and parsley stalks (if you have any to hand). Bring to the boil, reduce to a simmer, and simmer for about 30 minutes, or until al dente. Drain and remove the bay leaves and parsley. It's up to you either to remove the onion or to leave it in the finished salad.
While the lentils cook and the parsnips roast prepare the salad dressing. Mash the garlic with the salt in a mortar and pestle to make a smooth paste. Whisk in the other ingredients.
When the parsnips and lentils are finished, toss them, still warm, with the dressing and add the watercress or rocket. Pile onto a serving platter and shave some hard cheese over the top before serving.
Recipe adapted from Hugh Fearnley-Whittingstall, River Cottage Veg Every Day! (2011) – online at rivercottage.net
December 31, 2020 by General Administrator
This is what you need if you have eaten a lot of rich food over the holidays. The lentil soup is soothing, but not at all boring, enlivened as it is with marinated artichoke hearts and a swirl of yoghurt. You will feel better after eating this, I promise. Note, too, that it uses some of those leeks, carrots and celery that have accumulated in your fridge from the double share.
Lentil Soup with Artichoke
Serves 4
Ingredients
2 tablespoons olive oil
2 leeks, trimmed, halved lengthwise and sliced thin
3 medium carrots, peeled, halved lengthwise and sliced thin
4 celery sticks, sliced thin
1 heaped tablespoon grated fresh ginger
1 Canalside chile, left whole
4 cloves of garlic, peeled and chopped fine
250g green lentils
2 tablespoons cider vinegar
1.5l stock or water
1 teaspoon salt
5 heaped tablespoons coarsely chopped parsley
120g artichoke hearts from a jar, drained and sliced thin, to serve
plain or Greek yoghurt, to serve (if desired)
Preparation
Heat the oil over medium heat in a large saucepan with a lid. When it is warm add the leeks, carrots, celery, ginger and chile. Fry for about 10 minutes, or until the vegetables have softened and are starting to colour.
Add the garlic and stir for a few minutes more.
Stir in the lentils, and add the vinegar and water. Bring to a boil and simmer until the lentils are tender—20-30 minutes, probably. Add some more water if they seem dry.
Purée about a third of the soup in a liquidiser or food processor, and then stir this back into the pan. Add the salt and stir in most of the parsley, keeping back a little for a garnish.
Dish into bowls and place a sliced artichoke heart in the centre of each bowl. Sprinkle the remaining parsley over the top. Serve with a spoonful of yoghurt on top, if desired.
Recipe adapted from Annie Bell, Plant Power: Protein-rich Recipes for Vegetarians and Vegans (2020).
December 18, 2020 by General Administrator
This recipe isn't so Christmassy, but I did enjoy it. I found the liquid took a lot longer than stated to reduce, but in the end I would actually have preferred a bit more sauce when serving. Goes well with mash!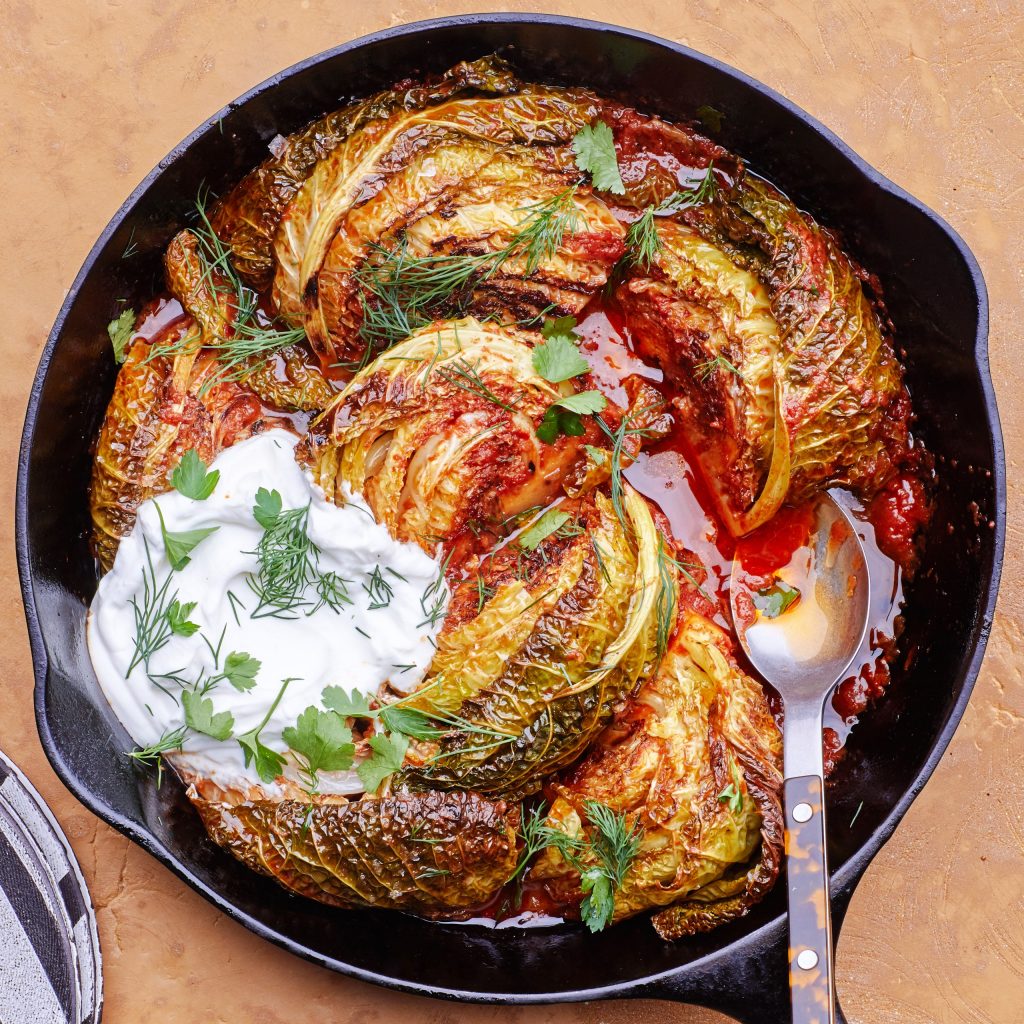 Ingredients
¼ cup double-concentrated tomato paste
3 garlic cloves, finely grated
1½ tsp. ground coriander
1½ tsp. ground cumin
1 tsp. crushed red pepper flakes
1 medium head of green cabbage
½ cup extra-virgin olive oil, divided
Salt
3 Tbsp. chopped dill, parsley, or coriander
Full-fat Greek yogurt or sour cream (for serving)
Method:
Preheat oven to 180°. Mix tomato paste, garlic, coriander, cumin, and red pepper flakes in a small bowl.
Cut cabbage in half through the core. Cut each half through the core into 4 wedges.
Heat ¼ cup oil in a large oven safe frying pan (or similar) over medium-high. Working in batches if needed, add cabbage to the pan cut side down and season with salt. Cook, turning occasionally, until lightly charred, about 4 minutes per side. Transfer cabbage to a plate.
Pour remaining ¼ cup oil into pan. Add spiced tomato paste and cook over medium heat, stirring frequently, until tomato paste begins to split and slightly darken, 2–3 minutes. Pour in enough water to come halfway up sides of pan (about 1½ cups), season with salt, and bring to a simmer. Nestle cabbage wedges back into skillet (they should have shrunk while browning; a bit of overlap is okay).
Transfer cabbage to oven and bake, uncovered and turning wedges halfway through, until very tender, liquid is mostly evaporated, and cabbage is caramelized around the edges, 40–50 minutes.
Scatter dill/other over cabbage. Serve with yogurt alongside.
From BonAppetit.com
November 26, 2020 by General Administrator
Here is a simple salad with pumpkin and soba noodles. Thomasina Miers recommends this as a weekday lunch, and observes that it is equally good warm or cold. She also points out that the dressing is tasty on grilled chicken or fish, or sprouting broccoli.
Miso-roast Pumpkin with Noodles
Serves 4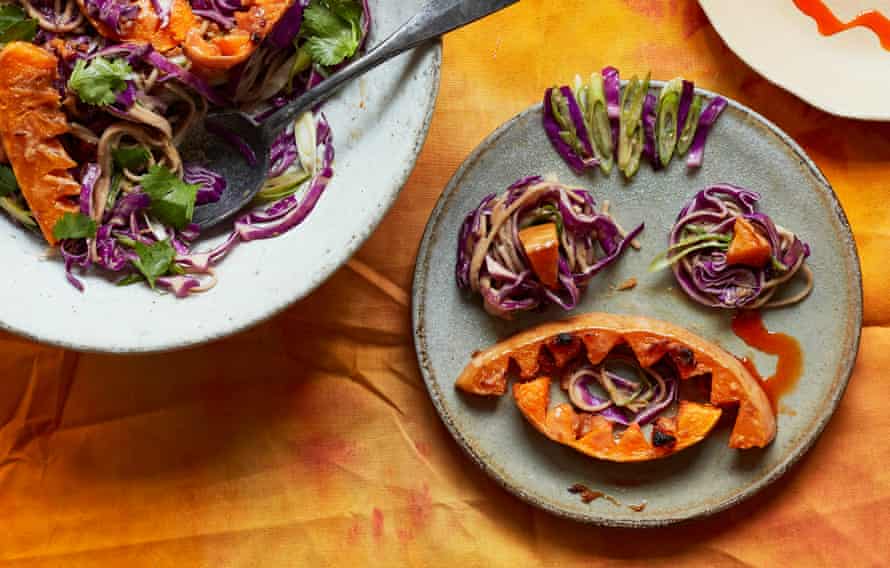 Ingredients
750g pumpkin
3 tablespoons white miso
2 tablespoons olive oil
125g soba noodles
500g red cabbage, shredded
1 large handful coriander, coarsely chopped
2 spring onions, finely sliced
Chile oil, to serve
For the dressing
2 tablespoons sesame oil
2 tablespoons light soya sauce
2 tablespoons lime juice
2 tablespoons tahini or other sesame paste
1 tablespoons honey
1 clove garlic, peeled and grated
1 inch ginger root, peeled and grated
A splash of water
Preparation
Heat the oven to 220C. Wash the pumpkin (peel if you prefer) and cut into wedges. Whisk the miso and olive oil and toss onto the pumpkin. Tip onto a baking sheet and roast for 30-35 minutes, or until tender and golden at the edges. Leave to cool.
Meanwhile bring a pan of water to the boil and cook the noodles according to the instructions on the packet, until al dente. Drain and rinse in cold water.
Mix the noodles, cabbage, most of the coriander, and spring onions in a bowl.
Make the dressing: whisk all the ingredients together.
Tip the dressing onto the ingredients in the bowl and blend.
Array the dressed vegetables on a serving platter and top with the roasted squash. Decorate with the remaining coriander and serve with chile oil on the side, for those who want this a bit spicy.
Recipe adapted from Thomasina Miers, Guardian, 31 Oct. 2020.
November 12, 2020 by General Administrator
The zingy, fried ginger topping gives this dal an invigorating freshness. Absolutely don't leave it out!
The ratio between the pumpkin and the carrots does not need to be precise and overall I used a good deal more pumpkin than the 200g called for in the original recipe. Plus I didn't have a Kashmiri red chilli so I used a dried Canalside chile and that worked just fine. Serve with flatbreads or rice.
Red lentil dal with carrots, pumpkin, and fried ginger
Serves 4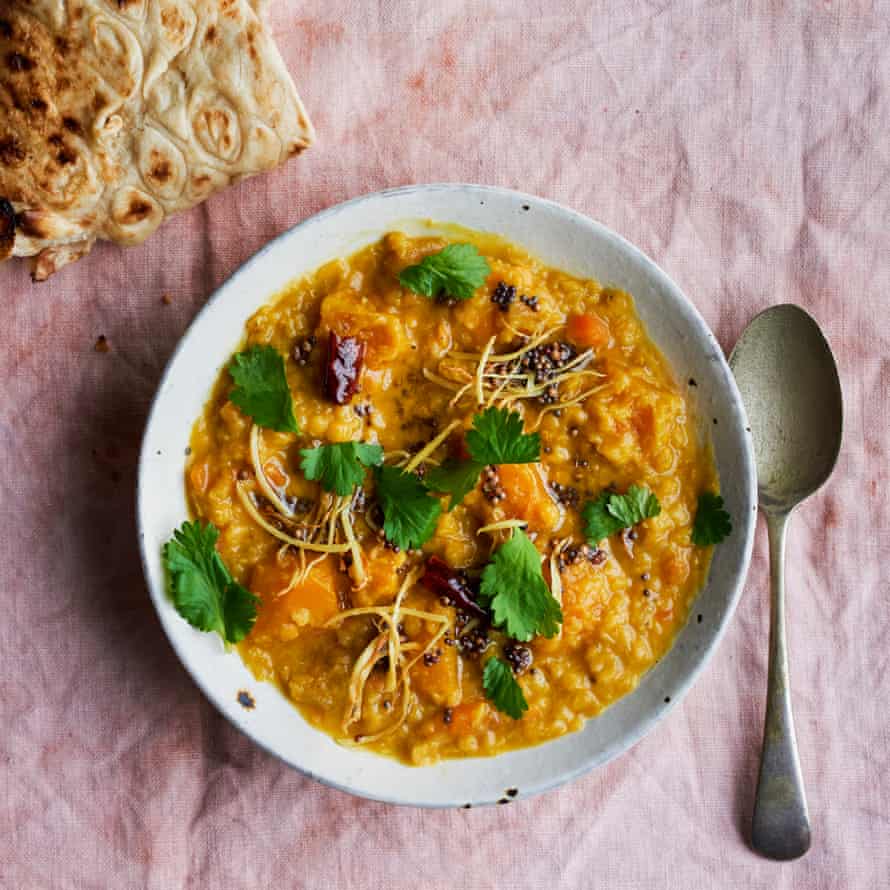 Ingredients
210g red lentils
3 tbsp coconut oil
150g onion, cut into half moons
100g carrots, finely diced
200-300g pumpkin, peeled and diced into 2cm pieces
½ tsp ground turmeric
½ teaspoon ground red chilli powder
1 teaspoon salt
2 tablespoon fresh lime or lemon juice
2 teaspoon coriander seeds, crushed
2 teaspoon black or brown mustard seeds
5cm piece fresh ginger, peeled and cut into matchsticks
1 Kashmiri red chilli
10g chopped fresh coriander leaves
Preparation
Clean the lentils for any debris, rinse under cold running water, then put in a bowl, cover with 500ml cold water and set aside.
Heat a tablespoon of the oil over medium-high heat in a medium saucepan. Add the onions, and saute until they turn translucent – three to four minutes. Add the carrots and pumpkin, and saute until tender – about eight minutes. Stir in the turmeric and red chilli powder, and cook for a further minute.
Add the lentils and their soaking water to the vegetables, stir in a teaspoon of salt and bring to a rolling boil over a medium-high heat. Reduce the heat to low, cover and leave to simmer until the vegetables are completely tender and cooked – about 20 minutes. Remove from the heat, stir in the lime juice, taste and season with salt as needed.
Heat the remaining coconut oil in a small saucepan over a medium heat. When the oil is hot, add the coriander and mustard seeds, and cook until the seeds start to pop. Add the ginger to the hot oil, cover the pan with a lid and swirl for 30 seconds, until the mustard seeds stop sputtering.
Break the Kashmiri chilli in half and toss it into the hot oil. Remove from the heat and swirl the contents of the saucepan for another 30 seconds, until the chilli turns crisp. Pour this hot mixture over the lentils. Garnish with the fresh coriander leaves and serve warm with buttered flatbread or plain rice.
Recipe adapted from Nik Sharma, Guardian 31 Oct. 2020.
October 15, 2020 by General Administrator
Another very good recipe from Slyvia Fontaine. The creamy carrot sauce colours the pasta a beautiful gold, while the fresh, herby gremolata adds vibrant green. Toasted breadcrumbs provide a contrasting crunch against the richness of the sauce. You would certainly not guess that this is vegan, but you'll see right away how beautiful it looks in your bowl. The flavours work really well together and I recommend this highly.
Pasta with Creamy Carrot Miso Sauce
Serves 4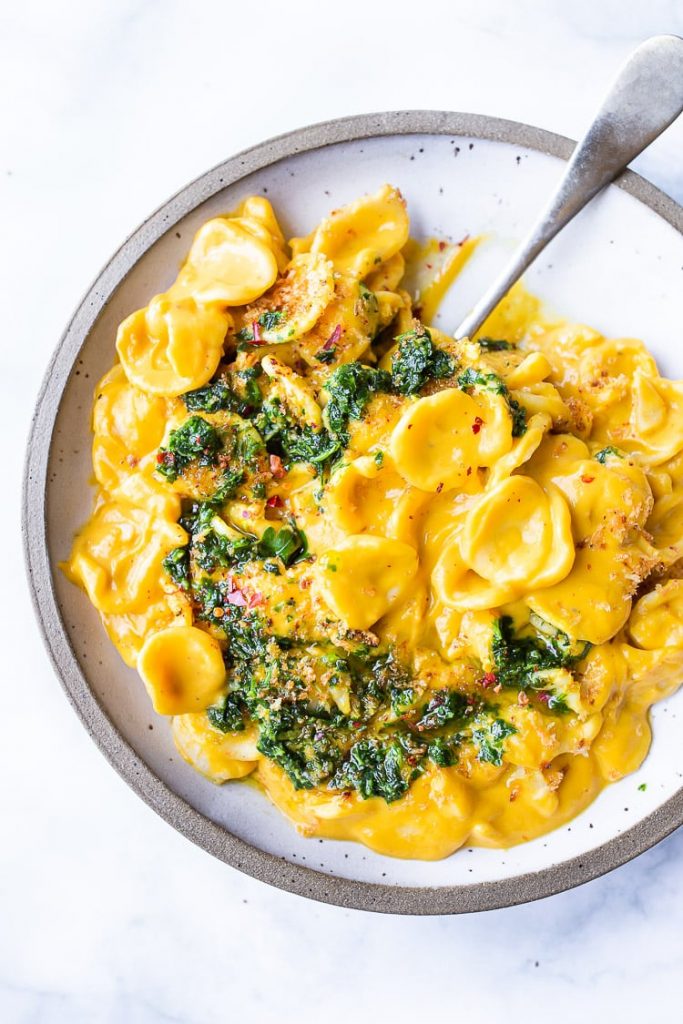 Ingredients
Carrot Miso Sauce
2 shallots, rough chopped (or 1/2 an onion)
3 large garlic cloves, rough chopped
2 tablespoons olive oil
150g carrots
450ml water
40g cashews
Freshly-ground pepper
3 tablespoons white miso paste
Gremolata
60g fresh coriander or parsley (Sylvia notes you can also use carrot tops)
1 tablespoon lemon zest ( zest from one medium lemon)
¼ teaspoon salt
1 fat garlic clove
70-100ml olive oil
Toasted Breadcrumbs
1 thick slice of good bread, grated, to make about 50g breadcrumbs
250g pasta (Sylvia Fontaine recommends orecchiette)
Instructions
Cook the sauce: Heat oil in a medium pot, over medium heat. Saute shallot and garlic until fragrant and golden, about 5 minutes, stirring often. Add carrots, cashews, water, and pepper and bring to a boil. Cover, lower heat to low and simmer gently until carrots are fork-tender, about 15 minutes. Stir in the 3 tablespoons of miso and let cool for 5-10 minutes.
While the carrots simmer make the Gremolata: Place coriander or parsley, lemon zest, salt and garlic in a food processer and pulse repeatedly until finely chopped. Add 70ml oil, pulsing a few more times until incorporated (but not too smooth). Add more oil if you prefer a looser version.
Now make the breadcrumbs: place the breadcrumbs in a frying pan over medium heat and toast, stirring frequently, until the crumbs are golden brown. Set aside.
Bring some water to the boil, and cook the pasta according to the packet instructions.
While the pasta is cooking blend the sauce: place the carrot-cashew sauce in a high-speed blender or food processor and blend on the lowest setting, gradually increasing speed, until fully blended, creamy and silky smooth, which will take between one and two minutes. Slyvia writes: 'Take your time here and get it SMOOTH!!!'
Drain the pasta and pour the sauce over. Heat it gently if needed. Taste and adjust salt.
Divide among bowls, and sprinkle with toasted bread crumbs and spoon the gremolata over top. Enjoy with a glass of chardonnay.
Recipe adapted from Sylvia Fontaine, Feasting at Home
October 1, 2020 by General Administrator
Peas cooked with onions and butter make an excellent dish to eat on their own. Add some pan-seared salmon fillets and you have an easy and very delicious meal.
(To pan-sear, dry the salmon carefully and then season liberally with salt. Heat a little neutral oil in a skillet, and when it is hot add the salmon, skin-side down. Press it into the pan with a fish so that it makes good contact with the heat. Cook, without moving the fish, for about 3 minutes, and then flip it over to cook the other side. Cook for an additional 1-4 minutes, depending on how cooked you like your fish.)
Peas with Parsley, Thyme, Butter and Onions
Serves 4 as part of a larger meal.
Ingredients
2 tablespoons neutral oil (rapeseed, sunflower seed etc.)
1 giant Canalside spring onion, thinly sliced (use the whole thing including the dark green leaves)
½ teaspoon salt
1/2 cup white wine
1 cup chicken stock
4 cups frozen (or fresh) peas
4 tablespoons butter
¾ cup fresh parsley, roughly chopped
5 springs of fresh thyme, roughly chopped
Preparation
Heat the oil in a large frying pan over medium heat. Add the sliced onion and the salt. Reduce the heat to low and cook until the onion is translucent and soft, but not brown. Add the wine and allow to reduce until almost completely dry.
Add the stock and bring to a boil. Add the peas and butter and cook until the stock has reduced, and the sauce is thick and silky with butter. Then add the parsley and thyme check for salt and pepper, and serve.
Recipe adapted from Abra Berens, Ruffage: A Practical Guide to Vegetables (2019).
September 10, 2020 by General Administrator
One of the benefits of so many of us working from home is that there's more time to make a fancy lunch. This week I've enjoyed riffing on Panzanella themed recipes – you can adapt the one below to suit what you have in the fridge and the time you've got to make it.
Panzanella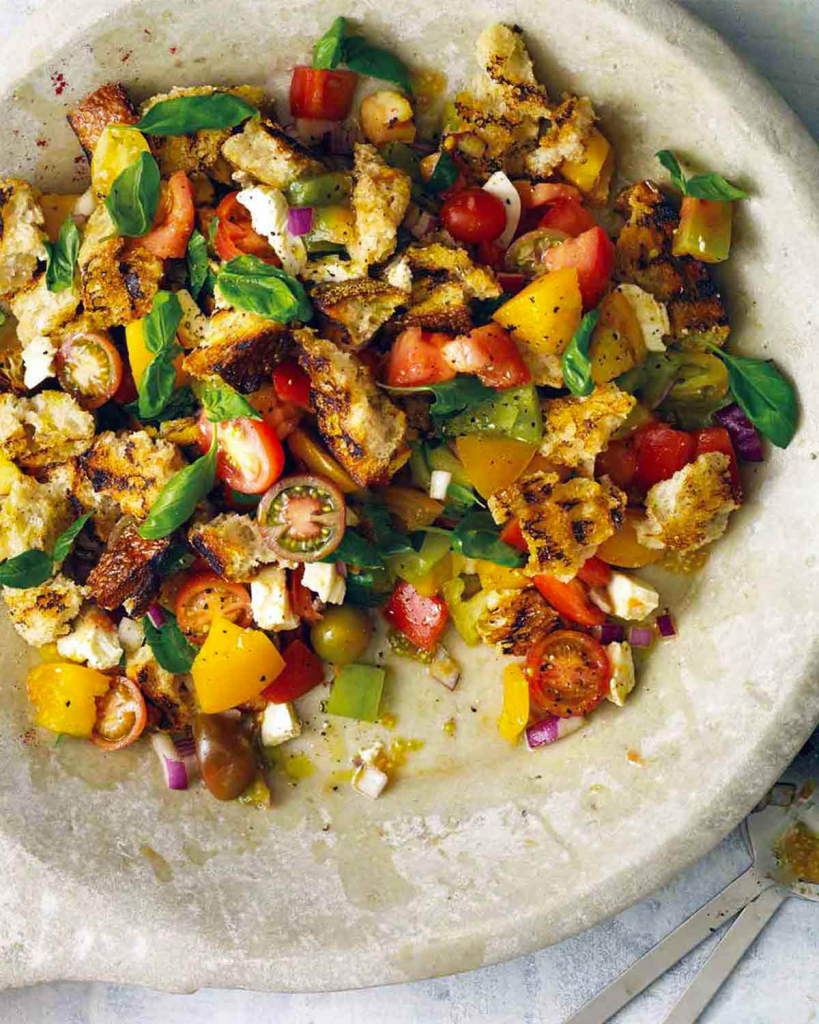 Ingredients:
3 tbsp olive oil
Splash red wine vinegar
day old bread, cut into 2cm cubes
1 tsp salt
2 large, ripe tomatoes, cut into 2cm cubes
1 cucumber sliced 1cm thick
1 or 2 peppers cut into 2cm cubes
1/2 red onion, thinly sliced
20ish large basil leaves, coarsely chopped
3 tbsp capers, drained
Method:
Heat the bread either by pan frying in oil if you have time, or 30s in the microwave if not. Then mix thoroughly with all the other ingredients in a large bowl, season and serve.