March 17, 2022 by General Administrator
In Memoriam: Jonathan Nicholls
This week's recipe is in memory of Jonathan Nichols, a friend and Leamington resident who sadly and suddenly died this past week. He served for a number of years as Registrar at first Warwick University, and then at Cambridge. This recipe, for Registrar's Spanish Chicken and Chorizo Shepherd's Pie, comes from a different Warwick Registrar (Ken Sloan), but through its name it can perhaps also celebrate Jonathan, and his enthusiasm for good food and a nice glass of wine.
Registrar's Spanish Chicken and Chorizo Shepherd's Pie
Ingredients
1 tablespoon Sunflower oil
2 Onions, diced
100 grams Leeks, thinly sliced
3 cloves Garlic, crushed
50 grams Chorizo, chopped
1 teaspoon Paprika
5 sprigs of Thyme
500 grams Tomato Passata
1 tablespoon Tomato Purée
250 millilitres Chicken Stock
100 millilitres Spanish Red Wine (optional)
500 grams chopped Chicken Breast
800 grams Sweet Potatoes, diced
1 ounce Butter
Salt and Pepper
30 grams Jalapenos
2 Red Peppers, diced
75 grams Ewe's Cheese, grated
Mixed Salad
Method
Heat oven to 180C.
Heat the oil in a large frying pan. Fry the onions and the leeks for 5-10 minutes. Add the garlic and chorizo and cook for another 5 minutes. Stir in the paprika, thyme, tomato passata, tomato purée, chicken stock and the optional red wine, and bring to a simmer. Add the chicken, cover, and cook over a low heat for at least an hour until the sauce has reduced.
Meanwhile, boil a pan of hot water. Add salt and sweet potato chunks, and return to the boil. When the sweet potato has softened drain it, add butter, salt and pepper, and then mash. Leave to one side.
Once the sauce in the chicken mixture has reduced, remove the thyme stem, and then put the mixture into an oven-proof dish. Stir in jalapenos and peppers. Spread the mashed sweet potato over the top. Sprinkle the cheese on top of the sweet potato.
Cover with foil and bake for 25 minutes, then remove foil and bake for a further 10 minutes. Remove from oven and serve with mixed salad.
Ken Sloan's recipe appears in Simple Scoff The Anniversary Edition, ed. Rebecca Earle (2015).
March 10, 2022 by General Administrator
Some of you may have seen that Russian chef Alissa Timoshkina has teamed up with Ukrainian chef Olia Hercules to raise money for Ukraine. I thought this week I would repeat this recipe for their excellent borscht.
Borscht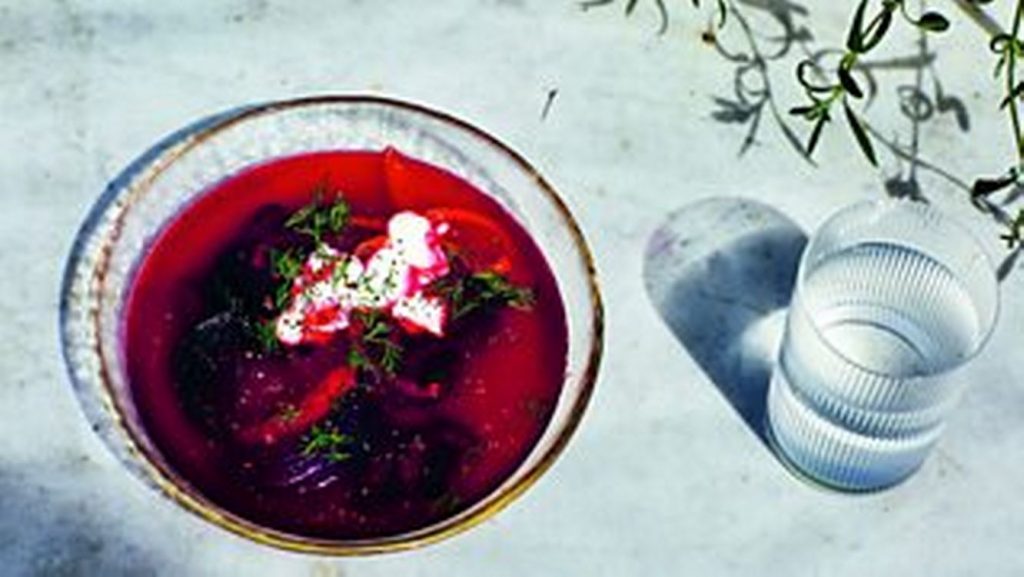 Serves 4
Ingredients
unrefined sunflower oil, for frying and roasting
1 large onion, finely diced
1 carrot, peeled and grated
6 raw beetroots
2 red peppers
2 tablespoons tomato purée
2 litres cold water
2 bay leaves
1 tablespoon black peppercorns
1 tablespoon coriander seeds
1 tablespoon fennel seeds
4 garlic cloves, peeled
bunch of dill
small bunch of flat leaf parsley
2 garlic cloves, grated
500g red cabbage sauerkraut
2 tablespoons pomegranate molasses
1 red onion
1 tablespoon brown sugar
400g can red kidney beans
2 teaspoons smoked paprika
4 tablespoons soured cream
salt
Preparation
Heat up a tablespoon of sunflower oil in a large pan and fry the onion and carrot for about 8 minutes until golden. Meanwhile, peel and grate 2 of the beetroots and core, deseed and thinly slice 1 red pepper. Add the vegetables to the pan together with the tomato purée and a splash of water. Season with salt to taste and fry for a further 5–8 minutes.
Top with the measured cold water, add the bay leaves along with the peppercorns and all the seeds, whole garlic cloves and half the bunches of dill and parsley. Season with a tablespoon of salt and bring to the boil. Reduce the heat, add the grated garlic and half the sauerkraut with its brine and simmer, covered, over a low heat for 40 minutes–1 hour.
Turn off the heat and let the borsch rest for another hour, while you prepare the rest of the elements.
So far, so good, but here is where the recipe starts to deviate from the norm quite a lot: to prepare the vegetables that will grace the plate and also add extra flavour and texture to the soup, you will need to do a bit of roasting.
Start by preheating the oven to 160°C fan/Gas Mark 4. Peel the remaining 4 beetroots, cut into wedges and dress with oil, salt and the pomegranate molasses. Peel the red onion, cut into wedges and season with salt and the brown sugar to bring out their sweetness and promote caramelization. Place on a roasting tray with the beetroot and roast together for 30 minutes. Drain the kidney beans, then dress them with salt, oil and the smoked paprika. Core and deseed the remaining red pepper, then cut into thin strips and dress with salt and oil. Roast the beans and pepper together, as they will need only 10–15 minutes.
When ready to serve, strain the broth through a sieve or a muslin cloth, discarding the solids. All we need is that rich broth! Reheat again if necessary. Next, create layers of texture and flavour in each bowl by adding a heaped tablespoon of the remaining sauerkraut to each, as well as a handful of roasted beetroot, onion, kidney beans and red pepper. Top each bowl with the hot broth and add a dollop of soured cream and a generous sprinkle of the remaining dill and parsley, chopped. The intensity of the flavours and textures of this dish is beyond words, while the look of the bowl will seduce the eye without a doubt.
Recipe from Alissa Timoshkina, Salt & Time: Recipes from a Russian Kitchen (2019).
September 5, 2019 by General Administrator
I picked up this recipe whilst living in Gothenburg and it has great connotations for me with sunny breakfasts on the pier… Hopefully I don't just see it with rose tinted glasses!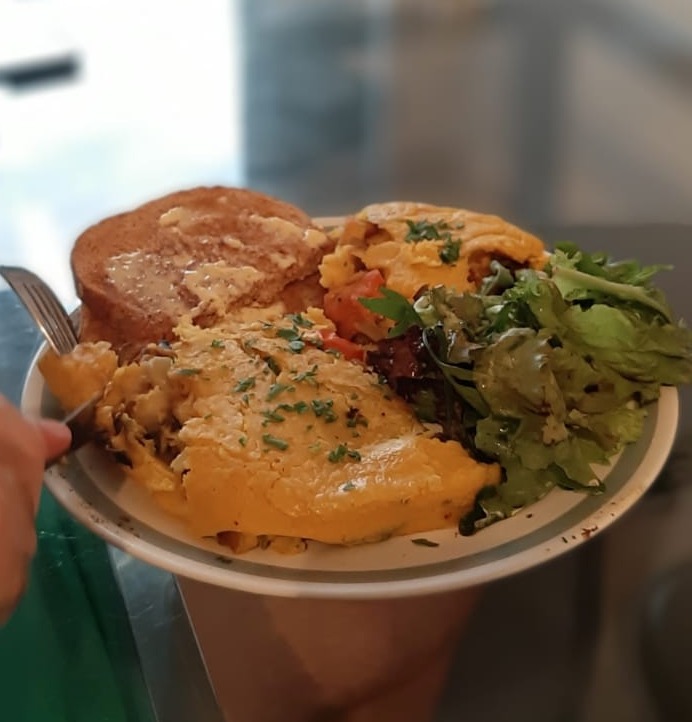 Vegan chickpea flour (kikärtsmjöl) omelette
Ingredients
1 cup (120 g) chickpea flour
1 Tablespoon flaxseed meal or chia seed meal (optional)
1/2 tsp (0.5 tsp) salt
1/4 tsp (0.25 tsp) each of turmeric garlic powder, baking soda, cumin powder
1ish cup of water
Fillings!
Fried tomato, onion, mushrooms, lots coming in our shares that could suit!
Method is simple, mix the all the dry ingredients then add the water slowly and mix with a whisk until they take on the same consistency as whisked eggs. Fry up the fillings, then poor on the omelette mix and reduce pan to a medium to low heat. Make sure you cook it slower and longer than an egg omelette – it tends to burn before solidifying enough to flip if you rush it.
September 28, 2018 by General Administrator
I made this on Monday, for a couple of colleagues who were coming round before the start of the new academic year. I thought it was pretty delicious. Serve with tomato salad and a glass of red wine. The recipe is a bit lengthy but it's not complicated or demanding.
Paella de Cerdo con Chorizo y Espinaca [Paella with Pork, Chorizo and Spinach]
Serves 6
Ingredients
2 dried, mild chile peppers (the recipe calls for Spanish 'ñoras' peppers; I used Mexican ancho chiles), or an additional teaspoon of paprika
7 tablespoons olive oil
350g pork tenderloin, halved lengthwise and then sliced into 7mm slices
Salt and pepper
120g mild cooking chorizo, peeled and cut into little pieces
2 large onions (or about 8 minute Canalside onions), finely chopped
1 green pepper, finely chopped
4 garlic cloves, finely chopped
250g paella rice
1 teaspoon sweet smoked Spanish paprika, or 2 teaspoons if you're not using the dried chiles
900ml hot water
500g spinach, washed and chopped roughly
1 lemon, cut into wedges, to serve
Preparation
Tear the dried peppers, if you are using them, into small pieces and put them into a bowl. Cover them with boiling water and leave them to sit so that they soften up a bit while you prepare the rest of the dish.
In a 30-40cm paella pan or a large frying pan, heat the olive oil over a high heat, and then stir-fry the pork for a minute, until it is still a bit undercooked but has browned on the outside. Season with salt and pepper and remove from the pan with a slotted spoon. Set the pork aside for later.
Turn the heat to low and add the chorizo. Fry for a minute and then add the onions and peppers. Cook for 20 minutes, stirring occasionally, until the mixture is soft and sweet. Add the garlic and cook for 10 minutes more.
Add the rice and stir well. Cook for a minute, stirring, so that the rice picks up the flavours. At this point the cooking can be paused—the remaining steps will take about 20 minutes more.
Season the pan with more salt and pepper, and add the paprika and peppers, drained of their water (if you're using them). Toss. Pour in the hot stock. Simmer for 15 minutes, or until there is just a thin layer of liquid around the rice. Stir occasionally.
Meanwhile, cook the spinach: put it in a pan with a bit of water and cook it until it's just wilted. Drain.
Scatter the spinach and the cooked pork over the top of the rice, and stir to mix. Cover with a lid or some foil and leave for an additional 5 minutes.
Serve garnished with lemon wedges and the tomato salad.
Recipe adapted form Sam and Sam Clark, Moro: The Cookbook (2001).