Rebecca's having a break this week and hopes to be back with another recipe next week.
With the cauliflower crop getting going, the moment may have arrived to do the first preserving of the year (that is, if you haven't already made marmalade, perhaps using some delicious La Jimena seville oranges).
Piccalilli is as versatile as any savoury preserve in that you can flex the recipe according to what is available. Most piccalilli recipes call for courgettes, green beans, tomatoes, and other summer veg. However, if all you have is roots and PSB (purple sprouting broccoli) that combination will also make a perfectly good version of this tangy preserve. Luckily my book of preserves from the Women's Institute can oblige with a suitably flexible recipe for any time of year! I've been know to make a version with cauliflower, onions (admittedly these are perhaps the two essential vegetables), carrot and swede!
Many piccalilli recipes call for the vegetables to be brined overnight, but this one breaks that rule, which simplifies the recipe and results in a delicious accompaniment for a ploughman's lunch. And unlike chutneys which rely on evaporation of the liquid to thicken the preserve (which can sometimes take hours), as this one is thickened with flour it has a much shorter cooking time.
Accommodating Piccalilli from the W.I.
Makes about 2.7kg (6lb) = 6 average sized jam jars
Preparation time: 45 minutes
Cooking time: 30 minutes
Ingredients
1 large cauliflower, broken into florets
450g (1lb) pickling onions – if you've still got any little Canalside onions left, they'd be perfect!
1.4L (2 1/2 pints) white malt vinegar (apple cider vinegar also works well)
900g (2lb) mixed vegetables, diced or cut into 2.5cm (1 inch) lengths
2 fat cloves of garlic
450g (1lb) caster sugar
50g (2oz) dry mustard (i.e. mustard powder)
115g (4oz) plain white flour, sieved
25g (1oz) ground turmeric
1 tsp ground coriander
2 tsp salt
Preparation
In a large preserving pan, summer the cauliflower and onions in 1.1litres (2 pints) of the vinegar for 10 minutes.
Add the other vegetables, garlic and sugar and cook for a further 10 minutes.
Mix the mustard, flour. spices and salt with the remaining vinegar and add to the cooked vegetables, stirring all the time to prevent lumps from forming.
Stir well and simmer for a further 10 minutes.
Spoon into cooled and sterilised jars and cover with vinegar proof tops. Label and store for at least 2 weeks before using. It will keep for months (I think I've even kept it for more than a year) with the flavour improving and mellowing as it ages.
From 'Best Kept Secrets of the Women's Institute: Jams, Pickles and Preserves' by Midge Thomas
When you cook beans slowly in olive oil the result is quite different from the snappy crispness produced by a quick dip in boiling water. The oil and tomatoes meld into a rich sauce that gives the dish substance and depth. Add some fresh basil and a slice of salty cheese, and enjoy for dinner with some crusty bread and a glass of red wine.
Rachel Roddy recommends you let the beans sit for a couple of hours before eating them but I think they're pretty good straight away as well.
Braised Green Beans with Tomato and Basil
Serves 3-4
Ingredients
6 tablespoons olive oil
1 large or 2 small white onions, peeled and sliced thin
Salt
750g green beans or runner beans
750g ripe tomatoes, peeled if you wish, chopped coarsely
A handful of torn basil leaves
Feta, or other salty cheese, sliced, to serve (optional)
Preparation
Warm the oil in a heavy-based frying pan (with a lid) over a medium-low flame. Gently fry the onion with a pinch of salt until it is soft and translucent.
Cut or break the beans into 5cm-long pieces. Add them to the pan and stir well until each piece is glistening with oil. Continue cooking and stirring for a few minutes.
Add the tomatoes and another small pinch of salt, stir, then cover the frying pan. After a couple of minutes uncover the pan and stir – the tomatoes should be relinquishing their juices. Cover the pan and cook for another 5 minutes or so.
Once the tomatoes have given up their juice, uncover the pan and allow it to simmer, uncovered, stirring every now and then for around 40–50 minutes, or until the beans have become very tender and the tomatoes have reduced into a thick, rich sauce. During the final few minutes of cooking time, stir in the ripped basil leaves. Taste and season with more salt, if necessary.
Serve with slices of feta, if desired, or let them sit for a few hours before eating. These are very good the next day, as well.
Recipe adapted from Rachel Roddy, The Guardian, 23 May 2017.
Our resident Recipe Meister, Rebecca Earle, is having a break during July, and so newly joined member Pip Smith has stepped forward to tantalise our tastebuds in Rebecca's absence. Here's this week's recipe:
Lemony potato and courgette salad with garlic greens
I've always been a fan of garlic greens and when I realised you could use the leaves of the Kohlrabi and that they are a good source of b vitamins and carotene it all seemed to come together. In this recipe the courgette is boiled whole then sliced, which is a nice quick way to add it to a warm salad.
Ingredients:
800g potatoes
2 courgettes
The leaves from one Kohlrabi
200g french beans trimmed if you prefer
Salad leaves
2 cloves garlic
1 – 2 unwaxed lemons
3 tablespoons Olive oil (not extra virgin for cooking)
1/2 tsp Black pepper
Salt to taste
Method:
Bring a pan of water to the boil, add the washed potatoes and simmer for 8 – 12 mins. Add the washed whole courgettes one minute before the end. Once cooked drain the potatoes and courgettes, and place in a large bowl.
Toss with 2 table spoons of olive oil and the zest of 1 – 2 lemons.
While the potatoes cook, steam the French beans adding the kohlrabi leaves a little later until tender.
Gently heat 1 tablespoon of olive oil and add two cloves of crushed garlic, heat for about a minute gently fizzing and being careful not to burn the garlic.
Toss the garlic mixture with the steamed veg.
Finally top the potato and courgette with the garlic greens and sprinkle with 1/2 tsp of cracked black pepper.
Sprinkle with salt to taste.
This recipe was inspired by several recipes in Hugh Fearnley-Whittingstall's 'River Cottage Veg Everyday'.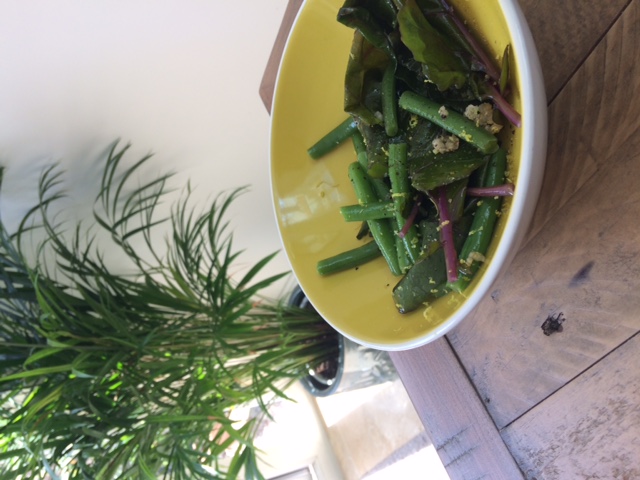 Colombian ajiaco is a miracle of soups.  It's luxurious, convivial and fresh.  The basic idea is this: a bowl of rich chicken broth with lots of potatoes and chunks of sweetcorn, personalised with sliced avocado, capers, a tomato-coriander salsa and cream, followed by another bowl, or two.  Do try it.
A Sort of Ajiaco
Proper aijaco requires some ingredients we lack, so this is a Leamington approximation.  I think it's delicious but apologies to all Colombians.
Ingredients
the stock
1 whole chicken, or chicken pieces, of about 1.6 kilos in weight, but you needn't be precise.
1 large onion, chopped fine
4 litres of water
1 tablespoon salt
6 whole peppercorns
the additional soup ingredients
4 potatoes, cut into chunks — the Canalside potatoes we're currently getting are ideal as they are the mealy variety that disintigrate when you boil them. That's what you want here.
3 potatoes, cut into thinnish slices—ideally, use waxy  potatoes of the sort that will not disintegrate when you boil them.  Real ajiaco uses different varieties of potato but even if you use only one the result will be delicious.
200g runner beans, sliced in to 1-inch chunks
2-3 ears sweetcorn, shucked (i.e. husk and silk removed) and cut into 3 chunks
the delightful extras
2 avocados, cut into slices
1/4 cup capers
1/2 cup double cream (I suppose you could use single cream)
tomato-coriander salsa
4 tomatoes, chopped into small cubes
1 medium onion, chopped fine
1/2 cup fresh coriander, chopped fine
1 green or red chilli
salt to taste
Preparation
Put the soup ingredients into a large pot for which you have a lid.  Cover and bring to the boil. Once it begins boiling turn the heat down so that it simmers gently. Cook for 75 minutes.Meanwhile prepare the other components.  Put the avocadoes and capers in two attractive little dishes and place the cream in a jug. Then prepare the salsa: put the tomato, onion and coriander into a little serving bowl and mix.  Cut off the end of the chilli and the slice it in half.  If you don't want the salsa to be too hot remove the seeds, and then mince the chilli into tiny bits.  Mix it into the salsa and add salt to taste.  Let it mellow while you finish the soup.
After the soup has been cooking for about an hour and a quarter the chicken should be tender and the broth rich and flavourful.  If for any reason the chicken still seems a bit rubbery or under-cooked, let the soup simmer for another 15 minutes or so. Fish out the chicken and let it cool a little.  Once you're able to handle it, remove the meat from the bones, and, if you like, shred it a bit into bite-sized pieces.  Return the meat to the pot and bring the soup back to the boil.
Add the chunks of potato and cook for 20 minutes. The potato should disintegrate.  If chunks still remain give the whole thing a little mash with a potato masher to encourage them to break apart.
Add the sliced potatoes and runner beans nd cook for another 10-15 minutes, until they are tender.
Add the chunks of corn and cook for 5 final minutes.  Check to see if it needs more salt or pepper.
To serve: bring the soup to the table and give each diner a bowl brimming with chicken, sliced potatoes and runner beans, topped by a piece of corn on the cob.  Pass around the little bowls of avocado, capers, and the salsa, and the jug of cream.  Each diner can adorn their bowl with whatever they fancy.
It's always useful to know how to make good salad dressings. Here is one from Alexandre Dumas, son of the Alexandre Dumas who wrote The Three Mustakeers. Our Alexandre Dumas, the autor of our salad dressing, also wrote La Dame aux Camélias, which provided the plot for Verdi's opera La Traviata. So there you have it!
Alexandre Dumas' Salad Dressing
Dumas recommended serving this on a potato salad (with beetroot, sliced celery and truffles). I think it's excellent on a simple green salad. It will also be good on a dish of lightly cooked French beans. You don't need to use all of the ingredients Dumas recommends—you can leave out the chervil, or the tuna, for instance—and it will still be tasty. You can toss it yourself. When he says 'the mustard of Maille' he is referring to a particular make of Dijon mustard which is, in fact, still available, but you can use any sort of French mustard that you have to hand. You'll see that he doesn't use measurements, aside from stipulating the number of hard-cooked eggs, which should make you feel bold and free to experiment.
'Into the my salad bowl I put one hard-cooked egg yolk for every two persons; six egg yolks for a dozen guests. These I mash with oil to form a paste, to which I add: chervil, [tinned] tuna, anchovies, the mustard of Maille, a large spoonful of soya sauce, chopped gherkins, and the chopped white of the eggs. I thin this mixture with the best vinegar I can procure. Finally I put the salad back in the bowl; I have my servant toss it. Over the tossed salad I sprinkle a pinch of paprika, that is, Hungarian red pepper.'
Recipe from Alexandre Dumas, Grand Dictionnaire de Cuisine (Paris, 1873).
This, like all the Thomasina Miers recipes I've tried, is easy and, as she'd say, utterly yum. I've never used the prawns but since the original recipe calls for them I thought I'd include them. You choose. You can get black rice noodles at Gaia. This makes a fresh, quick, mid-week dinner.
Black Noodles with (or without) Prawns
Serves four
Ingredients
2 ears of corn
1-2 dried chillies
200g French beans, topped, tailed and cut in half
250g black rice noodles
3 tablespoons sunflower oil
1 large red onion, peeled, halved and thinly sliced
3 fat cloves garlic, peeled and sliced
1 handful peanuts (if you're not using the prawns increase this to a very big handful)
450g prawns (optional)
1 tablespoon fish sauce
Juice of 1 lime
1 handful mint leaves, roughly chopped
salt and pepper
Preparation
'Shuck' the corn: peel off the leaves and remove the corn silk—the delicate threads that surround the cob. By the way, it's best not to shuck corn until you're ready to use it. The kernels dry out quickly. Cut the kernels off each cob. Do this by standing the cob upright, on its end, on a board or in a wide bowl and slicing down along the length of the cob.
Chop the chillies. Remove the seeds unless you'd like the dish to be very hot.
Steam the beans for four minutes, until tender but still with a little crunch. Lift them out, set them aside, and then use the steaming water, topped up if needed, to cook the noodles according to the instructions on the packet. Drain them, rinse in cold water, toss with 1 teaspoon of oil so they don't stick to themselves, and set aside.
Heat the remaining oil in a wide pan over high heat, and stir-fry the onions, kernels of corn and chilli for a few minutes. Season generously with salt and pepper, add the garlic and peanuts, and stir-fry until the garlic starts to go translucent. Add the prawns (if using) and stir-fry for a few more minutes, until they turn pink and look a little caramelised around the edges. The corn should by now have also taken on some colour. Taste, add more chilli if you want more spice, and then add the fish sauce, lime juice, beans and noodles, and toss to heat through. Add more lime or fish sauce to taste, scatter over the mint and serve in deep, warmed bowls.
(Recipe adapted from Thomasina Miers, The Weekend Cook.)
Pasta with Green Beans, Potatoes and Pesto
Perhaps this recipe is from Liguria. In any event, it's delicious and very summery. Pesto often includes garlic, but I think for this light, delicate dish it's better to focus on the basil and vegetables. I like this with buckwheat pasta but you can use whatever kind you favour. And if you've never included potatoes in a pasta dish, well, you're in for a treat.
Serves 4
Ingredients
The proportions for this dish are very approximate. And you can add little bits of brigh red cherry tomato, if you like.
For the Pesto 
50g pine nuts
1 big bunch of basil (about 50g)
100ml olive oil (or a little more if the pesto seems too dry)
1/2 cup freshly-grated Parmesan or Pecorino cheese
zest of half a lemon
The Other Ingredients
300g potatoes (about 3 medium-sized Canalside ones)
150g green beans, topped and tailed, and cut in half if they are very long
2 teaspoons salt (for cooking the pasta)
400g long, thin pasta (fettucine, linguine, trenette, etc.)
freshly-ground black pepper, to taste
Additional cheese, to serve
Preparation 
To make the pesto:
Heat a small frying pan over medium heat. When it's hot, add the pine nuts (you don't need any oil) and toast them until they are fragrant and lightly browned. Keep an eye on them so they don't burn. Once they're done tip them onto a plate to cool down a bit.
Meanwhile, remove the basil leaves from the stems. Stack up the leaves in a pile and shred them into fine strips.
Put the cooled-down pine nuts into a mortar and mash them up with the pestle. Pine nuts are soft, so it should be easy to reduce them to a crumble. Once they're broken up and crumbly, add the shredded basil and the olive oil and mash them up into a rough paste. Add a little more oil if it seems too stiff. Stir in the grated cheese and lemon zest.
There's your pesto. I think it's nicer to have it a bit chunky, but if you prefer you can carry on mashing until you're reduced it to a smoother, more homogenous consistency. Of course you can also do this in a food processor. Doing it by hand is pretty easy and gives you more control over the texture. Once the pesto is ready you can proceed with the rest of the recipe or set it aside for later. Pesto keeps for ages in the freezer.
To complete the recipe:
Place the potatoes in a pan of cold water and bring them slowly to the boil. Once they're boiling reduce the heat to a simmer and cook them until they're tender. The current Canalside potatoes are taking about 20 minutes for the medium-sized ones. Fish them out of the water and leave them to cool. DON'T discard the water, as you will use it to cook the beans. Once the potatoes are cool enough to handle slice them thick or thin, or cut them into 1cm cubes. Put them in a serving bowl.
Bring the water back to a boil and cook the beans for about 3 minutes, or until they're as tender as you like them. Drain the beans and add them to the potatoes. Alternatively, you can fish the beans out of the water as you did with the potatoes, thereby keeping the water to use for cooking the pasta, as well.
Bring a large pot of water to the boil (or use your potato-bean water), add the salt, and return to the boil. When it's really boiling add the pasta and cook to your preference. Drain the pasta, RETAINING ONE CUP OF WATER TO ADD TO THE SAUCE. It's easiest to do this by to dipping some out of the pot (using a mug) before you drain it.
Add the drained pasta to the dish with the potatoes and beans. Add about half of your cup of water to the bowl and toss it about. Stir in several generous spoonfuls of pesto and toss. Now assess it: if it seems a bit dry stir in some more of your cooking water. If you'd like more pesto, add it. Season it with black pepper and serve. Bring a chunk of cheese to the table in case anyone wants additional cheese.