Meera Sodha's East is excellent! Here is a gentle coconut-milk curry called an 'istoo', which is apparently derived from the English word 'stew'. She recommends serving with aubergine pickle, and rice or an Indian flatbread. Some fried aubergine slices also go well.
Potato and Green Bean Istoo
Serves 2-3
Ingredients
2 tablespoons rapeseed oil
10 curry leaves
4cm cinnamon stick, broken in 2
1 medium onion (or 2 small onions), sliced
2cm piece of fresh ginger, peeled and grated
4 cloves of garlic, peeled and grated
1 green chile, slit in 2
650g small potatoes, halved
1 teaspoon each salt and pepper
1 400ml tin of coconut milk
250g green beans, topped and tailed
Preparation
In a casserole dish for which you have a lid, heat the oil on medium heat. Once it is hot add the curry leaves, cinnamon stick and onion. Reduce head to low and cook for 10 minutes, until the onion is soft but not brown. Add the ginger, garlic and chile, and cook for another 2-3 minutes.
Add the potatoes, salt and pepper and stir in the coconut milk. Then swill out the tin with about 100ml of water and add that to the pan as well. The potatoes should be just covered, so add more water if need be. Bring to a boil, and then reduce to a simmer and cook for 10-15 minutes, or until the potatoes are tender.
Add the beans, cover, and simmer for another 5 to 6 minutes, or until the beans are tender. Now it's ready!
Recipe adapted from Meera Sodha, East (2019).
I wasn't quite sure what to suggest this week and was resigned to the oven chips recipe I've been holding in reserve, until I spotted this noodle dish. It's quite different to what I would normally cook and I'm excited to give it a try!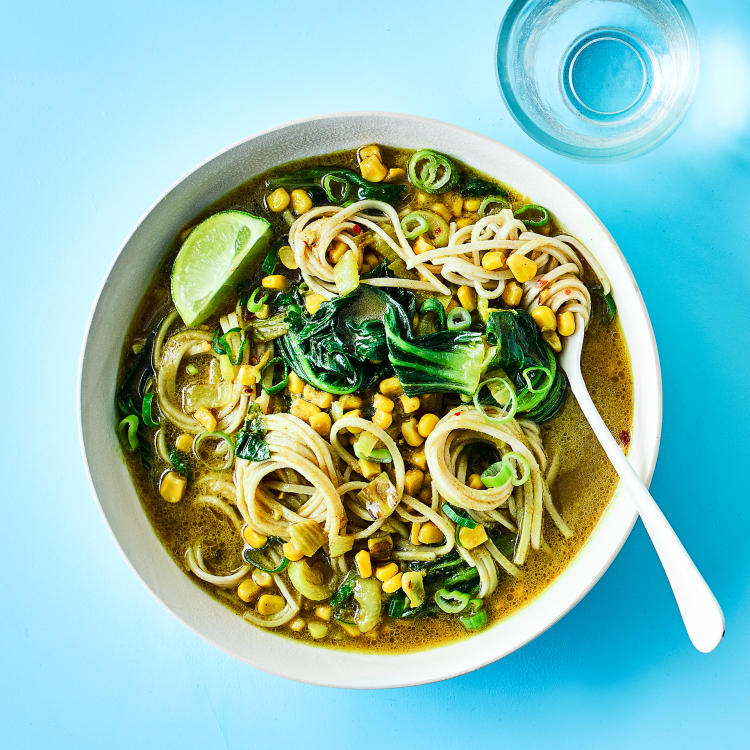 Sunny sweetcorn noodles
Ingredients:
Chilli flakes (I've still got some Canalside dried chillies to get through!)
coconut cream or coconut milk (add less water if not using cream)
2 garlic cloves
2 tbsp thai green curry paste
lime or lime juice
250g pak choi
35ml soy sauce
1 spring onion (optional garnish)
1tsp turmeric
sweetcorn
noodles (2 nests)
1 veg stock cube
Method:
Peel and thinly slice garlic and boil the kettle
Add sweetcorn on the cob to large pan of water and boil for 10 minutes
Cut pak choi in half to separate stems from leaves. Leave leaves whole and cut stems into bitesize pieces
In a large pan (preferably with a lid) heat some oil (high heat) then add turmeric and cook for 30 seconds.
Add sliced garlic and curry paste and cook for 2 minutes
Use this time to put noodles on to boil for about 5 minutes or according to instructions
Add pak choi stems and a large pinch of salt and cook for ~3 minutes with lid on until stems are tender
If using coconut cream, mix this with stock and 350ml of hot water. If coconut milk, add this and stock direct to pan.
Add cream mix / cocunut milk and stock to the pan of veg, along with the chilli flakes and soy sauce
Set to low heat whilst you take out the sweetcorn and use a knife to separate the corn from the cob
Add sweetcorn and pak choi leaves to the pan, add water to achieve your preferred consistency and boil on low heat until leaves have wilted.
Bowl up the noodles and veg soup, adding lime juice and chopped spring onions on top if you've got them
Adapted from https://www.gousto.co.uk/cookbook/vegetarian-recipes/sunny-sweetcorn-noodles
My housemate gave me this recipe (adapted from Gordon Ramsey) because he claimed it was the best soup he's ever had. I overspiced my attempt so i'll leave you to decide whether he's right! I topped up my share with a friend's garden tomatoes, but the recipe can be scaled down if you have less than is needed. I made 5 lunch sized portions from 1.2kg of tomatoes.
Roasting the tomatoes

The finished soup!
Tomato soup with sundried tomato pesto
Ingredients:
SOUP:
2 red onions, peeled and sliced
2 garlic cloves, peeled and finely sliced
1⁄2–1 tsp cayenne pepper, to taste (1/2 makes for a spicy soup if you're using CORE's cayenne pepper!)
olive oil, for drizzling
1.5kg ripe tomatoes, cored and halved
sea salt and freshly ground black pepper
1 tsp caster sugar
1 tsp balsamic vinegar
1 litre vegetable or chicken stock
100ml double cream (soya alternative works fine)
PESTO:
2–3 tbsp pine nuts
75g sundried tomatoes, drained, oil reserved and finely chopped
50g Parmesan cheese, grated (welcome suggestions for vegan replacements, the cheese is the bulk of the pesto in this recipe so not sure you can manage without)
olive oil
Method:
Preheat oven to 180 degrees C.
Use a roasting tray on the hob at medium heat to brown the onions, garlic and pepper for a few minutes. Then add the tomatoes face down and move to high heat. Season with salt/pepper and add sugar and vinegar. Cook until tomatoes begin to caramelise (3-4 minutes). Stir and move to oven for 20-25 minutes. (If they blacken a little that's fine, it adds to the flavour)
Make the pesto while you wait. Toast the pine nuts in a frying pan and using a pestle and mortar, pound the sundried tomatoes to a paste, season with salt and add the pine nuts, continuing to pound to resemble pesto. Stir in parmesan and add a good glug each of tomato oil and olive oil to make it look like pesto again.
Get the tomatoes out and back on the hob, adding the stock and simmering for 4-5 minutes. Then add the cream for 2-3 minutes stirring well. Then blend and serve with dollops of pesto on top!
This week I'm keeping it simple and taking a little inspiration from a recent roadtrip to Italy. The spinach and tomato are pretty core to the dish but feel free to pick and choose from the rest of the list depending what you've got – I use an app called plant jammer to figure out what things might go well together.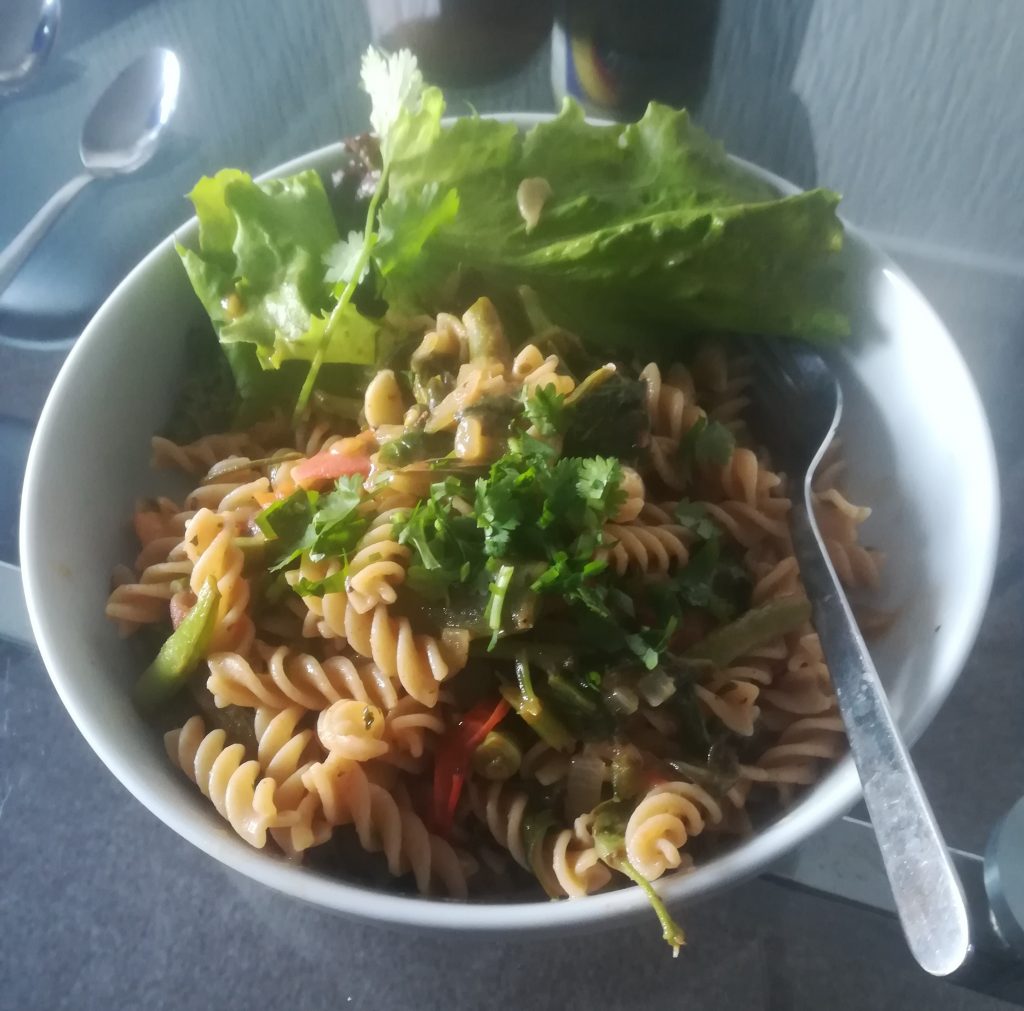 Core Ingredients (for 1 person):
Pasta of your choice, 2 handfuls
Fresh Tomatoes, 1 large handful
Spinach (or other greens depending on share), 3 handfuls
Basil, small handful
Garlic, 1 clove
Lemon Juice 0.5-1 tablespoon or to taste
Olive Oil, 2-3 tablespoons or to taste
Mixed herbs, 1 teaspoon
Optional extras:
Black olives, small handful
Walnuts, small handful
Onion, 1 medium
Green/French Beans, about 3cm bundle
Method:
First chop all your veg; tomatoes into quarters, spinach may need stems chopping down to manageable size, garlic minced or thin slices, onion diced
Next get the pasta on the boil – when it's ready remember to keep the water!
Whilst the pasta cooks, fry off onion and garlic, then add tomatoes, spinach and any optional extras and fry at a medium heat.
The pasta should be ready about the same time as the veg is cooked. Before draining, add the olive oil to the veg and then add a few sloshes of the pasta water – the starch helps make a good sauce! Then add the lemon juice, basil and mixed herbs and stir it all together until you have a nice shiny consistent sauce. Season with salt and pepper.
Drain the Pasta and add to the pan, mix and serve with some salad on the side and a little chopped coriander on top.
I picked up this recipe whilst living in Gothenburg and it has great connotations for me with sunny breakfasts on the pier… Hopefully I don't just see it with rose tinted glasses!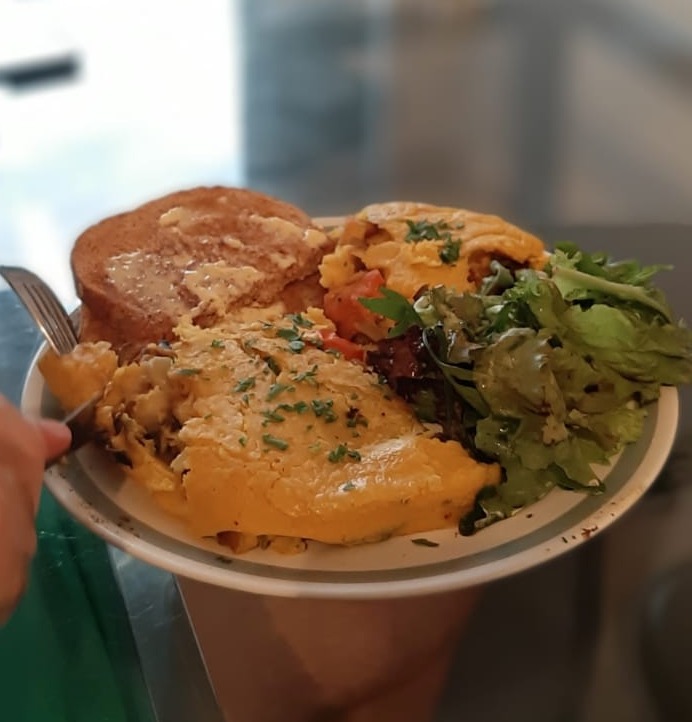 Vegan chickpea flour (kikärtsmjöl) omelette
Ingredients
1 cup (120 g) chickpea flour
1 Tablespoon flaxseed meal or chia seed meal (optional)
1/2 tsp (0.5 tsp) salt
1/4 tsp (0.25 tsp) each of turmeric garlic powder, baking soda, cumin powder
1ish cup of water
Fillings!
Fried tomato, onion, mushrooms, lots coming in our shares that could suit!
Method is simple, mix the all the dry ingredients then add the water slowly and mix with a whisk until they take on the same consistency as whisked eggs. Fry up the fillings, then poor on the omelette mix and reduce pan to a medium to low heat. Make sure you cook it slower and longer than an egg omelette – it tends to burn before solidifying enough to flip if you rush it.
Rebecca's Recipe of the Week: Buckwheat dosa with coconut chutney and greens
Another easy and delicious recipe from Meera Sodha. She writes: 'This dish consists of three separate elements: the dosa batter, the coconut chutney and the vegetable filling. . . The key to success is to make [the dosas] in a nonstick pan on a very high heat – it needs to be very hot indeed – and make sure you leave them to crisp up properly before even thinking about flipping them with a spatula. The first pancake will inevitably fail – such is the universal law of pancakes – so make it a small one, so as not to waste too much batter'.
Buckwheat dosa with coconut chutney and greens
Serves 3
Ingredients
100g desiccated coconut
Salt
180g buckwheat flour
6 tbsp oil, plus extra for brushing
12 fresh curry leaves
1 tablespoon cumin seeds
1 tablespoon black mustard seeds
3 garlic cloves, peeled and minced
2cm ginger, peeled and grated
1-2 green chillies, finely chopped (or to taste)
400g chard or spinach, leaves shredded, tough stalks roughly chopped
200g frozen peas
Preparation
Put the desiccated coconut in a heatproof bowl with a third of a teaspoon of salt, cover with 275ml boiling water and leave to soak for at least 30 minutes.
Meanwhile, put the buckwheat flour in another bowl with half a teaspoon of salt. Slowly pour in 450ml water, mix to a thin batter, then set aside.
Put the oil in a nonstick frying pan and get it really hot, then add the curry leaves, cumin, mustard seeds, garlic, ginger and chillies, and fry for two to three minutes, until the garlic turns a pale gold. Carefully tip into a jug to cool. Keep the pan for later.
When the spiced oil has cooled, stir two tablespoons into the coconut mix, and another two tablespoons into the buckwheat batter. Tip the coconut into a blender and blitz until really smooth (add a little more water, if need be).
Reheat the frying pan over a high heat and, when hot, add the rest of the spiced oil, followed by the chard or spinach stalks. Fry, stirring, for three minutes, then add the leaves and cook until wilted. Throw in the peas, cook for a couple of minutes, until everything is nice and hot, then stir through a couple of tablespoons of the coconut chutney. Scrape out into a serving dish, wipe the pan clean with kitchen paper and put back on the heat.
Once the pan is really hot, brush the surface with a fine layer of oil. Add a small ladleful of batter and swirl it into a thin layer – a few gaps and bubbles are fine, because they can help the dosa get crisp. Cook the dosa for two minutes, until the edges are visibly crisp and browning, then gently lever up with a spatula, flip and cook for a further two minutes on the other side, before turning it out on to a plate. Repeat with the remaining batter, oiling the pan between each dosa.
Stuff the dosas with the greens and serve with the remaining chutney on the side.
Recipe adapted from Meera Sodha, The Guardian, 13 July 2019.
If you're a Saturday collector, you'll be getting the last of the broad beans – why not try them in this recipe?!
I've had this recipe waiting in the sidelines for a while, expecting it to take ages but it turned out to be super easy! The fritters turned out pretty tastey and all that veg helped make me feel a little better about the deep fat frying… The recipe I got this from has instructions for homemade labneh, but I swapped that for lemon minted yoghurt. Since I had the frier out I decided to go all out and make courgette fritters, deep fried brie and onion rings as well, not a healthy night! Note the recipe is scalable for smaller shares but i'd keep the spice measures fairly high to avoid them getting lost in the frier.
Chilli broad bean fritters with homemade labneh
Ingredients:
Fritters:
600g broad beans (or 1¼kg in their pods), skinned to reduce bitterness (I didn't bother and can't say I noticed)
small bunch mint, roughly chopped
small bunch parsley, roughly chopped
small bunch dill, roughly chopped
1 tbsp self-raising flour, plus a little for dusting
1 red chilli (deseeded if you don't like it too hot), roughly chopped
zest 1 lemon
2 small garlic cloves
1 tsp ground cumin
1 tsp ground coriander
½ tsp ground allspice
½ tsp sumac
Yoghurt:
1/4 a bunch of fresh mint , (7.5g)
1/2 lemon, (juice and any remaining zest after fritters)
4 tablespoons natural yoghurt (Alpro-style alternative will work great too)
Method:
Fritters:
To make the fritters, put the ingredients in a food processor, season and blend until smooth. Using 2 dessertspoons, scoop and shape the mixture into 16 quenelle shapes – or roll with floured hands. Place on a plate and chill for at least 1 hr, or cover loosely with cling film and chill for 24 hrs. (I chilled in freezer for 1h, they weren't quite sticky enough but I managed by squeezing them hard with my hands).
When you're ready to serve, heat at least 6cm oil in a wide, deep pan (or put a deep fat frier on 190°C). The oil is ready when a piece of bread dropped into the oil sizzles and turns brown within 30-40 secs (if the oil is too cool, the fritters will fall apart). Dust the fritters with a little flour and roll around the plate to coat the outside. Carefully lower 4-6 into the pan at a time and cook in batches, for 5-6 mins, until deep golden brown. Drain on a plate lined with kitchen paper and sprinkle with salt. Put the fritters in the oven on low heat while you cook the next batch.
Yoghurt:
Mix yoghurt, mint and lemon, adding salt and pepper to taste.
If you fancy them, courgette fritters or onion rings just need some batter making up in a bowl, about 50/50 self-raising flour (to get good bubbly batter) and water to a pancake batter consistency, add salt and pepper (and dill if you like) for a better taste. Chop courgette into sticks and onion into rings, rub them in a plate of flour (coat fully) then dip in the batter then into the frier. Fry until golden (1-3 minutes) then remove and drain, making sure to add salt and pepper whilst they're fresh out of the frier! (This makes a BIG difference).
From: https://www.bbcgoodfood.com/recipes/chilli-broad-bean-fritters-homemade-labneh
I've never tried this but my girlfriend assures me it's a great summer recipe and a slightly different way to make use of courgette!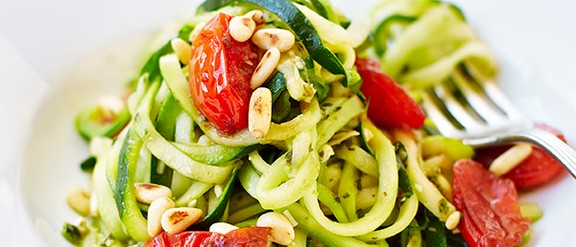 Courgetti with pesto and balsamic tomatoes
Ingredients
baby plum tomatoes 8, 4 halved and 4 whole
olive oil
garlic 1/2 clove, crushed
balsamic vinegar 1 tbsp
courgette 1 large, spiralised or very thinly shredded into noodles
fresh vegetarian pesto 2 tbsp
pine nuts 1 tbsp, toasted
Method
STEP 1: Toss the tomatoes with 1 tsp oil, garlic and balsamic vinegar and some seasoning. Tip into a frying pan and cook for 5 minutes until the whole tomatoes start to burst and they are coated in the balsamic.
STEP 2: Pour a kettle of hot water over the courgette spaghetti and blanch for 30 seconds. Drain really well, toss with the pesto and season well. Stir, coating the noodles, then add the tomatoes and toasted pine nuts to serve your courgetti.
From Olive Magazine
We've been getting spring onions in the share for a few weeks now, so I thought I would try something different to the usual stir fries and salads… The recipe this week is for spring onion dip! This should go well with courgette sticks, chips (oven baked from the new potatoes) and even fennel. Enjoy best served straight from the fridge, preferably after having a couple of days for the flavours to intensify.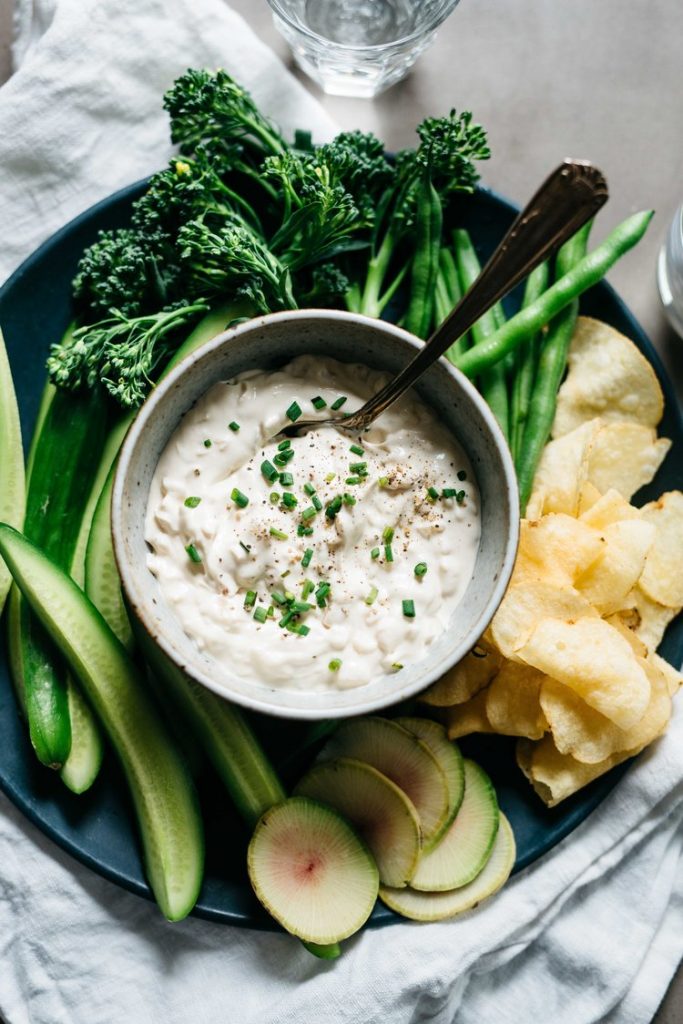 Spring onion dip
Ingredients:
3 tablespoons extra virgin olive oil
1 1/2 cups chopped spring onions
1 1/2 cups raw cashews, soaked overnight or at least 2 hours
fine sea salt
1/2 cup cream cheese (Tesco and Sainsburys both do good vegan alternatives)
1 tablespoon lemon juice
1 1/2 teaspoons apple cider vinegar
1 teaspoon tamari
1/4 teaspoon garlic powder
1/3 cup water, plus more if necessary
chives, for garnish
Method:
Heat a large pan over medium heat. Add 2 tablespoons of olive oil, the onion and a few pinches of salt then stir. Caramelise the onions over 10-12 minutes (stirring occasionally) then transfer to a plate and let cool
Meanwhile, add the cashews, cream cheese, lemon juice, vinegar, tamari, garlic powder, water and 1/2 teaspoon salt to the container of an upright blender (preferably high-speed). Blend on high, scraping down the sides until the dip is smooth and creamy
Taste and adjust the salt and/or lemon juice, as needed
Pour the dip into a bowl, and fold in the onions
Transfer to an airtight container and refrigerate for at least 3 hours, or overnight to really develop the onion flavor.
Cumin-scented cauliflower, yellow from turmeric, cooks with Canalside chile and a subtle coconut-poppy seed glaze. The result is spicy, satisfying and beautiful. Eat it topped with toasted almonds, fresh coriander, yoghurt and a squeeze of lime. Yotam recommends serving with flatbread, but it's pretty delicious just on its own.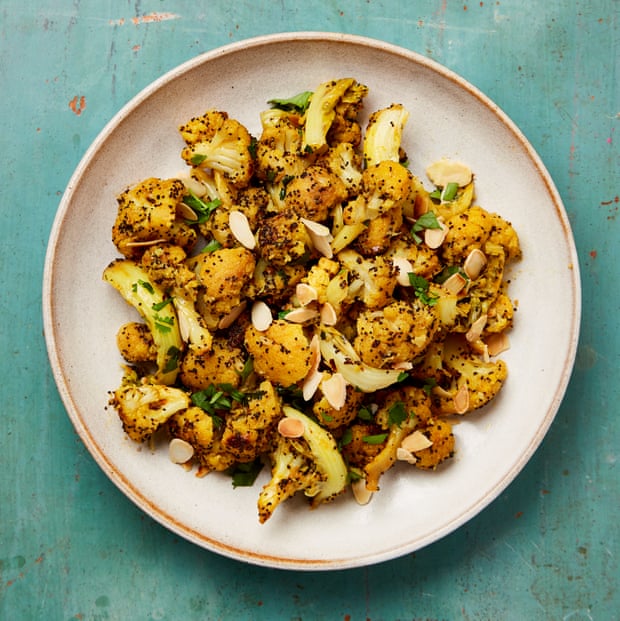 Poppy-Seed Cauliflower with Coconut
Serves 2
Ingredients
40g poppy seeds
60ml sunflower oil
½ – 1 Canalside dried red chile, de-seeded if desired, and shredded
1 teaspoon turmeric
1 teaspoon cumin seeds
2 garlic cloves, peeled and sliced fine
1 large cauliflower and leaves, broken into 4cm-sized florets, leaves shredded
150ml coconut milk (approx.)
To serve
1 handful fresh coriander, shredded
1 small handful flaked almonds, lightly toasted in a dry pan
plain yoghurt
1 lime, halved
Preparation
Put the poppy seeds in a small bowl. Pour over just enough boiling water to cover them. Leave them for half an hour, and then whiz them in a blender or food processor, or crush them in a mortar and pestle, so that they begin to break up a bit. Set aside.
Heat the oil over medium-high heat in a large sauté pan for which you have a lid. When it is hot add the chile, turmeric, cumin and garlic. Turn the heat to medium and sauté for 4 minutes, stirring often, until the garlic starts to brown and the mixture gives off a nice smell.
Add the cauliflower leaves and florets and toss with the spices. Stir for 2 minutes, until the cauliflower has turned an attractive yellow.
Add the coconut milk and the poppy seeds. Add enough coconut milk to make a little sauce, but not so much that it is soupy. Turn the heat down a little and cover. Cook for 4 more minutes, until the cauliflower has begun to soften.
Uncover and turn the heat up to medium-high. Cook for 8 more minutes, stirring regularly, until the cauliflower is tender and has begun to caramelise and the liquid has evaporated.
Serve topped with fresh coriander, toasted almonds, yoghurt and a squeeze of lime.
Recipe adapted from Yotam Ottolenghi, The Guardian, 16 Feb. 2019.