I haven't used a soup recipe for a while and I've suddenly realised I've been surviving off beans and toast for lunch for a little too long, We have an abundance of leeks at the moment and I could go for the easy option of leek and potato soup, but thought I would try this slightly different idea instead.
Leek, spring green and apple soup
Ingredients:
25g butter
1 tbsp olive oil
1 large onion, finely sliced
600g leeks (about 3-4 large), finely shredded
2 garlic cloves, crushed
2 apples, peeled and diced
250ml cider
1 litre veg stock
100g spring greens, finely shredded
salt and pepper
Method
Heat the butter and oil in a large pan. Add the onion and leeks. Fry on a low heat for 10 minutes. Add the garlic and apple and cook for 2 minutes. Add the cider and simmer for 5 minutes.
Add the stock, bring to the boil, reduce the heat and simmer for 10 minutes.
Add the spring greens and simmer for 5 minutes, or until the greens are tender. Blitz until smooth or leave chunkier, whichever you prefer.
Season, and serve.
Taken from: https://www.riverford.co.uk/recipes/view/recipe/leek-spring-green-apple-soup
Dishes of pickled turnips often accompany the mezzes at a Middle Eastern restaurant (or, probably, a Middle Eastern meal). Salty and pink, they are easy to make at home. You can substitute those confusing giant Spanish black radishes for the turnips, if you still have some of these in your fridge. The lovely pink colour comes from beetroot.
The ratio of turnip to beetroot is approximate.
You can sterilise jars by placing clean washed jars in a 130C oven for 20 minutes. Switch the oven off and leave the jars inside until needed. Alternatively, pour boiling water over clean jars and leave until you're ready to use them.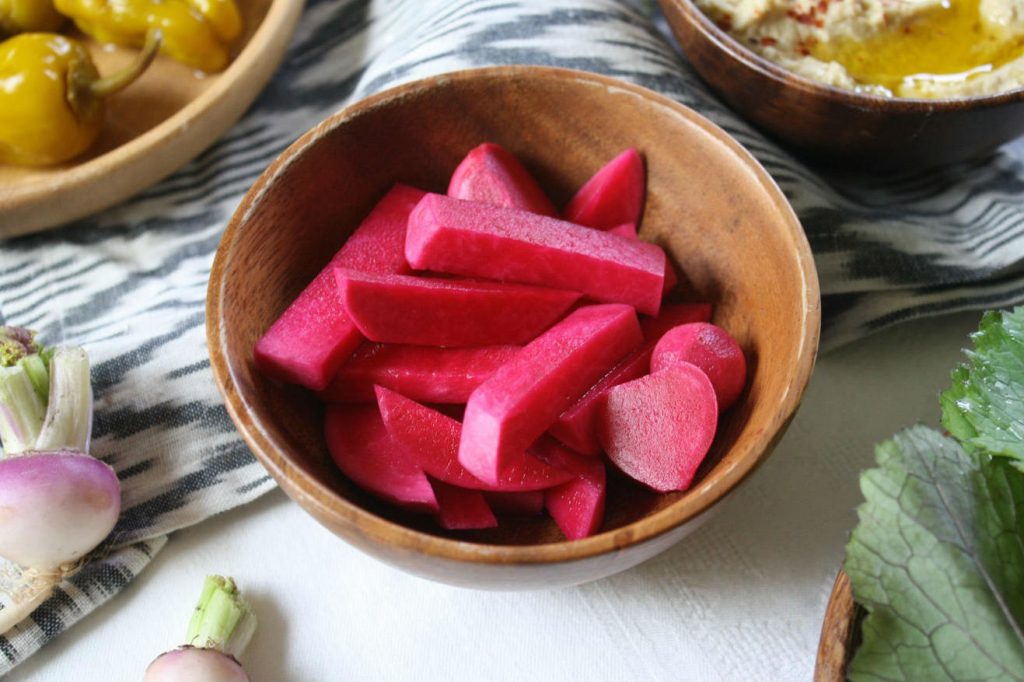 Pink Pickled Turnips
Ingredients
500ml water
3 tablespoons salt
1.5 kilos turnips or Spanish black radishes, or a mixture
250g beetroot
3-4 cloves of garlic
Handful of celery leaves
A few bay leaves (optional)
1 teaspoon whole peppercorns (optional)
2 cups white vinegar
Preparation
Boil the water and salt together for 5 minutes, then set aside to cool.
Peel the turnips or radishes, and the beetroot, and cut into wedges. (The size does not matter a great deal; cut them into the size you'd like to eat.) Peel the garlic and cut each clove in half.
Layer the turnips (or radishes) in sterilised jars, packing some garlic, celery leaves, and optional bay leaves and peppercorns in between each layer.
Combine the vinegar with the water-and-salt mixture and pour this over the vegetables. Poke the vegetables down with a spoon to ensure there are no air pockets and that the vegetables are fully submerged. Seal the jar—Sally Butcher recommends putting a layer of clingfilm over the top before sealing if you're using a metal lid—and leave for at least 2 weeks and up to 6 months.
Recipe adapted from Sally Butcher, Veggistan: A Vegetable Lover's Tour of the Middle East (2011).
Last winter was my first at Canalside and followed an extremely hot and dry summer (with a poor onion harvest as a result of the dry conditions) which means I've been quite shocked at the number of onions in my share this winter – so much so that I have quite the pile accumulating at home. What better way is there to get through them than onion soup? The recipe is from another good youtube chef Binging with Babish (and is featured in Netflix's The Chef Show S2E6) – see if you can spot his catchphrase "Let the flavours get to know each other" (although they have to do that a lot with onion soup!). I doubt beef stock is essential in this recipe so adapt it for a veggie/vegan diet as required.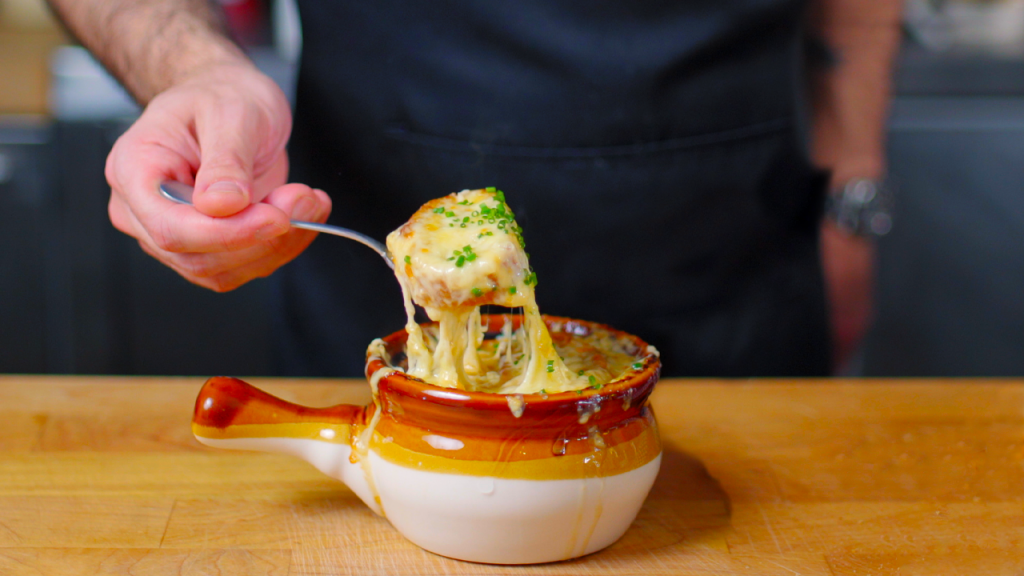 Shopping List
For the soup:
1350g Onions (yields 4 servings)
6 cups high quality beef stock (or amped up store bought stock, see below) (or veggie stock)
2 Tbsp flour
Soy sauce (optional)
Fish sauce (optional)
Day old French baguette (for topping)
Gruyere cheese, shredded (for topping)
For Amped-Up Store Bought Stock
1 bunch parsley
Sliced carrots
Thyme sprigs
3 garlic cloves, halved
2 bay leaves
Sprinkle of peppercorns
2 cloves (optional)
Parmesan cheese rind
Method
Start by preparing your onions. Peel them and then cut in half from pole to pole – through the root and stem. Remove the tough root part by cutting it away with your knife. Then thinly slice them pole to pole – like cutting with the grain of the onion. This gives the slices more structural integrity so that they stand up to the slow cooking method.
Next prepare your stock. Ideally you would use homemade beef stock, but you can also "soup" up a store bought version. To do that, add your beef broth to a stock pot and bring to a simmer. Add aromatics like parsley, sliced carrots, thyme sprigs, garlic, bay leaves, peppercorns, cloves, and parmesan rind. Let it simmer for 1 hour.
In a large dutch oven (any large thick based pan) drizzle 2-4 Tbsp olive oil and let heat up for one minute. Dump in the sliced onions. It will look like way too many, but just trust me.
Slowly caramelize the onions over medium heat. Keep them moving constantly, and scrape down the sides of the pot. The onions are done when they are soft, jammy, and caramelized with a lot of fond on the bottom of the pot.
Add 2 Tbsp flour to the onions and cook for 1-2 minutes then deglaze the pot with 1 cup of dry sherry and cook, scraping up fond from the bottom of the pot.
Once the alcohol is cooked off, add the beef broth. Make sure to strain it first if you added aromatics.
Let the whole thing simmer for 5-10 minutes to let the flavors get to know each other. Optional: add umami boosters. I like to add a splash of fish sauce and soy sauce to richen the flavors.
Cut thick slices of day-old french baguette. Put them on a baking sheet. Drizzle with olive oil and top with salt and pepper. Toast bread in a 200°C oven for 5 minutes. Slice a clove of garlic in half and rub down each piece of bread with the garlic.
Check the soup for salt and pepper and season as necessary. Ladle soup into broiler-safe cups. Top with sliced baguette and shredded cheese. Put the bowls onto a baking sheet and put into an oven preheated to broil. Broil for 3-5 minutes until golden brown.
Garnish with chives and serve and enjoy!
From https://basicswithbabish.co/basicsepisodes/frenchonionsoup
Gochujang, Korean chile paste, is warm and flavourful without being mouth-numbing. It adds a richness and complexity to roasted carrots and cabbage. The proportions of the two vegetables is not terribly important, and you might even want a bit more of the gochujang-cumin-ginger mixture. You could serve this with almost anything, from roast chicken to a potato pancake. It's nice topped with yoghurt, too.
Roasted Carrot and Cabbage with Gochujang
Serves 2-4 as a side dish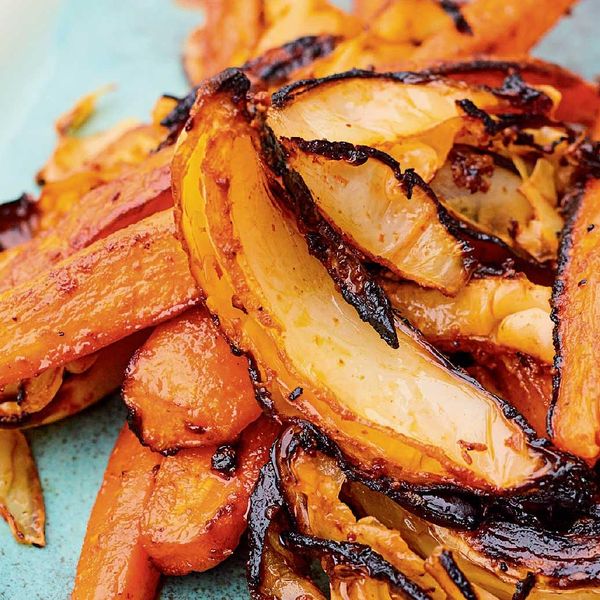 Ingredients
750g carrots, peeled
750g white cabbage
3 tablespoons rapeseed oil
1.5 tablespoons gochujang paste
1 teaspoon ground cumin
1 teaspoon salt
4 cloves garlic, peeled and grated
3cm fresh ginger, peeled and grated
2 tablespoons more rapeseed oil
1 tablespoon white vinegar (I used rice wine vinegar; the original recipe calls for white wine vinegar)
Preparation
Preheat the oven to 220C. You will need two large baking trays and Meera Sodha recommends lining them with foil.
Cut the carrots lengthwise in half or quarters (depending on the size) to make long batons. Cut the cabbage into 2cm wedges. Place them in a large mixing bowl, or directly onto your two baking trays.
In a small bowl, mix the 3 tablespoons oil, gochujang, cumin, salt, garlic, and ginger. Pour over the vegetables and mix with your hands so that the marinade gets everywhere.
Spread the vegetables across the two trays. Make sure the carrots and cabbage are in a single layer, then bake for 35 to 40 minutes, until the vegetables are tender and blackened at the edges.
Meanwhile, put 2 tablespoons of oil and the vinegar into a large serving bowl. When the carrots and cabbage are roasted, transfer them to the bowl while still hot and toss them in the oil and vinegar and serve.
Recipe adapted from Meera Sodha, East (2019).
Salsify… I had no idea, but after a bit of googling and an interesting independent article / waitrose advert ( https://www.independent.co.uk/life-style/food-and-drink/salsify-root-vegetable-taste-recipe-what-is-it-waitrose-albert-bartlett-a8631251.html ) I've picked out a gratin recipe after realising that I've yet to make one this winter despite it being a weekly staple last year (that would be because I worked out how to make good oven chips instead!). I think this could be turned into a full meal rather than a side dish if you add sliced boiled potatoes and increase the quantities for the sauce and breadcrumbs.
Leek and Salsify Gratin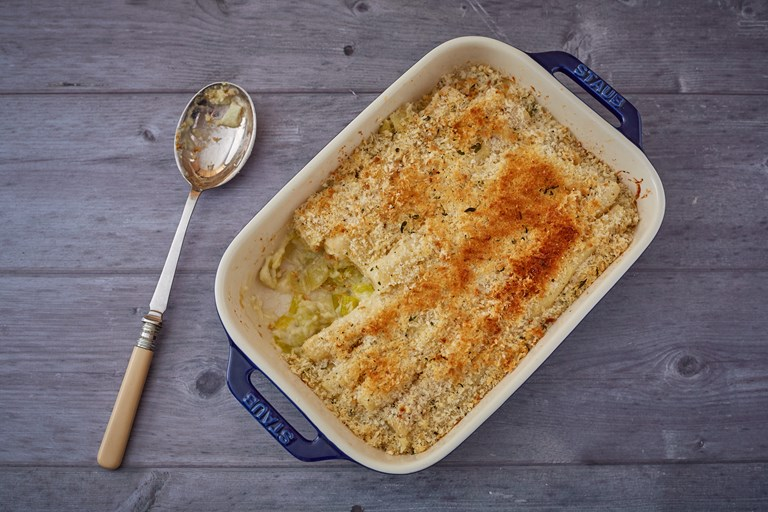 Ingredients
SALSIFY
400g of salsify root
Lemon juice & water in a bowl
300ml of milk
1 bay leaf
LEEKS
330g of leek, washed and sliced into 1cm rings
20g of butter
olive oil
2 garlic cloves, sliced
SAUCE
40g of butter
40g of flour
1/2 tsp Worcestershire sauce, (optional – omit to make vegetarian)
1 tsp Dijon mustard
Tabasco, to taste
100g of mature cheddar, grated
salt
freshly ground black pepper
CRUMB TOPPING
20g of Parmesan, (swap for vegetarian hard cheese if preferred)
20g of Panko breadcrumbs
freshly ground black pepper
Method
Wash the salsify, scrubbing off any soil, then peel and trim the ends of each baton. Immediately place the peeled salsify into the bowl of lemon water to stop it from going brown
Bring the milk to the boil in a pan with a bay leaf and add the salsify batons. Simmer for 6–8 minutes until cooked al dente, then drain and set aside (reserve the milk for later)
Heat a splash of olive oil in a pan with the butter and sauté the leeks and sliced garlic until soft but not coloured
In a separate pan, make the cheese sauce. Melt the butter then stir in the flour. Cook until golden and slightly foaming, then slowly whisk in the warm milk reserved from poaching the salsify, continuously whisking to prevent lumps
Stir in the grated cheddar. Once melted and smooth, season with the mustard, Worcestershire sauce (if using), Tabasco, salt and pepper
Preheat the oven to 180°C/gas mark 4
Trim the salsify to the size of the ovenproof dish you'll be using. Roughly slice any trimmings and add to the pan with the leeks
Pour ¾ of the sauce into the leeks and stir to combine, then transfer to an ovenproof dish
Place the trimmed salsify into the remaining sauce and stir to coat. Neatly arrange the salsify on top of the leeks
Mix together the ingredients for the crumb and sprinkle evenly over the salsify. Bake for 25–30 minutes until golden and serve
Taken from: https://www.greatbritishchefs.com/recipes/leek-and-salsify-gratin-recipe
It seems like every sprouts recipe in existence starts with "sprouts are now one of my favourite christmas foods…" but however cliche it is, I agree since I started experimenting with different ideas. In past years I've used Jamie Oliver's squashed brussels recipe but this year I want to keep it veggie so I've gone for the recipe below. I might experiment with boiling, frying and squashing the sprouts before the roast as per the Jamie recipe though.
Maple Balsamic Sprouts
Ingredients:
4 cups (350g) Brussels sprouts, halved
2 tablespoons olive oil
1/2 red onion, thinly sliced
2-3 garlic cloves, minced
1 teaspoon dried rosemary
salt and pepper, to taste
1/3 cup (40g) hazelnuts, roasted chopped
Maple Balsamic Glaze
3 tablespoons balsamic vinegar
2 teaspoon maple syrup
Instructions
Preheat the oven to 220 C
Wash and half the Brussels Sprouts and toss them with oil, onions, garlic, rosemary, salt, and pepper. Spread onto a baking sheet in a single layer and bake for about 30 minutes, stirring occasionally, until browned on the outside and tender on the inside.
Stir together balsamic vinegar and maple syrup and set aside.
Remove from oven and toss with hazelnuts and maple balsamic glaze.
Serve warm.
Taken from: https://www.mydarlingvegan.com/maple-balsamic-brussels-sprouts-with-hazelnuts-and-rosemary/
This is an absolute flavour bomb. The combination of onion, spice and pumpkin is delicious, fresh and complex, with a savoury depth that you will savour. Serve with rice, and a garnish of fresh coriander, if you like, for a little touch of green.
If you want to make this vegetarian, you can apparently replace the fish sauce with an equal amount of Japanese miso, but I used fish sauce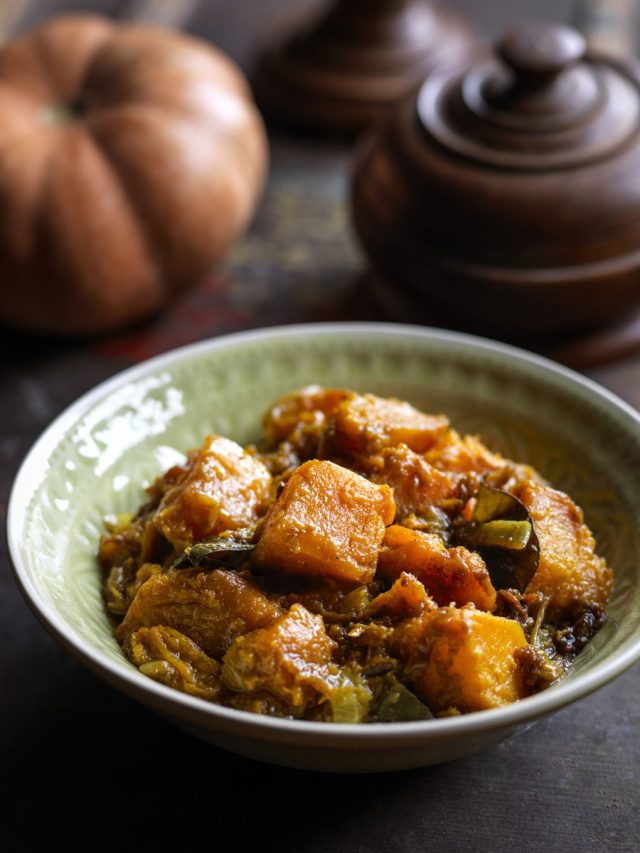 Burmese Golden Pumpkin Curry (Shwe Hpayone-thi Chet)
Servings 2 as a main
Ingredients
100 ml rapeseed oil or other neutral-tasting oil
2 teaspoon ground turmeric
2 teaspoon ground coriander
2 teaspoon ground cumin
2 teaspoon paprika
16 fresh or dried curry leaves
3 medium onions, sliced
3 spring onion, green and white parts, shredded
4-6 garlic cloves, sliced
3 cm piece of ginger, peeled and grated
1 small squash or pumpkin, peeled and cubed
1 tablespoon sugar
4 tablespoons fish sauce
Instructions
Heat the oil in a saucepan over a high heat. Add the turmeric, coriander, cumin, paprika and curry leaves to the oil and allow to sizzle for a few seconds. 
Now turn the heat down to medium and add the onions, spring onion, garlic and ginger and fry for 10 minutes, until fragrant and the onions have wilted and some have crisped up.
Add the squash, sugar, and 300ml of water. Stir well. Cover and cook for 25 minutes, or until the squash is tender. Add the fish sauce, stir again and serve with rice.
Recipe adapted from Mimi Aye, Mandalay: Recipes and Tales from a Burmese Kitchen (2019).
Also available online at https://www.kaveyeats.com/2019/11/mimi-ayes-golden-pumpkin-curry.html
I don't think I've ever eaten a Jerusalem Artichoke before, but they're coming in the share next week! After a bit of searching around it seems like roasting is the most common way to eat them and this recipe sounds like a good introduction. Anyone who's had them before please feel free to suggest other ideas!
Ingredients (scalable)
800g Jerusalem artichokes
1 garlic bulb, cut down the middle
1 tbsp rosemary leaves, chopped
3 tbsp rapeseed (or other) oil
pinch ground mace (Comes from nutmeg shells, so I will probably just substitute nutmeg)
20g butter
2 tsp lemon juice
Method
Heat oven to 180C/160C fan/gas 4. Soak the artichokes in cold water for 20 mins or so to loosen any dirt, then scrub them with a scourer, being sure to remove any grit. Halve the small ones and quarter the bigger ones, and put them in a roasting tin with the split garlic bulb and rosemary. Coat everything with the oil and season. Roast for 45-50 mins until tender inside and crispy outside.
To finish, squeeze the softened garlic cloves from their skins and toss with the roasted artichokes, along with the mace, butter and lemon juice.
Taken from https://www.bbcgoodfood.com/recipes/crispy-jerusalem-artichokes-roasted-garlic-rosemary
Meera Sodha's East is excellent! Here is a gentle coconut-milk curry called an 'istoo', which is apparently derived from the English word 'stew'. She recommends serving with aubergine pickle, and rice or an Indian flatbread. Some fried aubergine slices also go well.
Potato and Green Bean Istoo
Serves 2-3
Ingredients
2 tablespoons rapeseed oil
10 curry leaves
4cm cinnamon stick, broken in 2
1 medium onion (or 2 small onions), sliced
2cm piece of fresh ginger, peeled and grated
4 cloves of garlic, peeled and grated
1 green chile, slit in 2
650g small potatoes, halved
1 teaspoon each salt and pepper
1 400ml tin of coconut milk
250g green beans, topped and tailed
Preparation
In a casserole dish for which you have a lid, heat the oil on medium heat. Once it is hot add the curry leaves, cinnamon stick and onion. Reduce head to low and cook for 10 minutes, until the onion is soft but not brown. Add the ginger, garlic and chile, and cook for another 2-3 minutes.
Add the potatoes, salt and pepper and stir in the coconut milk. Then swill out the tin with about 100ml of water and add that to the pan as well. The potatoes should be just covered, so add more water if need be. Bring to a boil, and then reduce to a simmer and cook for 10-15 minutes, or until the potatoes are tender.
Add the beans, cover, and simmer for another 5 to 6 minutes, or until the beans are tender. Now it's ready!
Recipe adapted from Meera Sodha, East (2019).
I wasn't quite sure what to suggest this week and was resigned to the oven chips recipe I've been holding in reserve, until I spotted this noodle dish. It's quite different to what I would normally cook and I'm excited to give it a try!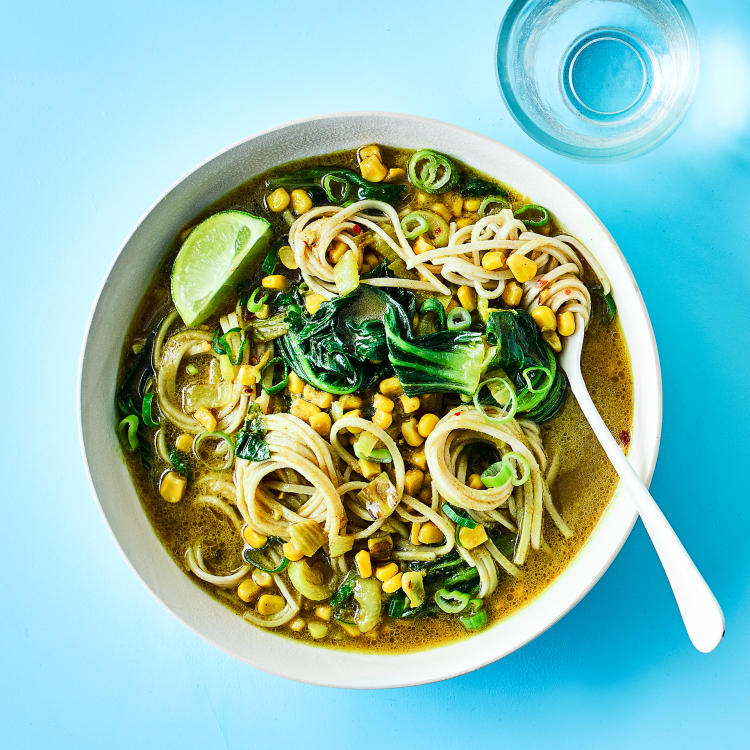 Sunny sweetcorn noodles
Ingredients:
Chilli flakes (I've still got some Canalside dried chillies to get through!)
coconut cream or coconut milk (add less water if not using cream)
2 garlic cloves
2 tbsp thai green curry paste
lime or lime juice
250g pak choi
35ml soy sauce
1 spring onion (optional garnish)
1tsp turmeric
sweetcorn
noodles (2 nests)
1 veg stock cube
Method:
Peel and thinly slice garlic and boil the kettle
Add sweetcorn on the cob to large pan of water and boil for 10 minutes
Cut pak choi in half to separate stems from leaves. Leave leaves whole and cut stems into bitesize pieces
In a large pan (preferably with a lid) heat some oil (high heat) then add turmeric and cook for 30 seconds.
Add sliced garlic and curry paste and cook for 2 minutes
Use this time to put noodles on to boil for about 5 minutes or according to instructions
Add pak choi stems and a large pinch of salt and cook for ~3 minutes with lid on until stems are tender
If using coconut cream, mix this with stock and 350ml of hot water. If coconut milk, add this and stock direct to pan.
Add cream mix / cocunut milk and stock to the pan of veg, along with the chilli flakes and soy sauce
Set to low heat whilst you take out the sweetcorn and use a knife to separate the corn from the cob
Add sweetcorn and pak choi leaves to the pan, add water to achieve your preferred consistency and boil on low heat until leaves have wilted.
Bowl up the noodles and veg soup, adding lime juice and chopped spring onions on top if you've got them
Adapted from https://www.gousto.co.uk/cookbook/vegetarian-recipes/sunny-sweetcorn-noodles