May 1, 2020 by General Administrator
We're getting some huge spring greens at the moment and I've discovered a few new recipes involving them as a result. I make Dhal fairly regularly but rarely follow a recipe. This one is a really good introduction though, I was quite amazed at how rich it tasted and I'm really not sure what the difference was to my usual attempts! Make sure you cook until the lentils are soft, I'm often too impatient.
Spring Green and Coconut Dal

Ingredients (Serves two)
1 tbsp coconut oil
1 onion, finely sliced
1 large or 2 small garlic cloves, finely chopped, grated or crushed
4cm piece of fresh ginger, peeled and finely grated
1 red chilli, finely sliced
1 tsp black mustard seeds
¼ tsp ground turmeric
1 x 400ml tin coconut milk
100g yellow mung dal lentils, rinsed in a sieve (I used red lentils)
1 tsp coriander seeds, toasted and ground
1 tsp cumin seeds, toasted and ground
200g spring or summer greens, tough ribs removed (sliced them and fired with the onion), leaves finely shredded. Feel free to go heavy on the greens I found they worked well.
handful of coriander leaves
a squeeze of lime or lemon juice
toasted coconut chips or toasted desiccated coconut, to garnish
salt
Method
Prep time: 5 min
Cooking time: 50 min
Melt the coconut oil in a large pan. Add the onion and fry on a low heat for 10 minutes, stirring occasionally.
Turn up the heat a little and add the garlic, ginger, chilli, mustard seeds and turmeric. Stir for about 1 minute, until you hear the mustard seeds start to pop. Stir the coconut milk in the can then pour into the pan with the lentils and ground coriander and cumin. Fill the coconut milk can half full with water and add that too.
Bring up to the boil, reduce the heat and simmer for about 15 minutes. Add the greens, stirring in small handfuls at a time, then cook for a further 5–10 minutes, until the lentils are tender and the greens wilted. Keep an eye on the liquid and add more water if needed.
Season the dal with salt, stir in the fresh coriander and add a squeeze of lime or lemon juice to taste. Serve the dal prinkled with toasted coconut and a few extra coriander leaves.
Adapted from: https://www.riverford.co.uk/recipes/spring-green-and-coconut-dal
April 24, 2020 by General Administrator
This is another very fast dish of delicious slurpy noodles, spiked with basil, lime juice and sesame oil.
Ginger-Poached Noodles
Serves 2-3
Ingredients
4 cups vegetable broth (I used water with 2 tablespoons of white miso)
2 ounces fresh ginger, peeled and thinly sliced
8 ounces firm tofu or tempeh, cut into small cubes
approximately 2 cups of sprouting broccoli or shredded spring greens
4 ounces dried noodles of your choice (I used soba noodles)
1-2 tablespoons soya sauce
¼ cup fresh basil, shredded
¼ cup fresh mint, shredded
juice of half a lime
crushed red pepper flakes (I used part of a shredded Canalside chile)
toasted sesame oil
Preparation
Place the broth and ginger in a large saucepan and bring to a boil. Lower the heat, and simmer gently for ten minutes or so. Meanwhile, bring some water to the boil to cook the noodles.
Cook the noodles in the boiling water until they are tender, drain them, and set them aside.
After the broth has simmered for ten minutes add the and tofu or tempeh and the greens. Return to a boil, and then turn the heat back down to a simmer and cook for 5-8 minutes, or until the greens are tender.
Add the drained pasta to the broth and heat for a few more minutes, stirring regularly. Stir in the soya sauce, basil, mint, and lime juice. Before serving, if you have the energy you can fish out the slices of ginger, which are perfectly edible but a bit chewy.
Serve in bowls with a few pinches of crushed red pepper flakes, and a drizzle of sesame oil, to taste.
Recipe adapted from 101 Cookbooks.
March 20, 2020 by General Administrator
I haven't used a soup recipe for a while and I've suddenly realised I've been surviving off beans and toast for lunch for a little too long, We have an abundance of leeks at the moment and I could go for the easy option of leek and potato soup, but thought I would try this slightly different idea instead.
Leek, spring green and apple soup
Ingredients:
25g butter
1 tbsp olive oil
1 large onion, finely sliced
600g leeks (about 3-4 large), finely shredded
2 garlic cloves, crushed
2 apples, peeled and diced
250ml cider
1 litre veg stock
100g spring greens, finely shredded
salt and pepper
Method
Heat the butter and oil in a large pan. Add the onion and leeks. Fry on a low heat for 10 minutes. Add the garlic and apple and cook for 2 minutes. Add the cider and simmer for 5 minutes.
Add the stock, bring to the boil, reduce the heat and simmer for 10 minutes.
Add the spring greens and simmer for 5 minutes, or until the greens are tender. Blitz until smooth or leave chunkier, whichever you prefer.
Season, and serve.
Taken from: https://www.riverford.co.uk/recipes/view/recipe/leek-spring-green-apple-soup
February 13, 2020 by General Administrator
Several people have been asking for things to do with kale, pak choi, and other robust greens. Among other things you can make them into excellent salads. In all cases, it's a good idea to manhandle the greens a bit to soften them up. Shred them fine and, using your hands, scrunch them up as hard as you can for a few minutes. Confronted with this vigorous treatment, they will become much softer and more tender. Pak choi does not need as much scrunching as kale or cabbage, but it will benefit from a bit body English.
Once you've scrunched your salad, you need an oomphy dressing to stand up to these greens. I thought I would offer a compilation of some of the salad dressings that I'd recommend to complement these hearty greens. All three are incredibly simple: you just whizz them up in a blender or mix them with a fork. And if you don't mind doing your scrunching after you've dressed the salad, the tenderising effect will be even more noticeable. Once you've done that, you can add anything else you like: leftover boiled potatoes, toasted pumpkin seeds, shredded white or black radish, olives, chick peas….
(I was intending to present a fascinating but somewhat weird recipe for a beetroot-based vegan brownie, using a recipe I tore out of an Air France inflight magazine. Extensive testing on my colleagues at work led me to change my mind. The consensus was that the recipe must be part of a plot to denigrate vegans!)
Miso-Tahini Dressing
Serves 2
Ingredients
1 tablespoon miso paste
1 tablespoon tahini
1 tablespoon soya sauce
1 tablespoon cider vinegar
Preparation
Combine the ingredients and blend well, using a fork. Taste to see if it would benefit from a little more vinegar. The mahogany-dark dressing is now ready to use. This makes enough for half a small cabbage, shredded, together with several grated carrots. It is also good on other greens.
Spring Onion and Tahini Blanket
Enough to dress a large 2-person salad
Ingredients
4 spring onions, including the green bits
2 tablespoons tahini
2 tablespoons rapeseed oil
2 tablespoons lemon juice
2 tablespoons water
Salt and pepper, to taste
Preparation
Roughly chop the spring onions.
Place everything in a blender, Nutribullet, or the container for an immersion blender. Blend everything until smooth. Check to see if it needs more salt, pepper, or lemon juice. If it's too thick for your liking you can add a little more water to thin it out, and then serve either as a salad dressing, or as a dip.
Super Turmeric Sauce
serves 2
Ingredients
2 tablespoons cashew butter
2 teaspoons Dijon mustard
juice of 3 clementines
2 inch piece of fresh turmeric, peeled
5 tbsp olive oil
Preparation
Combine the ingredients in a blender and whizz until smooth.
March 15, 2019 by General Administrator
According to Claudia Roden, this creamy, lemony sauce is 'one of Turkey's culinary signature tunes'. Warm and eggy, it provides a delicate contrast to more robust vegetables such as celeriac or poached leek. It's as if they've been given a luxurious bath in something rich and comforting. I like to serve this on a base of shredded greens, but you can omit that if you'd prefer. It would also go well with rice, and Roden recommends serving it alongside a lamb stew. It's very easy.
Celeriac with Egg-Lemon Sauce
Serves 2
Ingredients
800g celeriac
1 lemon
1 teaspoon sugar
Salt and pepper
2 egg yolks
Shredded greens, to serve
Preparation
Peel the celeriac with a sharp knife and cut it into ¾-inch cubes. Put the cubes into a pan and just cover with cold water. Add the sugar, some salt, and the juice of half the lemon. Bring to a boil and then simmer, covered, for about 20 minutes, or until tender.
While the celeriac is cooking start to prepare the egg-lemon sauce: in a small saucepan whisk the egg yolks with the juice of the remaining half-lemon, some pepper, and a bit more salt. Set aside until the celeriac has finished cooking.

Put the shredded greens into a serving dish.

Drain the celeriac, but make sure to keep a few tablespoons of water to use in the sauce. Arrange the celeriac cubes on top of the greens.

Whisk 2 tablespoons of the cooking water into the egg-lemon mixture and place the pan over low heat. Stir constantly for a few minutes, until the mixture has just begun to thicken. Don't let this get too hot, or stop stirring, lest the mixture curdle. Pour the egg-lemon sauce over the vegetables and serve.
Recipe adapted form Claudia Roden, Arabesque (2009).
January 18, 2019 by General Administrator
This is just the sort of restorative your body is crying out for after the holidays. It's rich and satisfying without being heavy. You'll feel good eating it.
You can also add some cooked potatoes, if you happen to have some lying about.
Ads bi Hamud
Serves 6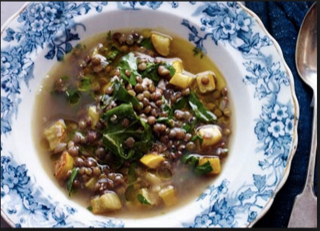 Ingredients
375g green lentils, soaked for 1 hour
Salt and pepper, to taste
4 tablespoons olive oil
2 onions, cut in half and sliced thin
5 cloves of garlic, peeled and sliced thin
1 tablespoon plain flour
1kg mixed greens (spinach, chard, kale, etc.)
Juice of 1.5 lemons
Preparation
Wash and drain the lentils. Put them in a pan with water to cover and simmer for 30 minutes or until they are very tender. Season to taste with salt and pepper.

Meanwhile, heat the oil in another pan and sauté the onions until they are very soft, about 15 minutes. Add the garlic and sauté until you detect a nice, garlicky smell. Add the flour and stir well. Add a teacup of water to the pan and stir to dissolve any tasty browned bits. Cook over a low heat to thicken a bit and then pour the whole thing into the lentils and mix. Heat gently so that the lentils and onions thicken a bit.

Wash the greens and chop coarsely. Add these to the lentils and cook for about 10 minutes.

Add the lemon juice and simmer a bit more, so that the soup is thick and hot.
May 10, 2018 by General Administrator
This is so easy it's hardly fair to call it a recipe. Spinach drizzled with sesame oil makes a fresh companion to a piece of fish and a bit of rice. If you're feeling adventurous, get some sushi-grade salmon from Regency Fishmongers, cut it into thin strips, and serve it (raw) with this salad, and a little dipping sauce of soya mixed with wasabi. Yum!
Possibly Japanese Spinach Salad
Serves 1-2
Ingredients
1-2 teaspoons sesame seeds
All your Canalside spinach and spring greens
sesame oil, to drizzle
Preparation
Bring a half-kettle of water to the boil.
Heat a frying pan over medium heat. Add the sesame seeds and toast for 3-4 minutes, or until they start to turn an attractive golden colour. Set aside. You can in fact toast a larger quantity of seeds and then keep some for future use.
Remove any enormously tough stems from the spring greens. The tender stems on the young spinach don't need to be removed.
Put the greens in a large pan with a lid, over medium heat. Pour the boiling water over them so that there is about an inch of water in the bottom. Put the lid on the pan and bring to the boil. Cook for 2-4 minutes, or until the greens are wilted. They should still be bright green.
Tip the greens in a colander and leave to drain a bit. Press them down with a spoon to extract as much liquid as possible. Using a pair of scissors snip the cooked greens up a little, and press them down again with the spoon.
When you're ready to eat, put the drained greens in an attractive serving dish and drizzle with sesame oil. Sprinkle some toasted sesame seeds over the top, and serve.
May 5, 2017 by General Administrator
Pink beets make a pretty risotto. The crunchy toasted walnuts contrast with the smooth rice, and also add protein.
Beetroot Risotto
Serves 4
Ingredients
1/3 cup walnuts.
2 teaspoons olive oil
1 cup chopped onion
1 cup risotto rice
1 tablespoon minced fresh ginger
2 teaspoons finely chopped fresh rosemary
½ cup white wine
3 cups peeled, finely chopped beets
½ teaspoon salt
2½ cups vegetable or chicken stock (or, in a pinch, water)
5-6 cups shredded spring greens and/or spinach
½ cup goat cheese, crumbled
Heat a large-ish saucepan over medium heat. When it is hot, put in the walnuts (don't add any oil) and toast them for a few minutes until they are fragrant. Keep an eye on them so they don't burn and stir them about to toast them evenly. Remove from the heat and set aside. Once they're cool chop them roughly.
Add the oil to the pan and when it is hot add the onion and sauté for 3 minutes—turn the heat down a bit if it's starting to burn. Then add the rice, ginger, and rosemary. Stir around and sauté for another minute or two, until the rice is nicely coated with the oil. Add the wine and let it sizzle, stirring all the time. When the wine has been more or less absorbed, add the beets and salt. Stir them around too.
Start adding the stock or water, about a half a cup at a time, stirring constantly; it's the stirring that gives a risotto its signature creaminess. When one dose of stock/water has been absorbed, add another half cup. Carry on like this for about 25 minutes, by which time the beets and rice should be tender, and all the stock/water incorporated into the risotto. If the beets and rice aren't tender enough for your taste add a bit more water and cook for a bit longer.
Once you're happy with the al-dente-ness of the rice and beets, sir in the greens and let cook over very low heat for a few more minutes, until the greens are wilted. Stir in the cheese and serve, garnished with the chopped walnuts.
April 13, 2017 by General Administrator
This Easter I am going to try a new recipe: a Torta Pasqualina, or Italian Easter Tart. It combines creamy ricotta with fresh greens baked in a flaky crust—so it's a bit like a Greek spanakopita. To give it an Easter twist you crack some whole eggs onto the greens before baking. When the finished tart is sliced you get a lovely mass of green with little pockets of soft-cooked egg nestled under the crust. Very seasonal! I've been meaning to try this for ages.
Ricotta, Spinach and Egg Easter Tart (Torta Pasqualina)
Serves 6-8
pastry
160g cold butter, diced
250g plain flour
200g ricotta
pinch of salt
a little beaten egg or milk to brush over the top of the tart
filling
600g kale, spinach, chard or other mixed greens
2 tablespoons olive oil
3 large onions, chopped
300g ricotta
6 eggs plus extra for brushing
Salt and black pepper
80g parmesan, grated
A pinch of nutmeg
Make the pastry: Rub the butter into the flour with your fingertips until it resembles breadcrumbs. Add the ricotta and a pinch of salt, mix and bring together into a soft ball. Turn the pastry on to a floured work surface and knead until smooth. Cover with clingfilm and chill for 30 minutes.
Make the filling: Bring a pot of water to the boil. Meanwhile pick over the greens, discarding any tough stalks and discoloured leaves, then wash them. Working in batches, add some of them to a pan. Bring back to the boil and cook for a few minutes, just long enough to wilt the greens. Remove the cooked greens to a colander and repeat with the remaining greens. When they're all cooked let them drain for at least 10 minutes. Once they are cool enough to handle, use your hands to squeeze out as much water as possible, and then chop roughly.
Heat the olive oil in a pan until warm and then add the chopped onion. Sauté for 5 minutes, and then add the greens. Stir and heat for a few minutes and then remove from the heat. Mix in the ricotta, 2 lightly beaten eggs, salt, pepper, parmesan and nutmeg.
Butter and flour a 26cm round tin, preheat your oven to 190C and put a flat baking tray in to get hot.
Cut the dough into two pieces, one twice the size of the other. On a floured surface roll the larger piece into a circle large enough to fill the tin, come up the sides and hang over the edge. Lift the dough into the tin and press it in. Add the filling. Using a spoon, make four deep indents in the mixture. Break the remaining four eggs into these indentations.
Roll the smaller piece of dough into a disc large enough to generously cover the top of the tin. Place it over the top of the tart and, using wet fingertips, press the dough to make a firm seal, and then fold any excess dough back towards the centre to make a little fringe. Prick or slash the centre of the tart. Paint the top with beaten egg or milk, put onto the hot baking tray, and bake for 50 minutes or until golden.
Allow to cool a little before turning out. Serve warm or at room temperature.
(Recipe adapted from Rachel Roddy, The Guardian and New York Time Cooking.)