January 19, 2023 by General Administrator
My sister gave me a Deb Perelman cookbook for Christmas. If you don't know her food blog, let me recommend it to you. It and her cookbooks are full of excellent and straightforward recipes. Here is one: a crispy, cheesy, peppery, potato galette, baked in the oven and topped with rocket like one of those Pizza Express Soho pizzas that were fashionable in the 1990s. It's really good and tastes as if it contains much, much more butter than it actually does. Just look at the picture. . .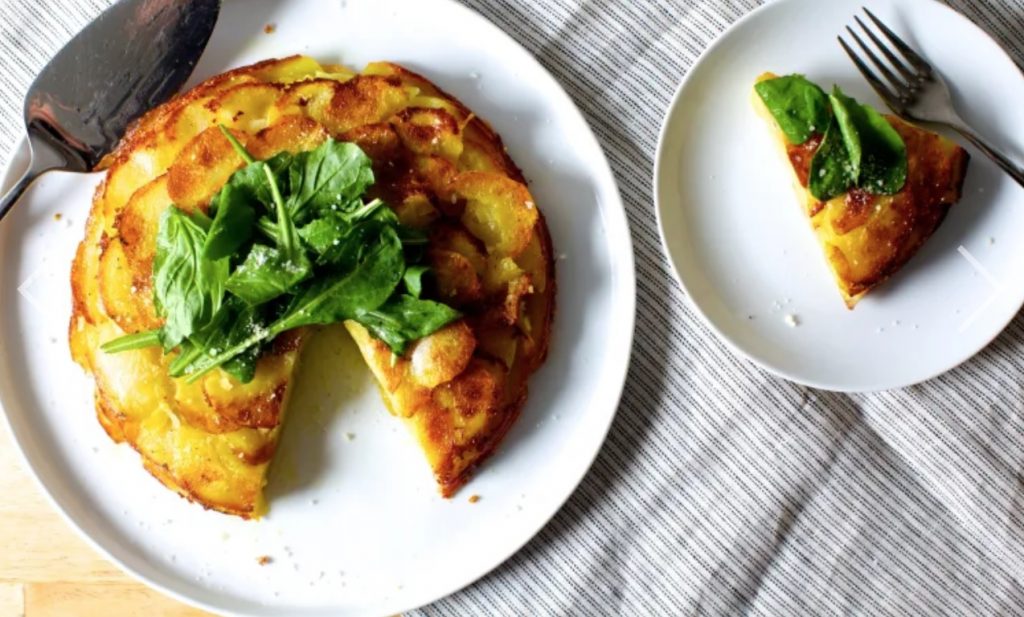 In case you are wondering, cacio e pepe ('cheese and pepper') is a simple and delicious pasta
dish of spaghetti tossed with pecorino, a lot of pepper, and a little butter. It's apparently
typical of Rome (not that I have ever been to Rome). Here's a recipe:
https://www.bonappetit.com/recipe/cacio-e-pepe.
Cacio e Pepe Potatoes Anna
Serves 4
Ingredients
For the potato galette
50g grated pecorino, parmesan, or other hard, salty goat cheese
1 tablespoon cornflour or potato starch
½ teaspoon salt
½ teaspoon freshly ground pepper
30-45g butter, melted (or olive oil)
1kg potatoes, peeled if you like and sliced very thinly
For the salad
150g rocket
1 tablespoon olive oil
½ tablespoon lemon juice
Method
Assemble the potatoes: Heat the oven to 190C. Combine the cheese, cornflour or potato
starch, salt and pepper in a small dish. Taste it: it should have a strong salty-peppery kick.
Pour 1 tablespoon of the butter (or oil) into a 22cm-diameter ovenproof pan, and swirl it
around to coat the sides a bit.
Arrange a quarter of the potatoes in overlapping, concentric circles around the bottom of the
pan. Sprinkle with about 2 tablespoons of the cheese mixture and drizzle with a little more
butter (or oil). Repeat until all the potatoes are used up. There should be about 1 tablespoon
of the cheese mixture left over; set this aside.
Bake the galette: Heat the oven to 190C. Press a piece of nonstick baking paper over the top
of the pan and, using your hands, press down a bit to compact the potatoes. Put the pan,
baking paper and all, into the oven. If your pan has a lid you can put that on top, as well.
Bake for 35 minutes, by which time the potatoes should be nearly tender. Remove the pan
from the oven for a moment and press the paper down again, to further compact the potatoes.
Return to the oven (you can leave the lid off at this point, if you are using a lid) and bake for
a further 25-30 minutes, or until the potatoes are a beautiful golden-brown and very tender.
Press down one more time and remove from the oven. Set aside for a few minutes
Prepare the salad garnish: While the potatoes are cooking combine the oil and lemon juice in
a small jar with a lid, and shake vigorously to combine. Toss with the rocket and set aside.
Finish and serve: When you are ready to serve, run a knife around the edge of the pan to
loosen the potato cake. Place a large plate over the top of the pan and carefully invert the
galette onto the plate. It should be crispy and golden. Cut it into wedges and top with the
rocket salad. Sprinkle the remaining tablespoon of the cheese mixture over the top and serve
triumphantly.
Recipe adapted from Deb Perelman, Smitten Kitchen Every Day (2017).
May 27, 2022 by General Administrator
Asparagus is such a treat; we should eat it all the time while it is in season. If you're tired of having it steamed with melted butter and parsley (is that in fact possible?), or you would like to make a more substantial dish, try this. It's delicious and feels luxurious. The halloumi turns crispy in the oven, with a rich, melty interior that contrasts well with the woody flavours of the asparagus. Hugh Fearnley-Whittingstall thinks this will serve four. I think two hungry people could finish this off. He recommends serving with some good bread; a glass of a nice dry Riesling doesn't hurt either.
Roast Potatoes, Asparagus and Halloumi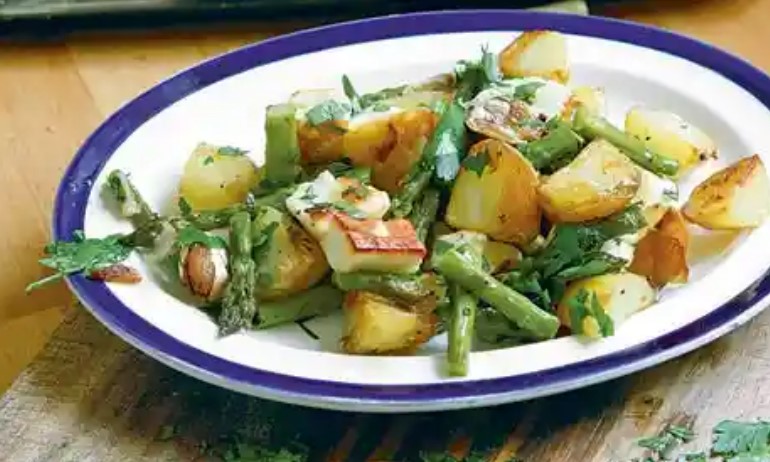 Serves 2-3
Ingredients
600–700g potatoes, scrubbed or scraped
3–5 garlic cloves, unpeeled, bashed
3 tablespoons olive oil
400g asparagus
225g halloumi
½ lemon
salt and freshly ground black pepper
2 tablespoons roughly chopped flat-leaf parsley, to garnish
Method
Preheat the oven to 190C. Cut the potatoes into small chunks. Put them in a large roasting tray with the garlic, olive oil and some salt and pepper, and toss well.
Roast for 30 minutes.
Meanwhile, snap the woody ends from the asparagus and cut the spears into 3–4cm lengths. Cut the halloumi into 2cm cubes.
After the 30 minutes is up, take the potatoes from the oven, add the asparagus and halloumi, and toss to combine. You don't want the tray to be too crowded – everything should be in a single layer. Return the tray to the oven for a further 15 minutes, or until the asparagus is tender and the cheese is starting to caramelise.
Add a generous squeeze of lemon juice and toss everything again, then transfer to a serving dish. Scatter with parsley, and another grind of black pepper. Bring to the table along with the remains of the lemon half, and some more olive oil, so that people can adjust the flavours to their liking. Serve with wedges of sourdough bread.
Recipe adapted from Hugh Fearnley-Whittingstall, The Guardian, 7 Sept. 2012.
April 7, 2022 by General Administrator
This is really nice served with a green salad and some salted yoghurt on the side. Roasting the potatoes first before adding the spicy coating means you can get the potatoes nicely crisp without the spices burning.
Sami Tamimi's Spicy Roasted Potatoes
Serves 4-6
Ingredients
1.5kg potatoes, unpeeled and cut into 3cm cubes
3 tablespoons olive oil plus 60ml more olive oil, separated
1 teaspoon salt
3-4 green chile peppers, halved, deseeded and thinly sliced crosswise
8 garlic cloves, peeled and thinly sliced
2 tablespoons cumin seeds, crushed lightly in a mortar and pestle
1 tablespoon ground coriander
1 lemon, zested and then cut into wedges
big handful (about 4 tablespoons) of fresh coriander, finely chopped
Method
Preheat oven to 250C.
In a large bowl toss potatoes with the 3 tablespoons of olive oil and the salt. Spread on baking sheets in a single layer. Put in oven and roast for about 20 minutes, or until a skewer inserted into a test potato meets just a little resistance.
Meanwhile, using the same bowl, mix together the remaining 60ml of olive oil, chile, garlic and spices.
When the potatoes are almost tender, as described, use a fish slice to transfer them to the bowl. Don't turn off the oven! Gently toss the potatoes with the other ingredients, until well combined. Tip them back onto the baking sheets and spread them again into a single layer.
Return them to the oven and roast for another 10 to 15 minutes, or until the skewer meets no resistance. Cool for about 5 minutes.
Sprinkle the lemon zest and coriander over the potatoes and serve with lemon wedges.
Recipe adapted from Milk Street (2021).
February 3, 2022 by General Administrator
Miso and harissa on their own pack a punch. Combined they are even better. The spicy-salty flavour goes superbly with the sweetness of roast squash, while the potatoes add a calming back-note. Stir in some shredded kale and top with toasted nuts, and you have a complete meal. You could fancy it up with some yoghurt, or serve it alongside a bit of grilled meat or fish, if you liked.
Miso Harissa Roast Squash
Serves 2-4
Ingredients
225g small potatoes
350g squash
60ml olive oil
60ml white miso
1 tablespoon harissa
3 tablespoons lemon juice
50g kale, de-stemmed and finely chopped
4 radishes, sliced thin (optional)
40g toasted almonds or pumpkin seeks
Method
Preheat the oven to 200C.
Cut the potatoes into slices the size of your thumb. Peel the squash if you don't like the skin, and scoop out the seeds. (You can make these into a tasty nibble by soaking them overnight in salty water, draining, and then baking for about 10 minutes at 180C.) Cut the squash into 1cm wedges. Put the potatoes and squash in a large bowl.
In a small bowl whisk together the olive oil, miso and harissa. Toss with the potatoes and squash with half the olive oil-miso-harissa mix, and put onto a baking sheet. Bake for 25-30 minutes, or until the vegetables are tender and starting to brown a bit. Toss them once or twice along the way. Watch them to make sure they don't burn.
Meanwhile, whisk the lemon juice into the remaining olive oil-miso-harissa mixture. Taste it to see if you would like to add more olive oil, etc. Stir in the kale.
When the squash and potatoes are tender, put them in a serving bowl and toss with the kale mixture. Serve topped with the radishes (if you wish) and toasted nuts/seeds.
Recipe adapted from Heidi Swanson, 101 Cookbooks
December 9, 2021 by General Administrator
This is a flavoursome dish that plays to the potato's strength as a vehicle for strong flavours. Here your Canalside spuds combine with the richness of coconut milk and the sharp, sour tang of tamarind to deliver a punchy, satisfying dose of carbohydrates. Cashews and crispy onions contribute additional crunch. A sprinkling of green coriander over the top looks lovely and adds an additional freshness.
It is particularly good combined with the south Indian beetroot and coconut dip whose recipe I will provide in my next instalment.
Potatoes with Tamarind, Coconut and Cashews
Serves 4-6 as part of a larger spread.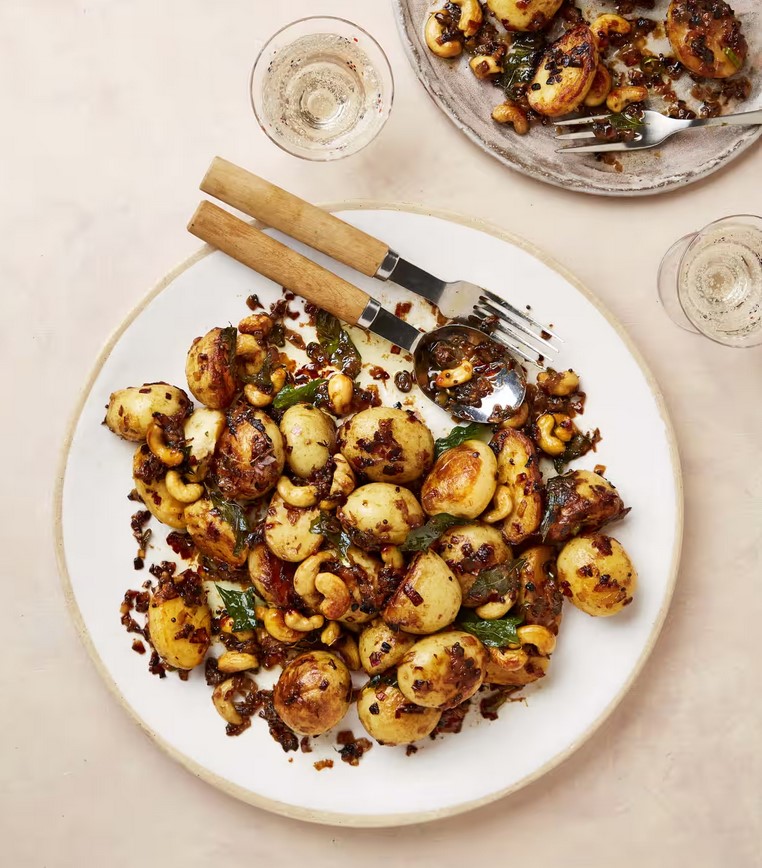 Ingredients
1kg potatoes
3 tablespoons coconut oil
1 teaspoon black mustard seeds
1 teaspoon cumin seeds
10 fresh or frozen curry leaves
300g shallots, peeled and sliced fine—or you can use onion, really
3 garlic cloves, peeled and crushed
2cm piece of fresh ginger, peeled and grated
2 green chiles, finely chopped (take out the seeds if you prefer, and also adjust the quantity to taste)
100g cashew nuts
1 teaspoon salt
2 teaspoons tamarind paste
200ml coconut milk
a handful of coriander leaves, chopped, to garnish (optional)
Preparation
Put the potatoes in a pan and cover with cold water. Bring to a boil over low heat and cook gently until they are tender. How long this takes will depend on the size of the potatoes, so this process can last between 20 and 45 minutes. When the potatoes are tender drain them and set them aside. Once they are cook enough to handle cut them into bite-sized pieces. You can do this well in advance if you wish.
Combine the mustard seeds, cumin seeds and curry leaves in a little dish. Combine the garlic, ginger, chiles and cashews in another dish. You're now all set to add each tranche of ingredients without having to fuss around with lots of separate items.
Put the oil in a large frying pan over medium heat. When it is hot add the mustard, cumin and curry leaves. Once the seeds start to sizzle add the shallots and cook, stirring, for about eight minutes, or until the shallots starts to brown.
Add the garlic, ginger, chiles and cashews to the pan. Cook, stirring regularly, for another two minutes. Now add the drained potatoes in a single layer and sprinkle with salt. Turn the heat to high and fry for about five minutes, stirring once, until the potatoes are turning an appetising brown. Don't stir them constantly, or they won't brown.
Finally, add the tamarind paste and the coconut milk. Leave to cook, stirring regularly, until the coconut milk has mostly evaporated and turned into a sticky glaze. Serve hot, cold or at room temperature. It looks nice garnished with some chopped fresh coriander.
Recipe adapted from Meera Sodha, The Guardian, 12 June 2021.
August 5, 2021 by General Administrator
Fresh tarragon is lovely with potatoes. You can augment this salad with hard-cooked eggs or olives, if you like. It's good on its own, and also as part of a meze spread.
Warm Tarragon and Potato Salad
Serves 4 as a side dish
Ingredients
4 large waxy potatoes
1 medium red onion
zest and juice of 1 large lemon
4 tablespoons olive oil
½ teaspoon salt
several grinds of pepper
20g tarragon leaves, roughly chopped
Preparation
Put the potatoes in a pan with cold water. Bring slowly to the boil and then simmer gently over very low heat until tender. Depending on the size of your potatoes this could take between 30 and 45 minutes. Drain and set aside.
While the potatoes cook, peel the onion and slice it fine. Put the slices in a small bowl and toss with a pinch of salt and a squeeze of lemon juice. Let sit for 10-30 minutes; this will temper the onion and make it less pungent.
Now prepare the dressing: put the lemon zest, remaining lemon juice, olive oil, salt and pepper in a jar and shake vigorously to combine. Taste and add a bit more salt or lemon juice if it's not to your taste.
Once the potatoes are cool enough to handle but still warm, peel them (if you don't like the peel) and then cut them into 2cm cubes. Toss them with the dressing and tarragon, and stir in the tempered onion. Eat while warm.
Recipe adapted from Sally Butcher, Persepolis (2011).
April 9, 2021 by General Administrator
Here is a good soup for a blustery spring day. The warming spices—cumin, coriander, paprika—give this a North African flavour, as does the preserved lemon. You can make this with any ratio of potatoes or parsnips that you prefer, including all potato or all parsnip. We enjoyed this with a glass of very robust Bulgarian merlot but other drinks are available, as they say.
Note that this involves only one pan, and so results in minimal washing-up.
Spicy Potato-Parsnip Soup with Preserved Lemon
Serves 2
Ingredients
For the Soup
2 tablespoons rapeseed or olive oil
1 onion, roughly chopped
2 garlic cloves, roughly chopped
½ dried Canalside chile, deseeded if you don't want it too hot and chopped, or 1 medium-hot dried chile, treated similarly
1 teaspoon ground cumin
1 teaspoon ground coriander
½ teaspoon sweet smoked paprika (use a Spanish brand)
¼ cup preserved lemon, chopped fairly coarsely
500g peeled potatoes and parsnips, in any ratio (you can use all potatoes or all parsnips, too)
About 750ml stock (I think you could also use water, to be honest)
1 teaspoon salt
To decorate the Soup
4 tablespoons yoghurt
a little more smoked paprika
a little extra preserved lemon, coarsely chopped
Preparation
Heat the oil in a large saucepan over medium heat. Add the onion, garlic and chile, reduce the heat to low, and sauté gently for 10-15 minutes, or until the onion is soft but not brown. Stir in the cumin, coriander and paprika and cook for a minute or two more, until everything smells fragrant.
Meanwhile, cut the peeled vegetables into chunks of about 2cm.
When the spices in the pan are fragrant add the vegetables and the preserved lemon and pour in the stock (or water) and the salt. Bring to a simmer and cook for 30-40 minutes, or until the vegetables are very tender indeed.
Using a potato masher, mash the vegetables to give the soup a coarse texture. Hugh F-W suggests passing the whole thing through a sieve to create a smooth puree, but this seems both a lot of work and a dubious outcome as in my view a more rustic texture suits this soup far better. But it's up to you. Add a bit of water if it still seems a bit thick to you, and check to see if it would benefit from a bit more salt.
To serve, dish your soup into bowls and garnish each with several spoonfuls of yoghurt, a sprinkling of paprika, and some golden cubes of preserved lemon.
Recipe adapted from Hugh Fearnley-Whittingstall, River Cottage Veg Every Day! (2011).
February 18, 2021 by General Administrator
It's getting to that point in winter where I'm starting to run low on root veg recipe ideas again (I need to look back at the blog for inspiration!) but this simple parsnip and potato bake caught my eye. I'm sure there's a lot of opportunity to riff on this recipe too.
Honey-Mustard Parsnip & Potato Bake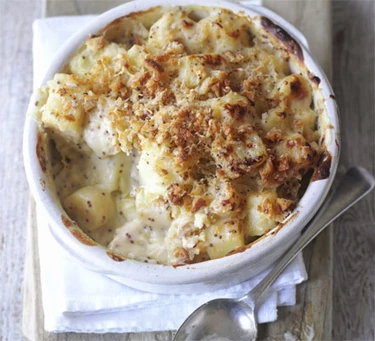 Ingredients
800g potato like Desirée, cut into 2.5cm cubes
800g parsnip , cut into 2.5cm cubes
85g butter
85g plain flour
600ml milk
2 tbsp wholegrain mustard
2 tbsp clear honey
2 tbsp white wine vinegar
85g fresh white bread , whizzed to crumbs
25g grated parmesan (or vegetarian alternative), grated
Method
Bring a large pan of salted water to the boil. Tip in the potatoes and parsnips, bring back to the boil and simmer for 5 mins. Gently drain so they don't rough up too much, then tip into a baking dish.
(Make a bechamel) Melt the butter in a big saucepan, then stir in the flour and cook for 2 mins. Gradually stir in the milk to a smooth, lump-free sauce. Cook gently, stirring constantly, until the sauce is nicely thickened – about 5 mins. Stir in the mustard, honey, vinegar and some seasoning. Pour evenly over the potatoes. Mix the crumbs and cheese together, then scatter over the top and set aside until ready to bake. You can cover the dish and chill for up to 24 hrs before finishing.
Cook the bake at 200C/180C fan/ gas 6 for 30-40 mins until the top is crisp and golden and the sauce hot through.
From BBC Good Food
January 28, 2021 by General Administrator
This past Monday was Burns Night. A proper Burns Night supper should include, alongside haggis and a good deal of whisky, a convivial toast to the immortal memory of Robert Burns. This year, as we long for conviviality, and remember the shades of a great many people, it seems appropriate to offer a traditional Scottish dish, worthy of a private, 2021 version of Burns Night, or just a meditative mid-week supper.
The dish I've chosen is Cullen Skink, a sort of Scottish version of vichyssoise. It consists of a creamy leek and potato soup augmented with rich and salty smoked haddock. It's best eaten with a piece of good bread. This recipe (and some bread) will satisfy four convivial or meditative diners.
Cullen Skink takes its name from the village of Cullen, in north-eastern Scotland, and the word 'skink', which means 'soup'. (Skink, if you're interested, probably comes from the Middle High German Schinke, or ham.) Neither the Oxford English Dictionary nor I have succeeded in tracing the dish back earlier than than about 1910, so it's probably not the most ancient of Scottish recipes, but it's very good nonetheless.
Cullen Skink
Serves 4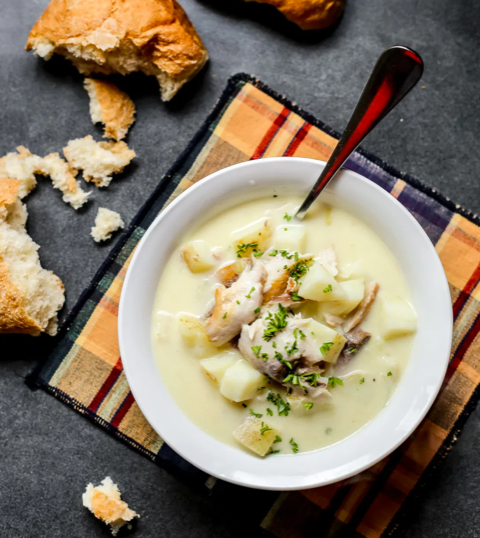 Ingredients
300g onions
500g leeks
60g butter
500g potatoes
4 bay leaves
1 lemon, juiced
Freshly-ground black pepper
400g natural (undyed) smoked haddock, cut into large chunks
150ml single cream
2l boiling water
Fresh chives, to garnish
Preparation
Peel the onions and dice them into 1cm chunks.
Top and tail the leeks. Cut the leeks into 1cm chunks and then rinse them in a colander to remove any dirt.
Heat the butter in a large, heavy-bottomed saucepan. When it is melted add the onions and leeks and cook over very low heat for at least 20 minutes, or until the vegetables look tender and soft, but not browned. Keep an eye on it so that they don't stick or burn. It is fine to cook them for longer.
Meanwhile, prepare the potatoes. I'd favour leaving them unpeeled but if this seems wrong to you feel free to peel them. In any case, chop them into 2cm chunks and set aside.
Once the onions and leeks are soft and very translucent, add the bay leaves, lemon juice and pepper to the pan. Stir and then add the potatoes. Cook for 10 more minutes, so that the potatoes start to release their starch, which will make for a nice, thick soup.
Add the water to the pan, so that the vegetables are completely submerged. Bring to a simmer and cook for 15-25 minutes, or until the potatoes are tender. Add more water along the way if necessary to ensure that the vegetables remain under water.
Once the potatoes are tender, add the haddock and cook over low heat for another 5 minutes or so. Pour in the cream and cook over a very low heat until the soup is heated through. If you'd like it thicker, simmer it for a further 10 minutes. Taste to check the seasonings and add more salt (the fish will already have brought considerable salt to the dish), pepper or lemon if you like.
Serve, garnishing the bowls with chopped chives and a further grind of black pepper.
Recipe adapted from Tesco Magazine, Jan. 2021.
January 22, 2021 by General Administrator
The potato haul was very good this year and this seems to have resulted in a slowly growing bag of potatoes in our house. So this week I've been thinking about some new ways to get through them all. Today's recipe may not be new for all of you but I've never tried it and I'm excited to give it a go!
Hasselback potatoes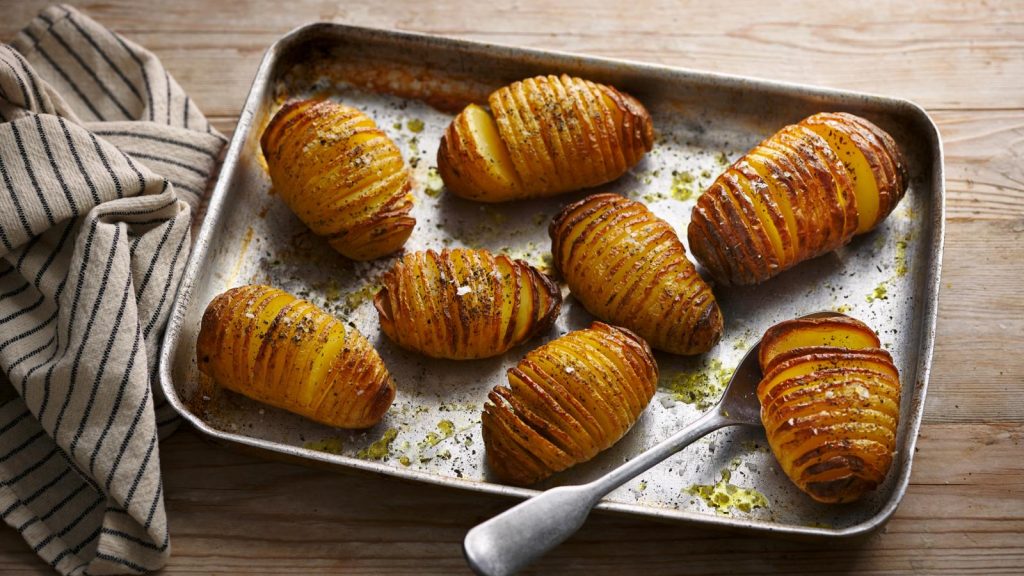 Ingredients (serves 4)
½ tsp dried thyme, rosemary or mixed herbs
½ tsp flaked sea salt
½ tsp coarsely ground black pepper
3 tbsp sunflower, vegetable or olive oil, plus extra for greasing
8 small–medium potatoes, each one approx. 75g/2¾oz, scrubbed (ideally, all-rounders or floury potatoes)
small knob of butter, approx. 15g/½oz (optional)
Method
Preheat the oven to 200C/180C Fan/Gas 6. Lightly oil a baking tray. Mix the herbs, salt and pepper in a large bowl. Pour the oil into a second bowl.
Place two wooden spoons or chopsticks on a chopping board, about 5cm/2in apart. Place the potatoes one at a time between the handles. Using a sharp knife with a thin blade, cut the potatoes very thinly and vertically almost all the way through – the knife will stop slicing when it meets the spoons. Each slice should be a little narrower than a pound coin.
As you prepare each potato, add it to the oil and turn to coat, then add to the seasoning mix and rub all over the potato, making sure a little of the seasoning mix gets in between the slices.
Place the potato on the baking tray, cut-side up. Prepare the remaining potatoes in the same way. Drizzle any remaining oil over the potatoes and bake for 40 minutes.
Take the tray out of the oven and dot each of the potatoes with a little butter, then bake for a further 10 minutes, or until golden, crisp and tender. Check for tenderness with the point of a knife or the tip of a skewer. (If you don't want to use butter, cook the potatoes for around 50 minutes in total.) Serve immediately.
I'll probably try slotting some cheese in between the slices, and maybe topping with bolognese or sour cream.
Adapted from BBC Food