This week I'll keep it simple with one I've been saving up. My first winter at Canalside I felt almost overwhelmed by the number of potatoes I had to get through – there's only so much mash one man can eat! That all changed when I worked out how to make good oven chips from scratch. Serve with whatever you want but for me there always has to be mayonnaise involved when it comes to oven chips…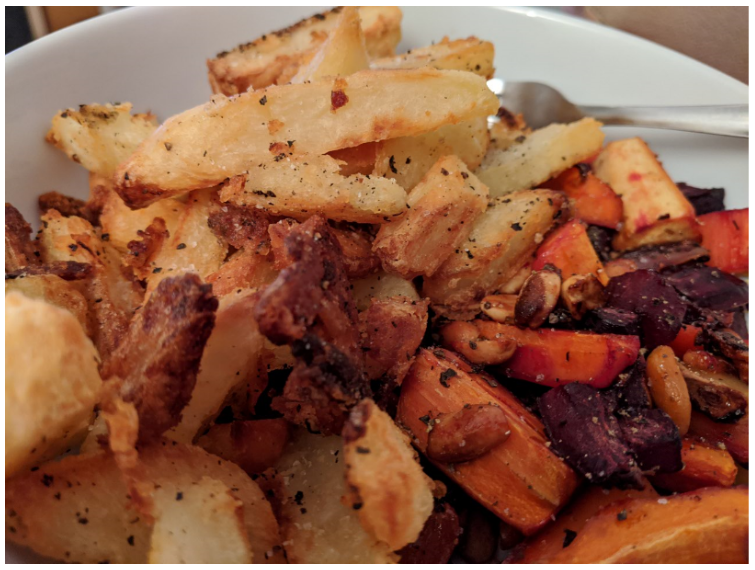 Ingredients:
Potato (2-3 medium size per person)
Salt, pepper, oil
Method:
Put oven on about 220degC, put baking tray in to heat up with plenty of oil. Clean potatoes and peel if desired. Put kettle on to boil. Cut into 1.5cm thick slices, then lay these out and cut into chips. Next, boil the chips for about 4 minutes in a pan (par-boiling).
Drain potatoes and then put a lid on the pan and give a really good shake – this is key to rough up surface and make some crispy chips!
Get tray out of oven, and liberally salt and pepper, put chips on tray and apply more salt pepper and oil on top. Bake for about 20 minutes or until they look good to eat.
Variations: Add herbs/spices such as rosemary, thyme, fennel seeds, paprika (or any combination of). Patatas bravas: Same recipe but cut to 2cm chunks, add plenty of paprika when baking and serve with a pureed tomato sauce.
Another brilliant recipe from Meera Sodha: crispy homemade gnocchi tossed with greens and served with spicy Korean chile sauce. Gnocchi can be a little stodgy; the solution is to fry them briefly after they've been boiled, so the crunchy outside contrasts with the soft, pillowy inside. A simple red sauce of Korean chile paste, miso and sesame oil provides the perfect foil.
If you don't know gochujang chile paste, you're in for a treat. Get some at the KW Oriental Supermarket on Bath Street, or (I suppose) in major supermarkets everywhere.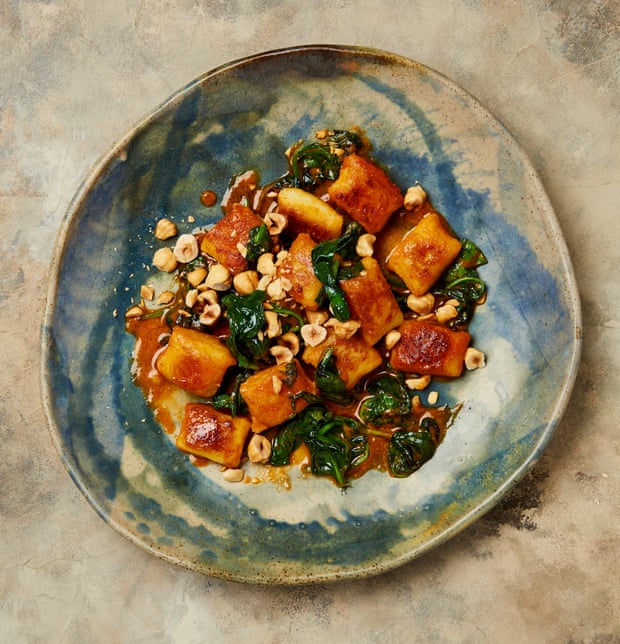 Parsnip and potato gnocchi with gochujang
Serves 2
Ingredients
250g potatoes
150g parsnips
60-100g '00' flour
2 tbsp rapeseed oil, for frying
100g young spinach
25g toasted hazelnuts, chopped
for the chile sauce
4 tsp gochujang paste
4 tbsp white miso
3 tbsp toasted sesame oil
2 tbsp fresh lemon juice
Method
Put the potato and parsnips in a medium saucepan, cover with cold water and bring to a boil. Turn down to a simmer and cook until tender (15-30 minutes, depending on the size).
While the potatoes are cooking make the sauce: combine the sauce ingredients in a small bowl and mix until smooth. Set aside.
When the potatoes are tender, drain and leave to steam dry for 15 minutes. Peel and then mash until very smooth. If you have a potato ricer, this is a good moment to use it.
Add the flour to the mashed/rice potatoes and parsnip, and, using your hands, gently mix it in to form a dough. Add as much flour as you need to stop it sticking to everything, but try not to add more than that. Tip out on to a clean work surface sprinkled with a bit more flour and knead a bit to form a smooth dough.
Divide the dough in two and roll each piece into a sausage around 35cm long x 2cm thick. Cut each sausage into 2cm pieces. If you have the energy, you can use a fork to give each piece some little ridges, which will be cute and make the sauce stick a bit more to the gnocchi. To do this, roll each piece across the tines of a fork, indenting parallel ridges into the individual gnocchi (gnoccho?).
Bring a big pan of water to a rolling boil, drop some of the gnocchi in and and cook for one to two minutes, until they float to the top. Lift them out with the slotted spoon as they rise to the top and and drain in a sieve. Continue until they are all cooked.
In a medium frying pan, heat the rapeseed oil, swirling the pan gently so it coats the base. Once hot, add some of the gnocchi and fry for a couple of minutes, until golden brown underneath. Flip them over and cook for another couple of minutes, to brown the other side. Remove from the pan and then cook any remaining gnocchi.
Add the spinach to the pan and stir gently (so as not to break up the gnocchi) until it wilts. Return any remaining gnocchi to the pan and toss together.
Divide onto two plates and drizzle with a couple of tablespoons of the sauce. Sprinkle with the hazelnuts and serve with extra sauce on the side.
Recipe adapted from Meera Sodha, The Guardian, 23 Nov. 2019.
Saffron tints this dish a beautiful sunny yellow—just the thing to lift the spirits. Anna Jones recommends topping the mash with a poached egg and serving with a side of garlic-infused sautéed greens and toasted almonds. Or you could just eat it in bed, as Nora Ephrom recommended in Heartburn: 'Nothing like mashed potatoes when you're feeling blue. Nothing like getting into bed with a bowl of hot mashed potatoes already loaded with butter, and methodically adding a thin cold slice of butter to every forkful. . . Most people do not have nearly enough mashed potatoes in their lives'.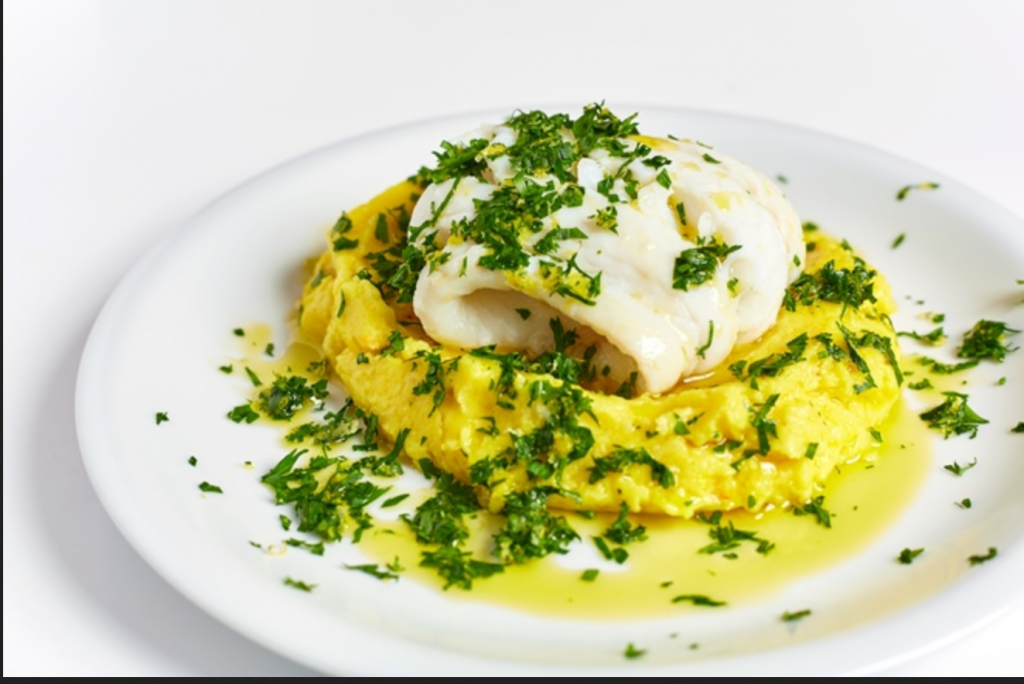 Golden Saffron Mash
Serves 4
Ingredients
2 pinches of saffron
250ml boiling water
1kg potatoes, peeled or not, as you prefer
50g butter
1 clove garlic, minced
salt and pepper
Preparation
Mix the saffron with the boiling water and set aside to infuse.
Put the potatoes, whole, in a pan and cover with cold water. Bring slowly to the boil, and then simmer over very low heat until they are very soft and tender. Depending on the size of the potatoes, this will take from 25 to 60 minutes.
Meanwhile, melt the butter in a frying pan over medium heat. Once it's bubbling add the garlic and sauté for a minute until it begins to turn golden. Add the saffron water, and simmer for a few more minutes. Set aside.
Once the potatoes are soft, drain and then return to the pan. Mash them well.
Add the saffron butter and mash some more. Season to taste with salt and pepper and serve.
Recipe adapted from Anna Jones, The Modern Cook's Year (2017).
Much as I'm excited to get back to my favourite celeriac recipe (Celeriac Pasta Ribbons Weekly update Jan 3 2019), I'm in desperate need of replenishing my lunch stores at the moment and nothing is better than a good autumnal soup. This should use a few different items from this weeks share, so enjoy!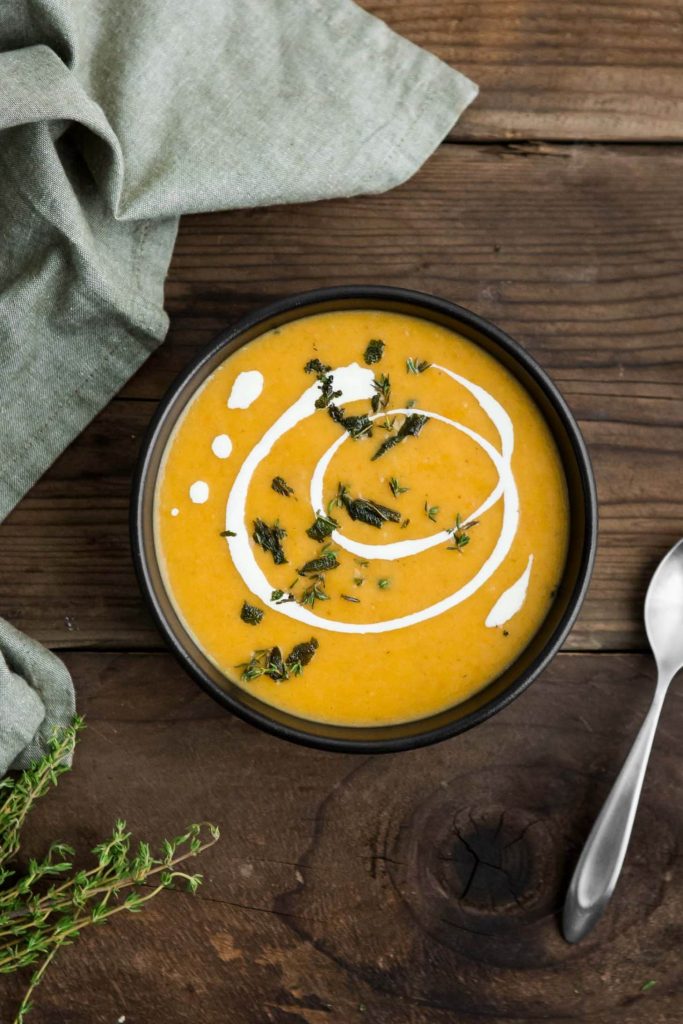 Celeriac soup with thyme
Prep Time: 15 minutes
Cook Time: 45 minutes
Total Time: 60 minutes
Yield: 2 large servings
Ingredients:
1 medium celeriac
2 carrots
2 medium potatoes
1 medium shallot (or onion if not)
2 cloves large garlic
4 tablespoons olive oil
1/4 teaspoon salt
0.75 to 1L veg stock
5 sprigs thyme
10 fresh sage leaves (I'll probably use dried sage to save a trip to the shops)
1 to 2 tablespoons heavy cream (optional)
Preparation:
Preheat oven to 220° C (might need turning down!)
Cut off skin and roots of celeriac. Dice celeriac, carrots, and potatoes into 1cm cubes. Place on a baking sheet or in roasting pan. Roughly mince shallot and garlic. Add to dice vegetables. Drizzle with 2 tbsn olive oil and sprinkle with salt. Toss until all the vegetables are well coated. Roast in the oven 35 to 40 minutes or until the vegetables are beginning to caramelize and brown.
While vegetables are roasting, heat 2 tablespoons olive oil over medium-high heat until hot. Fry sage, 3 to 4 leaves at a time until crisp. Remove from heat and set aside.
When vegetables are done roasting, transfer them into a blender. Add thyme leaves from 5 sprigs into blender with most of vegetable stock. Puree until smooth. Add more vegetable stock to achieve the consistency you desire.
Transfer soup to a medium pot. Bring to boil over medium heat. Serve with crispy sage, extra thyme and a drizzle of heavy cream.
If you are using an immersion blender consider peeling the potatoes before roasting to achieve a smooth consistency in the soup.
The soup consistency is on the thicker side. After pureeing, add more stock if desired to get a thinner soup.
Taken from: https://naturallyella.com/celeriac-soup/
Meera Sodha's East is excellent! Here is a gentle coconut-milk curry called an 'istoo', which is apparently derived from the English word 'stew'. She recommends serving with aubergine pickle, and rice or an Indian flatbread. Some fried aubergine slices also go well.
Potato and Green Bean Istoo
Serves 2-3
Ingredients
2 tablespoons rapeseed oil
10 curry leaves
4cm cinnamon stick, broken in 2
1 medium onion (or 2 small onions), sliced
2cm piece of fresh ginger, peeled and grated
4 cloves of garlic, peeled and grated
1 green chile, slit in 2
650g small potatoes, halved
1 teaspoon each salt and pepper
1 400ml tin of coconut milk
250g green beans, topped and tailed
Preparation
In a casserole dish for which you have a lid, heat the oil on medium heat. Once it is hot add the curry leaves, cinnamon stick and onion. Reduce head to low and cook for 10 minutes, until the onion is soft but not brown. Add the ginger, garlic and chile, and cook for another 2-3 minutes.
Add the potatoes, salt and pepper and stir in the coconut milk. Then swill out the tin with about 100ml of water and add that to the pan as well. The potatoes should be just covered, so add more water if need be. Bring to a boil, and then reduce to a simmer and cook for 10-15 minutes, or until the potatoes are tender.
Add the beans, cover, and simmer for another 5 to 6 minutes, or until the beans are tender. Now it's ready!
Recipe adapted from Meera Sodha, East (2019).
In honour of the recent potato harvest, here is a splendid Nepalese potato salad from the Idaho Potato Commission. The Andean potato probably reached Nepal some time in the 1700s; it is now become a staple. In 2017 the country harvested 2,691,037 tonnes. This salad combines potatoes, fresh coriander, and spiced yoghurt to create a complex and satisfying dish. Eat with shredded carrot salad, and perhaps some flatbread.
The Potato Commission thinks this will serve 4 people, but we ate most of it in one sitting. 'This is scrum' declared Matt.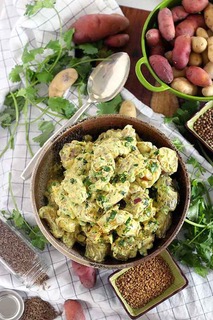 Chukauni: Nepalese Potato Salad
Ingredients
700g potatoes
1 cup frozen peas
½ cup red onion, finely chopped
½ cup fresh coriander, finely chopped
1 cup yoghurt, plus additional yoghurt, to serve
1 teaspoon salt
2 tablespoons rapeseed or vegetable oil
1 tablespoon coriander seeds
1 teaspoon cumin seeds
1 teaspoon fenugreek seeds
½ Canalside chile, finely chopped, seeds removed if desired
½ teaspoon turmeric
Preparation
Place the potatoes in a pot of cold water and bring slowly to the boil. Cook over very low heat until tender. Fish out the potatoes, drain, and set aside, keeping the water in the pan. Turn off the heat and then tip the peas into the hot water. Leave them there for 60 seconds and then drain them as well.
Once the potatoes are cool enough to handle, cut them into 2cm cubes.
Combine the peas, red onion, coriander, yoghurt and salt in a serving bowl. Stir and add the potatoes.
Heat the oil in a frying pan over medium-high heat. Once it is hot add the coriander, cumin and fenugreek seeds. Let sizzle for about 30 seconds, until they turn reddish brown. Remove from the heat and add the chile and turmeric. Toss so that the oil turns a sunny yellow.
Pour the oil–but not the seeds—over the salad. Keep as many seeds as possible back in the pan. Mix the oil into the salad and taste.
Now you have a choice: if the salad strikes you as perfectly delicious as it is, then you're done. Serve and enjoy, with additional yoghurt on the side if you like.
If you think it needs a little more oomph, then scrape the seeds into a mortar and pestle and grind them until they're a coarse powder. Sprinkle some or all of this into the salad, tasting as you go along. Once you're pleased with the result, serve and enjoy.
Recipe adapted from the Idaho Potato Commission.
I got home late last night so dinner was a spontaneous improvisation based on what was in the fridge. The result proved to be very tasty! The smooth roasted peppers (you could use sun-dried tomatoes, I think) combine with the crunch of the celery and the boiled potatoes to give a satisfying complexity. A salty miso dressing pulls it all together.
You could serve this with a poached egg, or some grilled meat or fish, or, to be honest, on its own. You could add some feta, as well. I've not given precise quantities; that would go against the entire spirit of this dish.
Potato-Pimento Salad with Miso and Herbs
Ingredients
The salad
Potatoes
Celery, sliced
Tinned Spanish pimientos de padrón, sliced, or sun-dried tomatoes, sliced
Lots of fresh parsley and/or coriander, coarsely chopped
Toasted pumpkin seeds, or almonds
The dressing
1 part miso paste
2 parts olive oil
1 part lime juice
Lime zest
Freshly-ground pepper
Preparation
Put the potatoes in a pan and cover with cold water. Bring slowly to the boil, and simmer very gently until the potatoes are tender.
While the potatoes cook, combine the other salad ingredients in a bowl and shake the dressing ingredients together in a jar.
Drain the potatoes and leave to dry off a bit for a few minutes. Once they're cool enough to handle, cut them into chunks and add them to the salad. Toss well and serve with additional black pepper, to taste.
This is pretty addictive. It delivers a big dose of umami and makes an outstanding dressing for robust vegetables. I've been eating it on a salad of finely shredded red or white cabbage, grated carrot, and chopped coriander. It would be good on grilled tofu or fish, or roasted butternut squash. Or use it as a dip for whole potatoes—the little ones we're getting in our shares—roasted at 200C for 30 minutes.
Miso-Tahini Dressing
Serves 2
Ingredients
1 tablespoon miso paste
1 tablespoon tahini
1 tablespoon soya sauce
1 tablespoon cider vinegar
Preparation
Combine the ingredients and blend well, using a fork. Taste to see if it would benefit from a little more vinegar. The mahogany-dark dressing is now ready to use. This makes enough for half a small cabbage, shredded, together with several grated carrots.
Is that head of celery from a fortnight ago still lurking in the back of your fridge? Here is what to do with it.
Creamy Celery and Fennel Soup
Serves 4
Ingredients
200g onions
200g potatoes, peeled or not, as you prefer
200g fennel
400g celery
40g butter
1 litre water or stock
150ml Greek or full-fat yoghurt, or single cream
Salt and pepper, to taste
Reserved fennel fronds, minced, for garnish
A handful of rocket, dandelion greens or watercress, finely shredded, for garnish (optional)
Preparation
Chop all the vegetables roughly. Reserve any of the soft fronds from the fennel to use as a garnish.
Over low heat, melt the butter in a pan with a lid. Once it has melted add the vegetables and turn to coat in the butter. Put the lid on the pan and leave the vegetables to sweat and soften for 20 minutes, stirring occasionally.
Add the stock or water, bring slowly to a simmer, and leave to cook over low heat for another 20-30 minutes.
Liquidise the soup. Stir in the yoghurt or cream and season to taste with salt and pepper. Celery is surprisingly salty, so you may not need salt at all.
Serve garnished with the reserved fennel fronds and optional greens.
We have a bonus recipe from Pip Smith, after thinking that last week was going to be her last contribution for now! Our resident Recipe Meister, Rebecca Earle, will be back next week.
Having a courgette moment? Don't feel like making courgetti? Luckily warm soup is also a great idea in the hot weather – it's all about keeping on top of your fluids when you are losing so much in the heat. This is a really simple 'recipe' and a hit in our household even during the summer months.
Potato and courgette soup
serves 4
Ingredients:
1 large or 2 medium courgettes in thick slices
4 medium potatoes
1 white onion
1 organic stock cube
2 tbsp margarine
Method:
Chop the onion and potato into small chunks.
Heat the margarine in a large pan.
Add the potato and onion and sauté for 5-10 mins
Add the courgette for 1 min
Add 800ml stock, bring to the boil and simmer for 15 mins.
Whizz with a hand blender
We like to serve ours with a drizzle of single cream.