August 5, 2021 by General Administrator
Fresh tarragon is lovely with potatoes. You can augment this salad with hard-cooked eggs or olives, if you like. It's good on its own, and also as part of a meze spread.
Warm Tarragon and Potato Salad
Serves 4 as a side dish
Ingredients
4 large waxy potatoes
1 medium red onion
zest and juice of 1 large lemon
4 tablespoons olive oil
½ teaspoon salt
several grinds of pepper
20g tarragon leaves, roughly chopped
Preparation
Put the potatoes in a pan with cold water. Bring slowly to the boil and then simmer gently over very low heat until tender. Depending on the size of your potatoes this could take between 30 and 45 minutes. Drain and set aside.
While the potatoes cook, peel the onion and slice it fine. Put the slices in a small bowl and toss with a pinch of salt and a squeeze of lemon juice. Let sit for 10-30 minutes; this will temper the onion and make it less pungent.
Now prepare the dressing: put the lemon zest, remaining lemon juice, olive oil, salt and pepper in a jar and shake vigorously to combine. Taste and add a bit more salt or lemon juice if it's not to your taste.
Once the potatoes are cool enough to handle but still warm, peel them (if you don't like the peel) and then cut them into 2cm cubes. Toss them with the dressing and tarragon, and stir in the tempered onion. Eat while warm.
Recipe adapted from Sally Butcher, Persepolis (2011).
April 9, 2021 by General Administrator
Here is a good soup for a blustery spring day. The warming spices—cumin, coriander, paprika—give this a North African flavour, as does the preserved lemon. You can make this with any ratio of potatoes or parsnips that you prefer, including all potato or all parsnip. We enjoyed this with a glass of very robust Bulgarian merlot but other drinks are available, as they say.
Note that this involves only one pan, and so results in minimal washing-up.
Spicy Potato-Parsnip Soup with Preserved Lemon
Serves 2
Ingredients
For the Soup
2 tablespoons rapeseed or olive oil
1 onion, roughly chopped
2 garlic cloves, roughly chopped
½ dried Canalside chile, deseeded if you don't want it too hot and chopped, or 1 medium-hot dried chile, treated similarly
1 teaspoon ground cumin
1 teaspoon ground coriander
½ teaspoon sweet smoked paprika (use a Spanish brand)
¼ cup preserved lemon, chopped fairly coarsely
500g peeled potatoes and parsnips, in any ratio (you can use all potatoes or all parsnips, too)
About 750ml stock (I think you could also use water, to be honest)
1 teaspoon salt
To decorate the Soup
4 tablespoons yoghurt
a little more smoked paprika
a little extra preserved lemon, coarsely chopped
Preparation
Heat the oil in a large saucepan over medium heat. Add the onion, garlic and chile, reduce the heat to low, and sauté gently for 10-15 minutes, or until the onion is soft but not brown. Stir in the cumin, coriander and paprika and cook for a minute or two more, until everything smells fragrant.
Meanwhile, cut the peeled vegetables into chunks of about 2cm.
When the spices in the pan are fragrant add the vegetables and the preserved lemon and pour in the stock (or water) and the salt. Bring to a simmer and cook for 30-40 minutes, or until the vegetables are very tender indeed.
Using a potato masher, mash the vegetables to give the soup a coarse texture. Hugh F-W suggests passing the whole thing through a sieve to create a smooth puree, but this seems both a lot of work and a dubious outcome as in my view a more rustic texture suits this soup far better. But it's up to you. Add a bit of water if it still seems a bit thick to you, and check to see if it would benefit from a bit more salt.
To serve, dish your soup into bowls and garnish each with several spoonfuls of yoghurt, a sprinkling of paprika, and some golden cubes of preserved lemon.
Recipe adapted from Hugh Fearnley-Whittingstall, River Cottage Veg Every Day! (2011).
February 18, 2021 by General Administrator
It's getting to that point in winter where I'm starting to run low on root veg recipe ideas again (I need to look back at the blog for inspiration!) but this simple parsnip and potato bake caught my eye. I'm sure there's a lot of opportunity to riff on this recipe too.
Honey-Mustard Parsnip & Potato Bake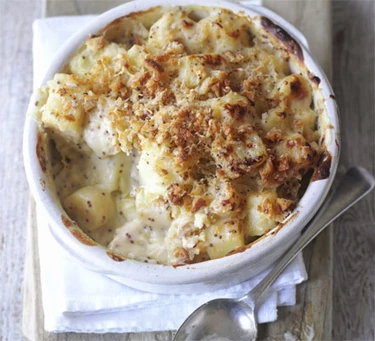 Ingredients
800g potato like Desirée, cut into 2.5cm cubes
800g parsnip , cut into 2.5cm cubes
85g butter
85g plain flour
600ml milk
2 tbsp wholegrain mustard
2 tbsp clear honey
2 tbsp white wine vinegar
85g fresh white bread , whizzed to crumbs
25g grated parmesan (or vegetarian alternative), grated
Method
Bring a large pan of salted water to the boil. Tip in the potatoes and parsnips, bring back to the boil and simmer for 5 mins. Gently drain so they don't rough up too much, then tip into a baking dish.
(Make a bechamel) Melt the butter in a big saucepan, then stir in the flour and cook for 2 mins. Gradually stir in the milk to a smooth, lump-free sauce. Cook gently, stirring constantly, until the sauce is nicely thickened – about 5 mins. Stir in the mustard, honey, vinegar and some seasoning. Pour evenly over the potatoes. Mix the crumbs and cheese together, then scatter over the top and set aside until ready to bake. You can cover the dish and chill for up to 24 hrs before finishing.
Cook the bake at 200C/180C fan/ gas 6 for 30-40 mins until the top is crisp and golden and the sauce hot through.
From BBC Good Food
January 28, 2021 by General Administrator
This past Monday was Burns Night. A proper Burns Night supper should include, alongside haggis and a good deal of whisky, a convivial toast to the immortal memory of Robert Burns. This year, as we long for conviviality, and remember the shades of a great many people, it seems appropriate to offer a traditional Scottish dish, worthy of a private, 2021 version of Burns Night, or just a meditative mid-week supper.
The dish I've chosen is Cullen Skink, a sort of Scottish version of vichyssoise. It consists of a creamy leek and potato soup augmented with rich and salty smoked haddock. It's best eaten with a piece of good bread. This recipe (and some bread) will satisfy four convivial or meditative diners.
Cullen Skink takes its name from the village of Cullen, in north-eastern Scotland, and the word 'skink', which means 'soup'. (Skink, if you're interested, probably comes from the Middle High German Schinke, or ham.) Neither the Oxford English Dictionary nor I have succeeded in tracing the dish back earlier than than about 1910, so it's probably not the most ancient of Scottish recipes, but it's very good nonetheless.
Cullen Skink
Serves 4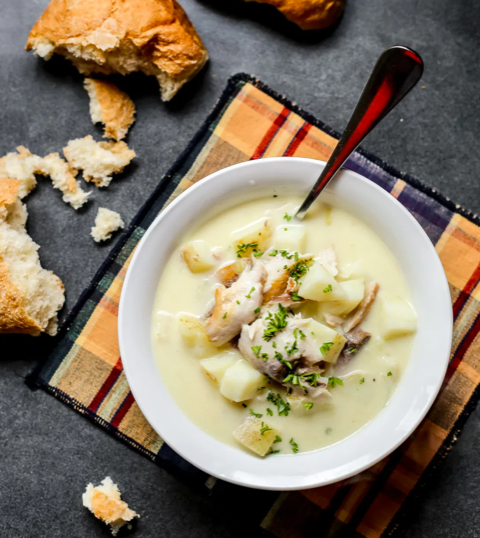 Ingredients
300g onions
500g leeks
60g butter
500g potatoes
4 bay leaves
1 lemon, juiced
Freshly-ground black pepper
400g natural (undyed) smoked haddock, cut into large chunks
150ml single cream
2l boiling water
Fresh chives, to garnish
Preparation
Peel the onions and dice them into 1cm chunks.
Top and tail the leeks. Cut the leeks into 1cm chunks and then rinse them in a colander to remove any dirt.
Heat the butter in a large, heavy-bottomed saucepan. When it is melted add the onions and leeks and cook over very low heat for at least 20 minutes, or until the vegetables look tender and soft, but not browned. Keep an eye on it so that they don't stick or burn. It is fine to cook them for longer.
Meanwhile, prepare the potatoes. I'd favour leaving them unpeeled but if this seems wrong to you feel free to peel them. In any case, chop them into 2cm chunks and set aside.
Once the onions and leeks are soft and very translucent, add the bay leaves, lemon juice and pepper to the pan. Stir and then add the potatoes. Cook for 10 more minutes, so that the potatoes start to release their starch, which will make for a nice, thick soup.
Add the water to the pan, so that the vegetables are completely submerged. Bring to a simmer and cook for 15-25 minutes, or until the potatoes are tender. Add more water along the way if necessary to ensure that the vegetables remain under water.
Once the potatoes are tender, add the haddock and cook over low heat for another 5 minutes or so. Pour in the cream and cook over a very low heat until the soup is heated through. If you'd like it thicker, simmer it for a further 10 minutes. Taste to check the seasonings and add more salt (the fish will already have brought considerable salt to the dish), pepper or lemon if you like.
Serve, garnishing the bowls with chopped chives and a further grind of black pepper.
Recipe adapted from Tesco Magazine, Jan. 2021.
January 22, 2021 by General Administrator
The potato haul was very good this year and this seems to have resulted in a slowly growing bag of potatoes in our house. So this week I've been thinking about some new ways to get through them all. Today's recipe may not be new for all of you but I've never tried it and I'm excited to give it a go!
Hasselback potatoes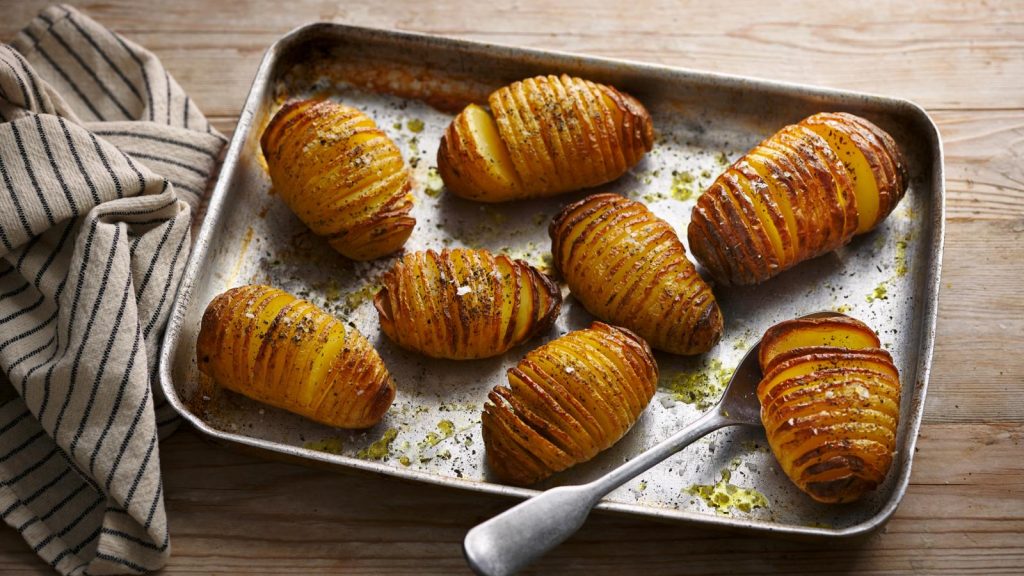 Ingredients (serves 4)
½ tsp dried thyme, rosemary or mixed herbs
½ tsp flaked sea salt
½ tsp coarsely ground black pepper
3 tbsp sunflower, vegetable or olive oil, plus extra for greasing
8 small–medium potatoes, each one approx. 75g/2¾oz, scrubbed (ideally, all-rounders or floury potatoes)
small knob of butter, approx. 15g/½oz (optional)
Method
Preheat the oven to 200C/180C Fan/Gas 6. Lightly oil a baking tray. Mix the herbs, salt and pepper in a large bowl. Pour the oil into a second bowl.
Place two wooden spoons or chopsticks on a chopping board, about 5cm/2in apart. Place the potatoes one at a time between the handles. Using a sharp knife with a thin blade, cut the potatoes very thinly and vertically almost all the way through – the knife will stop slicing when it meets the spoons. Each slice should be a little narrower than a pound coin.
As you prepare each potato, add it to the oil and turn to coat, then add to the seasoning mix and rub all over the potato, making sure a little of the seasoning mix gets in between the slices.
Place the potato on the baking tray, cut-side up. Prepare the remaining potatoes in the same way. Drizzle any remaining oil over the potatoes and bake for 40 minutes.
Take the tray out of the oven and dot each of the potatoes with a little butter, then bake for a further 10 minutes, or until golden, crisp and tender. Check for tenderness with the point of a knife or the tip of a skewer. (If you don't want to use butter, cook the potatoes for around 50 minutes in total.) Serve immediately.
I'll probably try slotting some cheese in between the slices, and maybe topping with bolognese or sour cream.
Adapted from BBC Food
September 3, 2020 by General Administrator
In case you are wondering what to do with the mysterious 'huauzontle', here is the answer! Huauzontle, also known in Mexico as 'quelites', is a flavoursome green a bit like sprouting broccoli. In this recipe it is mixed with juicy tomatoes and cubed potatoes to make a superlative filling for a tortilla or other flatbread. Serve topped with thick yoghurt.
Quelites a la Mexicana
Serves 2
Ingredients
250g potatoes
250g huauzontle
200g onions
150g tomatoes
½ to 1 Canalside chile, deseeded if desired
1 tablespoon vegetable oil
1 teaspoon ground cumin
Yoghurt and flatbreads, to serve
Preparation
Put the potatoes in a saucepan and cover with cold water. Add a pinch of salt. Bring to the boil and cook until tender. Depending on the size of the potatoes, this can take between 20 and 40 minutes. Drain and let cool
Put the huauzontle in a saucepan and cover with cold water. Add a pinch of salt. Bring to the boil and cook until it's tender, about 8 minutes.
Peel the onions and chop coarsely. Chop the tomatoes into chunks roughly the same size as the onions. Slice the chile.
By now the potatoes should be cool. Cut them into cubes, about 2cm or thereabouts.
Heat the oil in a frying pan or casserole pan. Add the onions, tomatoes and chile, and sauté for a few minutes. Add the cooked huauzontle, cubed potatoes and cumin, and sauté for a few more minutes to heat through.
Serve topped with yoghurt in flatbreads (tortillas would be traditional).
Recipe freely adapted from this fantastic video by Mexican internet sensation Doña Ángela. Many thanks to Ricardo Aguilar for his advice about cooking quelites and for telling me about Doña Ángela.
June 26, 2020 by General Administrator
Kohlrabi returns to the share this week and whilst I'm not sure mashed potato is really hot-weather suitable, this recipe looked too good to miss. This recipe makes a lot but can be scaled to suit your share size.
Mashed kohlrabi with brown butter
4 servings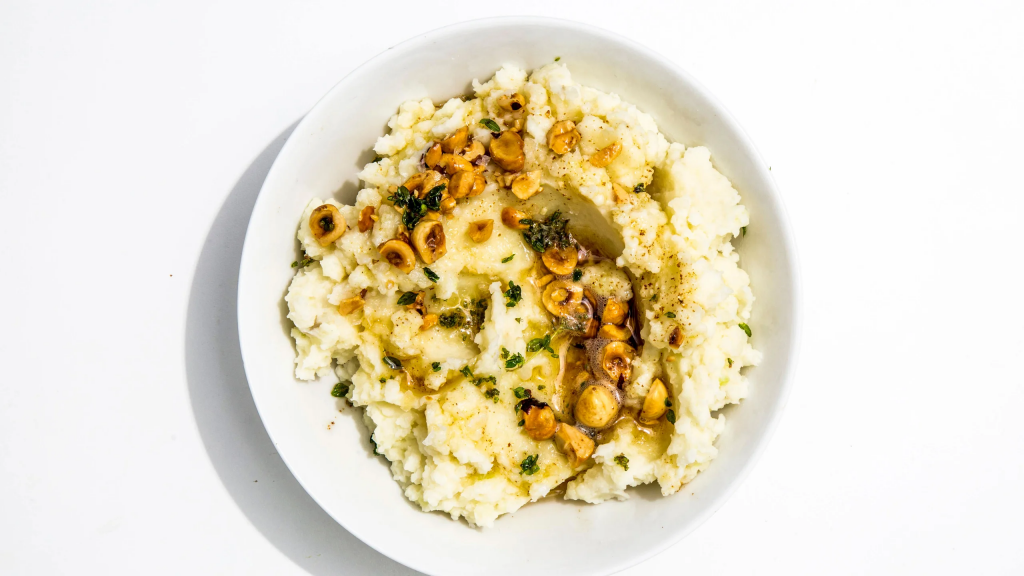 Ingredients
6 tablespoons unsalted butter
⅓ cup blanched hazelnuts
4 thyme sprigs
450g potatoes, peeled, cut into 2cm pieces
salt
900g kohlrabies, peeled, cut into 1cm pieces
⅓ cup double cream
Method
Heat butter in a small saucepan over medium. Cook hazelnuts until butter foams, then browns, about 5 minutes. Add thyme sprigs and cook until crisp, about 30 seconds. Immediately transfer to a bowl; spoon out nuts and coarsely chop.
Meanwhile, boil kohlrabi for 12-14 minutes, adding potatoes to the same pan after a couple of minutes. Whilst you wait, heat cream in a small saucepan over medium until warm.
Drain potatoes/kohlrabi and mash them. Stir in brown butter and warm cream; season with salt. Top mash with hazelnuts and crumble fried thyme over.
Taken from: https://www.bonappetit.com/recipe/mashed-kohlrabi-with-brown-butter
May 29, 2020 by General Administrator
Potato salad is something that drops off my radar too frequently, but this week we got a large haul of radishes and new potatoes with more expected next week. With that it mind it seems a good idea to make something fresh and easy for lunch in the sun, enjoy!
Potato and radish salad
Serves 4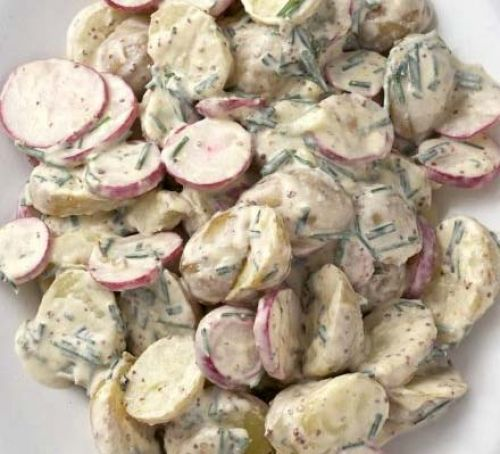 Ingredients
500g new potato, sliced
3 tbsp crème fraîche (I think Oatly and Alpro both do alternatives)
1 tbsp grainy mustard
1 bunch chive, snipped
200g radishes, sliced
Method
Cook the potatoes in a large pan of boiling, salted water for 8-10 mins or until tender. Drain and allow to cool for 10 mins.
Mix the crème fraîche, grainy mustard and chives with some seasoning, then toss through the radishes and potatoes before serving.
Adapted from: https://www.bbcgoodfood.com/recipes/potato-radish-salad
May 8, 2020 by General Administrator
Freakily, last week two different people, from two different continents, sent me this recipe for radish leaf soup. I feel that is a sign that the recipe must now be shared with everyone at Canalside, even though, lacking a potato, I have not yet had a chance to make it myself. Let me know how you get on with the peppery, leafy radish leaves that are doubtless still sitting in your fridge from last week. It looks delicious—please note especially the suggestion of topping your soup with 'pumpkin seeds, sliced radishes, crème fraîche, sour cream, olive oil, freshly cracked black or a pinch of red pepper powder, scallions, edible flowers, fresh herbs, a dollop of pesto, or a dribble of pumpkin seed oil'.
Radish Leaf Soup
6-8 servings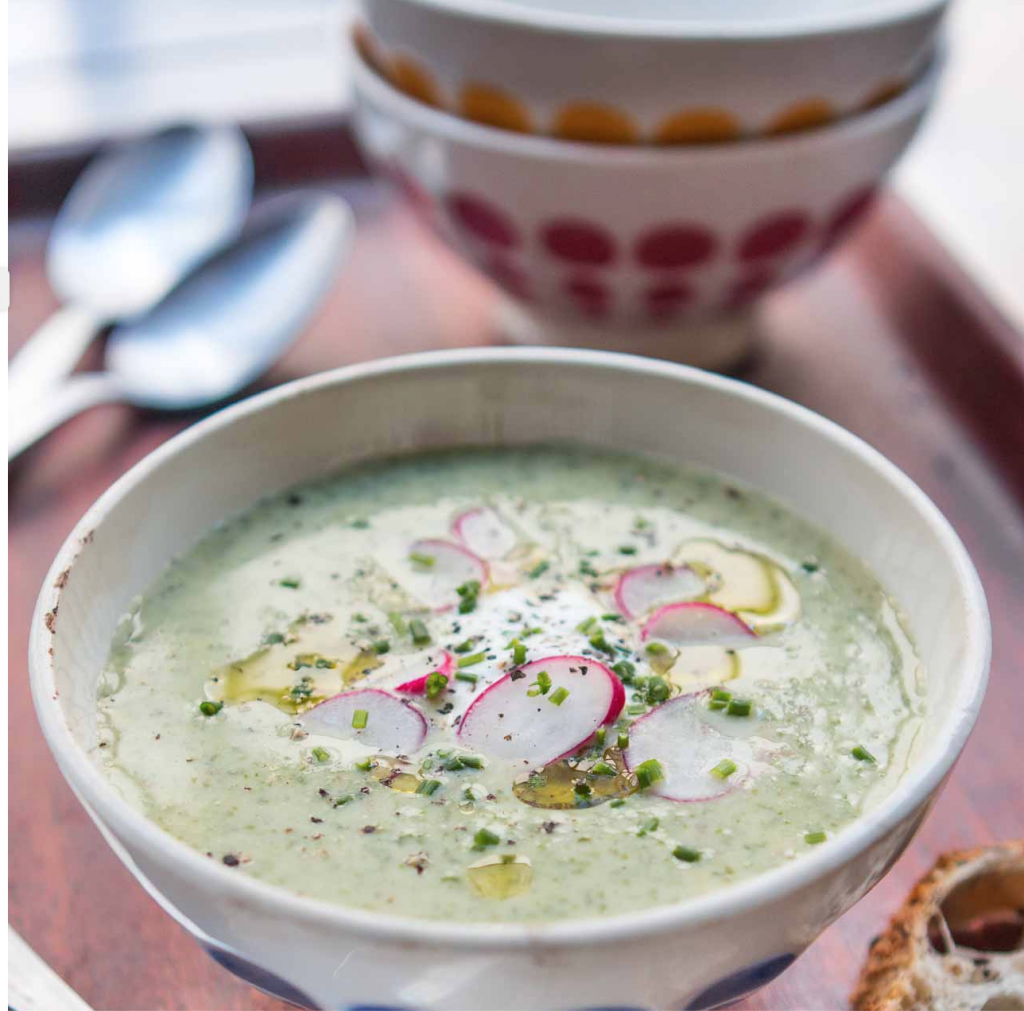 I (that's David Lebovitz) strongly suggest you use radish leaves that are unsprayed or organic, and wash them well to make sure all grit has been removed. If you don't have enough radish leaves, feel free to make half the recipe, or bulk it up with lettuce or another mild green. Something like spinach, kale, or Swiss chard will overtake the flavor of the radish leaves (although it's not the end of the world if you're trying to use up odds and ends of various greens), but you could use arugula in addition to the radish leaves, or something similar. I don't peel the potatoes but you are welcome to. If using commercial chicken stock, cut the salt in half and add more, to taste. If you don't have chicken stock, water or vegetable stock works fine. I added a touch of heavy cream, which smoothed things out nicely and gives the soup a subtle richness, but offered a few alternatives. You could use more, or use regular milk (cow or plant-based), or leave it out. Possible garnishes are, but are not limited to, pumpkin seeds, sliced radishes, crème fraîche, sour cream, olive oil, freshly cracked black or a pinch of red pepper powder, scallions, edible flowers, fresh herbs, a dollop of pesto, or a dribble of pumpkin seed oil.
Ingredients
2 tablespoons butter, salted or unsalted
2 tablespoons olive oil
1 large onion, peeled and diced, or 2 leeks, cleaned and sliced
1 1/2 teaspoons kosher or sea salt
freshly ground black pepper (I used a total of about 1 teaspoon of pepper)
4 cloves garlic, peeled and sliced
2 medium potatoes, washed and diced, (12-16oz, 340-450g)
2 cups (500ml) water
12 cups (lightly packed) fresh radish leaves, rinsed very well (9 oz, 270g)
3 cups (750ml) chicken stock
1 tablespoon Dijon mustard
1/8 teaspoon cayenne pepper
1/2 cup (125ml) heavy cream, sour cream, mascarpone, or creme fraiche
Preparation
Heat the butter and olive oil in a soup pot or Dutch oven over medium-high heat. Add the onions and cook, stirring frequently, seasoning them with the salt and pepper, until soft and translucent, about 5 minutes. Add the garlic and stir for a minute or two, to help them release their aroma.
Add the potatoes and 2 cups of water to the pot. Cover, bring to a boil then reduce the heat to a steady simmer and cook until the potatoes are tender when poked with the tip of a sharp paring knife, about 10 to 15 minutes.
Add the radish leaves and stock. Cover, bring to a boil, then reduce the heat and simmer just until the radish leaves are wilted and cooked through. Remove from heat.
If using an immersion blender, add the cream, mustard, cayenne, and cream to the pot and puree until smooth. If using a standard blender, let the soup cool until tepid then puree the soup with the cream and mustard. (Never fill a blender more than half full with hot liquid as it can blow off the lid and cause injuries.) Rewarm the soup and serve with any of the suggested garnishes.
Recipe from David Lebovitz, https://www.davidlebovitz.com/radish-leaf-soup-recipe-soupe-fan-radis-recette/.
January 23, 2020 by General Administrator
This week I'll keep it simple with one I've been saving up. My first winter at Canalside I felt almost overwhelmed by the number of potatoes I had to get through – there's only so much mash one man can eat! That all changed when I worked out how to make good oven chips from scratch. Serve with whatever you want but for me there always has to be mayonnaise involved when it comes to oven chips…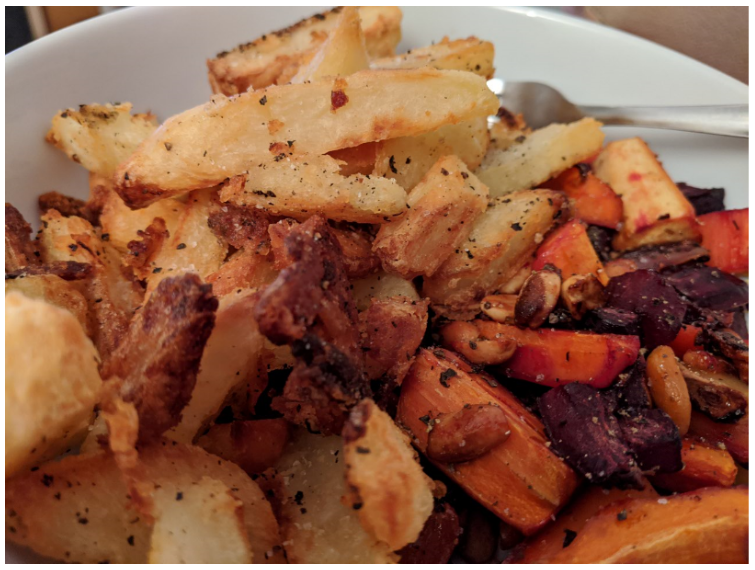 Ingredients:
Potato (2-3 medium size per person)
Salt, pepper, oil
Method:
Put oven on about 220degC, put baking tray in to heat up with plenty of oil. Clean potatoes and peel if desired. Put kettle on to boil. Cut into 1.5cm thick slices, then lay these out and cut into chips. Next, boil the chips for about 4 minutes in a pan (par-boiling).
Drain potatoes and then put a lid on the pan and give a really good shake – this is key to rough up surface and make some crispy chips!
Get tray out of oven, and liberally salt and pepper, put chips on tray and apply more salt pepper and oil on top. Bake for about 20 minutes or until they look good to eat.
Variations: Add herbs/spices such as rosemary, thyme, fennel seeds, paprika (or any combination of). Patatas bravas: Same recipe but cut to 2cm chunks, add plenty of paprika when baking and serve with a pureed tomato sauce.