January 22, 2021 by General Administrator
The potato haul was very good this year and this seems to have resulted in a slowly growing bag of potatoes in our house. So this week I've been thinking about some new ways to get through them all. Today's recipe may not be new for all of you but I've never tried it and I'm excited to give it a go!
Hasselback potatoes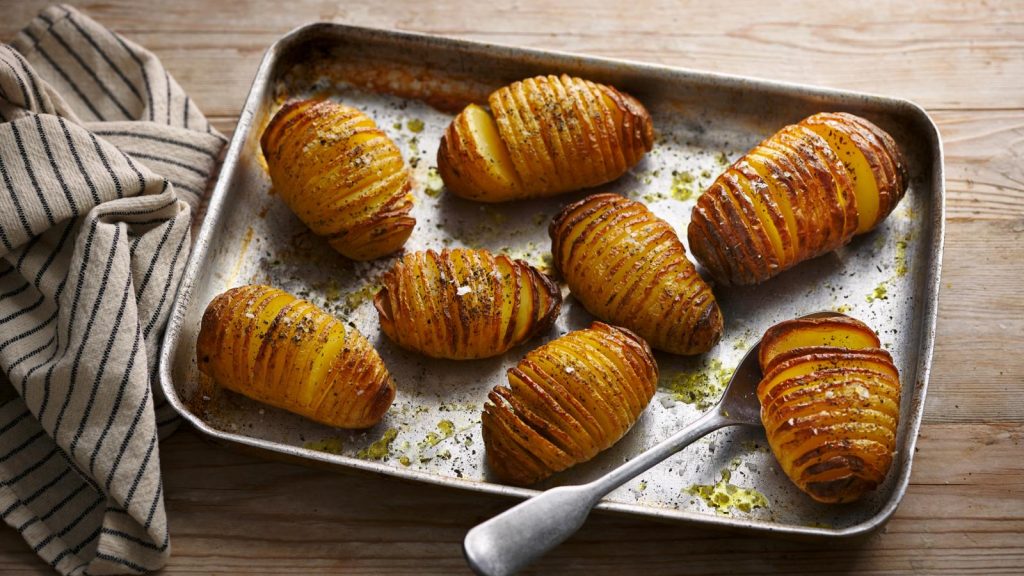 Ingredients (serves 4)
½ tsp dried thyme, rosemary or mixed herbs
½ tsp flaked sea salt
½ tsp coarsely ground black pepper
3 tbsp sunflower, vegetable or olive oil, plus extra for greasing
8 small–medium potatoes, each one approx. 75g/2¾oz, scrubbed (ideally, all-rounders or floury potatoes)
small knob of butter, approx. 15g/½oz (optional)
Method
Preheat the oven to 200C/180C Fan/Gas 6. Lightly oil a baking tray. Mix the herbs, salt and pepper in a large bowl. Pour the oil into a second bowl.
Place two wooden spoons or chopsticks on a chopping board, about 5cm/2in apart. Place the potatoes one at a time between the handles. Using a sharp knife with a thin blade, cut the potatoes very thinly and vertically almost all the way through – the knife will stop slicing when it meets the spoons. Each slice should be a little narrower than a pound coin.
As you prepare each potato, add it to the oil and turn to coat, then add to the seasoning mix and rub all over the potato, making sure a little of the seasoning mix gets in between the slices.
Place the potato on the baking tray, cut-side up. Prepare the remaining potatoes in the same way. Drizzle any remaining oil over the potatoes and bake for 40 minutes.
Take the tray out of the oven and dot each of the potatoes with a little butter, then bake for a further 10 minutes, or until golden, crisp and tender. Check for tenderness with the point of a knife or the tip of a skewer. (If you don't want to use butter, cook the potatoes for around 50 minutes in total.) Serve immediately.
I'll probably try slotting some cheese in between the slices, and maybe topping with bolognese or sour cream.
Adapted from BBC Food