October 27, 2022 by General Administrator
Perhaps you have been tempted by the mysterious yellow quinces in the 'extras' section. Here is something delicious you can do with them. Claudia Roden reports that honeyed chicken with quince is a classic of Moroccan cookery, and it is very good. The chicken is simmered with honey and North African spices, and adorned with slices of quince. Serve it with rice or couscous.
But if it all seems a bit much you can enjoy the quinces simply for their delicate fragrance, which will perfume your kitchen if you leave them in a bowl on your worktop. Quinces have long been famous for their aroma, as this poem ascribed to the tenth-century Andalusian diplomat Jafar ibn Uthman al-Mushafi illustrates.
It is yellow in colour, as if it wore a daffodil
tunic, and it smells like musk, a penetrating smell.
It has the perfume of a loved woman and the same
hardness of heart, but it has the colour of the
impassioned and scrawny lover.
Its pallor is borrowed from my pallor; its smell
is my sweetheart's breath.
When it stood fragrant on the bough and the leaves
had woven for it a covering of brocade,
I gently put up my hand to pluck it and to set it
like a censer in the middle of my room.
It has a cloak of ash-coloured down hovering over
its smooth golden body,
and when it lay naked in my hand, with nothing more than
its daffodil-coloured shift,
it made me think of her I cannot mention, and I feared
the ardour of my breath would shrivel it in my fingers.
Isn't that Aphrodite's apple?
Honeyed Chicken with Quince
Serves 4
Ingredients
2 quince
500g shallots or very small onions
1 medium onion, chopped
4 tablespoons sunflower oil + an additional tablespoon of oil for frying the quinces
2 teaspoons ras el hanout, or 1 teaspoon ground ginger + 1 teaspoon ground cinnamon + a pinch of saffron
1.6kg chicken, cut into pieces, or the equivalent in chicken pieces
250ml water
1 teaspoon salt and black pepper to taste
1 tablespoon honey
Method
Bring to the boil a pot large enough to hold the quince. Simmer the quince in the pot until they are tender. This will take between 20 and 60 minutes, depending on the quince, so you will need to check regularly. You don't want them to fall apart completely. Once the quince are tender, remove them from the pot and leave to cool.
Meanwhile you can prepare the shallots (or onions): bring another pot of water to the boil and add the unpeeled shallots or onions. Boil for 5 minutes, and then drain. Once they are cool enough to handle, peel them and remove the rooty end. Set aside.
Over medium heat, warm 4 tablespoons of oil in a pan large enough to hold the chicken. Add some of the chicken and brown on all sides. Don't crowd the pan too much, or else the chicken will steam rather than brown. As it browns remove it and continue with the remainder of the chicken.
Remove all the now-browned chicken from the pan and add the chopped onion. Lower the heat and sauté for about 10 minutes, until it has softened. Add the spice and stir for a minute or two, until it smells fragrant.
Return the chicken to the pan and add the water, salt and several grinds of black pepper. Cover, and cook over low heat for 15 minutes. Remove the chicken breasts, which should now be cooked, and set them aside.
Add the peeled shallots (or onions) to the pot and continue to cook for about 25 minutes more, or until the remaining pieces of chicken are tender. Keep an eye on this while it is cooking and add more water if it seems to be drying out, which I think is unlikely.
While the chicken is cooking finish preparing the quince: cut the cooked quinces into quarters and remove the core, but leave the peel on—this will help hold the slices together. Cut each quarter in half the long way to make 8 thick slices from each quince. Heat the additional tablespoon of oil in a frying pan, and put in the cooked quinces, with a cut side down. Fry until they are brown and caramelised, and then turn them over to brown the other cut side. Lift them out of the pan and drain on a bit of kitchen paper. Set aside.
Once all the chicken has cooked remove it from the pan and add the honey. Increase the heat to medium-high and cook uncovered, stirring, until most of the liquid has evaporated and the onions are beginning to turn a beautiful caramel brown.
Return the chicken to the pan and add the quinces. Heat through and then see if it needs more pepper. You want a nice balance between sweetness and peppery sharpness.
Serve with with rice or couscous.
Recipe adapted from Claudia Roden, Arabesque: A Taste of Morocco, Turkey & Lebanon (2005).
March 31, 2022 by General Administrator
I imagine you're already aware of how good roasted beets are in a salad, especially if they are accompanied by some salty cheese. Here is a particularly tasty variant on this classic combination. Suzanne Goin, whose recipe this is, claims it converted her beetroot-hating mother into a beetroot fan. The cumin vinaigrette, fried chickpeas, flat-leaf parsley and sharp black olives combine with the rich, roasted beets and salty ricotta to make a treat for your mouth.
Ricotta salata is a hard, dried version of ricotta. You could use a hard goat or sheep cheese in its stead.
Roasted Beet Salad with Fried Chickpeas, Black Olives and Ricotta Salata
Suzanne Goin says this serves 6 as a starter. Matt and I ate the whole thing for dinner, with some bread.
Ingredients
1kg beetroot, cleaned
120ml olive oil
1½ teaspoons cumin seeds
¼ teaspoon salt
2 tablespoons red wine vinegar
1 tablespoon lemon juice
2 shallots, thinly sliced
250g cooked chickpeas
a fragment of chopped Canalside chile pepper, seeds removed if you like (optional)
90 grams dry, Niçoise-style black olives
15g flat-leaf parsley, coarsely chopped
100g ricotta salata, cut into thin slivers
more salt and pepper
Method
Preheat the oven to 200C.
Put the beetroots in a roasting pan, add a splash of water, and cover the pan tightly with foil. (I know it's not great to use foil. You can at least try to reuse this foil, since it won't get dirty.) Roast the beets for 40-90 minutes, or until tender when pierced with a knife. How long they take to roast will depend on their size. Let cool and remove the skins. They should rub off easily. If they don't, you can use a knife. Slice the beetroots into wedges and place in a large bowl.
While the beetroots are roasting, toast the cumin seed in a dry medium pan over medium heat for 2 to 3 minutes, or until they smell cumin-y. Let cool a bit and then grind coarsely in a mortar and pestle. Transfer to a bowl.
To this bowl add the salt, red wine vinegar and lemon juice. Whisk in 100ml of olive oil. Taste and balance the seasoning, if necessary. Does it need a little more lemon juice, or salt? Add the shallots and set aside to marinate a bit.
Heat the remaining 20ml of olive oil in the pan you used for the cumin. When it is really hot, add the chickpeas and the chile (if you're using it), and fry for 4-5 minutes, until the chickpeas are crispy. Shake the pan often. Once they're crispy, season with a bit more salt and pepper and set aside.
Gently toss the beetroots with the cumin-shallot vinaigrette. Add the olives and parsley leaves and taste again. Balance the flavours with more lemon juice, salt or pepper, if necessary.
Array half the salad on a platter. Tuck half the cheese around the vegetables, and top with half the chickpeas. Place the rest of the salad on top, nestle in the remaining cheese, and finish with the remaining chickpeas. Enjoy.
Recipe adapted from Suzanne Goin, Sunday Suppers at Lucques (2005).
December 9, 2021 by General Administrator
This is a flavoursome dish that plays to the potato's strength as a vehicle for strong flavours. Here your Canalside spuds combine with the richness of coconut milk and the sharp, sour tang of tamarind to deliver a punchy, satisfying dose of carbohydrates. Cashews and crispy onions contribute additional crunch. A sprinkling of green coriander over the top looks lovely and adds an additional freshness.
It is particularly good combined with the south Indian beetroot and coconut dip whose recipe I will provide in my next instalment.
Potatoes with Tamarind, Coconut and Cashews
Serves 4-6 as part of a larger spread.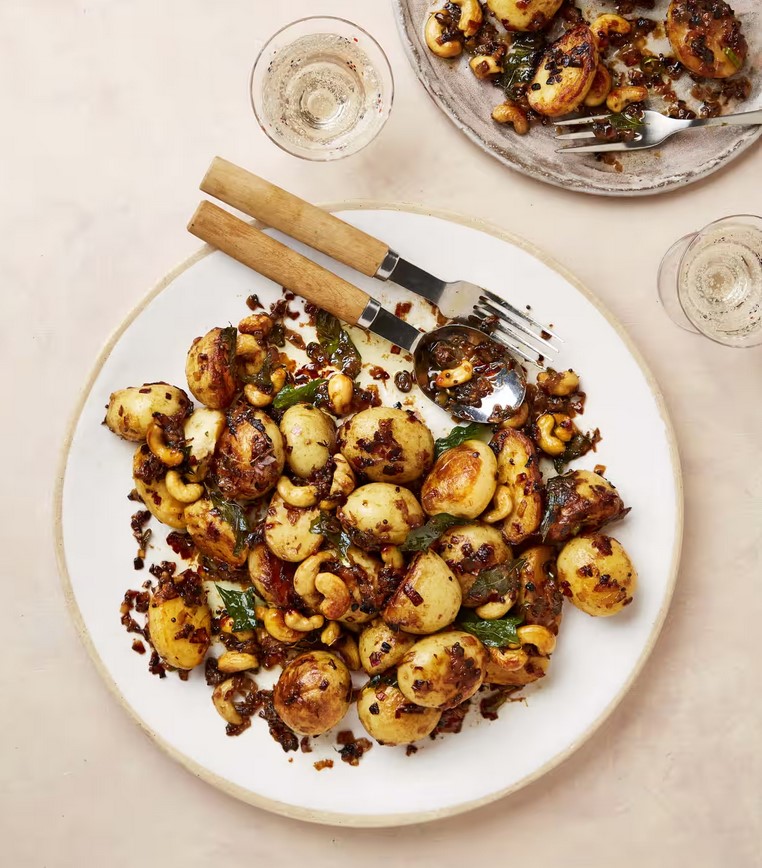 Ingredients
1kg potatoes
3 tablespoons coconut oil
1 teaspoon black mustard seeds
1 teaspoon cumin seeds
10 fresh or frozen curry leaves
300g shallots, peeled and sliced fine—or you can use onion, really
3 garlic cloves, peeled and crushed
2cm piece of fresh ginger, peeled and grated
2 green chiles, finely chopped (take out the seeds if you prefer, and also adjust the quantity to taste)
100g cashew nuts
1 teaspoon salt
2 teaspoons tamarind paste
200ml coconut milk
a handful of coriander leaves, chopped, to garnish (optional)
Preparation
Put the potatoes in a pan and cover with cold water. Bring to a boil over low heat and cook gently until they are tender. How long this takes will depend on the size of the potatoes, so this process can last between 20 and 45 minutes. When the potatoes are tender drain them and set them aside. Once they are cook enough to handle cut them into bite-sized pieces. You can do this well in advance if you wish.
Combine the mustard seeds, cumin seeds and curry leaves in a little dish. Combine the garlic, ginger, chiles and cashews in another dish. You're now all set to add each tranche of ingredients without having to fuss around with lots of separate items.
Put the oil in a large frying pan over medium heat. When it is hot add the mustard, cumin and curry leaves. Once the seeds start to sizzle add the shallots and cook, stirring, for about eight minutes, or until the shallots starts to brown.
Add the garlic, ginger, chiles and cashews to the pan. Cook, stirring regularly, for another two minutes. Now add the drained potatoes in a single layer and sprinkle with salt. Turn the heat to high and fry for about five minutes, stirring once, until the potatoes are turning an appetising brown. Don't stir them constantly, or they won't brown.
Finally, add the tamarind paste and the coconut milk. Leave to cook, stirring regularly, until the coconut milk has mostly evaporated and turned into a sticky glaze. Serve hot, cold or at room temperature. It looks nice garnished with some chopped fresh coriander.
Recipe adapted from Meera Sodha, The Guardian, 12 June 2021.
October 15, 2020 by General Administrator
Another very good recipe from Slyvia Fontaine. The creamy carrot sauce colours the pasta a beautiful gold, while the fresh, herby gremolata adds vibrant green. Toasted breadcrumbs provide a contrasting crunch against the richness of the sauce. You would certainly not guess that this is vegan, but you'll see right away how beautiful it looks in your bowl. The flavours work really well together and I recommend this highly.
Pasta with Creamy Carrot Miso Sauce
Serves 4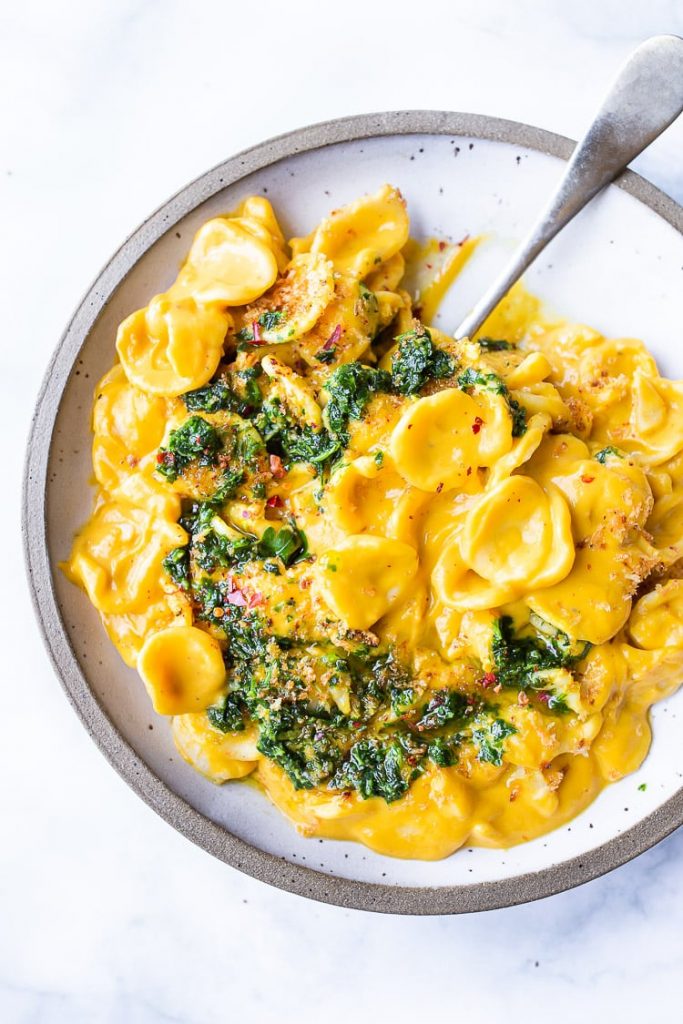 Ingredients
Carrot Miso Sauce
2 shallots, rough chopped (or 1/2 an onion)
3 large garlic cloves, rough chopped
2 tablespoons olive oil
150g carrots
450ml water
40g cashews
Freshly-ground pepper
3 tablespoons white miso paste
Gremolata
60g fresh coriander or parsley (Sylvia notes you can also use carrot tops)
1 tablespoon lemon zest ( zest from one medium lemon)
¼ teaspoon salt
1 fat garlic clove
70-100ml olive oil
Toasted Breadcrumbs
1 thick slice of good bread, grated, to make about 50g breadcrumbs
250g pasta (Sylvia Fontaine recommends orecchiette)
Instructions
Cook the sauce: Heat oil in a medium pot, over medium heat. Saute shallot and garlic until fragrant and golden, about 5 minutes, stirring often. Add carrots, cashews, water, and pepper and bring to a boil. Cover, lower heat to low and simmer gently until carrots are fork-tender, about 15 minutes. Stir in the 3 tablespoons of miso and let cool for 5-10 minutes.
While the carrots simmer make the Gremolata: Place coriander or parsley, lemon zest, salt and garlic in a food processer and pulse repeatedly until finely chopped. Add 70ml oil, pulsing a few more times until incorporated (but not too smooth). Add more oil if you prefer a looser version.
Now make the breadcrumbs: place the breadcrumbs in a frying pan over medium heat and toast, stirring frequently, until the crumbs are golden brown. Set aside.
Bring some water to the boil, and cook the pasta according to the packet instructions.
While the pasta is cooking blend the sauce: place the carrot-cashew sauce in a high-speed blender or food processor and blend on the lowest setting, gradually increasing speed, until fully blended, creamy and silky smooth, which will take between one and two minutes. Slyvia writes: 'Take your time here and get it SMOOTH!!!'
Drain the pasta and pour the sauce over. Heat it gently if needed. Taste and adjust salt.
Divide among bowls, and sprinkle with toasted bread crumbs and spoon the gremolata over top. Enjoy with a glass of chardonnay.
Recipe adapted from Sylvia Fontaine, Feasting at Home
September 24, 2020 by General Administrator
You'll have to nip to the shops for some mushrooms but otherwise, put with mash and greens, this recipe makes good use of lots of this week's share. I've never made bourguignon so I'm looking forward to it!
Mushroom bourguignon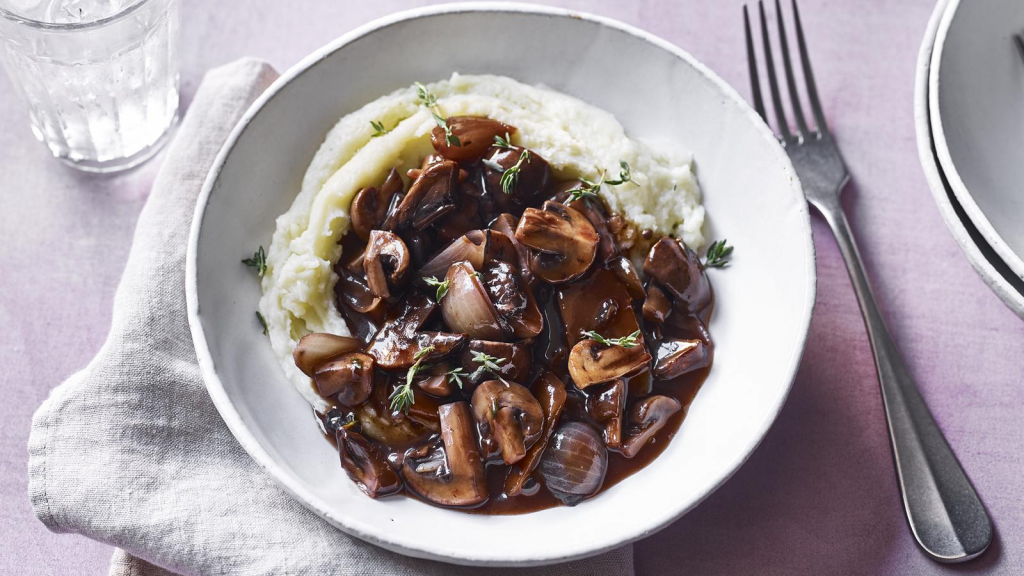 Ingredients
1½ tsp olive oil
3 shallots, peeled, quartered and layers separated
1 large carrot, peeled and cut into slices on an angle
100g/3½oz button mushrooms, quartered
50g/1¾oz chestnut mushrooms, quartered
3 Portobello mushrooms, roughly chopped
7 fresh thyme sprigs, leaves only, or 1½ tsp dried thyme
3 garlic cloves, finely chopped
150ml/¼ pint fruity vegan red wine
200ml/7fl oz vegetable stock
2 bay leaves
1 tbsp tomato purée
1 tsp yeast extract
1 tbsp cornflour, or plain flour
salt and freshly ground black pepper
Method
Heat the oil in a heavy-based saucepan over a medium heat. Add the shallots and carrot and fry gently for 5 minutes.
Add all the mushrooms and most of the thyme and cook for 5–6 minutes (note, an alternative is to dry fry the mushrooms before the other ingredients – they cook in their own juices, enhancing the flavour). Add the garlic and fry for a further minute.
Add the wine and bring to the boil. Simmer for 2 minutes, then turn the heat down and add the stock, bay leaves, tomato purée and yeast extract and stir. Sift in the cornflour and ½ teaspoon salt and whisk in well.
Cook for 7–8 minutes, then season with salt and pepper and add the rest of the thyme if preferred.
Serve with creamy mashed potatoes or a crunchy slice of crusty bread.
Taken from: BBC Good Food