October 15, 2020 by General Administrator
Another very good recipe from Slyvia Fontaine. The creamy carrot sauce colours the pasta a beautiful gold, while the fresh, herby gremolata adds vibrant green. Toasted breadcrumbs provide a contrasting crunch against the richness of the sauce. You would certainly not guess that this is vegan, but you'll see right away how beautiful it looks in your bowl. The flavours work really well together and I recommend this highly.
Pasta with Creamy Carrot Miso Sauce
Serves 4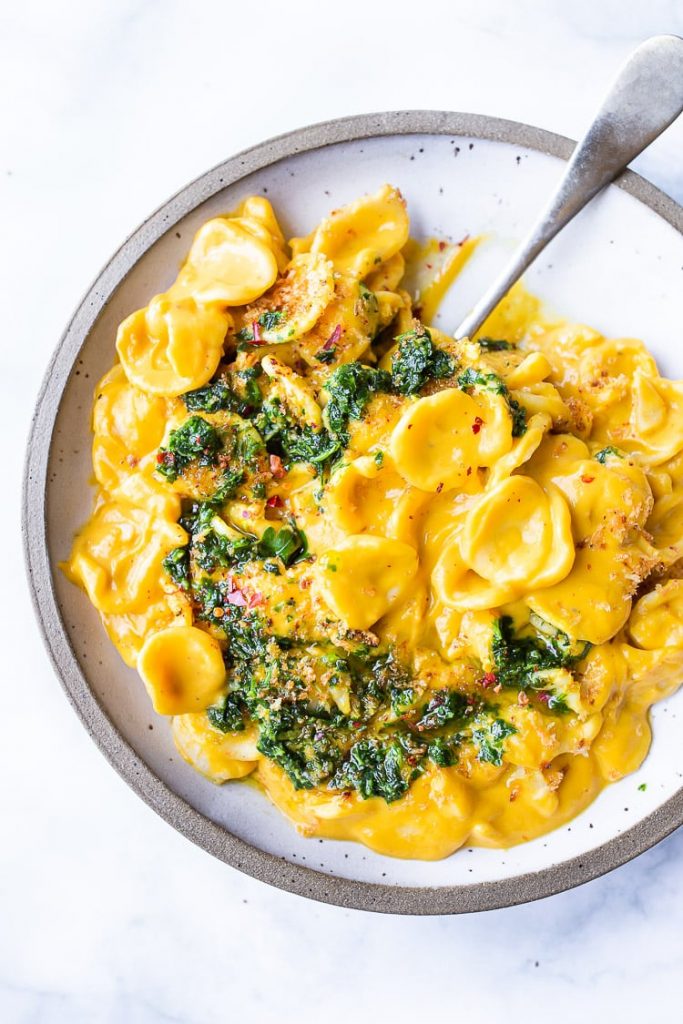 Ingredients
Carrot Miso Sauce
2 shallots, rough chopped (or 1/2 an onion)
3 large garlic cloves, rough chopped
2 tablespoons olive oil
150g carrots
450ml water
40g cashews
Freshly-ground pepper
3 tablespoons white miso paste
Gremolata
60g fresh coriander or parsley (Sylvia notes you can also use carrot tops)
1 tablespoon lemon zest ( zest from one medium lemon)
¼ teaspoon salt
1 fat garlic clove
70-100ml olive oil
Toasted Breadcrumbs
1 thick slice of good bread, grated, to make about 50g breadcrumbs
250g pasta (Sylvia Fontaine recommends orecchiette)
Instructions
Cook the sauce: Heat oil in a medium pot, over medium heat. Saute shallot and garlic until fragrant and golden, about 5 minutes, stirring often. Add carrots, cashews, water, and pepper and bring to a boil. Cover, lower heat to low and simmer gently until carrots are fork-tender, about 15 minutes. Stir in the 3 tablespoons of miso and let cool for 5-10 minutes.
While the carrots simmer make the Gremolata: Place coriander or parsley, lemon zest, salt and garlic in a food processer and pulse repeatedly until finely chopped. Add 70ml oil, pulsing a few more times until incorporated (but not too smooth). Add more oil if you prefer a looser version.
Now make the breadcrumbs: place the breadcrumbs in a frying pan over medium heat and toast, stirring frequently, until the crumbs are golden brown. Set aside.
Bring some water to the boil, and cook the pasta according to the packet instructions.
While the pasta is cooking blend the sauce: place the carrot-cashew sauce in a high-speed blender or food processor and blend on the lowest setting, gradually increasing speed, until fully blended, creamy and silky smooth, which will take between one and two minutes. Slyvia writes: 'Take your time here and get it SMOOTH!!!'
Drain the pasta and pour the sauce over. Heat it gently if needed. Taste and adjust salt.
Divide among bowls, and sprinkle with toasted bread crumbs and spoon the gremolata over top. Enjoy with a glass of chardonnay.
Recipe adapted from Sylvia Fontaine, Feasting at Home