It's that time of the year when the words "I'm just not sure what to do with it" reverberate around the collection space: the first kohlrabi share of the year. The first piece of advice is to ask a German, as our central European friends adore this bizarre vegetable; otherwise enjoy it raw, grated in a 'slaw or cut as batons like carrot sticks, perhaps with a dip. Alternatively you can thinly slice it for a stir fry or steam together with perhaps squash or carrot. It also works well in a stew. Lexicographically, the name means 'cabbage turnip', and botanically, it is the swollen stem of the plant, analagous to the stem part of a head of broccoli.
On Tuesday of this week we were delighted to pick 3 new crops on the same day: the first courgette, sugar snap pea and cucumber all made their appearance. As production increases it may be a short while until you see all of these crops in your share but they are certainly on their way!
First cucumber

First sugar snap pea
We are deep in the spring glut, that abundant period when leafy greens in particular grow faster that we can cut them. Leaves are most prolific in spring and autumn, with demand outstripping supply at other times of year! It's an ideal time for blanching and freezing some ready for use later in the year – we're heading towards the leaner spell in May and June when some veg in hand will be a bonus. Spinach, chard, spring greens, kale and purple sprouting broccoli are all good contenders for this.
On Thursday the growers took advantage of the sublime spring sunshine and got our 3/4 acre of potatoes planted! This is nearly a month earlier than last year, which highlights the contrast between super-sodden March 2018 and the super-sunny one this time around. We have a large surplus of a red variety called Robinta which will be available for members to take for free, though the tubers are on the small side.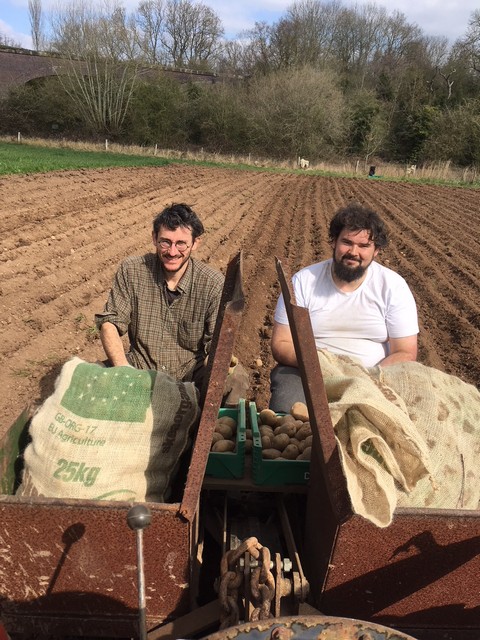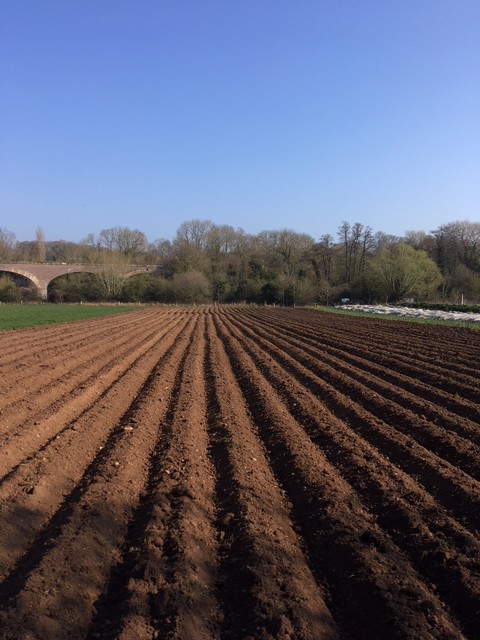 In other news our onion sets have beaten Brexit: they arrived from Holland despite warnings from the suppliers of Brexit-related delays! So we are all ready for the Onion Planting Day/Members' Social on April 6th. It's a great activity to kick-start the growing season for kids and adults alike, with a bring and share lunch to boot!
Take a walk around Canalside fields and you will notice something unusual for the time of year: freshly ploughed earth. Normally we plough in early spring, but this can be tricky where there is a lot of rainfall – in fact 2 out of the last 3 years we have had to postpone onion planting as it has been too wet to prepare the ground. So the exceptionally dry start to 2019 provided the perfect opportunity to try doing things a little differently, and thus the area earmarked for the earliest plantings – potatoes, onions and early brassicas – were ploughed on Wednesday morning just in time before the rain came.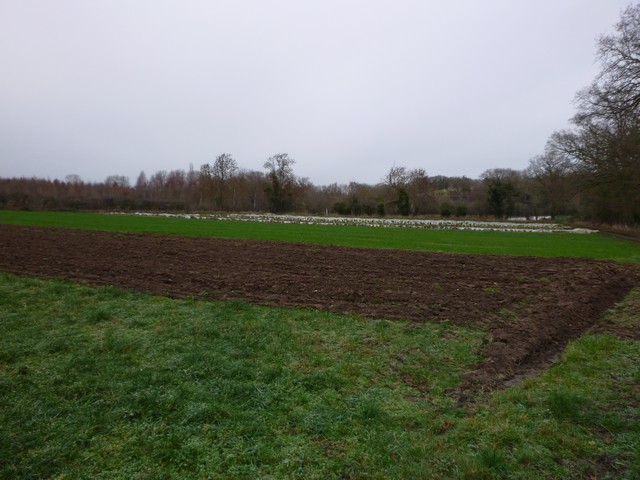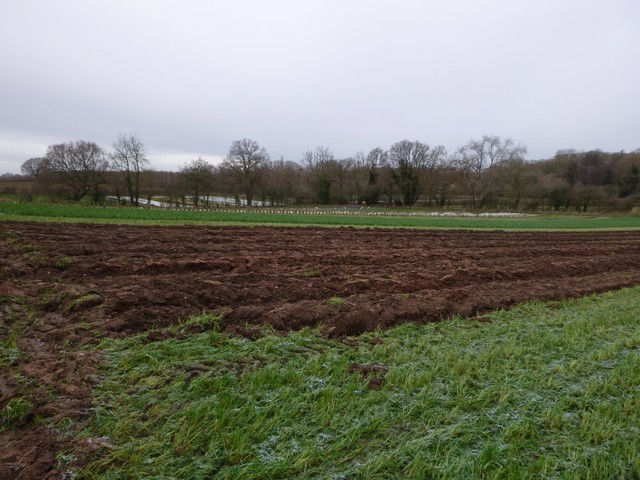 This is the leanest time of year for veg, with winter stored crops coming to their end and new crops just beginning to come into production. This year we are fortunate to be able to include high value shiitake mushrooms in the share, grown on the wider farm by Tom Ingall, the grower manager for Canalside. They will feature in the share for three or four weeks to supplement the early season veg crops.
Members who were able to help shock the logs into production on May 4th will have an idea of how they are grown, but for anyone else, this article writtten by Tom a few years ago explains how the mushrooms are grown.
You can now download many of the newsletters produced in Canalside's history – https://www.canalsidecommunityfood.org.uk/the-project/canalside-news/
Read updates from the different aspects of Canalside. Articles include 'News from the field' updates about the veg growing and more recently updates from the education and fruit projects.
The last 3 years' worth of newsletters are now online, with the first 2 years' worth coming in the near future!
May 2009
Since last writing, we've come through the Winter and are enjoying a truly splendid Spring. It's been fairly dry but peppered with rain that has kept the ground workable. Right through March and early April the share was simply bulging at the seams with everything out in the fields desperately needing picking before it went to seed. There's no holding back at this time of year, it's a real Spring bounty with last years plants lapping up the warm weather and putting on rapid growth. We therefore saw both varieties of Kale in the share regularly during this time accompanied by some impressive shares of Purple Sprouting Broccoli that we were particularly pleased with.

It's a nervous time for us growers as we try to juggle the harvesting so as to keep a steady flow of veg in the yurt each week. With crops running out one after another we start to keep a keen eye on all those early crops that we've mollycoddled in the polytunnels and outside under the fleece. As well as all this, we had the extra task of fencing our third field from the rabbits before being able to plant out the first Spring Cabbages. But we've been able to focus our time much more on the job of growing vegetables this Spring compared to last year when we were erecting the last two polytunnels.
With the Hungry Gap upon us, it's time to look forward to the crops that are coming on; both the Onions and the Potatoes are progressing very well now with the first early spuds just starting to poke their leaves out of the ridges. The Onions were planted on the Spring Equinox by a large group of volunteers before the Mabon social.

Inside the polytunnels it's all turning around too; the salads and greens are coming out and the summer crops of Tomatoes, Cucumbers, Peppers and Aubergines are rapidly being planted. In between these crops and in every spare space we're squeezing in quick successions of radish and oriental leaves to keep us going. Excitingly, the new polytunnels erected last Spring have allowed us space to grow some early Mange Tout Peas that are almost ready to start harvesting and some extra early baby bunched Beetroots too. These are the sort of crops that will hopefully see us through the leaner weeks before June leads us towards the real bounty of Summer!
February 2009
Well, with Spring on its way and a bit of time on our hands whilst the fields were covered in snow, we were able to get really stuck into the first full days seed sowing over at Ryton Gardens at the end of February. Danny and I spent a long day in their sowing shed, bench heater angled at our hands, sowing a multitude of seed varieties mainly for early crops to cover the dreaded hungry gap. Amongst these will be Spring Onions, Baby Bunched Beets, Lettuces and Spinach. With some 14,000 seeds sown during the day we certainly left their greenhouse fuller than when we arrived!
It's certainly approaching that time now when we start to focus on the many tasks of the coming season whilst trying to maintain a steady flow of fresh veg for the share over the leaner months of April/May. Just recently the weather has really warmed up, with several days feeling almost Spring like. This has prompted the drilling of our early Peas and Carrots in the polytunnel.
So what's to look forward to? Well, we've been eagerly awaiting the new season of Purple Sprouting Broccoli for some weeks now and we've finally been able to start putting it in the share as of this week. Also we've varieties of Cauliflower due to begin cropping any time now too. The Leeks have begun bulking up and should be in the share for most of the Spring having unfortunately been largely absent in the Winter months. Really it's a matter of waiting for the warm weather to let everything begin growing again.
Happy feasting folk!