June 19, 2020 by General Administrator
A while ago I tried a recipe for whole broad beans cooked in a tomato sauce, and it was pretty good. It set me thinking whether you could actually cook the normally-discarded pods (husks?) that are left over when you shell broad beans. It turns out you can. I mentioned this to several friends, who variously told me I'd gone nuts, or that it sounded like the sort of thing people eat in Siberia. What can I say? I thought it was pretty good. We ate this with brown rice and a topping of salted yoghurt, and a shredded carrot salad on the side.
If you would like a normal recipe for broad beans, I strongly recommend this one: spaghetti with broad beans, bread crumbs and marjoram.
Broad Bean Stew
Serves 2
Ingredients
2 tablespoons olive oil
1 large onion, peeled and sliced
Salt and pepper
Leftover husks from about 500g young broad beans (that's about 300g of broad-bean husks)
Juice of half a lemon
2-3 tablespoons fresh herbs (I used lemon thyme, sage, and dill)
½ cup water
Preparation
Heat the olive oil over low heat and add the sliced onion and a pinch of salt. Cook for 10 minutes, until the onion is soft but not brown.
Meanwhile assess the broad bean husks. You want bright, green, fresh-looking ones. Discard any that look discoloured. Remove any stringy bits along the sides, rather as you'd remove the strings from off the sides of runner beans. Cut the husks into 1-inch pieces.
Add the broad beans to the onions, stir, and cook for a minute.
Add the water, stir, cover, and simmer gently for about 15 minutes, or until the husks are tender. Top up with more water if it seems to be drying out.
Once the husks are tender, add the fresh herbs and lemon juice, and season with freshly-ground black pepper.
If you wish, you can also mix in some cooked broad beans, to make a double-broad-bean stew.
Serve on brown rice with a topping of salted yoghurt mixed with preserved lemon (if you happen to have any to hand).
April 24, 2020 by General Administrator
This is another very fast dish of delicious slurpy noodles, spiked with basil, lime juice and sesame oil.
Ginger-Poached Noodles
Serves 2-3
Ingredients
4 cups vegetable broth (I used water with 2 tablespoons of white miso)
2 ounces fresh ginger, peeled and thinly sliced
8 ounces firm tofu or tempeh, cut into small cubes
approximately 2 cups of sprouting broccoli or shredded spring greens
4 ounces dried noodles of your choice (I used soba noodles)
1-2 tablespoons soya sauce
¼ cup fresh basil, shredded
¼ cup fresh mint, shredded
juice of half a lime
crushed red pepper flakes (I used part of a shredded Canalside chile)
toasted sesame oil
Preparation
Place the broth and ginger in a large saucepan and bring to a boil. Lower the heat, and simmer gently for ten minutes or so. Meanwhile, bring some water to the boil to cook the noodles.
Cook the noodles in the boiling water until they are tender, drain them, and set them aside.
After the broth has simmered for ten minutes add the and tofu or tempeh and the greens. Return to a boil, and then turn the heat back down to a simmer and cook for 5-8 minutes, or until the greens are tender.
Add the drained pasta to the broth and heat for a few more minutes, stirring regularly. Stir in the soya sauce, basil, mint, and lime juice. Before serving, if you have the energy you can fish out the slices of ginger, which are perfectly edible but a bit chewy.
Serve in bowls with a few pinches of crushed red pepper flakes, and a drizzle of sesame oil, to taste.
Recipe adapted from 101 Cookbooks.
September 19, 2019 by General Administrator
This week I'm keeping it simple and taking a little inspiration from a recent roadtrip to Italy. The spinach and tomato are pretty core to the dish but feel free to pick and choose from the rest of the list depending what you've got – I use an app called plant jammer to figure out what things might go well together.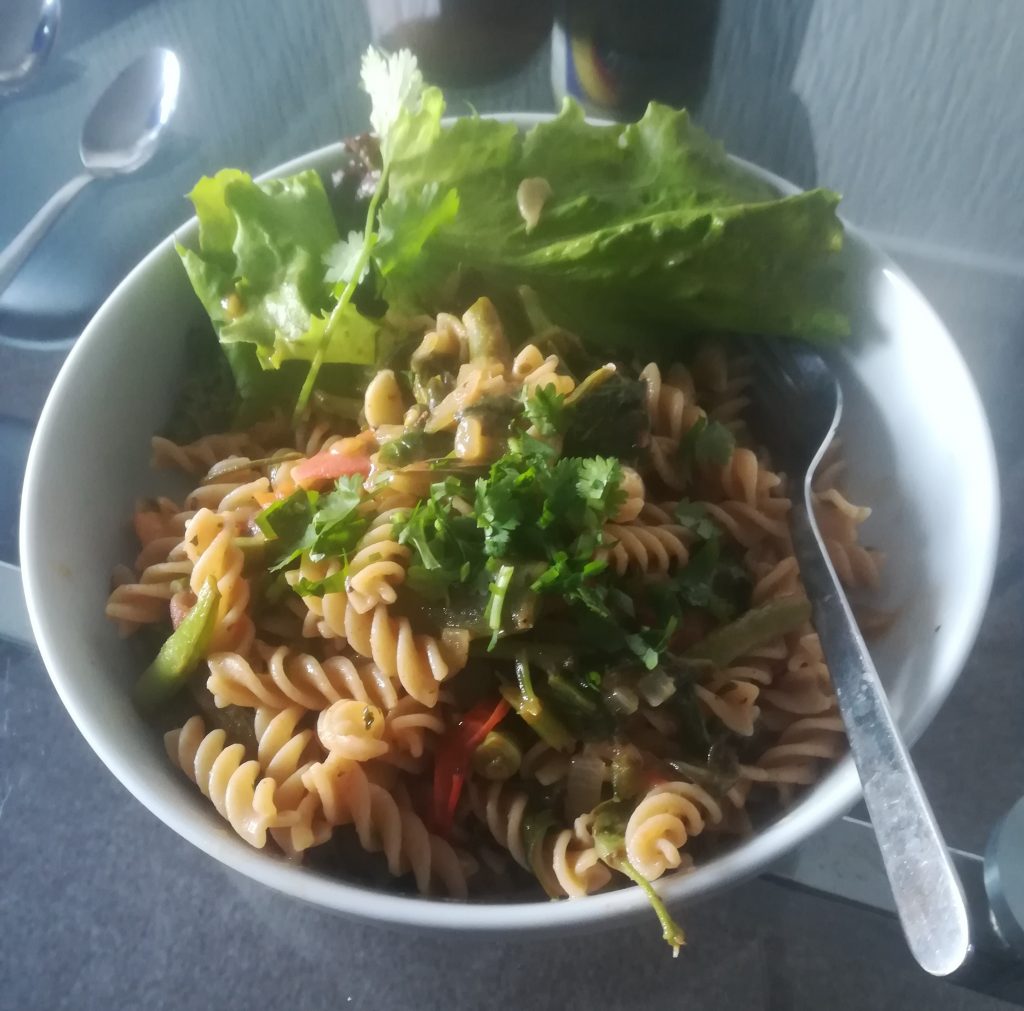 Core Ingredients (for 1 person):
Pasta of your choice, 2 handfuls
Fresh Tomatoes, 1 large handful
Spinach (or other greens depending on share), 3 handfuls
Basil, small handful
Garlic, 1 clove
Lemon Juice 0.5-1 tablespoon or to taste
Olive Oil, 2-3 tablespoons or to taste
Mixed herbs, 1 teaspoon
Optional extras:
Black olives, small handful
Walnuts, small handful
Onion, 1 medium
Green/French Beans, about 3cm bundle
Method:
First chop all your veg; tomatoes into quarters, spinach may need stems chopping down to manageable size, garlic minced or thin slices, onion diced
Next get the pasta on the boil – when it's ready remember to keep the water!
Whilst the pasta cooks, fry off onion and garlic, then add tomatoes, spinach and any optional extras and fry at a medium heat.
The pasta should be ready about the same time as the veg is cooked. Before draining, add the olive oil to the veg and then add a few sloshes of the pasta water – the starch helps make a good sauce! Then add the lemon juice, basil and mixed herbs and stir it all together until you have a nice shiny consistent sauce. Season with salt and pepper.
Drain the Pasta and add to the pan, mix and serve with some salad on the side and a little chopped coriander on top.
September 5, 2019 by General Administrator
I picked up this recipe whilst living in Gothenburg and it has great connotations for me with sunny breakfasts on the pier… Hopefully I don't just see it with rose tinted glasses!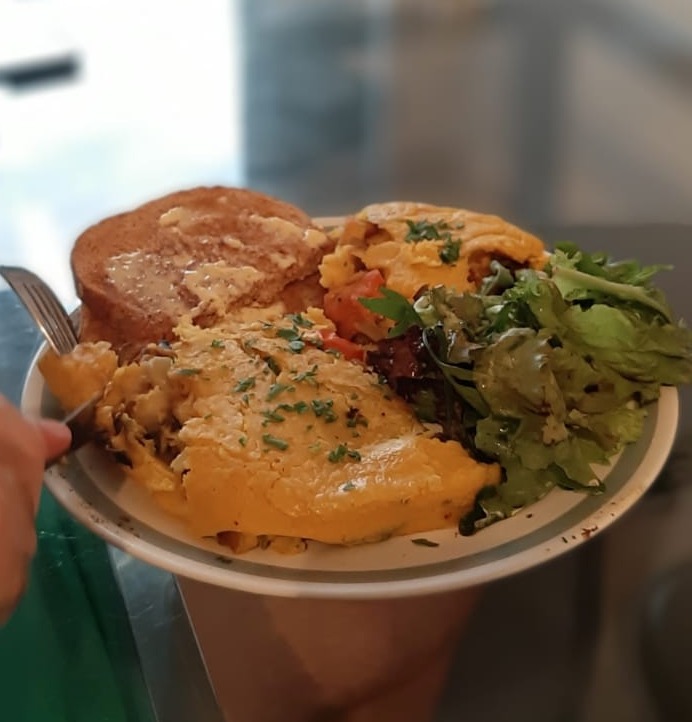 Vegan chickpea flour (kikärtsmjöl) omelette
Ingredients
1 cup (120 g) chickpea flour
1 Tablespoon flaxseed meal or chia seed meal (optional)
1/2 tsp (0.5 tsp) salt
1/4 tsp (0.25 tsp) each of turmeric garlic powder, baking soda, cumin powder
1ish cup of water
Fillings!
Fried tomato, onion, mushrooms, lots coming in our shares that could suit!
Method is simple, mix the all the dry ingredients then add the water slowly and mix with a whisk until they take on the same consistency as whisked eggs. Fry up the fillings, then poor on the omelette mix and reduce pan to a medium to low heat. Make sure you cook it slower and longer than an egg omelette – it tends to burn before solidifying enough to flip if you rush it.
March 1, 2019 by General Administrator
What are you going to do with the three million tiny red onions you've accumulated from Canalside over the past months? Use them in this in this delicious, vaguely Thai curry. They're a bit of a nuisance to peel, but the result is worth it. (Ali suggests soaking in very hot water for 5 minutes to make for an easier peel.)
Serve this light and spring-like curry with rice and an additional squeeze of lime. It's pretty quick, and very, very flavoursome.
Coconut-Miso Salmon Curry
Serves 4
Ingredients
2 tablespoons vegetable oil
200g red onions, peeled and sliced ¼-in thick
2 tablespoons grated fresh ginger
3 garlic cloves, thinly sliced
3 tablespoons miso (the recipe calls for white miso but I used brown rice miso)
½ cup coconut milk
600g salmon fillet, cut into 2-inch pieces
About 5 cups of baby spinach or some other soft greens
1-2 tablespoons lime juice
½ cup coriander, coarsely chopped
¼ cup basil, coarsely chopped
1 chopped red chile, to serve (if desired)
Additional lime juice, to serve
Preparation
In a large pan heat the oil over medium heat. Add the onions, ginger and garlic. Stir and season with salt and pepper. Cook, stirring, for about 3 minutes, or until softened. Add the miso and continue to stir until the miso begins to caramelise a bit on the bottom of the pan. This will take about 2 more minutes.
Add the coconut milk and 2 cups of water. Bring to the boil over high heat and cook for about 5 minutes, or until the liquid had reduced a little.
Add the salmon and reduce the heat to medium-low. Simmer gently for 3-5 minutes, or until the salmon is cooked to your liking. Stir in the spinach and lime juice. Turn off the heat and stir in most of the herbs, keeping a little back to garnish the top of the dish.
Serve with rice, topped with the fresh herbs , chopped chile, and additional lime juice, if you like.
Recipe adapted from New York Times Cooking.

October 26, 2018 by General Administrator
Crispy chickpea and carrot pancakes make a quick and tasty base for a variety of toppings. The chickpea flour creates a rich and moist interior that's satisfying without being heavy. We ate these with spinach and avocado dressed with lemon and olive oil, and some grated goat cheese. You could also try roasted tomatoes topped with basil and a fried egg.
If you use two frying pans you can make two pancakes simultaneously, and the whole thing will take under 15 minutes.
Chickpea and Carrot Pancakes
Serves 2
Ingredients
125g chickpea flour (aka gram flour)
125g carrots, grated
175ml milk or oat milk
1 tsp roasted ground cumin, or coriander, or caraway, or fennel or mustard seed, as you prefer
Salt and pepper, to taste
1-2 tablespoons olive or rapeseed oil, for frying
Preparation
Mix the pancake ingredients aside from the oil in a blender—I used a Nutribullet—and blend until the mixture is smooth.
Heat two frying pans over medium heat and add the oil. Swirl the oil around to coat the bottom of each pan and let the oil get hot. Once it's hot (test by adding a drop of water and seeing if it sizzles), pour half the batter into each pan and cook for 2 minutes. As it sets the colour will darken a bit and some bubbles will begin to appear on the top. Adjust the heat if you think it's starting to get too brown on the bottom. Using a fish slice turn each pancake over and cook for an additional 1-2 minutes on the other side, until it looks firm.
Remove each pancake from the pan, and place on a plate. Top with your selected topping (see below) and enjoys.
Pancake Toppings
Spinach with avocado and goat cheese
Toss baby spinach with sliced avocado and dress with an olive oil and lemon vinaigrette (50% olive oil, 50% lemon juice, salt and pepper). Arrange some dressed spinach on each pancake, and top with grated goat or sheep cheese. Garnish with additional slices of avocado and a grind of black pepper.
Tomato, basil and egg
Drizzle cherry tomatoes with olive oil and roast in a 200C oven for 30 minutes. Toss with shredded basil and lemon zest. Arrange on pancake and top with a crispy fried egg.
Brussels sprout slaw with avocado and cheese
Trim the bottoms off several handfuls of Brussels sprouts and shred them finely. Dress with a lemon vinaigrette and toss with chopped parsley or coriander. Arrange on top of each pancake. Garnish with sliced avocado, freshly ground black pepper and lots of grated cheese.
Recipe adapted from Anna Jones, Guardian 6 Oct. 2018.
September 21, 2018 by General Administrator
A friend gave me a very long courgette. It was about ¾ of a meter long. Actually, she gave me two. Research suggests that they are 'Sicilian courgettes'—genuine courgettes (not hard-skinned marrows) that simply grow to extraordinary lengths. Anyway, we've been eating courgettes. Fortunately they are delicious, and came accompanied by several recipe suggestions. This one is for an exceptional courgette soup.
The courgettes are roasted together with onion and garlic, which gives the flavour an unexpected complexity. Peas bring additional sweetness and this is a good way to use the fresh basil we're enjoying in the shares. As with most soups you can vary the proportions and quantities a bit to match what you have to hand. Serve with crusty bread and some grated cheese.
Roasted Courgette Soup with Peas and Basil
Serves 3
Ingredients
2 tablespoons rapeseed or olive oil
1kg courgettes (approx.)
4 garlic cloves (unpeeled)
7 tiny Canalside onions (or 2 medium onions)
Salt and pepper, to taste
200g frozen peas
20g fresh basil
750 ml stock
4 tablespoons full-fat milk
Parmesan or pecorino, to serve
Preparation
Preheat the oven to 200C. Drizzle the oil onto a large baking sheet.
Trim the ends off the courgettes and slice them into rounds about 1 cm thick. Place them on the baking sheet and scatter the unpeeled garlic cloves around them. Peel the onions, and if they are the tiny Canalside ones leave them whole and scatter them alongside the courgette and garlic. If they're a bit larger slice them into thick slices before adding them to the baking tray.
Season with salt and pepper, toss them around a bit, and roast them for 40-45 minutes, until the vegetables are golden brown and roasted. Don't let them char to a crisp but let them get toasted. Remove from the oven and let cool a bit.
Once the vegetables are cool enough to handle squeeze the roasted garlic flesh out of their paper skins into a pan. Add the remaining vegetables, the peas and the basil.
When you're ready to serve, heat the stock and add it to the pan together with the milk. Blend the soup using an immersion blender and heat gently until warm. Add some additional water if you'd like the consistency to be a bit thinner. Serve with grated cheese on top.
Recipe adapted from The Veg Space, courtesy of Jean Noonan.
September 6, 2018 by General Administrator
The great chef James Beard declared that in his kitchen no pepper was used until it had been roasted. I would not go quite that far, but roasting certainly transforms a pepper into something irresistibly delicious. It's easy to do. Roasted peppers can be used in many ways—I'll mention a few in a minute—but it's hardly worth the effort since in my experience a dish of roasted peppers in a little olive oil and salt will be gobbled up immediately. Serve with an aperitivo or as part of your meal.
If by some miracle the peppers don't get consumed on the spot you can arrange them on a platter with a few quartered hard-cooked eggs, black olives, and fresh basil, to make a little salad (drizzle with more olive oil before serving). Or use anchovies instead of or in addition to the eggs. You can drape them over a pizza. You can mix them with a tin of white beans, parsley, chopped tomatoes, and olive oil for a more substantial lunch. But really you're going to eat these right away.
Roasted Peppers
Ingredients
Whole peppers of any colour or shape
Olive oil
Salt and pepper
Fresh basil or parsley (optional)
Preparation
Preheat your grill. Arrange the peppers on a baking tray or oven rack and place them about 4 inches from the grill. Roast the peppers for 8-10 minutes, turning them regularly, until they are charred on all sides. The goal is for the skin to go black and flaky so that it can be removed easily.
Once each peppers is charred on all sides remove it from the oven and set it aside to cool a bit. When it's cool enough to handle rub off the charred skin to reveal the smooth, roasted flesh underneath. Don't run it under the tap or you'll remove the flavour. Cut the pepper in half and remove the seeds.
Slice the halved peppers into long strips and put in a bowl. Drizzle with olive oil, and sprinkle with salt and pepper. Add chopped herbs if you wish. They're ready to serve.
August 31, 2018 by General Administrator
When you cook beans slowly in olive oil the result is quite different from the snappy crispness produced by a quick dip in boiling water. The oil and tomatoes meld into a rich sauce that gives the dish substance and depth. Add some fresh basil and a slice of salty cheese, and enjoy for dinner with some crusty bread and a glass of red wine.
Rachel Roddy recommends you let the beans sit for a couple of hours before eating them but I think they're pretty good straight away as well.
Braised Green Beans with Tomato and Basil
Serves 3-4
Ingredients
6 tablespoons olive oil
1 large or 2 small white onions, peeled and sliced thin
Salt
750g green beans or runner beans
750g ripe tomatoes, peeled if you wish, chopped coarsely
A handful of torn basil leaves
Feta, or other salty cheese, sliced, to serve (optional)
Preparation
Warm the oil in a heavy-based frying pan (with a lid) over a medium-low flame. Gently fry the onion with a pinch of salt until it is soft and translucent.
Cut or break the beans into 5cm-long pieces. Add them to the pan and stir well until each piece is glistening with oil. Continue cooking and stirring for a few minutes.
Add the tomatoes and another small pinch of salt, stir, then cover the frying pan. After a couple of minutes uncover the pan and stir – the tomatoes should be relinquishing their juices. Cover the pan and cook for another 5 minutes or so.
Once the tomatoes have given up their juice, uncover the pan and allow it to simmer, uncovered, stirring every now and then for around 40–50 minutes, or until the beans have become very tender and the tomatoes have reduced into a thick, rich sauce. During the final few minutes of cooking time, stir in the ripped basil leaves. Taste and season with more salt, if necessary.
Serve with slices of feta, if desired, or let them sit for a few hours before eating. These are very good the next day, as well.
Recipe adapted from Rachel Roddy, The Guardian, 23 May 2017.
August 17, 2018 by General Administrator
Welcome back to Rebecca – here's her first recipe after her break in July:
A bruschetta is an Italian open-faced sandwich. To make it you grill some good sourdough bread, rub it with a bit of garlic, drizzle it with olive oil, and add a topping. Roast courgette, grilled aubergine, and chickpeas with Swiss chard all make tasty and quick toppings. Make just one, or serve all three for a fresh and summery dinner.
Basic Bruschetta
For each bruschetta you need:
Ingredients
1 generous slice of a decent sourdough bread
1 garlic clove, peeled
Olive oil, to drizzle
Grill the bread on both sides. Grilling gives a better result, but you can use a toaster if need be. Rub the grilled bread on one side with the garlic, and drizzle with olive oil. Your bruschetta base is now ready for a topping.
Roast Courgette
Enough to top 1-2 bruschetta
Ingredients
1 medium courgette
Olive oil to drizzle
¼ fresh red chile, chopped, or to taste
Several sprigs of fresh mint, chopped
Preheat oven to 200C. Cut the courgette lengthwise into 5mm slices. Place slices on a baking sheet and drizzle with olive oil. Bake until crisp, about 10 minutes. Turn the slices over part-way through so they get crisp on both sides. Mix the roast courgettes with the chopped chiles and mint, arrange on the bruschetta, add a final drizzle of olive oil, and eat.
Grilled Aubergine
Enough to top 2 bruschetta
Ingredients
1 Canalside aubergine (i.e. one very small aubergine. . .)
Olive oil
Lemon juice
Small handful of fresh basil, shredded
Salt and pepper, to taste
¼ fresh red chile, chopped, or to taste
Preheat the grill. Cut the aubergine into very thin slices and arrange in the grill pan. Grill on both sides until tender, about 10 minutes in total. Don't forget to turn them over halfway through. Toss the grilled aubergine with a tablespoon or two of olive oil, a good squeeze of lemon juice, the shredded basil, and salt and pepper to taste. Arrange on the bruschetta, top with the chopped chile, and serve.
Chickpea Chard
Enough to top 2 bruschetta
Ingredients
About 200g Swiss chard (or spinach)
Olive oil
1 garlic clove, minced
Salt and pepper, to taste
1 400g tin of chickpeas, drained and rinsed
Juice of 1 lemon
¼ fresh red chile, chopped, or to taste
Boil the chard in water until tender, about 3-6 minutes. Drain and chop roughly. Return the cooked chard to the pan with about a tablespoon of olive oil and the garlic, and braise for another 5 minutes or so. Season and set aside.
Heat the chickpeas in a pan with another tablespoon or two of olive oil and the lemon juice, just until warm. Purée or mash the chickpeas and season to taste. Spread some of the puréed chick peas over part of each bruschetta, and arrange some chard alongside it, so that the two toppings are next to each other, rather than one on top of the other. Sprinkle the chile over the top, drizzle with a little more olive oil and eat.
Recipes adapted from Rose Gray and Ruth Rogers, River Cafe Cook Book Easy (2003).