July 4, 2019 by General Administrator
This immensely straightforward pasta dish demonstrates the results that can be achieved with very simple ingredients. The combination of fresh herbs, crunchy breadcrumbs and slippery, dark-green broad beans is delicious. A glass of rose or a pinot noir would be a very nice accompaniment.
Slipping the broad beans out of their little skins is a bit of a bother, but makes all the difference in the world to the delicacy of the finished dish. I imagine this would work very well with frozen broad beans, as well.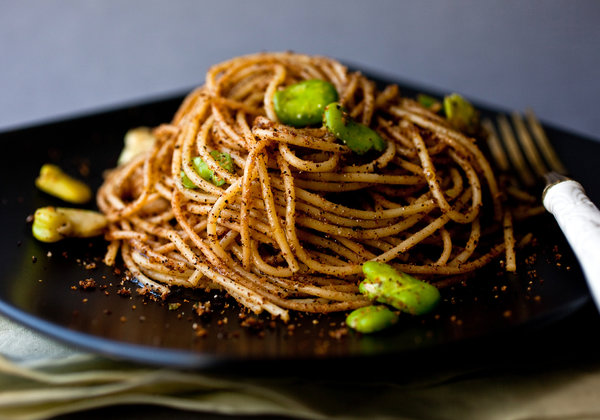 Spaghetti with Broad Beans and Marjoram
Serves 3-4
Ingredients
1kg broad beans, shelled
Salt
300g spaghetti
2 tablespoons olive oil
½ cup fresh bread crumbs, preferably whole wheat
3-4 tablespoons fresh marjoram leaves (to taste), roughly chopped
Freshly ground black pepper
Freshly grated Parmesan or pecorino (or a combination), for serving
Preparation
Bring a large pot of water to a rolling boil over high heat. Add the broad beans and cook for about 5 minutes, or until tender. Drain them, or, if you like, you can scoop the beans out of the water with a slotted spoon. This way you can use the same water to cook the pasta. Whichever approach you take, once the beans are out of the pan run them under some cold water to cool them down a little. Once they're cool enough to handle, pop them out of their little papery skins.
Bring some more water to the boil, or use the same water. Salt generously, and then add the spaghetti. Cook over high heat, stirring occasionally so the pasta doesn't stick together, until al dente, about 10 minutes.
Meanwhile, in a small skillet, heat the olive oil over medium heat, then add the bread crumbs, marjoram, salt and pepper. Cook, stirring, until crispy, three to four minutes. Turn off the heat, and set aside.
When the pasta is cooked al dente, remove ½ cup of the cooking water and then drain the pasta. Return the pasta to the pan, and add the broad beans and the cooking water. Return the pan to the heat and cook, stirring, for a minute or two, until the water is absorbed and the beans are warm. Stir in the bread crumb mixture and serve, passing the cheese at the table.
Recipe adapted from New York Times Cooking.