February 18, 2022 by General Administrator
This makes a very good Friday night dinner. The pumpkin (or squash) soup is silky and rich, despite its simple ingredients, and the multiple toppings add complexity and, in the case of the pumpkin seeds, crunch. The rice provides a backdrop for the ginger-spiked soup and rosemary butter. You will leave the table feeling well-fed and comfortable in your tummy.
Pumpkin and Rice Soup, Serves 2-3 as a main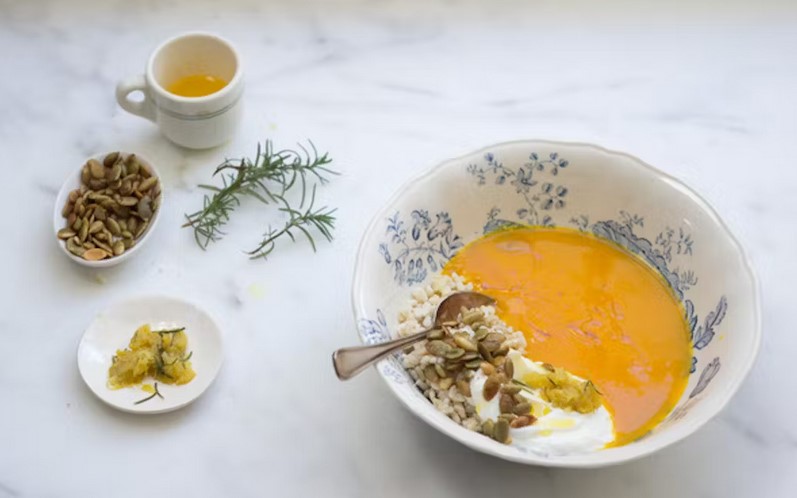 Ingredients
For the Soup
1 tablespoon butter
1 large onion, peeled and chopped
½ dried chile, chopped and de-seeded if you prefer
1 teaspoon salt
1kg squash or pumpkin
1.2 litres of water
2 teaspoons grated fresh ginger, or a bit more, to taste
To Serve
cooked brown rice, warm
plain yoghurt
toasted pumpkin seeds
lemon-ginger-rosemary butter (see below)
Method
In a large pot melt the butter over medium-high heat. Add the onion, chile and salt. Turn the heat to low and cook for 5-7 minutes or until the onion is softened.
Meanwhile, prepare the squash or pumpkin. Peel it, remove any seeds and cut it into 2cm chunks. You need about 700g once it's been peeled and de-seeded.
When the onion is soft add the squash or pumpkin and water. Bring to a simmer and cook gently until the squash or pumpkin is soft. This will take between 15 and 25 minutes, depending on the squash or pumpkin.
Remove from the heat and add the ginger. Use a stick blender to puree until it is smooth. Add a bit more water if it seems too thick for your taste.
To serve, put a big scoop of rice in each soup bowl and top with the soup. Decorate with some yoghurt, toasted pumpkin seeds and lemon-ginger-rosemary butter.
Lemon-Ginger-Rosemary Butter
Ingredients
50g butter
rosemary leaves from a 10cm sprig, chopped
zest of 1 lemon
1 teaspoon grated fresh ginger
pinch of salt
Method
Melt the butter in a small pan over medium heat, until the butter starts to brown. Keep an eye on it so it does not burn.
Remove from the heat and stir in the other ingredients. Let sit for at least 5 minutes, to let the flavours meld.
Recipe adapted from 101 Cookbooks
November 26, 2020 by General Administrator
Here is a simple salad with pumpkin and soba noodles. Thomasina Miers recommends this as a weekday lunch, and observes that it is equally good warm or cold. She also points out that the dressing is tasty on grilled chicken or fish, or sprouting broccoli.
Miso-roast Pumpkin with Noodles
Serves 4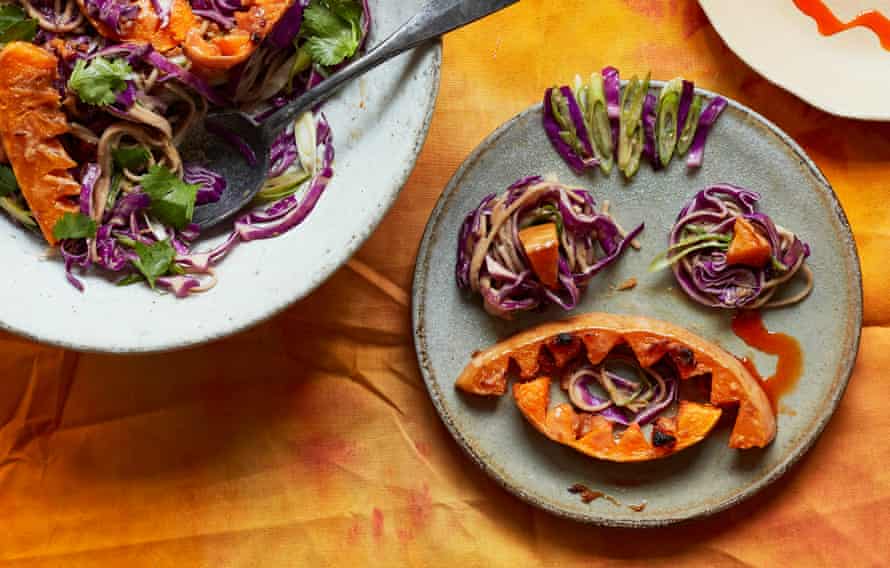 Ingredients
750g pumpkin
3 tablespoons white miso
2 tablespoons olive oil
125g soba noodles
500g red cabbage, shredded
1 large handful coriander, coarsely chopped
2 spring onions, finely sliced
Chile oil, to serve
For the dressing
2 tablespoons sesame oil
2 tablespoons light soya sauce
2 tablespoons lime juice
2 tablespoons tahini or other sesame paste
1 tablespoons honey
1 clove garlic, peeled and grated
1 inch ginger root, peeled and grated
A splash of water
Preparation
Heat the oven to 220C. Wash the pumpkin (peel if you prefer) and cut into wedges. Whisk the miso and olive oil and toss onto the pumpkin. Tip onto a baking sheet and roast for 30-35 minutes, or until tender and golden at the edges. Leave to cool.
Meanwhile bring a pan of water to the boil and cook the noodles according to the instructions on the packet, until al dente. Drain and rinse in cold water.
Mix the noodles, cabbage, most of the coriander, and spring onions in a bowl.
Make the dressing: whisk all the ingredients together.
Tip the dressing onto the ingredients in the bowl and blend.
Array the dressed vegetables on a serving platter and top with the roasted squash. Decorate with the remaining coriander and serve with chile oil on the side, for those who want this a bit spicy.
Recipe adapted from Thomasina Miers, Guardian, 31 Oct. 2020.
November 12, 2020 by General Administrator
The zingy, fried ginger topping gives this dal an invigorating freshness. Absolutely don't leave it out!
The ratio between the pumpkin and the carrots does not need to be precise and overall I used a good deal more pumpkin than the 200g called for in the original recipe. Plus I didn't have a Kashmiri red chilli so I used a dried Canalside chile and that worked just fine. Serve with flatbreads or rice.
Red lentil dal with carrots, pumpkin, and fried ginger
Serves 4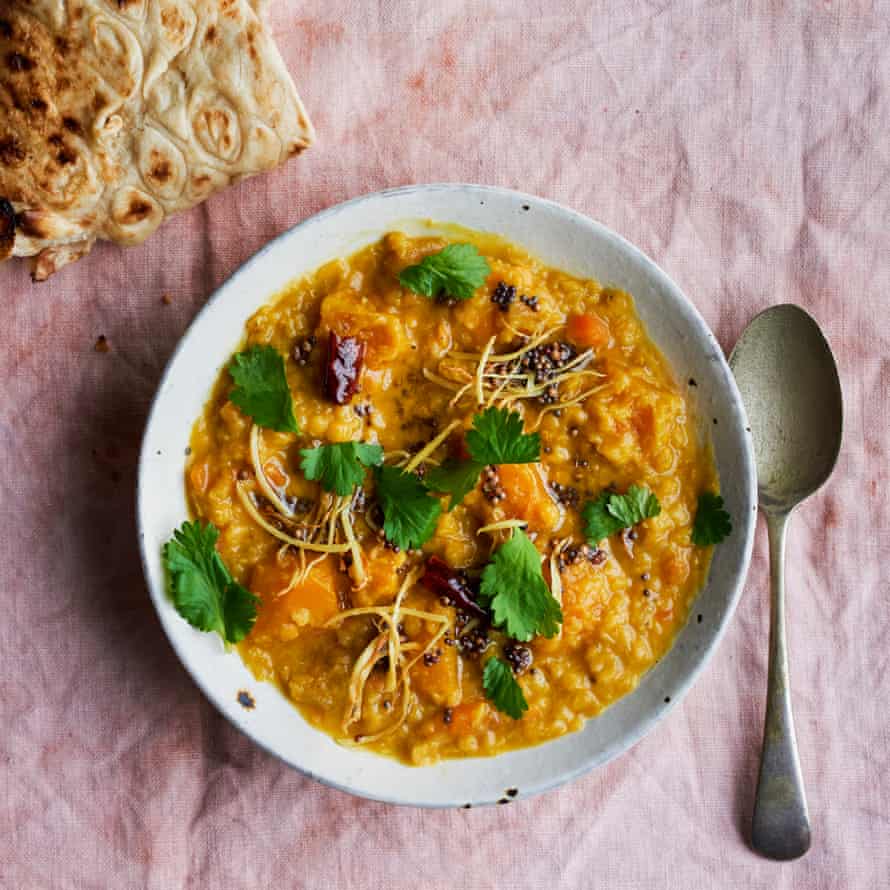 Ingredients
210g red lentils
3 tbsp coconut oil
150g onion, cut into half moons
100g carrots, finely diced
200-300g pumpkin, peeled and diced into 2cm pieces
½ tsp ground turmeric
½ teaspoon ground red chilli powder
1 teaspoon salt
2 tablespoon fresh lime or lemon juice
2 teaspoon coriander seeds, crushed
2 teaspoon black or brown mustard seeds
5cm piece fresh ginger, peeled and cut into matchsticks
1 Kashmiri red chilli
10g chopped fresh coriander leaves
Preparation
Clean the lentils for any debris, rinse under cold running water, then put in a bowl, cover with 500ml cold water and set aside.
Heat a tablespoon of the oil over medium-high heat in a medium saucepan. Add the onions, and saute until they turn translucent – three to four minutes. Add the carrots and pumpkin, and saute until tender – about eight minutes. Stir in the turmeric and red chilli powder, and cook for a further minute.
Add the lentils and their soaking water to the vegetables, stir in a teaspoon of salt and bring to a rolling boil over a medium-high heat. Reduce the heat to low, cover and leave to simmer until the vegetables are completely tender and cooked – about 20 minutes. Remove from the heat, stir in the lime juice, taste and season with salt as needed.
Heat the remaining coconut oil in a small saucepan over a medium heat. When the oil is hot, add the coriander and mustard seeds, and cook until the seeds start to pop. Add the ginger to the hot oil, cover the pan with a lid and swirl for 30 seconds, until the mustard seeds stop sputtering.
Break the Kashmiri chilli in half and toss it into the hot oil. Remove from the heat and swirl the contents of the saucepan for another 30 seconds, until the chilli turns crisp. Pour this hot mixture over the lentils. Garnish with the fresh coriander leaves and serve warm with buttered flatbread or plain rice.
Recipe adapted from Nik Sharma, Guardian 31 Oct. 2020.
October 22, 2020 by General Administrator
This year I thought I would do something different with my Canalside pumpkin, so I've been looking up pumpkin pie recipes. This may suit small shares better, as some reading has suggested smaller pumpkins are better suited to pie, but I'll be trying anyway with my massive medium share pumpkin and probably making soup out of the remainder.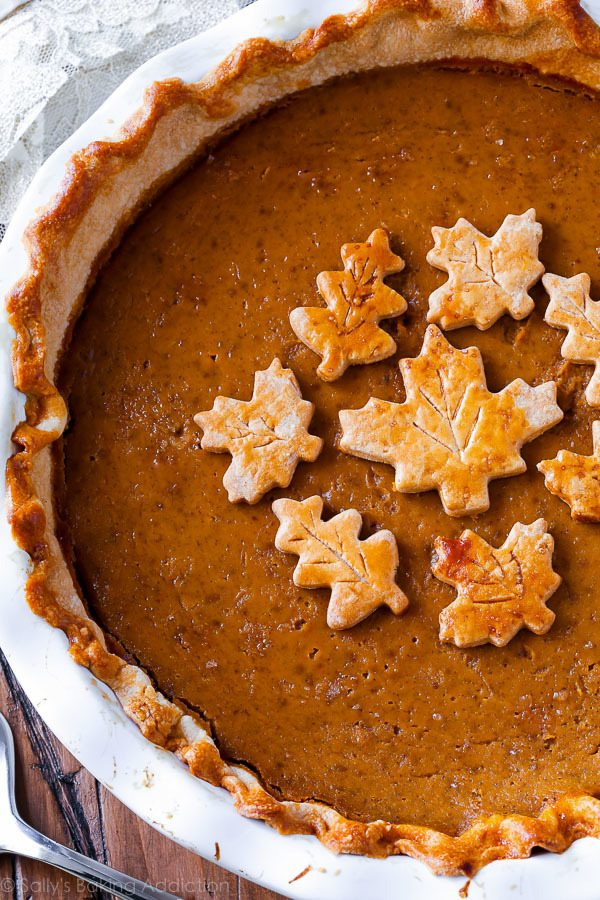 Pumpkin puree (pie recipe to follow below, use the remainder of this for soup)
4-6lbs (1.8-2.8kg) pumpkin makes 5-6 cups puree, 2 cups needed for pie
Preheat oven to 200degC then rinse and pat dry the pumpkin. Cut from stem to end, but don't try to cut through the stem (it's too tough). When you've cut through the pumpkin, just pull each half apart. Do this in two parts. Cut one side from the stem down to the bottom of the pumpkin. Remove the knife, rotate the pumpkin to the opposite side then do the same. When there is a slit down both halves of the pumpkin, put down the knife and pull the halves apart. They should separate at the stem.
Scoop out the seeds and most of the stringy bits. Lightly season the inside of the pumpkin halves with salt then place cut-side-down onto the baking sheet. Bake until the pumpkin can easily be pierced with a knife in several places and the flesh is pulling away from the skin, 45 to 60 minutes.
Cool until you can safely handle the halves then scoop out the soft flesh into a food processor. Process until very smooth, 3 to 5 minutes.
Pumpkin Pie
Ingredients:
Sweet shortcrust pastry (350g approx), chilled
About 2 cups; 450g pumpkin puree
3 large eggs
1 and 1/4 cups (250g) packed light or dark brown sugar
1 Tablespoon (8g) cornstarch
1/2 teaspoon salt
1 and 1/2 teaspoons ground cinnamon
1/2 teaspoon ground ginger
1/4 teaspoon ground or freshly grated nutmeg
1/8 teaspoon ground cloves
1/8 teaspoon fresh ground black pepper
1 cup (240ml) double cream
1/4 cup (60ml) milk
egg wash: 1 large egg beaten with 1 Tablespoon milk
Method:
For the pumpkin pie filling: Whisk the pumpkin, 3 eggs, and brown sugar together until combined. Add the cornstarch, salt, cinnamon, ginger, nutmeg, cloves, pepper, cream, and milk. Vigorously whisk until everything is combined. Filling will be a little thick.
Preheat oven to 190°C
Roll out the chilled pie crust: Remove 1 disc of pie dough from the refrigerator. On a lightly floured work surface, roll the dough out into a 12-inch circle. Make sure to turn the dough about a quarter turn after every few rolls. Carefully place the dough into a 9-inch pie dish. Tuck it in with your fingers, making sure it is smooth. With a small and sharp knife, trim the extra overhang of crust and discard. Crimp the edges with a fork or flute the edges with your fingers, if desired. Brush edges lightly with egg wash mixture. Line the pie crust with parchment paper. (Crunch up the parchment paper first so that you can easily shape it into the crust.) Fill with pie weights. Make sure the weights are evenly distributed around the pie dish. Pre-bake the crust for 10 minutes. Carefully remove the parchment paper/pie weights.
Pour pumpkin pie filling into the warm pre-baked crust. Only fill the crust about 3/4 of the way up. (Use extra to make mini pies with leftover pie dough scraps if you'd like.) Bake the pie until the center is almost set, about 55-60 minutes give or take. A small part of the center will be wobbly – that's ok. After 25 minutes of baking, be sure to cover the edges of the crust with aluminum foil or use a pie crust shield to prevent the edges from getting too brown. Check for doneness at minute 50, and then 55, and then 60, etc.
Once done, transfer the pie to a wire rack and allow to cool completely for at least 3 hours.
Adapted from: https://www.inspiredtaste.net/35527/easy-pumpkin-puree-recipe/ and https://sallysbakingaddiction.com/the-great-pumpkin-pie-recipe/
December 19, 2019 by General Administrator
This is an absolute flavour bomb. The combination of onion, spice and pumpkin is delicious, fresh and complex, with a savoury depth that you will savour. Serve with rice, and a garnish of fresh coriander, if you like, for a little touch of green.
If you want to make this vegetarian, you can apparently replace the fish sauce with an equal amount of Japanese miso, but I used fish sauce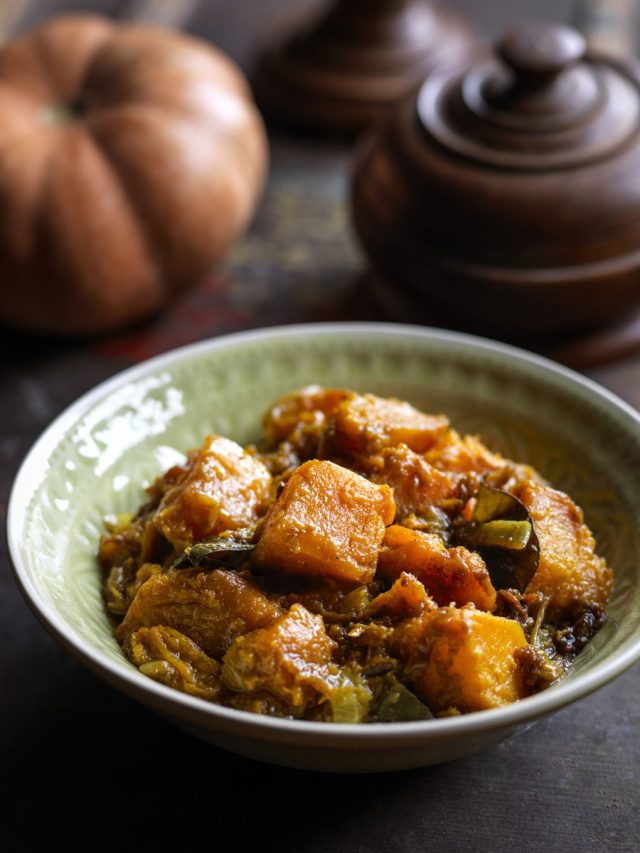 Burmese Golden Pumpkin Curry (Shwe Hpayone-thi Chet)
Servings 2 as a main
Ingredients
100 ml rapeseed oil or other neutral-tasting oil
2 teaspoon ground turmeric
2 teaspoon ground coriander
2 teaspoon ground cumin
2 teaspoon paprika
16 fresh or dried curry leaves
3 medium onions, sliced
3 spring onion, green and white parts, shredded
4-6 garlic cloves, sliced
3 cm piece of ginger, peeled and grated
1 small squash or pumpkin, peeled and cubed
1 tablespoon sugar
4 tablespoons fish sauce
Instructions
Heat the oil in a saucepan over a high heat. Add the turmeric, coriander, cumin, paprika and curry leaves to the oil and allow to sizzle for a few seconds. 
Now turn the heat down to medium and add the onions, spring onion, garlic and ginger and fry for 10 minutes, until fragrant and the onions have wilted and some have crisped up.
Add the squash, sugar, and 300ml of water. Stir well. Cover and cook for 25 minutes, or until the squash is tender. Add the fish sauce, stir again and serve with rice.
Recipe adapted from Mimi Aye, Mandalay: Recipes and Tales from a Burmese Kitchen (2019).
Also available online at https://www.kaveyeats.com/2019/11/mimi-ayes-golden-pumpkin-curry.html
May 24, 2019 by General Administrator
'These tasty savoury scones are best eaten warm with lashings of butter, or they can be served with prosciutto slices for a weekend brunch', states Jacque Malouf. They're also very good for dinner alongside an array of Canalside roasted vegetables.
Pumpkin, Cheese and Rosemary Scones
Makes about 8 scones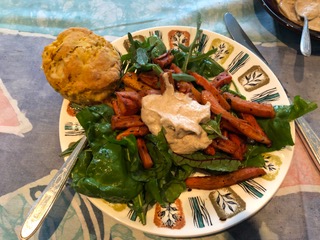 Ingredients
250g pumpkin or squash, peeled, de-seeded and cut into 2-inch chunks
1 tablespoon olive oil
Salt and pepper
250g self-raising flour
1 teaspoon bicarbonate of soda
½ teaspoon salt
60g cold butter, cut into small cubes
180ml buttermilk or yoghurt
1 tablespoon fresh rosemary leaves, finely chopped
100g sharp cheese (feta, cheddar, goat, as you prefer), cut into ½-inch cubes
Preparation
Preheat the oven to 200C. Place the squash or pumpkin on a baking tray and drizzle with olive oil, and then toss with salt and pepper. Roast for 30-50 minutes, or until the squash is tender and lightly caramelised. Set aside to cool. When cool, chop the squash into ¼-inch cubes.
Increase the oven temperature to 225C and butter a baking tray.
In a large mixing bowl combine the flour, bicarbonate of soda, ½ teaspoon salt, and a few grinds of black pepper. Rub in the butter until the mixture has an even consistency, like fine breadcrumbs.
Fold in the buttermilk, rosemary leaves, cheese, and cubed squash or pumpkin.
Knead gently in the bowl and then tip onto a floured board. Gently roll out to 1 inch thick. Cut into scones using a 2½-inch cutter.
Place the scones on the baking tray and bake for 12 minutes. Remove to a rack and eat warm or cold.
Recipe adapted from Jacqui Malouf, Breakfasts (2005).
March 22, 2019 by General Administrator
Bobbie Griffith was, I think, my second cousin twice removed, or something like that. Anyway, she lived in Wisconsin and this is her recipe for pumpkin muffins. They're spicy and comforting, and easy.
Shaker Style Pumpkin Muffins
Makes 12
Ingredients
2/3 cup soft brown sugar, packed into the cup
¼ cup treacle
½ cup butter at room temperature
2 eggs
1 cup pumpkin purée (see below)
1½ cups plain flour
¼ cup oat bran (or use 1¾ cups plain flour)
1 teaspoon bicarbonate of soda
¼ teaspoon salt
½ teaspoon cinnamon
¼ teaspoon ground cloves
¼ teaspoon ground nutmeg
Preparation
Preheat the oven to 180. Butter a 12-cup muffin tin, or line with paper muffin cases.

Cream the sugar, treacle and butter together until very light and fluffy. If you use an electric mixer you can leave it to do its work for as long as five minutes if you like. Add the eggs and pumpkin and blend well.

Combine the flour, oat bran (if using), bicarbonate of soda, salt and spices and mix well.

Add the dry ingredients to the pumpkin batter and mix only until blended—don't overbeat.

Spoon the batter into the muffin tins and bake for 20 to 25 minutes or until a toothpick comes out dry when inserted into the centre of a muffin. Let cool a little before eating.
To make puréed pumpkin or squash
Preheat the oven to 190.

Slice your pumpkin into large wedges and remove the seeds. Place it on a baking sheet and roast until it's cooked and tender throughout. Depending on the size of the wedges this should take between 15-30 minutes. Peel the squash and mash or purée with a hand blender until smooth. You can freeze any extra.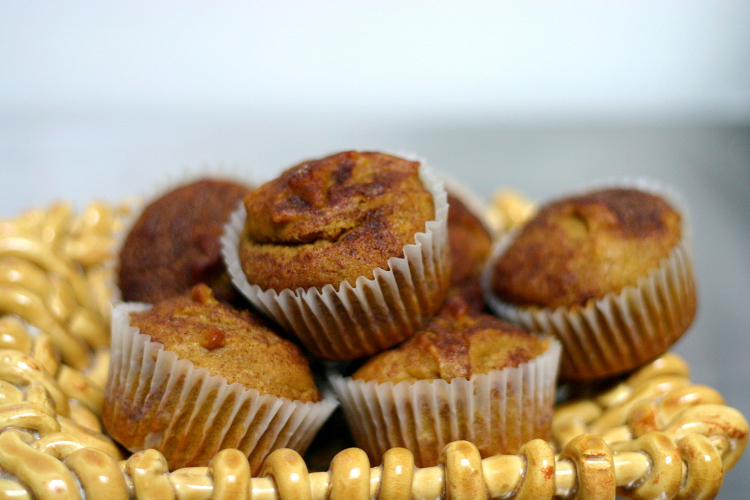 January 25, 2019 by General Administrator
'Wow—that looks delicious!', exclaimed a friend as we unpacked our lunches yesterday. It was. The ribbons of orange squash soften in lime juice spiked with the sweet spiciness of pink peppercorns. (These are essential; substituting black pepper will not work.). You can make this well in advance if you like.

Anna Jones recommends serving with tofu crisped in a pan with honey and soy, and brown rice, to make a dinner.
Squash and Pink Peppercorn Salad
Serves 2
Ingredients
500g pumpkin or squash, peeled and deseeded
1 lime
1 tablespoon pink peppercorns
1 teaspoon salt
Big handful of mint, dill, parsley or coriander, roughly chopped
Preparation
Shave the squash into thin ribbons, using a vegetable peeler or whatever specialist gear you happen to have. Place the ribbons in a bowl.
Zest the lime over the ribbons, squeeze in the juice, and toss together with the salt.
Put the pink peppercorns in a mortar and crush them roughly before adding to the salad.
Stir in the herbs and serve.
Recipe adapted from Anna Jones, The Modern Cook's Year (2017).
January 10, 2019 by General Administrator
My friend Sharon gave me a copy of Diana Henry's beautiful new cookbook. It consists of a series of menus. This magnificent recipe is from the menu called 'Midnight at the Oasis'. She recommends serving it alongside some pickled vegetables with other nibbles, semolina bread with orange and aniseed, olive oil braised leeks with harissa and dill, roast sprouting broccoli with chile, feta and preserved lemon yoghurt . . . well, I'll stop there but it's a pretty mesmerising list of dishes, no?

This particular dish combines the buttery crunch of barley with the melting texture of roast pumpkin, all topped with very spicy red shatta. (I'd not heard of it either, but it's apparently a first cousin of zhug.) It turns out to be a thick, chile-hot blend of fresh green herbs with tomato and cumin. It's very good.

I have no idea where you get black barley, so I used ordinary pearl (not instant) barley, and it was delicious.
Pumpkin with shatta and black barley
Serves 4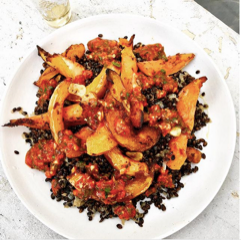 Ingredients
For the pumpkin
3 tablespoons olive oil
10g butter
1.5kg pumpkin
1 teaspoon fennel seeds, roughly crushed in a mortar
3cm ginger, peeled and grated
3 garlic cloves, finely sliced
For the barley
10g butter
1 tablespoon olive oil
4 small onions or shallots
250g barley
5 tablespoons dry white vermouth
700ml water or stock
2 bay leaves
Salt and pepper, to taste
For the shatta
5 red chiles, 4 de-seeded and all roughly chopped
3 garlic cloves, roughly chopped
50ml olive oil
50ml water
50g tomato purée
1 teaspoon ground cumin
Juice of ½ a small lemon
30g coriander and parsley in any proportion
Preparation
To make the pumpkin, preheat the oven to 190C. Put the olive oil and butter into a roasting pan large enough to allow the pumpkin to lie in a single layer, and melt in the oven while you prepare the pumpkin. Halve the pumpkin and remove the seeds. You can peel it or not as you prefer. Cut it into slices about 3cm thick.

Toss the pumpkin in the melted butter and oil, and roast for 20 minutes.
Add the fennel, ginger and garlic, toss, and roast for another 20 minutes or so, or until the pumpkin is tender and begins to caramelise on the edges. Set aside.

To make the barley, heat the butter and olive oil in a large saucepan and sauté the onions (or shallots) until they are soft but not coloured. Add the barley and stir it about for about 2 minutes so that it gets coated with butter. Add the vermouth and cook until about half of it has evaporated. Add the water or stock, bay leaves, and season with a bit of salt and pepper. Bring to a boil, and then reduce to a simmer. Cook, with the lid on, for about 40 minutes, or until the barley is al dente. The liquid should be absorbed but check a bit beforehand and if it's still very liquidly, take off the cover and raise the heat a bit so that some of the liquid can evaporate.

To make the shatta, purée everything except the herbs in a blender and pulse into a chunky purée. Add the herbs and pulse it again so that you have a red purée flecked with green—don't over-blend this. Set aside

To serve, arrange the barley on a big platter and set the pumpkin on top. Spoon some of the shatta over the top, and serve the rest on the side, in a little bowl.
From Diana Henry, How To Eat A Peach (2018).
December 7, 2018 by General Administrator
Is it still sitting about in your kitchen? Here is what to do with it.
Anchovies, capers and cheese combine with the soft, unctuous texture of the squash to make a thick, salty sauce for pasta, or serve it as a main course with a vibrant multi-coloured salad of greens, red radicchio and herbs. It's good hot or cold. This Italian recipe from Apulia can be prepared with winter squash such as the little greeny-orange one we got a few weeks ago, or a butternut, or a pumpkin.
Winter Squash With Anchovies, Capers, Olives and Cheese
Serves 4
Ingredients
2 pounds winter squash or pumpkin
3 tablespoons olive oil
1 medium onion, chopped
1 large garlic clove, peeled and crushed
3 anchovy fillets, rinsed, soaked for 5 minutes in cold water, drained and chopped
2 tablespoons capers, rinsed, an chopped if large
½ cup black olives
2 tablespoons grated strong-flavoured, hard cheese
freshly ground pepper
Preparation
Cut the squash in half and remove the seeds. Peel the squash if you like, or leave it unpeeled, as you prefer. Cut it into 1-inch chunks.
Heat the oil over medium heat in a large, lidded skillet and add the onion, garlic clove, anchovy fillets and capers. Cook, stirring, until the onion is tender, about 5 minutes.
Add the squash, stir together, add about 1/4 cup of water if the pan seems dry, and cover. Cook, stirring often, for 20-30 minutes, until the squash is tender. Add the olives and continue to cook, stirring regularly, for another 5 to 10 minutes. Season to taste with pepper.
Transfer to a serving dish, sprinkle on the cheese and serve.
Recipe adapted from Martha Rose Shulman, New York Times Cooking.