November 26, 2020 by General Administrator
Here is a simple salad with pumpkin and soba noodles. Thomasina Miers recommends this as a weekday lunch, and observes that it is equally good warm or cold. She also points out that the dressing is tasty on grilled chicken or fish, or sprouting broccoli.
Miso-roast Pumpkin with Noodles
Serves 4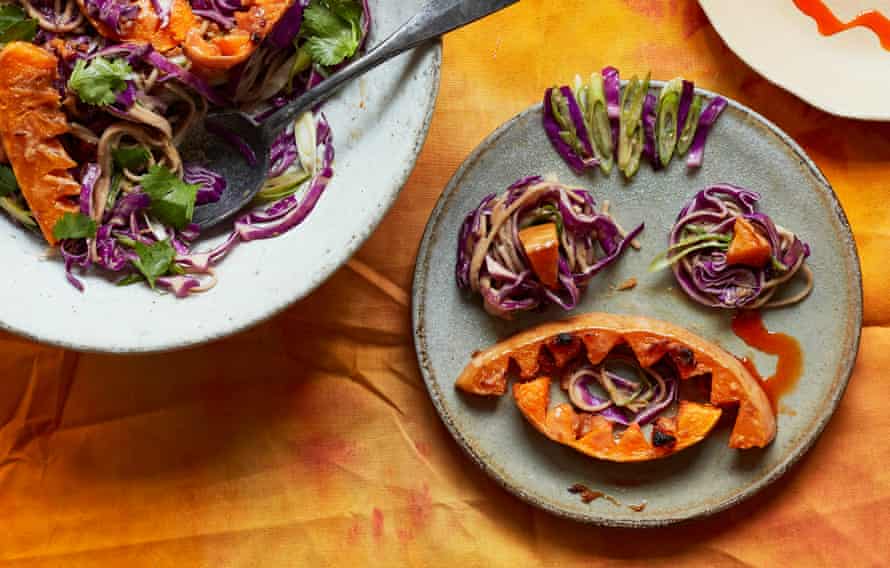 Ingredients
750g pumpkin
3 tablespoons white miso
2 tablespoons olive oil
125g soba noodles
500g red cabbage, shredded
1 large handful coriander, coarsely chopped
2 spring onions, finely sliced
Chile oil, to serve
For the dressing
2 tablespoons sesame oil
2 tablespoons light soya sauce
2 tablespoons lime juice
2 tablespoons tahini or other sesame paste
1 tablespoons honey
1 clove garlic, peeled and grated
1 inch ginger root, peeled and grated
A splash of water
Preparation
Heat the oven to 220C. Wash the pumpkin (peel if you prefer) and cut into wedges. Whisk the miso and olive oil and toss onto the pumpkin. Tip onto a baking sheet and roast for 30-35 minutes, or until tender and golden at the edges. Leave to cool.
Meanwhile bring a pan of water to the boil and cook the noodles according to the instructions on the packet, until al dente. Drain and rinse in cold water.
Mix the noodles, cabbage, most of the coriander, and spring onions in a bowl.
Make the dressing: whisk all the ingredients together.
Tip the dressing onto the ingredients in the bowl and blend.
Array the dressed vegetables on a serving platter and top with the roasted squash. Decorate with the remaining coriander and serve with chile oil on the side, for those who want this a bit spicy.
Recipe adapted from Thomasina Miers, Guardian, 31 Oct. 2020.