March 17, 2022 by General Administrator
In Memoriam: Jonathan Nicholls
This week's recipe is in memory of Jonathan Nichols, a friend and Leamington resident who sadly and suddenly died this past week. He served for a number of years as Registrar at first Warwick University, and then at Cambridge. This recipe, for Registrar's Spanish Chicken and Chorizo Shepherd's Pie, comes from a different Warwick Registrar (Ken Sloan), but through its name it can perhaps also celebrate Jonathan, and his enthusiasm for good food and a nice glass of wine.
Registrar's Spanish Chicken and Chorizo Shepherd's Pie
Ingredients
1 tablespoon Sunflower oil
2 Onions, diced
100 grams Leeks, thinly sliced
3 cloves Garlic, crushed
50 grams Chorizo, chopped
1 teaspoon Paprika
5 sprigs of Thyme
500 grams Tomato Passata
1 tablespoon Tomato Purée
250 millilitres Chicken Stock
100 millilitres Spanish Red Wine (optional)
500 grams chopped Chicken Breast
800 grams Sweet Potatoes, diced
1 ounce Butter
Salt and Pepper
30 grams Jalapenos
2 Red Peppers, diced
75 grams Ewe's Cheese, grated
Mixed Salad
Method
Heat oven to 180C.
Heat the oil in a large frying pan. Fry the onions and the leeks for 5-10 minutes. Add the garlic and chorizo and cook for another 5 minutes. Stir in the paprika, thyme, tomato passata, tomato purée, chicken stock and the optional red wine, and bring to a simmer. Add the chicken, cover, and cook over a low heat for at least an hour until the sauce has reduced.
Meanwhile, boil a pan of hot water. Add salt and sweet potato chunks, and return to the boil. When the sweet potato has softened drain it, add butter, salt and pepper, and then mash. Leave to one side.
Once the sauce in the chicken mixture has reduced, remove the thyme stem, and then put the mixture into an oven-proof dish. Stir in jalapenos and peppers. Spread the mashed sweet potato over the top. Sprinkle the cheese on top of the sweet potato.
Cover with foil and bake for 25 minutes, then remove foil and bake for a further 10 minutes. Remove from oven and serve with mixed salad.
Ken Sloan's recipe appears in Simple Scoff The Anniversary Edition, ed. Rebecca Earle (2015).
February 24, 2022 by General Administrator
'Ribbons of silky pasta merge marvellously with soft, salty leeks', wrote Nigel Slater in Guardian—and so they do.
Pappardelle with Leeks, Serves 2.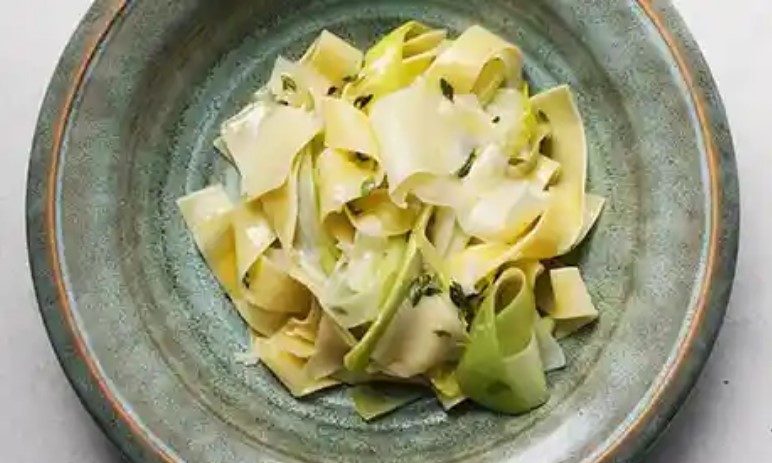 Ingredients
500g leeks
100g butter
10 sprigs of thyme or tarragon
salt and pepper
250g pappardelle, or other ribbon-shaped pasta
100g gruyère, sliced thin
Preparation
Cut off the bottoms and the tough green tops of the leeks. Cut them in half (or quarters if they are thick) the long way. Wash them thoroughly under cold running water.
Melt the butter in a pan and then add the leeks. Let them stew slowly until they are soft and tender.
While they are stewing, remove the leaves from the thyme (or tarragon) and add the leaves to the leeks. Season lightly.
Cook the pappardelle in generously salted, boiling water until al dente. Drain, leaving a bit of water to cling to the pasta, and add to the leek pan. Toss the pasta with the buttery leeks.
Scatter the gruyère slices on top, letting them melt in the warmth of the butter and leeks, and serve.
Recipe adapted from Nigel Slater, Guardian, 24 Sept. 2013.
April 29, 2021 by General Administrator
I've had this recipe on my list to try for a while but the stars have yet to align with me having everything I need in stock. One day!
Baked Pasta and Leeks with Anchovy Cream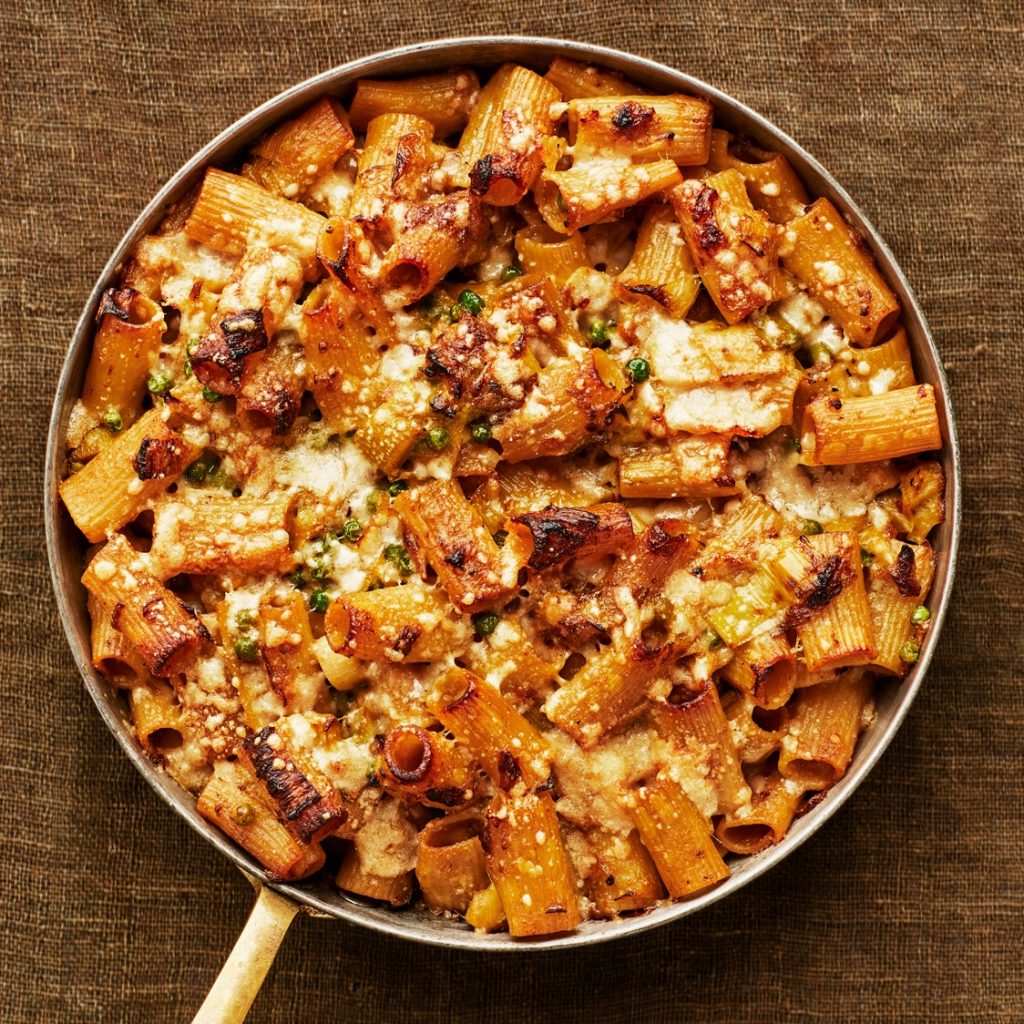 Ingredients (4-6 servings)
1lb. short pasta (such as rigatoni, penne, or conchiglie)
Kosher salt
¼ cup extra-virgin olive oil
3 large leeks (about 600g of), white and pale green parts only, trimmed, sliced ½" thick
15 oil-packed anchovies, drained (from a 1.5-oz. tin)
6 garlic cloves, thinly sliced
1 tsp. mild red pepper flakes or ½ tsp. crushed red pepper flakes
Freshly ground black pepper
2 cups double cream
3oz. Parmesan, finely grated, plus more for serving
10-oz. frozen baby peas, thawed in warm water, drained
Method
Preheat oven to 200°. Cook pasta in a large pot of boiling salted water, stirring occasionally, until very al dente, about 2 minutes less than package directions. Drain and set aside.
Meanwhile, heat oil in a large Dutch oven or large high-sided skillet over medium. Add leeks; season with a couple pinches of salt. Cover and cook, stirring occasionally, until tender and golden around the edges, 6–8 minutes. Uncover and add anchovies, garlic, red pepper flakes, and several grinds of black pepper. Cook, stirring occasionally, until anchovies are disintegrated and garlic is tender, about 5 minutes.
Add cream and 3 oz. Parmesan. Bring to a simmer; season with salt and black pepper (it should taste a bit salty because the pasta will absorb some seasoning as it bakes). Add peas and reserved pasta and toss gently to coat; top with more Parmesan. Transfer pasta to oven; bake until top is crisp and cream is bubbling around the edges, 25–30 minutes. Let cool slightly before serving.
From https://www.bonappetit.com/recipe/baked-pasta-and-leeks-with-anchovy-cream
January 28, 2021 by General Administrator
This past Monday was Burns Night. A proper Burns Night supper should include, alongside haggis and a good deal of whisky, a convivial toast to the immortal memory of Robert Burns. This year, as we long for conviviality, and remember the shades of a great many people, it seems appropriate to offer a traditional Scottish dish, worthy of a private, 2021 version of Burns Night, or just a meditative mid-week supper.
The dish I've chosen is Cullen Skink, a sort of Scottish version of vichyssoise. It consists of a creamy leek and potato soup augmented with rich and salty smoked haddock. It's best eaten with a piece of good bread. This recipe (and some bread) will satisfy four convivial or meditative diners.
Cullen Skink takes its name from the village of Cullen, in north-eastern Scotland, and the word 'skink', which means 'soup'. (Skink, if you're interested, probably comes from the Middle High German Schinke, or ham.) Neither the Oxford English Dictionary nor I have succeeded in tracing the dish back earlier than than about 1910, so it's probably not the most ancient of Scottish recipes, but it's very good nonetheless.
Cullen Skink
Serves 4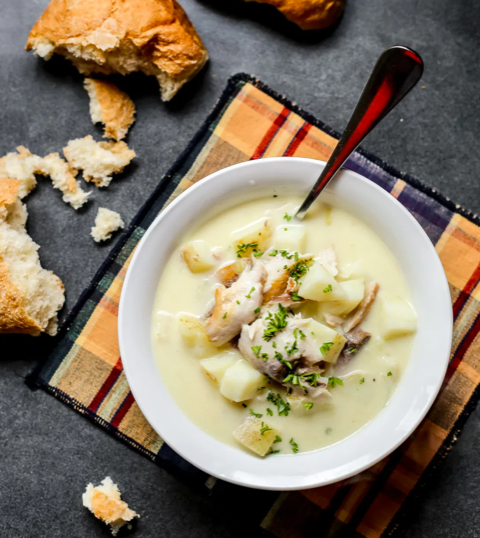 Ingredients
300g onions
500g leeks
60g butter
500g potatoes
4 bay leaves
1 lemon, juiced
Freshly-ground black pepper
400g natural (undyed) smoked haddock, cut into large chunks
150ml single cream
2l boiling water
Fresh chives, to garnish
Preparation
Peel the onions and dice them into 1cm chunks.
Top and tail the leeks. Cut the leeks into 1cm chunks and then rinse them in a colander to remove any dirt.
Heat the butter in a large, heavy-bottomed saucepan. When it is melted add the onions and leeks and cook over very low heat for at least 20 minutes, or until the vegetables look tender and soft, but not browned. Keep an eye on it so that they don't stick or burn. It is fine to cook them for longer.
Meanwhile, prepare the potatoes. I'd favour leaving them unpeeled but if this seems wrong to you feel free to peel them. In any case, chop them into 2cm chunks and set aside.
Once the onions and leeks are soft and very translucent, add the bay leaves, lemon juice and pepper to the pan. Stir and then add the potatoes. Cook for 10 more minutes, so that the potatoes start to release their starch, which will make for a nice, thick soup.
Add the water to the pan, so that the vegetables are completely submerged. Bring to a simmer and cook for 15-25 minutes, or until the potatoes are tender. Add more water along the way if necessary to ensure that the vegetables remain under water.
Once the potatoes are tender, add the haddock and cook over low heat for another 5 minutes or so. Pour in the cream and cook over a very low heat until the soup is heated through. If you'd like it thicker, simmer it for a further 10 minutes. Taste to check the seasonings and add more salt (the fish will already have brought considerable salt to the dish), pepper or lemon if you like.
Serve, garnishing the bowls with chopped chives and a further grind of black pepper.
Recipe adapted from Tesco Magazine, Jan. 2021.
January 7, 2021 by General Administrator
I wasn't sure Celeriac soup was a good choice, but we've had a few Celeriacs recently and I fancied a change. It was a pleasant surprise, then, that this turned out to be super tasty in an intensely savoury way. Even better was that we risked eating it after forgetting to put it away overnight and so far we have survived!
Cream of celeriac soup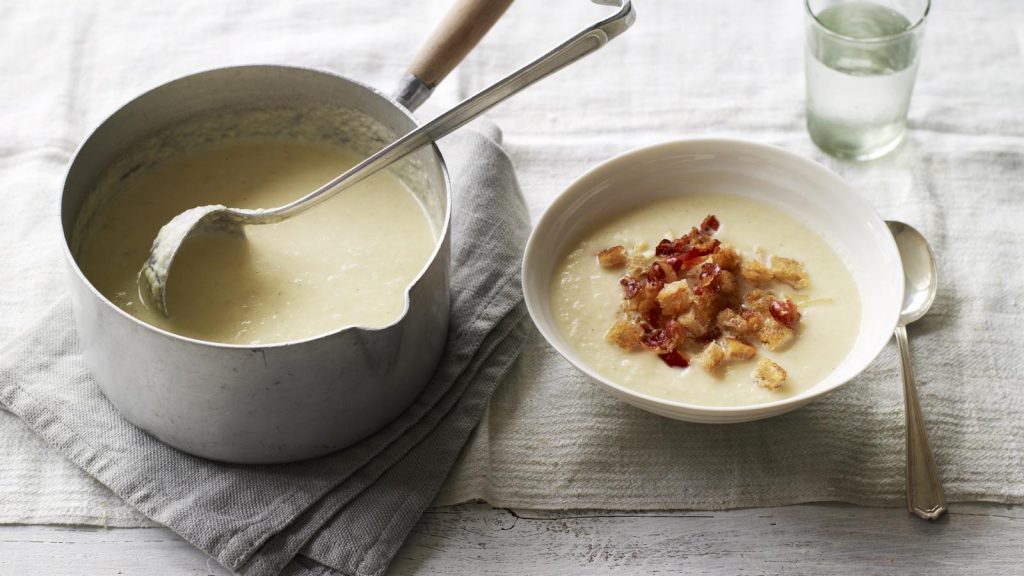 Ingredients
For the soup
75g/3oz butter
1 onion, finely chopped
50g/2oz streaky bacon, cut into small pieces (optional)
2 garlic cloves, finely chopped
1 leek, white only, finely chopped
1 stick celery, finely chopped
2 thyme sprigs, leaves picked
700g/1lb 8oz celeriac, peeled and cut into small cubes
1 litre/1¾ pint vegetable stock
200ml/7floz double cream
salt and white pepper
Method
For the soup, heat a large frying pan or saucepan until medium hot, add 25g/1oz of the butter, the onion and bacon and fry for a couple of minutes to just soften. Add the garlic, leek, celery and thyme sprigs and fry for another minute; then add the chopped celeriac. Pour in the stock and bring to the boil, then reduce the heat to a simmer and cook for 10-15 minutes, or until the celeriac is just tender.
Blend the soup to a fine purée using a stick blender or a blender. Return to the heat in a pan. Add the cream and whisk in the remaining 50g/2oz of butter.
Season with salt and white pepper. Serve the hot soup in bowls.
There is an optional garnish which can be found at the link to the recipe.
From BBC Food.
December 31, 2020 by General Administrator
This is what you need if you have eaten a lot of rich food over the holidays. The lentil soup is soothing, but not at all boring, enlivened as it is with marinated artichoke hearts and a swirl of yoghurt. You will feel better after eating this, I promise. Note, too, that it uses some of those leeks, carrots and celery that have accumulated in your fridge from the double share.
Lentil Soup with Artichoke
Serves 4
Ingredients
2 tablespoons olive oil
2 leeks, trimmed, halved lengthwise and sliced thin
3 medium carrots, peeled, halved lengthwise and sliced thin
4 celery sticks, sliced thin
1 heaped tablespoon grated fresh ginger
1 Canalside chile, left whole
4 cloves of garlic, peeled and chopped fine
250g green lentils
2 tablespoons cider vinegar
1.5l stock or water
1 teaspoon salt
5 heaped tablespoons coarsely chopped parsley
120g artichoke hearts from a jar, drained and sliced thin, to serve
plain or Greek yoghurt, to serve (if desired)
Preparation
Heat the oil over medium heat in a large saucepan with a lid. When it is warm add the leeks, carrots, celery, ginger and chile. Fry for about 10 minutes, or until the vegetables have softened and are starting to colour.
Add the garlic and stir for a few minutes more.
Stir in the lentils, and add the vinegar and water. Bring to a boil and simmer until the lentils are tender—20-30 minutes, probably. Add some more water if they seem dry.
Purée about a third of the soup in a liquidiser or food processor, and then stir this back into the pan. Add the salt and stir in most of the parsley, keeping back a little for a garnish.
Dish into bowls and place a sliced artichoke heart in the centre of each bowl. Sprinkle the remaining parsley over the top. Serve with a spoonful of yoghurt on top, if desired.
Recipe adapted from Annie Bell, Plant Power: Protein-rich Recipes for Vegetarians and Vegans (2020).
April 3, 2020 by General Administrator
I can rarely bring myself to make lasagne but this recipe has got me interested. The question is whether the shops will actually have lasagne sheets in stock but fingers crossed!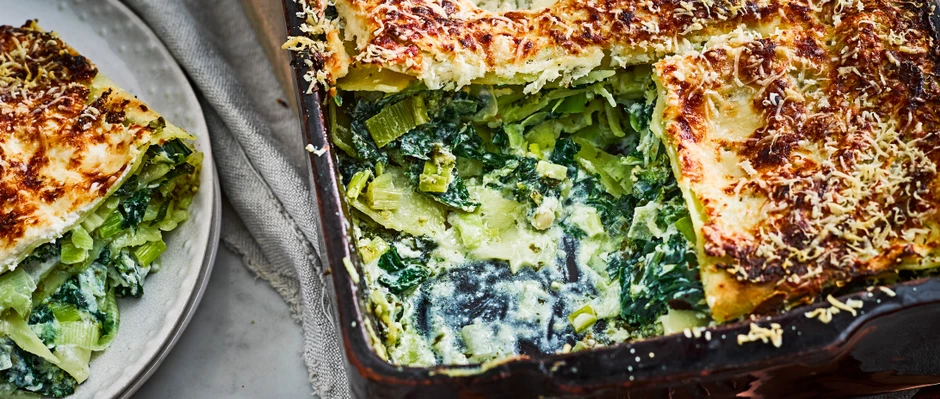 Kale, ricotta and leek lasagne
Ingredients
kale 300g, woody stems removed and leaves chopped
olive oil 1 tbsp
trimmed leeks 3 (about 400g), halved lengthways, washed and chopped
garlic 1 clove, crushed
ricotta 350g (try vegan version from https://www.bosh.tv/recipes/spicy-creamy-cannelloni)
vegetable stock 150ml
fresh pesto 4 tbsp
fresh lasagne 250g, about 8 sheets
parmesan (or veggie alternative) 30g, finely grated
Method
Heat the oven to 200C/fan 180C/gas 6. Drop the kale in boiling salted water, bring back to a simmer then cook for 5 minutes. Drain really well.
Heat the olive oil in a frying pan and add the leeks with a good pinch of salt. Cook for 8-10 minutes or until really soft.
Add the garlic to the leeks and cook for 2 minutes. Keep 4 tbsp of the ricotta aside then stir the rest into the leeks with the kale. Mix everything well then add enough vegetable stock to make it a little saucy but not watery. Take off the heat.
Put a 1/4 of the sauce in the bottom of an oiled baking dish approximately 18 x 25cm. Top with 1 tbsp pesto then 2 sheets of lasagne. Repeat 3 times, ending with lasagne.
Mix the rest of the ricotta with another splash of vegetable stock and spread over the top layer. Scatter over the parmesan and bake for 20 minutes until golden and bubbling.
From: https://www.olivemagazine.com/recipes/vegetarian/kale-ricotta-and-leek-lasagne/
March 20, 2020 by General Administrator
I haven't used a soup recipe for a while and I've suddenly realised I've been surviving off beans and toast for lunch for a little too long, We have an abundance of leeks at the moment and I could go for the easy option of leek and potato soup, but thought I would try this slightly different idea instead.
Leek, spring green and apple soup
Ingredients:
25g butter
1 tbsp olive oil
1 large onion, finely sliced
600g leeks (about 3-4 large), finely shredded
2 garlic cloves, crushed
2 apples, peeled and diced
250ml cider
1 litre veg stock
100g spring greens, finely shredded
salt and pepper
Method
Heat the butter and oil in a large pan. Add the onion and leeks. Fry on a low heat for 10 minutes. Add the garlic and apple and cook for 2 minutes. Add the cider and simmer for 5 minutes.
Add the stock, bring to the boil, reduce the heat and simmer for 10 minutes.
Add the spring greens and simmer for 5 minutes, or until the greens are tender. Blitz until smooth or leave chunkier, whichever you prefer.
Season, and serve.
Taken from: https://www.riverford.co.uk/recipes/view/recipe/leek-spring-green-apple-soup
January 9, 2020 by General Administrator
Salsify… I had no idea, but after a bit of googling and an interesting independent article / waitrose advert ( https://www.independent.co.uk/life-style/food-and-drink/salsify-root-vegetable-taste-recipe-what-is-it-waitrose-albert-bartlett-a8631251.html ) I've picked out a gratin recipe after realising that I've yet to make one this winter despite it being a weekly staple last year (that would be because I worked out how to make good oven chips instead!). I think this could be turned into a full meal rather than a side dish if you add sliced boiled potatoes and increase the quantities for the sauce and breadcrumbs.
Leek and Salsify Gratin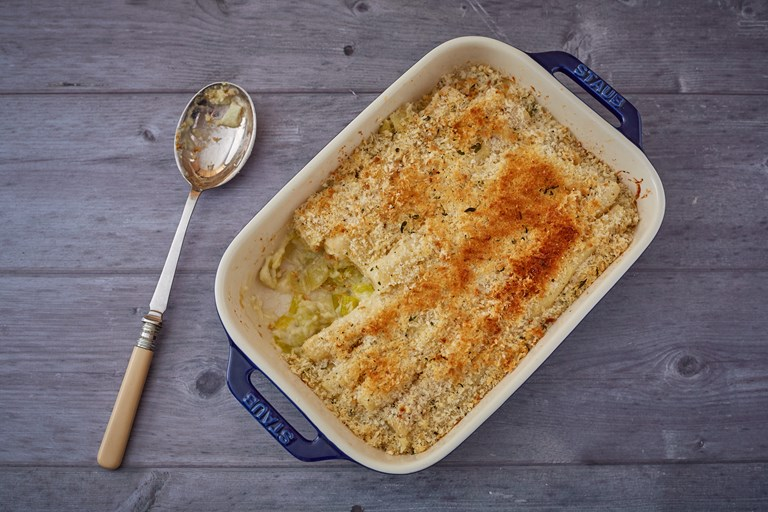 Ingredients
SALSIFY
400g of salsify root
Lemon juice & water in a bowl
300ml of milk
1 bay leaf
LEEKS
330g of leek, washed and sliced into 1cm rings
20g of butter
olive oil
2 garlic cloves, sliced
SAUCE
40g of butter
40g of flour
1/2 tsp Worcestershire sauce, (optional – omit to make vegetarian)
1 tsp Dijon mustard
Tabasco, to taste
100g of mature cheddar, grated
salt
freshly ground black pepper
CRUMB TOPPING
20g of Parmesan, (swap for vegetarian hard cheese if preferred)
20g of Panko breadcrumbs
freshly ground black pepper
Method
Wash the salsify, scrubbing off any soil, then peel and trim the ends of each baton. Immediately place the peeled salsify into the bowl of lemon water to stop it from going brown
Bring the milk to the boil in a pan with a bay leaf and add the salsify batons. Simmer for 6–8 minutes until cooked al dente, then drain and set aside (reserve the milk for later)
Heat a splash of olive oil in a pan with the butter and sauté the leeks and sliced garlic until soft but not coloured
In a separate pan, make the cheese sauce. Melt the butter then stir in the flour. Cook until golden and slightly foaming, then slowly whisk in the warm milk reserved from poaching the salsify, continuously whisking to prevent lumps
Stir in the grated cheddar. Once melted and smooth, season with the mustard, Worcestershire sauce (if using), Tabasco, salt and pepper
Preheat the oven to 180°C/gas mark 4
Trim the salsify to the size of the ovenproof dish you'll be using. Roughly slice any trimmings and add to the pan with the leeks
Pour ¾ of the sauce into the leeks and stir to combine, then transfer to an ovenproof dish
Place the trimmed salsify into the remaining sauce and stir to coat. Neatly arrange the salsify on top of the leeks
Mix together the ingredients for the crumb and sprinkle evenly over the salsify. Bake for 25–30 minutes until golden and serve
Taken from: https://www.greatbritishchefs.com/recipes/leek-and-salsify-gratin-recipe
September 5, 2019 by General Administrator
I picked up this recipe whilst living in Gothenburg and it has great connotations for me with sunny breakfasts on the pier… Hopefully I don't just see it with rose tinted glasses!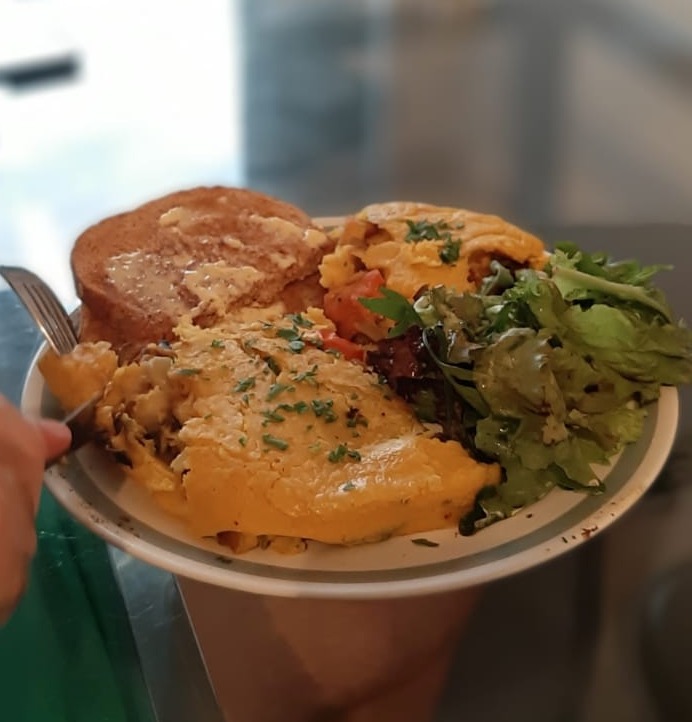 Vegan chickpea flour (kikärtsmjöl) omelette
Ingredients
1 cup (120 g) chickpea flour
1 Tablespoon flaxseed meal or chia seed meal (optional)
1/2 tsp (0.5 tsp) salt
1/4 tsp (0.25 tsp) each of turmeric garlic powder, baking soda, cumin powder
1ish cup of water
Fillings!
Fried tomato, onion, mushrooms, lots coming in our shares that could suit!
Method is simple, mix the all the dry ingredients then add the water slowly and mix with a whisk until they take on the same consistency as whisked eggs. Fry up the fillings, then poor on the omelette mix and reduce pan to a medium to low heat. Make sure you cook it slower and longer than an egg omelette – it tends to burn before solidifying enough to flip if you rush it.