January 28, 2021 by General Administrator
This past Monday was Burns Night. A proper Burns Night supper should include, alongside haggis and a good deal of whisky, a convivial toast to the immortal memory of Robert Burns. This year, as we long for conviviality, and remember the shades of a great many people, it seems appropriate to offer a traditional Scottish dish, worthy of a private, 2021 version of Burns Night, or just a meditative mid-week supper.
The dish I've chosen is Cullen Skink, a sort of Scottish version of vichyssoise. It consists of a creamy leek and potato soup augmented with rich and salty smoked haddock. It's best eaten with a piece of good bread. This recipe (and some bread) will satisfy four convivial or meditative diners.
Cullen Skink takes its name from the village of Cullen, in north-eastern Scotland, and the word 'skink', which means 'soup'. (Skink, if you're interested, probably comes from the Middle High German Schinke, or ham.) Neither the Oxford English Dictionary nor I have succeeded in tracing the dish back earlier than than about 1910, so it's probably not the most ancient of Scottish recipes, but it's very good nonetheless.
Cullen Skink
Serves 4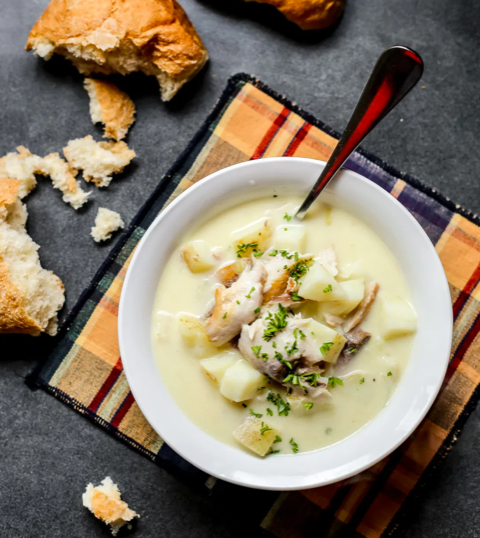 Ingredients
300g onions
500g leeks
60g butter
500g potatoes
4 bay leaves
1 lemon, juiced
Freshly-ground black pepper
400g natural (undyed) smoked haddock, cut into large chunks
150ml single cream
2l boiling water
Fresh chives, to garnish
Preparation
Peel the onions and dice them into 1cm chunks.
Top and tail the leeks. Cut the leeks into 1cm chunks and then rinse them in a colander to remove any dirt.
Heat the butter in a large, heavy-bottomed saucepan. When it is melted add the onions and leeks and cook over very low heat for at least 20 minutes, or until the vegetables look tender and soft, but not browned. Keep an eye on it so that they don't stick or burn. It is fine to cook them for longer.
Meanwhile, prepare the potatoes. I'd favour leaving them unpeeled but if this seems wrong to you feel free to peel them. In any case, chop them into 2cm chunks and set aside.
Once the onions and leeks are soft and very translucent, add the bay leaves, lemon juice and pepper to the pan. Stir and then add the potatoes. Cook for 10 more minutes, so that the potatoes start to release their starch, which will make for a nice, thick soup.
Add the water to the pan, so that the vegetables are completely submerged. Bring to a simmer and cook for 15-25 minutes, or until the potatoes are tender. Add more water along the way if necessary to ensure that the vegetables remain under water.
Once the potatoes are tender, add the haddock and cook over low heat for another 5 minutes or so. Pour in the cream and cook over a very low heat until the soup is heated through. If you'd like it thicker, simmer it for a further 10 minutes. Taste to check the seasonings and add more salt (the fish will already have brought considerable salt to the dish), pepper or lemon if you like.
Serve, garnishing the bowls with chopped chives and a further grind of black pepper.
Recipe adapted from Tesco Magazine, Jan. 2021.