February 13, 2020 by General Administrator
Several people have been asking for things to do with kale, pak choi, and other robust greens. Among other things you can make them into excellent salads. In all cases, it's a good idea to manhandle the greens a bit to soften them up. Shred them fine and, using your hands, scrunch them up as hard as you can for a few minutes. Confronted with this vigorous treatment, they will become much softer and more tender. Pak choi does not need as much scrunching as kale or cabbage, but it will benefit from a bit body English.
Once you've scrunched your salad, you need an oomphy dressing to stand up to these greens. I thought I would offer a compilation of some of the salad dressings that I'd recommend to complement these hearty greens. All three are incredibly simple: you just whizz them up in a blender or mix them with a fork. And if you don't mind doing your scrunching after you've dressed the salad, the tenderising effect will be even more noticeable. Once you've done that, you can add anything else you like: leftover boiled potatoes, toasted pumpkin seeds, shredded white or black radish, olives, chick peas….
(I was intending to present a fascinating but somewhat weird recipe for a beetroot-based vegan brownie, using a recipe I tore out of an Air France inflight magazine. Extensive testing on my colleagues at work led me to change my mind. The consensus was that the recipe must be part of a plot to denigrate vegans!)
Miso-Tahini Dressing
Serves 2
Ingredients
1 tablespoon miso paste
1 tablespoon tahini
1 tablespoon soya sauce
1 tablespoon cider vinegar
Preparation
Combine the ingredients and blend well, using a fork. Taste to see if it would benefit from a little more vinegar. The mahogany-dark dressing is now ready to use. This makes enough for half a small cabbage, shredded, together with several grated carrots. It is also good on other greens.
Spring Onion and Tahini Blanket
Enough to dress a large 2-person salad
Ingredients
4 spring onions, including the green bits
2 tablespoons tahini
2 tablespoons rapeseed oil
2 tablespoons lemon juice
2 tablespoons water
Salt and pepper, to taste
Preparation
Roughly chop the spring onions.
Place everything in a blender, Nutribullet, or the container for an immersion blender. Blend everything until smooth. Check to see if it needs more salt, pepper, or lemon juice. If it's too thick for your liking you can add a little more water to thin it out, and then serve either as a salad dressing, or as a dip.
Super Turmeric Sauce
serves 2
Ingredients
2 tablespoons cashew butter
2 teaspoons Dijon mustard
juice of 3 clementines
2 inch piece of fresh turmeric, peeled
5 tbsp olive oil
Preparation
Combine the ingredients in a blender and whizz until smooth.
January 16, 2020 by General Administrator
Gochujang, Korean chile paste, is warm and flavourful without being mouth-numbing. It adds a richness and complexity to roasted carrots and cabbage. The proportions of the two vegetables is not terribly important, and you might even want a bit more of the gochujang-cumin-ginger mixture. You could serve this with almost anything, from roast chicken to a potato pancake. It's nice topped with yoghurt, too.
Roasted Carrot and Cabbage with Gochujang
Serves 2-4 as a side dish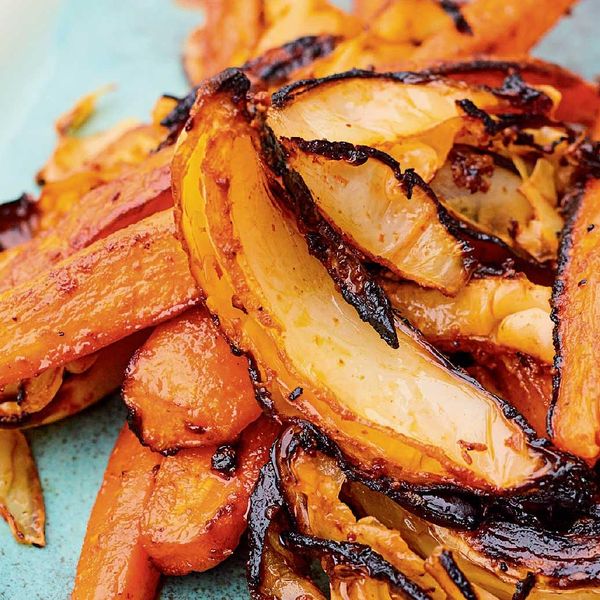 Ingredients
750g carrots, peeled
750g white cabbage
3 tablespoons rapeseed oil
1.5 tablespoons gochujang paste
1 teaspoon ground cumin
1 teaspoon salt
4 cloves garlic, peeled and grated
3cm fresh ginger, peeled and grated
2 tablespoons more rapeseed oil
1 tablespoon white vinegar (I used rice wine vinegar; the original recipe calls for white wine vinegar)
Preparation
Preheat the oven to 220C. You will need two large baking trays and Meera Sodha recommends lining them with foil.
Cut the carrots lengthwise in half or quarters (depending on the size) to make long batons. Cut the cabbage into 2cm wedges. Place them in a large mixing bowl, or directly onto your two baking trays.
In a small bowl, mix the 3 tablespoons oil, gochujang, cumin, salt, garlic, and ginger. Pour over the vegetables and mix with your hands so that the marinade gets everywhere.
Spread the vegetables across the two trays. Make sure the carrots and cabbage are in a single layer, then bake for 35 to 40 minutes, until the vegetables are tender and blackened at the edges.
Meanwhile, put 2 tablespoons of oil and the vinegar into a large serving bowl. When the carrots and cabbage are roasted, transfer them to the bowl while still hot and toss them in the oil and vinegar and serve.
Recipe adapted from Meera Sodha, East (2019).
January 3, 2020 by General Administrator
Here is an excellent topping for punchy vegetables such as kale. The key ingredient is fresh turmeric root, which you can get at Gaia, on Regent Place in Leamington, and doubtless elsewhere. You whizz up the turmeric with cashew butter, the juice of a few of the clementines you have hanging around from Christmas, and a bit of mustard.
The original recipe (from The First Mess) combined this with raw, shredded Brussels sprouts, toasted sesame seeds, sliced spring onions and fresh dill to make a very good slaw but I think this will go well on top of anything in the brassica family. This recipe is dedicated to the nice person at Canalside just before Christmas who swapped his unwanted kale for my unwanted rosemary.
Super Turmeric Sauce
serves 2
Ingredients
2 tablespoons cashew butter
2 teaspoons Dijon mustard
juice of 3 clementines
2 inch piece of fresh turmeric, peeled
5 tbsp olive oil
Preparation
Combine the ingredients in a blender and whizz until smooth.
Recipe adapted from The First Mess, where you can find the recipe for the Brussels sprouts slaw, and also a salty maple-roasted squash and ginger rice which goes very well with it.
February 14, 2019 by General Administrator
Spiky mustard and capers bring a little bite to the smooth, roasted squash, the crispy cabbage and unctuous cheese. A topping of crunch breadcrumbs finishes things off. You'll feel properly nourished with this one-dish meal.
Anna Jones describes this dish as having 'simple British flavours'. That set me thinking about the origin of the ingredients. Caraway and mustard seeds have been eaten in Britain since the Middle Ages, but squash didn't reach these shores until the sixteenth century, when European sailors brought it back from the Americas, together with tomatoes, chile peppers, and much more, including (of course) potatoes. Savoy cabbages—'Savoy coleworts' as they were called in one English herbal—probably reached England from Holland around the same time.
Cheesy Roasted Savoy Squash with Crispy Breadcrumbs
Serves 4
Ingredients
For the Veg
About 800g squash or pumpkin
About 400g Savoy or other cabbage
Olive oil
2 teaspoons caraway seeds
50g dry bread (ideally rye)—about 2 thin slices—or use chunky breadcrumbs if you have some to hand
2 tablespoons capers
100g sharp cheese such as cheddar, crumbled
For the Dressing
1 tablespoon wholegrain mustard
1 teaspoon honey
1 tablespoon cider vinegar
3 tablespoons olive or rapeseed oil
Preparation
Preheat the oven to 220C.
Remove the seeds from the squash or pumpkin and slice into 2cm-thick wedges. Peel the slices if that's what you prefer. Cut the cabbage into 8 chunky wedges.

Place both on a large oven tray and sprinkle with salt, pepper, olive oil and the caraway seeds. Spread them out so they will crisp up in the oven. You don't want them to steam in a big heap.

Roast for about 35 minutes, until the squash is soft and the cabbage is golden and crisp and charred a little at the edges.

Meanwhile, make the caper breadcrumbs. Wizz the bread in a food processor to reduce to chunky, rough breadcrumbs. You don't want a fine powder. Place the crumbs on a baking tray, drizzle with oil, and toss with the capers, salt and pepper. Toast in the oven for about 5 minutes or until they look pleasingly crunchy. Watch out that they do not burn. Set aside.

Make the dressing by shaking all the ingredients together in a jar. Season to taste with salt and pepper and set aside.

To serve, tumble the squash, cabbage and cheese on a platter. Drizzle with the dressing and toss. Top with the breadcrumbs and bring to the table.
Recipe adapted from Anna Jones, The Modern Cook's Year (2017).
January 18, 2019 by General Administrator
This is just the sort of restorative your body is crying out for after the holidays. It's rich and satisfying without being heavy. You'll feel good eating it.
You can also add some cooked potatoes, if you happen to have some lying about.
Ads bi Hamud
Serves 6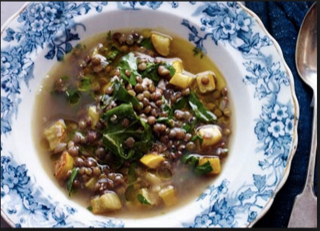 Ingredients
375g green lentils, soaked for 1 hour
Salt and pepper, to taste
4 tablespoons olive oil
2 onions, cut in half and sliced thin
5 cloves of garlic, peeled and sliced thin
1 tablespoon plain flour
1kg mixed greens (spinach, chard, kale, etc.)
Juice of 1.5 lemons
Preparation
Wash and drain the lentils. Put them in a pan with water to cover and simmer for 30 minutes or until they are very tender. Season to taste with salt and pepper.

Meanwhile, heat the oil in another pan and sauté the onions until they are very soft, about 15 minutes. Add the garlic and sauté until you detect a nice, garlicky smell. Add the flour and stir well. Add a teacup of water to the pan and stir to dissolve any tasty browned bits. Cook over a low heat to thicken a bit and then pour the whole thing into the lentils and mix. Heat gently so that the lentils and onions thicken a bit.

Wash the greens and chop coarsely. Add these to the lentils and cook for about 10 minutes.

Add the lemon juice and simmer a bit more, so that the soup is thick and hot.
November 23, 2018 by General Administrator
This is pretty addictive. It delivers a big dose of umami and makes an outstanding dressing for robust vegetables. I've been eating it on a salad of finely shredded red or white cabbage, grated carrot, and chopped coriander. It would be good on grilled tofu or fish, or roasted butternut squash. Or use it as a dip for whole potatoes—the little ones we're getting in our shares—roasted at 200C for 30 minutes.
Miso-Tahini Dressing
Serves 2
Ingredients
1 tablespoon miso paste
1 tablespoon tahini
1 tablespoon soya sauce
1 tablespoon cider vinegar
Preparation
Combine the ingredients and blend well, using a fork. Taste to see if it would benefit from a little more vinegar. The mahogany-dark dressing is now ready to use. This makes enough for half a small cabbage, shredded, together with several grated carrots.
July 5, 2018 by General Administrator
Our resident Recipe Meister, Rebecca Earle, is having a break during July, and so newly joined member Pip Smith has stepped forward to tantalise our tastebuds in Rebecca's absence. Here's Pip's first recipe for us:
Beetroot, cabbage and spring onion in the veg share this week? It can only mean one thing…….slaw! I've been looking at lots of coleslaw recipes and it seems to me the general theme is either vinaigrette dressing or creamy mayonnaise/Dijon or horseradish. Pretty much anything can go into a slaw as long as there is a nice bite and balance of flavour in the main ingredients.
I've chosen a vinaigrette and will follow the rule of equal oil to vinegar. I've chosen not to massage the vinegar into the cabbage though this could be worth experimenting with to break down the fibres and change the texture.
Ingredients:
1 small cabbage
4 baby beets
2 – 4 spring onions
2 tablespoons extra virgin olive oil
2 tablespoons apple cider vinegar
Optional 1 teaspoon Dijon mustard
1/2 teaspoon salt
1/2 teaspoon black pepper
Method:
Cut the cabbage into quarters and remove core, then slice thinly.
Peel the beetroot then grate.
Trim and slice the spring onion
Put the oil, vinegar, mustard if using, salt and pepper into a lidded glass jar and shake.
Put the the slaw mix into a large bowl and toss with the vinaigrette.
For a tasty addition you could toast some seeds and sprinkle on top.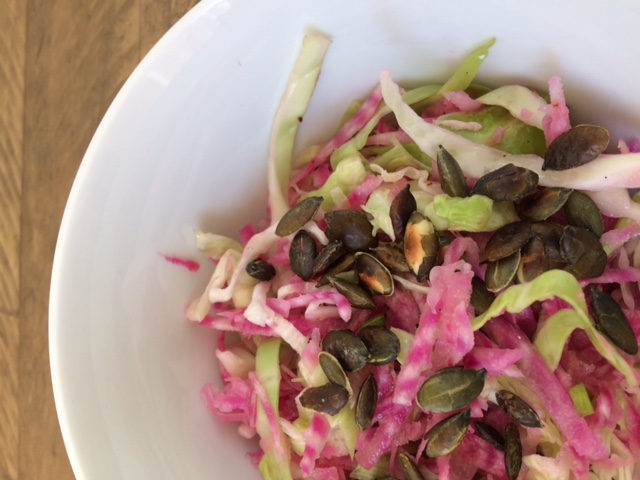 March 8, 2018 by General Administrator
This main-course salad is based on what I gather is a classic Vietnamese sauce called Nước chấm. It's a combination of lime juice, a bit of sugar, and fish sauce. It's sharp, salty and addictive. The recipe combines slices of lightly-cooked steak with a salad of shredded vegetables. You can also make it without the steak, in which case I'd recommend adding some toasted peanuts. You can also make this more hearty still by serving it alongside some cooked rice, or rice noodles.
Vietnamese Beef Salad with Nước chấm
Serves 4
Ingredients
2 red chilli peppers (or to taste)
½ cup fish sauce
1 tablespoon lime zest
⅓ cup fresh lime juice (about 3 limes)
2 tablespoons dark muscovado sugar
2 garlic cloves, grated
1 inch of fresh ginger, peeled and grated
600g rump steak or ¾ cup roasted peanuts, coarsely chopped
½ cucumber
6 carrots, peeled and shredded
½ medium white cabbage, finely shredded
8 spring onions, thinly sliced
1 bunch coriander, coarsely chopped
roasted peanuts (if you're not using steak)
an additional lime half, for garnish (optional)
Preparation
De-seed and finely chop one chilli pepper. In a small bowl, combine the chopped chilli, fish sauce, lime zest, lime juice, brown sugar, ginger and garlic.
If you're using the steak, then pour 1/2 of the mixture into a sealable plastic bag and add the steak, if you're using it. Seal, and leave to marinate at room temperature for at least 30 minutes (or refrigerate for up to 24 hours). Let meat come to room temperature before cooking if necessary.
De-seed the second chilli pepper and slice it finely. Slice the cucumber into thin matchsticks. Toss the sliced chilli, sliced cucumber, shredded carrot and cabbage, spring onions and almost all the coriander together to mix. Keep a little coriander back to garnish the top of the salad.
If you're not using the steak, simply add the peanuts, pour the dressing over the vegetables, toss, garnish with a little more coriander, and serve.
If you're using the steak, toss the salad with the remaining dressing and then spread the salad out onto a serving platter and set aside.
When you are ready to eat heat a cast iron pan (or other sturdy frying pan) to very hot and add the steak. Cook for 75 seconds on each side, unless you don't like your meat rare, in which case cook it for perhaps 2 minutes a side, or however long you favour cooking steak. I like steak very rare . . .
Remove the meat from the pan and let it sit for 3-5 minutes on a cutting board. Then slice the steak very thinly, and place the slices over the top of the salad. Scatter the sliced red chiles and reserved coriander over the top and serve with an additional sliced lime on the side, in case anyone wants more lime.
Recipe adapted from Melissa Clark, New York Times Cooking.
February 8, 2018 by General Administrator
Saffron gives a beautiful colour and a rich, aromatic flavour to this simple winter salad.
Carrot, Cabbage and Saffron Salad
Ingredients
0.5g saffron (on whole little packet)
50 ml rapeseed oil
1 medium cabbage, coarsely shredded
500g carrots, peeled and coarsely shredded
1 red onion, coarsely shredded
50 ml cider vinegar
1 teaspoon Dijon mustard
1½ teaspoons salt
black pepper to taste
Preparation
Combine the saffron and oil in a mortar and pestle, and leave to soak for 15 minutes.
Meanwhile, mix the cabbage, carrots and red onion in a bowl.
When the saffron has soaked for 15 minutes use the pestle to crush the saffron into the oil, to release its flavour. Tip the saffron-y oil into a small bowl and whisk in the vinegar, mustard, salt and pepper.
Pour the dressing over the vegetables and, using your hands, vigorously scrunch and squeeze everything together to mix.
Place a plate over the top of the salad and weigh it down a bit by putting a couple of tins, or some kitchen weights, on top. The goal is to press the salad together to encourage the flavours to blend.
Leave it for at least an hour, and then serve.
(Recipe courtesy of Ulrika Andersson.)
November 30, 2017 by General Administrator
Meera Sodha's Fresh India won the Observer Food Monthly's 2017 'best new cookbook' award. Cook this and you'll appreciate why. She recommends serving with 'a fiery pickle, hot chapattis and yogurt, or with dal and rice'.
Savoy Cabbage, Black Kale and Potato Subji (Savoy Aloo Gobhi)
Serves 4 to 6 as part of a main course.
Ingredients
1 teaspoon coriander seeds
2 teaspoons cumin seeds
3 tablespoons rapeseed oil
15 curry leaves
1 teaspoon black mustard seeds
1 large onion, halved and thinly sliced
800g potatoes, cut into 1-inch chunks
200g savoy cabbage, finely shredded
200g black kale, finely shredded
1¼ teaspoons salt
½ teaspoon chilli powder
¾ teaspoon ground turmeric
Preparation
Lightly grind the coriander and cumin seeds with a pestle and mortar. Put the oil into a large lidded frying pan over a medium heat and, when hot, add the curry leaves and mustard seeds. When they crackle, add the onion. Cook for around 10 minutes, until golden and sweet, stirring occasionally.
Add the crushed coriander and cumin, followed by the potatoes. Cook for 10-15 minutes, turning every now and then until crispy. Add a couple of tablespoons of water, cover with the lid and cook for a further 5 minutes, or until the potatoes are tender and no longer resist the point of a knife.
Finally, add the shredded cabbage and black kale to the pan with a couple of tablespoons of water and stir-fry for 3 minutes. Add the salt, chilli and turmeric, mix well, cover with the lid, reduce the heat to low and cook for another 4 minutes, or until the cabbage and black kale have wilted. Enjoy!
(Recipe adapted from Meera Sodha, Fresh India.)