December 18, 2020 by General Administrator
This recipe isn't so Christmassy, but I did enjoy it. I found the liquid took a lot longer than stated to reduce, but in the end I would actually have preferred a bit more sauce when serving. Goes well with mash!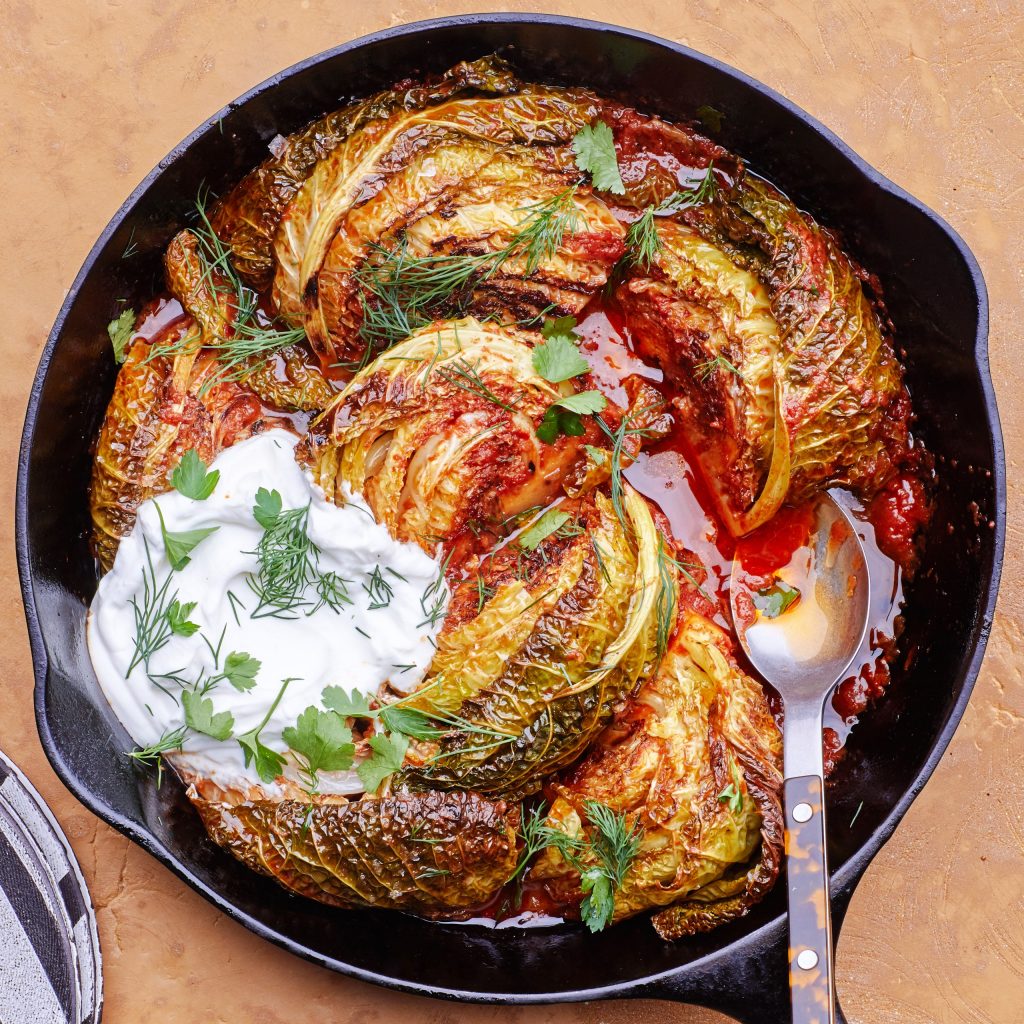 Ingredients
¼ cup double-concentrated tomato paste
3 garlic cloves, finely grated
1½ tsp. ground coriander
1½ tsp. ground cumin
1 tsp. crushed red pepper flakes
1 medium head of green cabbage
½ cup extra-virgin olive oil, divided
Salt
3 Tbsp. chopped dill, parsley, or coriander
Full-fat Greek yogurt or sour cream (for serving)
Method:
Preheat oven to 180°. Mix tomato paste, garlic, coriander, cumin, and red pepper flakes in a small bowl.
Cut cabbage in half through the core. Cut each half through the core into 4 wedges.
Heat ¼ cup oil in a large oven safe frying pan (or similar) over medium-high. Working in batches if needed, add cabbage to the pan cut side down and season with salt. Cook, turning occasionally, until lightly charred, about 4 minutes per side. Transfer cabbage to a plate.
Pour remaining ¼ cup oil into pan. Add spiced tomato paste and cook over medium heat, stirring frequently, until tomato paste begins to split and slightly darken, 2–3 minutes. Pour in enough water to come halfway up sides of pan (about 1½ cups), season with salt, and bring to a simmer. Nestle cabbage wedges back into skillet (they should have shrunk while browning; a bit of overlap is okay).
Transfer cabbage to oven and bake, uncovered and turning wedges halfway through, until very tender, liquid is mostly evaporated, and cabbage is caramelized around the edges, 40–50 minutes.
Scatter dill/other over cabbage. Serve with yogurt alongside.
From BonAppetit.com