June 24, 2021 by General Administrator
This recipe was a discovery late last summer and ended up being our go-to for broad beans. I've had it in the side-lines ever since and now broad beans are finally back, it's time to share! This recipe was even a hit during a solid week of rain under canvas in the Lakes.
Spaghetti with broad bean pesto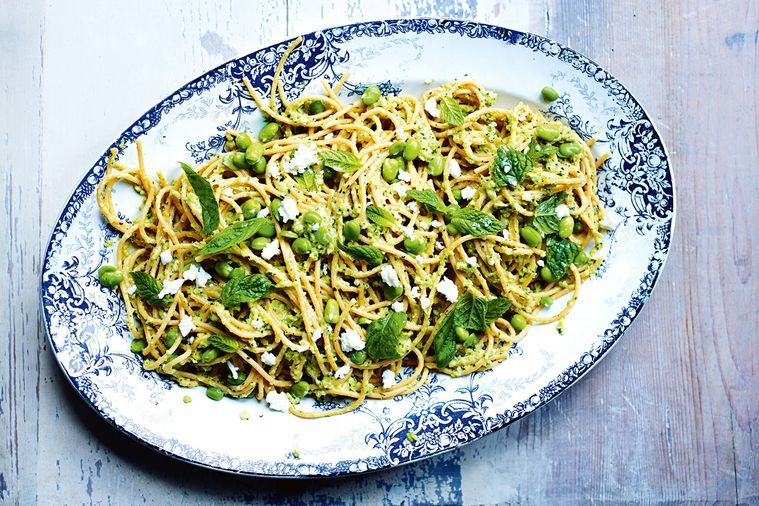 INGREDIENTS
500g dried spaghetti
500g broad beans, blanched, skins removed
1 small garlic clove
1/2 bunch mint, leaves picked, plus extra to serve
Juice of 1/2 a lemon
1/4 tsp cayenne pepper
2 tbs extra virgin olive oil
30g feta, plus extra to serve
METHOD
Cook pasta in a pan of boiling salted water according to packet instructions until al dente. Drain, reserving a little cooking liquid.
Whiz 200g beans in a food processor with the garlic, mint, lemon juice and cayenne. Add oil and feta, and pulse to combine (loosen with a splash of the cooking liquid, if necessary). Season.
Working quickly, toss the drained pasta and the broad bean pesto together on a serving dish. Sprinkle with the extra mint and feta, then top with remaining beans. Serve immediately.
Recipe adapted from: https://www.delicious.com.au/recipes/spaghetti-broad-bean-pesto/Meqkhuj6
May 27, 2021 by General Administrator
This recipe should be quite simple and adaptable to a range of the veg coming over the next month or two, so hopefully it'll come in useful!
Spring vegetable tagliatelle
Ingredients
450g mixed spring vegetables such as green beans, asparagus , broad beans and peas
400g tagliatelle
1 lemon
1 tbsp Dijon mustard
1 tbsp olive oil
3 tbsp snipped chives
grated parmesan (or vegetarian alternative), to serve
Method
Halve the green beans and cut the asparagus into 3 pieces on the diagonal. Cook the tagliatelle, adding the vegetables for the final 5 mins of the cooking time.
Meanwhile, grate the zest from half the lemon and squeeze the juice from the whole lemon. Put juice in a small pan with the mustard, olive oil and a little black pepper. Warm through until smooth.
Drain the pasta and veg, adding 4 tbsp of the water to the lemon sauce. Return the pasta to the pan, reheat the sauce, adding most of the chives, then add to the pasta, tossing everything together well. Divide between 4 shallow bowls and top each with black pepper, Parmesan and the remaining chives.
From: https://www.bbcgoodfood.com/recipes/spring-vegetable-tagliatelle-lemon-chive-sauce
June 19, 2020 by General Administrator
A while ago I tried a recipe for whole broad beans cooked in a tomato sauce, and it was pretty good. It set me thinking whether you could actually cook the normally-discarded pods (husks?) that are left over when you shell broad beans. It turns out you can. I mentioned this to several friends, who variously told me I'd gone nuts, or that it sounded like the sort of thing people eat in Siberia. What can I say? I thought it was pretty good. We ate this with brown rice and a topping of salted yoghurt, and a shredded carrot salad on the side.
If you would like a normal recipe for broad beans, I strongly recommend this one: spaghetti with broad beans, bread crumbs and marjoram.
Broad Bean Stew
Serves 2
Ingredients
2 tablespoons olive oil
1 large onion, peeled and sliced
Salt and pepper
Leftover husks from about 500g young broad beans (that's about 300g of broad-bean husks)
Juice of half a lemon
2-3 tablespoons fresh herbs (I used lemon thyme, sage, and dill)
½ cup water
Preparation
Heat the olive oil over low heat and add the sliced onion and a pinch of salt. Cook for 10 minutes, until the onion is soft but not brown.
Meanwhile assess the broad bean husks. You want bright, green, fresh-looking ones. Discard any that look discoloured. Remove any stringy bits along the sides, rather as you'd remove the strings from off the sides of runner beans. Cut the husks into 1-inch pieces.
Add the broad beans to the onions, stir, and cook for a minute.
Add the water, stir, cover, and simmer gently for about 15 minutes, or until the husks are tender. Top up with more water if it seems to be drying out.
Once the husks are tender, add the fresh herbs and lemon juice, and season with freshly-ground black pepper.
If you wish, you can also mix in some cooked broad beans, to make a double-broad-bean stew.
Serve on brown rice with a topping of salted yoghurt mixed with preserved lemon (if you happen to have any to hand).
August 8, 2019 by General Administrator
If you're a Saturday collector, you'll be getting the last of the broad beans – why not try them in this recipe?!
I've had this recipe waiting in the sidelines for a while, expecting it to take ages but it turned out to be super easy! The fritters turned out pretty tastey and all that veg helped make me feel a little better about the deep fat frying… The recipe I got this from has instructions for homemade labneh, but I swapped that for lemon minted yoghurt. Since I had the frier out I decided to go all out and make courgette fritters, deep fried brie and onion rings as well, not a healthy night! Note the recipe is scalable for smaller shares but i'd keep the spice measures fairly high to avoid them getting lost in the frier.
Chilli broad bean fritters with homemade labneh
Ingredients:
Fritters:
600g broad beans (or 1¼kg in their pods), skinned to reduce bitterness (I didn't bother and can't say I noticed)
small bunch mint, roughly chopped
small bunch parsley, roughly chopped
small bunch dill, roughly chopped
1 tbsp self-raising flour, plus a little for dusting
1 red chilli (deseeded if you don't like it too hot), roughly chopped
zest 1 lemon
2 small garlic cloves
1 tsp ground cumin
1 tsp ground coriander
½ tsp ground allspice
½ tsp sumac
Yoghurt:
1/4 a bunch of fresh mint , (7.5g)
1/2 lemon, (juice and any remaining zest after fritters)
4 tablespoons natural yoghurt (Alpro-style alternative will work great too)
Method:
Fritters:
To make the fritters, put the ingredients in a food processor, season and blend until smooth. Using 2 dessertspoons, scoop and shape the mixture into 16 quenelle shapes – or roll with floured hands. Place on a plate and chill for at least 1 hr, or cover loosely with cling film and chill for 24 hrs. (I chilled in freezer for 1h, they weren't quite sticky enough but I managed by squeezing them hard with my hands).
When you're ready to serve, heat at least 6cm oil in a wide, deep pan (or put a deep fat frier on 190°C). The oil is ready when a piece of bread dropped into the oil sizzles and turns brown within 30-40 secs (if the oil is too cool, the fritters will fall apart). Dust the fritters with a little flour and roll around the plate to coat the outside. Carefully lower 4-6 into the pan at a time and cook in batches, for 5-6 mins, until deep golden brown. Drain on a plate lined with kitchen paper and sprinkle with salt. Put the fritters in the oven on low heat while you cook the next batch.
Yoghurt:
Mix yoghurt, mint and lemon, adding salt and pepper to taste.
If you fancy them, courgette fritters or onion rings just need some batter making up in a bowl, about 50/50 self-raising flour (to get good bubbly batter) and water to a pancake batter consistency, add salt and pepper (and dill if you like) for a better taste. Chop courgette into sticks and onion into rings, rub them in a plate of flour (coat fully) then dip in the batter then into the frier. Fry until golden (1-3 minutes) then remove and drain, making sure to add salt and pepper whilst they're fresh out of the frier! (This makes a BIG difference).
From: https://www.bbcgoodfood.com/recipes/chilli-broad-bean-fritters-homemade-labneh
July 4, 2019 by General Administrator
This immensely straightforward pasta dish demonstrates the results that can be achieved with very simple ingredients. The combination of fresh herbs, crunchy breadcrumbs and slippery, dark-green broad beans is delicious. A glass of rose or a pinot noir would be a very nice accompaniment.
Slipping the broad beans out of their little skins is a bit of a bother, but makes all the difference in the world to the delicacy of the finished dish. I imagine this would work very well with frozen broad beans, as well.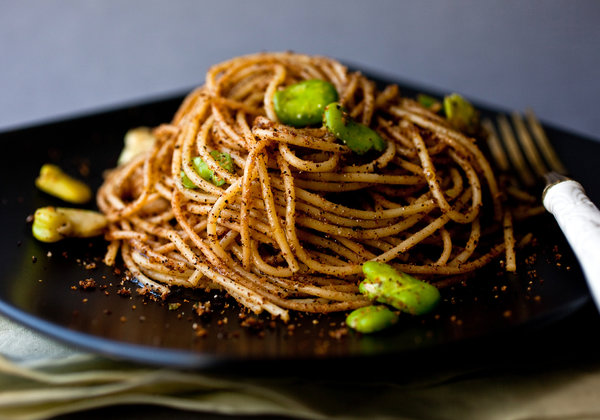 Spaghetti with Broad Beans and Marjoram
Serves 3-4
Ingredients
1kg broad beans, shelled
Salt
300g spaghetti
2 tablespoons olive oil
½ cup fresh bread crumbs, preferably whole wheat
3-4 tablespoons fresh marjoram leaves (to taste), roughly chopped
Freshly ground black pepper
Freshly grated Parmesan or pecorino (or a combination), for serving
Preparation
Bring a large pot of water to a rolling boil over high heat. Add the broad beans and cook for about 5 minutes, or until tender. Drain them, or, if you like, you can scoop the beans out of the water with a slotted spoon. This way you can use the same water to cook the pasta. Whichever approach you take, once the beans are out of the pan run them under some cold water to cool them down a little. Once they're cool enough to handle, pop them out of their little papery skins.
Bring some more water to the boil, or use the same water. Salt generously, and then add the spaghetti. Cook over high heat, stirring occasionally so the pasta doesn't stick together, until al dente, about 10 minutes.
Meanwhile, in a small skillet, heat the olive oil over medium heat, then add the bread crumbs, marjoram, salt and pepper. Cook, stirring, until crispy, three to four minutes. Turn off the heat, and set aside.
When the pasta is cooked al dente, remove ½ cup of the cooking water and then drain the pasta. Return the pasta to the pan, and add the broad beans and the cooking water. Return the pan to the heat and cook, stirring, for a minute or two, until the water is absorbed and the beans are warm. Stir in the bread crumb mixture and serve, passing the cheese at the table.
Recipe adapted from New York Times Cooking.
June 7, 2018 by General Administrator
Diana Henry describes this as a 'rustic puree with garlic and chilli'. I don't have any broad beans here in Uppsala this week so I can't test this in advance, but it looks delicious. Tell me how it works out for you. This should be very nice with some crusty bread.
Broad-bean Purée with Feta Relish
serves 3-4 as a starter or with other small dishes.
Ingredients
For the purée:
250 broad beans (podded weight)
1 teaspoon olive oil
1 small onion, chopped
1 cloves garlic, chopped
½ chilli, chopped (take out the seeds if you don't want it too spicy)
salt and pepper, to taste
juice of ½ lemon
25ml olive oil
10ml water or light chicken stock (optional)
For the relish:
40g feta
40g good black olives, pitted and coarsely chopped
½ small clove garlic, very finely chopped
20ml olive oil
1 tablespoon chopped coriander, dill or parsley, or leaves from 3 sprigs of mint, torn
Preparation
To make the puree:
Cook the broad beans for about three minutes in boiling water. Drain and rinse under cold water. Slip off their skins. Heat the teaspoon of olive oil in a frying-pan and sauté the onion until it is soft but not coloured. Add the garlic and chilli and cook for a further three minutes. Add the skinned beans and warm through for about three minutes. Season.
Tip the contents of the pan into a food processor and add the lemon juice and the 25ml of olive oil. Pulse to a rough purée. If it seems very thick add the optional water or stock to thin it out a bit. Taste for seasoning. You may want to add more oil or lemon. Scrape into a broad, shallow serving dish.
To make the feta relish:
Crumble the feta into a small bowl and toss in the olives and garlic. Pour on the oil, add your chosen herb and freshly ground black pepper, and mix. Scatter over the purée and serve.
Recipe adapted from Diana Henry
https://www.telegraph.co.uk/journalists/diana-henry/
7th June 2018
June 30, 2017 by General Administrator
Broad beans, bacon and spring onions: a perfect combination of earthy, lively and sharp flavours.
——
Delia Smith's Classic Broad Bean Salad
Serves 2, according to Delia. I think you could eat this all by yourself.
Ingredients
For the Dressing
1 clove garlic
salt
1 teaspoon mustard powder
2 tablespoons lemon juice (or a combination of lemon juice and white wine vinegar)
4 tablespoons olive oil
For the Rest of the Salad
2 rashers of streaky bacon
700g broad beans in their pods
2 tablespoons chopped herbs (parsely, oregano and/or marjoram are good)
4 spring onions, sliced
pepper to taste
Preparation
Prepare the dressing: crush the garlic with a little salt in a mortar and pestle. Add the mustard powder and lemon juice (or lemon juice and vinegar) and whisk in the oil. Set aside while you prepare the rest of the salad.
Cook the bacon until it's crisp and crumble it into small pieces. Set it aside.
Shell the beans. Bring a small amount of water to a boil and add the beans. Cook them until just tender—perhaps 3 minutes is all they'll need. Drain them and toss them while still warm with the dressing.
When they're cool toss them with the bacon, herbs and spring onions. Season to taste with pepper and more salt.
(Adapted from Delia Smith, Complete Cookery Course.)