Here is an excellent topping for punchy vegetables such as kale. The key ingredient is fresh turmeric root, which you can get at Gaia, on Regent Place in Leamington, and doubtless elsewhere. You whizz up the turmeric with cashew butter, the juice of a few of the clementines you have hanging around from Christmas, and a bit of mustard.
The original recipe (from The First Mess) combined this with raw, shredded Brussels sprouts, toasted sesame seeds, sliced spring onions and fresh dill to make a very good slaw but I think this will go well on top of anything in the brassica family. This recipe is dedicated to the nice person at Canalside just before Christmas who swapped his unwanted kale for my unwanted rosemary.
Super Turmeric Sauce
serves 2
Ingredients
2 tablespoons cashew butter
2 teaspoons Dijon mustard
juice of 3 clementines
2 inch piece of fresh turmeric, peeled
5 tbsp olive oil
Preparation
Combine the ingredients in a blender and whizz until smooth.
Recipe adapted from The First Mess, where you can find the recipe for the Brussels sprouts slaw, and also a salty maple-roasted squash and ginger rice which goes very well with it.
This week I'm keeping it simple and taking a little inspiration from a recent roadtrip to Italy. The spinach and tomato are pretty core to the dish but feel free to pick and choose from the rest of the list depending what you've got – I use an app called plant jammer to figure out what things might go well together.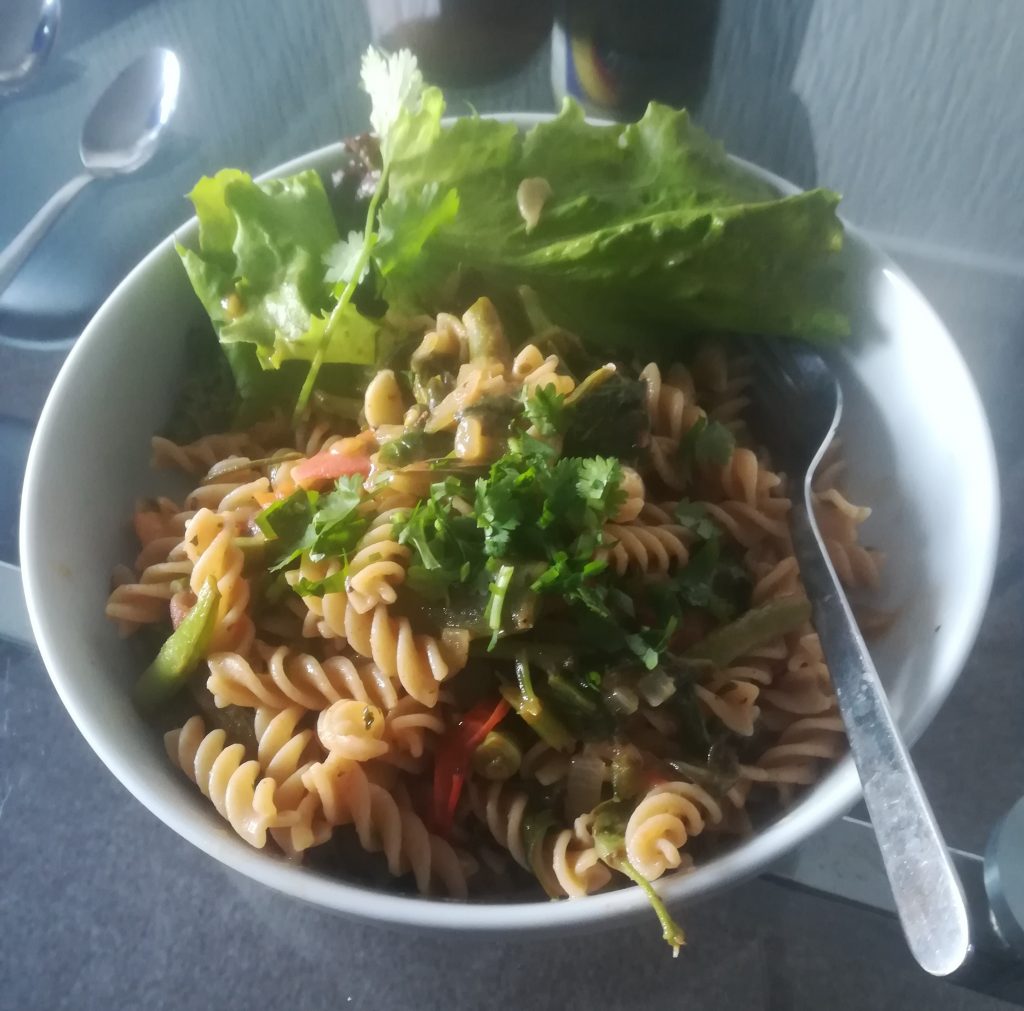 Core Ingredients (for 1 person):
Pasta of your choice, 2 handfuls
Fresh Tomatoes, 1 large handful
Spinach (or other greens depending on share), 3 handfuls
Basil, small handful
Garlic, 1 clove
Lemon Juice 0.5-1 tablespoon or to taste
Olive Oil, 2-3 tablespoons or to taste
Mixed herbs, 1 teaspoon
Optional extras:
Black olives, small handful
Walnuts, small handful
Onion, 1 medium
Green/French Beans, about 3cm bundle
Method:
First chop all your veg; tomatoes into quarters, spinach may need stems chopping down to manageable size, garlic minced or thin slices, onion diced
Next get the pasta on the boil – when it's ready remember to keep the water!
Whilst the pasta cooks, fry off onion and garlic, then add tomatoes, spinach and any optional extras and fry at a medium heat.
The pasta should be ready about the same time as the veg is cooked. Before draining, add the olive oil to the veg and then add a few sloshes of the pasta water – the starch helps make a good sauce! Then add the lemon juice, basil and mixed herbs and stir it all together until you have a nice shiny consistent sauce. Season with salt and pepper.
Drain the Pasta and add to the pan, mix and serve with some salad on the side and a little chopped coriander on top.
According to Claudia Roden, this creamy, lemony sauce is 'one of Turkey's culinary signature tunes'. Warm and eggy, it provides a delicate contrast to more robust vegetables such as celeriac or poached leek. It's as if they've been given a luxurious bath in something rich and comforting. I like to serve this on a base of shredded greens, but you can omit that if you'd prefer. It would also go well with rice, and Roden recommends serving it alongside a lamb stew. It's very easy.
Celeriac with Egg-Lemon Sauce
Serves 2
Ingredients
800g celeriac
1 lemon
1 teaspoon sugar
Salt and pepper
2 egg yolks
Shredded greens, to serve
Preparation
Peel the celeriac with a sharp knife and cut it into ¾-inch cubes. Put the cubes into a pan and just cover with cold water. Add the sugar, some salt, and the juice of half the lemon. Bring to a boil and then simmer, covered, for about 20 minutes, or until tender.
While the celeriac is cooking start to prepare the egg-lemon sauce: in a small saucepan whisk the egg yolks with the juice of the remaining half-lemon, some pepper, and a bit more salt. Set aside until the celeriac has finished cooking.

Put the shredded greens into a serving dish.

Drain the celeriac, but make sure to keep a few tablespoons of water to use in the sauce. Arrange the celeriac cubes on top of the greens.

Whisk 2 tablespoons of the cooking water into the egg-lemon mixture and place the pan over low heat. Stir constantly for a few minutes, until the mixture has just begun to thicken. Don't let this get too hot, or stop stirring, lest the mixture curdle. Pour the egg-lemon sauce over the vegetables and serve.
Recipe adapted form Claudia Roden, Arabesque (2009).
This is just the sort of restorative your body is crying out for after the holidays. It's rich and satisfying without being heavy. You'll feel good eating it.
You can also add some cooked potatoes, if you happen to have some lying about.
Ads bi Hamud
Serves 6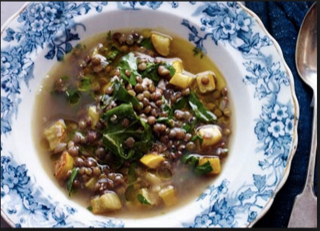 Ingredients
375g green lentils, soaked for 1 hour
Salt and pepper, to taste
4 tablespoons olive oil
2 onions, cut in half and sliced thin
5 cloves of garlic, peeled and sliced thin
1 tablespoon plain flour
1kg mixed greens (spinach, chard, kale, etc.)
Juice of 1.5 lemons
Preparation
Wash and drain the lentils. Put them in a pan with water to cover and simmer for 30 minutes or until they are very tender. Season to taste with salt and pepper.

Meanwhile, heat the oil in another pan and sauté the onions until they are very soft, about 15 minutes. Add the garlic and sauté until you detect a nice, garlicky smell. Add the flour and stir well. Add a teacup of water to the pan and stir to dissolve any tasty browned bits. Cook over a low heat to thicken a bit and then pour the whole thing into the lentils and mix. Heat gently so that the lentils and onions thicken a bit.

Wash the greens and chop coarsely. Add these to the lentils and cook for about 10 minutes.

Add the lemon juice and simmer a bit more, so that the soup is thick and hot.
Kale tossed with dried fruit, nuts and Greek yoghurt makes a surprisingly delicate accompaniment to a more robust main course. We ate this with a whole roasted cauliflower. (I'll give you the recipe for that the next time we get a cauliflower in the veg share.)
You can use either the dark green cavolo nero kale (aka lacinato kale), or the ordinary frilly kale. Massaging the leaves with oil converts these assertive greens into tender mouthfuls of flavour.
Creamy Kale Salad
Serves 2
Ingredients
150g kale
2 tablespoons olive oil
Juice of half a lemon
1 tablespoon full-fat Greek yoghurt or mayonnaise
Salt and pepper, to taste
2 tablespoons currants or dried cranberries
2 tablespoons pumpkin seeds or cashews
Preparation
First prepare the kale: remove the tough central stalk by running each leaf between your thumb and forefinger to separate the leaves from the stalk. Discard the central stalk and shred the leaves. Wash and dry the shredded leaves and set aside in a serving bowl.
Add the oil to the kale and use your hands to massage the oil into the leaves for several minutes, until the leaves turn a darker green. This makes them softer and more tender. Squeeze in the lemon juice, toss, and add the yoghurt or mayonnaise. Toss again, and season to taste. Sprinkle in the dried fruit.
Heat a small frying pan over medium heat and add the pumpkin seeds or cashews. Toast gently until the seeds start to pop, or the cashews turn golden. Add the nuts or seeds to the salad, toss a final time, and serve.
Our resident Recipe Meister, Rebecca Earle, is having a break during July, and so newly joined member Pip Smith has stepped forward to tantalise our tastebuds in Rebecca's absence. Here's this week's recipe:
Magic one pot pasta with tomato and greens
This is a lovely dish slightly adapted from Anna Jones 'a modern way to cook'. In this recipe you will only need to use one pot and pretty much everything gets thrown in at the start so not only is it super tasty, it's also super easy. Initially I was unsure about eating the pasta water as part of the sauce after years of habit of discarding the starchy water. However, I have since learnt that this starchy water helps to bind the sauce to the pasta and improve the texture. It's a good idea to always save some of the starchy water and add it to your sauce before stirring in the pasta. There are many other uses for the starchy water so it's worth draining into a container then deciding how you want to use it. Anyway, in this recipe it ends up in your tummy.
Serves 4
Ingredients:
400g wholemeal spaghetti
500g fresh tomatoes, chopped
200g spinach, roughly chopped
160g kale, stalks removed and leaves chopped
Zest of 2 lemons
2 tsp salt
1 litre of boiling water
100mls olive oil
Add everything to the pan except the spinach and kale. Bring to boil and simmer for 6 minutes, add the kale and spinach and cook for a further 2 – 3 minutes.
Boom – enjoy!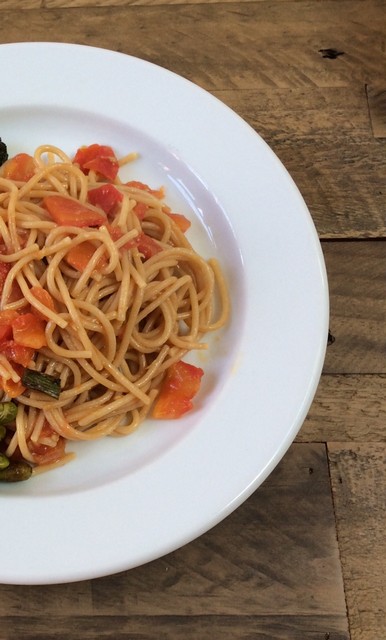 Meera Sodha's Fresh India won the Observer Food Monthly's 2017 'best new cookbook' award. Cook this and you'll appreciate why. She recommends serving with 'a fiery pickle, hot chapattis and yogurt, or with dal and rice'.
Savoy Cabbage, Black Kale and Potato Subji (Savoy Aloo Gobhi)
Serves 4 to 6 as part of a main course.
Ingredients
1 teaspoon coriander seeds
2 teaspoons cumin seeds
3 tablespoons rapeseed oil
15 curry leaves
1 teaspoon black mustard seeds
1 large onion, halved and thinly sliced
800g potatoes, cut into 1-inch chunks
200g savoy cabbage, finely shredded
200g black kale, finely shredded
1¼ teaspoons salt
½ teaspoon chilli powder
¾ teaspoon ground turmeric
Preparation
Lightly grind the coriander and cumin seeds with a pestle and mortar. Put the oil into a large lidded frying pan over a medium heat and, when hot, add the curry leaves and mustard seeds. When they crackle, add the onion. Cook for around 10 minutes, until golden and sweet, stirring occasionally.
Add the crushed coriander and cumin, followed by the potatoes. Cook for 10-15 minutes, turning every now and then until crispy. Add a couple of tablespoons of water, cover with the lid and cook for a further 5 minutes, or until the potatoes are tender and no longer resist the point of a knife.
Finally, add the shredded cabbage and black kale to the pan with a couple of tablespoons of water and stir-fry for 3 minutes. Add the salt, chilli and turmeric, mix well, cover with the lid, reduce the heat to low and cook for another 4 minutes, or until the cabbage and black kale have wilted. Enjoy!
(Recipe adapted from Meera Sodha, Fresh India.)
serves 4
Ingredients
for the roasted beets
500g beets, peeled and cut into 1-inch chunks
1/2 cup balsamic vinegar (this is not the occasion to use your super-pricy, genuine-from-Modena balsamic vinegar)
3 tablespoons demerara sugar
2 tablespoons grape seed oil (or some other neutral oil)
salt and pepper
for the rest of the salad
1/2 cup quinoa, rinsed
2 tbsp grape seed oil (or some other neutral oil)
1 clove of garlic, peeled and finely sliced
1 teaspoon smoked paprika
all the Canalside kale in your share (say, 180g), stems removed and leaves torn into bite-size pieces
salt and pepper
1 handful of pecorino cheese shavings (or use parmesan)
1 handful toasted hazelnuts (optional)
Preheat the oven to 200C.
Place the trimmed beetroot in a 2-inch deep ceramic or glass dish. Pour the balsamic vinegar and grape seed oil over the beets. Sprinkle the muscovado sugar, salt and pepper around the beets. Cover the dish with foil and roast for 30 minutes. Remove the foil, stir the beets up a bit and continue to roast, uncovered, for perhaps another 15-20 minutes. They should be quite tender. Remove from the oven and allow to cool.
Meanwhile, prepare the quinoa: place the quinoa, 1 cup of water, and a pinch of salt in a small saucepan. Bring to a boil over medium heat. Once it reaches a boil reduce the heat to a simmer and cook for about 15 minutes or until quinoa is mostly cooked and the little tails start to pop out. Remove from the heat and set aside.
In a large pot, heat the 2 tbsp of grapeseed oil over medium heat. Add the sliced garlic and smoked paprika. Stir around until fragrant, about 30 seconds. Add the quinoa, a splash of water and half of the kale. Stir around until kale begins to wilt a bit. Add the remaining kale, season with salt and pepper and keep stirring. The kale should all be slightly wilted, but still firm. Take off the heat and transfer kale and quinoa mixture to your serving bowl.
Arrange the roasted beets on top of the greens and quinoa. Drizzle the salad with the balsamic cooking liquid from the pan in which you roasted the beetroot (there should be about 1/4 cup of it left). Scatter the pecorino shavings and hazelnuts (if you're adding these) on top and serve.
(Recipe adapted from The First Mess.)
This Easter I am going to try a new recipe: a Torta Pasqualina, or Italian Easter Tart. It combines creamy ricotta with fresh greens baked in a flaky crust—so it's a bit like a Greek spanakopita. To give it an Easter twist you crack some whole eggs onto the greens before baking. When the finished tart is sliced you get a lovely mass of green with little pockets of soft-cooked egg nestled under the crust. Very seasonal! I've been meaning to try this for ages.
Ricotta, Spinach and Egg Easter Tart (Torta Pasqualina)
Serves 6-8
pastry
160g cold butter, diced
250g plain flour
200g ricotta
pinch of salt
a little beaten egg or milk to brush over the top of the tart
filling
600g kale, spinach, chard or other mixed greens
2 tablespoons olive oil
3 large onions, chopped
300g ricotta
6 eggs plus extra for brushing
Salt and black pepper
80g parmesan, grated
A pinch of nutmeg
Make the pastry: Rub the butter into the flour with your fingertips until it resembles breadcrumbs. Add the ricotta and a pinch of salt, mix and bring together into a soft ball. Turn the pastry on to a floured work surface and knead until smooth. Cover with clingfilm and chill for 30 minutes.
Make the filling: Bring a pot of water to the boil. Meanwhile pick over the greens, discarding any tough stalks and discoloured leaves, then wash them. Working in batches, add some of them to a pan. Bring back to the boil and cook for a few minutes, just long enough to wilt the greens. Remove the cooked greens to a colander and repeat with the remaining greens. When they're all cooked let them drain for at least 10 minutes. Once they are cool enough to handle, use your hands to squeeze out as much water as possible, and then chop roughly.
Heat the olive oil in a pan until warm and then add the chopped onion. Sauté for 5 minutes, and then add the greens. Stir and heat for a few minutes and then remove from the heat. Mix in the ricotta, 2 lightly beaten eggs, salt, pepper, parmesan and nutmeg.
Butter and flour a 26cm round tin, preheat your oven to 190C and put a flat baking tray in to get hot.
Cut the dough into two pieces, one twice the size of the other. On a floured surface roll the larger piece into a circle large enough to fill the tin, come up the sides and hang over the edge. Lift the dough into the tin and press it in. Add the filling. Using a spoon, make four deep indents in the mixture. Break the remaining four eggs into these indentations.
Roll the smaller piece of dough into a disc large enough to generously cover the top of the tin. Place it over the top of the tart and, using wet fingertips, press the dough to make a firm seal, and then fold any excess dough back towards the centre to make a little fringe. Prick or slash the centre of the tart. Paint the top with beaten egg or milk, put onto the hot baking tray, and bake for 50 minutes or until golden.
Allow to cool a little before turning out. Serve warm or at room temperature.
(Recipe adapted from Rachel Roddy, The Guardian and New York Time Cooking.)