September 17, 2020 by General Administrator
'To skin' is one of those unusual verbs with two meanings that are the complete opposite of one another. The skin a rabbit is to remove the skin, but to skin a polytunnel is to put it on – as the land team (finally!) did to tunnel 1 on Monday. The main reason to replace the polythene cover is about opacity more than anything else – you can 'clearly' see this by comparing the transluscent new cover of tunnel 1 with its 13 year old, virtually opaque neighbour. This will give much better crop growth, particularly in winter. Canalside member Eleanor made a fantastic short video of the work, which you can view on vimeo.
April 19, 2020 by General Administrator
The orchard is looking amazing at the moment – the apple blossom is at its peak and the cherry trees that still have blossom have an abundance of it! Hopefully all the blossom foretells of a bountiful crop of fruit this summer, all being well through the growing season.
Click here to watch:
Credits: Filming, editing and music: Eleanor Brown
June 12, 2018 by General Administrator
We are now in the final phase of our community investment opportunity and we want to say a HUGE MASSIVE THANKYOU to everyone who has come on board to be part of this amazing project that we've been working on for the last 2 years.
WE ARE NOW HALF WAY THERE!! We are thrilled that over 60 of you (households and individuals) have invested and become part of the community in this way and we have raised around £55,000 already! THANK YOU SO MUCH and WELCOME to being a share holder!
**The offer period runs from 19th MAY – 29th JUNE and so with 17 days to go we are ramping up the energy so we can meet our goal. We can only make this happen if we make our total of £105,000.
We invite you to invest and become part of our successful, inspiring and sustainable CSA as we enter our second decade and be part of this unique and exciting opportunity for us to share the ownership of the land co-operatively (that we currently rent) and secure and preserve it for the use of community farming for the future.
Visit: https://www.canalsidecommunityfood.org.uk/share-offer/ for all the information on what being a share holder means.
You can invest anything from £50 for one share up to £10,000. You can also simply donate if £50 is too much of a stretch at this time. You do not even have to be a member – this offer is open to anyone who would like to make an ethical investment in this way, so please tell your friends, families and networks who would be interested.
Why should I invest?
– to safe guard the land for local organic food production until the end of time!
– to be a steward of the land and care for the natural environment, to offset your carbon footprint!
– to support a space that provides local, seasonal and organic food production
– to support a space that provides community education and access to local green space
Here's a video from our four fab Canalside founders, Caz and Tom Ingall, Gareth Davies and Judy Steele, telling us about why they think this kind of ethical investment is the way forward.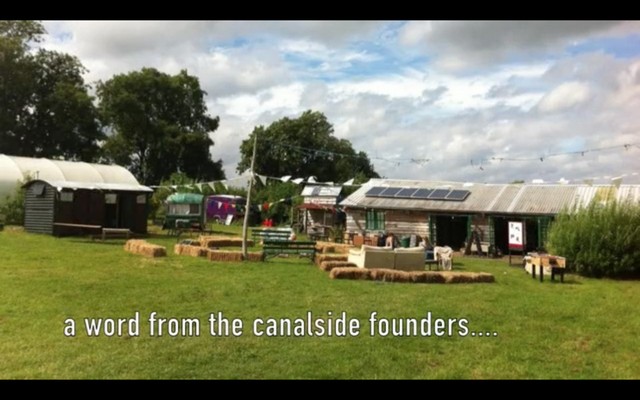 How can I help?
– INVEST!
We need to raise another £50 K! It's a 2 step process –
1) Visit this link https://www.canalsidecommunityfood.org.uk/share-offer/ read the document and click on the relevant application form
2) You will be contacted by us to then make your payment into the bank account. SIMPLES!
– DONATE – if you don't wish to buy a share, or the stretch is too much at this time then any amount is very gratefully received.
– SPREAD THE WORD – you don't have to be a member or even live locally to become a share holder. Anyone interested in ethical investment can partake – we have flyers, leaflets and all the information is on our website.
– Help us create SOCIAL MEDIA MOMENTUM – like/comment/share the posts from us – it really helps! We will be posting mightily over the coming days and the more momentum we can build up online the better. Please share our posts, and tell your networks about why you love Canalside/CSA's and why you are investing.
Thank you so much for reading and for all your support!
October 18, 2012 by General Administrator
If you'd like to have a tour of Canalside through the eyes of two local schoolboys who did a film project on Canalside in the summer, as part of a school study topic on farming, press play! They interviewed members and staff, and took part in a construction weekend where interested members worked together to construct an extension for our pole barn. See some footage from around the project site, and from the construction work. If you know the project, you may spot a few familiar faces!

February 28, 2011 by General Administrator
Hi folks,
http://www.youtube.com/watch?v=nvoFJsqF1wQ&feature=related (Please copy and paste to see this as I can't get an HTML link to show up. Ali)
I wanted to forward this link to you all, because what Nicole has been speaking about for several years now is –
1) So pertinent to what Canalside is doing.
And –
2) So clear-seeing about the reasons why the team who now have Canalside airborne, and are flying it higher as fast as they can go, are doing exactly the right thing. When you're slogging grimly through the winter mud and cold, and wondering why you're breaking your back for little pay, you need to be reassured as much as ever possible that this is precisely the right thing to be doing, to prepare as well as maybe for the unprecedented upheavals and crises which are already happening, and which, assuredly, will get much fiercer over this next decade. This is, quite literally, a matter of life and death for many people just a little way down the line; like it was in Soviet Russia after 1989.
May I asks whoever first fields this email to tell and show it around the Leasowe Farm people — and of course all the sharers who want to see it — as much as you can. Thanks.
Rhisiart Gwilym (Canalside veg share member)
December 19, 2008 by General Administrator
One of our members forwarded on the below link to a great lecture by David Gauntlett on YouTube. Although it's 10 minutes long, I really would recommend watching it – from a Popular Media perspective, he explains very simply what we, as individuals, can do to make a difference to both social and environmental issues that affect each and every one of us today.
Just click on the green starfish below…
David Gauntlett's inaugural lecture, 'Participation culture, creativity, and social change', from 12 November 2008: the key themes in ten minutes

© 2008 YouTube, LLC