February 25, 2021 by General Administrator
Meera Sodha says she created this recipe largely because she liked the sound of 'hasselback celeriac'. Name aside, this is very good. Serve the rich, miso-roasted celeriac and Turkish salad inside a flatbread, topped with a drizzle of tahini sauce and you will have yourself a sticky, messy treat. The recipe has several different components but is actually very straightforward.
Incidentally, Hasselback is the name of a restaurant in Stockholm. The better-known Hasselback potatoes were supposedly invented there in the 1950s.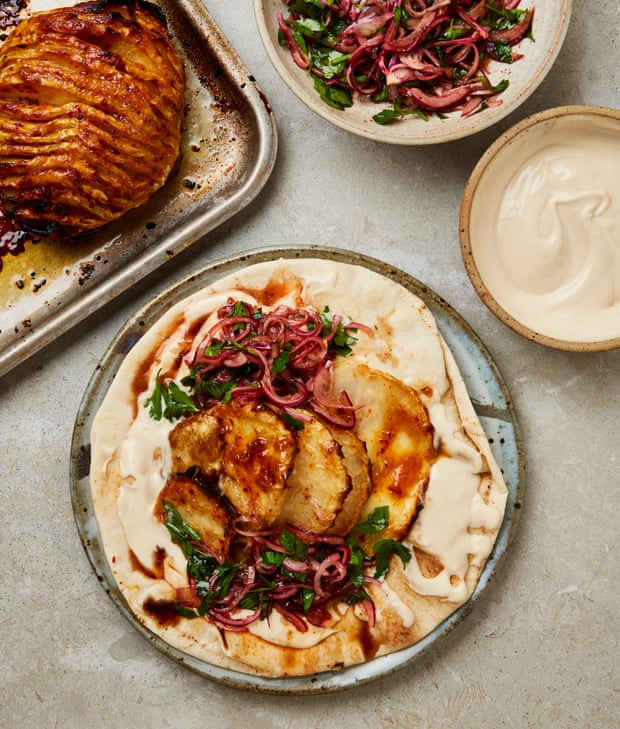 Hasselback Celeriac with Miso and Red Onion
Serves 3
Ingredients
For the celeriac
1 large or 2 small celeriacs (about 1-1.2kg total)
2 tablespoons olive oil
pinch of salt
For the miso glaze
60g white miso
½ tablespoon Turkish pepper
2½ tablespoons honey or brown rice syrup
1½ tablespoons lemon juice
For the tahini sauce
100g tahini
5 tablespoons water
1 tablespoon lemon juice
½ teaspoon salt
For the salad
1 large red onion, peeled, halved and sliced into thin half-moons
1 tablespoon pomegranate molasses
1 tablespoon lemon juice
1 teaspoon sumac
3 tablespoons olive oil
¼ teaspoon salt
1 large handful parsley, coarsely chopped
To Serve
6 flatbreads (look here for an excellent recipe)
Preparation
Heat the oven to 200C (180C fan).
Chop off the base of the celeriac, and peel off the skin using a peeler or a sharp knife. If it is large, cut it in half and lay it flat on its cut side. Using your sharp knife, cut slices at 5mm intervals that go nearly but not all the way through, so that the slices are still joined at the base, like the pages join the spine of a book. The illustration shows one way to ensure that you don't accidentally cut all the way through: place a wooden spoon handle or chopstick on either side of the celeriac, so that when you cut, they prevent the knife from slicing all the way to the work-top.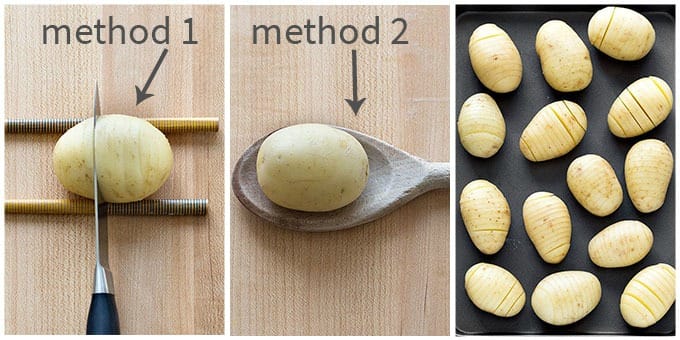 Now place the celeriacs on a baking sheet and drizzle with 2 tablespoons of oil and a pinch of salt. Place in the oven and roast for 70-90 minutes. Check partway through and drizzle with a little more oil if necessary. When they golden brown, they are ready for the glaze.
While the celeriacs roast, prepare the other components of the meal.
For the miso glaze: mix all the ingredients together in a small bowl.
For the tahini sauce: whisk all the ingredients together and put in a serving bowl.
For the salad: combine all the ingredients except the parsley in a serving bow. Mix together using your hands, and scrunch up the onions a little to soften them. Then add the parsley and set aside so the flavours can blend while the celeriac roasts.
Once the celeriac is golden and tender, brush with the miso glaze. Try to get some of the glaze between the slits. Bake for another 8-15 minutes, or until the celeriac is sticky and golden brown.
To serve, take the celeriac, salad, tahini sauce and bread to the table. Assemble your own combination of flatbread layered with celeriac and pomegranate-onion salad, topped with a generous serving of tahini sauce.
Recipe adapted from Meera Sodha, The Guardian, 13 Feb. 2021
January 7, 2021 by General Administrator
I wasn't sure Celeriac soup was a good choice, but we've had a few Celeriacs recently and I fancied a change. It was a pleasant surprise, then, that this turned out to be super tasty in an intensely savoury way. Even better was that we risked eating it after forgetting to put it away overnight and so far we have survived!
Cream of celeriac soup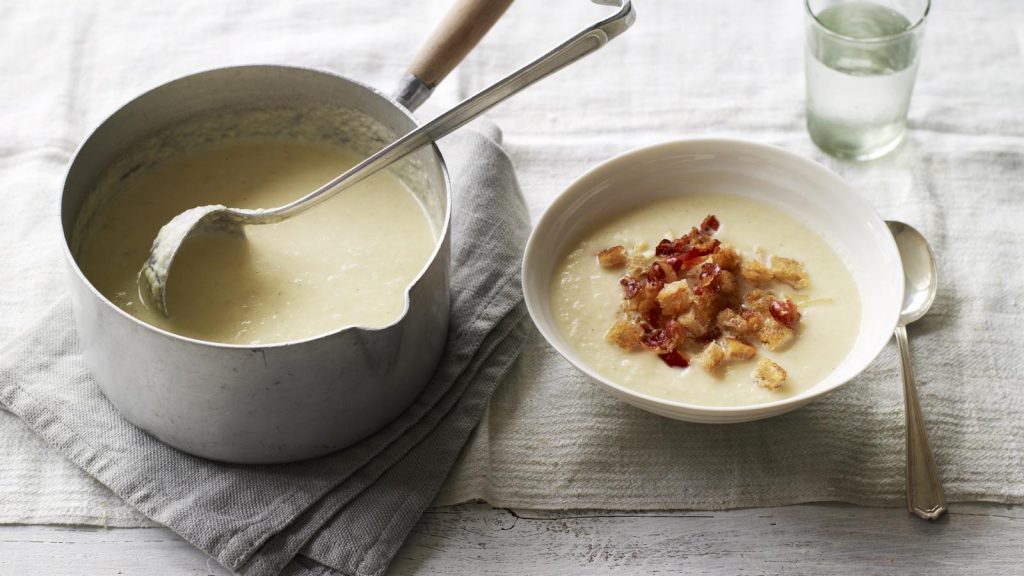 Ingredients
For the soup
75g/3oz butter
1 onion, finely chopped
50g/2oz streaky bacon, cut into small pieces (optional)
2 garlic cloves, finely chopped
1 leek, white only, finely chopped
1 stick celery, finely chopped
2 thyme sprigs, leaves picked
700g/1lb 8oz celeriac, peeled and cut into small cubes
1 litre/1¾ pint vegetable stock
200ml/7floz double cream
salt and white pepper
Method
For the soup, heat a large frying pan or saucepan until medium hot, add 25g/1oz of the butter, the onion and bacon and fry for a couple of minutes to just soften. Add the garlic, leek, celery and thyme sprigs and fry for another minute; then add the chopped celeriac. Pour in the stock and bring to the boil, then reduce the heat to a simmer and cook for 10-15 minutes, or until the celeriac is just tender.
Blend the soup to a fine purée using a stick blender or a blender. Return to the heat in a pan. Add the cream and whisk in the remaining 50g/2oz of butter.
Season with salt and white pepper. Serve the hot soup in bowls.
There is an optional garnish which can be found at the link to the recipe.
From BBC Food.
November 14, 2019 by General Administrator
Much as I'm excited to get back to my favourite celeriac recipe (Celeriac Pasta Ribbons Weekly update Jan 3 2019), I'm in desperate need of replenishing my lunch stores at the moment and nothing is better than a good autumnal soup. This should use a few different items from this weeks share, so enjoy!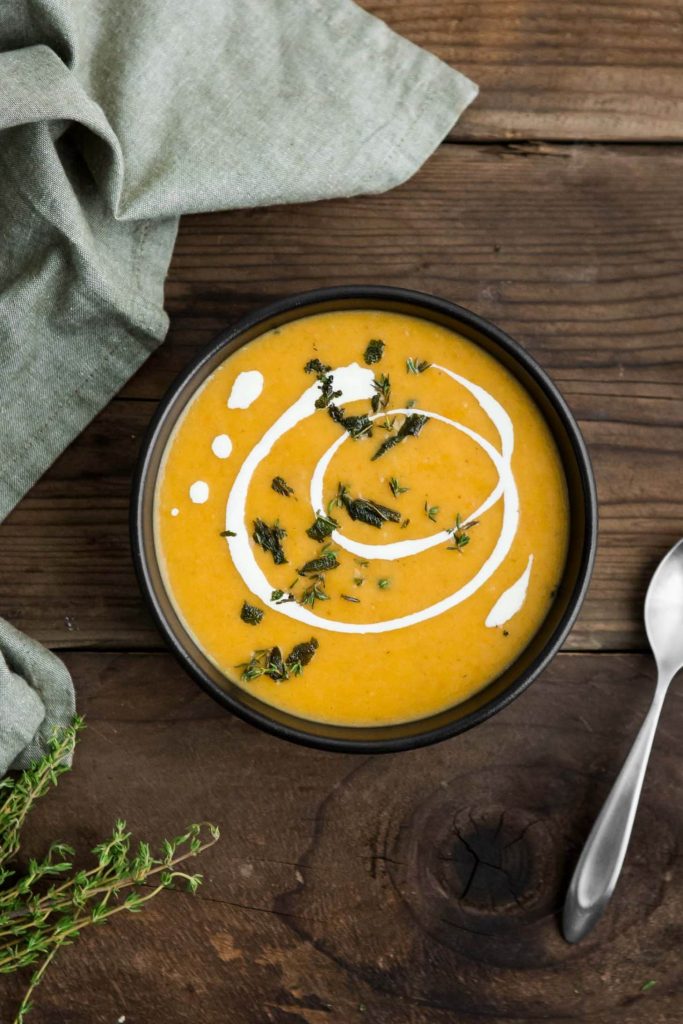 Celeriac soup with thyme
Prep Time: 15 minutes
Cook Time: 45 minutes
Total Time: 60 minutes
Yield: 2 large servings
Ingredients:
1 medium celeriac
2 carrots
2 medium potatoes
1 medium shallot (or onion if not)
2 cloves large garlic
4 tablespoons olive oil
1/4 teaspoon salt
0.75 to 1L veg stock
5 sprigs thyme
10 fresh sage leaves (I'll probably use dried sage to save a trip to the shops)
1 to 2 tablespoons heavy cream (optional)
Preparation:
Preheat oven to 220° C (might need turning down!)
Cut off skin and roots of celeriac. Dice celeriac, carrots, and potatoes into 1cm cubes. Place on a baking sheet or in roasting pan. Roughly mince shallot and garlic. Add to dice vegetables. Drizzle with 2 tbsn olive oil and sprinkle with salt. Toss until all the vegetables are well coated. Roast in the oven 35 to 40 minutes or until the vegetables are beginning to caramelize and brown.
While vegetables are roasting, heat 2 tablespoons olive oil over medium-high heat until hot. Fry sage, 3 to 4 leaves at a time until crisp. Remove from heat and set aside.
When vegetables are done roasting, transfer them into a blender. Add thyme leaves from 5 sprigs into blender with most of vegetable stock. Puree until smooth. Add more vegetable stock to achieve the consistency you desire.
Transfer soup to a medium pot. Bring to boil over medium heat. Serve with crispy sage, extra thyme and a drizzle of heavy cream.
If you are using an immersion blender consider peeling the potatoes before roasting to achieve a smooth consistency in the soup.
The soup consistency is on the thicker side. After pureeing, add more stock if desired to get a thinner soup.
Taken from: https://naturallyella.com/celeriac-soup/
March 15, 2019 by General Administrator
According to Claudia Roden, this creamy, lemony sauce is 'one of Turkey's culinary signature tunes'. Warm and eggy, it provides a delicate contrast to more robust vegetables such as celeriac or poached leek. It's as if they've been given a luxurious bath in something rich and comforting. I like to serve this on a base of shredded greens, but you can omit that if you'd prefer. It would also go well with rice, and Roden recommends serving it alongside a lamb stew. It's very easy.
Celeriac with Egg-Lemon Sauce
Serves 2
Ingredients
800g celeriac
1 lemon
1 teaspoon sugar
Salt and pepper
2 egg yolks
Shredded greens, to serve
Preparation
Peel the celeriac with a sharp knife and cut it into ¾-inch cubes. Put the cubes into a pan and just cover with cold water. Add the sugar, some salt, and the juice of half the lemon. Bring to a boil and then simmer, covered, for about 20 minutes, or until tender.
While the celeriac is cooking start to prepare the egg-lemon sauce: in a small saucepan whisk the egg yolks with the juice of the remaining half-lemon, some pepper, and a bit more salt. Set aside until the celeriac has finished cooking.

Put the shredded greens into a serving dish.

Drain the celeriac, but make sure to keep a few tablespoons of water to use in the sauce. Arrange the celeriac cubes on top of the greens.

Whisk 2 tablespoons of the cooking water into the egg-lemon mixture and place the pan over low heat. Stir constantly for a few minutes, until the mixture has just begun to thicken. Don't let this get too hot, or stop stirring, lest the mixture curdle. Pour the egg-lemon sauce over the vegetables and serve.
Recipe adapted form Claudia Roden, Arabesque (2009).
January 3, 2019 by General Administrator
Since we're getting celeriac this week I thought I would share this recipe with you since I thought it was amazing last time we got it in the share (my first taste of celeriac in fact!) I guess the chard in the recipe can be replaced with the spinach this week too 🙂
Celeriac ribbons tossed with chard, garlic & pumpkin seeds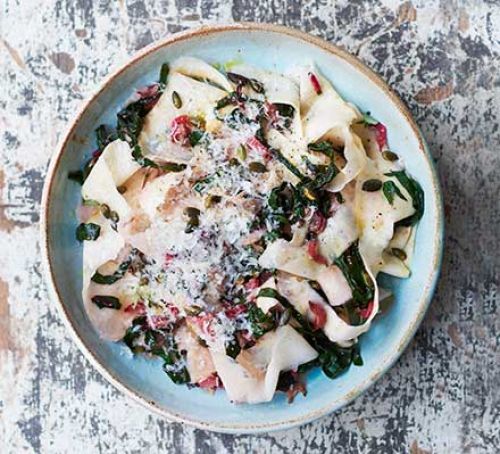 Ingredients
1 small celeriac, peeled
1 lemon, juiced
40g pumpkin seeds
2 tbsp extra virgin olive oil
15g butter
4 thyme sprigs, leaves removed
2 finely chopped cloves of garlic
½ tsp of dried chilli flakes
1 bunch of chard, leaves separated from stalks, stalks sliced and leaves shredded
20g pecorino
Method
Using a good vegetable peeler, cut long, wide strips (about the width of pappardelle) around the circumference of the celeriac, into a bowl of water and lemon juice, until you have lots of ribbons. Allow for more than you would if using pasta.
Dry-fry the pumpkin seeds in a pan until they've puffed and popped. Set aside.
Bring a large pan of salted water to the boil. Add the celeriac for 1 min, drain and reserve the water. In a non-stick frying pan, heat the oil and butter until the butter has melted and foamed up. Add the thyme, garlic and chilli.
Cook the garlic mixture for 5 mins until fragrant and almost golden, add the chard stalks and stir, cooking for a couple more mins. Add the pumpkin seeds and the chard leaves, season and squeeze in some lemon juice. Turn up the heat and stir in half the grated cheese. Add the celeriac and a slosh of the cooking water and toss, shaking the pan until the sauce looks glossy. Divide between plates, top with more cheese and serve.
Recipe from Good Food magazine, October 2017 and available online at: https://www.bbcgoodfood.com/recipes/celeriac-ribbon-pasta-tossed-chard-garlic-pumpkin-seeds
February 23, 2018 by General Administrator
This is a great way to use up odds and ends of fresh veg, and leftovers too. You can use more or less whatever you fancy from the list, though I do think some kind of onion is essential. As the egg is poured straight into the roasting dish full of hot veg, you don't need to fry this frittata at all, but it helps to have a heavy ceramic or cast-iron dish, which retains the heat well. And the eggs should be at room temperature, not cold from the fridge.
Oven-roasted roots frittata
Ingredients
About 600g mixed winter veg, such as onions, carrots, squash or pumpkin, parsnip, celeriac, beetroot, jerusalem artichokes, black spanish radish, potatoes
1 large garlic clove, finely chopped
3 tablespoons rapeseed or olive oil
7 large or 8 medium eggs
A handful of mixed herbs, such as curly parsley, chives and thyme, finely chopped
About 20g Parmesan, hard goat's cheese or other well-flavoured hard cheese, grated
Sea salt and freshly ground black pepper
Method
Preheat the oven to 190°C/Gas Mark 5. Meanwhile, prepare your chosen veg: peel shallots or onions and quarter or thickly slice; peel carrots and cut into 5mm slices; peel squash or pumpkin, deseed and cut into 2–3cm cubes; peel parsnip, celeriac and beetroot and cut into 1–2cm cubes; cut potatoes into 1–2cm cubes.
Put all the veg into an ovenproof dish, about 23cm square. Add the garlic, oil and plenty of salt and pepper and toss well. Roast for about 40 minutes, stirring halfway through, until the veg are all tender and starting to caramelise in places.
Beat the eggs together with the chopped herbs and some more salt and pepper. Take the dish from the oven, pour the egg evenly over the veg and scatter over the grated cheese. Return to the oven for 10–15 minutes until the egg is all set and the top is starting to colour. If your oven has a grill, you can use that to accelerate the browning of the top.
Leave to cool slightly, then slide the frittata out on to a plate or board. Serve warm or cold. Perfect lunchbox fare…
Thanks to River Cottage
January 18, 2018 by General Administrator
Celeriac rémoulade, shredded celery-root salad, is a familiar sight in French delis, alongside shredded carrot salad. It's very easy to make and surprisingly elegant. The fresh, wood-sy taste of the celeriac provides a good contrast to richer flavours, so this goes particularly well with pork, and also lentils.
The only trick is to make sure you use a good mayonnaise. If you have a stick (immersion) blender, then it couldn't be easier to make some yourself.
Celeriac remoulade
Serves 2-3 as a side dish.
Ingredients
3 tablespoons good mayonnaise
1 tablespoon good mustard. I like to use a grainy variety
3 tablespoons double cream, crème fraîche, or wholemilk yoghurt
3 tablespoons parsley, chopped
1 medium celeriac (about 450g)
juice of half a lemon—and perhaps the other half as well
1-2 tablespoons capers, optional
1-2 tablespoons gherkins, chopped, optional
salt and pepper, to taste
Preparation
Mix together the mayonnaise, mustard, cream or yoghurt, and parsley.
Peel the celeriac, either with a knife or a robust vegetable peeler. Shred it into shreds. The size is up to you—aim for anything between a matchstick and the coarse side of a standard box grater. Toss them with the lemon juice so that they don't discolour.
Toss with the mayonnaise dressing. Add the capers and/or gherkins, if you wish, and season with salt and pepper to taste. Check to see if you think it would benefit from a bit more lemon juice, or a bit more mustard.
It's better if you leave it for about 30 minutes, but it's pretty good just as it is.
Recipe adapted from Nigel Slater.