January 7, 2021 by General Administrator
I wasn't sure Celeriac soup was a good choice, but we've had a few Celeriacs recently and I fancied a change. It was a pleasant surprise, then, that this turned out to be super tasty in an intensely savoury way. Even better was that we risked eating it after forgetting to put it away overnight and so far we have survived!
Cream of celeriac soup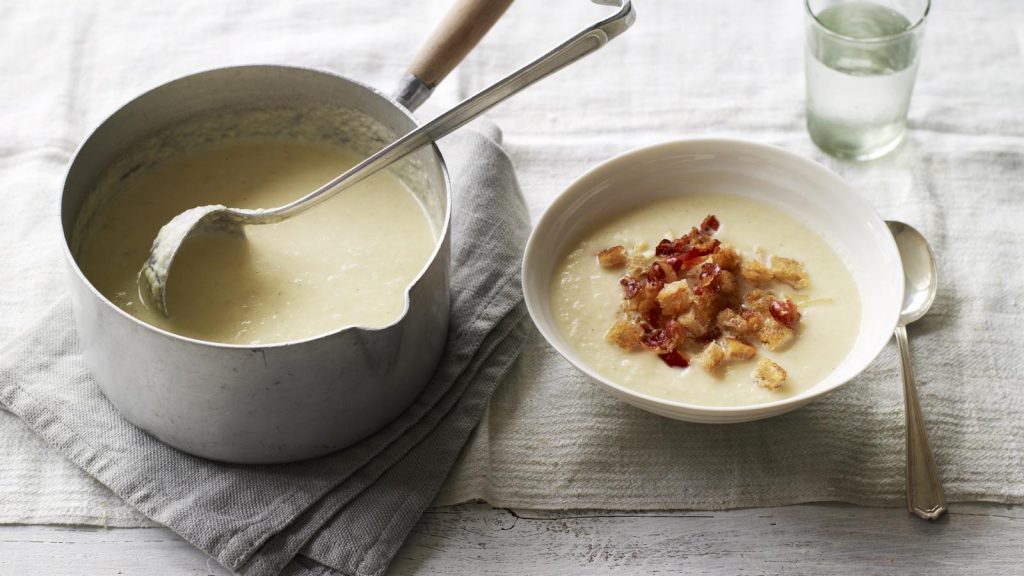 Ingredients
For the soup
75g/3oz butter
1 onion, finely chopped
50g/2oz streaky bacon, cut into small pieces (optional)
2 garlic cloves, finely chopped
1 leek, white only, finely chopped
1 stick celery, finely chopped
2 thyme sprigs, leaves picked
700g/1lb 8oz celeriac, peeled and cut into small cubes
1 litre/1¾ pint vegetable stock
200ml/7floz double cream
salt and white pepper
Method
For the soup, heat a large frying pan or saucepan until medium hot, add 25g/1oz of the butter, the onion and bacon and fry for a couple of minutes to just soften. Add the garlic, leek, celery and thyme sprigs and fry for another minute; then add the chopped celeriac. Pour in the stock and bring to the boil, then reduce the heat to a simmer and cook for 10-15 minutes, or until the celeriac is just tender.
Blend the soup to a fine purée using a stick blender or a blender. Return to the heat in a pan. Add the cream and whisk in the remaining 50g/2oz of butter.
Season with salt and white pepper. Serve the hot soup in bowls.
There is an optional garnish which can be found at the link to the recipe.
From BBC Food.