May 4, 2023 by General Administrator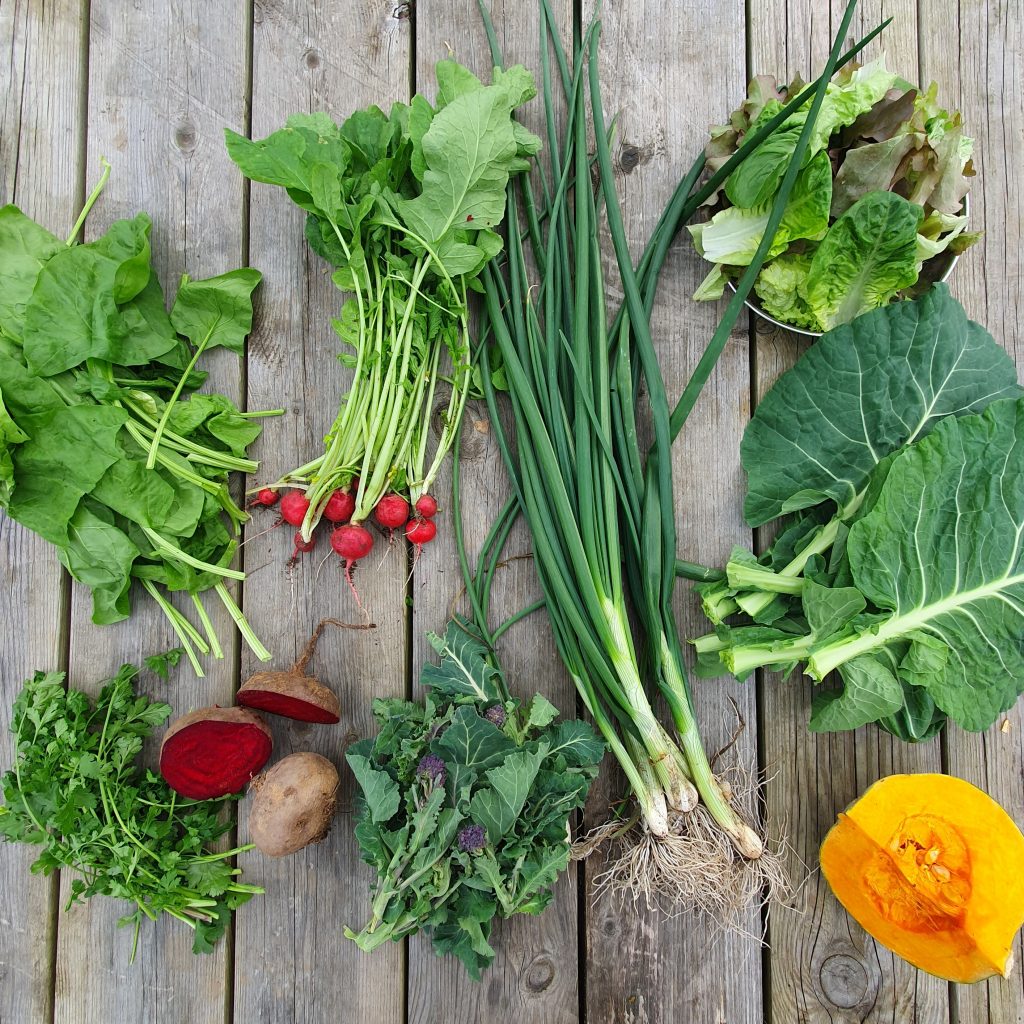 We're coming into the time of year for the earliest crops and, especially where they are roots, the young tender leaves can be as much an ingredient as the root veg. This is why we include them in the weight of the share – you will take the roots with any attached leaves in the weight for your size of share and get 2 share items in one!

Here are some insights about what might be coming in the share and ideas for how to make the most of all the edible parts. As a general rule, they all work well added to/as a basis for pesto, and in hummus, as well as like other greens in soups, stir fries and smoothies.

Radish tops:
As appeared in the share this week
The slightly rough/prickly texture on the surface of the leaves is lost with cooking
Try:
Chopped and used in stir fries, soups etc, as for any other green
One of the 5 ways suggested here

Carrot tops:
Will be in the share on the first baby carrots
Try:
Carrot top pesto
Roasted baby carrot and grain salad with carrot top dressing
More ideas and recipes here

Beet tops:
Similar to chard
Come with the first baby / early season beetroots
Try:
Braised beet tops with lemon juice
A number of ideas from Oddbox

Fennel tops/fronds:
Basically dill, and always plentiful on our fennel bulbs!
Try:
One of the 10 ways suggested here including in a pesto and salads, as a herby flavouring, in juices and curries

Celery tops:
Full of flavour and a great ingredient for a variety of uses
Try:
One of the 5 ways suggested here including in soups, to flavour salt and in a pesto
Ideas from Ali

March 9, 2023 by General Administrator
This light, spring-some stew is green from the peas and spinach, and full of subtle fennel flavour. A punchy garlic mayonnaise adds richness and complexity. It's really good with sourdough bread.
When we served this a week ago the guests were very surprised to learn the recipe comes from Sainsburys Magazine.
Simple Fish Stew with Aioli
Serves 4
Ingredients
For the Aioli
1 teaspoon salt
3 cloves garlic, peeled
1 egg yolk
1½ teaspoons lemon juice (or more to taste)
150ml olive oil
For the Fish Stew
2 tablespoons olive oil
400g celery stalks, finely chopped
400g fennel bulb, finely chopped
300g onions, finely chopped
3 springs dried or fresh thyme
Salt and pepper, to taste
3 bay leaves
1 teaspoon fennel seed
3 whole cloves
4 strips pared lemon zest
600-800ml water or fish/vegetable/chicken stock
800g skinless haddock or pollock fillets, cut into 4cm-wide chunks
3 tablespoons Pernod or other anise-flavoured liqueur
200g frozen peas
200g fresh spinach
To Serve
The aioli
Lemon wedges
Pepper flakes, if desired
Method
For the Aioli
Crush the salt and garlic in a mortar and pestle and place in the mini-bowl of a food processor, or the mixing container of your hand-blender. Add the egg yolk and lemon juice. Wizz up. With the motor running, very slowly drizzle in the olive oil, drop by drop. Continue adding the oil very slowly until the mixture begins to thicken, at which point you can increase your rate of drizzling in the oil to a thin stream. The mixture should thicken up nicely to form a thick mayonnaise. Set aside to let the flavours mellow.
For the Fish Stew
Heat a large pan with a lid over medium heat and add the oil. Once it is warm add the celery, fennel and onion, along with a pinch of salt and a grind of black pepper. Stir, reduce the heat to low, add the lid, and cook very gently for 5-15 minutes, until the vegetables are soft but not coloured. Add the herbs and spices, and strips of lemon, and stir for a few more minutes. Add 600ml of liquid and bring to a simmer. Simmer for 5 minutes (maybe 10 if you're using water), to let the flavours meld. Now take a look: if there is not enough liquid to your taste, add the remaining water or stock and bring to a simmer.
Add the chunks of fish, cover again, and cook over low heat for about 3 minutes, or until the fish is beginning to look opaque on the top. Add the Pernod, peas and spinach and replace the lid. Turn the heat to medium and continue to cook for 2-3 more minutes, or until the spinach has wilted. The fish should be opaque on the top. Stir gently to blend everything together.
To Serve
Taste the aioli. Add more lemon juice, salt or pepper if you think the flavour needs boosting. Fish the bay leaves, cloves and thyme stems out of the stew if you wish (and can find them.)
Serve the stew, and let each person add a dollop of aioli to their bowl. Provide some lemon wedges and perhaps some red pepper flakes so people can personalise their bowl to taste. This is very nice served with good bread, and perhaps an additional drizzle of olive oil on both stew and bread.
Recipe adapted from Sainsburys Magazine, Feb. 2023
October 14, 2022 by General Administrator
This salty, sweet and crunchy salsa pairs perfectly with the rich, oily mackerel. The Ottolenghi team urge you to use 'good quality' olives and 'plump' raisins. This dish works well alongside another Ottolenghi dish: quinoa and red Camargue rice salad with orange and pistachios:
Grilled Mackerel with Green Olive, Celery and Raisin Salsa
Serves 4
Ingredients
For the Salsa
125g celery stalks, thinly sliced
60g green olives, pitted and thinly sliced
3 tablespoons capers, rinsed
70g raisins
1½ teaspoons sherry vinegar
60ml olive oil
3 tablespoons runny honey
15g parsley, roughly chopped
Salt and pepper, to taste (if necessary)
For the Fish
2 tablespoons olive oil
4 mackerel fillets
Salt and pepper
Method
For the Salsa: Stir together the salsa ingredients aside from the salt and pepper, and leave to sit for at least 15 minutes. Longer is fine. Taste the result: it should be sweet, sour and salty. Add salt or pepper if you think it necessary.
For the Fish: Heat a frying pan over medium-high heat and add the olive oil. When it is hot add the mackerel fillets, skin side down. Leave them alone for 2 minutes: resist the urge to move them about in the pan. By this point the flesh on the side facing up should begin to cook. Carefully flip the fish over and cook for another 1 to 2 minutes more, or until it is just cooked. Remove the pan from the heat.
To serve, place the fish on a serving platter and top with spoonfuls of salsa.
Recipe adapted from Yotam Ottolenghi and Sami Tamimi, Ottolenghi The Cookbook (2008).
January 7, 2021 by General Administrator
I wasn't sure Celeriac soup was a good choice, but we've had a few Celeriacs recently and I fancied a change. It was a pleasant surprise, then, that this turned out to be super tasty in an intensely savoury way. Even better was that we risked eating it after forgetting to put it away overnight and so far we have survived!
Cream of celeriac soup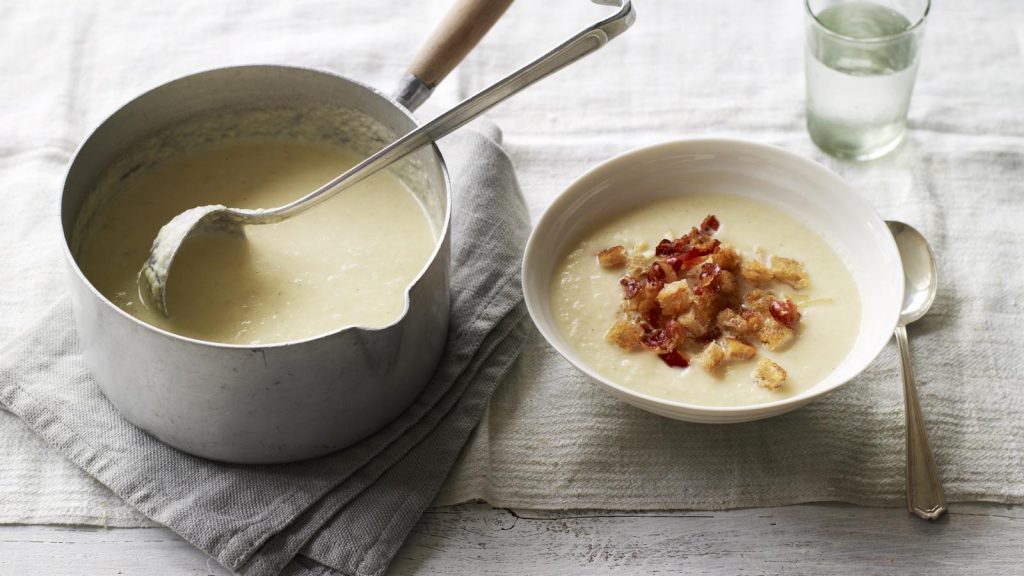 Ingredients
For the soup
75g/3oz butter
1 onion, finely chopped
50g/2oz streaky bacon, cut into small pieces (optional)
2 garlic cloves, finely chopped
1 leek, white only, finely chopped
1 stick celery, finely chopped
2 thyme sprigs, leaves picked
700g/1lb 8oz celeriac, peeled and cut into small cubes
1 litre/1¾ pint vegetable stock
200ml/7floz double cream
salt and white pepper
Method
For the soup, heat a large frying pan or saucepan until medium hot, add 25g/1oz of the butter, the onion and bacon and fry for a couple of minutes to just soften. Add the garlic, leek, celery and thyme sprigs and fry for another minute; then add the chopped celeriac. Pour in the stock and bring to the boil, then reduce the heat to a simmer and cook for 10-15 minutes, or until the celeriac is just tender.
Blend the soup to a fine purée using a stick blender or a blender. Return to the heat in a pan. Add the cream and whisk in the remaining 50g/2oz of butter.
Season with salt and white pepper. Serve the hot soup in bowls.
There is an optional garnish which can be found at the link to the recipe.
From BBC Food.
December 31, 2020 by General Administrator
This is what you need if you have eaten a lot of rich food over the holidays. The lentil soup is soothing, but not at all boring, enlivened as it is with marinated artichoke hearts and a swirl of yoghurt. You will feel better after eating this, I promise. Note, too, that it uses some of those leeks, carrots and celery that have accumulated in your fridge from the double share.
Lentil Soup with Artichoke
Serves 4
Ingredients
2 tablespoons olive oil
2 leeks, trimmed, halved lengthwise and sliced thin
3 medium carrots, peeled, halved lengthwise and sliced thin
4 celery sticks, sliced thin
1 heaped tablespoon grated fresh ginger
1 Canalside chile, left whole
4 cloves of garlic, peeled and chopped fine
250g green lentils
2 tablespoons cider vinegar
1.5l stock or water
1 teaspoon salt
5 heaped tablespoons coarsely chopped parsley
120g artichoke hearts from a jar, drained and sliced thin, to serve
plain or Greek yoghurt, to serve (if desired)
Preparation
Heat the oil over medium heat in a large saucepan with a lid. When it is warm add the leeks, carrots, celery, ginger and chile. Fry for about 10 minutes, or until the vegetables have softened and are starting to colour.
Add the garlic and stir for a few minutes more.
Stir in the lentils, and add the vinegar and water. Bring to a boil and simmer until the lentils are tender—20-30 minutes, probably. Add some more water if they seem dry.
Purée about a third of the soup in a liquidiser or food processor, and then stir this back into the pan. Add the salt and stir in most of the parsley, keeping back a little for a garnish.
Dish into bowls and place a sliced artichoke heart in the centre of each bowl. Sprinkle the remaining parsley over the top. Serve with a spoonful of yoghurt on top, if desired.
Recipe adapted from Annie Bell, Plant Power: Protein-rich Recipes for Vegetarians and Vegans (2020).
June 11, 2020 by General Administrator
This week I thought I was going to have to go with a Celery soup recipe, but then I came across this gin cocktail which looks worth a try and I guess the celery can still be used as a soup base once it's served its alcoholic purpose!
Celery tonic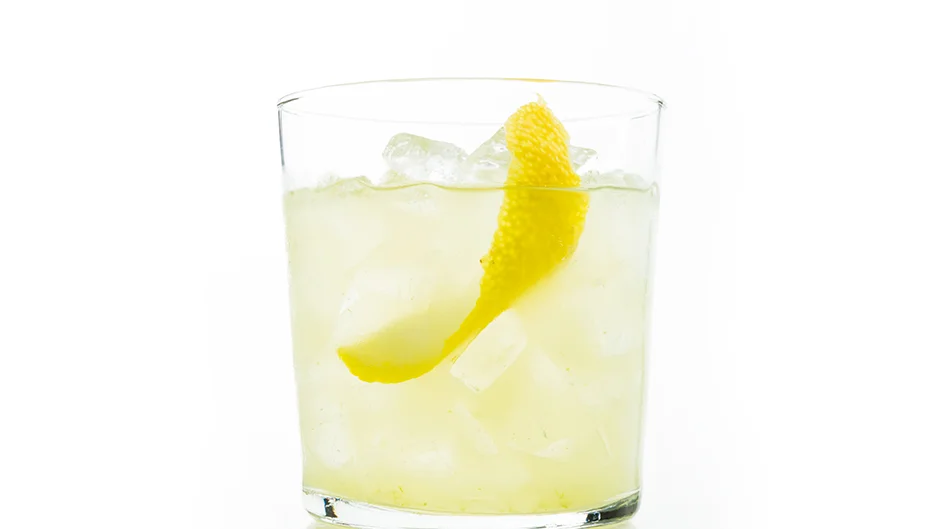 Ingredients:
1 celery stalk, chopped
1 tablespoon sugar
30ml fresh lemon juice
60ml gin
Lemon twist (for serving)
Method:
Muddle celery with sugar and lemon juice in a cocktail shaker, 1 minute. Add gin, fill shaker with ice, and shake until outside of shaker is frosty, about 30 seconds. Strain into a rocks glass filled with ice and garnish with a lemon twist.
Taken from: https://www.bonappetit.com/recipe/celery-tonic
February 27, 2020 by General Administrator
Dishes of pickled turnips often accompany the mezzes at a Middle Eastern restaurant (or, probably, a Middle Eastern meal). Salty and pink, they are easy to make at home. You can substitute those confusing giant Spanish black radishes for the turnips, if you still have some of these in your fridge. The lovely pink colour comes from beetroot.
The ratio of turnip to beetroot is approximate.
You can sterilise jars by placing clean washed jars in a 130C oven for 20 minutes. Switch the oven off and leave the jars inside until needed. Alternatively, pour boiling water over clean jars and leave until you're ready to use them.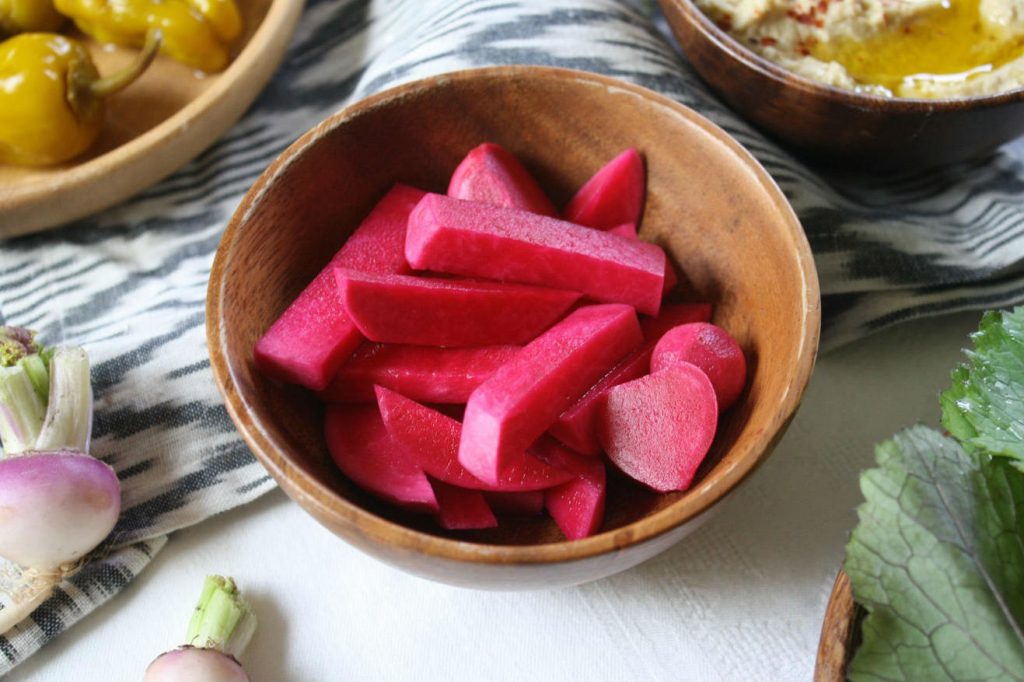 Pink Pickled Turnips
Ingredients
500ml water
3 tablespoons salt
1.5 kilos turnips or Spanish black radishes, or a mixture
250g beetroot
3-4 cloves of garlic
Handful of celery leaves
A few bay leaves (optional)
1 teaspoon whole peppercorns (optional)
2 cups white vinegar
Preparation
Boil the water and salt together for 5 minutes, then set aside to cool.
Peel the turnips or radishes, and the beetroot, and cut into wedges. (The size does not matter a great deal; cut them into the size you'd like to eat.) Peel the garlic and cut each clove in half.
Layer the turnips (or radishes) in sterilised jars, packing some garlic, celery leaves, and optional bay leaves and peppercorns in between each layer.
Combine the vinegar with the water-and-salt mixture and pour this over the vegetables. Poke the vegetables down with a spoon to ensure there are no air pockets and that the vegetables are fully submerged. Seal the jar—Sally Butcher recommends putting a layer of clingfilm over the top before sealing if you're using a metal lid—and leave for at least 2 weeks and up to 6 months.
Recipe adapted from Sally Butcher, Veggistan: A Vegetable Lover's Tour of the Middle East (2011).
October 19, 2018 by General Administrator
Is that head of celery from a fortnight ago still lurking in the back of your fridge? Here is what to do with it.
Creamy Celery and Fennel Soup
Serves 4
Ingredients
200g onions
200g potatoes, peeled or not, as you prefer
200g fennel
400g celery
40g butter
1 litre water or stock
150ml Greek or full-fat yoghurt, or single cream
Salt and pepper, to taste
Reserved fennel fronds, minced, for garnish
A handful of rocket, dandelion greens or watercress, finely shredded, for garnish (optional)
Preparation
Chop all the vegetables roughly. Reserve any of the soft fronds from the fennel to use as a garnish.
Over low heat, melt the butter in a pan with a lid. Once it has melted add the vegetables and turn to coat in the butter. Put the lid on the pan and leave the vegetables to sweat and soften for 20 minutes, stirring occasionally.
Add the stock or water, bring slowly to a simmer, and leave to cook over low heat for another 20-30 minutes.
Liquidise the soup. Stir in the yoghurt or cream and season to taste with salt and pepper. Celery is surprisingly salty, so you may not need salt at all.
Serve garnished with the reserved fennel fronds and optional greens.
September 21, 2017 by General Administrator
It's always useful to know how to make good salad dressings. Here is one from Alexandre Dumas, son of the Alexandre Dumas who wrote The Three Mustakeers. Our Alexandre Dumas, the autor of our salad dressing, also wrote La Dame aux Camélias, which provided the plot for Verdi's opera La Traviata. So there you have it!
Alexandre Dumas' Salad Dressing
Dumas recommended serving this on a potato salad (with beetroot, sliced celery and truffles). I think it's excellent on a simple green salad. It will also be good on a dish of lightly cooked French beans. You don't need to use all of the ingredients Dumas recommends—you can leave out the chervil, or the tuna, for instance—and it will still be tasty. You can toss it yourself. When he says 'the mustard of Maille' he is referring to a particular make of Dijon mustard which is, in fact, still available, but you can use any sort of French mustard that you have to hand. You'll see that he doesn't use measurements, aside from stipulating the number of hard-cooked eggs, which should make you feel bold and free to experiment.
'Into the my salad bowl I put one hard-cooked egg yolk for every two persons; six egg yolks for a dozen guests. These I mash with oil to form a paste, to which I add: chervil, [tinned] tuna, anchovies, the mustard of Maille, a large spoonful of soya sauce, chopped gherkins, and the chopped white of the eggs. I thin this mixture with the best vinegar I can procure. Finally I put the salad back in the bowl; I have my servant toss it. Over the tossed salad I sprinkle a pinch of paprika, that is, Hungarian red pepper.'
Recipe from Alexandre Dumas, Grand Dictionnaire de Cuisine (Paris, 1873).
May 25, 2017 by General Administrator
This week the recipe comes from Dom, head grower at Canalside:
We've reached that special time known amongst pro growers as the Beetroot Bonanza: the moment in late Spring when the new polytunnel beetroot crop is ready to pick whilst storage beetroot from the previous season is still clogging up the root store. In next week's share there will be freshly harvested Chioggia beets (that's right, the stripy one) but we will also be trying to shift the remaining blood-red Jannis beetroots from last year via the Extras table, so why not grab some while you still can to make this amazing novelty ketchup! (We also suspect that quite a few members may well have a backlog of shrivelly beetroots hiding away at the back of your veg cupboard…) It's great with potato wedges, chips or anything crispy. Many thanks to Kate at www.thevegspace.co.uk for the recipe.
Ingredients
1kg beetroot (about 12 medium-sized beetroot)
2 tbsp sunflower or rapeseed oil
1 red onion, peeled and finely chopped
1 carrot, peeled and finely chopped
1 stick celery, finely chopped
2 cloves garlic, peeled and finely chopped
1 tsp ground cumin
1 chilli, finely chopped
1 tsp salt
175ml red wine vinegar
70g soft brown sugar
Instructions
1. Preheat your oven to 200C/400F/Gas Mark 6. Place the beetroot (whole and un-peeled) in a large piece of foil, drizzle with a little oil, wrap up to enclose them and place on a baking tray in the oven for an hour. After the hour is up, test each one with a sharp knife – if it passes through easily, the beetroot is cooked so remove it. Return any which aren't cooked to the oven and keep testing every 10 minutes until they are all tender.
2. When they have cooled, peel the beetroots, trim the ends and chop into small-ish pieces.
3. In a large saucepan, heat the sunflower/rapeseed oil and add the onion, carrot, celery, garlic and cumin, and cook gently for 5 minutes until softened. Add the beetroot, chilli, salt and red wine vinegar, and simmer gently for 20 minutes.
4. Remove from the heat, and leave to cool for a few minutes. Spoon the beetroot mixture into a blender or food processor, and blitz on the highest possible speed for 2-3 minutes until completely smooth.
5. Return the ketchup to the pan, then add the sugar, bring to the boil, and lower to a very gentle heat. Cook until the ketchup has reached a good consistency – mine took about 5 minutes, but it depends on the water content of your beetroot (and how thick or pourable you prefer your ketchup!).
6. When it has cooled slightly, pour into warm, sterilised bottles or jars. The ketchup will keep, (ideally in a cool, dark place), for 3 months, and once opened, in the fridge for 2 weeks.
(Rebecca will be back as soon as she escapes from the beetroot store)