February 27, 2020 by General Administrator
Dishes of pickled turnips often accompany the mezzes at a Middle Eastern restaurant (or, probably, a Middle Eastern meal). Salty and pink, they are easy to make at home. You can substitute those confusing giant Spanish black radishes for the turnips, if you still have some of these in your fridge. The lovely pink colour comes from beetroot.
The ratio of turnip to beetroot is approximate.
You can sterilise jars by placing clean washed jars in a 130C oven for 20 minutes. Switch the oven off and leave the jars inside until needed. Alternatively, pour boiling water over clean jars and leave until you're ready to use them.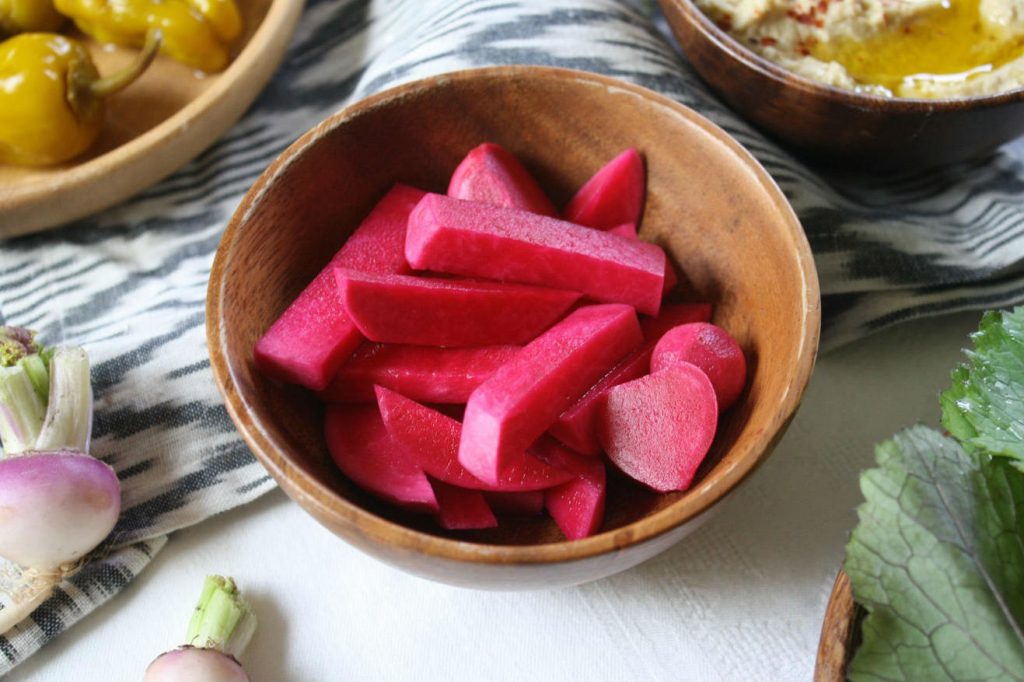 Pink Pickled Turnips
Ingredients
500ml water
3 tablespoons salt
1.5 kilos turnips or Spanish black radishes, or a mixture
250g beetroot
3-4 cloves of garlic
Handful of celery leaves
A few bay leaves (optional)
1 teaspoon whole peppercorns (optional)
2 cups white vinegar
Preparation
Boil the water and salt together for 5 minutes, then set aside to cool.
Peel the turnips or radishes, and the beetroot, and cut into wedges. (The size does not matter a great deal; cut them into the size you'd like to eat.) Peel the garlic and cut each clove in half.
Layer the turnips (or radishes) in sterilised jars, packing some garlic, celery leaves, and optional bay leaves and peppercorns in between each layer.
Combine the vinegar with the water-and-salt mixture and pour this over the vegetables. Poke the vegetables down with a spoon to ensure there are no air pockets and that the vegetables are fully submerged. Seal the jar—Sally Butcher recommends putting a layer of clingfilm over the top before sealing if you're using a metal lid—and leave for at least 2 weeks and up to 6 months.
Recipe adapted from Sally Butcher, Veggistan: A Vegetable Lover's Tour of the Middle East (2011).