March 5, 2020 by General Administrator
In the summer I went biking in the alps and was lucky enough to stay at a chalet hosted by an ex-River cottage and Heston Blumenthal employed chef (White Room MTB if anyone is interested). Every afternoon we would return to find cake ready and waiting for us and the beetroot chocolate cake below was so good I had to ask Matty to put it up on his blog!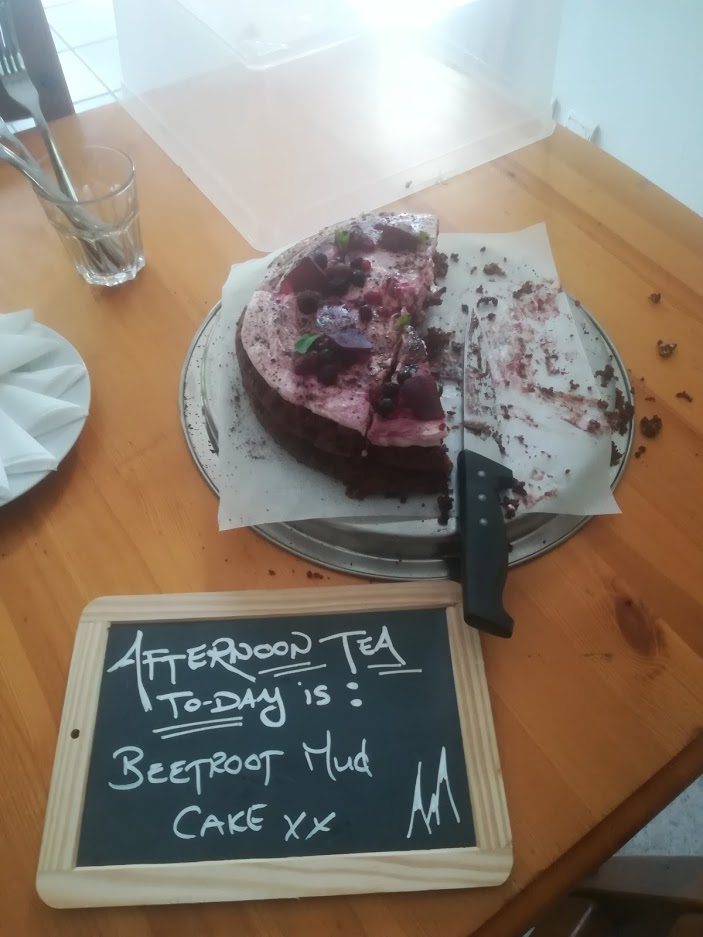 Beetroot brownie cake
Ingredients for the cake – This makes two 8-inch cake tins:
125 g dark chocolate (70% or over)
125 g unsalted butter
2 whole eggs
125 g caster sugar
1 large grated beetroot
95 g flour
40 g pure cocoa powder
1 tsp baking powder
1 tbs Butter & flour for greasing your cake tins or use baking paper.
Method:
Pre heat your oven to 175°c. Grease and line 2 x 8 inch cake tins with butter and flour or baking paper.
Gently melt butter and chocolate together using a double boiler or a microwave until melted.
Meanwhile using an electric mixer whip the sugar and eggs until light and fluffy.
Pour the melted butter and chocolate mixture into the whipped eggs and continue beating for about a minute.
Then grate a large beetroot into the mixture and stir until all incorporated.
Sift in the dry ingredients into the wet ingredients and mix until all incorporated.
Divide the mix into both cake tins and bake for about 25 to 35 minutes depending on your oven. When the cake is ready it will be soft but not a raw liquid wobble if you know what I mean. If it's still batter keep it cooking.
Once cooked take out of the oven and let it cool on the side until ready to garnish.
This cake is good as is. However covering anything with cream and more chocolate will always be better 😂😉
Assemble as you like and enjoy. Bon Appetit! Xx