May 20, 2021 by General Administrator
Beetroot with feta, or goat cheese, is a classic combination, but other cheeses are available. Cheddar, for instance. Lentils add bite and substance to this salad, and the mustard brings a complementary zing that combines well with the cheddar. You can use either red or yellow beetroot in this salad, which makes a good lunch or simple supper.
Beet and Lentil Salad With Cheddar
Serves 4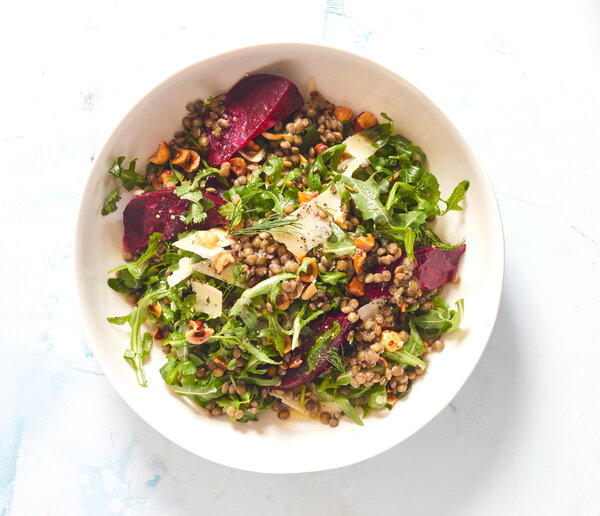 Ingredients
For the salad:
500g beetroot
300g green lentils, rinsed
1 garlic clove, smashed
1 teaspoon salt
approx. 2 cups rocket or another green such as shredded Swiss chard
5g dill, parsley, mint or coriander, roughly chopped
50g Cheddar, roughly crumbled
handful walnuts or hazelnuts, toasted in a dry frying pan for a few minutes
For the apple cider vinaigrette:
1 small garlic clove, grated
2 tablespoons apple cider vinegar
3 tablespoons extra-virgin olive oil
1 tablespoon maple syrup or brown sugar
½ teaspoon Dijon mustard
¼ teaspoon salt
several grinds of freshly ground pepper
Preparation
Place the beetroot in a microwave-proof bowl. Add 1 cup water to the bowl and cover the bowl tightly with clingfilm. Microwave for 20 minutes. By now the clingfilm should have collapsed tightly onto the beetroot, creating a sort of vacuum-seal. With your finger prod the beetroot through the clingfilm to see how soft it is. If it feels tender, the beetroot is done. If not, put it in for another 5 minutes and test it again. Keep going until the beetroot feels tender. Once it's done, remove it from the microwave, peel back the clingfilm, drain, and set aside.
Meanwhile, cook the lentils: in a medium pot, add the lentils, salt, garlic and 1 litre of water. Bring to a boil over high. Reduce heat to medium, cover and simmer for 20 to 25 minutes until just tender. (The lentils should still have some bite). Drain in a colander and stir to break up and evenly distribute the garlic. Let the lentils cool slightly.
Once the beetroot is cool enough to handle, set about peeling it. The peel should come off fairly easily with a knife. Cut the beetroot into 1cm cubes, or slice into small wedges.
While the lentils cook, prepare the vinaigrette: in a large serving bowl, whisk the garlic, vinegar, oil, maple syrup and mustard with the salt and pepper. Add the warm lentils to the serving bowl, then add the beets, greens, nuts and herbs. Toss together and then stir in the the cheese. Don't stir too vigorously, because you don't want the cheese to turn crimson from the beets, and serve.
Recipe adapted from Hetty McKinnon, New York Times Cooking
April 16, 2021 by General Administrator
As always I continue to try to find new ways to enjoy roasted beetroot as it takes us through the winter and this week I think I've found a good one. Either a fun lunch or a dinner padded out with some nice bread, you choose!
Warm lentils with roasted beets, wilted chard & goat cheese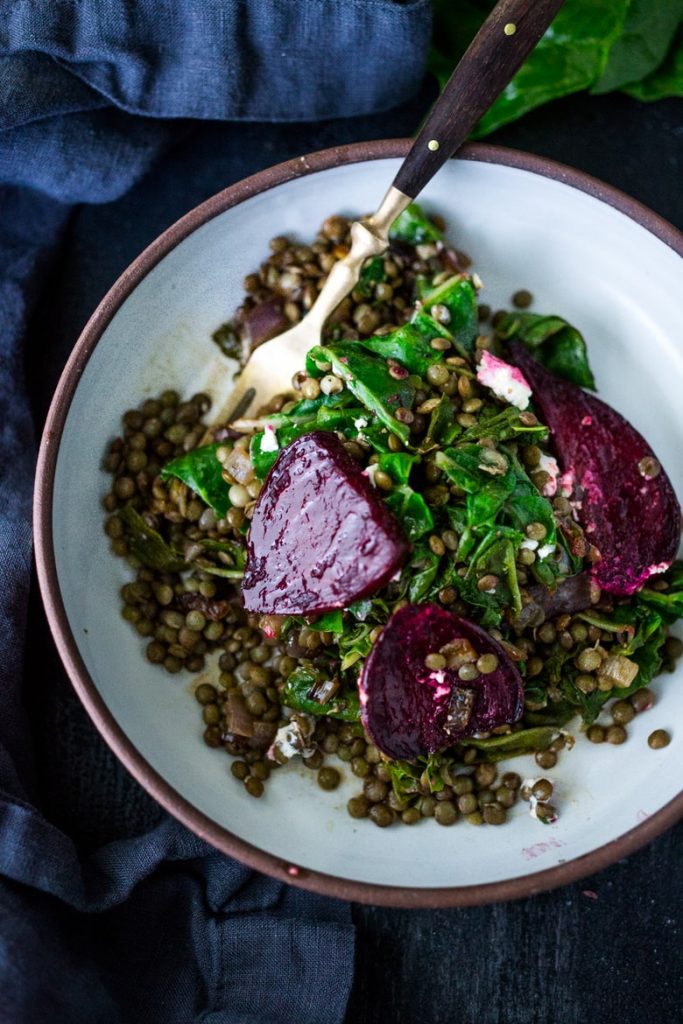 Ingredients
3–4 beetroot ( enough for 2 people)
2 cups cooked lentils
2 tablespoons olive oil
½ a red onion- diced
3 garlic cloves- rough chopped
4 cups (packed) swiss chard or rainbow chard- chopped (or sub beet greens, spinach)
salt and pepper to taste
1 tablespoon balsamic vinegar, more to taste
¼ cup goat cheese crumbles
2–3 tablespoons fresh basil, or parsley.
Instructions
Preheat oven to 220C. Scrub and trim beetrot and cut into ½ inch slices or wedges. Drizzle with olive oil and roast until tender, about 25- 30 minutes.
If cooking lentils, place ¾ cup dried lentils in a small pot and cover with 3 inches of water and a pinch salt. Bring to a boil, cover and turn heat down to a simmer, cook about 25-30 minutes or until tender but still hold their shape. Drain.
In a large frying pan, heat 2 tablespoons oil over medium high heat. Add diced onion and saute 3-4 minutes. Turn heat down to medium, add garlic and cook 2 more minutes, until golden and fragrant.
Lower heat to medium low. Add chard and gently wilt, just slightly, about 2-3 more minutes. Season with salt and pepper.
Add 2 cups cooked lentils to the frying pan, gently folding them in and warming. Season again with salt and pepper.
Add beetrot and splash with 1 tablespoon balsamic vinegar. Let vinegar cook down for just a couple of minutes so it's not so acidic. Taste, add more vinegar if you like, cooking it down. Sprinkle with goat cheese and herbs. Taste again, if it tastes bland it most likely needs salt. Serve immediately.
From https://www.feastingathome.com/warm-lentils-wilted-chard-roasted-beets-and-goat-cheese/
November 19, 2020 by General Administrator
Chard is a common green throughout the winter, but with this recipe I hope to bring back a taste of the summer. I haven't tried it yet but I'm expecting it to make a good tasty lunch!
Tzatziki yogurt dip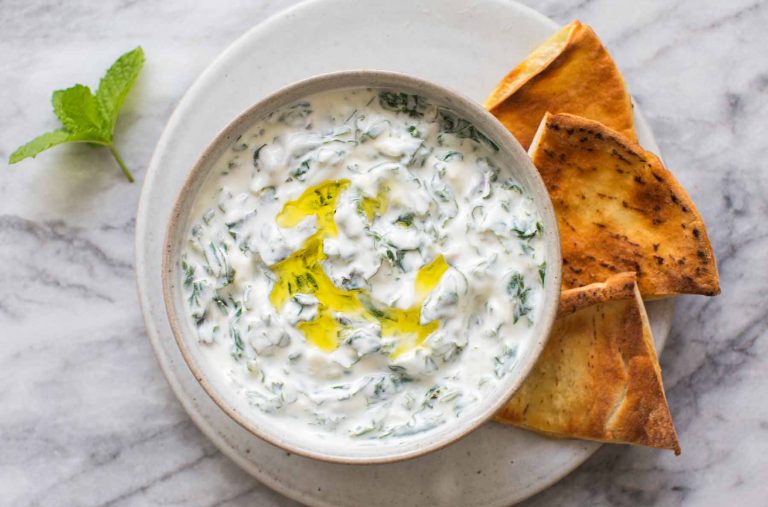 Ingredients:
3 to 4 large leaves of Swiss chard, ribs removed
1 cup plain Greek yogurt
1 1/2 Tbsp chopped fresh mint leaves
1 garlic clove, finely chopped
1/4 teaspoon salt
1 Tbsp extra virgin olive oil
1 teaspoon lemon zest
1 Tbsp lemon juice
Pita chips:
3 (9-inch diameter) pita breads, cut like a pie into triangles
Olive oil for drizzling on to the pita bread
Method
1 Blanch and chop the chard: Bring a 1 or 2 quart saucepan, half filled with water, to a boil. Add the chard leaves. Cook until tender, about 3 minutes.
While the chard is cooking, prepare a bowl with ice water for an ice bath. When the chard is cooked, remove it with a slotted spoon and put into the ice bath to stop the cooking.
When the chard has cooled, remove it from the ice water and bunch it into a ball. Wrap it in a paper towel and squeeze hard to remove excess moisture.
Chop up the chard.
2 Combine tzatziki ingredients: Put the Greek yogurt, chopped chard, chopped mint, garlic, salt, olive oil, lemon zest and lemon juice in a medium bowl. Stir to combine. Chill until ready to use (can make up to 3 days ahead).
3 Toast the pita bread: Cut the pita bread into triangles and layout in one layer in a grill pan (use a sturdy sheet pan or grill pan, not a thin baking sheet or your baking sheet will warp).
Drizzle olive oil on one side of the pita wedges. Use a pastry brush to spread the olive oil more evenly.
Place under the grill. Grill for 5 minutes or until the pita bread starts to toast. Remove and let cool for a minute.
4 Serve: Drizzle the tzatziki with a little olive oil and serve with toasted pita wedges.
Adapted from: https://www.simplyrecipes.com/recipes/swiss_chard_tzatziki_yogurt_dip/
September 19, 2019 by General Administrator
This week I'm keeping it simple and taking a little inspiration from a recent roadtrip to Italy. The spinach and tomato are pretty core to the dish but feel free to pick and choose from the rest of the list depending what you've got – I use an app called plant jammer to figure out what things might go well together.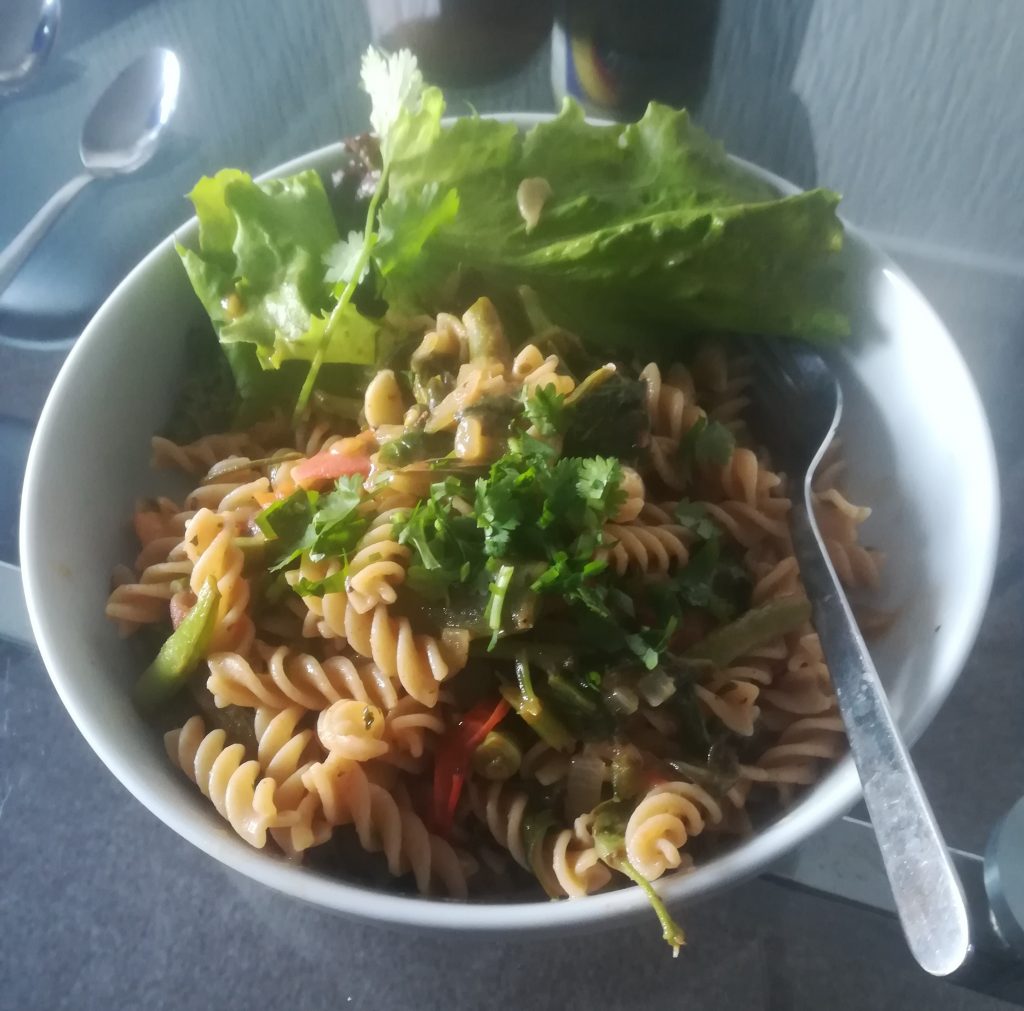 Core Ingredients (for 1 person):
Pasta of your choice, 2 handfuls
Fresh Tomatoes, 1 large handful
Spinach (or other greens depending on share), 3 handfuls
Basil, small handful
Garlic, 1 clove
Lemon Juice 0.5-1 tablespoon or to taste
Olive Oil, 2-3 tablespoons or to taste
Mixed herbs, 1 teaspoon
Optional extras:
Black olives, small handful
Walnuts, small handful
Onion, 1 medium
Green/French Beans, about 3cm bundle
Method:
First chop all your veg; tomatoes into quarters, spinach may need stems chopping down to manageable size, garlic minced or thin slices, onion diced
Next get the pasta on the boil – when it's ready remember to keep the water!
Whilst the pasta cooks, fry off onion and garlic, then add tomatoes, spinach and any optional extras and fry at a medium heat.
The pasta should be ready about the same time as the veg is cooked. Before draining, add the olive oil to the veg and then add a few sloshes of the pasta water – the starch helps make a good sauce! Then add the lemon juice, basil and mixed herbs and stir it all together until you have a nice shiny consistent sauce. Season with salt and pepper.
Drain the Pasta and add to the pan, mix and serve with some salad on the side and a little chopped coriander on top.
August 30, 2019 by General Administrator
Rebecca's Recipe of the Week: Buckwheat dosa with coconut chutney and greens
Another easy and delicious recipe from Meera Sodha. She writes: 'This dish consists of three separate elements: the dosa batter, the coconut chutney and the vegetable filling. . . The key to success is to make [the dosas] in a nonstick pan on a very high heat – it needs to be very hot indeed – and make sure you leave them to crisp up properly before even thinking about flipping them with a spatula. The first pancake will inevitably fail – such is the universal law of pancakes – so make it a small one, so as not to waste too much batter'.
Buckwheat dosa with coconut chutney and greens
Serves 3
Ingredients
100g desiccated coconut
Salt
180g buckwheat flour
6 tbsp oil, plus extra for brushing
12 fresh curry leaves
1 tablespoon cumin seeds
1 tablespoon black mustard seeds
3 garlic cloves, peeled and minced
2cm ginger, peeled and grated
1-2 green chillies, finely chopped (or to taste)
400g chard or spinach, leaves shredded, tough stalks roughly chopped
200g frozen peas
Preparation
Put the desiccated coconut in a heatproof bowl with a third of a teaspoon of salt, cover with 275ml boiling water and leave to soak for at least 30 minutes.
Meanwhile, put the buckwheat flour in another bowl with half a teaspoon of salt. Slowly pour in 450ml water, mix to a thin batter, then set aside.
Put the oil in a nonstick frying pan and get it really hot, then add the curry leaves, cumin, mustard seeds, garlic, ginger and chillies, and fry for two to three minutes, until the garlic turns a pale gold. Carefully tip into a jug to cool. Keep the pan for later.
When the spiced oil has cooled, stir two tablespoons into the coconut mix, and another two tablespoons into the buckwheat batter. Tip the coconut into a blender and blitz until really smooth (add a little more water, if need be).
Reheat the frying pan over a high heat and, when hot, add the rest of the spiced oil, followed by the chard or spinach stalks. Fry, stirring, for three minutes, then add the leaves and cook until wilted. Throw in the peas, cook for a couple of minutes, until everything is nice and hot, then stir through a couple of tablespoons of the coconut chutney. Scrape out into a serving dish, wipe the pan clean with kitchen paper and put back on the heat.
Once the pan is really hot, brush the surface with a fine layer of oil. Add a small ladleful of batter and swirl it into a thin layer – a few gaps and bubbles are fine, because they can help the dosa get crisp. Cook the dosa for two minutes, until the edges are visibly crisp and browning, then gently lever up with a spatula, flip and cook for a further two minutes on the other side, before turning it out on to a plate. Repeat with the remaining batter, oiling the pan between each dosa.
Stuff the dosas with the greens and serve with the remaining chutney on the side.
Recipe adapted from Meera Sodha, The Guardian, 13 July 2019.
March 15, 2019 by General Administrator
According to Claudia Roden, this creamy, lemony sauce is 'one of Turkey's culinary signature tunes'. Warm and eggy, it provides a delicate contrast to more robust vegetables such as celeriac or poached leek. It's as if they've been given a luxurious bath in something rich and comforting. I like to serve this on a base of shredded greens, but you can omit that if you'd prefer. It would also go well with rice, and Roden recommends serving it alongside a lamb stew. It's very easy.
Celeriac with Egg-Lemon Sauce
Serves 2
Ingredients
800g celeriac
1 lemon
1 teaspoon sugar
Salt and pepper
2 egg yolks
Shredded greens, to serve
Preparation
Peel the celeriac with a sharp knife and cut it into ¾-inch cubes. Put the cubes into a pan and just cover with cold water. Add the sugar, some salt, and the juice of half the lemon. Bring to a boil and then simmer, covered, for about 20 minutes, or until tender.
While the celeriac is cooking start to prepare the egg-lemon sauce: in a small saucepan whisk the egg yolks with the juice of the remaining half-lemon, some pepper, and a bit more salt. Set aside until the celeriac has finished cooking.

Put the shredded greens into a serving dish.

Drain the celeriac, but make sure to keep a few tablespoons of water to use in the sauce. Arrange the celeriac cubes on top of the greens.

Whisk 2 tablespoons of the cooking water into the egg-lemon mixture and place the pan over low heat. Stir constantly for a few minutes, until the mixture has just begun to thicken. Don't let this get too hot, or stop stirring, lest the mixture curdle. Pour the egg-lemon sauce over the vegetables and serve.
Recipe adapted form Claudia Roden, Arabesque (2009).
January 18, 2019 by General Administrator
This is just the sort of restorative your body is crying out for after the holidays. It's rich and satisfying without being heavy. You'll feel good eating it.
You can also add some cooked potatoes, if you happen to have some lying about.
Ads bi Hamud
Serves 6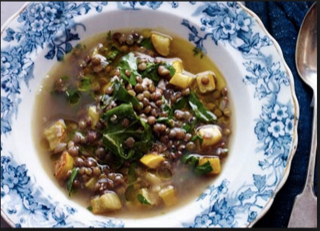 Ingredients
375g green lentils, soaked for 1 hour
Salt and pepper, to taste
4 tablespoons olive oil
2 onions, cut in half and sliced thin
5 cloves of garlic, peeled and sliced thin
1 tablespoon plain flour
1kg mixed greens (spinach, chard, kale, etc.)
Juice of 1.5 lemons
Preparation
Wash and drain the lentils. Put them in a pan with water to cover and simmer for 30 minutes or until they are very tender. Season to taste with salt and pepper.

Meanwhile, heat the oil in another pan and sauté the onions until they are very soft, about 15 minutes. Add the garlic and sauté until you detect a nice, garlicky smell. Add the flour and stir well. Add a teacup of water to the pan and stir to dissolve any tasty browned bits. Cook over a low heat to thicken a bit and then pour the whole thing into the lentils and mix. Heat gently so that the lentils and onions thicken a bit.

Wash the greens and chop coarsely. Add these to the lentils and cook for about 10 minutes.

Add the lemon juice and simmer a bit more, so that the soup is thick and hot.
January 3, 2019 by General Administrator
Since we're getting celeriac this week I thought I would share this recipe with you since I thought it was amazing last time we got it in the share (my first taste of celeriac in fact!) I guess the chard in the recipe can be replaced with the spinach this week too 🙂
Celeriac ribbons tossed with chard, garlic & pumpkin seeds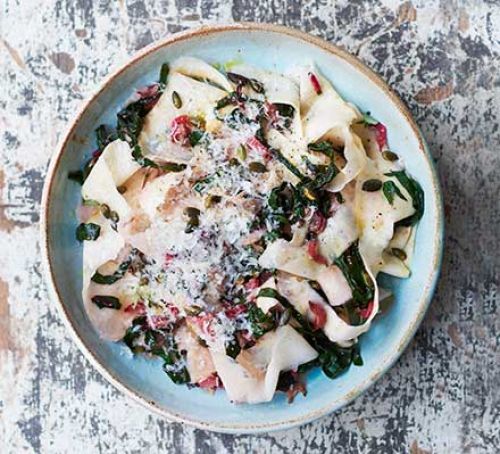 Ingredients
1 small celeriac, peeled
1 lemon, juiced
40g pumpkin seeds
2 tbsp extra virgin olive oil
15g butter
4 thyme sprigs, leaves removed
2 finely chopped cloves of garlic
½ tsp of dried chilli flakes
1 bunch of chard, leaves separated from stalks, stalks sliced and leaves shredded
20g pecorino
Method
Using a good vegetable peeler, cut long, wide strips (about the width of pappardelle) around the circumference of the celeriac, into a bowl of water and lemon juice, until you have lots of ribbons. Allow for more than you would if using pasta.
Dry-fry the pumpkin seeds in a pan until they've puffed and popped. Set aside.
Bring a large pan of salted water to the boil. Add the celeriac for 1 min, drain and reserve the water. In a non-stick frying pan, heat the oil and butter until the butter has melted and foamed up. Add the thyme, garlic and chilli.
Cook the garlic mixture for 5 mins until fragrant and almost golden, add the chard stalks and stir, cooking for a couple more mins. Add the pumpkin seeds and the chard leaves, season and squeeze in some lemon juice. Turn up the heat and stir in half the grated cheese. Add the celeriac and a slosh of the cooking water and toss, shaking the pan until the sauce looks glossy. Divide between plates, top with more cheese and serve.
Recipe from Good Food magazine, October 2017 and available online at: https://www.bbcgoodfood.com/recipes/celeriac-ribbon-pasta-tossed-chard-garlic-pumpkin-seeds
August 17, 2018 by General Administrator
Welcome back to Rebecca – here's her first recipe after her break in July:
A bruschetta is an Italian open-faced sandwich. To make it you grill some good sourdough bread, rub it with a bit of garlic, drizzle it with olive oil, and add a topping. Roast courgette, grilled aubergine, and chickpeas with Swiss chard all make tasty and quick toppings. Make just one, or serve all three for a fresh and summery dinner.
Basic Bruschetta
For each bruschetta you need:
Ingredients
1 generous slice of a decent sourdough bread
1 garlic clove, peeled
Olive oil, to drizzle
Grill the bread on both sides. Grilling gives a better result, but you can use a toaster if need be. Rub the grilled bread on one side with the garlic, and drizzle with olive oil. Your bruschetta base is now ready for a topping.
Roast Courgette
Enough to top 1-2 bruschetta
Ingredients
1 medium courgette
Olive oil to drizzle
¼ fresh red chile, chopped, or to taste
Several sprigs of fresh mint, chopped
Preheat oven to 200C. Cut the courgette lengthwise into 5mm slices. Place slices on a baking sheet and drizzle with olive oil. Bake until crisp, about 10 minutes. Turn the slices over part-way through so they get crisp on both sides. Mix the roast courgettes with the chopped chiles and mint, arrange on the bruschetta, add a final drizzle of olive oil, and eat.
Grilled Aubergine
Enough to top 2 bruschetta
Ingredients
1 Canalside aubergine (i.e. one very small aubergine. . .)
Olive oil
Lemon juice
Small handful of fresh basil, shredded
Salt and pepper, to taste
¼ fresh red chile, chopped, or to taste
Preheat the grill. Cut the aubergine into very thin slices and arrange in the grill pan. Grill on both sides until tender, about 10 minutes in total. Don't forget to turn them over halfway through. Toss the grilled aubergine with a tablespoon or two of olive oil, a good squeeze of lemon juice, the shredded basil, and salt and pepper to taste. Arrange on the bruschetta, top with the chopped chile, and serve.
Chickpea Chard
Enough to top 2 bruschetta
Ingredients
About 200g Swiss chard (or spinach)
Olive oil
1 garlic clove, minced
Salt and pepper, to taste
1 400g tin of chickpeas, drained and rinsed
Juice of 1 lemon
¼ fresh red chile, chopped, or to taste
Boil the chard in water until tender, about 3-6 minutes. Drain and chop roughly. Return the cooked chard to the pan with about a tablespoon of olive oil and the garlic, and braise for another 5 minutes or so. Season and set aside.
Heat the chickpeas in a pan with another tablespoon or two of olive oil and the lemon juice, just until warm. Purée or mash the chickpeas and season to taste. Spread some of the puréed chick peas over part of each bruschetta, and arrange some chard alongside it, so that the two toppings are next to each other, rather than one on top of the other. Sprinkle the chile over the top, drizzle with a little more olive oil and eat.
Recipes adapted from Rose Gray and Ruth Rogers, River Cafe Cook Book Easy (2003).
July 27, 2018 by General Administrator
Our resident Recipe Meister, Rebecca Earle, is having a break during July, and so newly joined member Pip Smith has stepped forward to tantalise our tastebuds in Rebecca's absence. Here's this week's recipe:
Magic one pot pasta with tomato and greens
This is a lovely dish slightly adapted from Anna Jones 'a modern way to cook'. In this recipe you will only need to use one pot and pretty much everything gets thrown in at the start so not only is it super tasty, it's also super easy. Initially I was unsure about eating the pasta water as part of the sauce after years of habit of discarding the starchy water. However, I have since learnt that this starchy water helps to bind the sauce to the pasta and improve the texture. It's a good idea to always save some of the starchy water and add it to your sauce before stirring in the pasta. There are many other uses for the starchy water so it's worth draining into a container then deciding how you want to use it. Anyway, in this recipe it ends up in your tummy.
Serves 4
Ingredients:
400g wholemeal spaghetti
500g fresh tomatoes, chopped
200g spinach, roughly chopped
160g kale, stalks removed and leaves chopped
Zest of 2 lemons
2 tsp salt
1 litre of boiling water
100mls olive oil
Add everything to the pan except the spinach and kale. Bring to boil and simmer for 6 minutes, add the kale and spinach and cook for a further 2 – 3 minutes.
Boom – enjoy!