November 19, 2020 by General Administrator
Chard is a common green throughout the winter, but with this recipe I hope to bring back a taste of the summer. I haven't tried it yet but I'm expecting it to make a good tasty lunch!
Tzatziki yogurt dip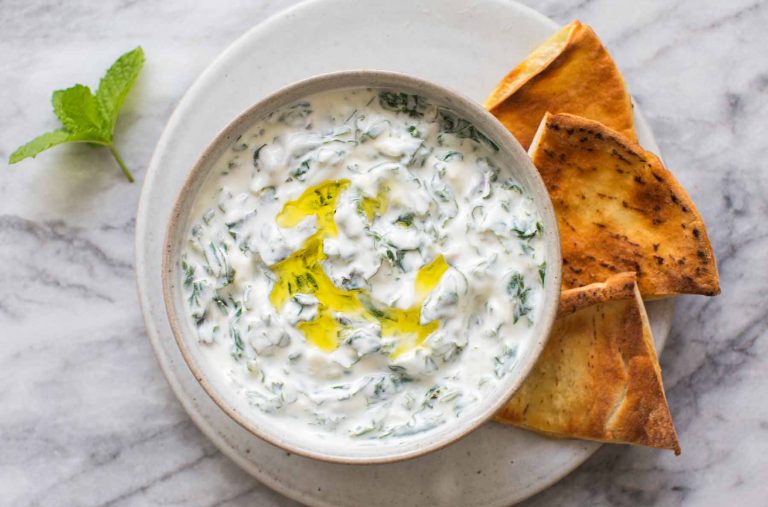 Ingredients:
3 to 4 large leaves of Swiss chard, ribs removed
1 cup plain Greek yogurt
1 1/2 Tbsp chopped fresh mint leaves
1 garlic clove, finely chopped
1/4 teaspoon salt
1 Tbsp extra virgin olive oil
1 teaspoon lemon zest
1 Tbsp lemon juice
Pita chips:
3 (9-inch diameter) pita breads, cut like a pie into triangles
Olive oil for drizzling on to the pita bread
Method
1 Blanch and chop the chard: Bring a 1 or 2 quart saucepan, half filled with water, to a boil. Add the chard leaves. Cook until tender, about 3 minutes.
While the chard is cooking, prepare a bowl with ice water for an ice bath. When the chard is cooked, remove it with a slotted spoon and put into the ice bath to stop the cooking.
When the chard has cooled, remove it from the ice water and bunch it into a ball. Wrap it in a paper towel and squeeze hard to remove excess moisture.
Chop up the chard.
2 Combine tzatziki ingredients: Put the Greek yogurt, chopped chard, chopped mint, garlic, salt, olive oil, lemon zest and lemon juice in a medium bowl. Stir to combine. Chill until ready to use (can make up to 3 days ahead).
3 Toast the pita bread: Cut the pita bread into triangles and layout in one layer in a grill pan (use a sturdy sheet pan or grill pan, not a thin baking sheet or your baking sheet will warp).
Drizzle olive oil on one side of the pita wedges. Use a pastry brush to spread the olive oil more evenly.
Place under the grill. Grill for 5 minutes or until the pita bread starts to toast. Remove and let cool for a minute.
4 Serve: Drizzle the tzatziki with a little olive oil and serve with toasted pita wedges.
Adapted from: https://www.simplyrecipes.com/recipes/swiss_chard_tzatziki_yogurt_dip/