July 27, 2023 by General Administrator
The pick-your-own offer for produce share members has been underway for a good few weeks now, and the current abundance is in currants with all three colours being ready for picking. The red and white currants (known in the Tudor period as jewel fruits on account of how they look) offer quick rewards as they're best picked as 'chandeliers' – it's not only easy to fill a tub this way but they also keep best left on the stalks (in a well sealed container in the fridge they may last up to a week or more!). They have similar flavours and are very closely related, although the whitecurrants are perhaps a little sweeter than the red ones. To strip the currants from the stalks, pull the stalk between the tines of a fork whilst held over a bowl.
However, inspite of the more laborious picking, where else can you get such deep, rich colour and tangy flavour in such plentitude as with blackcurrants? Your patience picking them individually from the bushes will reap you delicious rewards as they are an excellent fruit for making a wide variety of desserts and they also make a fine jam or jelly – the acidity means it should set very nicely.
If you haven't yet managed any pick-your-own, we'd encourage you to visit the orchard during a collection time LINK soon to enjoy some of this jewelled deliciousness while it's in season, along with blackberries, jostaberries and mulberries. (Don't forget to check the board in the pole barn for which row to look in – taking a photo of the board is a good idea.) If you do manage that, why not try one of the recipes from the array below?
Hugh Fearnley-Whittingstall has you covered for all the currants in this article which shares recipes for:
Blackcurrant ripple meringues
Redcurrant and raspberry granita
Sausage and redcurrant salad
Summer pudding (one of the most versatile recipes for summer fruit as you can use whatever berries/currants you can get your hands on)
Redcurrants
Check out this selection of recipes for redcurrants that take you well past the ubiquitous redcurrant jelly. Redcurrant custard ripple sounds particularly easy and tasty.
Whitecurrants
Use whitecurrants in recipes for redcurrants, as a replacement for some or all of the redcurrants. Or try one of these delicious sounding recipes:
Whitecurrant jam
Whitecurrant tart – scroll down to find the recipe
Whitecurrant cake
Blackcurrants
Here you will find all the recipes for blackcurrants that you will ever need.
Breakfast
Cakes and cookies
Puddings and desserts
Frozen desserts
Preserves
Or a really simple (freezer-free) way to keep some of the taste of summer for later in the year, stew over a low heat until cooked with just enough water to stop them sticking, sweeten if you wish, and pot into sterilised jam jars (as for jam making) straight from the bubbling pot and screw the lid on straight away. The button will go in as the jar cools and you have a cupboard preserve ready for your winter morning's porridge or a quick dessert with natural yoghurt or custard.
You can also use these soft fruits by themselves / with others to make fruit leathers.
October 27, 2022 by General Administrator
Perhaps you have been tempted by the mysterious yellow quinces in the 'extras' section. Here is something delicious you can do with them. Claudia Roden reports that honeyed chicken with quince is a classic of Moroccan cookery, and it is very good. The chicken is simmered with honey and North African spices, and adorned with slices of quince. Serve it with rice or couscous.
But if it all seems a bit much you can enjoy the quinces simply for their delicate fragrance, which will perfume your kitchen if you leave them in a bowl on your worktop. Quinces have long been famous for their aroma, as this poem ascribed to the tenth-century Andalusian diplomat Jafar ibn Uthman al-Mushafi illustrates.
It is yellow in colour, as if it wore a daffodil
tunic, and it smells like musk, a penetrating smell.
It has the perfume of a loved woman and the same
hardness of heart, but it has the colour of the
impassioned and scrawny lover.
Its pallor is borrowed from my pallor; its smell
is my sweetheart's breath.
When it stood fragrant on the bough and the leaves
had woven for it a covering of brocade,
I gently put up my hand to pluck it and to set it
like a censer in the middle of my room.
It has a cloak of ash-coloured down hovering over
its smooth golden body,
and when it lay naked in my hand, with nothing more than
its daffodil-coloured shift,
it made me think of her I cannot mention, and I feared
the ardour of my breath would shrivel it in my fingers.
Isn't that Aphrodite's apple?
Honeyed Chicken with Quince
Serves 4
Ingredients
2 quince
500g shallots or very small onions
1 medium onion, chopped
4 tablespoons sunflower oil + an additional tablespoon of oil for frying the quinces
2 teaspoons ras el hanout, or 1 teaspoon ground ginger + 1 teaspoon ground cinnamon + a pinch of saffron
1.6kg chicken, cut into pieces, or the equivalent in chicken pieces
250ml water
1 teaspoon salt and black pepper to taste
1 tablespoon honey
Method
Bring to the boil a pot large enough to hold the quince. Simmer the quince in the pot until they are tender. This will take between 20 and 60 minutes, depending on the quince, so you will need to check regularly. You don't want them to fall apart completely. Once the quince are tender, remove them from the pot and leave to cool.
Meanwhile you can prepare the shallots (or onions): bring another pot of water to the boil and add the unpeeled shallots or onions. Boil for 5 minutes, and then drain. Once they are cool enough to handle, peel them and remove the rooty end. Set aside.
Over medium heat, warm 4 tablespoons of oil in a pan large enough to hold the chicken. Add some of the chicken and brown on all sides. Don't crowd the pan too much, or else the chicken will steam rather than brown. As it browns remove it and continue with the remainder of the chicken.
Remove all the now-browned chicken from the pan and add the chopped onion. Lower the heat and sauté for about 10 minutes, until it has softened. Add the spice and stir for a minute or two, until it smells fragrant.
Return the chicken to the pan and add the water, salt and several grinds of black pepper. Cover, and cook over low heat for 15 minutes. Remove the chicken breasts, which should now be cooked, and set them aside.
Add the peeled shallots (or onions) to the pot and continue to cook for about 25 minutes more, or until the remaining pieces of chicken are tender. Keep an eye on this while it is cooking and add more water if it seems to be drying out, which I think is unlikely.
While the chicken is cooking finish preparing the quince: cut the cooked quinces into quarters and remove the core, but leave the peel on—this will help hold the slices together. Cut each quarter in half the long way to make 8 thick slices from each quince. Heat the additional tablespoon of oil in a frying pan, and put in the cooked quinces, with a cut side down. Fry until they are brown and caramelised, and then turn them over to brown the other cut side. Lift them out of the pan and drain on a bit of kitchen paper. Set aside.
Once all the chicken has cooked remove it from the pan and add the honey. Increase the heat to medium-high and cook uncovered, stirring, until most of the liquid has evaporated and the onions are beginning to turn a beautiful caramel brown.
Return the chicken to the pan and add the quinces. Heat through and then see if it needs more pepper. You want a nice balance between sweetness and peppery sharpness.
Serve with with rice or couscous.
Recipe adapted from Claudia Roden, Arabesque: A Taste of Morocco, Turkey & Lebanon (2005).
November 11, 2021 by General Administrator
This, I promise, will be the last apple cake, at least for 2021. Why all the cakes? Because each is so distinctive, and because there are a lot of apples about at present. This one is rich, buttery and deeply flavourful, the best of the lot, says Matt. Because it contains apples, raisins and marmalade, I think it qualifies as breakfast food.
Chunky Apple and Marmalade Cake
Hugh F-W claims this serves 8-10.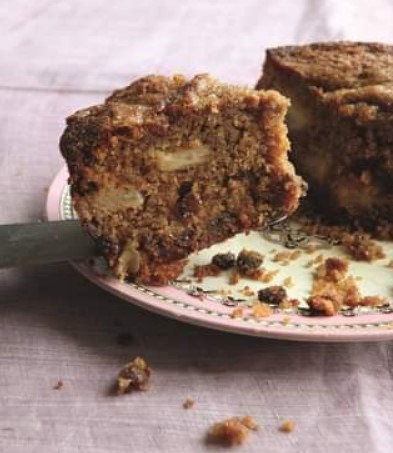 Ingredients
3 tablespoons whisky
100g raisins or sultanas
100g ground almonds
175g plain wholemeal flour
2 teaspoons baking powder
pinch of salt
3-4 large eating apples (about 500g in total)
200g butter, softened
200g soft dark brown or dark muscovado sugar
3 eggs
150g orange marmalade
25g demerara sugar (to sprinkle on the top)
Preparation
Preheat the oven to 170C. Butter a 20cm springform pan.
Warm the whisky in a small pan. When it is warm add the raisins or sultanas and leave them to soak while you prepare the cake. You could probably do this equally well using a microwave.
Combine the ground almonds, flour, baking powder and salt in a bowl and mix well to combine.
Peel the apples, if you wish, cut out the cores, and either slice into thick slices or cut into 1cm chunks. Set aside.
Beat the butter and sugar with an electric mixer for 5 minutes, or until it becomes fluffy and noticeably paler in colour. You want this to be light, not heavy at all, so give it time.
Add the eggs, one at a time. Add a spoonful of the flour mixture with each egg, and beat well after each addition.
Fold in the remaining flour.
Put the marmalade in a small bowl and stir it vigorously with a fork to loosen it, and then add it to the cake mixture.
Add the raisins, whisky and apples and turn the mixture into the cake pan.
Scatter the demerara sugar over the top and bake for about 1¼ hours, or until a cake tester comes out clean.
Leave the cake to cool in the tin for 15 minutes and then turn out and leave to cool on a rack.
Recipe adapted from Hugh Fearnley-Whittingstall, River Cottage Fruit Every Day! (2013).
October 28, 2021 by General Administrator
Here is a different sort of apple cake. Unlike the Apple Spice Cake of a fortnight ago, this one uses yeast. But don't panic! It's very easy and doesn't require any kneading. The result is somewhere between a bread and a cake; it's very moist, and is good toasted.
Using yeast to leaven a cake is an old practice. Before the invention of bicarbonate of soda and baking powder in the nineteenth century, eggs provided one way to create a light texture. Yeast was another. Many traditional English cakes were originally leavened with yeast. This loaf is heavier than a typical cake, but still crumbly—see what you think!
Apple Loaf – makes 1 large loaf
If you don't have a set of cup measures, don't worry. 1 cup = 8 fluid ounces, so you can use an ordinary measuring jug.
Ingredients
1 tablespoon dried yeast
¼ cup lukewarm water or apple juice
¼ cup vegetable oil
½ cup runny honey
2 eggs
¼ teaspoon salt
2 teaspoons cinnamon
½ teaspoon ground allspice
½ teaspoon nutmeg
1 teaspoon vanilla essence
1 tablespoon finely grated orange zest
2 cups wholewheat plain flour (use white flour, or a mixture, if you prefer)
2 cups apples, cut into small (¼-inch) pieces—fine to leave unpeeled
½ cup nuts, toasted in a dry pan and coarsely chopped (optional)
¼ cup raisins or chopped dates (optional)
Preparation
Oil a loaf pan and set it aside. In a small bowl, dissolve the yeast in the warm water or juice. Leave to one side for 5 minutes, or until it starts to bubble a bit. (If it doesn't bubble, your yeast is probably dead.)
Combine the oil, honey, eggs, salt, spices, vanilla and zest in a large bowl and mix well. If you have stand mixer use it to beat the mixture for 5 minutes, for added lightness.
Stir in the yeasty water/juice.
Add the flour and stir well to combine.
Stir in the apples and optional nuts and raisins (if used).
Turn into the oiled loaf pan and leave to rise for 1-2 hours, or until about double. When it's nearly there preheat the oven to 180C.
When the oven is hot put in the loaf and bake for 40-50 minutes, or until a cake tester emerges clean. Leave to cool and eat with butter for breakfast. It's nice toasted.
Recipe adapted from Edward Espe Brown, The Tassajara Bread Book (1970).
October 14, 2021 by General Administrator
This moist apple cake uses oil in place of butter, which makes it exceptionally tender and probably also lower in cholesterol. It offers a perfect autumnal blend of fresh apples, spices and walnuts, and is very nice with a cup of tea. It keeps very well, should you somehow not eat it all in the first 48 hours.
If you don't have a set of cup measures, don't worry. 1 cup = 8 fluid ounces, so you can use an ordinary measuring jug.
Ingredients
1¼ cups vegetable oil
2 cups brown sugar (any mix of soft brown sugar, light muscovado, and dark muscovado)
3 eggs
2 teaspoons vanilla extract
3 cups plain white flour, or 2 cups plain white flour and 1 cup plain wholemeal flour
1 teaspoon baking powder
1 teaspoon bicarbonate of soda
½ teaspoon salt
1 tablespoon ground cardamom
½ teaspoon cinnamon
1 tablespoon apple cider vinegar + 2 tablespoons water (or 3 tablespoons water)
3 cups chopped apples (peeled or not, as you prefer, cut into whatever sizes you'd like to find in your cake)
1 cup chopped walnuts (optional)
Preparation
Preheat the oven to 180C. Butter or oil a 10-inch Bundt pan, or similar tube pan. Coat the pan with a light dusting of flour and set aside.
In a large bowl, beat the oil and sugar for 5 minutes, or until thick. This is a good use of your stand mixer if you have one. Add the eggs one at a time, beating for a minute after adding each one. Add the vanilla.
In a separate bowl, combine the dry ingredients (flour, baking powder, bicarbonate of soda, salt and spices).
Add the dry ingredients to the wet mixture and beat until smooth. Stir in the apple cider vinegar and water.
Fold in the chopped apples and nuts.
Pour the batter into the pan and bake for an hour, or until the cake is golden brown, smells lovely, and is pulling away from the widest part of the pan.
Cool the cake in the pan for 10 minutes and then invert onto a rack. Leave to cool more or eat it right away.
Recipe adapted from Moosewood Collective, Moosewood Restaurant Favorites: The 250 Most Requested Naturally Delicious Recipes from One of America's Best-loved Restaurants (2013).

October 8, 2021 by General Administrator
This week we'll be getting a good number of apples, so looking for an alternative to apple crumble I've come across an idea for a porridge topping. Add some vanilla essence to the porridge to round it off!
Brown sugar apples for porridge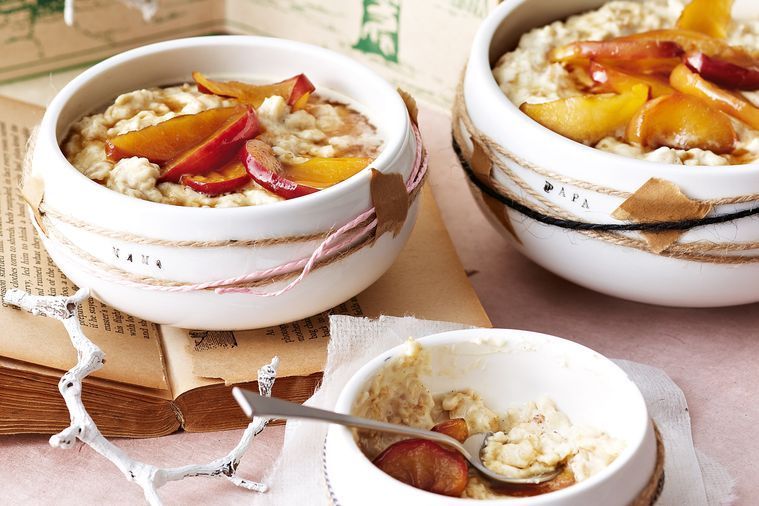 Ingredients
2 apples (preferably red), cored, cut into 1cm-thick wedges
2 tablespoons brown sugar
2 tablespoons honey
Method: For the brown sugar apples, place the apple, sugar and honey in a saucepan over medium heat and cook, stirring occasionally, for 10 minutes or until apple is tender, golden and sticky.
Top porridge with apples and syrup from the pan.
From: https://www.delicious.com.au/recipes
The full bank of recipes provided by Rebecca and Rob (and guest contributors) can be found and searched by categories on our website blog here: https://www.canalsidecommunityfood.org.uk/category/recipes-and-veg-tips/
March 20, 2020 by General Administrator
I haven't used a soup recipe for a while and I've suddenly realised I've been surviving off beans and toast for lunch for a little too long, We have an abundance of leeks at the moment and I could go for the easy option of leek and potato soup, but thought I would try this slightly different idea instead.
Leek, spring green and apple soup
Ingredients:
25g butter
1 tbsp olive oil
1 large onion, finely sliced
600g leeks (about 3-4 large), finely shredded
2 garlic cloves, crushed
2 apples, peeled and diced
250ml cider
1 litre veg stock
100g spring greens, finely shredded
salt and pepper
Method
Heat the butter and oil in a large pan. Add the onion and leeks. Fry on a low heat for 10 minutes. Add the garlic and apple and cook for 2 minutes. Add the cider and simmer for 5 minutes.
Add the stock, bring to the boil, reduce the heat and simmer for 10 minutes.
Add the spring greens and simmer for 5 minutes, or until the greens are tender. Blitz until smooth or leave chunkier, whichever you prefer.
Season, and serve.
Taken from: https://www.riverford.co.uk/recipes/view/recipe/leek-spring-green-apple-soup
October 13, 2019 by General Administrator
Here's a tasty sounding recipe from Polina, one of our produce share members:
As it is apple season, I also thought I share a simple recipe which has been our breakfast staple for a couple of weeks. It is based on traditional Russian sweet called "pastila", made of apples, eggs, and honey. Here is homemade British "twist". The recipe can be safely halved – depending on the blender/foodprocessor.
Ingredients:
2lb of apples
3 tablespoons of honey/50gr of sugar (depending on apples)
9 tablespoons of oats (gluten free or not)
3 eggs whites (can be omitted for vegan version)
Spices to taste: ground cinnamon/cardamom/gloves
Preparation:
Core apples (no need to peel) and bake them in the oven on 185 degrees C for 35 minutes. Let them cool down. Place the baked apples in a food processor/blender (I use Blendtec) and process to a smooth pure. Add spices (if using) and honey and process for 2 minutes to mix them in. Turn the mixture into mixing bowl, fold in oats stirring with spatula, then slowly add egg whites whisked to soft peaks (if using). Fill in individual souffle dishes/ramekins (I use small ceramic bowls from Charlie Bigham pies) and bake in the oven at 100 degrees C for about an hour.
Keeps well in a fridge for a few days. Seems equally delicious cold and hot.
October 10, 2019 by General Administrator
Dom's assessment of the orchard this week is that there are no more plums, so it is likely (no matter how hard you search) that you'll find the same now. Perhaps you have another source of plums, or have stashed some in your freezer to be able to enjoy the offering from Rebecca this week:
Here is a sweet, warming chutney to eat with dal, or in a sandwich. Nigella seeds are surprising little black specks, with an intense umami flavour resonate of onions.
Plum and Nigella Seed Chutney
Makes 1 jam-jar
Ingredients
3 teaspoons cumin seeds
12 plums
3 teaspoons nigella seeds
2 tablespoons honey
2 tablespoons grated fresh ginger
2 teaspoons red wine vinegar
1 lime, zest and juice
Preparation
Toast the cumin seeds in a dry pan over medium heat for a few minutes, until they become toasted and smell delicious. Leave them to cool.
Meanwhile stone the plums and chop them roughly into pieces. Put them in a saucepan along with all the other ingredients aside from the cumin seeds.
Grind the now-cooled cumin seeds in a mortar and pestle and add them to the saucepan as well. (Apparently if you grind cumin seeds while they are very hot the flavour is not as good.)
Cook over medium heat for about 15 minutes, or until the mixture is a bit jammy and the plums have broken down.
Cool and decant into a sterilised jar. Store in the fridge.
Recipe adapted from Anna Jones, The Guardian,28 Sept. 2019.
October 12, 2018 by General Administrator
This is an approximation of a salad I've just eaten for lunch. (I'm currently in California, for work, since you wondered.) My salad was served with GREEN chickpeas, something I'd never encountered hitherto.
The corn in the California salad was roasted; if you are able to do this it will add depth to the flavour. See the instructions below.
The Border Grill's Mexican Chopped Salad
Serves 4
Ingredients
Dressing Ingredients
4 tablespoons olive or rapeseed oil
2 tablespoons fresh lemon juice
1 teaspoon ground cumin (ideally, roast your cumin seeds in a dry pan and then grind them)
1 tablespoon fresh oregano, chopped roughly, or 1 teaspoon dried oregano, crumbled
1 tablespoon brown sugar
Salt and pepper, to taste
Salad Ingredients
2 ears of corn (or use 1 cup frozen corn, thawed)
1 medium red onion, peeled and diced
1 large tomato, diced
1 romaine or 2 little gem lettuces, shredded
1 crisp apple, diced
½ cup cooked chickpeas or black beans
½ cup toasted pumpkin seeds
Guacamole, to serve (optional)
Tortilla or plantain chips, to serve (optional)
Preparation
Make the dressing: combine the dressing ingredients in a jar with a lid and shake vigorously. Taste and see if you'd like more lemon, etc. Adjust as necessary.
IF you are able to roast the corn, follow the instructions below. Otherwise, shuck the corn and remove the stringy silk. Cut off the kernels: hold the ear vertically on its end and use a knife to cut the kernels off each cob. (Of course, if you're using frozen corn this is unnecessary.) Place the kernels in a medium bowl with the diced red onion and cover with the dressing. Leave for 10 minutes, or longer.
When you're ready to serve combine the corn and onion mixture with the other ingredients, toss well and serve, garnished, if you wish, with a dollop of guacamole and tortilla or plantain chips.
To Roast the Corn: Carefully peel back the husks from the corn, and remove the corn silks, leaving the husks attached. Wrap the husks back around each ear of corn. Soak the corn in a large bowl or sink of cold water for 10 minutes.
Meanwhile, pre-heat your grill to high.
Drain the corn well and place each husk-enclosed ear on the hot grill. Cook for about 12 minutes, turning frequently. Remove each cob from the grill and set aside to cool slightly. Then follow the instructions above to remove the kernels.