November 11, 2021 by General Administrator
This, I promise, will be the last apple cake, at least for 2021. Why all the cakes? Because each is so distinctive, and because there are a lot of apples about at present. This one is rich, buttery and deeply flavourful, the best of the lot, says Matt. Because it contains apples, raisins and marmalade, I think it qualifies as breakfast food.
Chunky Apple and Marmalade Cake
Hugh F-W claims this serves 8-10.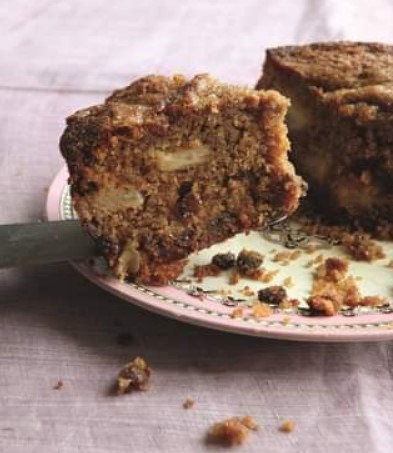 Ingredients
3 tablespoons whisky
100g raisins or sultanas
100g ground almonds
175g plain wholemeal flour
2 teaspoons baking powder
pinch of salt
3-4 large eating apples (about 500g in total)
200g butter, softened
200g soft dark brown or dark muscovado sugar
3 eggs
150g orange marmalade
25g demerara sugar (to sprinkle on the top)
Preparation
Preheat the oven to 170C. Butter a 20cm springform pan.
Warm the whisky in a small pan. When it is warm add the raisins or sultanas and leave them to soak while you prepare the cake. You could probably do this equally well using a microwave.
Combine the ground almonds, flour, baking powder and salt in a bowl and mix well to combine.
Peel the apples, if you wish, cut out the cores, and either slice into thick slices or cut into 1cm chunks. Set aside.
Beat the butter and sugar with an electric mixer for 5 minutes, or until it becomes fluffy and noticeably paler in colour. You want this to be light, not heavy at all, so give it time.
Add the eggs, one at a time. Add a spoonful of the flour mixture with each egg, and beat well after each addition.
Fold in the remaining flour.
Put the marmalade in a small bowl and stir it vigorously with a fork to loosen it, and then add it to the cake mixture.
Add the raisins, whisky and apples and turn the mixture into the cake pan.
Scatter the demerara sugar over the top and bake for about 1¼ hours, or until a cake tester comes out clean.
Leave the cake to cool in the tin for 15 minutes and then turn out and leave to cool on a rack.
Recipe adapted from Hugh Fearnley-Whittingstall, River Cottage Fruit Every Day! (2013).