September 14, 2018 by General Administrator
Grilled mackerel with cucumber-fennel relish, boiled potatoes, and, perhaps some steamed fresh spinach: between two people you can have this on the table in 25 minutes from turning on the grill. It makes a lovely Saturday night supper. Grill the fish whole for 8-12 minutes per side.
The relish or salsa has a crisp, assertive sharpness that contrasts well with the rich oiliness of the mackerel. It would be good with grilled trout, as well. The recipe makes enough for four generous servings. The key is to cut the vegetable into very small pieces; it's this that gives its charm. 'Dicing' is cutting into cubes—but you can also simply chop the cucumber and fennel very fine, if producing tiny cubes seems too fiddly.
Cucumber-Fennel Relish
Ingredients
1 cucumber, cut into 3mm dice
1 small fennel bulb, cut into 3mm dice
¾ cup chopped fresh dill
zest and juice of 1 lemon
2 tablespoons cider vinegar
¾ teaspoon Demerara sugar
¾ teaspoon salt, or to taste
½ teaspoon black pepper, or to taste
Preparation
Combine all the ingredients and taste for seasoning. Add more salt, pepper, sugar or vinegar/lemon juice if you wish—this should be quite sharp.
August 2, 2018 by General Administrator
Our resident Recipe Meister, Rebecca Earle, is having a break during July, and so newly joined member Pip Smith has stepped forward to tantalise our tastebuds in Rebecca's absence. Thanks Pip for standing in. Here's this week's recipe, the final one from Pip in this guest slot – Rebecca will be back next time:
This is an adapted recipe from a soup in Anna Jones 'a modern way to cook' – it's adapted only because I don't have the recipe book anymore, otherwise I would have followed it! With all this hot weather there's probably nothing more important than keeping well hydrated. We take in a lot of our daily water from our food, in particular from fruits and vegetables. When I looked at the cucumbers in my fridge I immediately fancied a cool and hydrating soup, here's the recipe I used.
Avocado and cucumber soup
Ingredients:
1 1/2 cucumbers chopped
The flesh of 1 avocado
The juice of 1 lemon
1 handful of basil
2 spring onions
2 handfuls of toasted seeds
Extra virgin olive oil
Salt and pepper to taste
Method:
Pop the cucumber, avocado, basil, spring onion and lemon juice into a blender or use a stick blender and deep bowl.
Season with salt and pepper.
Dish into bowls, sprinkle with toasted seeds and a dash of extra virgin olive oil.
Optional – you might like to chill before serving. I mean the soup.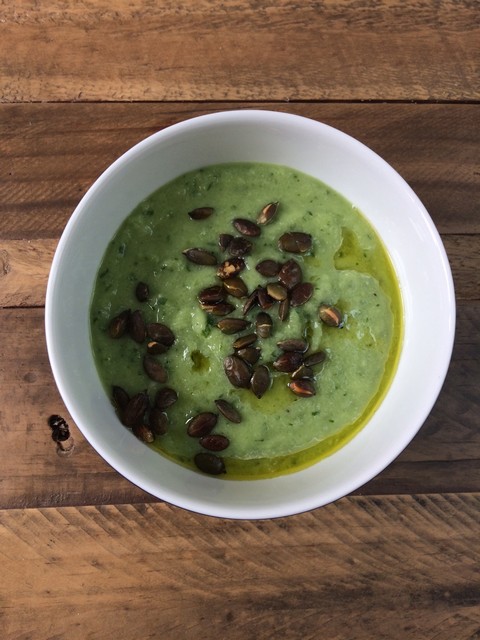 August 24, 2017 by General Administrator
This makes a great lunch. It's quick, crunchy and surprising. Cooking a cucumber intensifies the flavour and gives it a crisp edge. The richness of the haloumi contrasts with the sweet bite of the tomatoes and the sharp, herby dressing pulls it all together. Eat with some crusty bread.
When I made this I used some of the wild marjoram that grows all over Dorset, but I think it would work well with other herbs, or a mixture of whatever you have to hand.
Griddled Cucumber with Haloumi
Serves 2
Ingredients
2 cucumbers
8-10 cherry tomatoes
half a packet of haloumi, sliced into tranches
for the dressing
handful of fresh marjoram, or oregano, or coriander, or parsley or a mixture of different herbs
100ml olive oil
juice of one lemon
1/2 teaspoon ground cumin—for optimal flavour, toast some whole cumin seeds in a dry pan, let them cool, and then grind them with a mortar and pestle.
1/4 teaspoon smoked paprika (hot or sweet, as you prefer)—or less, to taste
pinch of cinnamon
salt and pepper to taste
Preparation
Slice the cucumbers lengthwise into 1cm thick planks.
Heat a frying pan. A grill pan with ridges will leave attractive grill-lines on the cucumbers, if you have such a thing. Brush it lightly with oil and place some of the cucumbers in the pan. Cook for about 5 minutes, by which time the undersides should be attractively seared and the flesh should look a bit yellower. Turn them over and cook for another 3-5 minutes, until both sides are charred (but not burnt). Place them on an attractive serving platter. Griddle the remaining cucumbers in the same way.
Prepare the dressing while the cucumbers are cooking: whizz the fresh herbs together with the olive oil, lemon juice and seasonings to make a very thick dressing. Taste it to see if it needs more lemon juice. If it's extremely thick you can thin it out with a bit more oil.
Slice the cherry tomatoes in half. Once the cucumbers are grilled, scatter the tomatoes over them.
When the cucumbers are done use the grill pan to griddle the haloumi. It should take about 3 minutes per side to develop a nice golden crust. Tuck the slices of haloumi amidst the cucumbers and tomatoes. Dot the dressing over the top and serve with crusty bread.
July 21, 2017 by General Administrator
This delightful recipe is apparently from Turkey. The original version calls for mulberries. If you have access to a mulberry tree do substitute the lovely, seedy berries for the blackberries.
Smashing the cucumber (instead of slicing it) gives it a rough, shaggy surface that happily absorbs flavours.
Smashed Cucumber, Blackberry and Pistachio Salad
Serves 4
Ingredients
1/2 cup pistachios
3 Canalside cucumbers, peeled or not, as you prefer.
1 teaspoon salt, to salt the cucumber
1/2 cup full-fat Greek yoghurt
about 20 mint leaves
2 tablespoons dill, chopped
additional salt and pepper, to taste
1/4 cup pomegranate molasses
8-12 Canalside blackberries from the pick-your-own orchard
Preparation
Heat a frying pan over medium heat. Once it's hot add the pistachios (don't add any oil) and toast them gently until they are golden. Keep an eye on them so that they do not burn. Once they're toasted remove them from the pan and leave them to cool a bit.
Put the cucumbers on a board and, using a rolling pin or any other such implement, smash them into large chunks. Alternatively, you can crush them by using the side of a large kitchen knife.
Toss the cucumber chunks with the teaspoon of salt and put them in a colander to allow some of the water to drain out. Leave them for at least 10 minutes, and longer—up to an hour—if you have time. Then rinse the cucumber chunks to remove the excess salt.
Place the rinsed pieces of cucumber in a bowl and toss them with the pistachios, yoghurt, mint and dill. Season to taste with salt and pepper.
Spoon the mixture onto a serving platter and drizzle with the pomegranate molasses. Top with the blackberries and serve.
(Recipe adapted from Silvana Rowe, Purple Citrus & Sweet Perfume: Cuisine of the Eastern Mediterranean.)
July 14, 2017 by General Administrator
Cold Chinese noodles with a spicy sesame sauce make an excellent lunch, plus they're very easy to prepare.
Cold Noodles with Sesame Sauce
Serves 4
Ingredients
250g soba noodles (you can also use Chinese egg noodles or linguine)
2 Canalside cucumbers
50-100g spring onions, white and some green bits thinly sliced
50-100g peanuts, toasted in a dry pan and chopped
The sesame sauce
2 tablespoons sesame oil
1/2 cup tahini (or natural crunchy peanut butter—in which case you'll be making noodles in a peanut sauce)
2 tablespoons sugar
3 tablespoons soya sauce
1 tablespoon fresh ginger, grated
1 tablespoon rice wine vinegar
Tabasco or other hot pepper sauce, to taste
Preparation
Cook the noodles according to the instructions on the packet. Soba noodles should take about 5 minutes. When the noodles are al dente drain them and run them under cold water for several minutes to cool them off and prevent their sticking to themselves. Let them drain, and cool, for a few minutes.
Cut the cucumbers into little matchsticks. I do this by slicing the cucumber in half, and then cutting each half into lengthwise slabs (like lasagne noodles). Stack these slabs into a pile and cut them into little matchsticks. The goal is to have little sticks of cucumber roughly the size of the noodles, only shorter. If you find this too fiddly you can simply grate the cucumber coarsely. In either case, put the cucumber into a bowl.
Add the sliced spring onions and peanuts. Toss together and then add the cooked and drained noodles. Toss everything together.
Prepare the sesame sauce: mix all the sauce ingredients together. The tahini (if you're using it) will resist mixing so you'll need to stir it all together with determination. Once it's all mixed add it to the noodle bowl and toss.
Serve and enjoy.
Mark Bittman notes that you can add cooked chicken, pork, beef, or seafood to the finished dish. You can also fry up litle tofu cubes and add those, as well, if you're so inclined.
(Recipe adapted from Mark Bittman, The Best Recipes in the World (2005).)