December 8, 2022 by General Administrator
According to Kay Chun, this is inspired by chirashi, Japanese rice and raw fish bowls. Her
version features lightly cooked (rather than raw) fish, but if that is not your thing you can
cook the fish for as long as you like. The dish is built around the vinegary sweet-salty tang of
sushi rice, but instead of first cooking the rice and then mixing it with the sweetened vinegar,
here the rice is simply cooked in vinegar-seasoned water, which is much simpler. The result is
a sticky, delicious sushi rice that makes an excellent base for the richness of the mackerel.
The dish is topped with a gingery, sesame-flavoured coleslaw, sliced avocado, and toasted
nori, the black seaweed that typically surrounds a sushi roll. Think of it as a simple,
deconstructed form of sushi: very tasty, plus you use only one pot.
Chun's recipe used salmon fillets (and a larger quantity), cut into cubes, so feel free to play
around with the fish. I'd stick to an oily variety, though: you want that richness to contrast
with the sharpness of the sushi rice. Nice with a wheat beer.
Mackerel Sushi Bowls
Serves 4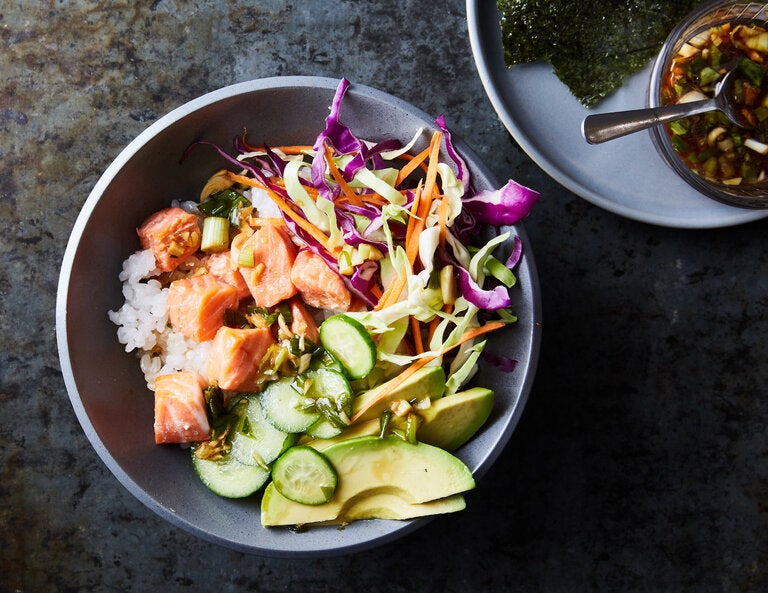 Ingredients
4 tablespoons + 3 tablespoons rice vinegar
3 tablespoons sugar
1 teaspoon salt
340ml sushi rice (measured in a jug), rinsed in a sieve under running water until the water
runs clear
500g (or up to 680g if you're really hungry) skinless mackerel fillets, cut into 2cm-wide
strips
1 teaspoon toasted sesame oil, divided into two portions of ½ teaspoon each.
800g green and/or red cabbage and carrots (combined weight)
6 tablespoons soya sauce
3 tablespoons neutral vegetable oil
3 tablespoons coarsely chopped spring onions (white and light green parts)
3 tablespoons minced fresh ginger
Big handful of fresh coriander, coarsely chopped
1 cucumber, thinly sliced
1 avocado, halved, pitted and thinly sliced
Several toasted nori sheets, torn into bits, for garnish
Method
In a large saucepan, combine 4 tablespoons rice vinegar, sugar and salt; stir to dissolve the
sugar. Add the rice and 400ml water, and mix well. Bring to a boil over high heat, then cover and reduce heat to low. Cook until rice is tender and most of the liquid is absorbed, about 20 minutes.
While the rice is cooking, toss the fish with ¼ teaspoon sesame oil in a small bowl, and set
aside. Shred the cabbage. Peel the carrot and grate coarsely.
Combine the soya sauce, remaining 3 tablespoons of vinegar, oil, spring onions, ginger and
the remaining ¼ teaspoon of sesame oil in a large bowl. Mix well and then add the shredded
cabbage. Using your hands, scrunch up the cabbage as hard as you can, so that it softens a bit
and begins to absorb the dressing. Toss in the carrots and coriander and set aside.
Once rice is tender (after about 20 minutes), arrange the mackerel on top of the rice in an
even layer. Cover and cook over low heat until fish is just barely cooked, about 5 minutes
longer.
Now serve: scoop the rice and fish into individual bowls. Decorate each with some of the
cabbage-carrot-coriander salad, some sliced cucumber, and some sliced avocado. Top with
the toasted nori and enjoy.
Recipe adapted from Kay Chun, New York Times Cooking
August 19, 2022 by General Administrator
Here is another thing to do with cucumbers when you tire of slicing them into salads. Yotam Ottolenghi remarks that 'grilling cucumbers gives them a nice charred flavor while retaining their bite. . . Torn mozzarella adds richness to the cucumbers doused with a garlicky, spiced tomato dressing'. You could also grill the cucumbers on an outdoor grill, if you run to such things. I used a mixture of cucumbers and slim courgettes, which worked very well. Serve with some good bread to soak up the excellent tomato sauce.
Grilled Cucumbers with Tomato-Cardamom Dressing and Mozzarella
Serves 4 as part of a larger meal or 2 as a main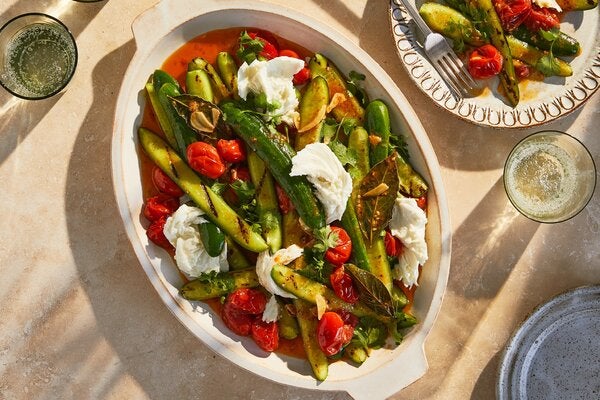 Ingredients
For the Tomato Dressing
500g tomatoes, chopped into large chunks
7 tablespoons olive oil
6 garlic cloves, peeled and thinly sliced
2 teaspoons white miso
4 fresh bay leaves
18 cardamom pods, roughly crushed in a mortar and pestle
½ teaspoon sweet smoked paprika
½ teaspoon salt
2 tablespoons lime juice
a few grinds of black pepper
For the Cucumbers
800g cucumbers (you could instead use slim courgettes, or a mixture of both)
1 tablespoon olive oil
½ teaspoon salt
a few grinds of black pepper
1 ball buffalo mozzarella (about 125g), roughly torn
about 8g coriander leaves and soft stems, roughly chopped
Method
Start with the dressing: put the tomatoes, oil, garlic, miso, bay leaves, crushed cardamom pods and seeds, paprika, and salt in a large (lidded) sauté pan. Place over medium-high heat, give everything a good stir and heat, uncovered, until it starts to bubble gently.
Once the dressing is bubbling, turn the heat down to medium-low, cover with the lid and cook gently for 15 minutes, stirring once, until the tomatoes have burst and start to release their juices. Turn down the heat if necessary; you want the garlic to soften without taking on colour, and you don't want the tomatoes to disintegrate completely. Remove from the heat, stir in the lime juice, season to taste with pepper, and set aside.
Now prepare the cucumbers (or courgettes): halve the cucumbers (or courgettes) lengthwise and then halve each of these pieces lengthwise, to make four long cucumber wedges. You need these to fit into your griddle pan, so cut them in width-wise if necessary, to make shorter lengths. Put the vegetables into a bowl and toss with the oil, salt, and a good grind of pepper.
Heat a grill pan over high, and open a window. This might get a bit smoky.
When the grill pan is very hot, grill the cucumbers (or courgettes) in batches, cut sides down, for 2 to 3 minutes, then flip them over and grill for 1 to 2 minutes more. You want nice grill marks and for the cucumbers to soften but still retain a bite. Courgettes will take a little longer. As they become ready, transfer to the tomato pan, stirring to coat in the dressing.
Once all the veg have been grilled, stir the coriander into the pan and transfer the mixture to a large serving platter. Sprinkle on the torn mozzarella, along with a good pinch of salt, and serve hot or at room temperature.
Recipe adapted from Yotam Ottolenghi in New York Times Cooking
June 24, 2022 by General Administrator
Avocado and cucumber drizzled with sesame oil and soya sauce: scarcely a recipe, but extremely delicious. I first ate something like this at the wonderful Nana's Restaurant on Regent Street, in Leamington.
Homage to Nana's
Serves 2 as a side dish
Ingredients
1 large, ripe avocado
1 cucumber of any size
Toasted sesame oil
Soya sauce
1 tablespoon sesame seeds, toasted
Preparation
Cut the avocado in half and remove the stone. Cut the avocado into 1.5cm cubes and carefully lever out of the shell and array on a serving plate.
Cut the cucumber into similarly-sized chunks and mix with the avocado.
Drizzle the sesame oil and soya sauce over the vegetables and sprinkle with some sesame seeds as a garnish and enjoy.
September 16, 2021 by General Administrator
What are you going to do with all those cucumbers? This salad is a tasty way to enjoy them. It combines a touch of sweetness from the dried fruit with feta's salty kick, and the richness of toasted walnuts. Note the enormous quantity of sumac, which brings a bright, lemony note. We ate this for lunch along with some brown bread. It would probably also be good alongside a piece of grilled fish, or a little lamb chop.
Cucumber, Walnut, Feta and Dill
Serves 2 for lunch.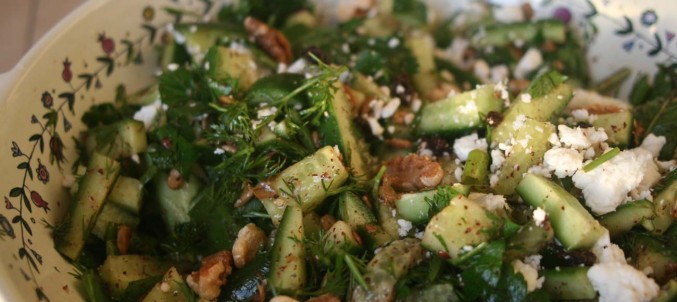 Ingredients
Salad
500g (or about 2) cucumbers, cut into matchsticks or spiralised
20g dill (or mixed dill and parsley), chopped
50g currants or golden raisins
100g feta, crumbled or cut into small cubes
60g walnut pieces, toasted and coarsely chopped
Dressing
2 tablespoon olive oil
zest of 1 lemon—zest it before you cut it in half to juice
1 tablespoon lemon juice
1 tablespoon sumac
½ teaspoon salt
several grinds of black pepper
Preparation
Gently toss the salad ingredients in a serving bowl.
Combine the dressing ingredients in a screw-top jar and shake vigorously. Pour over the salad and toss gently. Taste, add more salt or pepper to your liking, and serve.
Recipe adapted from Shaina Shealy, at Jewish Food Experience, 2021, https://jewishfoodexperience.com/recipes/cool-cucumber-salad-feta-walnuts/
July 29, 2021 by General Administrator
This is a bit of a summer favourite for getting a quick hit of refreshing and flavorful nutrition alongside the rest of lunch. It's easily adaptable to personal taste by adding things like feta cheese, so make it your own!
Ingredients
Cucumber
Red onion or shallots
Tomatoes
Black olives
Lemon juice
Olive oil
Salt
Method
Finely dice equal parts cucumber onion and tomato. Mix and add some diced olives, a splash of lemon juice a dash of salt and a good helping of olive oil.
September 10, 2020 by General Administrator
One of the benefits of so many of us working from home is that there's more time to make a fancy lunch. This week I've enjoyed riffing on Panzanella themed recipes – you can adapt the one below to suit what you have in the fridge and the time you've got to make it.
Panzanella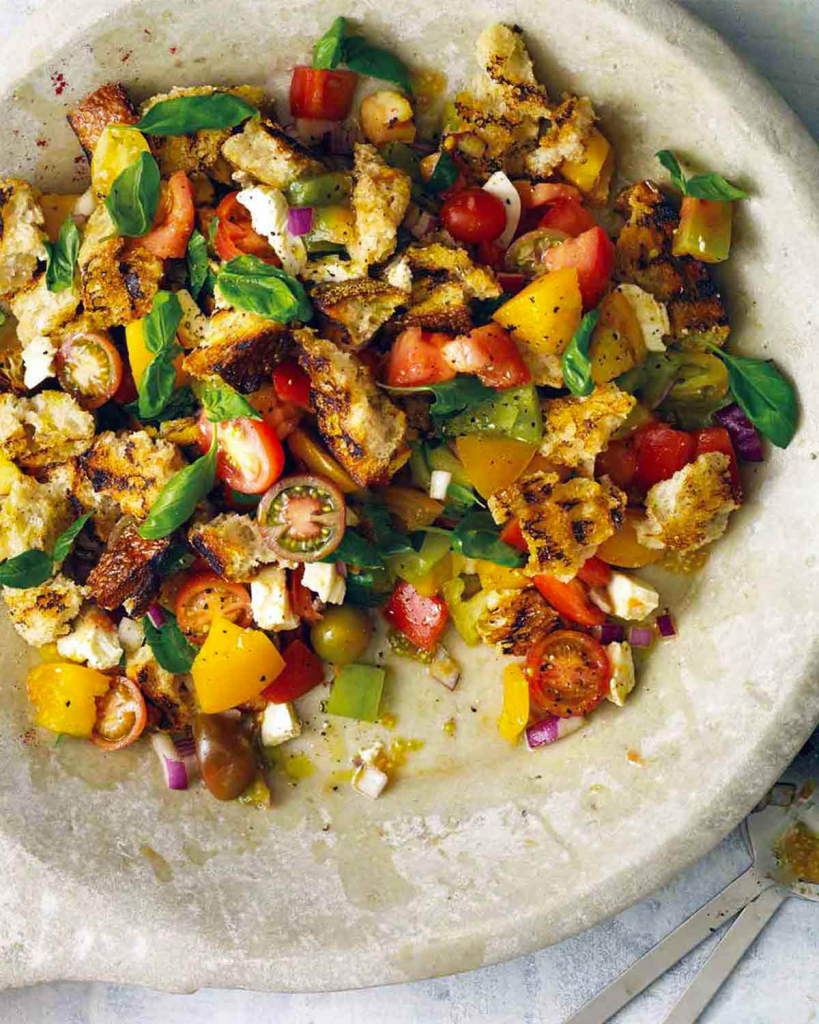 Ingredients:
3 tbsp olive oil
Splash red wine vinegar
day old bread, cut into 2cm cubes
1 tsp salt
2 large, ripe tomatoes, cut into 2cm cubes
1 cucumber sliced 1cm thick
1 or 2 peppers cut into 2cm cubes
1/2 red onion, thinly sliced
20ish large basil leaves, coarsely chopped
3 tbsp capers, drained
Method:
Heat the bread either by pan frying in oil if you have time, or 30s in the microwave if not. Then mix thoroughly with all the other ingredients in a large bowl, season and serve.
July 30, 2020 by General Administrator
When I was growing up, tabouli formed part of my father's very limited cooking repertoire, alongside steak tartare and chicken marsala. The recipe he used called it 'non-lettuce salad', and that's a good description of this blend of parsley, mint, tomatoes, cucumbers and a little bulgar wheat. I dedicate this recipe to him!
The secret to this tabouli is the Lebanese 7-spice blend. For an absolute feast, serve it with Lebanese 7-spice chicken. It's pretty good on its own, too.
Lebanese Tabouli
Serves 4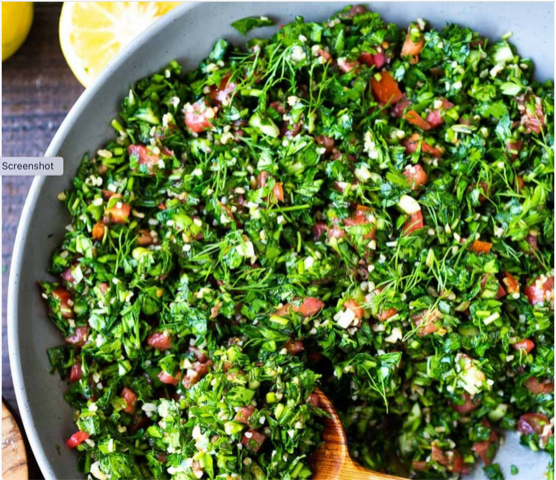 Ingredients
7 Spice Blend Ingredients
1 teaspoon ground coriander
1 teaspoon cumin
1 teaspoon cinnamon
1 teaspoon ground allspice
1/2 teaspoon grated nutmeg
1/2 teaspoon ground cloves
1/2 teaspoon ground cardamom
Tabouli ingredients
250ml dry medium grain bulgar wheat
4 spring onions
1 large bunch flat-leaf parsley
1 cup mint leaves
1 small bunch dill
3 medium tomatoes
1 cucumber
1 tablespoon lemon zest
70ml lemon juice, or to taste
125ml cup olive oil
1 teaspoon salt
1 teaspoon 7-Spice mix
Preparation
First prepare the 7-spice blend. This will make more than you need for the tabouli, but that shouldn't be a problem since it's so delicious. You can add it to lots of other things, including this splendid Lebanese 7-spice chicken. To make the blend combine all the ingredients together. If you want really to go to town with it, you can roast whole coriander and cumin seeds and then grind them, before combining with the other ingredients. This gives an added warm depth to the spice blend.
To make the salad, first prepare the bulgar wheat. Put it in a small bowl and pour 250ml boiling water over it. Cover with a plate, and set aside for at least 30 minutes while you prepare the rest of the salad. This allows the grains to soften.
Slice the spring onion and place in a large serving bowl.
Chop the parsley as fine as you can. It's ok to include the thinner stems. Add to the bowl. Chop the mint and dill and add them as well.
Dice the tomatoes and cucumbers into small cubes and add them to the bowl, along with all their juices.
Add the lemon zest, lemon juice, olive oil, salt and 1 teaspoon of the 7-spice mix. Give it all a good stir.
By now 30 minutes have probably passed, so the bulgar wheat should be al dente. Once it is, add it to the salad as well and mix again.
If you have time, let the salad sit for a few hours to allow the flavours to meld. The parsley will soften and the bulgar will soak up the flavourful juices. It will in any event be very good the next day if there is any left over.
Before serving, give a stir and taste for salt, lemon and 7-spice. Adjust to your liking. Slyvie Fountaine, whose recipe this is, says 'You want just the faintest whiff of the spices, like a whisper'.
Recipe adapted from Sylvia Fountaine, 'Feasting at Home'. https://www.feastingathome.com/lemony-tabouli-aka-tabbouleh/
July 10, 2020 by General Administrator
This week's recipe is a little niche if you stick to the vegan recipe, especially now that IKEA has closed in Coventry, but it can be adapted with other seafood flavours (the most obvious being actual seafood e.g. prawns). At worst, at least I'm giving you a quick and easy vegan mayo recipe… It's another that I picked up in Sweden and is an adaptation of the dish "Skagen" which is a sort of seafood toast topper/sandwich filler (£6 for a baguette in the Volvo canteen ouch!). For a while it was my absolute favourite breakfast when combined with cucumber, salad and tomatoes all of which will be abundant in the shares over summer.
Vegan Skagen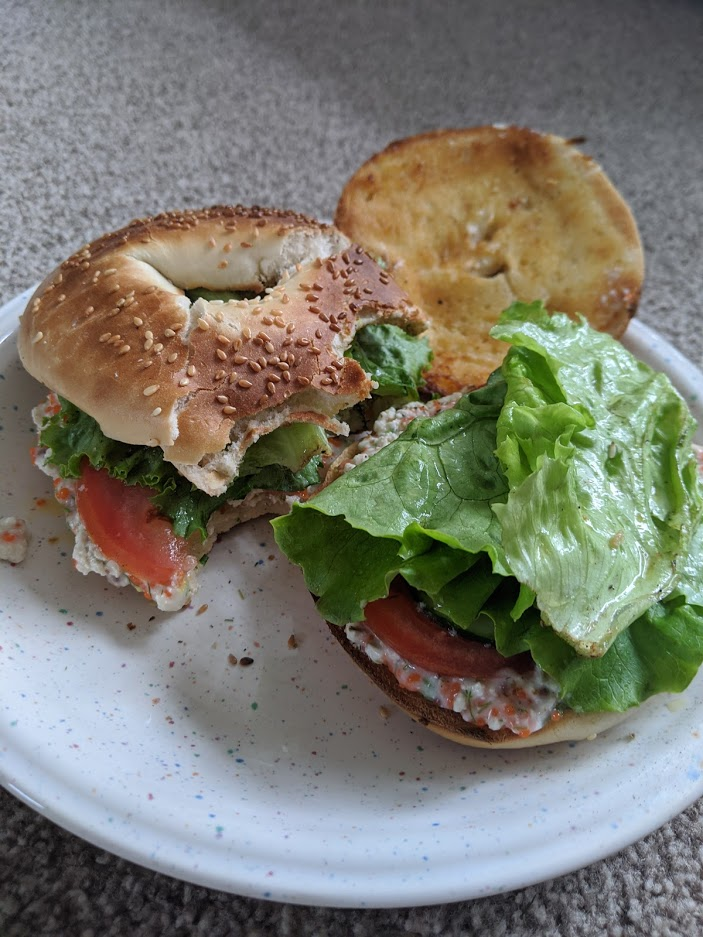 Dry Ingredients:
1 jar Seaweed pearls (AKA veggie caviar, available at IKEA)
Bunch of dill
1 pack of tofu, drained and squeezed as much as possible whilst maintaining solid chunks
Mayo:
100ml Soya milk (must be soya – I've tried with others but they refused to emulsify with the oil)
1 tbsn lemon juice
1 tsp mustard
200 ml oil (preferably rapeseed, other veggie oils work but again can have trouble emulsifying)
To serve:
Toast
Lettuce
Tomato
Cucumber
Wedge of lemon (optional)
Method:
For the mayo, combine milk, lemon juice and mustard in a blender (handheld will do) before SLOWLY adding oil as a thin stream whilst blending on a fairly high speed. As you get to the end of the oil the mixture should thicken up to a mayonnaise texture.
Then combine all ingredients in some Tupperware and serve with toast, sliced cucumber/tomato and lettuce. A lemon wedge is a nice addition if you have it.
July 3, 2020 by General Administrator
This is an ideal recipe when you have 4 or 5 cucumbers looking at you from the bottom of your veg drawer. Smashing the cucumbers, which is apparently a classic Chinese recipe technique, changes the texture by making them more absorbent so they really soak up the dressing. It's refreshing, easy, and makes an excellent accompaniment to an Asian-style noodle dish, such as this one for sesame noodles with smashed courgettes by Meera Sodha. (By the way, I served the noodle dish warm, which worked just fine.)
Chinese Smashed Cucumbers with Sesame Oil and Garlic
Serves 4 as a side dish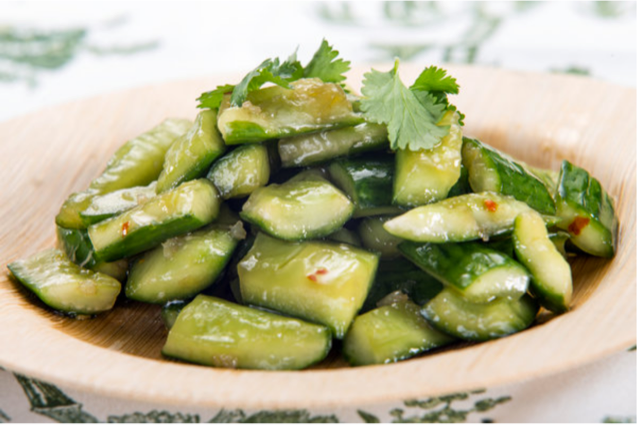 Ingredients
4 cucumbers
Salt
Sugar
1½ tablespoons rice vinegar
2 teaspoons sesame oil
2 teaspoons soya sauce
2 garlic cloves, grated
½ -1 Canalside chile, minced (to taste)
Small handful fresh coriander, chopped, for garnish
1 tablespoon toasted sesame seeds, for garnish
Preparation
Top and tail the cucumbers, and cut lengthwise into 4 long strips. Cut each strip into bite-sized pieces.
Using a rolling pin or (this is the less messy option) the side of a large knife, crush the cucumber pieces so that the skin begins to crack and the insides break down, releasing some of the seeds.
Place the crushed cucumber pieces in a colander and toss with a big pinch of salt and another of sugar. Fill a plastic bag with ice and place this on top of the cucumbers pieces, to weigh them down and at the same time chill them a bit. Leave for anywhere from 15 minutes to 4 hours.
Meanwhile, make the dressing: mix 1 teaspoon salt, 2 teaspoons sugar, and the rice vinegar. Stir until the salt and sugar have dissolved and then add the sesame oil and soya sauce.
When you are ready to serve, shake the cucumbers to drain off any remaining liquid and transfer to a beautiful flat plate. Toss with about half the dressing, and then add the garlic and as much chile as you like. Toss again, and then add more dressing to taste, until you're pleased with the ensemble. Serve, garnished with fresh coriander and toasted sesame seeds.
Recipe adapted from New York Times Recipes.
September 14, 2018 by General Administrator
Grilled mackerel with cucumber-fennel relish, boiled potatoes, and, perhaps some steamed fresh spinach: between two people you can have this on the table in 25 minutes from turning on the grill. It makes a lovely Saturday night supper. Grill the fish whole for 8-12 minutes per side.
The relish or salsa has a crisp, assertive sharpness that contrasts well with the rich oiliness of the mackerel. It would be good with grilled trout, as well. The recipe makes enough for four generous servings. The key is to cut the vegetable into very small pieces; it's this that gives its charm. 'Dicing' is cutting into cubes—but you can also simply chop the cucumber and fennel very fine, if producing tiny cubes seems too fiddly.
Cucumber-Fennel Relish
Ingredients
1 cucumber, cut into 3mm dice
1 small fennel bulb, cut into 3mm dice
¾ cup chopped fresh dill
zest and juice of 1 lemon
2 tablespoons cider vinegar
¾ teaspoon Demerara sugar
¾ teaspoon salt, or to taste
½ teaspoon black pepper, or to taste
Preparation
Combine all the ingredients and taste for seasoning. Add more salt, pepper, sugar or vinegar/lemon juice if you wish—this should be quite sharp.