July 30, 2020 by General Administrator
When I was growing up, tabouli formed part of my father's very limited cooking repertoire, alongside steak tartare and chicken marsala. The recipe he used called it 'non-lettuce salad', and that's a good description of this blend of parsley, mint, tomatoes, cucumbers and a little bulgar wheat. I dedicate this recipe to him!
The secret to this tabouli is the Lebanese 7-spice blend. For an absolute feast, serve it with Lebanese 7-spice chicken. It's pretty good on its own, too.
Lebanese Tabouli
Serves 4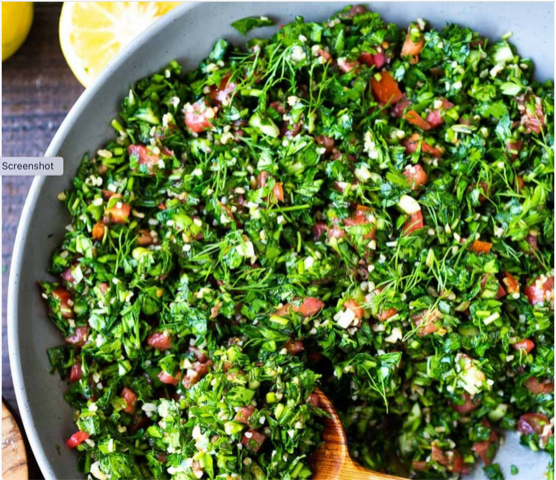 Ingredients
7 Spice Blend Ingredients
1 teaspoon ground coriander
1 teaspoon cumin
1 teaspoon cinnamon
1 teaspoon ground allspice
1/2 teaspoon grated nutmeg
1/2 teaspoon ground cloves
1/2 teaspoon ground cardamom
Tabouli ingredients
250ml dry medium grain bulgar wheat
4 spring onions
1 large bunch flat-leaf parsley
1 cup mint leaves
1 small bunch dill
3 medium tomatoes
1 cucumber
1 tablespoon lemon zest
70ml lemon juice, or to taste
125ml cup olive oil
1 teaspoon salt
1 teaspoon 7-Spice mix
Preparation
First prepare the 7-spice blend. This will make more than you need for the tabouli, but that shouldn't be a problem since it's so delicious. You can add it to lots of other things, including this splendid Lebanese 7-spice chicken. To make the blend combine all the ingredients together. If you want really to go to town with it, you can roast whole coriander and cumin seeds and then grind them, before combining with the other ingredients. This gives an added warm depth to the spice blend.
To make the salad, first prepare the bulgar wheat. Put it in a small bowl and pour 250ml boiling water over it. Cover with a plate, and set aside for at least 30 minutes while you prepare the rest of the salad. This allows the grains to soften.
Slice the spring onion and place in a large serving bowl.
Chop the parsley as fine as you can. It's ok to include the thinner stems. Add to the bowl. Chop the mint and dill and add them as well.
Dice the tomatoes and cucumbers into small cubes and add them to the bowl, along with all their juices.
Add the lemon zest, lemon juice, olive oil, salt and 1 teaspoon of the 7-spice mix. Give it all a good stir.
By now 30 minutes have probably passed, so the bulgar wheat should be al dente. Once it is, add it to the salad as well and mix again.
If you have time, let the salad sit for a few hours to allow the flavours to meld. The parsley will soften and the bulgar will soak up the flavourful juices. It will in any event be very good the next day if there is any left over.
Before serving, give a stir and taste for salt, lemon and 7-spice. Adjust to your liking. Slyvie Fountaine, whose recipe this is, says 'You want just the faintest whiff of the spices, like a whisper'.
Recipe adapted from Sylvia Fountaine, 'Feasting at Home'. https://www.feastingathome.com/lemony-tabouli-aka-tabbouleh/