September 21, 2023 by General Administrator
We're coming into the season where different types of greens are once again going to make a more pronounced and regular appearance in the veg, now that the spell of frequent shares of mixed lettuce has passed. We'll still be seeing lettuce from time to time. Check out the recipes suggested back in June if you need inspiration for using your lettuce. The greens we'll be seeing more often again will include New Zealand spinach (already producing well and for a little while), chard and different types of kale (each with their own particular features: flat leaved, slightly sweet Red Russian kale, grass-green curly kale, dark green, mega iron-rich cavolo nero).
Known officially as tetragon, and having a large number of other nicknames, New Zealand spinach is a relatively recent addition to the range of veg grown at Canalside. It has a flavour and texture much like perpetual spinach (though the stems are more robust), and  has the advantage of being great to grow in late summer and early autumn because it is much less prone to bolting (sending up a flower head and going to seed) in warm/hot weather.
Chard (also known as Swiss chard – with white ribs – and rainbow chard – with white/yellow/pink ribs) is somewhat like spinach/NZ spinach though it has a slightly earthier flavour and slightly more robust texture needing a slightly longer cooking time.
Kale is a member of the brassica (cabbage) family, so is full of vitamins, minerals and antioxidants. Brassicas are also the only fruit/vegetable source of glucosinolates, which are the sulphur containing compounds that have been linked to many health benefits including reduced incidence of some cancers. Cavolo nero is the most robust and is therefore ideal for heartier dishes and stir fried.
Any recipe that mentions any of these vegetables could use any of the others – you just might need to adjust the cooking time a bit and accept that the finished flavour may be slightly different if you have used a substitution. Below are some ideas that specifically mention the greens you can expect in your share in the coming weeks. They're also perfect for adding to any daal, curry or stir fry recipe to up the nutrition and add a pop of green.
Recipes for New Zealand spinach are limited online as it isn't a very widespread vegetable, although it seems to be growing in popularity in culinary circles! Here are some ideas which could give you some inspiration:
Japanese-Style New Zealand Spinach
Vietnamese-Style New Zealand Spinach
Here's a very simple pasta recipe with few simple ingredients
From one German man's bike travels in New Zealand, a gratin recipe
Braised NZ spinach with garlic (and some unusual/interesting ingredients to season it)
BBC Good Food has a delicious sounding array of recipes that use chard, including:
Chard, squash and parmesan tart
Swiss chard gratin
Chick pea and chard tamarind curry
Morrocan chard and lamb pan-fry
The River Cafe's winter minestroni
There's a wide range of recipes for kale with an international flavour, collated by Olive Magazine, which includes:
Kale crisps with smoky paprika sal
Sausage and lentils with cavolo nero
Kale, chilli and ricotta calzone
Kale hush puppies with lemon aïoli
Kale fiorentina pizzas
Plus a number of different salads using kale
As always, there is also a wealth of ideas in The Boxing Clever Cookbook  (easily available secondhand for a few pounds) – 19 spinach recipes which could be made with New Zealand spinach, and 15 for curly kale, which could be adapted for other types of kale. Dips, bakes, risottos, sauces, daals and much more – it's all covered in this one book for these greens. Interestingly there are none for chard!
For recipes for the different greens that Rebecca, Rob, Pip or guest contributors have tried and shared, go to the blog on our website here
https://www.canalsidecommunityfood.org.uk/about-canalside/blog/
or click on one of the links below
Spinach
Chard
Kale
If you have miscellaneous items to use in your fridge, and can't find a recipe to match, you could try out the Oddbox Recipe Generator!
June 10, 2022 by General Administrator
Shakshuka usually consists of eggs poached in a spicy tomato sauce. This is a green version, where the eggs are poached on top of a savoury mixture of cumin-scented greens, and then topped with feta, lemon and herbs. Serve it with good bread and some harissa if you'd like to spice it up a bit. Red or green, shakshuka is apparently a popular North African and Middle Eastern breakfast dish. It is also very nice for dinner, and uses only one pan.
We made it with some amazing duck eggs, which are huge and extra unctuous, so if you happen to have some lying around this is a good opportunity to use them. Ordinary eggs will be delicious too, though.
Green Shakshuka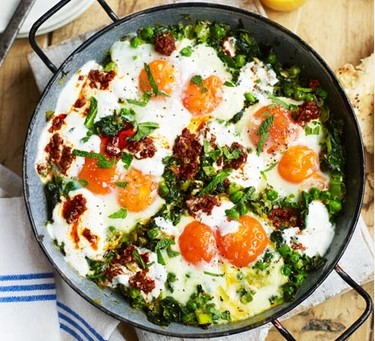 Serves 2
Ingredients
3 tablespoons olive oil
1 large onion, roughly chopped
½ teaspoon salt
2 teaspoons cumin seed
1 teaspoon coriander seed
2 large garlic cloves, sliced thin
650-ishg greens (spinach, chard, spring greens, or a mixture), chopped
25g coriander, dill, mint, parsley, or a mixture, chopped
a wineglass (about 200ml) of white wine, or use water
2-4 eggs
100g feta, crumbled
half a lemon
Harissa and crusty bread, to serve
Method
Over medium heat, warm the oil in a frying pan and add the onion and salt. Reduce the heat to low and cook 5-10 minutes, or until the onion has softened.
While the onion is cooking toast the cumin and coriander seeds in a dry frying pan until fragrant. Keep an eye on it so it doesn't burn. Set aside to cool a little and then grind it in a mortar and pestle (or use pre-ground spices).
Increase the heat back to medium and add the ground spices and garlic to the pan with the onion and stir for another minute or two, until it smells good.
Add the greens and most of the herbs—but keep a big handful of the herbs aside to use for a garnish. Stir everything together and sauté until the greens begin to wilt a bit. Add the wine or water, and cook for another 8-10 minutes, or until the greens are tender.
Once the greens are tender, use a spoon to create two to four little nests in the mass of cooked greens—one for each egg you intend to use. Crack each egg on the side of the pan, one at a time, and slide it into its nest. Cover the pan and cook for 4-6 minutes, or until the whites have set and the yolks are to your liking.
Remove from the heat and top with the feta. Grate the zest of the lemon onto the feta and then squeeze over the juice. Sprinkle with the remaining herbs and serve, with harissa and crusty bread.
Recipe adapted from BBC Good Food.
April 14, 2022 by General Administrator
This Easter I am going to make a Torta Pasqualina, or Italian Easter Tart. It combines creamy ricotta with fresh greens baked in a flaky crust—so it's a bit like a Greek spanakopita. To give it an Easter twist you crack some whole eggs onto the greens before baking. When the finished tart is sliced you get a lovely mass of green with little pockets of soft-cooked egg nestled under the crust. Very seasonal!
Ricotta, Spinach and Egg Easter Tart (Torta Pasqualina)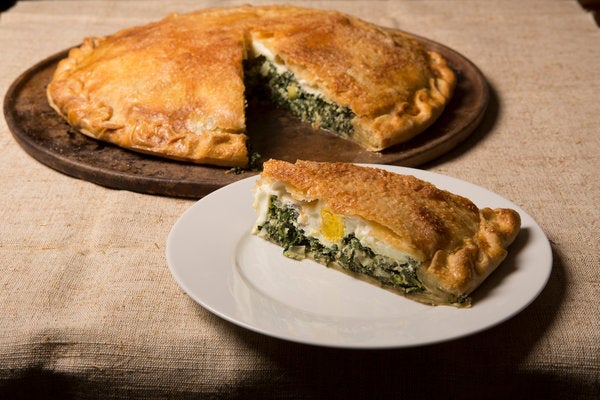 Serves 6-8
Ingredients
Pastry
160g cold butter, diced
250g plain flour
200g ricotta
pinch of salt
a little beaten egg or milk to brush over the top of the tart
Filling
600g kale, spinach, chard or other mixed greens
2 tablespoons olive oil
3 large onions, chopped
300g ricotta
6 eggs plus extra for brushing
Salt and black pepper
80g parmesan, grated
A pinch of nutmeg
Method
Make the pastry: Rub the butter into the flour with your fingertips until it resembles breadcrumbs. Add the ricotta and a pinch of salt, mix and bring together into a soft ball. Turn the pastry on to a floured work surface and knead until smooth. Cover with clingfilm and chill for 30 minutes.
Make the filling: Bring a pot of water to the boil. Meanwhile pick over the greens, discarding any tough stalks and discoloured leaves, then wash them. Working in batches, add some of them to a pan. Bring back to the boil and cook for a few minutes, just long enough to wilt the greens. Remove the cooked greens to a colander and repeat with the remaining greens. When they're all cooked let them drain for at least 10 minutes. Once they are cool enough to handle, use your hands to squeeze out as much water as possible, and then chop roughly.
Heat the olive oil in a pan until warm and then add the chopped onion. Sauté for 5 minutes, and then add the greens. Stir and heat for a few minutes and then remove from the heat. Mix in the ricotta, 2 lightly beaten eggs, salt, pepper, parmesan and nutmeg.
Butter and flour a 26cm round tin, preheat your oven to 190C and put a flat baking tray in to get hot.
Cut the dough into two pieces, one twice the size of the other. On a floured surface roll the larger piece into a circle large enough to fill the tin, come up the sides and hang over the edge. Lift the dough into the tin and press it in. Add the filling. Using a spoon, make four deep indents in the mixture. Break the remaining four eggs into these indentations.
Roll the smaller piece of dough into a disc large enough to generously cover the top of the tin. Place it over the top of the tart and, using wet fingertips, press the dough to make a firm seal, and then fold any excess dough back towards the centre to make a little fringe. Prick or slash the centre of the tart. Paint the top with beaten egg or milk, put onto the hot baking tray, and bake for 50 minutes or until golden.
Allow to cool a little before turning out. Serve warm or at room temperature.
(Recipe adapted from Rachel Roddy, The Guardian and New York Time Cooking.)
March 3, 2022 by General Administrator
This is based very loosely on a classic Turkish dish called çilbir, which consists of soft poached eggs topped with garlicky yoghurt and a butter sauce spiced with Aleppo pepper. I've also had the same pair of toppings on pasta. Here the garlic yoghurt and spicy butter are combined with fresh greens and served on a base of lemony rice with chickpeas. Having two sauces gives this quick and easy dish a luxurious feel.
Vaguely Turkish Greens, Serves 2
Ingredients
about 200ml full-fat yoghurt
1 clove of garlic, mashed to a paste with ½ teaspoon salt
2 tablespoons butter
¼ teaspoon smoked paprika (I used the 'sweet' variety). If you have some Aleppo pepper (pul biber), use that instead.
450g spinach, chard, or other greens
about 1 cup of cooked brown rice
¾ of a tin of chickpeas (the tins that combine black and ordinary chickpeas look particularly nice)
1 tablespoon olive oil
zest and juice of half a lemon
salt and pepper
Method
In a small bowl, combine the yoghurt and crushed garlic. Taste it: it should be salty and garlicky. Add a bit more salt if you like and set aside.
Put the butter and the smoked paprika in a small pan or microwave-safe jug and warm gently until the butter is melted. Set aside.
Wash the greens and put them in a large pan. Steam or boil until they are tender—about 4 minutes.
Meanwhile, combine the cooked rice, chickpeas and olive oil and warm the whole thing in a microwave or on the stove. Once it's warm add the lemon zest and juice, and season to taste.
Drain the greens, and use a wooden spoon to press out as much water as you can. I also use a pair of kitchen scissors to snip the cooked greens into smaller units as they sit in the colander, but you don't need to do this.
Now assemble the dish: divide the chickpea rice into two bowls. Top each with half the cooked, drained greens. Dollop half the garlic yoghurt on top of each. It looks nice if you make several discrete dollops, rather than just pouring it over the top—that way you can see the greens underneath. Now drizzle the melted paprika butter over the yoghurt, making a red criss-cross across the white yoghurt and green greens. Top with a final grind of black pepper and enjoy. A glass of white wine is a pleasant accompaniment.
September 3, 2020 by General Administrator
In case you are wondering what to do with the mysterious 'huauzontle', here is the answer! Huauzontle, also known in Mexico as 'quelites', is a flavoursome green a bit like sprouting broccoli. In this recipe it is mixed with juicy tomatoes and cubed potatoes to make a superlative filling for a tortilla or other flatbread. Serve topped with thick yoghurt.
Quelites a la Mexicana
Serves 2
Ingredients
250g potatoes
250g huauzontle
200g onions
150g tomatoes
½ to 1 Canalside chile, deseeded if desired
1 tablespoon vegetable oil
1 teaspoon ground cumin
Yoghurt and flatbreads, to serve
Preparation
Put the potatoes in a saucepan and cover with cold water. Add a pinch of salt. Bring to the boil and cook until tender. Depending on the size of the potatoes, this can take between 20 and 40 minutes. Drain and let cool
Put the huauzontle in a saucepan and cover with cold water. Add a pinch of salt. Bring to the boil and cook until it's tender, about 8 minutes.
Peel the onions and chop coarsely. Chop the tomatoes into chunks roughly the same size as the onions. Slice the chile.
By now the potatoes should be cool. Cut them into cubes, about 2cm or thereabouts.
Heat the oil in a frying pan or casserole pan. Add the onions, tomatoes and chile, and sauté for a few minutes. Add the cooked huauzontle, cubed potatoes and cumin, and sauté for a few more minutes to heat through.
Serve topped with yoghurt in flatbreads (tortillas would be traditional).
Recipe freely adapted from this fantastic video by Mexican internet sensation Doña Ángela. Many thanks to Ricardo Aguilar for his advice about cooking quelites and for telling me about Doña Ángela.
August 6, 2020 by General Administrator
This week we're getting an unusual vegetable, Huauzontle. After a fair bit of digging it seems it's impossible to talk about Huauzontle without mentioning the dish "Tortas de Huauzontle", which are small battered and deep fried fritters of Huauzontle and cheese, so that has to be my recipe for this week. If this doesn't take your fancy though it seems the best alternative is to treat it like broccoli, maybe by sauteing with onion/garlic/cumin/vinegar.
Tortas de Huauzontle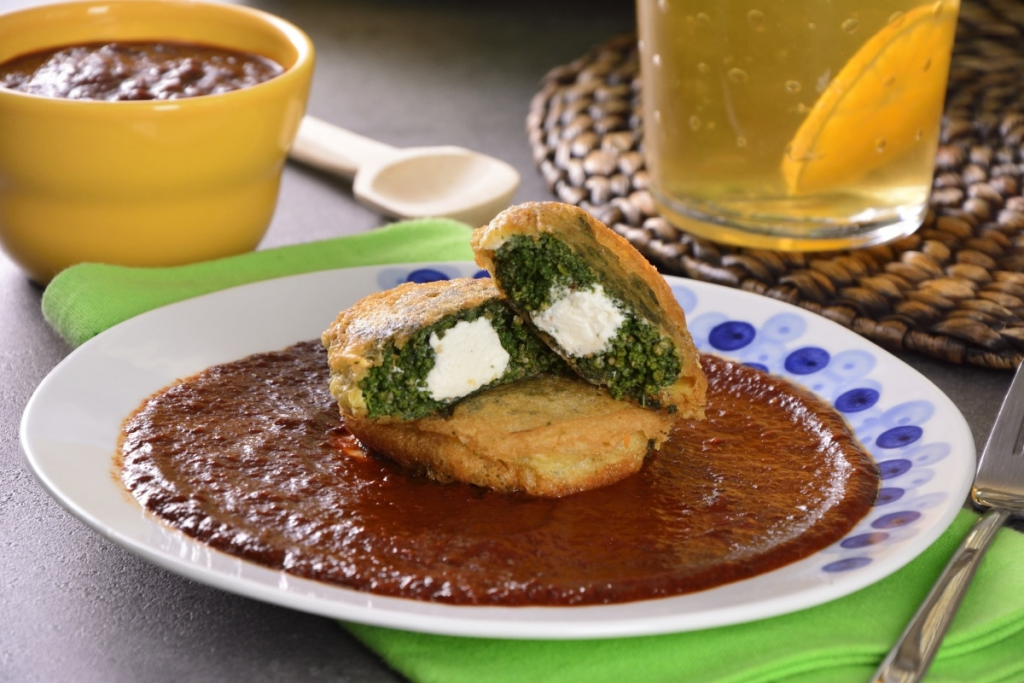 Ingredients (will need scaling according to your share):
Tortas:
1 1/2 liters Water
1 teaspoon salt
4 cups huauzontle, clean, without branches
190 grams cream cheese (or alternative)
1/2 cups flour
4 egg whites (For batter. For vegan alternative try a gram flour batter)
4 egg yolks
enough oil, to fry
Sauce:
3 pasilla chili peppers (deveined and soaked – try canalside dried chilis but beware they're much hotter)
2 tomatoes
1/4 onions
2 cloves garlic
1/2 cups Water
2 tablespoons oil
salt
Method:
Cook huauzontles in salted water for 5-10 minutes (cook time varies wildly from recipe to recipe, cook for longer if you're only shallow frying I think)
Place the huauzontles in a bowl of water with ice.
Remove the huauzontles and dry on a tea towel to remove moisture.
Strip everything from the bitter stalk and discard this.
Form a burger like patty in your hands by squeezing the huauzontle around a chunk of cream cheese, flouring the outside.
In a blender beat the egg whites with a pinch of salt, until peaks form
Add the yolks and beat for 1 minute more to integrate.
Dip the huauzontle pancakes in the batter.
Heat the oil over medium heat and fry 2 minutes on each side. (Make the sauce first)
For the sauce, blend the chilies, tomato, onion, garlic and water for 3 minutes.
Heat the oil over medium heat, pour the sauce, season with salt and let it cook for 15 minutes.
Serve the huauzontle pancakes bathed in pasilla sauce.
Recipe adapted from:
https://us.kiwilimon.com/recipe/main-dishes/huauzontle-pancakes-with-sauce-from-chile-pasilla
https://www.atastefortravel.ca/3408-huauzontle-puerto-escondido-mexico/#wprm-recipe-container-12833