February 27, 2020 by General Administrator
Dishes of pickled turnips often accompany the mezzes at a Middle Eastern restaurant (or, probably, a Middle Eastern meal). Salty and pink, they are easy to make at home. You can substitute those confusing giant Spanish black radishes for the turnips, if you still have some of these in your fridge. The lovely pink colour comes from beetroot.
The ratio of turnip to beetroot is approximate.
You can sterilise jars by placing clean washed jars in a 130C oven for 20 minutes. Switch the oven off and leave the jars inside until needed. Alternatively, pour boiling water over clean jars and leave until you're ready to use them.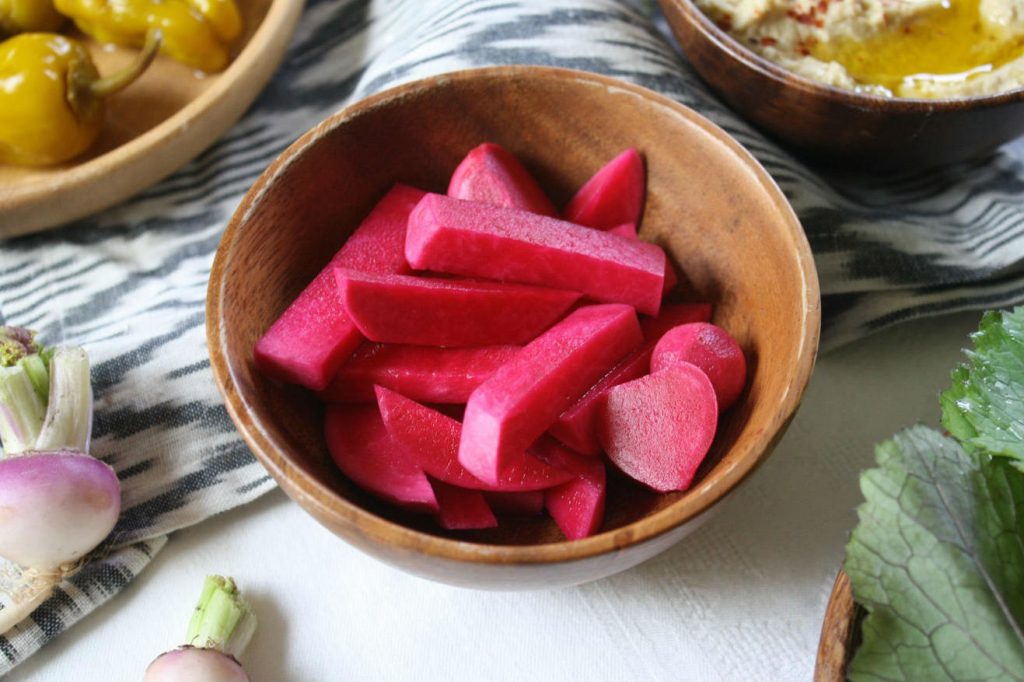 Pink Pickled Turnips
Ingredients
500ml water
3 tablespoons salt
1.5 kilos turnips or Spanish black radishes, or a mixture
250g beetroot
3-4 cloves of garlic
Handful of celery leaves
A few bay leaves (optional)
1 teaspoon whole peppercorns (optional)
2 cups white vinegar
Preparation
Boil the water and salt together for 5 minutes, then set aside to cool.
Peel the turnips or radishes, and the beetroot, and cut into wedges. (The size does not matter a great deal; cut them into the size you'd like to eat.) Peel the garlic and cut each clove in half.
Layer the turnips (or radishes) in sterilised jars, packing some garlic, celery leaves, and optional bay leaves and peppercorns in between each layer.
Combine the vinegar with the water-and-salt mixture and pour this over the vegetables. Poke the vegetables down with a spoon to ensure there are no air pockets and that the vegetables are fully submerged. Seal the jar—Sally Butcher recommends putting a layer of clingfilm over the top before sealing if you're using a metal lid—and leave for at least 2 weeks and up to 6 months.
Recipe adapted from Sally Butcher, Veggistan: A Vegetable Lover's Tour of the Middle East (2011).
February 1, 2019 by General Administrator
As you may well still have your Black Spanish Radish from this week's share, here are some recipes from Rebecca that have been waiting in the wings for the BSR's first appearance of 2019!
These are fierce! They need some sweetness to balance their peppery bite. A dressing with honey and sherry vinegar does the trick. Combined with dried fruit and nuts in a salad, this will temper the outspoken radish.
Another option is to braise them. They emerge from a bath in butter and white wine softened, like a turnip's more assertive older brother. Toss them with parsley and serve with roast chicken.
Green salad with Spanish black radish, pistachios and fig
Serves 2
Ingredients
dressing
2 tablespoons olive oil
2 teaspoons sherry vinegar
Juice and zest from 1 lime
1 teaspoon Dijon mustard
1 teaspoon runny honey
1/4 teaspoon salt
Black pepper
salad
150g salad mix
1 black Spanish radish, peeled and grated coarsely
1 big handful pistachio nuts, toasted in a dry pan and coarsely chopped
4 dried figs, cut into 6 pieces each
Preparation
(Leave the grated radish in a sieve to allow any liquid to drain off while you prepare the dressing.)
Put the dressing, put the ingredients into a jar with a lid and shake vigorously until the ingredients are combined. Taste and adjust the seasoning if necessary by adding a little more salt, or honey, etc., to balance the flavours.

Place salad ingredients in a serving bowl, and toss with the dressing. Serve.
Braised Carrot and Black Radish with Parsley
Serves 4
Ingredients
100g onions
350g carrots
2 black radishes
2 tablespoons olive oil
150ml white wine or vermouth
3 bay leaves
6 pepper corns
Salt to taste
2 tablespoons butter
25g parsley, chopped
Preparation
Peel the onions and cut into chunks. Peel the carrots and cut into batons.

Peel the black radishes and cut into batons of roughly the same size as the carrots.

Heat the olive oil in a saucepan over medium heat. Add the onions and sauté for a few minutes until they start to brown. Add the carrots and onions and toss everything together.

Pour over the white wine or vermouth, and add the bay leaves and pepper corns. Bring to a gentle boil, reduce the heat to low, cover, and simmer until the vegetables are tender, about 45 minutes. (This will depend on the size of your batons.) Check it occasionally to ensure it's not sticking. If it seems dry add some water, stock or more wine.

Once the vegetables are tender, stir in the butter and give the vegetables a good toss. Add salt to taste, mix in the parsley, and serve.
February 23, 2018 by General Administrator
This is a great way to use up odds and ends of fresh veg, and leftovers too. You can use more or less whatever you fancy from the list, though I do think some kind of onion is essential. As the egg is poured straight into the roasting dish full of hot veg, you don't need to fry this frittata at all, but it helps to have a heavy ceramic or cast-iron dish, which retains the heat well. And the eggs should be at room temperature, not cold from the fridge.
Oven-roasted roots frittata
Ingredients
About 600g mixed winter veg, such as onions, carrots, squash or pumpkin, parsnip, celeriac, beetroot, jerusalem artichokes, black spanish radish, potatoes
1 large garlic clove, finely chopped
3 tablespoons rapeseed or olive oil
7 large or 8 medium eggs
A handful of mixed herbs, such as curly parsley, chives and thyme, finely chopped
About 20g Parmesan, hard goat's cheese or other well-flavoured hard cheese, grated
Sea salt and freshly ground black pepper
Method
Preheat the oven to 190°C/Gas Mark 5. Meanwhile, prepare your chosen veg: peel shallots or onions and quarter or thickly slice; peel carrots and cut into 5mm slices; peel squash or pumpkin, deseed and cut into 2–3cm cubes; peel parsnip, celeriac and beetroot and cut into 1–2cm cubes; cut potatoes into 1–2cm cubes.
Put all the veg into an ovenproof dish, about 23cm square. Add the garlic, oil and plenty of salt and pepper and toss well. Roast for about 40 minutes, stirring halfway through, until the veg are all tender and starting to caramelise in places.
Beat the eggs together with the chopped herbs and some more salt and pepper. Take the dish from the oven, pour the egg evenly over the veg and scatter over the grated cheese. Return to the oven for 10–15 minutes until the egg is all set and the top is starting to colour. If your oven has a grill, you can use that to accelerate the browning of the top.
Leave to cool slightly, then slide the frittata out on to a plate or board. Serve warm or cold. Perfect lunchbox fare…
Thanks to River Cottage