October 14, 2022 by General Administrator
This salty, sweet and crunchy salsa pairs perfectly with the rich, oily mackerel. The Ottolenghi team urge you to use 'good quality' olives and 'plump' raisins. This dish works well alongside another Ottolenghi dish: quinoa and red Camargue rice salad with orange and pistachios:
Grilled Mackerel with Green Olive, Celery and Raisin Salsa
Serves 4
Ingredients
For the Salsa
125g celery stalks, thinly sliced
60g green olives, pitted and thinly sliced
3 tablespoons capers, rinsed
70g raisins
1½ teaspoons sherry vinegar
60ml olive oil
3 tablespoons runny honey
15g parsley, roughly chopped
Salt and pepper, to taste (if necessary)
For the Fish
2 tablespoons olive oil
4 mackerel fillets
Salt and pepper
Method
For the Salsa: Stir together the salsa ingredients aside from the salt and pepper, and leave to sit for at least 15 minutes. Longer is fine. Taste the result: it should be sweet, sour and salty. Add salt or pepper if you think it necessary.
For the Fish: Heat a frying pan over medium-high heat and add the olive oil. When it is hot add the mackerel fillets, skin side down. Leave them alone for 2 minutes: resist the urge to move them about in the pan. By this point the flesh on the side facing up should begin to cook. Carefully flip the fish over and cook for another 1 to 2 minutes more, or until it is just cooked. Remove the pan from the heat.
To serve, place the fish on a serving platter and top with spoonfuls of salsa.
Recipe adapted from Yotam Ottolenghi and Sami Tamimi, Ottolenghi The Cookbook (2008).
June 10, 2022 by General Administrator
Shakshuka usually consists of eggs poached in a spicy tomato sauce. This is a green version, where the eggs are poached on top of a savoury mixture of cumin-scented greens, and then topped with feta, lemon and herbs. Serve it with good bread and some harissa if you'd like to spice it up a bit. Red or green, shakshuka is apparently a popular North African and Middle Eastern breakfast dish. It is also very nice for dinner, and uses only one pan.
We made it with some amazing duck eggs, which are huge and extra unctuous, so if you happen to have some lying around this is a good opportunity to use them. Ordinary eggs will be delicious too, though.
Green Shakshuka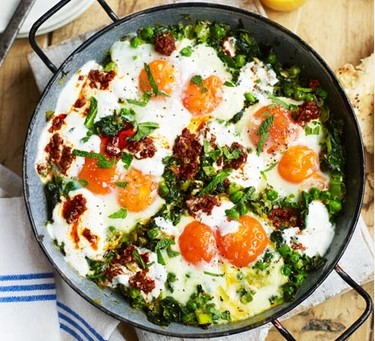 Serves 2
Ingredients
3 tablespoons olive oil
1 large onion, roughly chopped
½ teaspoon salt
2 teaspoons cumin seed
1 teaspoon coriander seed
2 large garlic cloves, sliced thin
650-ishg greens (spinach, chard, spring greens, or a mixture), chopped
25g coriander, dill, mint, parsley, or a mixture, chopped
a wineglass (about 200ml) of white wine, or use water
2-4 eggs
100g feta, crumbled
half a lemon
Harissa and crusty bread, to serve
Method
Over medium heat, warm the oil in a frying pan and add the onion and salt. Reduce the heat to low and cook 5-10 minutes, or until the onion has softened.
While the onion is cooking toast the cumin and coriander seeds in a dry frying pan until fragrant. Keep an eye on it so it doesn't burn. Set aside to cool a little and then grind it in a mortar and pestle (or use pre-ground spices).
Increase the heat back to medium and add the ground spices and garlic to the pan with the onion and stir for another minute or two, until it smells good.
Add the greens and most of the herbs—but keep a big handful of the herbs aside to use for a garnish. Stir everything together and sauté until the greens begin to wilt a bit. Add the wine or water, and cook for another 8-10 minutes, or until the greens are tender.
Once the greens are tender, use a spoon to create two to four little nests in the mass of cooked greens—one for each egg you intend to use. Crack each egg on the side of the pan, one at a time, and slide it into its nest. Cover the pan and cook for 4-6 minutes, or until the whites have set and the yolks are to your liking.
Remove from the heat and top with the feta. Grate the zest of the lemon onto the feta and then squeeze over the juice. Sprinkle with the remaining herbs and serve, with harissa and crusty bread.
Recipe adapted from BBC Good Food.
May 27, 2022 by General Administrator
Asparagus is such a treat; we should eat it all the time while it is in season. If you're tired of having it steamed with melted butter and parsley (is that in fact possible?), or you would like to make a more substantial dish, try this. It's delicious and feels luxurious. The halloumi turns crispy in the oven, with a rich, melty interior that contrasts well with the woody flavours of the asparagus. Hugh Fearnley-Whittingstall thinks this will serve four. I think two hungry people could finish this off. He recommends serving with some good bread; a glass of a nice dry Riesling doesn't hurt either.
Roast Potatoes, Asparagus and Halloumi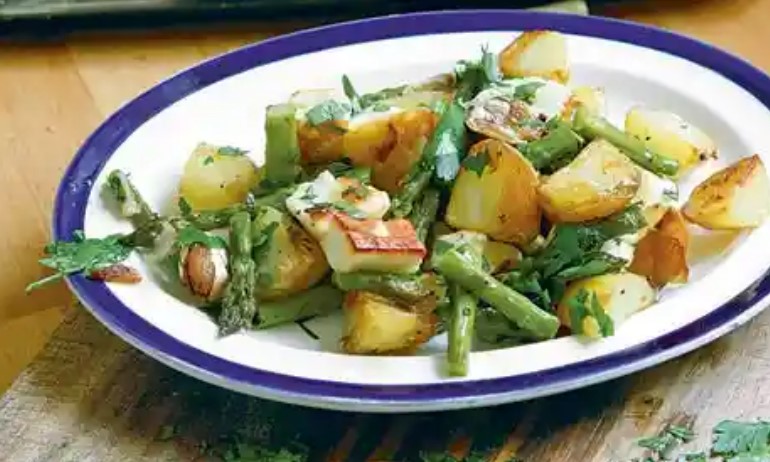 Serves 2-3
Ingredients
600–700g potatoes, scrubbed or scraped
3–5 garlic cloves, unpeeled, bashed
3 tablespoons olive oil
400g asparagus
225g halloumi
½ lemon
salt and freshly ground black pepper
2 tablespoons roughly chopped flat-leaf parsley, to garnish
Method
Preheat the oven to 190C. Cut the potatoes into small chunks. Put them in a large roasting tray with the garlic, olive oil and some salt and pepper, and toss well.
Roast for 30 minutes.
Meanwhile, snap the woody ends from the asparagus and cut the spears into 3–4cm lengths. Cut the halloumi into 2cm cubes.
After the 30 minutes is up, take the potatoes from the oven, add the asparagus and halloumi, and toss to combine. You don't want the tray to be too crowded – everything should be in a single layer. Return the tray to the oven for a further 15 minutes, or until the asparagus is tender and the cheese is starting to caramelise.
Add a generous squeeze of lemon juice and toss everything again, then transfer to a serving dish. Scatter with parsley, and another grind of black pepper. Bring to the table along with the remains of the lemon half, and some more olive oil, so that people can adjust the flavours to their liking. Serve with wedges of sourdough bread.
Recipe adapted from Hugh Fearnley-Whittingstall, The Guardian, 7 Sept. 2012.
April 21, 2022 by General Administrator
A Falafel Salad
The New York Times describes this as the salad equivalent of a falafel sandwich. It combines tahini, mint, cucumber, and crunchy pita with spicy, warm chickpeas. It's really good. If you don't want to mess around with cooking the kale, you could also use salad greens.
Spiced Chickpea Salad With Tahini and Pita Chips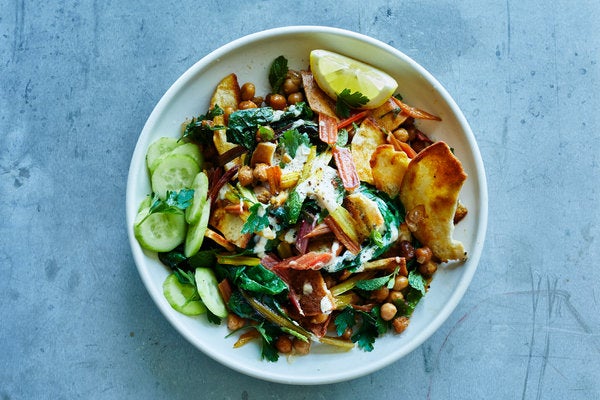 Serves 4
Ingredients
For the chickpeas
2 tins of chickpeas, well drained, or the equivalent of your self-cooked chickpeas
about 180ml olive oil
2 garlic cloves, minced
2 teaspoons ground cumin, or 1 teaspoon each ground cumin and ground coriander
1 teaspoon sweet smoked paprika
Salt and pepper
For the tahini sauce
5 tablespoons (80ml) tahini
freshly squeezed juice of 1 lemon, plus more to taste
1 garlic clove, minced
water, as needed
To finish
Olive oil, for cooking
About 30g kale, chard or spinach, well washed and thick stems removed
180g pita chips (see Tip)
Handful of roughly chopped flat-leaf parsley
Handful of roughly chopped mint
1 cucumbers, thinly sliced
Lemon, cut into wedges
Preparation
Prepare the chickpeas: Preheat your oven to 220C. Pour the chickpeas into a small baking dish, about 15cm x 20cm. The chickpeas should be crowded together in a thick layer, not spread out. Pour in olive oil until chickpeas are just covered. Stir in the garlic, cumin, paprika, and 2 big pinches each of salt and pepper. Bake until oil is bubbling around the chickpeas and they are turning reddish-brown, 35 to 40 minutes. Set aside to cool.
Meanwhile, make tahini sauce: Pour the tahini into a bowl and whisk in lemon juice and garlic. The tahini will thicken and clump. Slowly whisk in the water, a little at a time, until the sauce becomes smooth, creamy and pourable. Taste and season with salt, pepper and more lemon juice, if desired. Set aside.
Cook the greens: Place a large frying pan over medium heat and drizzle lightly with olive oil. When hot, add the greens in batches, along with a big pinch of salt. Stir until wilted and tender and set aside.
Assemble the salad: in a large bowl, gently mix the chickpeas and their cooking oil with the cooked greens, half the pita chips, and the chopped herbs. Add the cucumber slices and drizzle with half the tahini sauce. Scatter the remaining pita chips on top. Arrange the lemon wedges around the side and serve, passing extra tahini sauce at the table.
Tip
It's easy to make pita chips from stale pita bread. Cut each pita bread into triangles and separate the top and bottom layers. Heat 2 tablespoons olive oil in a large skillet over medium-high heat. When the oil shimmers, add the pita triangles and cook, stirring often, until golden brown. Reduce the heat as needed to prevent scorching.
Recipe adapted from New York Times Cooking (2019)
March 31, 2022 by General Administrator
I imagine you're already aware of how good roasted beets are in a salad, especially if they are accompanied by some salty cheese. Here is a particularly tasty variant on this classic combination. Suzanne Goin, whose recipe this is, claims it converted her beetroot-hating mother into a beetroot fan. The cumin vinaigrette, fried chickpeas, flat-leaf parsley and sharp black olives combine with the rich, roasted beets and salty ricotta to make a treat for your mouth.
Ricotta salata is a hard, dried version of ricotta. You could use a hard goat or sheep cheese in its stead.
Roasted Beet Salad with Fried Chickpeas, Black Olives and Ricotta Salata
Suzanne Goin says this serves 6 as a starter. Matt and I ate the whole thing for dinner, with some bread.
Ingredients
1kg beetroot, cleaned
120ml olive oil
1½ teaspoons cumin seeds
¼ teaspoon salt
2 tablespoons red wine vinegar
1 tablespoon lemon juice
2 shallots, thinly sliced
250g cooked chickpeas
a fragment of chopped Canalside chile pepper, seeds removed if you like (optional)
90 grams dry, Niçoise-style black olives
15g flat-leaf parsley, coarsely chopped
100g ricotta salata, cut into thin slivers
more salt and pepper
Method
Preheat the oven to 200C.
Put the beetroots in a roasting pan, add a splash of water, and cover the pan tightly with foil. (I know it's not great to use foil. You can at least try to reuse this foil, since it won't get dirty.) Roast the beets for 40-90 minutes, or until tender when pierced with a knife. How long they take to roast will depend on their size. Let cool and remove the skins. They should rub off easily. If they don't, you can use a knife. Slice the beetroots into wedges and place in a large bowl.
While the beetroots are roasting, toast the cumin seed in a dry medium pan over medium heat for 2 to 3 minutes, or until they smell cumin-y. Let cool a bit and then grind coarsely in a mortar and pestle. Transfer to a bowl.
To this bowl add the salt, red wine vinegar and lemon juice. Whisk in 100ml of olive oil. Taste and balance the seasoning, if necessary. Does it need a little more lemon juice, or salt? Add the shallots and set aside to marinate a bit.
Heat the remaining 20ml of olive oil in the pan you used for the cumin. When it is really hot, add the chickpeas and the chile (if you're using it), and fry for 4-5 minutes, until the chickpeas are crispy. Shake the pan often. Once they're crispy, season with a bit more salt and pepper and set aside.
Gently toss the beetroots with the cumin-shallot vinaigrette. Add the olives and parsley leaves and taste again. Balance the flavours with more lemon juice, salt or pepper, if necessary.
Array half the salad on a platter. Tuck half the cheese around the vegetables, and top with half the chickpeas. Place the rest of the salad on top, nestle in the remaining cheese, and finish with the remaining chickpeas. Enjoy.
Recipe adapted from Suzanne Goin, Sunday Suppers at Lucques (2005).
March 10, 2022 by General Administrator
Some of you may have seen that Russian chef Alissa Timoshkina has teamed up with Ukrainian chef Olia Hercules to raise money for Ukraine. I thought this week I would repeat this recipe for their excellent borscht.
Borscht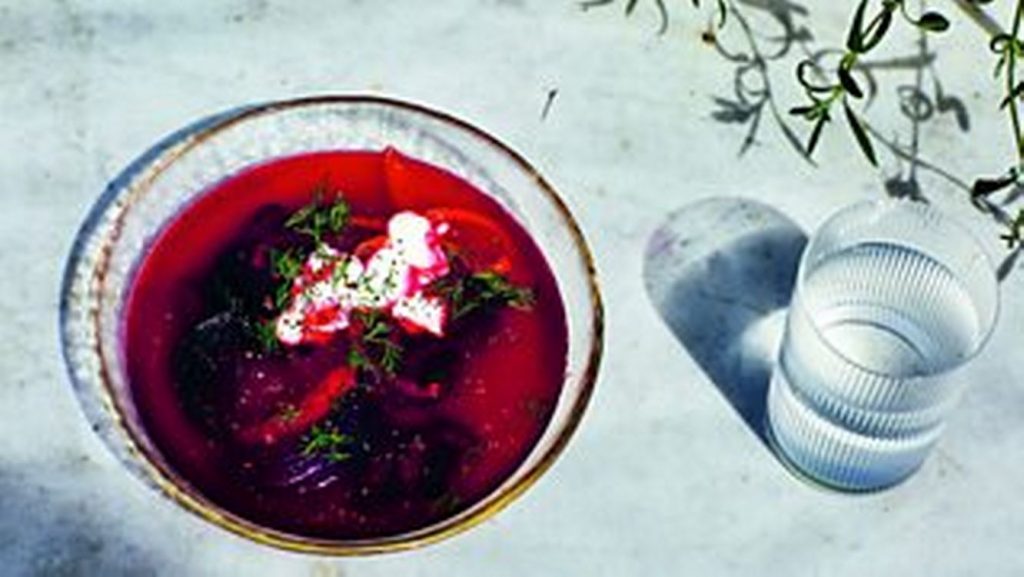 Serves 4
Ingredients
unrefined sunflower oil, for frying and roasting
1 large onion, finely diced
1 carrot, peeled and grated
6 raw beetroots
2 red peppers
2 tablespoons tomato purée
2 litres cold water
2 bay leaves
1 tablespoon black peppercorns
1 tablespoon coriander seeds
1 tablespoon fennel seeds
4 garlic cloves, peeled
bunch of dill
small bunch of flat leaf parsley
2 garlic cloves, grated
500g red cabbage sauerkraut
2 tablespoons pomegranate molasses
1 red onion
1 tablespoon brown sugar
400g can red kidney beans
2 teaspoons smoked paprika
4 tablespoons soured cream
salt
Preparation
Heat up a tablespoon of sunflower oil in a large pan and fry the onion and carrot for about 8 minutes until golden. Meanwhile, peel and grate 2 of the beetroots and core, deseed and thinly slice 1 red pepper. Add the vegetables to the pan together with the tomato purée and a splash of water. Season with salt to taste and fry for a further 5–8 minutes.
Top with the measured cold water, add the bay leaves along with the peppercorns and all the seeds, whole garlic cloves and half the bunches of dill and parsley. Season with a tablespoon of salt and bring to the boil. Reduce the heat, add the grated garlic and half the sauerkraut with its brine and simmer, covered, over a low heat for 40 minutes–1 hour.
Turn off the heat and let the borsch rest for another hour, while you prepare the rest of the elements.
So far, so good, but here is where the recipe starts to deviate from the norm quite a lot: to prepare the vegetables that will grace the plate and also add extra flavour and texture to the soup, you will need to do a bit of roasting.
Start by preheating the oven to 160°C fan/Gas Mark 4. Peel the remaining 4 beetroots, cut into wedges and dress with oil, salt and the pomegranate molasses. Peel the red onion, cut into wedges and season with salt and the brown sugar to bring out their sweetness and promote caramelization. Place on a roasting tray with the beetroot and roast together for 30 minutes. Drain the kidney beans, then dress them with salt, oil and the smoked paprika. Core and deseed the remaining red pepper, then cut into thin strips and dress with salt and oil. Roast the beans and pepper together, as they will need only 10–15 minutes.
When ready to serve, strain the broth through a sieve or a muslin cloth, discarding the solids. All we need is that rich broth! Reheat again if necessary. Next, create layers of texture and flavour in each bowl by adding a heaped tablespoon of the remaining sauerkraut to each, as well as a handful of roasted beetroot, onion, kidney beans and red pepper. Top each bowl with the hot broth and add a dollop of soured cream and a generous sprinkle of the remaining dill and parsley, chopped. The intensity of the flavours and textures of this dish is beyond words, while the look of the bowl will seduce the eye without a doubt.
Recipe from Alissa Timoshkina, Salt & Time: Recipes from a Russian Kitchen (2019).
July 8, 2021 by General Administrator
This salad is in honour of my younger son Isaac, who has moved to Peckham, home of Sally Butcher's wonderful restaurant Persepolis. The recipe is adapted from Butcher's 2011 Veggiestan. The combination of crispy, raw carrot and sweet, roasted beetroot works well with the orangey balsamic dressing. The original recipe includes several sweet potatoes alongside the beetroot. If you'd like to include these, peel and boil for about 15 minutes, and then toss with the other ingredients.
Beetroot and Orange Salad
serves 4 as a side dish
Ingredients
Salad
2 large beetroots
1 large carrot, peeled and grated
1 big handful of parsley, coarsely chopped (you can use all parsley or all mint if you prefer)
1 big handful of mint leaves, coarsely chopped (you can use all parsley or all mint if you prefer)
Dressing
zest and juice of 1 large orange
2cm of ginger, peeled and grated
½ teaspoon ground cumin
¼ teaspoon ground cinnamon
4 tablespoons olive oil
1 teaspoon orange flower water
2 teaspoons balsamic vinegar
salt and pepper
Preparation
Preheat the oven to 200C. Place the whole beetroot in the oven and roast for between 45 and 90 minutes, or until it is soft when poked with a fork. Remove and let cool.
While the beetroot roasts, prepare the dressing: put all the ingredients into a jar and shake vigorously until well mixed. Don't forget to zest the orange before you cut it in half to juice it!
Once the beetroot is cool enough to handle, peel it and cut into 1.5cm cubes. Combine it with the grated carrot and chopped herbs, and then pour the dressing over and toss.
Recipe adapted from Sally Butcher, Veggiestan (2011).
May 20, 2021 by General Administrator
Beetroot with feta, or goat cheese, is a classic combination, but other cheeses are available. Cheddar, for instance. Lentils add bite and substance to this salad, and the mustard brings a complementary zing that combines well with the cheddar. You can use either red or yellow beetroot in this salad, which makes a good lunch or simple supper.
Beet and Lentil Salad With Cheddar
Serves 4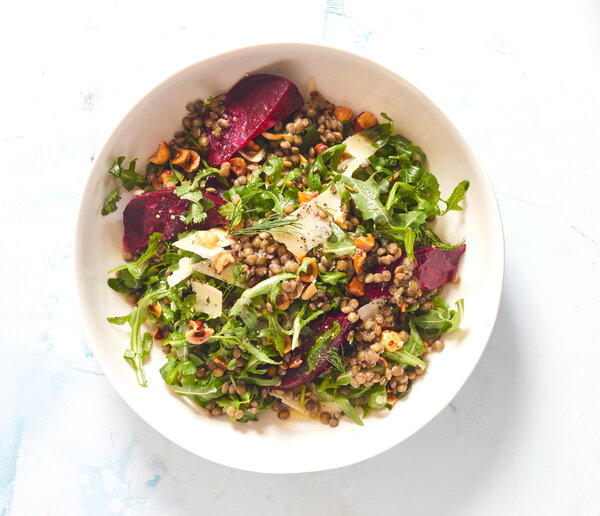 Ingredients
For the salad:
500g beetroot
300g green lentils, rinsed
1 garlic clove, smashed
1 teaspoon salt
approx. 2 cups rocket or another green such as shredded Swiss chard
5g dill, parsley, mint or coriander, roughly chopped
50g Cheddar, roughly crumbled
handful walnuts or hazelnuts, toasted in a dry frying pan for a few minutes
For the apple cider vinaigrette:
1 small garlic clove, grated
2 tablespoons apple cider vinegar
3 tablespoons extra-virgin olive oil
1 tablespoon maple syrup or brown sugar
½ teaspoon Dijon mustard
¼ teaspoon salt
several grinds of freshly ground pepper
Preparation
Place the beetroot in a microwave-proof bowl. Add 1 cup water to the bowl and cover the bowl tightly with clingfilm. Microwave for 20 minutes. By now the clingfilm should have collapsed tightly onto the beetroot, creating a sort of vacuum-seal. With your finger prod the beetroot through the clingfilm to see how soft it is. If it feels tender, the beetroot is done. If not, put it in for another 5 minutes and test it again. Keep going until the beetroot feels tender. Once it's done, remove it from the microwave, peel back the clingfilm, drain, and set aside.
Meanwhile, cook the lentils: in a medium pot, add the lentils, salt, garlic and 1 litre of water. Bring to a boil over high. Reduce heat to medium, cover and simmer for 20 to 25 minutes until just tender. (The lentils should still have some bite). Drain in a colander and stir to break up and evenly distribute the garlic. Let the lentils cool slightly.
Once the beetroot is cool enough to handle, set about peeling it. The peel should come off fairly easily with a knife. Cut the beetroot into 1cm cubes, or slice into small wedges.
While the lentils cook, prepare the vinaigrette: in a large serving bowl, whisk the garlic, vinegar, oil, maple syrup and mustard with the salt and pepper. Add the warm lentils to the serving bowl, then add the beets, greens, nuts and herbs. Toss together and then stir in the the cheese. Don't stir too vigorously, because you don't want the cheese to turn crimson from the beets, and serve.
Recipe adapted from Hetty McKinnon, New York Times Cooking
May 6, 2021 by General Administrator
This is a bit of a production, but the flavours you will create are remarkable. The dish tastes of the sea, of warm evenings outdoors, of blue skies. Make it now.
Pasta with Cauliflower, Currants, Pine Nuts and Saffron Onions
Serves 4
Ingredients
80g currants (or raisins)
230ml white wine
60ml olive oil, plus 2 tablespoons more
2 medium onions, peeled and diced
salt
1 teaspoon saffron threads
100g coarse breadcrumbs
700g cauliflower, cut into very small florets
3 garlic cloves peeled and chopped
8 anchovy fillets, rinsed and chopped
1 teaspoon red pepper flakes
handful of parsley, large stalks removed and coarsely chopped
12 sprigs of marjoram, coarsely chopped
450g short pasta shapes
Preparation
First plump the currants: put the currants and wine in a small saucepan over low heat. Bring to the boil and—as soon as it reaches the boil—remove from the heat and set aside for at least 30 minutes. The currants will absorb the wine.
Now prepare the saffron water: put the saffron and 60ml of water into a small bowl. Heat in the microwave for 30 seconds or so, or until the water boils. The moment the water boils remove and set aside for at least 5 minutes. (Of course you can do this on the stove.)
Now make the saffron onions: put 60ml of oil into a frying pan over low heat. When hot add the onions and a pinch of salt and cook for about 8 minutes, or until the onions are beginning to soften, but still remain golden.
Add the saffron water and continue to cook, stirring occasionally, for 10-15 more minutes, or until the onions are very soften and have turned a beautiful saffron colour. Don't let them burn.
Toast the breadcrumbs: toast the breadcrumbs in a dry frying pan for 5-8 minutes, or until they are a golden colour. Keep an eye on them so they don't burn. You can add some oil if you prefer. You can also make them in a 150C oven—they'll take about 20 minutes.
Meanwhile, cook the cauliflower: put the remaining 2 tablespoons of olive oil and 60ml of water into a separate pan. Bring to the boil and then add the cauliflower. Cover and cook over medium-low heat for about 15 minutes, or until the cauliflower is extremely soft. Check every now and then to make sure there is enough water—don't let this boil dry—and add more if necessary.
Once the cauliflower is soft, make a well in the middle of the cauliflower and add the garlic, anchovies and pepper flakes. Sizzle over low heat until the anchovies have broken down and merged with the rest of the ingredients in the pan.
Now add to the cauliflower the saffron onions, currants (and any remaining wine), parsley and marjoram.
Your sauce is now ready.
Cook the pasta according to the package directions whenever you are ready to eat. Reserve about 60ml of the cooking water when you drain it. You will add this to the finished dish.
To serve, combine the pasta and sauce and toss well. Add the reserved cooking water and heat over a low flame for a minute or two until it's hot and well blended. Top with the breadcrumbs and serve with a glass of white wine, imagining yourself on a balcony in Sicily.
Recipe adapted from Christopher Boswell, Pasta: Recipes from the Kitchen of the American Academy in Rome (2013).
April 22, 2021 by General Administrator
Everyone knows roasted vegetables are good. Adding a punchy caper and parsley vinaigrette makes them even better. You can use different vegetables (potatoes, say), and you can also vary the vinaigrette by adding harissa paste, or using basil or mint instead of parsley.
Served with rice or another grain to soak up the vinaigrette, this makes a good weekday dinner. You can add some salted yoghurt if you want additional creaminess (and protein).
Roasted Parsnips and Squash with Caper Vinaigrette
Serves 3-4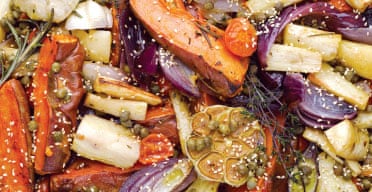 Ingredients
For the roast veg
700g parsnips, peeled
700g squash or pumpkin
120ml olive oil
4 medium red onions (optional)
4 sprigs of thyme
2 sprigs of rosemary
1 teaspoon salt
Several grinds of black pepper
1 whole head of garlic
10-20 small tomatoes, cut in half
For the dressing
1 large lemon
2 tablespoons olive oil
3 tablespoons capers, roughly chopped if they are large
1.5 teaspoons honey or maple syrup
½ teaspoon Dijon mustard
big handful of parsley, chopped fine
½ teaspoon salt
Several grinds of black pepper
Preparation
Prepare the roast veg:
Preheat oven to 190C.
Cut each parsnip into batons about 5cm long and 1.5 wide—but if they are small it is fine to leave them whole. They will look amusing in the finished dish.
Using your hand, scoop the seeds out the squash. (You can use these to make a nice nibble: https://www.101cookbooks.com/toasted-pumpkin-seeds/.) Peel the squash and cut it into chunks roughly the same size as your parsnips.
Peel the onions (if using) and cut each into 6 wedges.
Cut the head of garlic in half horizontally. Don't break it into individual cloves or try to peel it! Just cut the whole thing into two pieces, horizontally.
Place the parsnips, squash, onions and garlic into a roasting tin and add 120ml olive oil, the thyme and rosemary, 1teaspoon salt, and some pepper. Mix well and spread it out in the pan so the vegetables are not all heaped on top of themselves. Place in the oven and roast for about 20 minutes, or until the vegetables look golden and are pretty tender.
After 20 minutes add the tomatoes, and roast for another 10 minutes or so, until the vegetables are completely tender when prodded with a fork and the tomatoes have softened.
While the vegetables are roasting prepare the vinaigrette: zest the lemon and then cut it in half so you can juice it. Combine the lemon juice (about 2 tablespoons) and zest with the other ingredients in a small bowl. Whisk to combine.
Finish the dish: Once the vegetables are done, remove them from the oven and pour the vinaigrette over the hot vegetables. Toss to combine and serve with rice or some other grain.
Recipe adapted from Yotam Ottolenghi, Plenty (2010).