May 27, 2022 by General Administrator
Asparagus is such a treat; we should eat it all the time while it is in season. If you're tired of having it steamed with melted butter and parsley (is that in fact possible?), or you would like to make a more substantial dish, try this. It's delicious and feels luxurious. The halloumi turns crispy in the oven, with a rich, melty interior that contrasts well with the woody flavours of the asparagus. Hugh Fearnley-Whittingstall thinks this will serve four. I think two hungry people could finish this off. He recommends serving with some good bread; a glass of a nice dry Riesling doesn't hurt either.
Roast Potatoes, Asparagus and Halloumi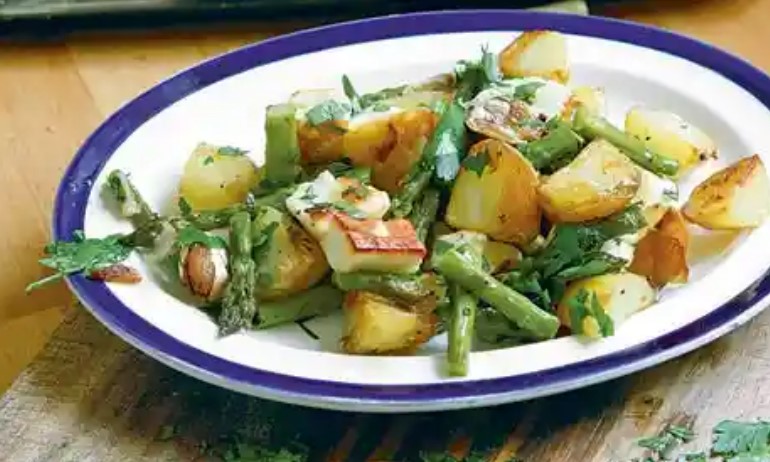 Serves 2-3
Ingredients
600–700g potatoes, scrubbed or scraped
3–5 garlic cloves, unpeeled, bashed
3 tablespoons olive oil
400g asparagus
225g halloumi
½ lemon
salt and freshly ground black pepper
2 tablespoons roughly chopped flat-leaf parsley, to garnish
Method
Preheat the oven to 190C. Cut the potatoes into small chunks. Put them in a large roasting tray with the garlic, olive oil and some salt and pepper, and toss well.
Roast for 30 minutes.
Meanwhile, snap the woody ends from the asparagus and cut the spears into 3–4cm lengths. Cut the halloumi into 2cm cubes.
After the 30 minutes is up, take the potatoes from the oven, add the asparagus and halloumi, and toss to combine. You don't want the tray to be too crowded – everything should be in a single layer. Return the tray to the oven for a further 15 minutes, or until the asparagus is tender and the cheese is starting to caramelise.
Add a generous squeeze of lemon juice and toss everything again, then transfer to a serving dish. Scatter with parsley, and another grind of black pepper. Bring to the table along with the remains of the lemon half, and some more olive oil, so that people can adjust the flavours to their liking. Serve with wedges of sourdough bread.
Recipe adapted from Hugh Fearnley-Whittingstall, The Guardian, 7 Sept. 2012.