May 13, 2022 by General Administrator
I recently listened to a fascinating episode of BBC Radio 4's The Food Programme about 'How Spain Does Beans'. The programme explained, among other things, why beans in a jar taste so good. Inspired by the programme I bought a jar of butter beans from Aubrey Allen. They cost more than beans from a tin, but they were really good. We've now eaten our way through several more jars, and I recommend them enormously for this or any recipe calling for butter beans. On the other hand, it's also very, very good with ordinary tinned beans.
We ate this for diner with griddled asparagus and some roasted carrot and garlic mash.
Now, sorrel. If you can lay your hands on any of this fibrous, red-veined leaf, use it in place of some or all of the spinach. Since sorrel has its own sour, lemony flavour, you can reduce the lemon juice if you're using sorrel.
Fried Butter beans with Feta, Sumac and Spinach or Sorrel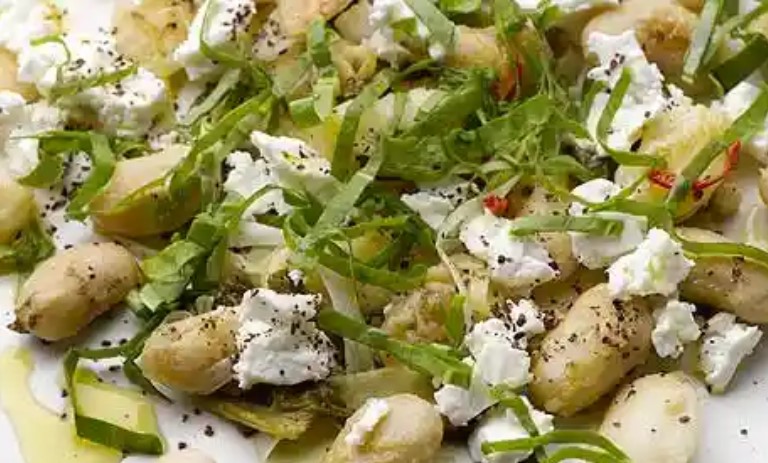 Serves 4.
Ingredients
60g butter
900g tinned or jarred butter beans, drained and rinsed
8 spring onions, halved lengthwise
1 garlic clove, peeled and mashed to a paste with ½ teaspoon salt
1-2 fresh red chiles, sliced thin (optional)
200g shredded spinach or, if you can get it, sorrel—or a mixture of both
3 tablespoons lemon juice (if you can get sorrel reduce this to about 1½ tablespoons)
150g feta, broken into pieces
2 teaspoons sumac
handful of chopped dill
olive oil, to drizzle over the top
Method
First fry the butter beans: heat a bit of the butter in a frying pan over medium-high heat. Add enough beans to cover the bottom of the pan in a single layer and fry for 1-2 minutes on each side, until the skin is golden brown and blistered. Remove to a large bowl and cook the remainder of the beans in the same fashion, adding more butter to the pan as necessary.
When the final batch of beans is almost done, add the spring onions, garlic, and chiles (if using), along with almost all of the spinach or sorrel. Keep back a little of the spinach or sorrel for a garnish.
Sauté everything together for another minute or two, and then return the other beans to the hot pan and mix everything together.
Remove from the heat and add the lemon juice. Scatter the feta over the top, sprinkle on the sumac, and top with the reserved spinach or sorrel, as well as the dill. Finish with a drizzle of olive oil and serve.
Recipe adapted from Yotam Ottolenghi, Plenty (2010).