Here is an excellent topping for punchy vegetables such as kale. The key ingredient is fresh turmeric root, which you can get at Gaia, on Regent Place in Leamington, and doubtless elsewhere. You whizz up the turmeric with cashew butter, the juice of a few of the clementines you have hanging around from Christmas, and a bit of mustard.
The original recipe (from The First Mess) combined this with raw, shredded Brussels sprouts, toasted sesame seeds, sliced spring onions and fresh dill to make a very good slaw but I think this will go well on top of anything in the brassica family. This recipe is dedicated to the nice person at Canalside just before Christmas who swapped his unwanted kale for my unwanted rosemary.
Super Turmeric Sauce
serves 2
Ingredients
2 tablespoons cashew butter
2 teaspoons Dijon mustard
juice of 3 clementines
2 inch piece of fresh turmeric, peeled
5 tbsp olive oil
Preparation
Combine the ingredients in a blender and whizz until smooth.
Recipe adapted from The First Mess, where you can find the recipe for the Brussels sprouts slaw, and also a salty maple-roasted squash and ginger rice which goes very well with it.
This is an absolute flavour bomb. The combination of onion, spice and pumpkin is delicious, fresh and complex, with a savoury depth that you will savour. Serve with rice, and a garnish of fresh coriander, if you like, for a little touch of green.
If you want to make this vegetarian, you can apparently replace the fish sauce with an equal amount of Japanese miso, but I used fish sauce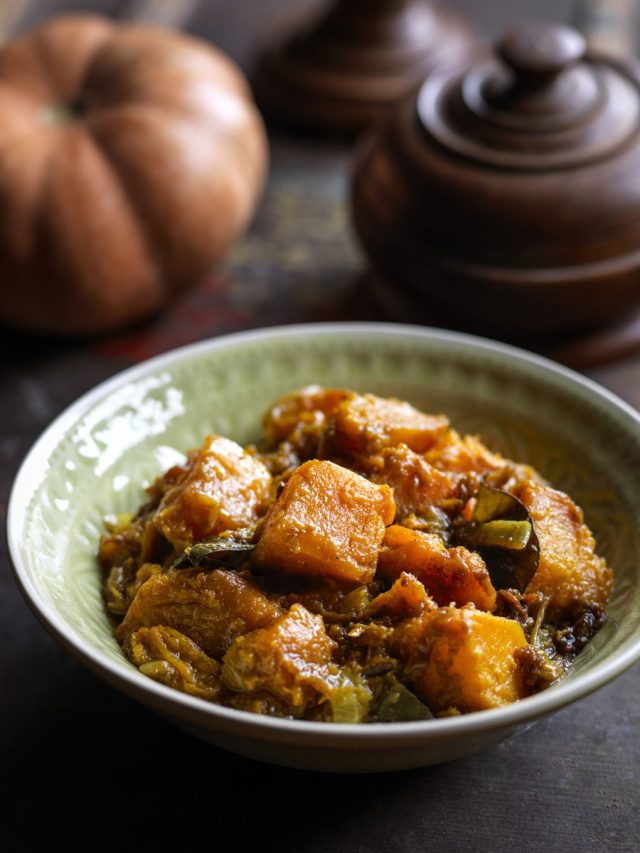 Burmese Golden Pumpkin Curry (Shwe Hpayone-thi Chet)
Servings 2 as a main
Ingredients
100 ml rapeseed oil or other neutral-tasting oil
2 teaspoon ground turmeric
2 teaspoon ground coriander
2 teaspoon ground cumin
2 teaspoon paprika
16 fresh or dried curry leaves
3 medium onions, sliced
3 spring onion, green and white parts, shredded
4-6 garlic cloves, sliced
3 cm piece of ginger, peeled and grated
1 small squash or pumpkin, peeled and cubed
1 tablespoon sugar
4 tablespoons fish sauce
Instructions
Heat the oil in a saucepan over a high heat. Add the turmeric, coriander, cumin, paprika and curry leaves to the oil and allow to sizzle for a few seconds. 
Now turn the heat down to medium and add the onions, spring onion, garlic and ginger and fry for 10 minutes, until fragrant and the onions have wilted and some have crisped up.
Add the squash, sugar, and 300ml of water. Stir well. Cover and cook for 25 minutes, or until the squash is tender. Add the fish sauce, stir again and serve with rice.
Recipe adapted from Mimi Aye, Mandalay: Recipes and Tales from a Burmese Kitchen (2019).
Also available online at https://www.kaveyeats.com/2019/11/mimi-ayes-golden-pumpkin-curry.html
'These tasty savoury scones are best eaten warm with lashings of butter, or they can be served with prosciutto slices for a weekend brunch', states Jacque Malouf. They're also very good for dinner alongside an array of Canalside roasted vegetables.
Pumpkin, Cheese and Rosemary Scones
Makes about 8 scones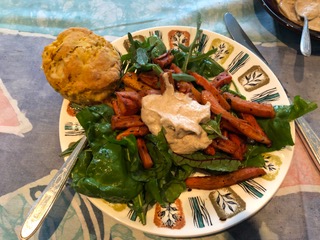 Ingredients
250g pumpkin or squash, peeled, de-seeded and cut into 2-inch chunks
1 tablespoon olive oil
Salt and pepper
250g self-raising flour
1 teaspoon bicarbonate of soda
½ teaspoon salt
60g cold butter, cut into small cubes
180ml buttermilk or yoghurt
1 tablespoon fresh rosemary leaves, finely chopped
100g sharp cheese (feta, cheddar, goat, as you prefer), cut into ½-inch cubes
Preparation
Preheat the oven to 200C. Place the squash or pumpkin on a baking tray and drizzle with olive oil, and then toss with salt and pepper. Roast for 30-50 minutes, or until the squash is tender and lightly caramelised. Set aside to cool. When cool, chop the squash into ¼-inch cubes.
Increase the oven temperature to 225C and butter a baking tray.
In a large mixing bowl combine the flour, bicarbonate of soda, ½ teaspoon salt, and a few grinds of black pepper. Rub in the butter until the mixture has an even consistency, like fine breadcrumbs.
Fold in the buttermilk, rosemary leaves, cheese, and cubed squash or pumpkin.
Knead gently in the bowl and then tip onto a floured board. Gently roll out to 1 inch thick. Cut into scones using a 2½-inch cutter.
Place the scones on the baking tray and bake for 12 minutes. Remove to a rack and eat warm or cold.
Recipe adapted from Jacqui Malouf, Breakfasts (2005).
What could be more 1970s than a dip? Bowls of sour cream blended with onion soup mix, or pink concoctions featuring a lot of mayonnaise served with crisps may have a retro appeal but here is an up-to-the minute dip you can serve without a heavy dose of irony. It features roasted pumpkin or butternut squash, toasted nuts and a zing of fresh mint. Spread it on triangles of toasted pita, or thin slices of toast. It also freezes very well, in case you don't eat it all in one go.
Vaguely Greek Squash and Walnut Dip
Makes about 2 cups
Ingredients
1 kg pumpkin or winter squash
35g walnuts or hazelnuts
2 tablespoons olive oil
1 medium onion (or the equivalent in tiny Canalside onions), finely chopped
2 tablespoons finely-chopped mint
1/8 teaspoon freshly-grated nutmeg
40g parmesan cheese (or other sharp, hard cheese)
Preparation
Preheat the oven to 200C.

Cut the squash or pumpkin into large pieces, remove the seeds (you can keep these to roast as a nibble), and peel.

Place the squash on a baking tray, put in the oven, and roast until it's very tender—between 40 minutes and an hour. Turn it occasionally if you remember, so that it browns a bit on all sides. When it's soft, remove it and let it cool.

Turn the oven to 150C and put the nuts on another tray. Once the oven has cooled down put the nuts in and toast them for 5-10 minutes, or until they smell fragrant and are ever so lightly brown.

Heat the oil in a small pan over low heat and add the onion. Cook it gently until it's very tender, sweet and lightly caramelised—about 20 minutes. Remove from the heat.

Combine the onion, cooked squash, nuts, mint, nutmeg and cheese in a bowl and blend with an immersion blender (or food processor) until the mixture is pleasantly smooth. Taste and season with salt and pepper to taste. Serve on little pieces of toast, or crackers.
Recipe adapted from Martha Rose Schulman in the New York Times (2012).
Bobbie Griffith was, I think, my second cousin twice removed, or something like that. Anyway, she lived in Wisconsin and this is her recipe for pumpkin muffins. They're spicy and comforting, and easy.
Shaker Style Pumpkin Muffins
Makes 12
Ingredients
2/3 cup soft brown sugar, packed into the cup
¼ cup treacle
½ cup butter at room temperature
2 eggs
1 cup pumpkin purée (see below)
1½ cups plain flour
¼ cup oat bran (or use 1¾ cups plain flour)
1 teaspoon bicarbonate of soda
¼ teaspoon salt
½ teaspoon cinnamon
¼ teaspoon ground cloves
¼ teaspoon ground nutmeg
Preparation
Preheat the oven to 180. Butter a 12-cup muffin tin, or line with paper muffin cases.

Cream the sugar, treacle and butter together until very light and fluffy. If you use an electric mixer you can leave it to do its work for as long as five minutes if you like. Add the eggs and pumpkin and blend well.

Combine the flour, oat bran (if using), bicarbonate of soda, salt and spices and mix well.

Add the dry ingredients to the pumpkin batter and mix only until blended—don't overbeat.

Spoon the batter into the muffin tins and bake for 20 to 25 minutes or until a toothpick comes out dry when inserted into the centre of a muffin. Let cool a little before eating.
To make puréed pumpkin or squash
Preheat the oven to 190.

Slice your pumpkin into large wedges and remove the seeds. Place it on a baking sheet and roast until it's cooked and tender throughout. Depending on the size of the wedges this should take between 15-30 minutes. Peel the squash and mash or purée with a hand blender until smooth. You can freeze any extra.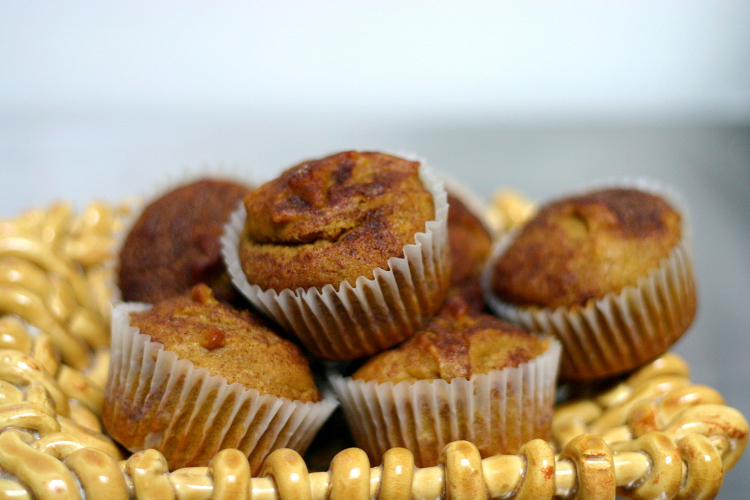 Spiky mustard and capers bring a little bite to the smooth, roasted squash, the crispy cabbage and unctuous cheese. A topping of crunch breadcrumbs finishes things off. You'll feel properly nourished with this one-dish meal.
Anna Jones describes this dish as having 'simple British flavours'. That set me thinking about the origin of the ingredients. Caraway and mustard seeds have been eaten in Britain since the Middle Ages, but squash didn't reach these shores until the sixteenth century, when European sailors brought it back from the Americas, together with tomatoes, chile peppers, and much more, including (of course) potatoes. Savoy cabbages—'Savoy coleworts' as they were called in one English herbal—probably reached England from Holland around the same time.
Cheesy Roasted Savoy Squash with Crispy Breadcrumbs
Serves 4
Ingredients
For the Veg
About 800g squash or pumpkin
About 400g Savoy or other cabbage
Olive oil
2 teaspoons caraway seeds
50g dry bread (ideally rye)—about 2 thin slices—or use chunky breadcrumbs if you have some to hand
2 tablespoons capers
100g sharp cheese such as cheddar, crumbled
For the Dressing
1 tablespoon wholegrain mustard
1 teaspoon honey
1 tablespoon cider vinegar
3 tablespoons olive or rapeseed oil
Preparation
Preheat the oven to 220C.
Remove the seeds from the squash or pumpkin and slice into 2cm-thick wedges. Peel the slices if that's what you prefer. Cut the cabbage into 8 chunky wedges.

Place both on a large oven tray and sprinkle with salt, pepper, olive oil and the caraway seeds. Spread them out so they will crisp up in the oven. You don't want them to steam in a big heap.

Roast for about 35 minutes, until the squash is soft and the cabbage is golden and crisp and charred a little at the edges.

Meanwhile, make the caper breadcrumbs. Wizz the bread in a food processor to reduce to chunky, rough breadcrumbs. You don't want a fine powder. Place the crumbs on a baking tray, drizzle with oil, and toss with the capers, salt and pepper. Toast in the oven for about 5 minutes or until they look pleasingly crunchy. Watch out that they do not burn. Set aside.

Make the dressing by shaking all the ingredients together in a jar. Season to taste with salt and pepper and set aside.

To serve, tumble the squash, cabbage and cheese on a platter. Drizzle with the dressing and toss. Top with the breadcrumbs and bring to the table.
Recipe adapted from Anna Jones, The Modern Cook's Year (2017).
Nigel Slater calls these crispy little pancakes 'rosti' but when I brought them to the dinner table Matt quite rightly greeted them as latke. I think in Korean their name is neulgeun hobakjeon. Or you could just call them crispy squash pancakes.
Serve these with salted, dill-spiked yoghurt and a sharp, bright pickle. One of Erica Moody's beetroot sauerkrauts would be ideal. Or a green salad, the little black dress of all dinner menus.
Crispy Pumpkin Latke
Serves 3
Ingredients
500g pumpkin or winter squash (weigh after peeling and removing the seeds)
3 eggs
4 tablespoons plain flour
Salt and pepper, to taste
Oil for frying
Preparation
Grate the pumpkin using a fine grater. Combine the grated pumpkin with the eggs and flour. The mixture will be thick.
Divide the mixture into 6 parts and shape each into a pancake no thicker than about 2 digestive biscuits.

Heat the oil over medium high heat in one or two frying pans (depending on how fast you want these to be ready). When the oil is hot begin cooking the pancakes, pressing the pancake down a bit with a fish slice to flatten it out a little more. Fry until the underside is golden brown and crispy, and then flip over to cook the other side. The whole process will take about 5 minutes per pancake.

Serve with salted yoghurt, etc., as suggested above.
Recipe adapted from the Observer Food Monthly, 15 Oct. 2017.
'Wow—that looks delicious!', exclaimed a friend as we unpacked our lunches yesterday. It was. The ribbons of orange squash soften in lime juice spiked with the sweet spiciness of pink peppercorns. (These are essential; substituting black pepper will not work.). You can make this well in advance if you like.

Anna Jones recommends serving with tofu crisped in a pan with honey and soy, and brown rice, to make a dinner.
Squash and Pink Peppercorn Salad
Serves 2
Ingredients
500g pumpkin or squash, peeled and deseeded
1 lime
1 tablespoon pink peppercorns
1 teaspoon salt
Big handful of mint, dill, parsley or coriander, roughly chopped
Preparation
Shave the squash into thin ribbons, using a vegetable peeler or whatever specialist gear you happen to have. Place the ribbons in a bowl.
Zest the lime over the ribbons, squeeze in the juice, and toss together with the salt.
Put the pink peppercorns in a mortar and crush them roughly before adding to the salad.
Stir in the herbs and serve.
Recipe adapted from Anna Jones, The Modern Cook's Year (2017).
Is it still sitting about in your kitchen? Here is what to do with it.
Anchovies, capers and cheese combine with the soft, unctuous texture of the squash to make a thick, salty sauce for pasta, or serve it as a main course with a vibrant multi-coloured salad of greens, red radicchio and herbs. It's good hot or cold. This Italian recipe from Apulia can be prepared with winter squash such as the little greeny-orange one we got a few weeks ago, or a butternut, or a pumpkin.
Winter Squash With Anchovies, Capers, Olives and Cheese
Serves 4
Ingredients
2 pounds winter squash or pumpkin
3 tablespoons olive oil
1 medium onion, chopped
1 large garlic clove, peeled and crushed
3 anchovy fillets, rinsed, soaked for 5 minutes in cold water, drained and chopped
2 tablespoons capers, rinsed, an chopped if large
½ cup black olives
2 tablespoons grated strong-flavoured, hard cheese
freshly ground pepper
Preparation
Cut the squash in half and remove the seeds. Peel the squash if you like, or leave it unpeeled, as you prefer. Cut it into 1-inch chunks.
Heat the oil over medium heat in a large, lidded skillet and add the onion, garlic clove, anchovy fillets and capers. Cook, stirring, until the onion is tender, about 5 minutes.
Add the squash, stir together, add about 1/4 cup of water if the pan seems dry, and cover. Cook, stirring often, for 20-30 minutes, until the squash is tender. Add the olives and continue to cook, stirring regularly, for another 5 to 10 minutes. Season to taste with pepper.
Transfer to a serving dish, sprinkle on the cheese and serve.
Recipe adapted from Martha Rose Shulman, New York Times Cooking.
This is pretty addictive. It delivers a big dose of umami and makes an outstanding dressing for robust vegetables. I've been eating it on a salad of finely shredded red or white cabbage, grated carrot, and chopped coriander. It would be good on grilled tofu or fish, or roasted butternut squash. Or use it as a dip for whole potatoes—the little ones we're getting in our shares—roasted at 200C for 30 minutes.
Miso-Tahini Dressing
Serves 2
Ingredients
1 tablespoon miso paste
1 tablespoon tahini
1 tablespoon soya sauce
1 tablespoon cider vinegar
Preparation
Combine the ingredients and blend well, using a fork. Taste to see if it would benefit from a little more vinegar. The mahogany-dark dressing is now ready to use. This makes enough for half a small cabbage, shredded, together with several grated carrots.