March 23, 2023 by General Administrator
Here is a relaxing weekend baking project to use that uneaten chunk of squash you got in the
last share. The recipe does not demand a lot of your attention but it does take quite a bit of
time, since you need to roast the squash, the dough needs to rise and rest in the fridge. The
result is a soft, golden brioche-like bread with a moist crumb. It's very good with unsalted
butter.
Since the dough is quite sticky it's best to make this recipe using a stand mixer. In fact, Milk
Street (whose recipe this is) states that 'it would be difficult to make this dough by hand', so I
didn't even attempt to do so.
Kürbisbrot
Makes 1 loaf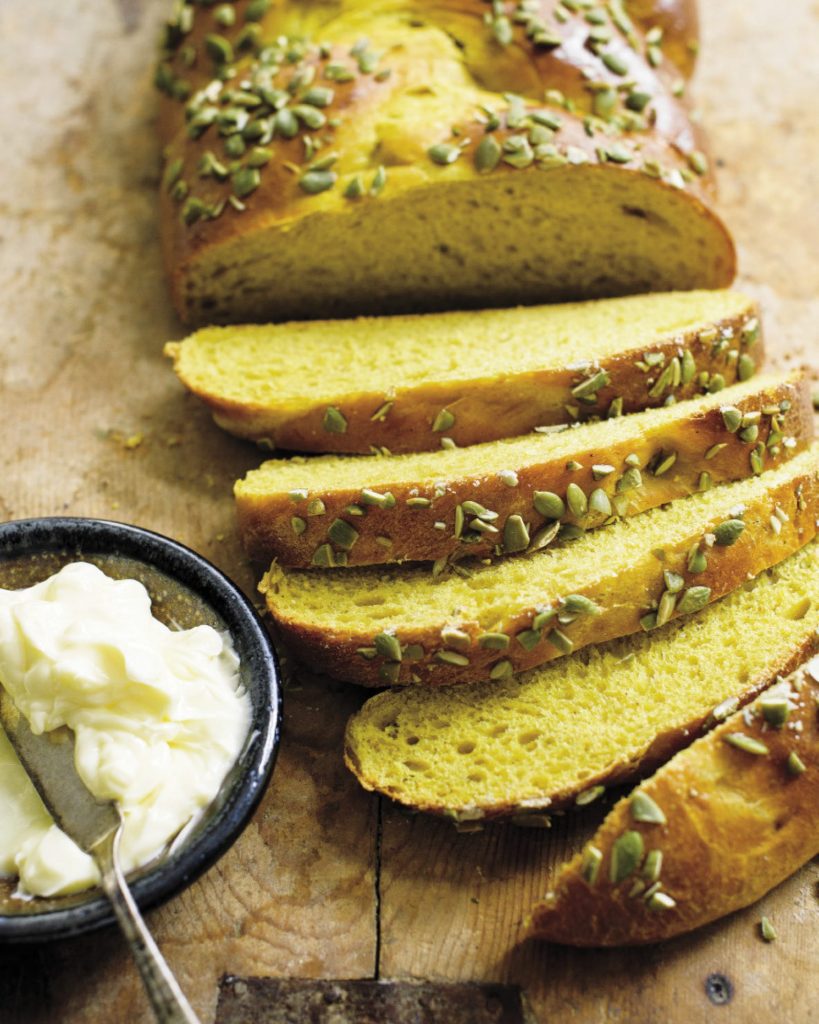 Ingredients
700g-1kg winter squash or pumpkin, chopped into wedges
4 tablespoons milk (I used Oatly barista), plus a little more to brush over the loaf before
baking
2 tablespoons runny honey
2 large eggs
400g plain flour, plus possibly a little more
1 teaspoon easy-blend yeast
1 teaspoon allspice
1 teaspoon salt
4 tablespoons butter, softened
3 tablespoons pumpkin seeds, coarsely chopped
Method
Heat the oven to 200C. Place the squash or pumpkin on a baking sheet and bake for 30 to 40
minutes or until it is soft and tender. Remove from the oven and set aside to cool.
Once the squash is cool enough to handle, cut off the rind (or just scoop out the flesh with a
spoon). Measure out 230 grams of the soft, cooked flesh for use in this recipe. You can use
the rest to make pumpkin muffins, or you can freeze it, or do with it what you will.
Put your 230 grams of squash/pumpkin into a medium bowl and add the milk, honey, and
eggs. Whizz it up with a hand blender, or mash it carefully, until it is smooth. Set aside.
In a stand mixer fitted with the dough hook, combine 400g of flour with the yeast, allspice
and salt. Mix on low for about 20 seconds to blend, and then add the squash/pumpkin
mixture. Scrape down the sides and continue to mix for about two more minutes, or until a
wet, somewhat lumpy dough begins to form. Increase the speed to medium and knead for 6
minutes or so, or until the dough begins to pull away from the sides of the bowl. If it
continues to stick to the bowl you can add a few tablespoons more flour and knead for about
two more minutes.
Add the butter, one tablespoon at a time, mixing thoroughly after each addition. After all the  butter has been added, knead for another eight to nine minutes. The dough should be smooth  and elastic, and pull away from the sides of the bowl. When you lift the dough hook, the  dough should fall from the hook in a single mass. If it breaks into pieces, continue to knead  for another few minutes until it does. 
Scrape the dough into an oiled mixing bowl and put it somewhere warm to rise. Let it rise  until double (about an hour), and then put it in the fridge. Leave it there for at least four  hours, or overnight. 
After this time has elapsed, take the dough out of the fridge and tip it onto a work surface.  Divide it into three equally-sized portions. Roll each into a 45cm-long rope. Plait the three  ropes together, pinching the ropes together at each end. Gently tuck each end under the  plaited loaf, so that it looks attractive.  Place it on an oiled baking sheet. 
Cover the loaf with a tea-towel and put it somewhere warm to rise. When it has doubled in  size, and the top springs back gently when you press it with a finger-tip, it is ready to bake. 
Heat the oven to 180C. Very gently, brush the loaf with a little milk and sprinkle with the  pumpkin seeds.  Bake for 25 to 35 minutes, until it is golden brown. The inside temperature  should be about 88C, if you happen to have a bread thermometer. Remove from the oven and  cool on a rack for at least an hour before slicing. 
Recipe adapted from Milk Street (https://www.177milkstreet.com/recipes/german-style-winter-squash-bread), 2022. 
November 24, 2022 by General Administrator
This recipe by Yasmin Fahr in the New York Times yields impressive flavour and a surprisingly creamy texture. As Fahr observes, it 'hits all the right notes: sweet, salty and savory'. The lime juice and zest contrasts with the richness of the buttery squash or pumpkin, and the combination of miso, butter an cheese is magical. In fact, if you like this, and you will, then definitely try the NYT's 'five ingredient creamy pasta' (https://cooking.nytimes.com/recipes/1020979-five-ingredient-creamy-miso-pasta).
Serve with a green salad. This is a great use of that Hallowe'en pumpkin, if that happens to be still hanging around.
Miso-Butter Pasta With Squash
Serves 4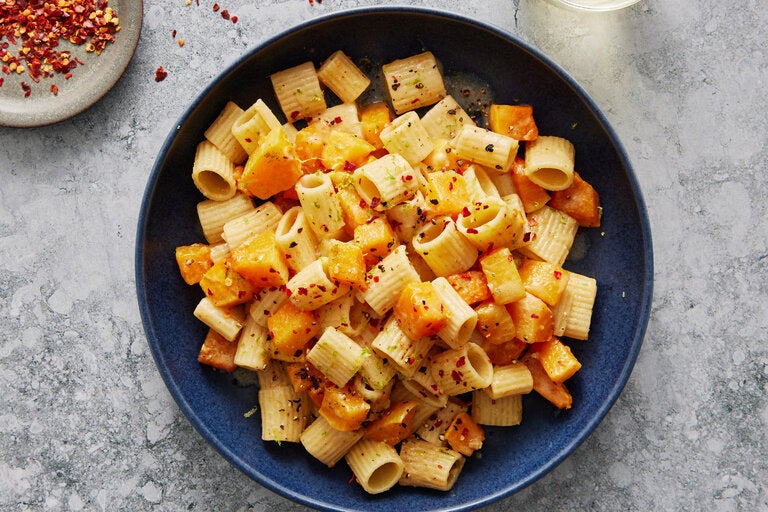 Ingredients
2 tablespoons unsalted butter, at room temperature
2 teaspoons white miso
3 to 5 large garlic cloves, crushed to a paste in a mortar and pestle with a little salt
1 tablespoon olive oil
Several grinds of black pepper
1 kilo squash or pumpkin, peeled and cut into 1cm cubes
500g rigatoni or other short pasta
50g grated Parmesan, plus more for serving
1-2 limes, zested and juiced, to yield 2 teaspoons zest and 2 tablespoons juice
Pinch of red-pepper flakes (optional)
Method
Heat the oven to 230C. Combine the softened butter, miso, crushed garlic and olive oil in a small bowl. Grind in some pepper. Dump the cubed squash or pumpkin onto a sheet pan and, using your hands, coat it in the miso-garlic butter. Spread it out evenly on the sheet pan, so the pieces are not all piled up on top of each other. Roast in the oven for 20-30 minutes, or until easily pierced by a fork.
When the squash or pumpkin has been roasting for about 10 minutes, bring a large pot of salted water to a boil. Add the pasta, adjusting the heat to maintain a gentle boil, and cook until just shy of al dente. Use a mug to remove about 250ml of the cooking water, and set aside. Now drain the rest of the water off the pasta.
When the squash or pumpkin is done, return the pasta to the pot over low heat. Scrape in the squash or pumpkin and any remaining miso butter, then add the Parmesan and about 100ml of the pasta water, stirring well until the noodles have a light sheen to them. If it appears dry, add more pasta water a little at a time until you reach your desired consistency. Stir in the lime zest and juice, season to taste with salt, pepper and the red-pepper flakes, if using. Serve with extra cheese.
Recipe by adapted from New York Times Cooking
February 18, 2022 by General Administrator
This makes a very good Friday night dinner. The pumpkin (or squash) soup is silky and rich, despite its simple ingredients, and the multiple toppings add complexity and, in the case of the pumpkin seeds, crunch. The rice provides a backdrop for the ginger-spiked soup and rosemary butter. You will leave the table feeling well-fed and comfortable in your tummy.
Pumpkin and Rice Soup, Serves 2-3 as a main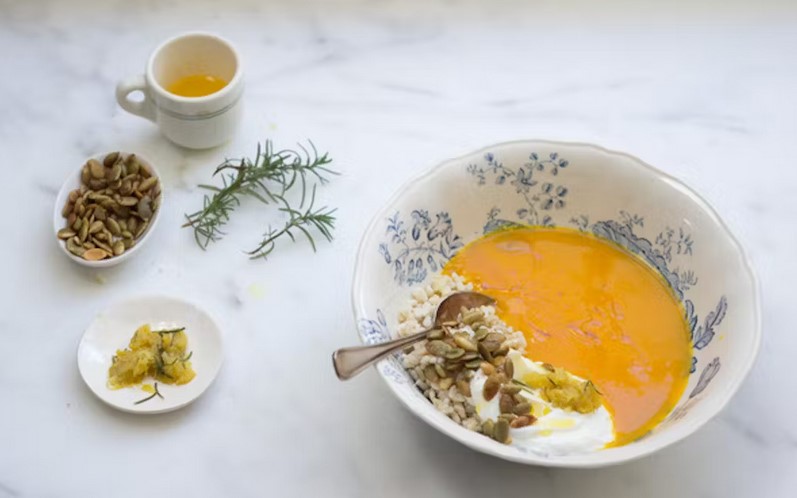 Ingredients
For the Soup
1 tablespoon butter
1 large onion, peeled and chopped
½ dried chile, chopped and de-seeded if you prefer
1 teaspoon salt
1kg squash or pumpkin
1.2 litres of water
2 teaspoons grated fresh ginger, or a bit more, to taste
To Serve
cooked brown rice, warm
plain yoghurt
toasted pumpkin seeds
lemon-ginger-rosemary butter (see below)
Method
In a large pot melt the butter over medium-high heat. Add the onion, chile and salt. Turn the heat to low and cook for 5-7 minutes or until the onion is softened.
Meanwhile, prepare the squash or pumpkin. Peel it, remove any seeds and cut it into 2cm chunks. You need about 700g once it's been peeled and de-seeded.
When the onion is soft add the squash or pumpkin and water. Bring to a simmer and cook gently until the squash or pumpkin is soft. This will take between 15 and 25 minutes, depending on the squash or pumpkin.
Remove from the heat and add the ginger. Use a stick blender to puree until it is smooth. Add a bit more water if it seems too thick for your taste.
To serve, put a big scoop of rice in each soup bowl and top with the soup. Decorate with some yoghurt, toasted pumpkin seeds and lemon-ginger-rosemary butter.
Lemon-Ginger-Rosemary Butter
Ingredients
50g butter
rosemary leaves from a 10cm sprig, chopped
zest of 1 lemon
1 teaspoon grated fresh ginger
pinch of salt
Method
Melt the butter in a small pan over medium heat, until the butter starts to brown. Keep an eye on it so it does not burn.
Remove from the heat and stir in the other ingredients. Let sit for at least 5 minutes, to let the flavours meld.
Recipe adapted from 101 Cookbooks
February 3, 2022 by General Administrator
Miso and harissa on their own pack a punch. Combined they are even better. The spicy-salty flavour goes superbly with the sweetness of roast squash, while the potatoes add a calming back-note. Stir in some shredded kale and top with toasted nuts, and you have a complete meal. You could fancy it up with some yoghurt, or serve it alongside a bit of grilled meat or fish, if you liked.
Miso Harissa Roast Squash
Serves 2-4
Ingredients
225g small potatoes
350g squash
60ml olive oil
60ml white miso
1 tablespoon harissa
3 tablespoons lemon juice
50g kale, de-stemmed and finely chopped
4 radishes, sliced thin (optional)
40g toasted almonds or pumpkin seeks
Method
Preheat the oven to 200C.
Cut the potatoes into slices the size of your thumb. Peel the squash if you don't like the skin, and scoop out the seeds. (You can make these into a tasty nibble by soaking them overnight in salty water, draining, and then baking for about 10 minutes at 180C.) Cut the squash into 1cm wedges. Put the potatoes and squash in a large bowl.
In a small bowl whisk together the olive oil, miso and harissa. Toss with the potatoes and squash with half the olive oil-miso-harissa mix, and put onto a baking sheet. Bake for 25-30 minutes, or until the vegetables are tender and starting to brown a bit. Toss them once or twice along the way. Watch them to make sure they don't burn.
Meanwhile, whisk the lemon juice into the remaining olive oil-miso-harissa mixture. Taste it to see if you would like to add more olive oil, etc. Stir in the kale.
When the squash and potatoes are tender, put them in a serving bowl and toss with the kale mixture. Serve topped with the radishes (if you wish) and toasted nuts/seeds.
Recipe adapted from Heidi Swanson, 101 Cookbooks
January 27, 2022 by General Administrator
Yotam Ottolenghi recommends serving this root vegetable mash with either roast chicken or his very tasty wine-braised shallots (link: https://www.theguardian.com/lifeandstyle/2009/nov/28/root-mash-braised-shallots-recipe-ottoleghi). I've cut down the butter a bit as it seemed plenty rich with 35g of butter, but feel free to add the full 70g if you'd like. I don't think the ratio between the vegetables needs to be observed religiously.
Ottolenghi Root Mash
serves 4-6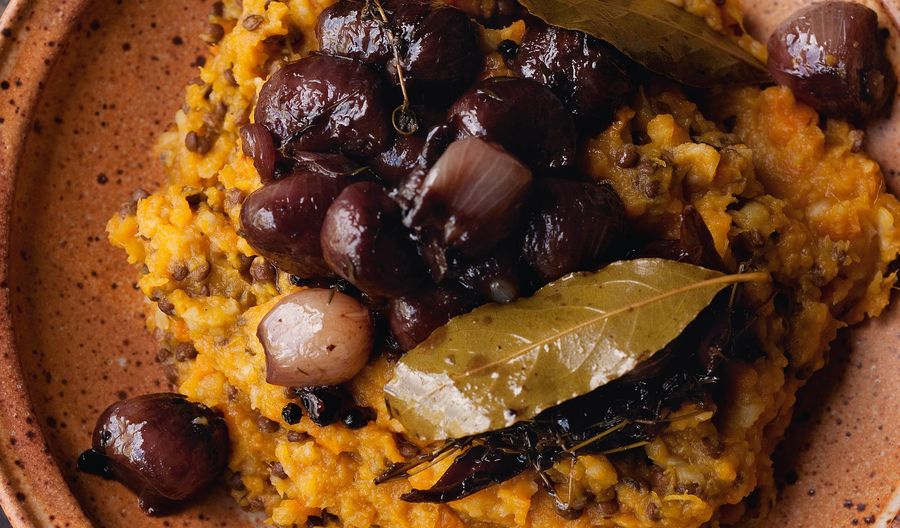 Ingredients
80g Puy lentils
300g celeriac, peeled and cut into chunks
300g carrots, peeled and cut into chunks
300g squash, peeled and cut into chunks
600g sweet potato, peeled and cut into chunks
35g butter
1 tablespoon maple syrup
1½ teaspoons ground cumin
1 teaspoon salt
black pepper (to taste)
Preparation
Bring a pan of water to the boil and add the lentils. Reduce the heat and simmer for about 25 minutes, or until tender. Drain and set aside.
Bring a large pan of water to the boil and add the celeriac and carrots. Cook for 10 minutes. Add the squash and sweet potato and cook for a further 10-15 minutes, or until everything is tender. Drain, shaking off as much liquid as possible.
Return the vegetables to the pan and mash well with a potato masher. Add the butter, maple syrup, cumin, salt, and black pepper and mash a bit more. Add the lentils, and taste to see if you would like more salt or pepper.
Recipe adapted from Yotam Ottolenghi, Plenty More (2014).
November 25, 2021 by General Administrator
This Ottolenghi-esque hummus is rich, smoky from star anise, and much lighter than your usual chickpea-only hummus. It is a good use of one of those rather large pumpkins, which can be a bit watery. The cinnamon combines well with the tahini, and enhances pumpkin's (or squash's) natural sweetness. If you like things even sweeter, you could drizzle this with a little maple syrup before serving. Eat on toast for a tasty and nourishing snack, or as part of a larger spread.
As regards the star anise, I actually used a fabulous home-made chile oil seasoned with star anise (made by my son!) which added both a kick and the crucial star anise flavour. I think roasting the pumpkin or squash with some ground star anise should be equally effective. Let me know how it works.
Pumpkin (or Squash) Hummus
serves 4 as part of a larger spread
Ingredients
500g pumpkin or squash, peeled (if you wish) and sliced (approximately 2cm thick)
1½ tablespoons olive oil
½ teaspoon cinnamon
1 star anise, pulverised (as much as possible) in a mortar and pestle or spice grinder
salt and pepper
1 400g tin of chickpeas, drained BUT reserve the liquid.
2 tablespoons full-fat yoghurt (Greek or ordinary)
2 tablespoons tahini
juice of one lemon (about 2½ tablespoons)
½-1 teaspoon Sriracha or chile oil (start with the smaller quantity and add more to taste)
2 garlic cloves, peeled
Preparation
Preheat your oven to 200C.
Place the pumpkin or squash in a roasting tray and toss with the olive oil, cinnamon, star anise, and some salt and pepper. Spread it out on the roasting tray in one layer and roast for about 25 minutes, or until it is tender when poked with a fork. Remove from the oven and let cool a few minutes.
Reserve one slice of pumpkin or squash and a handful of chickpeas for a garnish. Cut the reserved pumpkin or squash into bite-sized cubes and set aside.
Place the rest of the pumpkin or squash, chickpeas, yoghurt, tahini, lemon juice, Sriracha or chile oil, and garlic in a food processor and blend for several minutes, until smooth. If it seems too thick for your taste, add a bit of the reserved chickpea liquid.
Taste to see if you'd like more salt, pepper, lemon juice or heat, and adjust accordingly.
Transfer to an attractive blue serving bowl and garnish with the reserved chickpeas and pumpkin or squash and serve with toasted pitta or bread.
Recipe adapted from Ina Garten, Cooking for Jeffrey (2016).
April 22, 2021 by General Administrator
Everyone knows roasted vegetables are good. Adding a punchy caper and parsley vinaigrette makes them even better. You can use different vegetables (potatoes, say), and you can also vary the vinaigrette by adding harissa paste, or using basil or mint instead of parsley.
Served with rice or another grain to soak up the vinaigrette, this makes a good weekday dinner. You can add some salted yoghurt if you want additional creaminess (and protein).
Roasted Parsnips and Squash with Caper Vinaigrette
Serves 3-4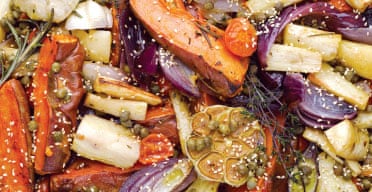 Ingredients
For the roast veg
700g parsnips, peeled
700g squash or pumpkin
120ml olive oil
4 medium red onions (optional)
4 sprigs of thyme
2 sprigs of rosemary
1 teaspoon salt
Several grinds of black pepper
1 whole head of garlic
10-20 small tomatoes, cut in half
For the dressing
1 large lemon
2 tablespoons olive oil
3 tablespoons capers, roughly chopped if they are large
1.5 teaspoons honey or maple syrup
½ teaspoon Dijon mustard
big handful of parsley, chopped fine
½ teaspoon salt
Several grinds of black pepper
Preparation
Prepare the roast veg:
Preheat oven to 190C.
Cut each parsnip into batons about 5cm long and 1.5 wide—but if they are small it is fine to leave them whole. They will look amusing in the finished dish.
Using your hand, scoop the seeds out the squash. (You can use these to make a nice nibble: https://www.101cookbooks.com/toasted-pumpkin-seeds/.) Peel the squash and cut it into chunks roughly the same size as your parsnips.
Peel the onions (if using) and cut each into 6 wedges.
Cut the head of garlic in half horizontally. Don't break it into individual cloves or try to peel it! Just cut the whole thing into two pieces, horizontally.
Place the parsnips, squash, onions and garlic into a roasting tin and add 120ml olive oil, the thyme and rosemary, 1teaspoon salt, and some pepper. Mix well and spread it out in the pan so the vegetables are not all heaped on top of themselves. Place in the oven and roast for about 20 minutes, or until the vegetables look golden and are pretty tender.
After 20 minutes add the tomatoes, and roast for another 10 minutes or so, until the vegetables are completely tender when prodded with a fork and the tomatoes have softened.
While the vegetables are roasting prepare the vinaigrette: zest the lemon and then cut it in half so you can juice it. Combine the lemon juice (about 2 tablespoons) and zest with the other ingredients in a small bowl. Whisk to combine.
Finish the dish: Once the vegetables are done, remove them from the oven and pour the vinaigrette over the hot vegetables. Toss to combine and serve with rice or some other grain.
Recipe adapted from Yotam Ottolenghi, Plenty (2010).
March 11, 2021 by General Administrator
Hugh Fearnley-Whittingstall describes this as a 'River Cottage classic', and it is easy to see why. The unctuous quality of roast squash combines well with the umami flavours of the mushrooms and cheese. It tastes rich and luxurious without being heavy or cloying.
You can also use other cheese such as shavings of parmesan, or a hard goat's cheese in place of the blue cheese.
Warm Salad of Mushrooms and Roasted Squash
Serves 3-4
Ingredients
Salad
approx. 1kg squash
12 sage leaves
4 garlic cloves, thickly sliced
100ml rapeseed oil
large knob of butter
300g mushrooms, thickly sliced
Large handful of rocket or mixed salad
150g blue cheese, crumbled
Salt and pepper
Dressing
3 tablespoons rapeseed or olive oil
1 tablespoon balsamic vinegar
¼ teaspoon salt
a few grinds of pepper
Preparation
Preheat oven to 190C.
Peel halve and deseed the squash. Cut into 2-3cm chunks and put in a roasting pan along with the sage leaves, almost all the rapeseed oil and a generous seasoning of salt and pepper. Roast for about 40 minutes, stirring once, until soft and coloured at the edges.
While the squash roasts, prepare the dressing by combing the ingredients in a small lidded jar and shaking vigorously.
When you are ready to eat, put the last drizzle of oil in a frying pan with the butter. Heat over medium heat and then add the mushrooms, along with another pinch of salt and a grind of pepper. Fry for 3-5 minutes, or until they are cooked and any liquid they have released has evaporated.
Mix together the mushrooms and squash (in the roasting tin, or frying pan, say) and toss with the dressing. Array the rocket on a serving platter and then top with the squash and mushrooms. Distribute the cheese on top and serve it forth.
Recipe adapted from Hugh Fearnley-Whittingstall, River Cottage Veg Everyday! (2011).
December 10, 2020 by General Administrator
This is a very attractive dish—so attractive, in fact, that you could consider it for a vegetarian Christmas. In any event, it's extremely tasty. The cheese and roasted fennel blend with the soft, chewy barley to make an indulgent filling for the baked squash. Crunchy toasted oat flakes provide a pleasing contrast on the top.
It is an excellent use of the charming small squashes we're getting in our shares these days.
To serve, stand these proudly on a platter, topped with their little squash-top berets.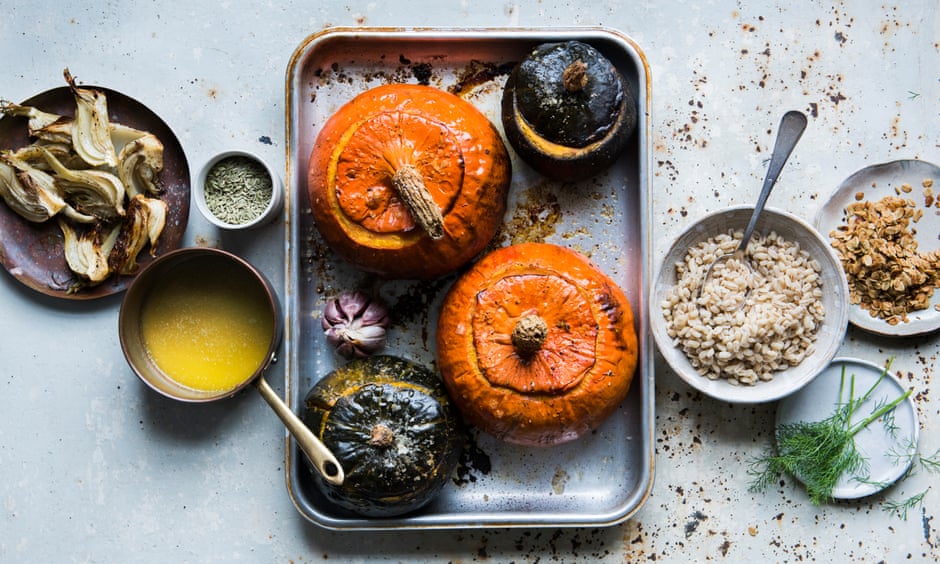 Whole roast squash
Serves 4
Ingredients
A mixture of whole squashes: about 750g squash per person
4 fennel bulbs—keep the lacy fronds at the top
1 garlic bulb (leave it whole)
Olive oil
Salt and black pepper
250g pearl barley
125g sharp cheddar or other cheese
1 lemon, zested
1 red chilli, deseeded if you like
A knob of butter
50g rolled oats
1 tsp fennel seeds
Preparation
Preheat the oven to 180C. Use a big, heavy knife to cut off the base of each squash, so they sit upright on a tray. Cleanly cut the top off each one in a single piece (you are going to put the tops back on) about 3-4cm from the top. Use a metal spoon to scoop out the seeds and the fibres until you have a neat hollow.
Trim the fennel, removing any tough outer leaves, then cut the bulb into a few big wedges. Keep those fronds!
Put the squash in a large roasting tray or two. Scatter the fennel wedges around and put the bulb of garlic on too. Drizzle the lot with olive oil, making sure you get inside the squash, and season with salt and pepper. Put the tops back on the squash. Roast for 45-60 minutes, or until the squash are tender and the fennel has started to soften and brown. If your squash take a little longer, you can remove the fennel once it's nicely soft and brown around the edges, as you don't want it to overcook.
Meanwhile, put the pearl barley in a medium pan and cover with cold water. Add a big pinch of salt, then bring to the boil and simmer until al dente (about 25-30 minutes). Drain and transfer to a large bowl.
Remove the garlic and fennel from the roasting dish. When cool enough to handle, squeeze the roasted garlic out of its papery skins, into the barley. Roughly chop the fennel and add it to the bowl along with the cheese, lemon zest, salt and pepper. Chop the fennel fronds to make about a quarter cup. Chop the chilli and add both. Taste the mixture and adjust the seasoning.
Divide the mixture between the squash and return them to the oven for 10 more minutes. Meanwhile, heat some butter in a small pan. Toss in the oats, fennel seeds, and a little salt and pepper. Stir for about 5 minutes, until the flakes are golden. Drain on a plate lined with kitchen paper.
Once the squash are out of the oven, sprinkle over the toasted oats and serve.
Recipe adapted from Anna Jones, The Guardian, 24 Oct. 2016
November 5, 2020 by General Administrator
I can't remember the name of the mini squashes we got this week, but I felt they were too special just to cube and roast like normal, so here I've found a fun stuffed squash recipe which although aimed at a different variety, I hope will translate across. Enjoy!
INGREDIENTS
3 sweet dumpling squashes
1 tablespoon olive oil
1 small onion, diced (about 1/2 cup)
1/4 cup shelled pistachios, coarsely chopped
8 dates, coarsely chopped (about 1/4 cup)
1 teaspoon lemon zest
1 teaspoon cinnamon
1 cup cooked quinoa
Salt and freshly ground black pepper
INSTRUCTIONS
Preheat oven to 190C.
Cut squash in half and scoop out seeds. (The seeds can be roasted like pumpkin seeds.)
Place squash face-down in an oiled baking dish. Bake until tender when pierced with a knife, about 30 minutes. Remove squash from oven but keep oven on.
Prepare the stuffing while the squash is baking. Heat oil in a medium saucepan over medium heat. Add onions and sauté until onion is translucent. Add pistachios, dates, lemon zest, and cinnamon and sauté for another minute. Stir in the cooked quinoa and season to taste with salt and pepper.
Turn the squash upright in the baking dish and stuff with the quinoa mixture.
Cover dish and bake for another 20 minutes.
Serve warm, garnished with extra pistachios or lemon zest, if desired. The peel of sweet dumpling squash is generally tender enough to be eaten.
From https://www.thekitchn.com/recipe-quinoa-stuffed-sweet-du-72643