April 22, 2021 by General Administrator
Everyone knows roasted vegetables are good. Adding a punchy caper and parsley vinaigrette makes them even better. You can use different vegetables (potatoes, say), and you can also vary the vinaigrette by adding harissa paste, or using basil or mint instead of parsley.
Served with rice or another grain to soak up the vinaigrette, this makes a good weekday dinner. You can add some salted yoghurt if you want additional creaminess (and protein).
Roasted Parsnips and Squash with Caper Vinaigrette
Serves 3-4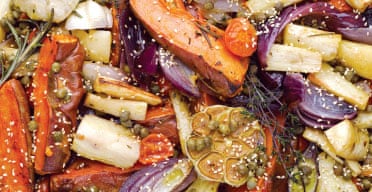 Ingredients
For the roast veg
700g parsnips, peeled
700g squash or pumpkin
120ml olive oil
4 medium red onions (optional)
4 sprigs of thyme
2 sprigs of rosemary
1 teaspoon salt
Several grinds of black pepper
1 whole head of garlic
10-20 small tomatoes, cut in half
For the dressing
1 large lemon
2 tablespoons olive oil
3 tablespoons capers, roughly chopped if they are large
1.5 teaspoons honey or maple syrup
½ teaspoon Dijon mustard
big handful of parsley, chopped fine
½ teaspoon salt
Several grinds of black pepper
Preparation
Prepare the roast veg:
Preheat oven to 190C.
Cut each parsnip into batons about 5cm long and 1.5 wide—but if they are small it is fine to leave them whole. They will look amusing in the finished dish.
Using your hand, scoop the seeds out the squash. (You can use these to make a nice nibble: https://www.101cookbooks.com/toasted-pumpkin-seeds/.) Peel the squash and cut it into chunks roughly the same size as your parsnips.
Peel the onions (if using) and cut each into 6 wedges.
Cut the head of garlic in half horizontally. Don't break it into individual cloves or try to peel it! Just cut the whole thing into two pieces, horizontally.
Place the parsnips, squash, onions and garlic into a roasting tin and add 120ml olive oil, the thyme and rosemary, 1teaspoon salt, and some pepper. Mix well and spread it out in the pan so the vegetables are not all heaped on top of themselves. Place in the oven and roast for about 20 minutes, or until the vegetables look golden and are pretty tender.
After 20 minutes add the tomatoes, and roast for another 10 minutes or so, until the vegetables are completely tender when prodded with a fork and the tomatoes have softened.
While the vegetables are roasting prepare the vinaigrette: zest the lemon and then cut it in half so you can juice it. Combine the lemon juice (about 2 tablespoons) and zest with the other ingredients in a small bowl. Whisk to combine.
Finish the dish: Once the vegetables are done, remove them from the oven and pour the vinaigrette over the hot vegetables. Toss to combine and serve with rice or some other grain.
Recipe adapted from Yotam Ottolenghi, Plenty (2010).