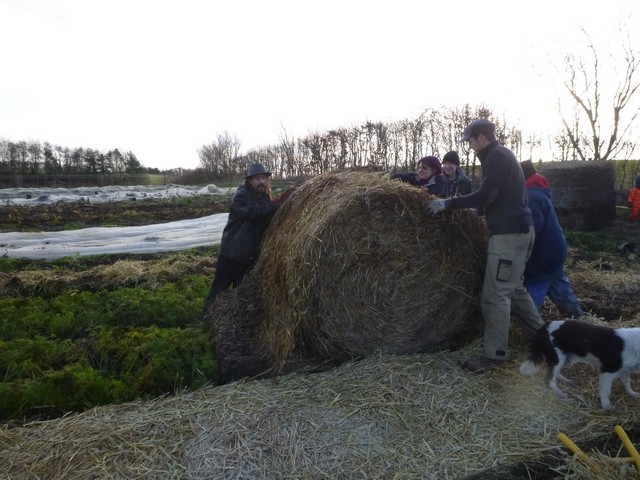 Dom says, "One of my favourite jobs in the yearly calendar is covering up our carrots with straw to protect them from the worst of the winter frosts. Volunteers and growers tackled this job with relish on Wednesday, rolling some big bales down the field with the usual thrilling risk that some of them might gain momentum and end up in the canal (bales, not volunteers). "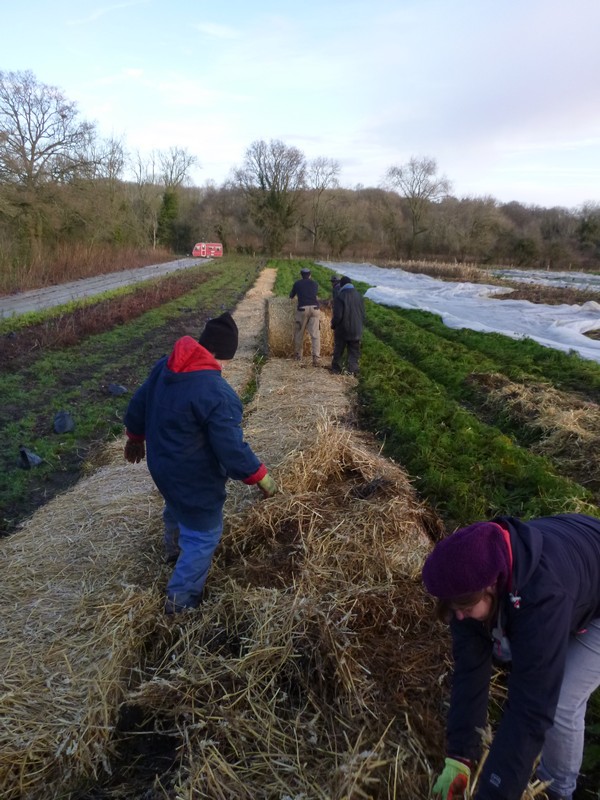 This is the week when we go through the annual ritual of taking the mesh off our purple sprouting broccoli crop (the fabric damages the emerging sprouts) and fix long lines of fishing wire above the plants, to keep the pesky pigeons off. It sounds strange but the technique works a treat (the birds are simply unable to settle on the crop to feed), at a time of year when they can really massacre your brassicas as other food sources dimish.
With Saturday's Apple Day looming, the Wednesday work morning crew trooped to the orchard with one thing in mind: apples. And their expedition was a surprising success – in a year when most orchards have reported very poor harvests, we were pleased to return with over 600kg in tow, with a further load still on the trees to be picked on the Apple Juicing Day.
Saturday's Apple Juicing Day was a huge success! The air was filled with gasps of awe from children and adults alike as endless waterfalls of juice oozed from piles of pulp; homemade mashers slammed down into buckets of apples, crushing them ready for the press and at the end of the line thirst was quenched with the sweet juice of our labours. Over 300L of juice was made in a very well attended event – much of this was shared amongst attendees but 50+ bottles have been pasteurised for future events and several barrels of cider are bubbling away as I write! Thanks to all who participated in a cracking day and hopefully we'll do it all again next year.
Pressing preps

Getting the press going

Juice output

Compost output
This point in the year is always heart wrenching for a grower, as pressure on polytunnel space means we have to commit the ultimate sin: ripping out perfectly healthy tomato plants that are laden with a maturing crop! But every square inch in the tunnels is precious and our overwintering leafy crops need some autumnal warmth and light in order for us to get some pickings in the depth of winter, so the Wednesday team grubbed out one of the two tomato tunnels, weeded and spread compost ready for planting spring greens, kale and oriental leaves.
Before…

during…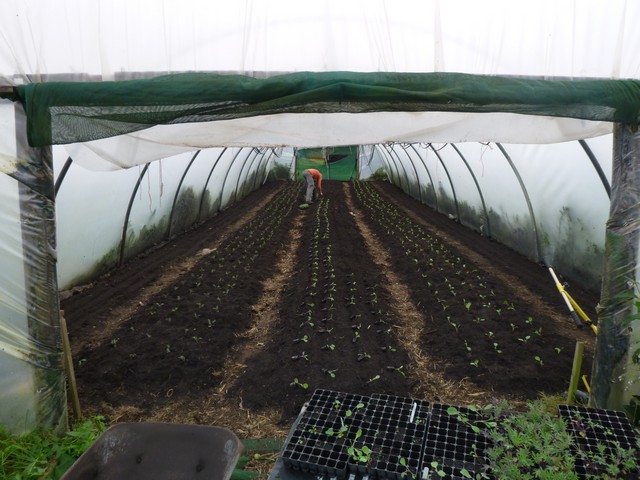 All the green tomatoes were picked to ripen off the bush, and you'll be getting these in the share as they redden (over 200kg of them!) along with the tomatoes in tunnel 1, which will stay in until winter.
As part of the Big Lottery funded 'Making Local Food Work' programme reports, mapping local food webs in 6 locations in England, have been produced by CPRE – the Campaign to Protect Rural England. Kenilworth was one of the locations studied and Canalside features in a case study, with quotes from our two Kenilworth veg members.
This is the summary of the report. To download it as a PDF, copy and paste the link below to go to the CPRE website.
Kenilworth, a small, relatively prosperous market town, demonstrates a promising, yet not too extensive, food web. Recently, redevelopment of the town centre introduced the first Waitrose in Warwickshire alongside other national chain shops and food outlets. These co-exist with a variety of small, traditional outlets including a butcher, greengrocer, baker, delicatessen, farm shops and a weekly retail market, which offers some local food. Over 30 outlets are servicing public demand for locally sourced food coming from over 75 producers. Many of the independent outlets selling local food were found to help raise awareness among customers of where their food comes from and how it is produced. Food outlets provide valuable local jobs with, we estimate over 175 jobs at outlets in the study area and a further 580 at local suppliers supported by sales into the town. Local food sales in Kenilworth amount to an estimated £3.2 to £7.5 million annually.
http://www.cpre.org.uk/what-we-do/farming-and-food/local-foods/update/item/1660-our-new-research-shows-the-value-of-local-food-webs
Canalside member and fellow blogger, Elizabeth, recently forwarded on the below link about the new 'Food Safety & Modernization Act of 2009' that was introduced in the USA in February this year. This new proposal (as it still is) seeks to set in place heavy bureaucratic hoops for small producers to jump through, leading to the very likely destruction of small-scale and truly sustainable food production systems such as farmer's markets and CSAs. Cynics will certainly pick up on the point that the woman behind this Act, Rosa Delauro, is married to a political consultant who has worked with Monsanto in the past – need I say more?
We are not in America, so this may well not affect us now, but who's to say this draconian proposal won't find its way across the pond at some point…?