This immensely straightforward pasta dish demonstrates the results that can be achieved with very simple ingredients. The combination of fresh herbs, crunchy breadcrumbs and slippery, dark-green broad beans is delicious. A glass of rose or a pinot noir would be a very nice accompaniment.
Slipping the broad beans out of their little skins is a bit of a bother, but makes all the difference in the world to the delicacy of the finished dish. I imagine this would work very well with frozen broad beans, as well.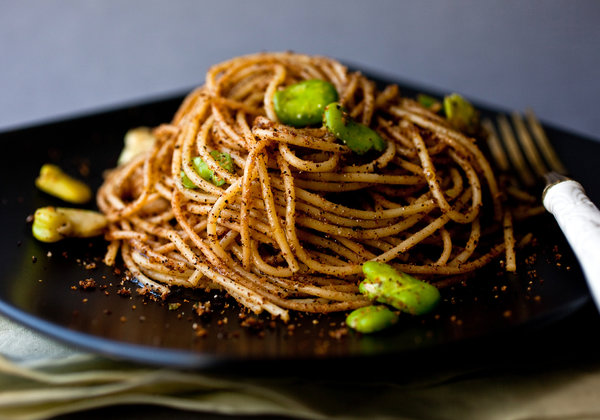 Spaghetti with Broad Beans and Marjoram
Serves 3-4
Ingredients
1kg broad beans, shelled
Salt
300g spaghetti
2 tablespoons olive oil
½ cup fresh bread crumbs, preferably whole wheat
3-4 tablespoons fresh marjoram leaves (to taste), roughly chopped
Freshly ground black pepper
Freshly grated Parmesan or pecorino (or a combination), for serving
Preparation
Bring a large pot of water to a rolling boil over high heat. Add the broad beans and cook for about 5 minutes, or until tender. Drain them, or, if you like, you can scoop the beans out of the water with a slotted spoon. This way you can use the same water to cook the pasta. Whichever approach you take, once the beans are out of the pan run them under some cold water to cool them down a little. Once they're cool enough to handle, pop them out of their little papery skins.
Bring some more water to the boil, or use the same water. Salt generously, and then add the spaghetti. Cook over high heat, stirring occasionally so the pasta doesn't stick together, until al dente, about 10 minutes.
Meanwhile, in a small skillet, heat the olive oil over medium heat, then add the bread crumbs, marjoram, salt and pepper. Cook, stirring, until crispy, three to four minutes. Turn off the heat, and set aside.
When the pasta is cooked al dente, remove ½ cup of the cooking water and then drain the pasta. Return the pasta to the pan, and add the broad beans and the cooking water. Return the pan to the heat and cook, stirring, for a minute or two, until the water is absorbed and the beans are warm. Stir in the bread crumb mixture and serve, passing the cheese at the table.
Recipe adapted from New York Times Cooking.
Welcome to Rob Liddle – the new addition to the weekly update, meaning we now have a recipe creator team!
Rob says: Next week's share contains beetroot and kohlrabi, so I've chosen the soup recipe below (I've been looking for something new for lunches for a while!). The recipe makes 4 servings but can be scaled to suit share sizes.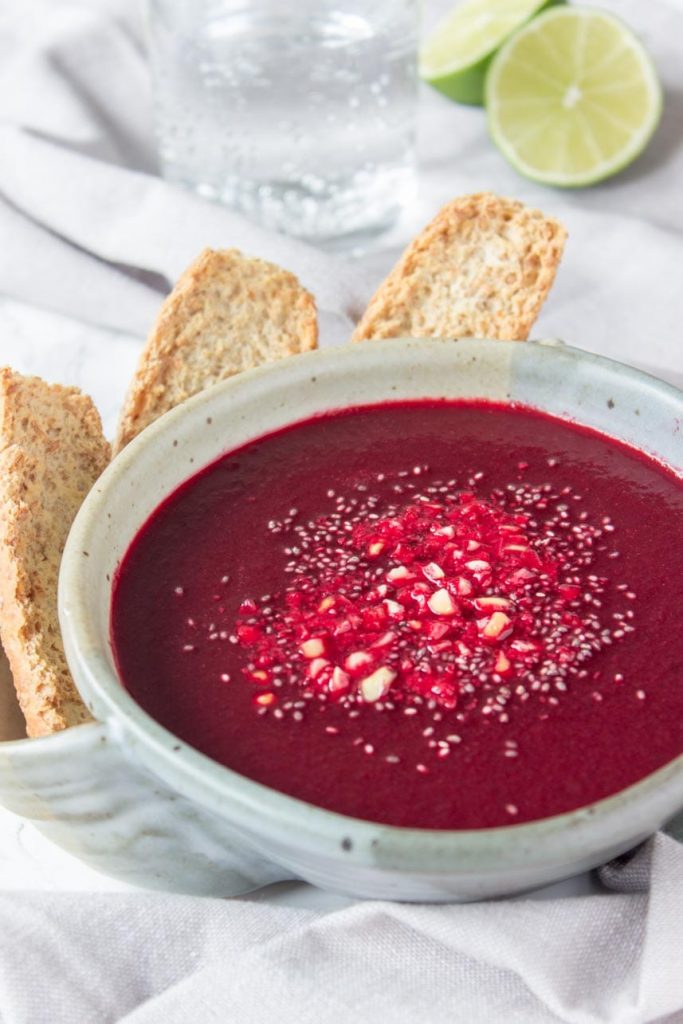 Ingredients
4 small-medium red beetroots diced (0.5cm pieces)
2 medium kohlrabi diced (0.5cm pieces)
1cm fresh ginger (peeled)
4 cups (~1L) water
1 teaspoon cinnamon powder
1 teaspoon turmeric powder
1/2 teaspoon ground cumin
1/4 teaspoon cayenne pepper
Pinch of ground cardamom
Salt to taste
Dash of lime juice to taste
2 tablespoons olive oil
Instructions
Put beetroot, kohlrabi, ginger, and water in a large pot. Bring to a boil over medium heat and then reduce heat to low. Cover and simmer for 25-30 minutes, until beets are fork tender.
Transfer soup to a blender. Add spices and lime juice. Purée on high until creamy and smooth. Return soup back to the pot. Add more water if soup is too thick.
Add olive oil and stir. Taste and adjust seasonings as needed, adding more salt to taste.
Serve hot or cold topped with some chia seeds, and chopped toasted peanuts.
Recipe and photo taken from: https://www.natalieshealth.com/beet-kohlrabi-soup/
It's that time of the year when the words "I'm just not sure what to do with it" reverberate around the collection space: the first kohlrabi share of the year. The first piece of advice is to ask a German, as our central European friends adore this bizarre vegetable; otherwise enjoy it raw, grated in a 'slaw or cut as batons like carrot sticks, perhaps with a dip. Alternatively you can thinly slice it for a stir fry or steam together with perhaps squash or carrot. It also works well in a stew. Lexicographically, the name means 'cabbage turnip', and botanically, it is the swollen stem of the plant, analagous to the stem part of a head of broccoli.
Pickled raisins are very now, in case you didn't know. This is a very good salad, in any case.
Carrot Salad with Yoghurt, Pickled Raisins and Nuts
Serves 2
Ingredients
2 tablespoons soft brown sugar (dark or light, as you prefer)
2 tablespoons apple cider vinegar
1 handful raisins (or sultanas)
200g carrots, peeled
1 tablespoon olive oil
Salt and pepper, to taste
2 tablespoons preserved lemon, chopped
1 handful pistachios or cashews, toasted briefly in a dry pan and roughly chopped
1 handful fresh coriander (or other herbs), roughly chopped
3 tablespoons yoghurt
Preparation
Combine the sugar and vinegar in a small bowl. Add the raisins and leave to soak for at least 10 minutes, or as long as you like. (I marinated mine for 4 days, at room temperature.) These are the pickled raisins.
Using a vegetable peeler, shave the carrots into thin curls into a bowl, or grate them coarsely.
Dress the carrots with the oil, salt and pepper, and preserved lemon. Mix in the raisins and soaking liquid, nuts, and herbs. Drizzle with the yoghurt and serve.
Recipe adapted from Abra Berens, Ruffage: A Practical Guide to Vegetables (2019).
Tickets are now available to buy:
Through this website – click here.
In Gaia, 7 Regent Place, Leamington Spa. Please ask whoever is at the till.
£7 for anyone 16yrs or over who isn't a Canalside member, £5 for anyone 16yrs or over who is a member. Under 16s get in free!
Come and visit the farm for a tour with our head grower and a picnic (bring your own) this coming Sunday! The gates of our farm will be open between 11am and 3.30pm.
Find out about Canalside Community Food
Have a tour of the vegetable fields and fruit orchard – tours start at 11.30am and 2pm
Speak to staff and members
Bring a picnic to enjoy in our family friendly social area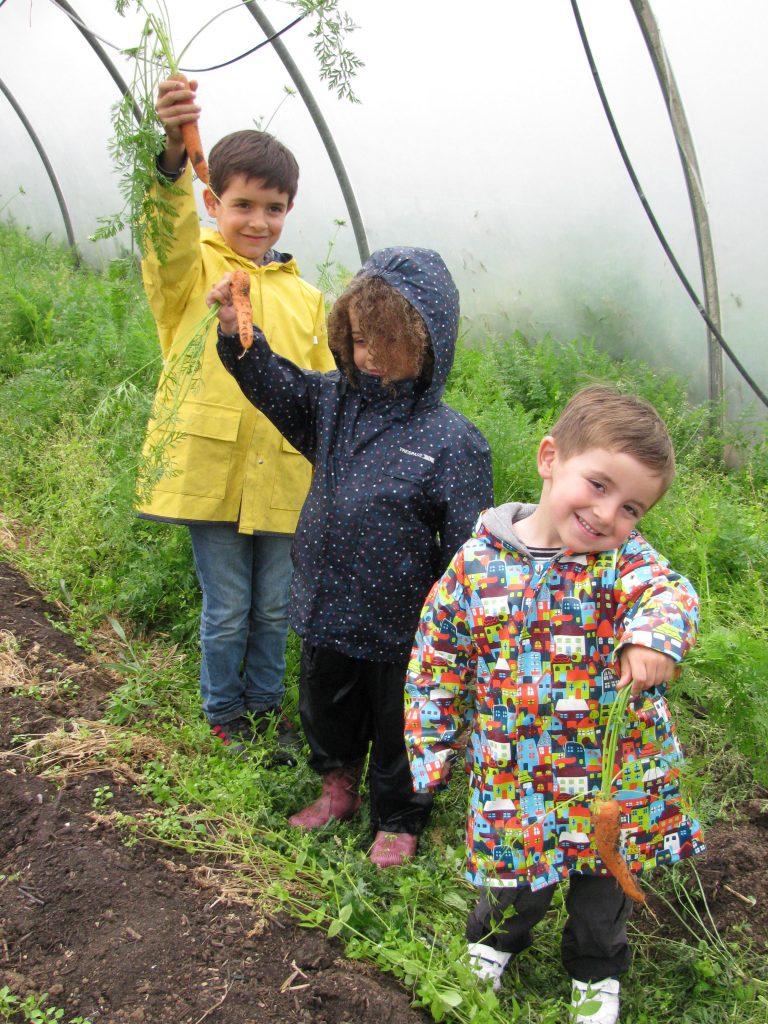 On Tuesday of this week we were delighted to pick 3 new crops on the same day: the first courgette, sugar snap pea and cucumber all made their appearance. As production increases it may be a short while until you see all of these crops in your share but they are certainly on their way!
First cucumber

First sugar snap pea
'Peppery, earthy, salty: a good way to whet the appetite', writes Diana Henry. These little nibbles make a splendid start to a dinner. The radish butter keeps in the freezer for ages. You could certainly use it under other smoked fish, or on its own as a sandwich butter.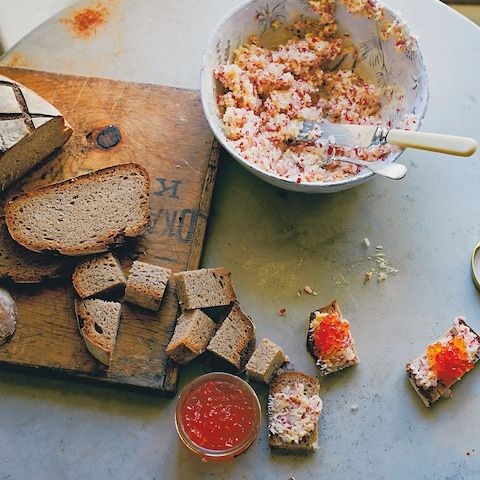 Rye Bread with Radish Butter and Salmon Caviar
Serves 4
Ingredients
125g radishes
60g unsalted butter, softened
¼ sea salt
Freshly-ground black pepper, to taste
½ loaf of dense rye bread
50g red lumpfish or salmon caviar
2 tablespoons fresh chives, minced
Preparation
Put the radishes in the bowl of a food processor and pulse 4-5 times until chopped into very fine dice. Transfer to a piece of muslin and wring out as much of the excess liquid as you can with your hands.
Tip into a bowl and add the butter, salt and pepper. Blend together with a rubber spatula until the mixture is well-combined.
Slice the bread into thin slices. Spread with radish butter and top with a spoonful of the lumpfish. Top with a sprinkling of fresh chives and a further grind of pepper.
Recipe adapted from Diana Henry, How to Eat a Peach (2018).
Cumin-scented cauliflower, yellow from turmeric, cooks with Canalside chile and a subtle coconut-poppy seed glaze. The result is spicy, satisfying and beautiful. Eat it topped with toasted almonds, fresh coriander, yoghurt and a squeeze of lime. Yotam recommends serving with flatbread, but it's pretty delicious just on its own.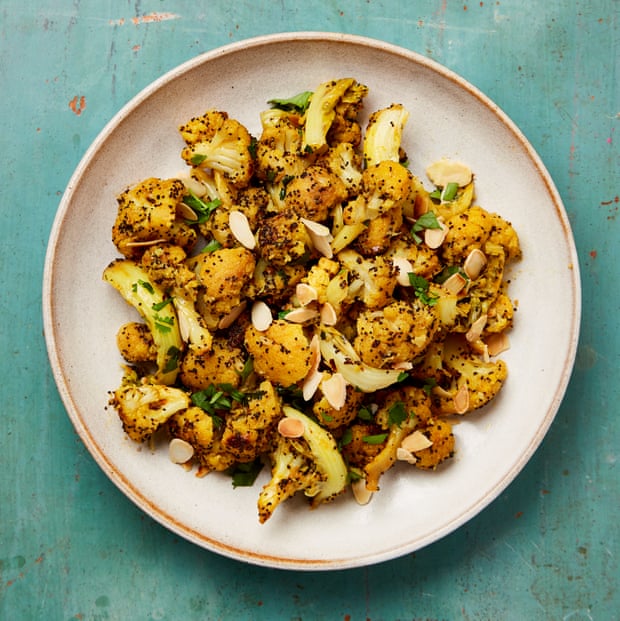 Poppy-Seed Cauliflower with Coconut
Serves 2
Ingredients
40g poppy seeds
60ml sunflower oil
½ – 1 Canalside dried red chile, de-seeded if desired, and shredded
1 teaspoon turmeric
1 teaspoon cumin seeds
2 garlic cloves, peeled and sliced fine
1 large cauliflower and leaves, broken into 4cm-sized florets, leaves shredded
150ml coconut milk (approx.)
To serve
1 handful fresh coriander, shredded
1 small handful flaked almonds, lightly toasted in a dry pan
plain yoghurt
1 lime, halved
Preparation
Put the poppy seeds in a small bowl. Pour over just enough boiling water to cover them. Leave them for half an hour, and then whiz them in a blender or food processor, or crush them in a mortar and pestle, so that they begin to break up a bit. Set aside.
Heat the oil over medium-high heat in a large sauté pan for which you have a lid. When it is hot add the chile, turmeric, cumin and garlic. Turn the heat to medium and sauté for 4 minutes, stirring often, until the garlic starts to brown and the mixture gives off a nice smell.
Add the cauliflower leaves and florets and toss with the spices. Stir for 2 minutes, until the cauliflower has turned an attractive yellow.
Add the coconut milk and the poppy seeds. Add enough coconut milk to make a little sauce, but not so much that it is soupy. Turn the heat down a little and cover. Cook for 4 more minutes, until the cauliflower has begun to soften.
Uncover and turn the heat up to medium-high. Cook for 8 more minutes, stirring regularly, until the cauliflower is tender and has begun to caramelise and the liquid has evaporated.
Serve topped with fresh coriander, toasted almonds, yoghurt and a squeeze of lime.
Recipe adapted from Yotam Ottolenghi, The Guardian, 16 Feb. 2019.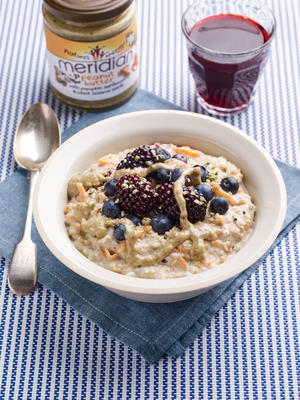 I was recently at an event where everyone was asked what they had for breakfast. 8 of the 10 people replied 'porridge'. Clearly porridge is having a bit of a moment. Here is a surprising, satisfying and toothsome variant. Cooked with oat milk, shredded carrot becomes soft and sweet, blending perfectly with the oats to make a rich, thick breakfast. The peanut butter, berries and hemp hearts add further sweetness, depth and crunch.
Carrot-Nut Porridge
Serves 2
Ingredients
100g porridge oats
100g carrot, peeled and shredded
600ml oat milk
¼ teaspoon grated nutmeg
2cm vanilla pod
2 tablespoons crunchy peanut butter
Blueberries or blackberries, to serve (frozen are fine)
2 tablespoons hulled hemp seeds, to serve
2 tablespoons date syrup, mulberry syrup, maple syrup or honey, to serve (if desired)
Preparation
Place the oats, shredded carrot, oat milk, nutmeg and vanilla pod in a saucepan and bring slowly to a simmer. Simmer for 8-10 minutes, or until it's thick and the carrot is soft. Stir in the peanut butter.

Divide into two serving bowls and top with berries and hemp seeds, and drizzle with syrup to taste.
Recipe adapted from Meridian Foods.