June 26, 2020 by General Administrator
Kohlrabi returns to the share this week and whilst I'm not sure mashed potato is really hot-weather suitable, this recipe looked too good to miss. This recipe makes a lot but can be scaled to suit your share size.
Mashed kohlrabi with brown butter
4 servings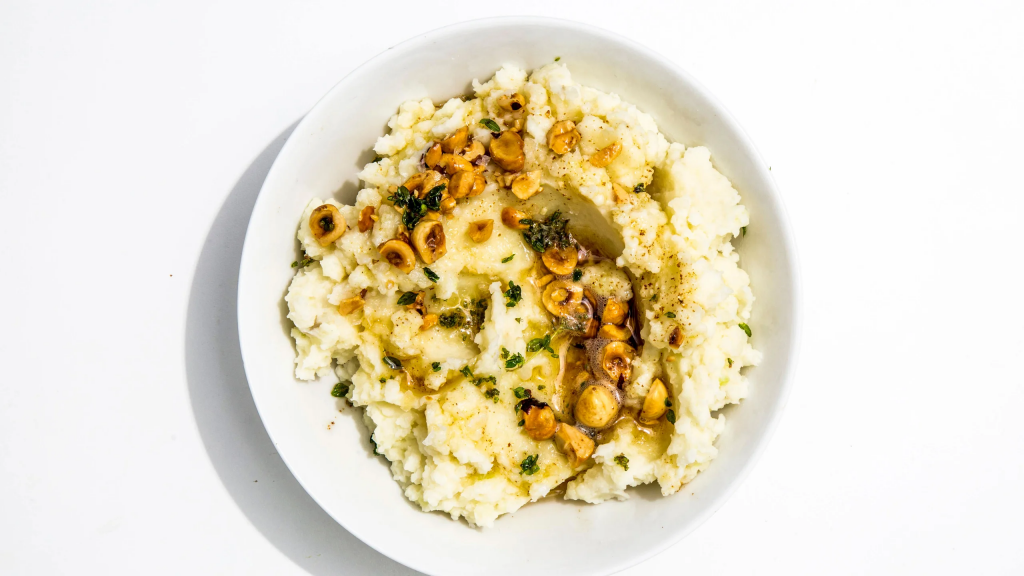 Ingredients
6 tablespoons unsalted butter
⅓ cup blanched hazelnuts
4 thyme sprigs
450g potatoes, peeled, cut into 2cm pieces
salt
900g kohlrabies, peeled, cut into 1cm pieces
⅓ cup double cream
Method
Heat butter in a small saucepan over medium. Cook hazelnuts until butter foams, then browns, about 5 minutes. Add thyme sprigs and cook until crisp, about 30 seconds. Immediately transfer to a bowl; spoon out nuts and coarsely chop.
Meanwhile, boil kohlrabi for 12-14 minutes, adding potatoes to the same pan after a couple of minutes. Whilst you wait, heat cream in a small saucepan over medium until warm.
Drain potatoes/kohlrabi and mash them. Stir in brown butter and warm cream; season with salt. Top mash with hazelnuts and crumble fried thyme over.
Taken from: https://www.bonappetit.com/recipe/mashed-kohlrabi-with-brown-butter
June 27, 2019 by General Administrator
Welcome to Rob Liddle – the new addition to the weekly update, meaning we now have a recipe creator team!
Rob says: Next week's share contains beetroot and kohlrabi, so I've chosen the soup recipe below (I've been looking for something new for lunches for a while!). The recipe makes 4 servings but can be scaled to suit share sizes.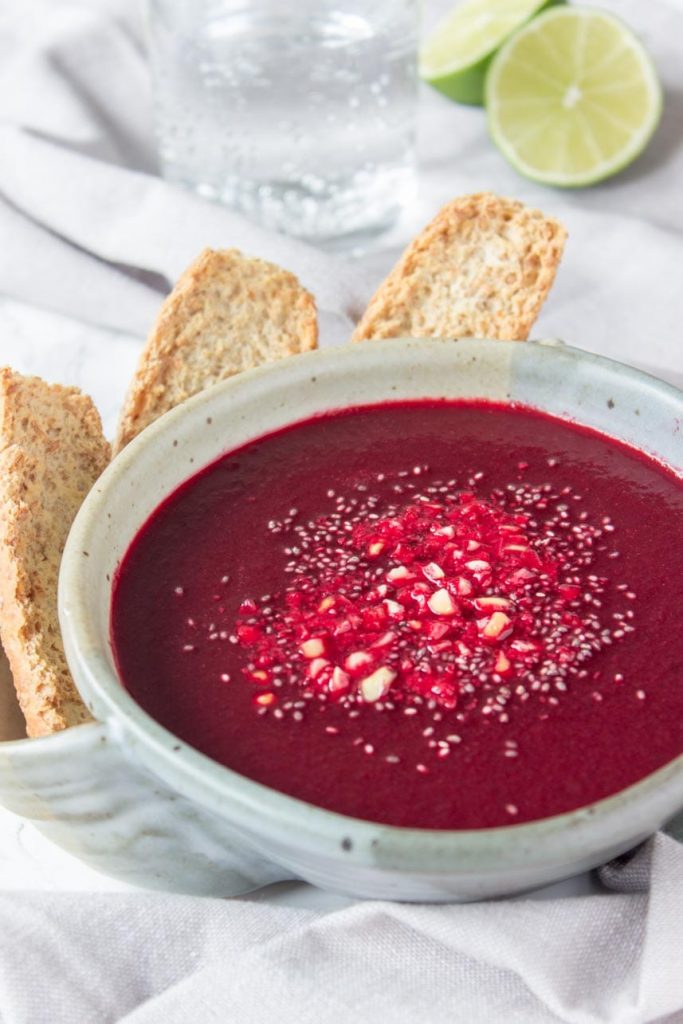 Ingredients
4 small-medium red beetroots diced (0.5cm pieces)
2 medium kohlrabi diced (0.5cm pieces)
1cm fresh ginger (peeled)
4 cups (~1L) water
1 teaspoon cinnamon powder
1 teaspoon turmeric powder
1/2 teaspoon ground cumin
1/4 teaspoon cayenne pepper
Pinch of ground cardamom
Salt to taste
Dash of lime juice to taste
2 tablespoons olive oil
Instructions
Put beetroot, kohlrabi, ginger, and water in a large pot. Bring to a boil over medium heat and then reduce heat to low. Cover and simmer for 25-30 minutes, until beets are fork tender.
Transfer soup to a blender. Add spices and lime juice. Purée on high until creamy and smooth. Return soup back to the pot. Add more water if soup is too thick.
Add olive oil and stir. Taste and adjust seasonings as needed, adding more salt to taste.
Serve hot or cold topped with some chia seeds, and chopped toasted peanuts.
Recipe and photo taken from: https://www.natalieshealth.com/beet-kohlrabi-soup/
July 12, 2018 by General Administrator
Our resident Recipe Meister, Rebecca Earle, is having a break during July, and so newly joined member Pip Smith has stepped forward to tantalise our tastebuds in Rebecca's absence. Here's this week's recipe:
Lemony potato and courgette salad with garlic greens
I've always been a fan of garlic greens and when I realised you could use the leaves of the Kohlrabi and that they are a good source of b vitamins and carotene it all seemed to come together. In this recipe the courgette is boiled whole then sliced, which is a nice quick way to add it to a warm salad.
Ingredients:
800g potatoes
2 courgettes
The leaves from one Kohlrabi
200g french beans trimmed if you prefer
Salad leaves
2 cloves garlic
1 – 2 unwaxed lemons
3 tablespoons Olive oil (not extra virgin for cooking)
1/2 tsp Black pepper
Salt to taste
Method:
Bring a pan of water to the boil, add the washed potatoes and simmer for 8 – 12 mins. Add the washed whole courgettes one minute before the end. Once cooked drain the potatoes and courgettes, and place in a large bowl.
Toss with 2 table spoons of olive oil and the zest of 1 – 2 lemons.
While the potatoes cook, steam the French beans adding the kohlrabi leaves a little later until tender.
Gently heat 1 tablespoon of olive oil and add two cloves of crushed garlic, heat for about a minute gently fizzing and being careful not to burn the garlic.
Toss the garlic mixture with the steamed veg.
Finally top the potato and courgette with the garlic greens and sprinkle with 1/2 tsp of cracked black pepper.
Sprinkle with salt to taste.
This recipe was inspired by several recipes in Hugh Fearnley-Whittingstall's 'River Cottage Veg Everyday'.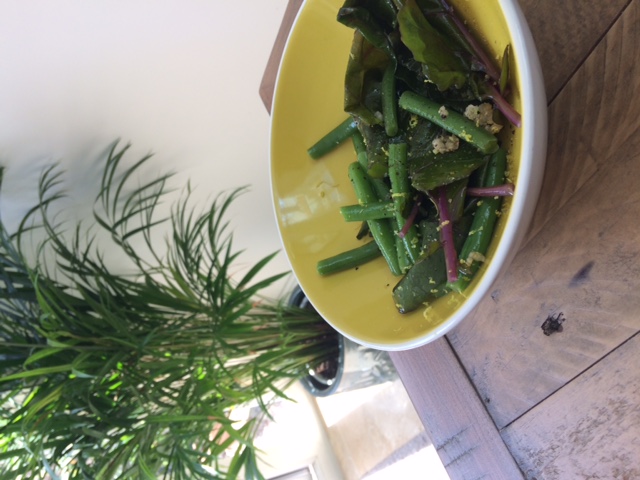 June 28, 2018 by General Administrator
What does one do with a kohlrabi? Answer: you make it into kohlrabi carpaccio. Serve this as a starter or alongside some grilled mackerel. Or just eat it for lunch. The thyme adds unexpected complexity to this crunchy salad.
Kohlrabi Carpaccio
Serves 3
Ingredients
2 medium kohlrabi
50g pecorino or other firm goat cheese
6 sprigs of fresh thyme
2 tablespoons olive oil
1 tablespoon lemon juice
salt and pepper to taste
Preparation
Peel the kohlrabi and, using a vegetable peeler, shave it into thin disks. When you get to the point that you can't shave off any more, use a knife to cut the rest as thin as you can, or just eat the bit that remains. Put the kohlrabi shavings into a serving dish.
Shave the cheese into thin shavings and scatter these over your kohlrabi.
Pull each sprig of thyme between your thumb and first finger to remove the leaves. Sprinkle the leaves over the dish. Put the olive oil, lemon juice and salt into a screw-top jar and shake vigorously to blend. Pour the dressing over the salad and grate some pepper over the top. Toss gently and serve.
Recipe adapted from Hugh Fearnley-Whittingstall, River Cottage Veg Every Day! (2011).
June 22, 2017 by General Administrator
There isn't kohlrabi in the share next week, but you may still have yours from this week's share (especially as this is coming to you early this week).
What is a kohlrabi? What should you do with it? The answer is: put it in a cabbage and kohlrabi salad. Delicious and crunchy. Actually, the salad is pretty good without the kohlrabi too.
The recipe is from Yotam Ottolenghi, who has this to say about the kohlrabi: 'People always ask me what to do with kohlrabi, an often unwanted child in the organic vegetable box. It seems too healthy, too weird, too German! In actual fact, this is a wonderful vegetable. When mixed with floury root vegetables you can use it in gratins; you can shallow-fry it in olive oil and serve with garlic and chives; and you can add it to an Oriental stir-fry. But in this salad I think I have found the absolute best use for a kohlrabi. It is wonderfully fresh-tasting, with a good lemony kick and some sharp sweetness.'
Cabbage and Kohlrabi Salad
Serves 4.
Ingredients
1 medium kohlrabi (about 240g)
½ white cabbage (about 240g)
1 large bunch of dill, roughly chopped (about 6 heaped tablespoons)
120g currants or dried whole sour cherries
grated zest of 1 lemon
90ml lemon juice
60ml olive oil
salt and pepper
Preparation
Peel the kohlrabi and cut into thin matchsticks.
Shred the cabbage into fine strips.
Combine all the ingredients in a bowl. Massage everything together for a few minutes to allow the flavours to meld. Use your hands to scrunch up the kohlrabi and cabbage a bit if you don't like super-crunchy raw vegetables. This will make them a bit softer. Let the salad sit for at least 10 minutes.
Add salt and pepper to taste and serve.
(Recipe adapted from Yotam Ottolenghi, Plenty.)