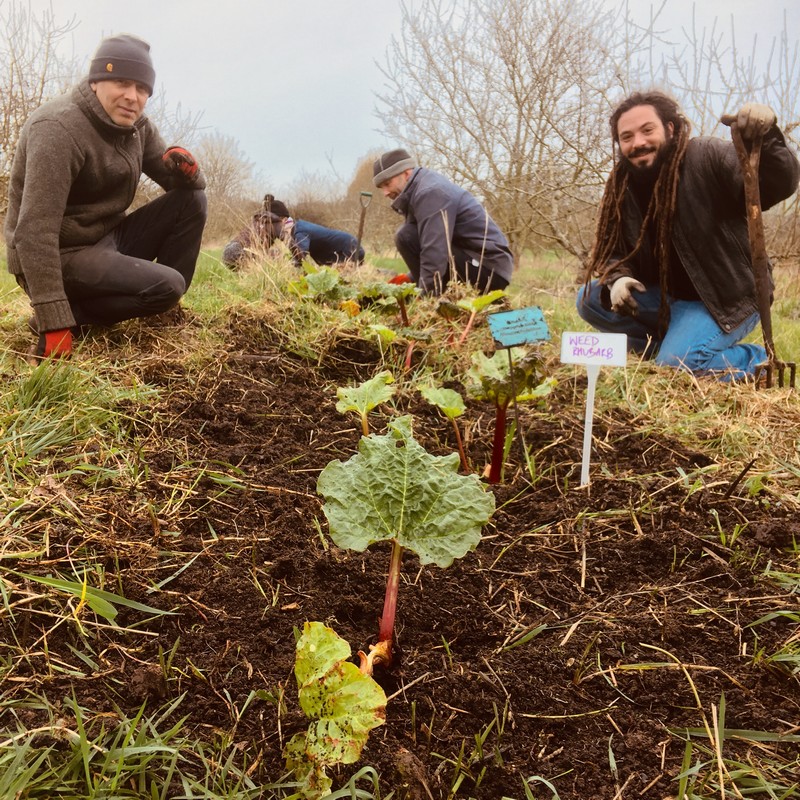 After its slow start to the year, the rhubarb is finally cropping well and arrived in the share this week with abundant measure! Knowing that it isn't the easiest share item to use, the staff team put their heads together today to come up with some ideas for using your share.
Lena has fond memories of 'rhabarber streuselkuchen' (rhubarb crumb/crumble cake) from her childhood in rural Germany. Try this recipe.
Stephen's top way to use it is as a compote, where the rhubarb is stewed with honey (you could also use chopped dates to sweeten, or of course sugar!). Ali likes to flavour a rhubarb compote with ginger (fresh if available, or dried) and/or orange juice and zest.
Nikki said she's heard about rhubarb in curry, though she's never tried it. Check out this recipe if you fancy giving it a go!
Other ideas from the staff team were:
Rhubarb cordial
Rhubarb ice cream (here's a no churn recipe to try)
Rhubarb and custard (just like the traditional boiled sweet) using stewed rhubarb/rhubarb compote
Switch the last 'Spotlight's' tarte tatin from onion to rhubarb.
This page from BBC Good Food has a wealth of ideas, from the classic rhubarb crumble, through delicious sounding rhubarb and custard scones and cardamon, rhubarb and ginger French toast traybake, to intriguing Russian shashlik with rhubarb sauce. And why not some rhubarb gin for a party later in the summer?! Plus a dozen more other ideas (the title lies – there are far more than 10 recipes!).
And if you have a copy of The Boxing Clever Cookbook (easily available secondhand for a few pounds) there are another 7 rhubarb recipes – including the more unusual rhubarb bread for bread making machine and rhubarb with lentils and potatoes. This book is a great resource for simple recipes for the classic vegetables of a seasonal box scheme, including loads of ideas for winter roots such as parsnips and swede (after all it was written by members of Earthshare CSA in Scotland!).

If you try any good recipes that other members might enjoy, why not share them on the Facebook group?
Ideas from yesterday's staff team!
This is the most delicious ice cream. Using mostly soured cream (instead of double cream) give a tangy complexity to the ice cream, which combines beautifully with the layers of rhubarb and caramel. You need an ice cream maker for this.
Ingredients
350ml whole milk
400ml plus 6 tablespoons sugar
pinch fine sea salt
1 vanilla bean, split, with the seeds scraped out
4 egg yolks, lightly beaten
350ml soured cream
350g rhubarb, cut into 1/2-inch dice
100ml heavy cream
In a heavy-bottomed pot over medium heat, whisk together the milk, 175ml sugar (NOT all the sugar!!), the salt, and the vanilla bean seeds and pod. Simmer gently until sugar dissolves, about 5 minutes. Remove from heat, cover, and steep 30 minutes. Remove the vanilla pod and return the mixture to a bare simmer. (You can repurpose the vanilla pod to make vanilla sugar: bury the pod in a jar of caster sugar and leave it for a few weeks. The pod will imbue the sugar with a subtle vanilla flavour that you can use in cakes, etc.)
Place the yolks in a large bowl. Slowly whisk in the hot milk mixture. Scrape the custard back into the pot and cook over medium-low heat, stirring constantly, until mixture is thick enough to coat the back of a spoon, about 5 minutes. Strain through a fine-mesh sieve into a bowl. Whisk in soured cream. Chill this custard base for at least 3 hours.
In a saucepan, combine the rhubarb with 225g sugar. Simmer until the rhubarb is just tender and has begun releasing its juices, but has not started to fall apart, about 5 minutes. Using a slotted spoon, transfer rhubarb to a bowl. Continue to simmer the juices until syrupy, 5 to 10 minutes more. Pour the syrup over the rhubarb. Cool completely.
In a clean, dry saucepan, sprinkle 2 tablespoons sugar over medium heat. When it begins to melt and lightly colour, sprinkle in 2 more tablespoons and start swirling pan to help evenly distribute sugar. Add the final 2 tablespoons and cook, swirling pan until all the sugar has melted. Let cook, swirling occasionally, until the sugar syrup caramelizes and turns dark brown. Pour in the heavy cream and 2 tablespoons water (stand back; it may splatter). Simmer, stirring with a heatproof rubber spatula until smooth. Cool completely.
Pour the custard base into an ice cream machine and churn. Add rhubarb compote for the last minute of churning, so that it forms a swirl of rhubarb in the midst of the vanilla ice cream.
Scrape a quarter of the caramel into the bottom of a freezer-proof container. Top with a quarter of the ice cream. Repeat layering until all of the caramel and ice cream has been used, ending with the ice cream. Freeze until firm and then enjoy enormously.
(Adapted from New York Times Cooking.)