September 10, 2020 by General Administrator
One of the benefits of so many of us working from home is that there's more time to make a fancy lunch. This week I've enjoyed riffing on Panzanella themed recipes – you can adapt the one below to suit what you have in the fridge and the time you've got to make it.
Panzanella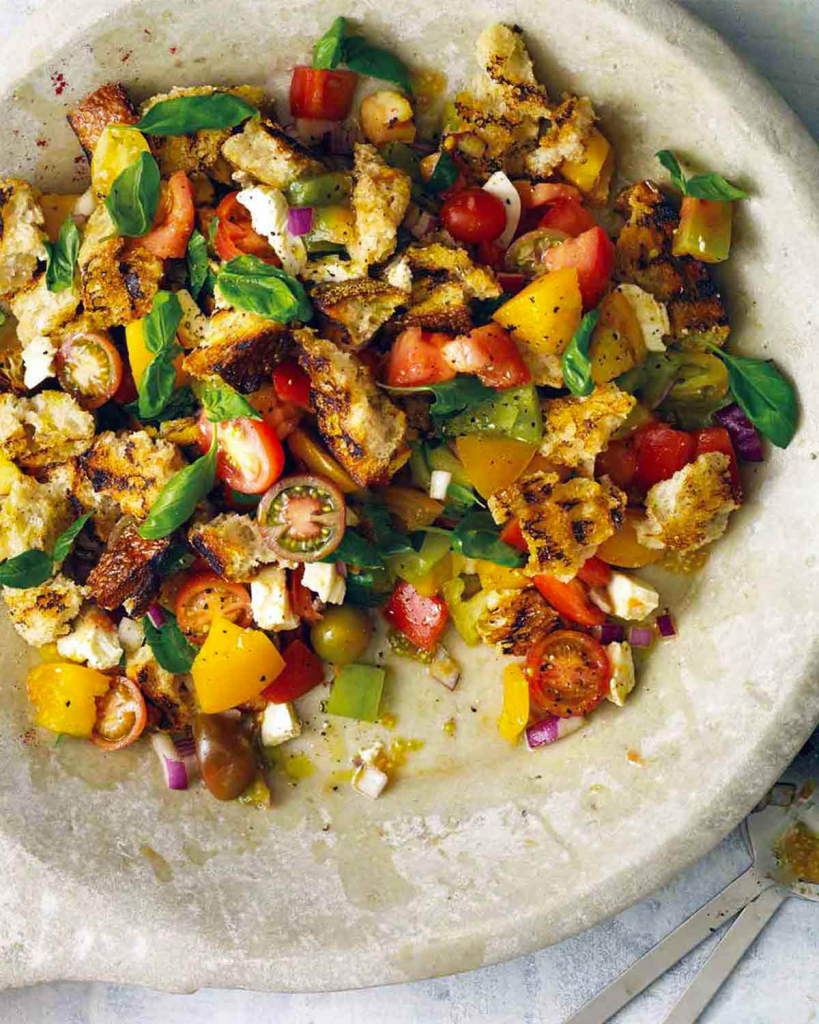 Ingredients:
3 tbsp olive oil
Splash red wine vinegar
day old bread, cut into 2cm cubes
1 tsp salt
2 large, ripe tomatoes, cut into 2cm cubes
1 cucumber sliced 1cm thick
1 or 2 peppers cut into 2cm cubes
1/2 red onion, thinly sliced
20ish large basil leaves, coarsely chopped
3 tbsp capers, drained
Method:
Heat the bread either by pan frying in oil if you have time, or 30s in the microwave if not. Then mix thoroughly with all the other ingredients in a large bowl, season and serve.
September 5, 2019 by General Administrator
I picked up this recipe whilst living in Gothenburg and it has great connotations for me with sunny breakfasts on the pier… Hopefully I don't just see it with rose tinted glasses!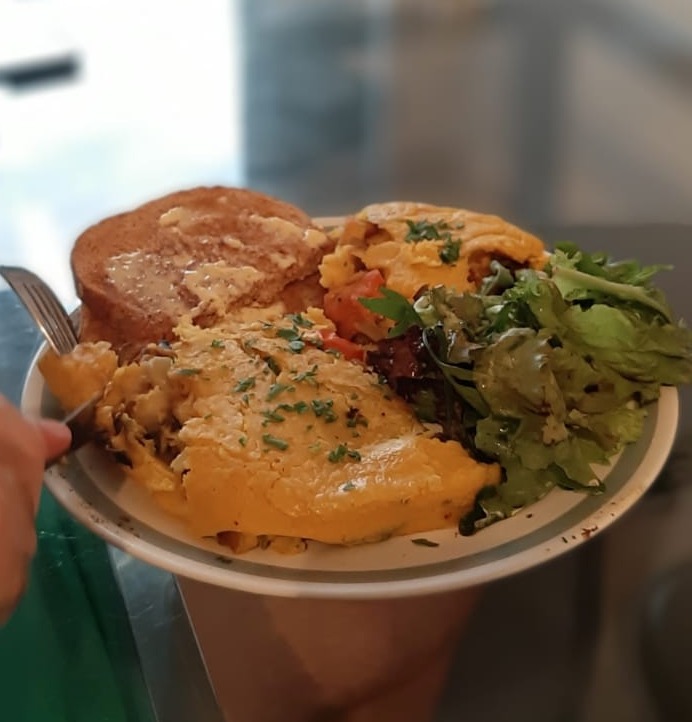 Vegan chickpea flour (kikärtsmjöl) omelette
Ingredients
1 cup (120 g) chickpea flour
1 Tablespoon flaxseed meal or chia seed meal (optional)
1/2 tsp (0.5 tsp) salt
1/4 tsp (0.25 tsp) each of turmeric garlic powder, baking soda, cumin powder
1ish cup of water
Fillings!
Fried tomato, onion, mushrooms, lots coming in our shares that could suit!
Method is simple, mix the all the dry ingredients then add the water slowly and mix with a whisk until they take on the same consistency as whisked eggs. Fry up the fillings, then poor on the omelette mix and reduce pan to a medium to low heat. Make sure you cook it slower and longer than an egg omelette – it tends to burn before solidifying enough to flip if you rush it.
August 22, 2019 by General Administrator
I went to a very interesting sports food recovery workshop with a nutritionist called "whole food warrior" whilst at a running festival earlier in the summer. This is one of her recipes which should be pretty quick and simple, enjoy!
Chickpea, green bean & spinach curry (15-minute recipe)
Ingredients (feeds 2)
For the curry paste:
A handful of fresh coriander, stalks & leaves (10-15g)
1/2 green pepper (75g), roughly chopped
1 red chilli, roughly chopped
1/2 thumb size piece of ginger (15g), peeled and roughly chopped
1 small onion (55g), peeled and roughly chopped
1 turmeric root or 1/4 teaspoon of turmeric powder
1/2 lemon, peeled (you are using the actual lemon here, not the rind)
1 teaspoon of cumin seeds
1/2 teaspoon of cinnamon
sea salt and freshly ground black pepper
Other ingredients:
150g of dwarf beans or green beans
1 tin of chickpeas
1/2 a tin of chopped tomatoes (200ml)
1/2 a tin of coconut milk (200ml)
4 large handfuls of spinach (approximately 120g)
Method:
Put all of the curry paste ingredients in a blender, season with a pinch of sea salt and some freshly ground black pepper and blend until smooth. Add a splash of water to make the bending easier if needed.
Put a frying pan on a medium high heat. Tip in the curry paste and cook until it thickens to a paste, approximately 5 minutes.
Pour in the chopped tomatoes and coconut milk, stir well, season with a little bit more sea salt and black pepper.
Add the green beans and cook for 5 minutes.
Tip in the chickpeas and spinach and cook for a further 5 minutes until the sauce has thickened.
Check the taste and season with more black pepper and sea salt if needed.
To serve, simply divide the curry between two large bowls. Sprinkle on some extra coriander leaves if desired.
Taken from: https://wholefoodwarrior.co.uk/blog/quickcurry
16th aug
Rebecca's Recipe of the Week: Green Beans, Tomatoes and Saffron
Serve this lovely blend of tomatoes, beans and saffron-scented onions as a side dish, or alongside some polenta topped with a poached egg. It's also tasty accompanying plain white fish.
Fagiolini in umido all zafferano
Serves 4 as a side dish.
Ingredients
10 medium tomatoes
60ml olive oil
2 medium onions, peeled and thinly sliced
1 small pinch of saffron
650g green beans, topped and tailed
Preparation
Bring a medium pot of water to the boil. Prepare a bowl of ice water.
Score the bottom of each tomato with a X, using a sharp knife, and remove the core. Drop the tomatoes into the boiling water a few at a time, and cook for about 30 seconds each, until the skin starts to loosen. Remove with a slotted spoon and drop into the bowl of ice water. Don't discard the hot water: you'll use it to cook the beans.
Fish each tomato out of the ice water and slip off the skin. Dice into small cubes.
Put the olive oil and sliced onions into a saucepan over very low heat. Add a pinch of salt and the saffron. Cook gently for 20-25 minutes, or until the onions are soft and translucent. Stir occasionally and make sure they don't catch or burn.
Add the diced tomatoes and cook for 10 more minutes. Season with salt.
Bring the tomato water to a boil, salt, and cook the beans for 6 minutes, or until tender. Drain the beans and add to the onion-saffron-tomatoes. Simmer for 3 more minutes over low heat and serve.
Recipe adapted from Christopher Boswell and Elena Goldblatt, Verdure: Vegetable Recipes from the American Academy in Rome (2014).
September 6, 2018 by General Administrator
The great chef James Beard declared that in his kitchen no pepper was used until it had been roasted. I would not go quite that far, but roasting certainly transforms a pepper into something irresistibly delicious. It's easy to do. Roasted peppers can be used in many ways—I'll mention a few in a minute—but it's hardly worth the effort since in my experience a dish of roasted peppers in a little olive oil and salt will be gobbled up immediately. Serve with an aperitivo or as part of your meal.
If by some miracle the peppers don't get consumed on the spot you can arrange them on a platter with a few quartered hard-cooked eggs, black olives, and fresh basil, to make a little salad (drizzle with more olive oil before serving). Or use anchovies instead of or in addition to the eggs. You can drape them over a pizza. You can mix them with a tin of white beans, parsley, chopped tomatoes, and olive oil for a more substantial lunch. But really you're going to eat these right away.
Roasted Peppers
Ingredients
Whole peppers of any colour or shape
Olive oil
Salt and pepper
Fresh basil or parsley (optional)
Preparation
Preheat your grill. Arrange the peppers on a baking tray or oven rack and place them about 4 inches from the grill. Roast the peppers for 8-10 minutes, turning them regularly, until they are charred on all sides. The goal is for the skin to go black and flaky so that it can be removed easily.
Once each peppers is charred on all sides remove it from the oven and set it aside to cool a bit. When it's cool enough to handle rub off the charred skin to reveal the smooth, roasted flesh underneath. Don't run it under the tap or you'll remove the flavour. Cut the pepper in half and remove the seeds.
Slice the halved peppers into long strips and put in a bowl. Drizzle with olive oil, and sprinkle with salt and pepper. Add chopped herbs if you wish. They're ready to serve.
September 15, 2017 by General Administrator
This is superb! Potatoes in a silky sauce of onions and green peppers—the slow cooking works a kind of alchemy, transforming the simple ingredients into something really wonderful. Serve this as part of an array of tapas-style dishes, or on its own with some steamed green beans dressed with olive oil and basil, or perhaps quartered hard-cooked eggs arrayed atop a platter of sliced tomatoes, and drizzled with olive oil and shredded basil.
Patatas a lo Pobre [Poor Man's Potatoes]
Serves 4
Ingredients
15 tablespoons olive oil (you might not need it all)
3 large onions, sliced fine
5 garlic cloves, coarsely chopped
2 green peppers, cut in half, de-seeded, and roughly chopped
4 bay leaves
1kg potatoes
salt and pepper
Preparation
Heat 4 tablespoons of oil in a heavy saucepan over medium heat. Once it's hot add the onions, sprinkle with a pinch of salt, and reduce the heat to low. Cook for 20-30 minutes, stirring regularly so that the onions don't burn, until the onions have collapsed into a golden, sweet-smelling, tangled mass. Add the garlic, peppers and bay leaves, and continue to cook over low heat for another 15-20 minutes. Add a bit more oil if at any point the mixture starts to stick.
Meanwhile, prepare the potatoes: cut them into thick chip shapes. Put them in a sieve and sprinkle them with a little salt. Leave them aside until the onion mixture is ready.
Now add another 4 tablespoons of oil to the onions and turn up the heat a little bit to warm the oil. Once the onions are bubbling happily add the potatoes, stir, and again reduce the heat to low. Simmer until the potatoes are soft, between 20 and 35 minutes. Season with pepper and serve. It's also delicious cold, with a hard-cooked egg, for lunch the next day.
(Recipe adapted from Sam and Sam Clarke, Moro: The Cookbook (2003).)