Cumin-scented cauliflower, yellow from turmeric, cooks with Canalside chile and a subtle coconut-poppy seed glaze. The result is spicy, satisfying and beautiful. Eat it topped with toasted almonds, fresh coriander, yoghurt and a squeeze of lime. Yotam recommends serving with flatbread, but it's pretty delicious just on its own.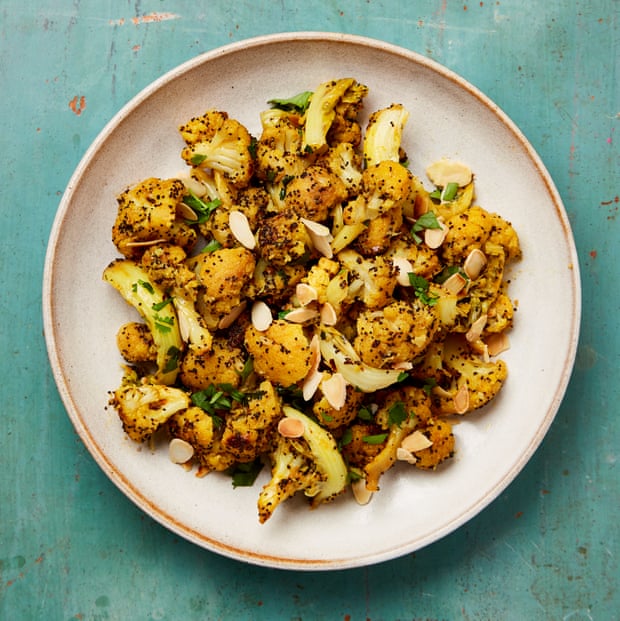 Poppy-Seed Cauliflower with Coconut
Serves 2
Ingredients
40g poppy seeds
60ml sunflower oil
½ – 1 Canalside dried red chile, de-seeded if desired, and shredded
1 teaspoon turmeric
1 teaspoon cumin seeds
2 garlic cloves, peeled and sliced fine
1 large cauliflower and leaves, broken into 4cm-sized florets, leaves shredded
150ml coconut milk (approx.)
To serve
1 handful fresh coriander, shredded
1 small handful flaked almonds, lightly toasted in a dry pan
plain yoghurt
1 lime, halved
Preparation
Put the poppy seeds in a small bowl. Pour over just enough boiling water to cover them. Leave them for half an hour, and then whiz them in a blender or food processor, or crush them in a mortar and pestle, so that they begin to break up a bit. Set aside.
Heat the oil over medium-high heat in a large sauté pan for which you have a lid. When it is hot add the chile, turmeric, cumin and garlic. Turn the heat to medium and sauté for 4 minutes, stirring often, until the garlic starts to brown and the mixture gives off a nice smell.
Add the cauliflower leaves and florets and toss with the spices. Stir for 2 minutes, until the cauliflower has turned an attractive yellow.
Add the coconut milk and the poppy seeds. Add enough coconut milk to make a little sauce, but not so much that it is soupy. Turn the heat down a little and cover. Cook for 4 more minutes, until the cauliflower has begun to soften.
Uncover and turn the heat up to medium-high. Cook for 8 more minutes, stirring regularly, until the cauliflower is tender and has begun to caramelise and the liquid has evaporated.
Serve topped with fresh coriander, toasted almonds, yoghurt and a squeeze of lime.
Recipe adapted from Yotam Ottolenghi, The Guardian, 16 Feb. 2019.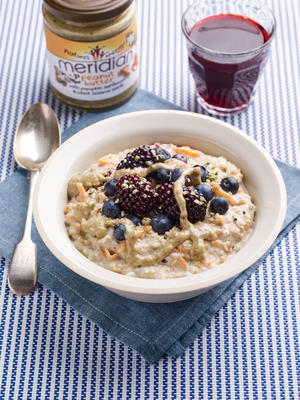 I was recently at an event where everyone was asked what they had for breakfast. 8 of the 10 people replied 'porridge'. Clearly porridge is having a bit of a moment. Here is a surprising, satisfying and toothsome variant. Cooked with oat milk, shredded carrot becomes soft and sweet, blending perfectly with the oats to make a rich, thick breakfast. The peanut butter, berries and hemp hearts add further sweetness, depth and crunch.
Carrot-Nut Porridge
Serves 2
Ingredients
100g porridge oats
100g carrot, peeled and shredded
600ml oat milk
¼ teaspoon grated nutmeg
2cm vanilla pod
2 tablespoons crunchy peanut butter
Blueberries or blackberries, to serve (frozen are fine)
2 tablespoons hulled hemp seeds, to serve
2 tablespoons date syrup, mulberry syrup, maple syrup or honey, to serve (if desired)
Preparation
Place the oats, shredded carrot, oat milk, nutmeg and vanilla pod in a saucepan and bring slowly to a simmer. Simmer for 8-10 minutes, or until it's thick and the carrot is soft. Stir in the peanut butter.

Divide into two serving bowls and top with berries and hemp seeds, and drizzle with syrup to taste.
Recipe adapted from Meridian Foods.
Rebecca's having a break this week and hopes to be back with another recipe next week.
With the cauliflower crop getting going, the moment may have arrived to do the first preserving of the year (that is, if you haven't already made marmalade, perhaps using some delicious La Jimena seville oranges).
Piccalilli is as versatile as any savoury preserve in that you can flex the recipe according to what is available. Most piccalilli recipes call for courgettes, green beans, tomatoes, and other summer veg. However, if all you have is roots and PSB (purple sprouting broccoli) that combination will also make a perfectly good version of this tangy preserve. Luckily my book of preserves from the Women's Institute can oblige with a suitably flexible recipe for any time of year! I've been know to make a version with cauliflower, onions (admittedly these are perhaps the two essential vegetables), carrot and swede!
Many piccalilli recipes call for the vegetables to be brined overnight, but this one breaks that rule, which simplifies the recipe and results in a delicious accompaniment for a ploughman's lunch. And unlike chutneys which rely on evaporation of the liquid to thicken the preserve (which can sometimes take hours), as this one is thickened with flour it has a much shorter cooking time.
Accommodating Piccalilli from the W.I.
Makes about 2.7kg (6lb) = 6 average sized jam jars
Preparation time: 45 minutes
Cooking time: 30 minutes
Ingredients
1 large cauliflower, broken into florets
450g (1lb) pickling onions – if you've still got any little Canalside onions left, they'd be perfect!
1.4L (2 1/2 pints) white malt vinegar (apple cider vinegar also works well)
900g (2lb) mixed vegetables, diced or cut into 2.5cm (1 inch) lengths
2 fat cloves of garlic
450g (1lb) caster sugar
50g (2oz) dry mustard (i.e. mustard powder)
115g (4oz) plain white flour, sieved
25g (1oz) ground turmeric
1 tsp ground coriander
2 tsp salt
Preparation
In a large preserving pan, summer the cauliflower and onions in 1.1litres (2 pints) of the vinegar for 10 minutes.
Add the other vegetables, garlic and sugar and cook for a further 10 minutes.
Mix the mustard, flour. spices and salt with the remaining vinegar and add to the cooked vegetables, stirring all the time to prevent lumps from forming.
Stir well and simmer for a further 10 minutes.
Spoon into cooled and sterilised jars and cover with vinegar proof tops. Label and store for at least 2 weeks before using. It will keep for months (I think I've even kept it for more than a year) with the flavour improving and mellowing as it ages.
From 'Best Kept Secrets of the Women's Institute: Jams, Pickles and Preserves' by Midge Thomas
What could be more 1970s than a dip? Bowls of sour cream blended with onion soup mix, or pink concoctions featuring a lot of mayonnaise served with crisps may have a retro appeal but here is an up-to-the minute dip you can serve without a heavy dose of irony. It features roasted pumpkin or butternut squash, toasted nuts and a zing of fresh mint. Spread it on triangles of toasted pita, or thin slices of toast. It also freezes very well, in case you don't eat it all in one go.
Vaguely Greek Squash and Walnut Dip
Makes about 2 cups
Ingredients
1 kg pumpkin or winter squash
35g walnuts or hazelnuts
2 tablespoons olive oil
1 medium onion (or the equivalent in tiny Canalside onions), finely chopped
2 tablespoons finely-chopped mint
1/8 teaspoon freshly-grated nutmeg
40g parmesan cheese (or other sharp, hard cheese)
Preparation
Preheat the oven to 200C.

Cut the squash or pumpkin into large pieces, remove the seeds (you can keep these to roast as a nibble), and peel.

Place the squash on a baking tray, put in the oven, and roast until it's very tender—between 40 minutes and an hour. Turn it occasionally if you remember, so that it browns a bit on all sides. When it's soft, remove it and let it cool.

Turn the oven to 150C and put the nuts on another tray. Once the oven has cooled down put the nuts in and toast them for 5-10 minutes, or until they smell fragrant and are ever so lightly brown.

Heat the oil in a small pan over low heat and add the onion. Cook it gently until it's very tender, sweet and lightly caramelised—about 20 minutes. Remove from the heat.

Combine the onion, cooked squash, nuts, mint, nutmeg and cheese in a bowl and blend with an immersion blender (or food processor) until the mixture is pleasantly smooth. Taste and season with salt and pepper to taste. Serve on little pieces of toast, or crackers.
Recipe adapted from Martha Rose Schulman in the New York Times (2012).
A fresh green plate of spring broccoli, lemony parsley sauce and the unctuousness of soft egg yolk. Dried chile pepper adds a touch of red and extra bite to this easy mid-week dinner. Serve with toast, or a little rice.
Sprouting Broccoli with Parsley and Poached Egg
Serves 2
Ingredients
20g parsley
¼ cup olive oil
Juice of ½ lemon
Salt and pepper to taste
300g sprouting broccoli, ends trimmed and cut into similarly-sized lengths
2 eggs
Greek yoghurt, to serve
1 dried red chile, seeds removed, shredded (if desired)
Preparation
Remove any tough stems from the parsley. Whizz it together with the oil and lemon juice in a food processor or immersion blender until it makes a thick green purée. Season to taste with salt and pepper. It should be fresh and lemony. Add more oil or lemon juice until you're happy with it.
Bring a pot of water to the boil and cook the sprouting broccoli until it's tender, about 8 minutes. Fish out the broccoli and keep it warm, leaving the water in the pan. You'll use it to poach the egg.
Add more water to the pan if necessary and bring it to a low simmer. Add a splash of white vinegar if you like (this helps the egg to retain a reasonably nice shape), and then crack the eggs one at a time into the water. Poach over low heat for about 2 minutes, or until the whites are set. Turn off the heat and leave the eggs in the pan while you plate up.
Arrange the broccoli onto two dinner plates. Spoon most of the parsley sauce artfully over the broccoli and around the plate. Top each mound of broccoli with a poached egg and decorate that with the remaining parsley sauce. Dot the broccoli and egg with several spoonfuls of Greek yoghurt and strew a little of the red chile pepper over the top—but watch out: the Canalside chiles are really potent! Grind a final sprinkle of black pepper over the top.
Good cocktails are greater than the sum of their parts. This one has a lot of parts, but nonetheless manages to exceed them, to produce a subtle and effective drink that will cure what ails you. If you were wondering what to do with all the citrus you've acquired in your La Jimena box, here is one suggestion. Rose, orange, mint, and cinnamon combine in a liquid homage to the flavours of Morocco. It's worth seeking out some rose liqueur; the Edinburgh Gin Company make a very acceptable pomegranate and rose gin liqueur which works well, or you can use Briottet Liqueur de Rose. In either case, give this one a try.
Lost in Marrakech
Serves 1
Ingredients
3-4 wide curls of orange peel
15 mint leaves
40ml white rum or cachaça
10ml rose liqueur
2 drops orange flower water
20ml orange juice
15ml lemon juice
15ml lime juice
25ml cinnamon simple syrup (see below)
2-3 drops Angostura bitters
rose petals (to garnish, optional—but Neil's Yard sells these loose and they look very pretty. . . )
more fresh mint (to garnish)
Preparation
Combine the orange peel and mint leaves in a lowball glass. Crush them a bit to release the flavours, and then add some ice.
Pour in the rum, rose liqueur and orange flower water. Stir.

Blend the citrus juices and cinnamon syrup and add to the glass. Stir again.

Shake a few drops of Angostura bitters over the top, and decorate with rose petals and a bit more mint.

Drink thinking of distant locations far from our troubled isle.
Cinnamon simple syrup
Ingredients
1 cup water
1 cup sugar
1 cinnamon stick
Preparation
Combine water and sugar in a small saucepan and bring slowly to the boil. Simmer gently until the sugar is dissolved—about 5 minutes. Add the cinnamon stick, and then decant into a glass jar or other container. Let cool, and refrigerate for at least 24 hours to allow the flavours to blend. This keeps indefinitely in the fridge.
Recipe adapted from Dav Eames, in The Guardian.
If you've just taken receipt of a box of citrus from La Jimena then you're ideally placed to make this superb cocktail. Like all great cocktails, it is greater than the sum of its parts.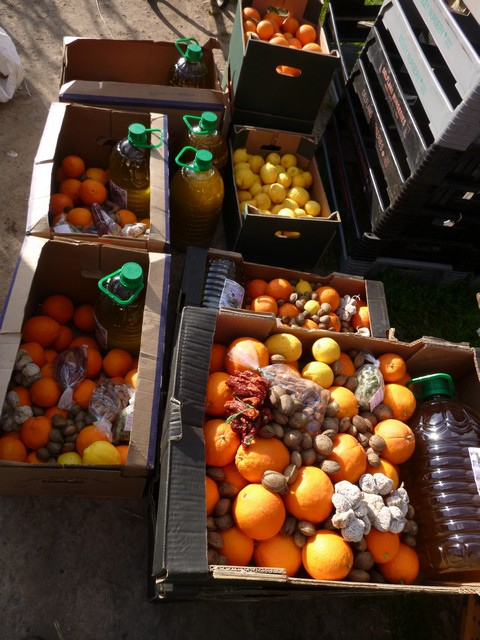 Trainwreck
Serves 2
Ingredients
3 parts fresh orange juice (ideally, blood orange juice)—start with one orange.
2 parts rye
1 part campari
1 part sugar syrup
2 slices of orange, for garnish
Preparation
Fill two lowball glasses with ice. Stir the ingredients together in a measuring jug and pour into the prepared glasses. Garnish each with an orange slice and enjoy.
One medium orange should provide enough juice for two cocktails. Then you can measure the other ingredients in proportion: use a third as much campari and sugar syrup, and 2/3 as much rye.
Bobbie Griffith was, I think, my second cousin twice removed, or something like that. Anyway, she lived in Wisconsin and this is her recipe for pumpkin muffins. They're spicy and comforting, and easy.
Shaker Style Pumpkin Muffins
Makes 12
Ingredients
2/3 cup soft brown sugar, packed into the cup
¼ cup treacle
½ cup butter at room temperature
2 eggs
1 cup pumpkin purée (see below)
1½ cups plain flour
¼ cup oat bran (or use 1¾ cups plain flour)
1 teaspoon bicarbonate of soda
¼ teaspoon salt
½ teaspoon cinnamon
¼ teaspoon ground cloves
¼ teaspoon ground nutmeg
Preparation
Preheat the oven to 180. Butter a 12-cup muffin tin, or line with paper muffin cases.

Cream the sugar, treacle and butter together until very light and fluffy. If you use an electric mixer you can leave it to do its work for as long as five minutes if you like. Add the eggs and pumpkin and blend well.

Combine the flour, oat bran (if using), bicarbonate of soda, salt and spices and mix well.

Add the dry ingredients to the pumpkin batter and mix only until blended—don't overbeat.

Spoon the batter into the muffin tins and bake for 20 to 25 minutes or until a toothpick comes out dry when inserted into the centre of a muffin. Let cool a little before eating.
To make puréed pumpkin or squash
Preheat the oven to 190.

Slice your pumpkin into large wedges and remove the seeds. Place it on a baking sheet and roast until it's cooked and tender throughout. Depending on the size of the wedges this should take between 15-30 minutes. Peel the squash and mash or purée with a hand blender until smooth. You can freeze any extra.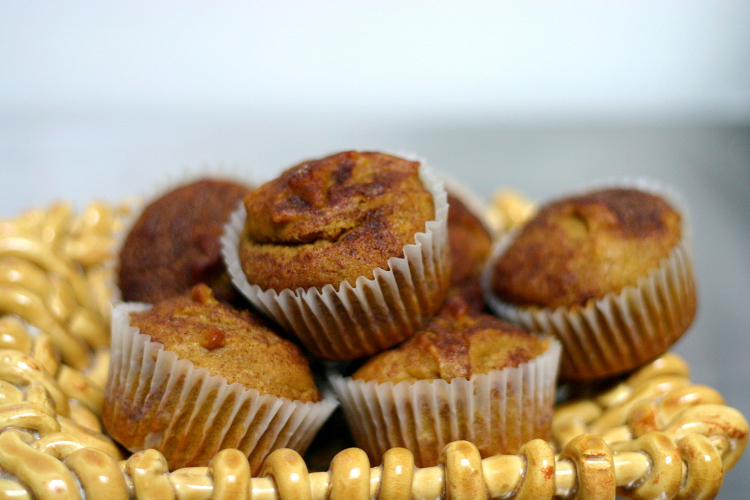 According to Claudia Roden, this creamy, lemony sauce is 'one of Turkey's culinary signature tunes'. Warm and eggy, it provides a delicate contrast to more robust vegetables such as celeriac or poached leek. It's as if they've been given a luxurious bath in something rich and comforting. I like to serve this on a base of shredded greens, but you can omit that if you'd prefer. It would also go well with rice, and Roden recommends serving it alongside a lamb stew. It's very easy.
Celeriac with Egg-Lemon Sauce
Serves 2
Ingredients
800g celeriac
1 lemon
1 teaspoon sugar
Salt and pepper
2 egg yolks
Shredded greens, to serve
Preparation
Peel the celeriac with a sharp knife and cut it into ¾-inch cubes. Put the cubes into a pan and just cover with cold water. Add the sugar, some salt, and the juice of half the lemon. Bring to a boil and then simmer, covered, for about 20 minutes, or until tender.
While the celeriac is cooking start to prepare the egg-lemon sauce: in a small saucepan whisk the egg yolks with the juice of the remaining half-lemon, some pepper, and a bit more salt. Set aside until the celeriac has finished cooking.

Put the shredded greens into a serving dish.

Drain the celeriac, but make sure to keep a few tablespoons of water to use in the sauce. Arrange the celeriac cubes on top of the greens.

Whisk 2 tablespoons of the cooking water into the egg-lemon mixture and place the pan over low heat. Stir constantly for a few minutes, until the mixture has just begun to thicken. Don't let this get too hot, or stop stirring, lest the mixture curdle. Pour the egg-lemon sauce over the vegetables and serve.
Recipe adapted form Claudia Roden, Arabesque (2009).
I got home late last night so dinner was a spontaneous improvisation based on what was in the fridge. The result proved to be very tasty! The smooth roasted peppers (you could use sun-dried tomatoes, I think) combine with the crunch of the celery and the boiled potatoes to give a satisfying complexity. A salty miso dressing pulls it all together.
You could serve this with a poached egg, or some grilled meat or fish, or, to be honest, on its own. You could add some feta, as well. I've not given precise quantities; that would go against the entire spirit of this dish.
Potato-Pimento Salad with Miso and Herbs
Ingredients
The salad
Potatoes
Celery, sliced
Tinned Spanish pimientos de padrón, sliced, or sun-dried tomatoes, sliced
Lots of fresh parsley and/or coriander, coarsely chopped
Toasted pumpkin seeds, or almonds
The dressing
1 part miso paste
2 parts olive oil
1 part lime juice
Lime zest
Freshly-ground pepper
Preparation
Put the potatoes in a pan and cover with cold water. Bring slowly to the boil, and simmer very gently until the potatoes are tender.
While the potatoes cook, combine the other salad ingredients in a bowl and shake the dressing ingredients together in a jar.
Drain the potatoes and leave to dry off a bit for a few minutes. Once they're cool enough to handle, cut them into chunks and add them to the salad. Toss well and serve with additional black pepper, to taste.