October 8, 2021 by General Administrator
This week we'll be getting a good number of apples, so looking for an alternative to apple crumble I've come across an idea for a porridge topping. Add some vanilla essence to the porridge to round it off!
Brown sugar apples for porridge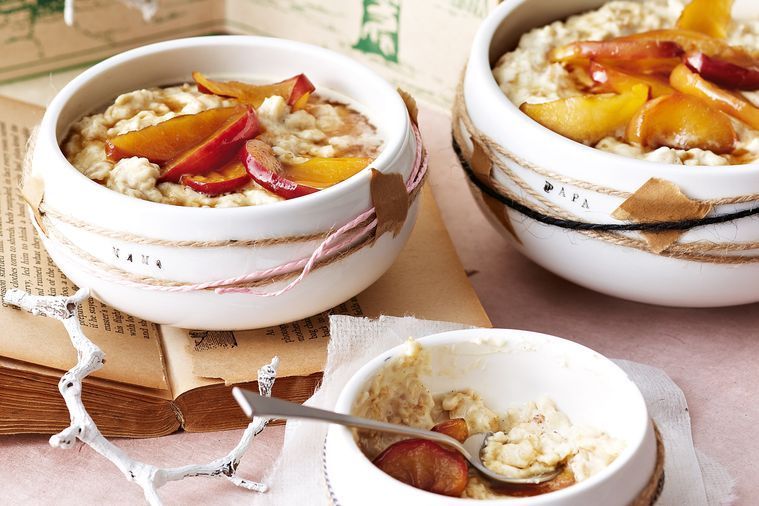 Ingredients
2 apples (preferably red), cored, cut into 1cm-thick wedges
2 tablespoons brown sugar
2 tablespoons honey
Method: For the brown sugar apples, place the apple, sugar and honey in a saucepan over medium heat and cook, stirring occasionally, for 10 minutes or until apple is tender, golden and sticky.
Top porridge with apples and syrup from the pan.
From: https://www.delicious.com.au/recipes
The full bank of recipes provided by Rebecca and Rob (and guest contributors) can be found and searched by categories on our website blog here: https://www.canalsidecommunityfood.org.uk/category/recipes-and-veg-tips/
October 1, 2021 by General Administrator
Here is a good use of Canalside basil if you're tired of pesto. The Moosewood describes this as a 'creamy, green, slightly sweet dressing' and note that customers sometimes ask if they can buy a couple of pints to take home. Try it on lettuce, grated carrot, and sliced cucumber for a simple side salad.
If you don't have a set of cup measures, you can measure the carrots and onions in measuring jug. A US cup is 8 fluid ounces, so ½ a cup of grated carrots is 4 fluid ounces, and ¼ cup of chopped onion is 2 fluid ounces.
Moosewood's Creamy Green Dressing
yields about 16 fluid ounces
Ingredients
¾ cup vegetable oil
3 tablespoons cider vinegar
2 teaspoons honey or maple syrup
2 teaspoons Dijon mustard
½ teaspoon salt
½ cup packed fresh spinach
¼ cup packed basil leaves, or more to taste
¾ cup milk (I used oat milk)
Preparation
Combine all the ingredients except the milk in a blender and whizz until very smooth. With the blender running, pour in the milk in a steady stream. The dressing will thicken and turn a lovely shade of green. Taste and add more salt or basil to taste. (I in fact made this in a Nutribullet, so instead of pouring in the milk with the motor running, I simply added the oat milk to the vessel and gave it another whizz. That worked fine too.)
Recipe adapted from Moosewood Collective, Moosewood Restaurant Favorites: The 250 Most Requested Naturally Delicious Recipes from One of America's Best-loved Restaurants (2013).
September 23, 2021 by General Administrator
This very delicious recipe is from the Moosewood, a pioneering vegetarian restaurant in Ithaca, New York State, where I (mostly) grew up. The carrot makes the dressing a beautiful bright orange. The sesame oil, ginger and soya sauce balance the carrot's sweetness (although you can add additional sugar if you like). The Moosewood Collective note that if you use this dressing on iceberg lettuce you will make 'that Japanese restaurant bento box salad'. They also recommend it as a topping on grilled fish, or as a dip for green beans or sugar-snap peas.
If you don't have a set of cup measures, you can measure the carrots and onions in measuring jug. A US cup is 8 fluid ounces, so ½ a cup of grated carrots is 4 fluid ounces, and ¼ cup of chopped onion is 2 fluid ounces.
Japanese Carrot Dressing
Yields about 10 ounces.
Ingredients
½ cup carrots (about 2 medium-sized carrots).
¼ cup onion or shallot, chopped
8 ounces vegetable oil
3 tablespoons rice wine vinegar
1.5 tablespoons grated fresh ginger
1 tablespoon soya sauce
1 teaspoon sesame oil
2 tablespoons water
¼ teaspoon salt
1 teaspoon brown sugar (optional)
black pepper
Preparation
Combine all the ingredients except the sugar and pepper in a blender and whizz. Start on low and the gradually increase the speed until the purée is smooth. Taste the dressing; add the brown sugar if you'd like this a little sweeter, and also add pepper and more salt, to taste.
Recipe adapted from Moosewood Collective, Moosewood Restaurant Favorites: The 250 Most Requested Naturally Delicious Recipes from One of America's Best-loved Restaurants (2013).
September 16, 2021 by General Administrator
What are you going to do with all those cucumbers? This salad is a tasty way to enjoy them. It combines a touch of sweetness from the dried fruit with feta's salty kick, and the richness of toasted walnuts. Note the enormous quantity of sumac, which brings a bright, lemony note. We ate this for lunch along with some brown bread. It would probably also be good alongside a piece of grilled fish, or a little lamb chop.
Cucumber, Walnut, Feta and Dill
Serves 2 for lunch.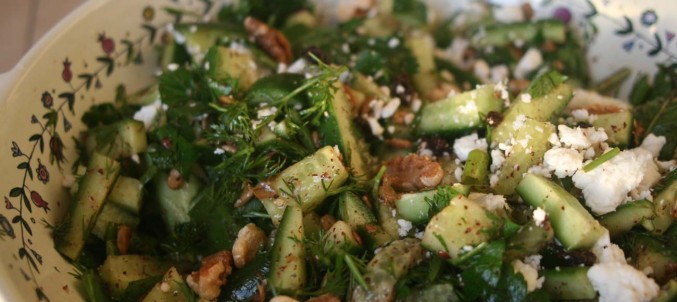 Ingredients
Salad
500g (or about 2) cucumbers, cut into matchsticks or spiralised
20g dill (or mixed dill and parsley), chopped
50g currants or golden raisins
100g feta, crumbled or cut into small cubes
60g walnut pieces, toasted and coarsely chopped
Dressing
2 tablespoon olive oil
zest of 1 lemon—zest it before you cut it in half to juice
1 tablespoon lemon juice
1 tablespoon sumac
½ teaspoon salt
several grinds of black pepper
Preparation
Gently toss the salad ingredients in a serving bowl.
Combine the dressing ingredients in a screw-top jar and shake vigorously. Pour over the salad and toss gently. Taste, add more salt or pepper to your liking, and serve.
Recipe adapted from Shaina Shealy, at Jewish Food Experience, 2021, https://jewishfoodexperience.com/recipes/cool-cucumber-salad-feta-walnuts/
September 9, 2021 by General Administrator
I've selected this week's recipe because whenever I search for green bean ideas they're heavily based around the idea of a healthy side dish, which is great… except sometimes all I want is a big cheesy bowl of pasta with a faint nod at healthiness. So here we have it, green bean mac'n'cheese.
Green bean mac'n'cheese
Ingredients:
~200g green beans (or runner beans or anything similar)
300g dried macaroni
60g butter, plus a few extra knobs
4 tbsp plain flour
2 tsp English mustard powder
600ml whole milk
Pinch of cayenne pepper
Sea salt, to taste
100g mature Cheddar cheese, grated
100g Lancashire cheese, crumbled
100g Cheshire cheese, crumbled
3 tbsp fresh white breadcrumbs
1 tbsp thyme leaves
Method:
Bring a large pan of well-salted water to the boil. Add the green beans and cook for 4–5 minutes until tender. Remove with a slotted spoon and refresh in a bowl of ice-cold water to prevent them from cooking any further. Drain well.
Tip the macaroni into the boiling salted water and cook until al dente, according to packet instructions. Drain, refresh under cold, running water and drain again. Mix the macaroni, beans and a few knobs of butter together in a large bowl.
Preheat the oven to 200°C/Gas 6. Heat the 60g butter in a pan, and stir in the flour and mustard powder to make a roux. Gradually add the milk, beating continuously with a balloon whisk until the mixture is smooth. Slowly bring to the boil over a low heat, whisking frequently, until the mixture thickens. Season well with cayenne pepper and sea salt to taste.
Mix the three cheeses together and stir half into the white sauce. Mix well until the cheese has melted and the sauce is smooth again. Add the macaroni and beans to the sauce and mix well to coat. Spread the mixture into a large, wide gratin dish.
Combine the remaining cheeses with the breadcrumbs and thyme leaves. Sprinkle over the top of the macaroni and bean mixture. Bake for about 15–20 minutes until the topping is golden and crisp. Serve immediately.
August 26, 2021 by General Administrator
This week's recipe is a bit of a weird one. I haven't tried it yet, but the celery gin cocktail that I shared last summer became a firm favourite in our house so hopefully this will be the same!
Courgette Martini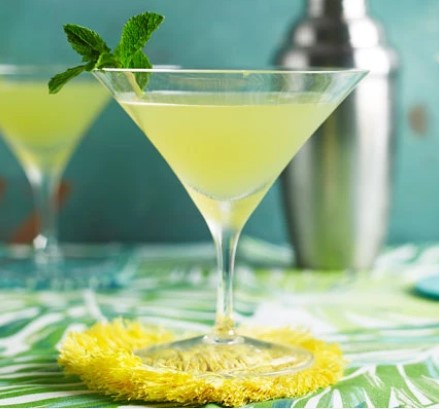 Ingredients
1 courgette , coarsely grated
juice 2 lemons
2 tbsp caster sugar
25ml vermouth
50ml gin
ice
mint leaf to garnish
Method
Mix the courgette with the lemon juice and sugar and leave to steep for 1 hr. In the meantime, place a martini glass in the fridge to chill.
Strain the courgette mixture through a sieve into a jug. Fill a cocktail shaker with ice then add 25ml of the courgette syrup followed by the vermouth and gin. Stir gently a few times then strain into your chilled glass. Garnish with a mint leaf and serve.
From BBC Good Food
August 19, 2021 by General Administrator
'A zucchini and a steak may not have much in common, but, like steak, zucchini takes incredibly well to the method of quickly searing in a smoking hot pan'. So states Lidey Heuck in the New York Times, and she's right. In this easy recipe courgettes are cooked fast to develop an appetising char, and then basted with butter, garlic and rosemary. We ate these topped with ricotta, alongside a tomato salad and some good bread.
Pan-Seared Courgettes
Serves 2-3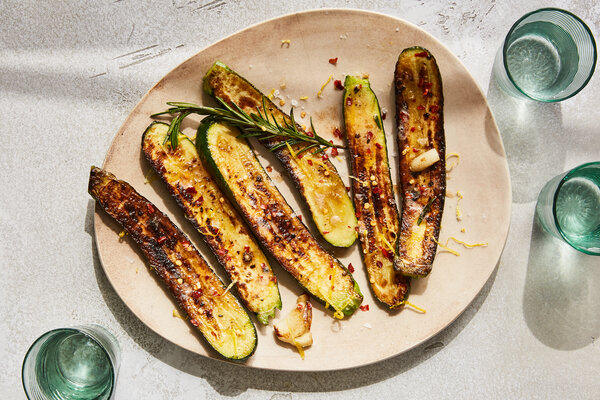 Ingredients
3 small courgettes (6 to 8 inches each)
1 tablespoon grapeseed, safflower or other high-heat cooking oil
salt and pepper
1½ tablespoons unsalted butter, or more to taste
1 garlic clove, peeled and smashed
1-2 tablespoons fresh rosemary, chopped
To garnish:
coarse sea salt
lemon zest
red-pepper flakes
Preparation
Trim the ends off the courgettes and cut them lengthwise into planks about ½-inch thick. Pat them dry, pressing gently but firmly on both sides to absorb any moisture.
Heat a large (12-inch) cast-iron or stainless-steel skillet over medium-high. If you have a ridged pan this is a good opportunity to use it. Add the oil and heat until it's almost smoking.
Add the courgettes to the pan and press lightly with a spatula so that the planks make contact with the pan. Don't crowd them—if you do they will steam rather than sear.
Sprinkle the tops with salt and pepper, and cook for about 3 minutes, until the courgettes are nicely charred on the bottom. Lower the heat to medium, flip over the courgettes, and season again with salt and pepper. Cook for 2 to 3 more minutes, until the bottoms are charred. 
Turn the heat to low and add the butter, garlic and rosemary. Carefully tilt the pan, letting the garlic and rosemary cook in the butter for 30-60 seconds, until the butter has begun to brown. Spoon the butter over the courgettes, and cook for another minute, flipping them a few times to coat both sides with the butter. 
Transfer the courgettes to a serving platter, along with the garlic and rosemary, and spoon any butter that's left in the pan on top. Garnish with sea salt, lemon zest and red-pepper flakes, and serve hot.
Recipe adapted from New York Times Cooking
August 12, 2021 by General Administrator
This week I made green fermented hot sauce so I thought I would share the recipe. It's a bit of a slow burner (excuse the pun) in that it won't be ready to eat until next summer, but it's a fun little project so bear with me…
Green fermented hot sauce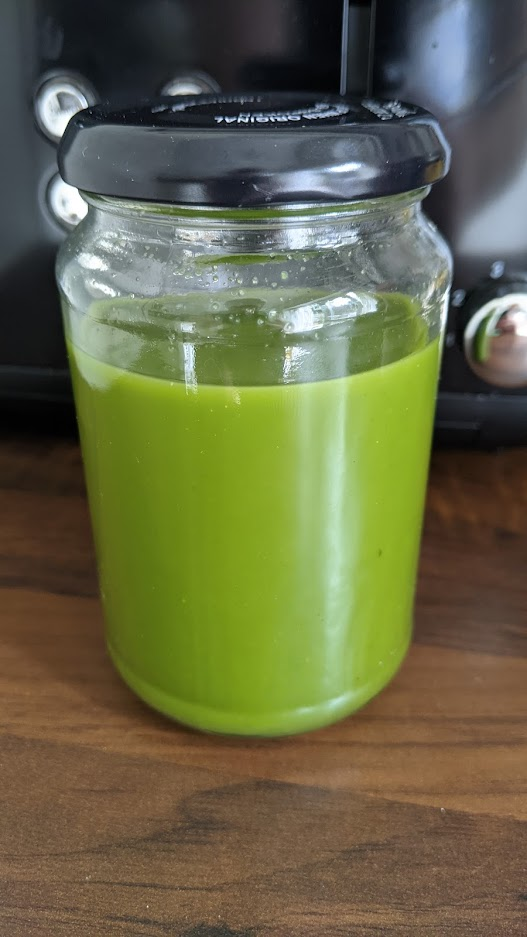 Ingredients (scale to suit your harvest):
450g green chillies
4 garlic cloves, peeled and crushed
3 tablespoons salt
4 cups warm water
Method:
To make chillies:
The first thing you need to do is reserve some seeds from the dried chillies in the share, and then sow them into modules or pots inside, early in 2022, repotting as they grow. I grew 9 plants in the end, which have happily produced all summer outside. I picked chillies green to stimulate more growth and froze them until I had enough for a batch of sauce. Approx 1 month of harvest gave me 225g of chillies which resulted in 1 jam jar of sauce. Beware it'll be very hot – Frank's hot sauce has nothing on the Canalside chillies!
To make sauce:
Remove tops of peppers and split in half lengthwise. You might want to wear gloves for this. Tightly pack a jar with peppers and garlic, leaving a little headspace
Mix salt and warm water to form a brine and pour this to completely cover the chillies
Fill a freezer bag (or alternative) with water and use this to weigh down the chillies, keeping them submerged
Cover with a kitchen towel and leave in a cool dark spot (such as a cupboard) for 3 or 4 days or until brine appears slightly cloudy and bubbly. The longer it sits, the funkier it will get. Don't let it go past 7 days or it will be too funked (even for you). It's worth opening the jar every day or so to release built up air pressure.
Strain the brine and reserve it. Transfer the chillies to a high-speed blender. Add 1 cup of the reserved brine, 1 cup of fresh coriander (omit if you don't like the taste) and 1/4 cup apple cider vinegar to the blender, and process until very smooth. Strain the pulp through a fine-mesh sieve, and bottle.
Store in the refrigerator. The flavours will continue to develop and get more complex over time, and the heat will mellow. This will keep for at least 12 months in the fridge.
Adapted from: https://www.anarchyinajar.com/blog/2020/6/green-fermented-hot-sauce
August 5, 2021 by General Administrator
Fresh tarragon is lovely with potatoes. You can augment this salad with hard-cooked eggs or olives, if you like. It's good on its own, and also as part of a meze spread.
Warm Tarragon and Potato Salad
Serves 4 as a side dish
Ingredients
4 large waxy potatoes
1 medium red onion
zest and juice of 1 large lemon
4 tablespoons olive oil
½ teaspoon salt
several grinds of pepper
20g tarragon leaves, roughly chopped
Preparation
Put the potatoes in a pan with cold water. Bring slowly to the boil and then simmer gently over very low heat until tender. Depending on the size of your potatoes this could take between 30 and 45 minutes. Drain and set aside.
While the potatoes cook, peel the onion and slice it fine. Put the slices in a small bowl and toss with a pinch of salt and a squeeze of lemon juice. Let sit for 10-30 minutes; this will temper the onion and make it less pungent.
Now prepare the dressing: put the lemon zest, remaining lemon juice, olive oil, salt and pepper in a jar and shake vigorously to combine. Taste and add a bit more salt or lemon juice if it's not to your taste.
Once the potatoes are cool enough to handle but still warm, peel them (if you don't like the peel) and then cut them into 2cm cubes. Toss them with the dressing and tarragon, and stir in the tempered onion. Eat while warm.
Recipe adapted from Sally Butcher, Persepolis (2011).
July 29, 2021 by General Administrator
This is a bit of a summer favourite for getting a quick hit of refreshing and flavorful nutrition alongside the rest of lunch. It's easily adaptable to personal taste by adding things like feta cheese, so make it your own!
Ingredients
Cucumber
Red onion or shallots
Tomatoes
Black olives
Lemon juice
Olive oil
Salt
Method
Finely dice equal parts cucumber onion and tomato. Mix and add some diced olives, a splash of lemon juice a dash of salt and a good helping of olive oil.