October 1, 2021 by General Administrator
Here is a good use of Canalside basil if you're tired of pesto. The Moosewood describes this as a 'creamy, green, slightly sweet dressing' and note that customers sometimes ask if they can buy a couple of pints to take home. Try it on lettuce, grated carrot, and sliced cucumber for a simple side salad.
If you don't have a set of cup measures, you can measure the carrots and onions in measuring jug. A US cup is 8 fluid ounces, so ½ a cup of grated carrots is 4 fluid ounces, and ¼ cup of chopped onion is 2 fluid ounces.
Moosewood's Creamy Green Dressing
yields about 16 fluid ounces
Ingredients
¾ cup vegetable oil
3 tablespoons cider vinegar
2 teaspoons honey or maple syrup
2 teaspoons Dijon mustard
½ teaspoon salt
½ cup packed fresh spinach
¼ cup packed basil leaves, or more to taste
¾ cup milk (I used oat milk)
Preparation
Combine all the ingredients except the milk in a blender and whizz until very smooth. With the blender running, pour in the milk in a steady stream. The dressing will thicken and turn a lovely shade of green. Taste and add more salt or basil to taste. (I in fact made this in a Nutribullet, so instead of pouring in the milk with the motor running, I simply added the oat milk to the vessel and gave it another whizz. That worked fine too.)
Recipe adapted from Moosewood Collective, Moosewood Restaurant Favorites: The 250 Most Requested Naturally Delicious Recipes from One of America's Best-loved Restaurants (2013).
May 20, 2021 by General Administrator
Beetroot with feta, or goat cheese, is a classic combination, but other cheeses are available. Cheddar, for instance. Lentils add bite and substance to this salad, and the mustard brings a complementary zing that combines well with the cheddar. You can use either red or yellow beetroot in this salad, which makes a good lunch or simple supper.
Beet and Lentil Salad With Cheddar
Serves 4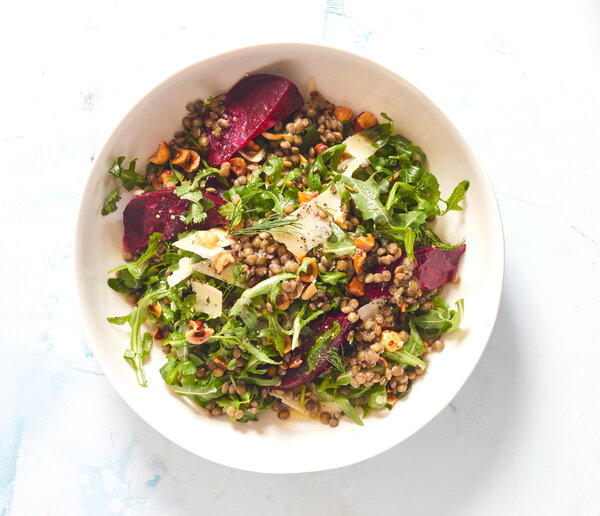 Ingredients
For the salad:
500g beetroot
300g green lentils, rinsed
1 garlic clove, smashed
1 teaspoon salt
approx. 2 cups rocket or another green such as shredded Swiss chard
5g dill, parsley, mint or coriander, roughly chopped
50g Cheddar, roughly crumbled
handful walnuts or hazelnuts, toasted in a dry frying pan for a few minutes
For the apple cider vinaigrette:
1 small garlic clove, grated
2 tablespoons apple cider vinegar
3 tablespoons extra-virgin olive oil
1 tablespoon maple syrup or brown sugar
½ teaspoon Dijon mustard
¼ teaspoon salt
several grinds of freshly ground pepper
Preparation
Place the beetroot in a microwave-proof bowl. Add 1 cup water to the bowl and cover the bowl tightly with clingfilm. Microwave for 20 minutes. By now the clingfilm should have collapsed tightly onto the beetroot, creating a sort of vacuum-seal. With your finger prod the beetroot through the clingfilm to see how soft it is. If it feels tender, the beetroot is done. If not, put it in for another 5 minutes and test it again. Keep going until the beetroot feels tender. Once it's done, remove it from the microwave, peel back the clingfilm, drain, and set aside.
Meanwhile, cook the lentils: in a medium pot, add the lentils, salt, garlic and 1 litre of water. Bring to a boil over high. Reduce heat to medium, cover and simmer for 20 to 25 minutes until just tender. (The lentils should still have some bite). Drain in a colander and stir to break up and evenly distribute the garlic. Let the lentils cool slightly.
Once the beetroot is cool enough to handle, set about peeling it. The peel should come off fairly easily with a knife. Cut the beetroot into 1cm cubes, or slice into small wedges.
While the lentils cook, prepare the vinaigrette: in a large serving bowl, whisk the garlic, vinegar, oil, maple syrup and mustard with the salt and pepper. Add the warm lentils to the serving bowl, then add the beets, greens, nuts and herbs. Toss together and then stir in the the cheese. Don't stir too vigorously, because you don't want the cheese to turn crimson from the beets, and serve.
Recipe adapted from Hetty McKinnon, New York Times Cooking
March 4, 2021 by General Administrator
Very good straight off the stove, and even better the next day. The grated carrot and spinach lighten the dhal, and also add beautiful little green and golden flecks to the duller gold of the lentils. The coconut milk stays in the background, adding sweetness and rich flavour without overwhelming the balance of tastes. This is good served with rice or bread, yoghurt and a pickle.
Quick Carrot Dhal
Serves 4
Ingredients
2 cloves garlic, peeled
thumb-sized piece of ginger, peeled
1 green chile, chopped—remove the seeds if you prefer
1 red onion, peeled
vegetable or coconut oil
1 teaspoon cumin seeds
1 teaspoon coriander seeds
1 teaspoon black mustard seeds
1 teaspoon ground turmeric
1 teaspoon ground cinnamon
½ teaspoon salt
200g red lentils
400ml coconut milk
600ml water
6 medium carrots, peeled and topped and tailed
2 large handfuls of spinach, coarsely chopped, or about 8 'cubes' of frozen spinach
Juice of 1 lemon
Big handful of coriander, coarsely chopped
Preparation
Finely grate the garlic and ginger. Mince the onion.
Heat a large saucepan over medium heat and then add the oil. When it is hot add the garlic, ginger, chile and onion. Turn the heat to low and cook for 10 minutes until everything is soft but not browned. Stir periodically, so that it does not stick.
Meanwhile, toast the cumin and coriander seeds in a dry skillet for a few minutes, until they release a lovely smell. Set aside to cool for a few minutes, then put them into a mortar and crush them a little—they needn't be ground.
Add the crushed cumin and coriander to the pan along with the other spices and salt. Turn up the heat to medium and cook for a minute or two. Now add the lentils, coconut milk and water and bring to a simmer. Turn the heat to low, cover and cook for 30 minutes, or until the lentils are tender. Add more water if it seems dry, and stir every one and then so it does not stick to the bottom of the pan.
While the lentils are cooking, grate the carrots coarsely and add to the lentils after they've cooked for about 20 minutes.
Once the lentils are tender, add the spinach and cook for a new more minutes until the fresh spinach wilts, or the frozen spinach defrosts and amalgamates into the dhal.
Stir in the lemon juice and the coriander. Taste, add more salt if you feel it necessary, and serve.
Recipe adapted from Anna Jones, The Modern Cook's Year (2017).
July 23, 2020 by General Administrator
Text and photo from: https://www.cuisinefiend.com/242/courgette-and-spinach-tian
What's a tian? In spite of sounding rather middle-Eastern or even oriental, it's a Provençal pan made of clay, enamelled in bright colours, which they use to cook vegetable gratins in. Or, indeed, tian, as it's also the name of the dish.
They sell tian pottery at the markets all over Provence and you can hardly pass by the stalls without stopping to admire the vivid colours, the glaze and the various shapes. If pottery wasn't fragile and rather heavy, I'd have a collection brought over from my French voyages… As it is I need to use boring mass-produced vessels to cook my tians et al in.
They come in all sorts, being basically roasted vegetables with cheese. Rice is a common ingredient, sometimes potatoes, and spinach is a veritable tian king. Eggs are frequently added but I skipped them here, aiming for a less quiche-y flavour. And make a note of the courgette treatment – that's how this boring vegetable needs to be handled. Squeeze the living daylights out of it and it might just be vaguely tasty.
Courgette and Spinach Tian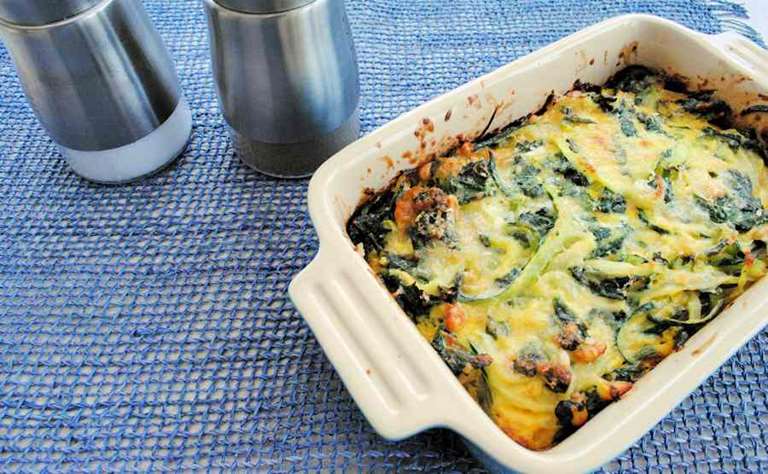 INGREDIENTS
1 large courgette
200g fresh or frozen spinach (thawed)
2 tsp sea salt
2 cloves of garlic, peeled and finely chopped
2 spring onions, chopped
a handful of pine nuts
60ml double cream
1 egg yolk
30g grated hard cheese, Gruyere or Cheddar
20g grated Parmesan
a little olive oil
METHOD
Wash, top and tail the courgette and cut it into ribbons or noodles on a mandolin or in a spiralizer. Sprinkle with salt, stir it around and place in a colander for at least 10 minutes. After that time rinse it with cold water, squeeze out as much moisture as you can without squashing the courgette, and pat dry with paper towels.
Rinse the spinach, if using fresh, and wilt it in a microwave or blanch briefly in boiling water. When cool, squeeze out the liquid and chop finely.
Mix the cream with the egg yolk and add the hard cheese. In a bowl mix the courgette with spinach, pine nuts, garlic and spring onions and most of the Parmesan. Pour over the cream mixture and stir through.
Preheat the oven to 220C/425F/gas 7.
Drizzle a little olive oil in the bottom of a tian or gratin dish, transfer the vegetables into it and sprinkle with the remaining Parmesan. Bake for 20 minutes until brown and bubbling. Best serve very warm, instead of piping hot.
From https://www.cuisinefiend.com/242/courgette-and-spinach-tian
April 24, 2020 by General Administrator
This is another very fast dish of delicious slurpy noodles, spiked with basil, lime juice and sesame oil.
Ginger-Poached Noodles
Serves 2-3
Ingredients
4 cups vegetable broth (I used water with 2 tablespoons of white miso)
2 ounces fresh ginger, peeled and thinly sliced
8 ounces firm tofu or tempeh, cut into small cubes
approximately 2 cups of sprouting broccoli or shredded spring greens
4 ounces dried noodles of your choice (I used soba noodles)
1-2 tablespoons soya sauce
¼ cup fresh basil, shredded
¼ cup fresh mint, shredded
juice of half a lime
crushed red pepper flakes (I used part of a shredded Canalside chile)
toasted sesame oil
Preparation
Place the broth and ginger in a large saucepan and bring to a boil. Lower the heat, and simmer gently for ten minutes or so. Meanwhile, bring some water to the boil to cook the noodles.
Cook the noodles in the boiling water until they are tender, drain them, and set them aside.
After the broth has simmered for ten minutes add the and tofu or tempeh and the greens. Return to a boil, and then turn the heat back down to a simmer and cook for 5-8 minutes, or until the greens are tender.
Add the drained pasta to the broth and heat for a few more minutes, stirring regularly. Stir in the soya sauce, basil, mint, and lime juice. Before serving, if you have the energy you can fish out the slices of ginger, which are perfectly edible but a bit chewy.
Serve in bowls with a few pinches of crushed red pepper flakes, and a drizzle of sesame oil, to taste.
Recipe adapted from 101 Cookbooks.
December 5, 2019 by General Administrator
Another brilliant recipe from Meera Sodha: crispy homemade gnocchi tossed with greens and served with spicy Korean chile sauce. Gnocchi can be a little stodgy; the solution is to fry them briefly after they've been boiled, so the crunchy outside contrasts with the soft, pillowy inside. A simple red sauce of Korean chile paste, miso and sesame oil provides the perfect foil.
If you don't know gochujang chile paste, you're in for a treat. Get some at the KW Oriental Supermarket on Bath Street, or (I suppose) in major supermarkets everywhere.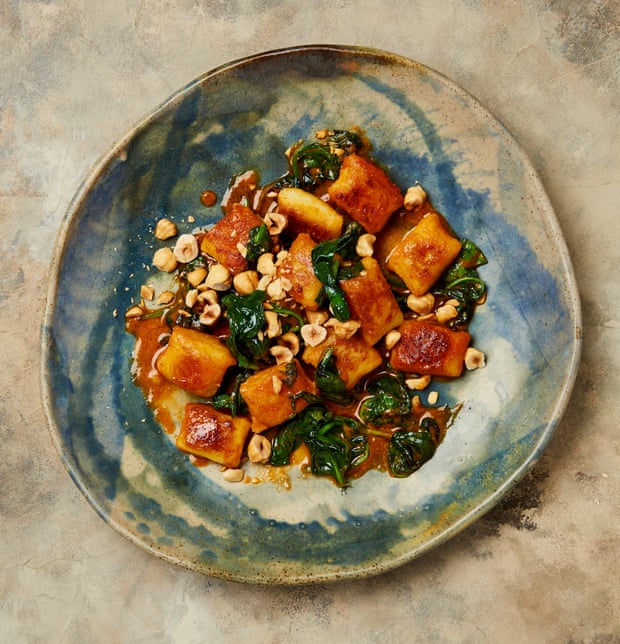 Parsnip and potato gnocchi with gochujang
Serves 2
Ingredients
250g potatoes
150g parsnips
60-100g '00' flour
2 tbsp rapeseed oil, for frying
100g young spinach
25g toasted hazelnuts, chopped
for the chile sauce
4 tsp gochujang paste
4 tbsp white miso
3 tbsp toasted sesame oil
2 tbsp fresh lemon juice
Method
Put the potato and parsnips in a medium saucepan, cover with cold water and bring to a boil. Turn down to a simmer and cook until tender (15-30 minutes, depending on the size).
While the potatoes are cooking make the sauce: combine the sauce ingredients in a small bowl and mix until smooth. Set aside.
When the potatoes are tender, drain and leave to steam dry for 15 minutes. Peel and then mash until very smooth. If you have a potato ricer, this is a good moment to use it.
Add the flour to the mashed/rice potatoes and parsnip, and, using your hands, gently mix it in to form a dough. Add as much flour as you need to stop it sticking to everything, but try not to add more than that. Tip out on to a clean work surface sprinkled with a bit more flour and knead a bit to form a smooth dough.
Divide the dough in two and roll each piece into a sausage around 35cm long x 2cm thick. Cut each sausage into 2cm pieces. If you have the energy, you can use a fork to give each piece some little ridges, which will be cute and make the sauce stick a bit more to the gnocchi. To do this, roll each piece across the tines of a fork, indenting parallel ridges into the individual gnocchi (gnoccho?).
Bring a big pan of water to a rolling boil, drop some of the gnocchi in and and cook for one to two minutes, until they float to the top. Lift them out with the slotted spoon as they rise to the top and and drain in a sieve. Continue until they are all cooked.
In a medium frying pan, heat the rapeseed oil, swirling the pan gently so it coats the base. Once hot, add some of the gnocchi and fry for a couple of minutes, until golden brown underneath. Flip them over and cook for another couple of minutes, to brown the other side. Remove from the pan and then cook any remaining gnocchi.
Add the spinach to the pan and stir gently (so as not to break up the gnocchi) until it wilts. Return any remaining gnocchi to the pan and toss together.
Divide onto two plates and drizzle with a couple of tablespoons of the sauce. Sprinkle with the hazelnuts and serve with extra sauce on the side.
Recipe adapted from Meera Sodha, The Guardian, 23 Nov. 2019.
September 19, 2019 by General Administrator
This week I'm keeping it simple and taking a little inspiration from a recent roadtrip to Italy. The spinach and tomato are pretty core to the dish but feel free to pick and choose from the rest of the list depending what you've got – I use an app called plant jammer to figure out what things might go well together.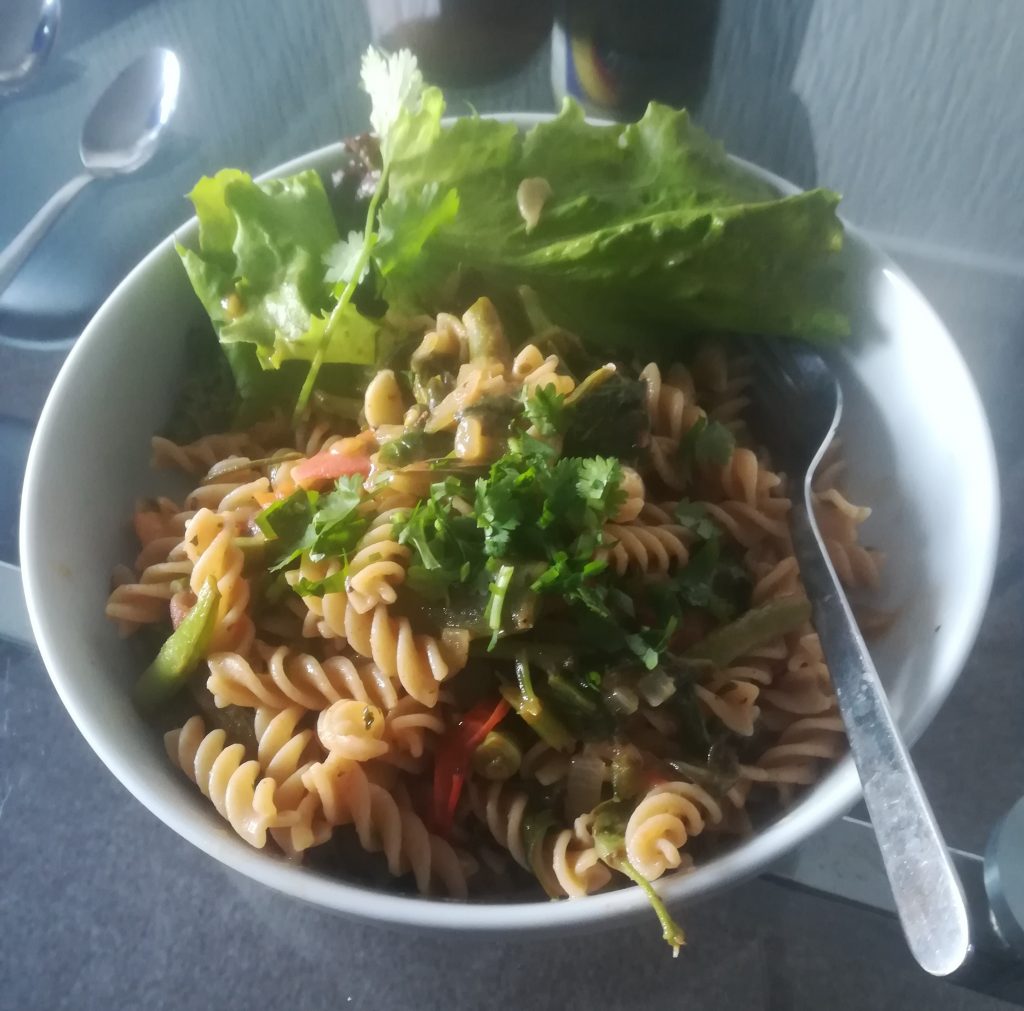 Core Ingredients (for 1 person):
Pasta of your choice, 2 handfuls
Fresh Tomatoes, 1 large handful
Spinach (or other greens depending on share), 3 handfuls
Basil, small handful
Garlic, 1 clove
Lemon Juice 0.5-1 tablespoon or to taste
Olive Oil, 2-3 tablespoons or to taste
Mixed herbs, 1 teaspoon
Optional extras:
Black olives, small handful
Walnuts, small handful
Onion, 1 medium
Green/French Beans, about 3cm bundle
Method:
First chop all your veg; tomatoes into quarters, spinach may need stems chopping down to manageable size, garlic minced or thin slices, onion diced
Next get the pasta on the boil – when it's ready remember to keep the water!
Whilst the pasta cooks, fry off onion and garlic, then add tomatoes, spinach and any optional extras and fry at a medium heat.
The pasta should be ready about the same time as the veg is cooked. Before draining, add the olive oil to the veg and then add a few sloshes of the pasta water – the starch helps make a good sauce! Then add the lemon juice, basil and mixed herbs and stir it all together until you have a nice shiny consistent sauce. Season with salt and pepper.
Drain the Pasta and add to the pan, mix and serve with some salad on the side and a little chopped coriander on top.
September 5, 2019 by General Administrator
I picked up this recipe whilst living in Gothenburg and it has great connotations for me with sunny breakfasts on the pier… Hopefully I don't just see it with rose tinted glasses!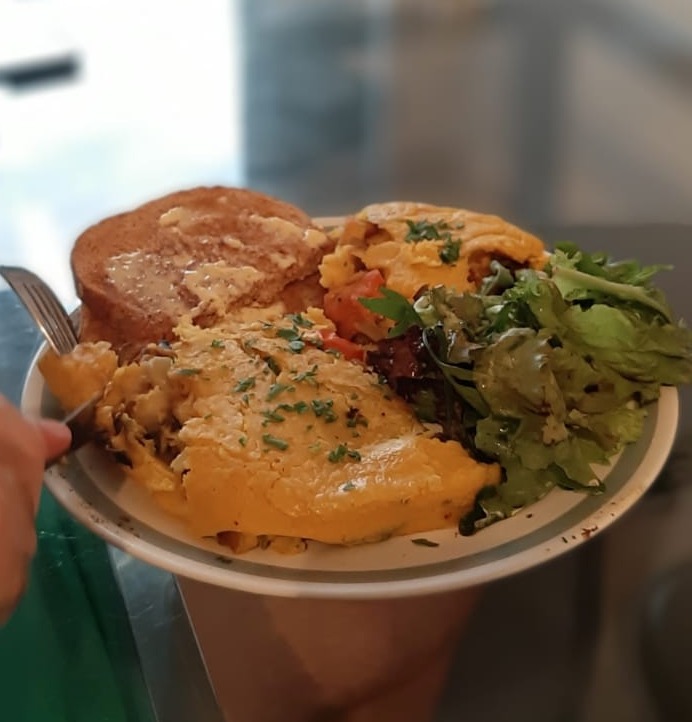 Vegan chickpea flour (kikärtsmjöl) omelette
Ingredients
1 cup (120 g) chickpea flour
1 Tablespoon flaxseed meal or chia seed meal (optional)
1/2 tsp (0.5 tsp) salt
1/4 tsp (0.25 tsp) each of turmeric garlic powder, baking soda, cumin powder
1ish cup of water
Fillings!
Fried tomato, onion, mushrooms, lots coming in our shares that could suit!
Method is simple, mix the all the dry ingredients then add the water slowly and mix with a whisk until they take on the same consistency as whisked eggs. Fry up the fillings, then poor on the omelette mix and reduce pan to a medium to low heat. Make sure you cook it slower and longer than an egg omelette – it tends to burn before solidifying enough to flip if you rush it.
August 30, 2019 by General Administrator
Rebecca's Recipe of the Week: Buckwheat dosa with coconut chutney and greens
Another easy and delicious recipe from Meera Sodha. She writes: 'This dish consists of three separate elements: the dosa batter, the coconut chutney and the vegetable filling. . . The key to success is to make [the dosas] in a nonstick pan on a very high heat – it needs to be very hot indeed – and make sure you leave them to crisp up properly before even thinking about flipping them with a spatula. The first pancake will inevitably fail – such is the universal law of pancakes – so make it a small one, so as not to waste too much batter'.
Buckwheat dosa with coconut chutney and greens
Serves 3
Ingredients
100g desiccated coconut
Salt
180g buckwheat flour
6 tbsp oil, plus extra for brushing
12 fresh curry leaves
1 tablespoon cumin seeds
1 tablespoon black mustard seeds
3 garlic cloves, peeled and minced
2cm ginger, peeled and grated
1-2 green chillies, finely chopped (or to taste)
400g chard or spinach, leaves shredded, tough stalks roughly chopped
200g frozen peas
Preparation
Put the desiccated coconut in a heatproof bowl with a third of a teaspoon of salt, cover with 275ml boiling water and leave to soak for at least 30 minutes.
Meanwhile, put the buckwheat flour in another bowl with half a teaspoon of salt. Slowly pour in 450ml water, mix to a thin batter, then set aside.
Put the oil in a nonstick frying pan and get it really hot, then add the curry leaves, cumin, mustard seeds, garlic, ginger and chillies, and fry for two to three minutes, until the garlic turns a pale gold. Carefully tip into a jug to cool. Keep the pan for later.
When the spiced oil has cooled, stir two tablespoons into the coconut mix, and another two tablespoons into the buckwheat batter. Tip the coconut into a blender and blitz until really smooth (add a little more water, if need be).
Reheat the frying pan over a high heat and, when hot, add the rest of the spiced oil, followed by the chard or spinach stalks. Fry, stirring, for three minutes, then add the leaves and cook until wilted. Throw in the peas, cook for a couple of minutes, until everything is nice and hot, then stir through a couple of tablespoons of the coconut chutney. Scrape out into a serving dish, wipe the pan clean with kitchen paper and put back on the heat.
Once the pan is really hot, brush the surface with a fine layer of oil. Add a small ladleful of batter and swirl it into a thin layer – a few gaps and bubbles are fine, because they can help the dosa get crisp. Cook the dosa for two minutes, until the edges are visibly crisp and browning, then gently lever up with a spatula, flip and cook for a further two minutes on the other side, before turning it out on to a plate. Repeat with the remaining batter, oiling the pan between each dosa.
Stuff the dosas with the greens and serve with the remaining chutney on the side.
Recipe adapted from Meera Sodha, The Guardian, 13 July 2019.
August 22, 2019 by General Administrator
I went to a very interesting sports food recovery workshop with a nutritionist called "whole food warrior" whilst at a running festival earlier in the summer. This is one of her recipes which should be pretty quick and simple, enjoy!
Chickpea, green bean & spinach curry (15-minute recipe)
Ingredients (feeds 2)
For the curry paste:
A handful of fresh coriander, stalks & leaves (10-15g)
1/2 green pepper (75g), roughly chopped
1 red chilli, roughly chopped
1/2 thumb size piece of ginger (15g), peeled and roughly chopped
1 small onion (55g), peeled and roughly chopped
1 turmeric root or 1/4 teaspoon of turmeric powder
1/2 lemon, peeled (you are using the actual lemon here, not the rind)
1 teaspoon of cumin seeds
1/2 teaspoon of cinnamon
sea salt and freshly ground black pepper
Other ingredients:
150g of dwarf beans or green beans
1 tin of chickpeas
1/2 a tin of chopped tomatoes (200ml)
1/2 a tin of coconut milk (200ml)
4 large handfuls of spinach (approximately 120g)
Method:
Put all of the curry paste ingredients in a blender, season with a pinch of sea salt and some freshly ground black pepper and blend until smooth. Add a splash of water to make the bending easier if needed.
Put a frying pan on a medium high heat. Tip in the curry paste and cook until it thickens to a paste, approximately 5 minutes.
Pour in the chopped tomatoes and coconut milk, stir well, season with a little bit more sea salt and black pepper.
Add the green beans and cook for 5 minutes.
Tip in the chickpeas and spinach and cook for a further 5 minutes until the sauce has thickened.
Check the taste and season with more black pepper and sea salt if needed.
To serve, simply divide the curry between two large bowls. Sprinkle on some extra coriander leaves if desired.
Taken from: https://wholefoodwarrior.co.uk/blog/quickcurry
16th aug
Rebecca's Recipe of the Week: Green Beans, Tomatoes and Saffron
Serve this lovely blend of tomatoes, beans and saffron-scented onions as a side dish, or alongside some polenta topped with a poached egg. It's also tasty accompanying plain white fish.
Fagiolini in umido all zafferano
Serves 4 as a side dish.
Ingredients
10 medium tomatoes
60ml olive oil
2 medium onions, peeled and thinly sliced
1 small pinch of saffron
650g green beans, topped and tailed
Preparation
Bring a medium pot of water to the boil. Prepare a bowl of ice water.
Score the bottom of each tomato with a X, using a sharp knife, and remove the core. Drop the tomatoes into the boiling water a few at a time, and cook for about 30 seconds each, until the skin starts to loosen. Remove with a slotted spoon and drop into the bowl of ice water. Don't discard the hot water: you'll use it to cook the beans.
Fish each tomato out of the ice water and slip off the skin. Dice into small cubes.
Put the olive oil and sliced onions into a saucepan over very low heat. Add a pinch of salt and the saffron. Cook gently for 20-25 minutes, or until the onions are soft and translucent. Stir occasionally and make sure they don't catch or burn.
Add the diced tomatoes and cook for 10 more minutes. Season with salt.
Bring the tomato water to a boil, salt, and cook the beans for 6 minutes, or until tender. Drain the beans and add to the onion-saffron-tomatoes. Simmer for 3 more minutes over low heat and serve.
Recipe adapted from Christopher Boswell and Elena Goldblatt, Verdure: Vegetable Recipes from the American Academy in Rome (2014).