March 9, 2023 by General Administrator
This light, spring-some stew is green from the peas and spinach, and full of subtle fennel flavour. A punchy garlic mayonnaise adds richness and complexity. It's really good with sourdough bread.
When we served this a week ago the guests were very surprised to learn the recipe comes from Sainsburys Magazine.
Simple Fish Stew with Aioli
Serves 4
Ingredients
For the Aioli
1 teaspoon salt
3 cloves garlic, peeled
1 egg yolk
1½ teaspoons lemon juice (or more to taste)
150ml olive oil
For the Fish Stew
2 tablespoons olive oil
400g celery stalks, finely chopped
400g fennel bulb, finely chopped
300g onions, finely chopped
3 springs dried or fresh thyme
Salt and pepper, to taste
3 bay leaves
1 teaspoon fennel seed
3 whole cloves
4 strips pared lemon zest
600-800ml water or fish/vegetable/chicken stock
800g skinless haddock or pollock fillets, cut into 4cm-wide chunks
3 tablespoons Pernod or other anise-flavoured liqueur
200g frozen peas
200g fresh spinach
To Serve
The aioli
Lemon wedges
Pepper flakes, if desired
Method
For the Aioli
Crush the salt and garlic in a mortar and pestle and place in the mini-bowl of a food processor, or the mixing container of your hand-blender. Add the egg yolk and lemon juice. Wizz up. With the motor running, very slowly drizzle in the olive oil, drop by drop. Continue adding the oil very slowly until the mixture begins to thicken, at which point you can increase your rate of drizzling in the oil to a thin stream. The mixture should thicken up nicely to form a thick mayonnaise. Set aside to let the flavours mellow.
For the Fish Stew
Heat a large pan with a lid over medium heat and add the oil. Once it is warm add the celery, fennel and onion, along with a pinch of salt and a grind of black pepper. Stir, reduce the heat to low, add the lid, and cook very gently for 5-15 minutes, until the vegetables are soft but not coloured. Add the herbs and spices, and strips of lemon, and stir for a few more minutes. Add 600ml of liquid and bring to a simmer. Simmer for 5 minutes (maybe 10 if you're using water), to let the flavours meld. Now take a look: if there is not enough liquid to your taste, add the remaining water or stock and bring to a simmer.
Add the chunks of fish, cover again, and cook over low heat for about 3 minutes, or until the fish is beginning to look opaque on the top. Add the Pernod, peas and spinach and replace the lid. Turn the heat to medium and continue to cook for 2-3 more minutes, or until the spinach has wilted. The fish should be opaque on the top. Stir gently to blend everything together.
To Serve
Taste the aioli. Add more lemon juice, salt or pepper if you think the flavour needs boosting. Fish the bay leaves, cloves and thyme stems out of the stew if you wish (and can find them.)
Serve the stew, and let each person add a dollop of aioli to their bowl. Provide some lemon wedges and perhaps some red pepper flakes so people can personalise their bowl to taste. This is very nice served with good bread, and perhaps an additional drizzle of olive oil on both stew and bread.
Recipe adapted from Sainsburys Magazine, Feb. 2023
June 10, 2022 by General Administrator
Shakshuka usually consists of eggs poached in a spicy tomato sauce. This is a green version, where the eggs are poached on top of a savoury mixture of cumin-scented greens, and then topped with feta, lemon and herbs. Serve it with good bread and some harissa if you'd like to spice it up a bit. Red or green, shakshuka is apparently a popular North African and Middle Eastern breakfast dish. It is also very nice for dinner, and uses only one pan.
We made it with some amazing duck eggs, which are huge and extra unctuous, so if you happen to have some lying around this is a good opportunity to use them. Ordinary eggs will be delicious too, though.
Green Shakshuka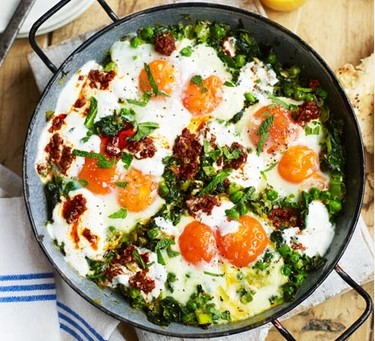 Serves 2
Ingredients
3 tablespoons olive oil
1 large onion, roughly chopped
½ teaspoon salt
2 teaspoons cumin seed
1 teaspoon coriander seed
2 large garlic cloves, sliced thin
650-ishg greens (spinach, chard, spring greens, or a mixture), chopped
25g coriander, dill, mint, parsley, or a mixture, chopped
a wineglass (about 200ml) of white wine, or use water
2-4 eggs
100g feta, crumbled
half a lemon
Harissa and crusty bread, to serve
Method
Over medium heat, warm the oil in a frying pan and add the onion and salt. Reduce the heat to low and cook 5-10 minutes, or until the onion has softened.
While the onion is cooking toast the cumin and coriander seeds in a dry frying pan until fragrant. Keep an eye on it so it doesn't burn. Set aside to cool a little and then grind it in a mortar and pestle (or use pre-ground spices).
Increase the heat back to medium and add the ground spices and garlic to the pan with the onion and stir for another minute or two, until it smells good.
Add the greens and most of the herbs—but keep a big handful of the herbs aside to use for a garnish. Stir everything together and sauté until the greens begin to wilt a bit. Add the wine or water, and cook for another 8-10 minutes, or until the greens are tender.
Once the greens are tender, use a spoon to create two to four little nests in the mass of cooked greens—one for each egg you intend to use. Crack each egg on the side of the pan, one at a time, and slide it into its nest. Cover the pan and cook for 4-6 minutes, or until the whites have set and the yolks are to your liking.
Remove from the heat and top with the feta. Grate the zest of the lemon onto the feta and then squeeze over the juice. Sprinkle with the remaining herbs and serve, with harissa and crusty bread.
Recipe adapted from BBC Good Food.
May 13, 2022 by General Administrator
I recently listened to a fascinating episode of BBC Radio 4's The Food Programme about 'How Spain Does Beans'. The programme explained, among other things, why beans in a jar taste so good. Inspired by the programme I bought a jar of butter beans from Aubrey Allen. They cost more than beans from a tin, but they were really good. We've now eaten our way through several more jars, and I recommend them enormously for this or any recipe calling for butter beans. On the other hand, it's also very, very good with ordinary tinned beans.
We ate this for diner with griddled asparagus and some roasted carrot and garlic mash.
Now, sorrel. If you can lay your hands on any of this fibrous, red-veined leaf, use it in place of some or all of the spinach. Since sorrel has its own sour, lemony flavour, you can reduce the lemon juice if you're using sorrel.
Fried Butter beans with Feta, Sumac and Spinach or Sorrel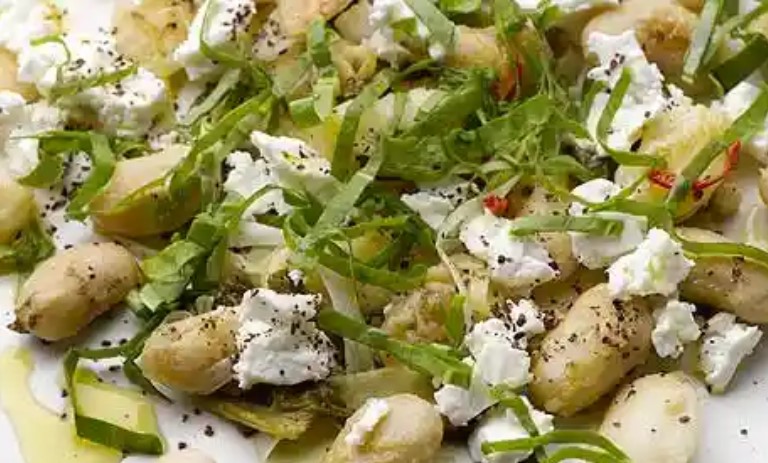 Serves 4.
Ingredients
60g butter
900g tinned or jarred butter beans, drained and rinsed
8 spring onions, halved lengthwise
1 garlic clove, peeled and mashed to a paste with ½ teaspoon salt
1-2 fresh red chiles, sliced thin (optional)
200g shredded spinach or, if you can get it, sorrel—or a mixture of both
3 tablespoons lemon juice (if you can get sorrel reduce this to about 1½ tablespoons)
150g feta, broken into pieces
2 teaspoons sumac
handful of chopped dill
olive oil, to drizzle over the top
Method
First fry the butter beans: heat a bit of the butter in a frying pan over medium-high heat. Add enough beans to cover the bottom of the pan in a single layer and fry for 1-2 minutes on each side, until the skin is golden brown and blistered. Remove to a large bowl and cook the remainder of the beans in the same fashion, adding more butter to the pan as necessary.
When the final batch of beans is almost done, add the spring onions, garlic, and chiles (if using), along with almost all of the spinach or sorrel. Keep back a little of the spinach or sorrel for a garnish.
Sauté everything together for another minute or two, and then return the other beans to the hot pan and mix everything together.
Remove from the heat and add the lemon juice. Scatter the feta over the top, sprinkle on the sumac, and top with the reserved spinach or sorrel, as well as the dill. Finish with a drizzle of olive oil and serve.
Recipe adapted from Yotam Ottolenghi, Plenty (2010).
April 21, 2022 by General Administrator
A Falafel Salad
The New York Times describes this as the salad equivalent of a falafel sandwich. It combines tahini, mint, cucumber, and crunchy pita with spicy, warm chickpeas. It's really good. If you don't want to mess around with cooking the kale, you could also use salad greens.
Spiced Chickpea Salad With Tahini and Pita Chips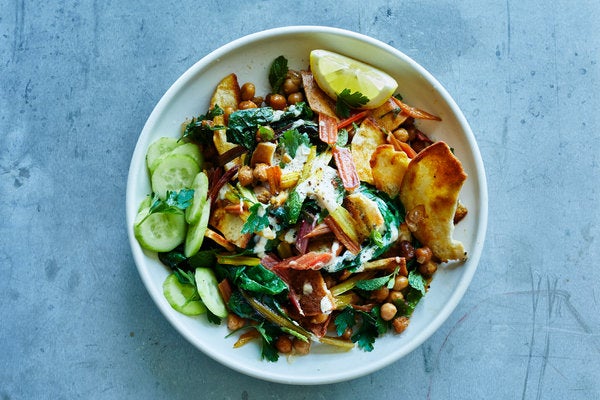 Serves 4
Ingredients
For the chickpeas
2 tins of chickpeas, well drained, or the equivalent of your self-cooked chickpeas
about 180ml olive oil
2 garlic cloves, minced
2 teaspoons ground cumin, or 1 teaspoon each ground cumin and ground coriander
1 teaspoon sweet smoked paprika
Salt and pepper
For the tahini sauce
5 tablespoons (80ml) tahini
freshly squeezed juice of 1 lemon, plus more to taste
1 garlic clove, minced
water, as needed
To finish
Olive oil, for cooking
About 30g kale, chard or spinach, well washed and thick stems removed
180g pita chips (see Tip)
Handful of roughly chopped flat-leaf parsley
Handful of roughly chopped mint
1 cucumbers, thinly sliced
Lemon, cut into wedges
Preparation
Prepare the chickpeas: Preheat your oven to 220C. Pour the chickpeas into a small baking dish, about 15cm x 20cm. The chickpeas should be crowded together in a thick layer, not spread out. Pour in olive oil until chickpeas are just covered. Stir in the garlic, cumin, paprika, and 2 big pinches each of salt and pepper. Bake until oil is bubbling around the chickpeas and they are turning reddish-brown, 35 to 40 minutes. Set aside to cool.
Meanwhile, make tahini sauce: Pour the tahini into a bowl and whisk in lemon juice and garlic. The tahini will thicken and clump. Slowly whisk in the water, a little at a time, until the sauce becomes smooth, creamy and pourable. Taste and season with salt, pepper and more lemon juice, if desired. Set aside.
Cook the greens: Place a large frying pan over medium heat and drizzle lightly with olive oil. When hot, add the greens in batches, along with a big pinch of salt. Stir until wilted and tender and set aside.
Assemble the salad: in a large bowl, gently mix the chickpeas and their cooking oil with the cooked greens, half the pita chips, and the chopped herbs. Add the cucumber slices and drizzle with half the tahini sauce. Scatter the remaining pita chips on top. Arrange the lemon wedges around the side and serve, passing extra tahini sauce at the table.
Tip
It's easy to make pita chips from stale pita bread. Cut each pita bread into triangles and separate the top and bottom layers. Heat 2 tablespoons olive oil in a large skillet over medium-high heat. When the oil shimmers, add the pita triangles and cook, stirring often, until golden brown. Reduce the heat as needed to prevent scorching.
Recipe adapted from New York Times Cooking (2019)
April 14, 2022 by General Administrator
This Easter I am going to make a Torta Pasqualina, or Italian Easter Tart. It combines creamy ricotta with fresh greens baked in a flaky crust—so it's a bit like a Greek spanakopita. To give it an Easter twist you crack some whole eggs onto the greens before baking. When the finished tart is sliced you get a lovely mass of green with little pockets of soft-cooked egg nestled under the crust. Very seasonal!
Ricotta, Spinach and Egg Easter Tart (Torta Pasqualina)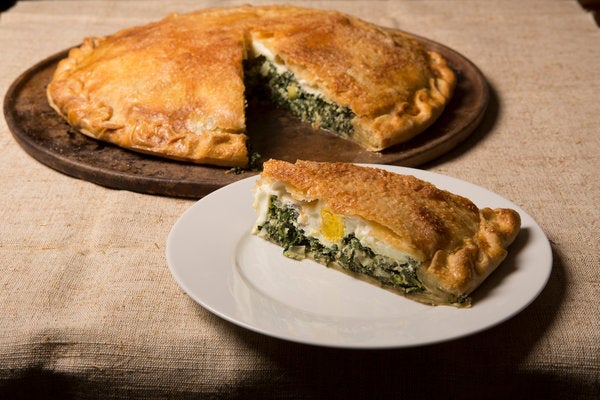 Serves 6-8
Ingredients
Pastry
160g cold butter, diced
250g plain flour
200g ricotta
pinch of salt
a little beaten egg or milk to brush over the top of the tart
Filling
600g kale, spinach, chard or other mixed greens
2 tablespoons olive oil
3 large onions, chopped
300g ricotta
6 eggs plus extra for brushing
Salt and black pepper
80g parmesan, grated
A pinch of nutmeg
Method
Make the pastry: Rub the butter into the flour with your fingertips until it resembles breadcrumbs. Add the ricotta and a pinch of salt, mix and bring together into a soft ball. Turn the pastry on to a floured work surface and knead until smooth. Cover with clingfilm and chill for 30 minutes.
Make the filling: Bring a pot of water to the boil. Meanwhile pick over the greens, discarding any tough stalks and discoloured leaves, then wash them. Working in batches, add some of them to a pan. Bring back to the boil and cook for a few minutes, just long enough to wilt the greens. Remove the cooked greens to a colander and repeat with the remaining greens. When they're all cooked let them drain for at least 10 minutes. Once they are cool enough to handle, use your hands to squeeze out as much water as possible, and then chop roughly.
Heat the olive oil in a pan until warm and then add the chopped onion. Sauté for 5 minutes, and then add the greens. Stir and heat for a few minutes and then remove from the heat. Mix in the ricotta, 2 lightly beaten eggs, salt, pepper, parmesan and nutmeg.
Butter and flour a 26cm round tin, preheat your oven to 190C and put a flat baking tray in to get hot.
Cut the dough into two pieces, one twice the size of the other. On a floured surface roll the larger piece into a circle large enough to fill the tin, come up the sides and hang over the edge. Lift the dough into the tin and press it in. Add the filling. Using a spoon, make four deep indents in the mixture. Break the remaining four eggs into these indentations.
Roll the smaller piece of dough into a disc large enough to generously cover the top of the tin. Place it over the top of the tart and, using wet fingertips, press the dough to make a firm seal, and then fold any excess dough back towards the centre to make a little fringe. Prick or slash the centre of the tart. Paint the top with beaten egg or milk, put onto the hot baking tray, and bake for 50 minutes or until golden.
Allow to cool a little before turning out. Serve warm or at room temperature.
(Recipe adapted from Rachel Roddy, The Guardian and New York Time Cooking.)
March 3, 2022 by General Administrator
This is based very loosely on a classic Turkish dish called çilbir, which consists of soft poached eggs topped with garlicky yoghurt and a butter sauce spiced with Aleppo pepper. I've also had the same pair of toppings on pasta. Here the garlic yoghurt and spicy butter are combined with fresh greens and served on a base of lemony rice with chickpeas. Having two sauces gives this quick and easy dish a luxurious feel.
Vaguely Turkish Greens, Serves 2
Ingredients
about 200ml full-fat yoghurt
1 clove of garlic, mashed to a paste with ½ teaspoon salt
2 tablespoons butter
¼ teaspoon smoked paprika (I used the 'sweet' variety). If you have some Aleppo pepper (pul biber), use that instead.
450g spinach, chard, or other greens
about 1 cup of cooked brown rice
¾ of a tin of chickpeas (the tins that combine black and ordinary chickpeas look particularly nice)
1 tablespoon olive oil
zest and juice of half a lemon
salt and pepper
Method
In a small bowl, combine the yoghurt and crushed garlic. Taste it: it should be salty and garlicky. Add a bit more salt if you like and set aside.
Put the butter and the smoked paprika in a small pan or microwave-safe jug and warm gently until the butter is melted. Set aside.
Wash the greens and put them in a large pan. Steam or boil until they are tender—about 4 minutes.
Meanwhile, combine the cooked rice, chickpeas and olive oil and warm the whole thing in a microwave or on the stove. Once it's warm add the lemon zest and juice, and season to taste.
Drain the greens, and use a wooden spoon to press out as much water as you can. I also use a pair of kitchen scissors to snip the cooked greens into smaller units as they sit in the colander, but you don't need to do this.
Now assemble the dish: divide the chickpea rice into two bowls. Top each with half the cooked, drained greens. Dollop half the garlic yoghurt on top of each. It looks nice if you make several discrete dollops, rather than just pouring it over the top—that way you can see the greens underneath. Now drizzle the melted paprika butter over the yoghurt, making a red criss-cross across the white yoghurt and green greens. Top with a final grind of black pepper and enjoy. A glass of white wine is a pleasant accompaniment.
January 20, 2022 by General Administrator
One of the benefits of our current mode of living is that we can eat messily, enjoying the pleasure of sticky, savoury foods that we hold with our fingers. These drippy, delicious flatbreads are fun to make and fun to eat. And who would have guessed that swede, spiced with Mexican chiles and accompanied by a peanut salsa, would taste so perfect wrapped in a tortilla?
I made these without the mushrooms and they were excellent but doubtless they'll be delicious with them, too. I also augmented Meera's original recipe with some sautéed dandelion greens. Fresh dandelions are beginning to appear in the woods and verges, waiting for you to pick them, but you could also use spinach or another leafy green.
Swede (and Mushroom) Flatbreads with Peanut Salsa
Serves 4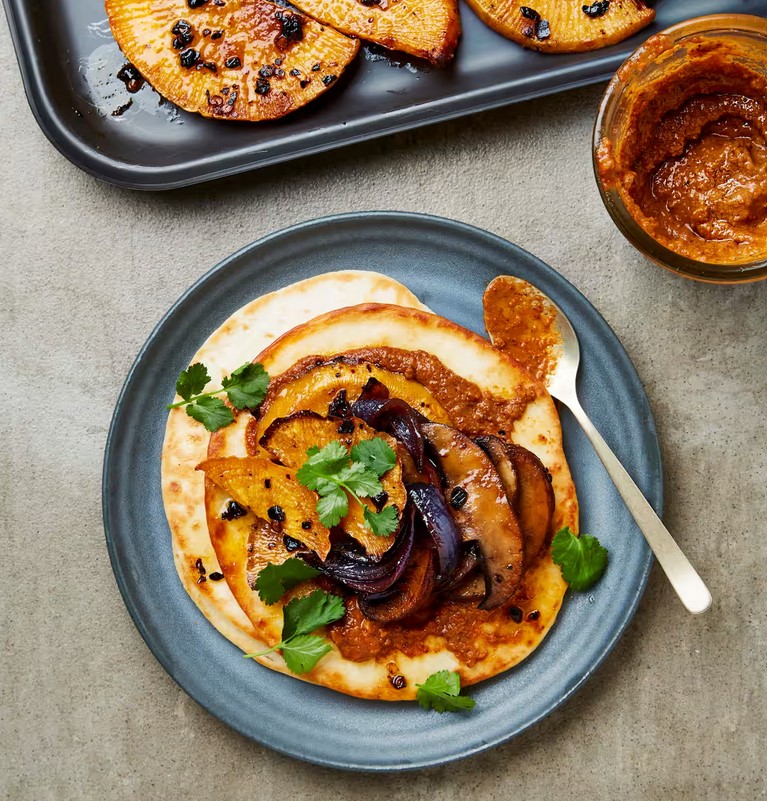 Ingredients
For the Roast Vegetables
5 tablespoons rapeseed oil
1 tablespoon ancho chile flakes (or another mild dried chile)
½ tablespoon chipotle chile flakes
¼ teaspoon ground cloves
½ teaspoon ground cumin
1 teaspoon salt
800g swede, peeled, cut in half, and then sliced into 1cm half-moons
1 large red onion, peeled, cut in half, and then sliced into 1cm half-moons
300g large mushrooms, cut into 1cm slices (optional)
For the Peanut Salsa
75ml rapeseed oil
5 fat garlic cloves, peeled
100g salted roasted peanuts
½ tablespoon chipotle chile flakes
¼ teaspoon salt
1 tablespoon cider vinegar
100ml water
For the Sauteed Greens
splash of rapeseed oil
250g dandelion greens (or spinach, or really any other leafy green)
To serve
tortillas or other flatbread
handful of coriander, chopped
plain yoghurt
Preparation
Prepare the Roast Vegetables: Heat the oven to 200C. While it heats up, mix together in a small bowl the 5 tablespoons rapeseed oil, ancho chiles, ½ tablespoon chipotle chiles, cloves, cumin and salt. Place the swede and onions in a large bowl. Put the mushrooms (if you're using them) in another bowl. Divide the spiced oil between the two bowls and toss with your hands to distribute the oil over the vegetables. Put the swede and onions into a roasting tin and roast for 10 minutes. Then add the mushrooms (if used) and roast everything for about 20 more minutes. Check partway through to make sure they're not burning, and to turn over the swede slices, so that each side gets pleasantly browned. Once the vegetables are soft and caramelised they're ready to eat.
Make the Salsa: put 75ml of rapeseed oil, garlic, and peanuts in a small saucepan. Heat over a low flame and bring slowly to a boil. Simmer over the lowest possible heat for 4-5 minutes, or until the garlic starts to colour. Remove from the heat and add the ½ tablespoon chipotle chile flakes and salt. Once it is cool, add the vinegar and water and whizz up in a blender until it is semi-smooth, or at least as smooth as you like. A little chunkiness is pleasant.
Sauté the Greens: Heat the oil in a frying pan. Once it's hot add the greens and toss them about in the hot oil for a few minutes, until they wilt. (If you are using kale or a tougher green this will take a bit longer.) Dandelions are not only tasty but really quick to cook. . . In any case, once they're done set them aside until you're ready to eat.
Assemble the Flatbreads: warm your flatbreads in a dry frying pan. Once they are warm, spread each one with some of the peanut salsa and strew some of the greens on top. Spoon some of the roast vegetable over that, and top with a sprinkling of coriander. Bring to the table along with the yoghurt, so that you can drizzle a bit over the top if you like. Eat with your hands.
Recipe adapted from Meera Sodha, The Guardian, 20 March 2021.
October 1, 2021 by General Administrator
Here is a good use of Canalside basil if you're tired of pesto. The Moosewood describes this as a 'creamy, green, slightly sweet dressing' and note that customers sometimes ask if they can buy a couple of pints to take home. Try it on lettuce, grated carrot, and sliced cucumber for a simple side salad.
If you don't have a set of cup measures, you can measure the carrots and onions in measuring jug. A US cup is 8 fluid ounces, so ½ a cup of grated carrots is 4 fluid ounces, and ¼ cup of chopped onion is 2 fluid ounces.
Moosewood's Creamy Green Dressing
yields about 16 fluid ounces
Ingredients
¾ cup vegetable oil
3 tablespoons cider vinegar
2 teaspoons honey or maple syrup
2 teaspoons Dijon mustard
½ teaspoon salt
½ cup packed fresh spinach
¼ cup packed basil leaves, or more to taste
¾ cup milk (I used oat milk)
Preparation
Combine all the ingredients except the milk in a blender and whizz until very smooth. With the blender running, pour in the milk in a steady stream. The dressing will thicken and turn a lovely shade of green. Taste and add more salt or basil to taste. (I in fact made this in a Nutribullet, so instead of pouring in the milk with the motor running, I simply added the oat milk to the vessel and gave it another whizz. That worked fine too.)
Recipe adapted from Moosewood Collective, Moosewood Restaurant Favorites: The 250 Most Requested Naturally Delicious Recipes from One of America's Best-loved Restaurants (2013).
May 20, 2021 by General Administrator
Beetroot with feta, or goat cheese, is a classic combination, but other cheeses are available. Cheddar, for instance. Lentils add bite and substance to this salad, and the mustard brings a complementary zing that combines well with the cheddar. You can use either red or yellow beetroot in this salad, which makes a good lunch or simple supper.
Beet and Lentil Salad With Cheddar
Serves 4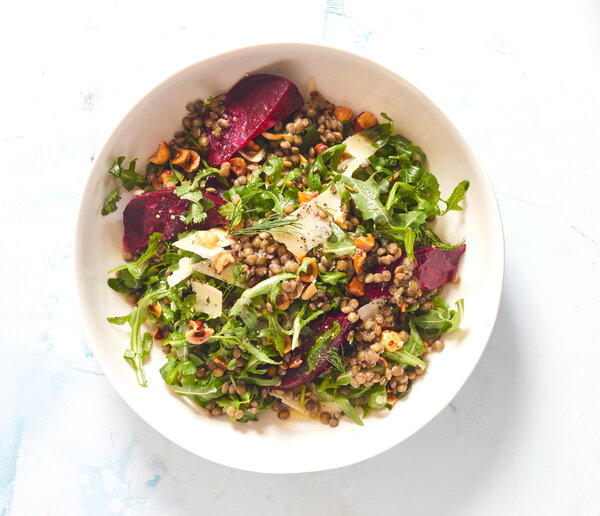 Ingredients
For the salad:
500g beetroot
300g green lentils, rinsed
1 garlic clove, smashed
1 teaspoon salt
approx. 2 cups rocket or another green such as shredded Swiss chard
5g dill, parsley, mint or coriander, roughly chopped
50g Cheddar, roughly crumbled
handful walnuts or hazelnuts, toasted in a dry frying pan for a few minutes
For the apple cider vinaigrette:
1 small garlic clove, grated
2 tablespoons apple cider vinegar
3 tablespoons extra-virgin olive oil
1 tablespoon maple syrup or brown sugar
½ teaspoon Dijon mustard
¼ teaspoon salt
several grinds of freshly ground pepper
Preparation
Place the beetroot in a microwave-proof bowl. Add 1 cup water to the bowl and cover the bowl tightly with clingfilm. Microwave for 20 minutes. By now the clingfilm should have collapsed tightly onto the beetroot, creating a sort of vacuum-seal. With your finger prod the beetroot through the clingfilm to see how soft it is. If it feels tender, the beetroot is done. If not, put it in for another 5 minutes and test it again. Keep going until the beetroot feels tender. Once it's done, remove it from the microwave, peel back the clingfilm, drain, and set aside.
Meanwhile, cook the lentils: in a medium pot, add the lentils, salt, garlic and 1 litre of water. Bring to a boil over high. Reduce heat to medium, cover and simmer for 20 to 25 minutes until just tender. (The lentils should still have some bite). Drain in a colander and stir to break up and evenly distribute the garlic. Let the lentils cool slightly.
Once the beetroot is cool enough to handle, set about peeling it. The peel should come off fairly easily with a knife. Cut the beetroot into 1cm cubes, or slice into small wedges.
While the lentils cook, prepare the vinaigrette: in a large serving bowl, whisk the garlic, vinegar, oil, maple syrup and mustard with the salt and pepper. Add the warm lentils to the serving bowl, then add the beets, greens, nuts and herbs. Toss together and then stir in the the cheese. Don't stir too vigorously, because you don't want the cheese to turn crimson from the beets, and serve.
Recipe adapted from Hetty McKinnon, New York Times Cooking
March 4, 2021 by General Administrator
Very good straight off the stove, and even better the next day. The grated carrot and spinach lighten the dhal, and also add beautiful little green and golden flecks to the duller gold of the lentils. The coconut milk stays in the background, adding sweetness and rich flavour without overwhelming the balance of tastes. This is good served with rice or bread, yoghurt and a pickle.
Quick Carrot Dhal
Serves 4
Ingredients
2 cloves garlic, peeled
thumb-sized piece of ginger, peeled
1 green chile, chopped—remove the seeds if you prefer
1 red onion, peeled
vegetable or coconut oil
1 teaspoon cumin seeds
1 teaspoon coriander seeds
1 teaspoon black mustard seeds
1 teaspoon ground turmeric
1 teaspoon ground cinnamon
½ teaspoon salt
200g red lentils
400ml coconut milk
600ml water
6 medium carrots, peeled and topped and tailed
2 large handfuls of spinach, coarsely chopped, or about 8 'cubes' of frozen spinach
Juice of 1 lemon
Big handful of coriander, coarsely chopped
Preparation
Finely grate the garlic and ginger. Mince the onion.
Heat a large saucepan over medium heat and then add the oil. When it is hot add the garlic, ginger, chile and onion. Turn the heat to low and cook for 10 minutes until everything is soft but not browned. Stir periodically, so that it does not stick.
Meanwhile, toast the cumin and coriander seeds in a dry skillet for a few minutes, until they release a lovely smell. Set aside to cool for a few minutes, then put them into a mortar and crush them a little—they needn't be ground.
Add the crushed cumin and coriander to the pan along with the other spices and salt. Turn up the heat to medium and cook for a minute or two. Now add the lentils, coconut milk and water and bring to a simmer. Turn the heat to low, cover and cook for 30 minutes, or until the lentils are tender. Add more water if it seems dry, and stir every one and then so it does not stick to the bottom of the pan.
While the lentils are cooking, grate the carrots coarsely and add to the lentils after they've cooked for about 20 minutes.
Once the lentils are tender, add the spinach and cook for a new more minutes until the fresh spinach wilts, or the frozen spinach defrosts and amalgamates into the dhal.
Stir in the lemon juice and the coriander. Taste, add more salt if you feel it necessary, and serve.
Recipe adapted from Anna Jones, The Modern Cook's Year (2017).