January 20, 2022 by General Administrator
One of the benefits of our current mode of living is that we can eat messily, enjoying the pleasure of sticky, savoury foods that we hold with our fingers. These drippy, delicious flatbreads are fun to make and fun to eat. And who would have guessed that swede, spiced with Mexican chiles and accompanied by a peanut salsa, would taste so perfect wrapped in a tortilla?
I made these without the mushrooms and they were excellent but doubtless they'll be delicious with them, too. I also augmented Meera's original recipe with some sautéed dandelion greens. Fresh dandelions are beginning to appear in the woods and verges, waiting for you to pick them, but you could also use spinach or another leafy green.
Swede (and Mushroom) Flatbreads with Peanut Salsa
Serves 4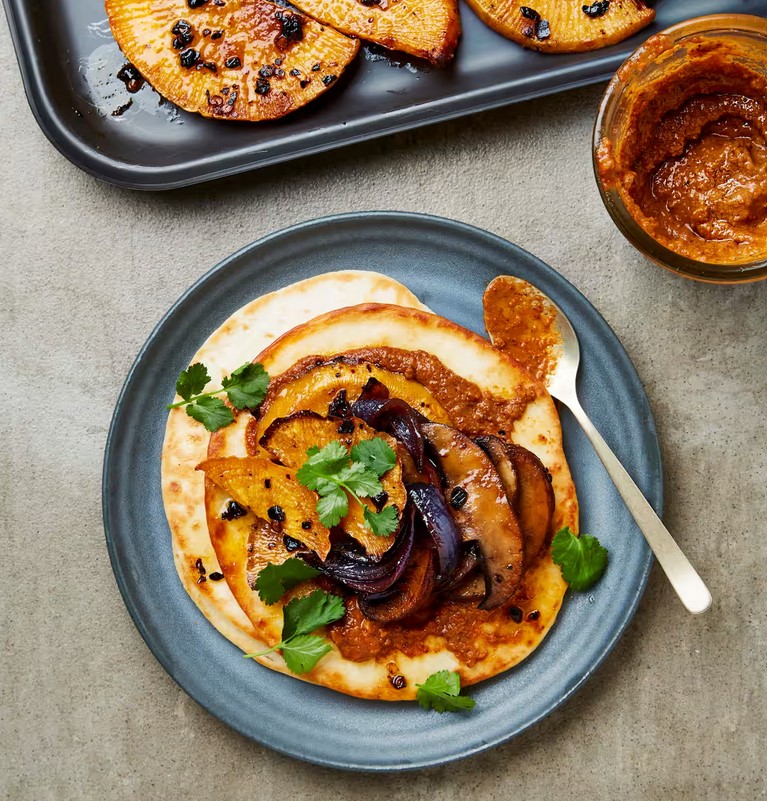 Ingredients
For the Roast Vegetables
5 tablespoons rapeseed oil
1 tablespoon ancho chile flakes (or another mild dried chile)
½ tablespoon chipotle chile flakes
¼ teaspoon ground cloves
½ teaspoon ground cumin
1 teaspoon salt
800g swede, peeled, cut in half, and then sliced into 1cm half-moons
1 large red onion, peeled, cut in half, and then sliced into 1cm half-moons
300g large mushrooms, cut into 1cm slices (optional)
For the Peanut Salsa
75ml rapeseed oil
5 fat garlic cloves, peeled
100g salted roasted peanuts
½ tablespoon chipotle chile flakes
¼ teaspoon salt
1 tablespoon cider vinegar
100ml water
For the Sauteed Greens
splash of rapeseed oil
250g dandelion greens (or spinach, or really any other leafy green)
To serve
tortillas or other flatbread
handful of coriander, chopped
plain yoghurt
Preparation
Prepare the Roast Vegetables: Heat the oven to 200C. While it heats up, mix together in a small bowl the 5 tablespoons rapeseed oil, ancho chiles, ½ tablespoon chipotle chiles, cloves, cumin and salt. Place the swede and onions in a large bowl. Put the mushrooms (if you're using them) in another bowl. Divide the spiced oil between the two bowls and toss with your hands to distribute the oil over the vegetables. Put the swede and onions into a roasting tin and roast for 10 minutes. Then add the mushrooms (if used) and roast everything for about 20 more minutes. Check partway through to make sure they're not burning, and to turn over the swede slices, so that each side gets pleasantly browned. Once the vegetables are soft and caramelised they're ready to eat.
Make the Salsa: put 75ml of rapeseed oil, garlic, and peanuts in a small saucepan. Heat over a low flame and bring slowly to a boil. Simmer over the lowest possible heat for 4-5 minutes, or until the garlic starts to colour. Remove from the heat and add the ½ tablespoon chipotle chile flakes and salt. Once it is cool, add the vinegar and water and whizz up in a blender until it is semi-smooth, or at least as smooth as you like. A little chunkiness is pleasant.
Sauté the Greens: Heat the oil in a frying pan. Once it's hot add the greens and toss them about in the hot oil for a few minutes, until they wilt. (If you are using kale or a tougher green this will take a bit longer.) Dandelions are not only tasty but really quick to cook. . . In any case, once they're done set them aside until you're ready to eat.
Assemble the Flatbreads: warm your flatbreads in a dry frying pan. Once they are warm, spread each one with some of the peanut salsa and strew some of the greens on top. Spoon some of the roast vegetable over that, and top with a sprinkling of coriander. Bring to the table along with the yoghurt, so that you can drizzle a bit over the top if you like. Eat with your hands.
Recipe adapted from Meera Sodha, The Guardian, 20 March 2021.