July 22, 2021 by General Administrator
Diana Henry includes this light and uplifting dish in a menu she calls 'Too Hot to Cook', which is exactly what it is right now. In truth the recipe involves a bit of cooking, since you have to sauté the carrots and beetroots, but only for about 2 minutes total, so it's not too taxing. This is particularly good with the small, tender Canalside carrots we're getting just now. She observes that ready-cooked beetroot is perfectly fine. (Just avoid the ones in vinegar.) Her version is a bit more elaborate insofar as it involves straining the yoghurt through a cloth for a few hours to make it a bit thicker before you mix it with the herbs and other seasonings. You can do that if you want.
In case you're curious, the rest of her menu consists of roast tomatoes, fennel and chickpeas with preserved lemons and honey, and, for pudding, cherries in wine, with cardamom cream and rose pistachio shortbread. Yum!
Beetroots & Carrots with Cumin and Yoghurt
serves 4-6 as a starter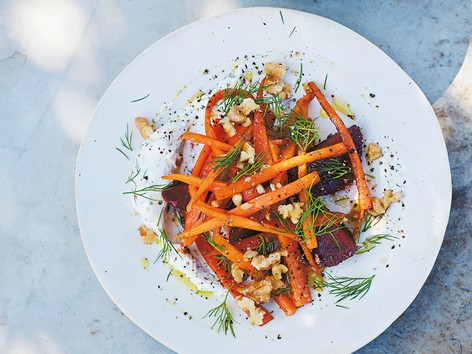 Ingredients
400g plain (full-fat) yoghurt
4 tablespoons olive oil
15g dill or coriander, roughly chopped
2 garlic gloves, peeled and crushed to a paste with a little salt in a mortar and pestle (optional)
¼ teaspoon Aleppo pepper (or to taste)—or use part of a chopped Canalside chile pepper
800g carrots
600g cooked beetroot
2 teaspoons cumin seeds
½ tablespoon white balsamic vinegar
½ lemon
25g walnuts, lightly toasted (optional)
Preparation
Mix the yoghurt with 2 tablespoons olive oil (i.e. not all of it!), most of the chopped herbs (keep a little back for a garnish), the crushed garlic and pepper. Swirl the yoghurt over the bottom of a serving plate and set aside.
Peel the carrots and cut them into thin matchsticks. Peel the beetroot and cut into slim wedges.
Heat 1 more tablespoon of olive oil in a large frying pan over medium heat. When it's hot add 1 teaspoon of cumin seeds (i.e. not all of them!) and sizzle for about 30 seconds, then add the carrots. Stir-fry for about 1-2 minutes, or until they lose their rawness but still have some crispness to contrast with the soft beetroot. Add the white balsamic vinegar and a generous squeeze of lemon juice and season to taste with salt and pepper. Transfer to a bowl and return the pan to the heat.
Add the final tablespoon of olive oil and heat up as before. Add the remaining cumin seeds and again let sizzle before adding the beetroot. Cook for about 30 seconds, until they are heated through but not hot. Squeeze some more lemon juice over the top and season to taste with salt and pepper.
Array the beetroots over the yoghurt and then spoon on the carrots. Sprinkle the remaining herbs over the top and garnish with the walnuts (if you're using them). Decorate with a final drizzle of olive oil and serve.
Recipe adapted from Diana Henry, How to Eat A Peach (2018).
July 8, 2021 by General Administrator
This salad is in honour of my younger son Isaac, who has moved to Peckham, home of Sally Butcher's wonderful restaurant Persepolis. The recipe is adapted from Butcher's 2011 Veggiestan. The combination of crispy, raw carrot and sweet, roasted beetroot works well with the orangey balsamic dressing. The original recipe includes several sweet potatoes alongside the beetroot. If you'd like to include these, peel and boil for about 15 minutes, and then toss with the other ingredients.
Beetroot and Orange Salad
serves 4 as a side dish
Ingredients
Salad
2 large beetroots
1 large carrot, peeled and grated
1 big handful of parsley, coarsely chopped (you can use all parsley or all mint if you prefer)
1 big handful of mint leaves, coarsely chopped (you can use all parsley or all mint if you prefer)
Dressing
zest and juice of 1 large orange
2cm of ginger, peeled and grated
½ teaspoon ground cumin
¼ teaspoon ground cinnamon
4 tablespoons olive oil
1 teaspoon orange flower water
2 teaspoons balsamic vinegar
salt and pepper
Preparation
Preheat the oven to 200C. Place the whole beetroot in the oven and roast for between 45 and 90 minutes, or until it is soft when poked with a fork. Remove and let cool.
While the beetroot roasts, prepare the dressing: put all the ingredients into a jar and shake vigorously until well mixed. Don't forget to zest the orange before you cut it in half to juice it!
Once the beetroot is cool enough to handle, peel it and cut into 1.5cm cubes. Combine it with the grated carrot and chopped herbs, and then pour the dressing over and toss.
Recipe adapted from Sally Butcher, Veggiestan (2011).
June 10, 2021 by General Administrator
This week we're getting beet tops. These are another little known highly nutritious gem that Canalside provides for us. Google tells me 1 cup of boiled tops provides 774% of your daily recommended vitamin K! (And less impressively, 48% of vitamin C and 15% calcium & iron). But there's no point in something being healthy unless it's good to eat too – hopefully this recipes will help with that.
Spicy chickpea and roasted beet salad with beet tops

Ingredients:
1 bunch beetroot, with leaves
olive oil
400g tin chickpeas, rinsed and drained
½ tsp ground cumin
½ tsp ground coriander
¼ tsp chilli powder
lemon juice
salt and pepper
Method:
Preheat oven to 200°C/Gas 6.
Cut the leaves from the beetroot. Trim, wash and peel. Cut the beetroot stems into short lengths and wash them and the leaves, then leave to drain.
Cut the beetroot into wedges and toss in just enough oil to coat. Season.
Pat the chickpeas dry with kitchen paper. Toss on another baking tray with just enough oil to coat.
Put the beetroot in the oven for about 30 minutes until tender. After the beetroot has been in the oven for 10 minutes, add the chickpeas.
Remove both from the oven and toss the chickpeas in the spices.
Heat a little oil in a large frying pan. Add the beetroot stems and fry for a minute or two. Add the leaves and stir to wilt.
Add a good squeeze of lemon, toss in the beetroot and chickpeas and stir. Check the seasoning before serving.
From: https://www.riverford.co.uk/recipes/spicy-chickpeas-with-roasted-beets
June 3, 2021 by General Administrator
When sliced crosswise, Chioggia beets have a stunning red-and-white bull's-eye pattern. Compared with common red beets, chioggias don't bleed much color, so they're ideal for mixing in salads. The small beets at the start of the season are ideal for eating raw – they're more tender. Larger ones that we get later in the season will be paler, and maybe a bit woody, so save them for roasting or boiling. Use a mandoline or vegetable peeler for paper-thin, even slices.
Chioggia Beet Salad with Crumbled Cheese and Hazelnuts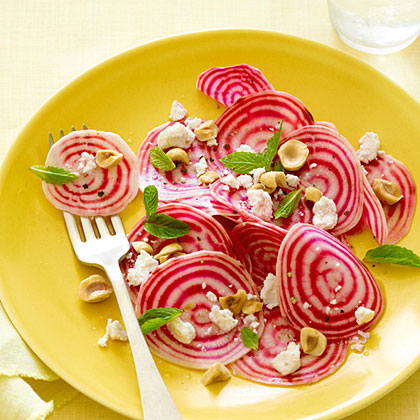 Ingredients:
¼ cup lemon juice
¼ cup hazelnut or olive oil
½ teaspoon salt
¼ teaspoon pepper
6 small Chioggia beets, peeled and sliced very thinly
½ cup crumbled ricotta salata or feta cheese
¼ cup torn mint leaves
½ cup roughly chopped toasted hazelnuts
Method:
Whisk together lemon juice, oil, salt, and pepper in a large bowl. Add beets and toss to coat evenly. Sprinkle with remaining ingredients.
Adapted from https://www.myrecipes.com/recipe/chioggia-beet-salad
May 20, 2021 by General Administrator
Beetroot with feta, or goat cheese, is a classic combination, but other cheeses are available. Cheddar, for instance. Lentils add bite and substance to this salad, and the mustard brings a complementary zing that combines well with the cheddar. You can use either red or yellow beetroot in this salad, which makes a good lunch or simple supper.
Beet and Lentil Salad With Cheddar
Serves 4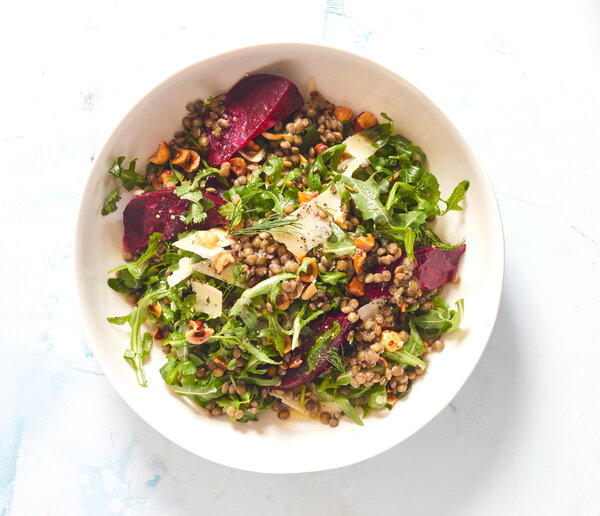 Ingredients
For the salad:
500g beetroot
300g green lentils, rinsed
1 garlic clove, smashed
1 teaspoon salt
approx. 2 cups rocket or another green such as shredded Swiss chard
5g dill, parsley, mint or coriander, roughly chopped
50g Cheddar, roughly crumbled
handful walnuts or hazelnuts, toasted in a dry frying pan for a few minutes
For the apple cider vinaigrette:
1 small garlic clove, grated
2 tablespoons apple cider vinegar
3 tablespoons extra-virgin olive oil
1 tablespoon maple syrup or brown sugar
½ teaspoon Dijon mustard
¼ teaspoon salt
several grinds of freshly ground pepper
Preparation
Place the beetroot in a microwave-proof bowl. Add 1 cup water to the bowl and cover the bowl tightly with clingfilm. Microwave for 20 minutes. By now the clingfilm should have collapsed tightly onto the beetroot, creating a sort of vacuum-seal. With your finger prod the beetroot through the clingfilm to see how soft it is. If it feels tender, the beetroot is done. If not, put it in for another 5 minutes and test it again. Keep going until the beetroot feels tender. Once it's done, remove it from the microwave, peel back the clingfilm, drain, and set aside.
Meanwhile, cook the lentils: in a medium pot, add the lentils, salt, garlic and 1 litre of water. Bring to a boil over high. Reduce heat to medium, cover and simmer for 20 to 25 minutes until just tender. (The lentils should still have some bite). Drain in a colander and stir to break up and evenly distribute the garlic. Let the lentils cool slightly.
Once the beetroot is cool enough to handle, set about peeling it. The peel should come off fairly easily with a knife. Cut the beetroot into 1cm cubes, or slice into small wedges.
While the lentils cook, prepare the vinaigrette: in a large serving bowl, whisk the garlic, vinegar, oil, maple syrup and mustard with the salt and pepper. Add the warm lentils to the serving bowl, then add the beets, greens, nuts and herbs. Toss together and then stir in the the cheese. Don't stir too vigorously, because you don't want the cheese to turn crimson from the beets, and serve.
Recipe adapted from Hetty McKinnon, New York Times Cooking
April 16, 2021 by General Administrator
As always I continue to try to find new ways to enjoy roasted beetroot as it takes us through the winter and this week I think I've found a good one. Either a fun lunch or a dinner padded out with some nice bread, you choose!
Warm lentils with roasted beets, wilted chard & goat cheese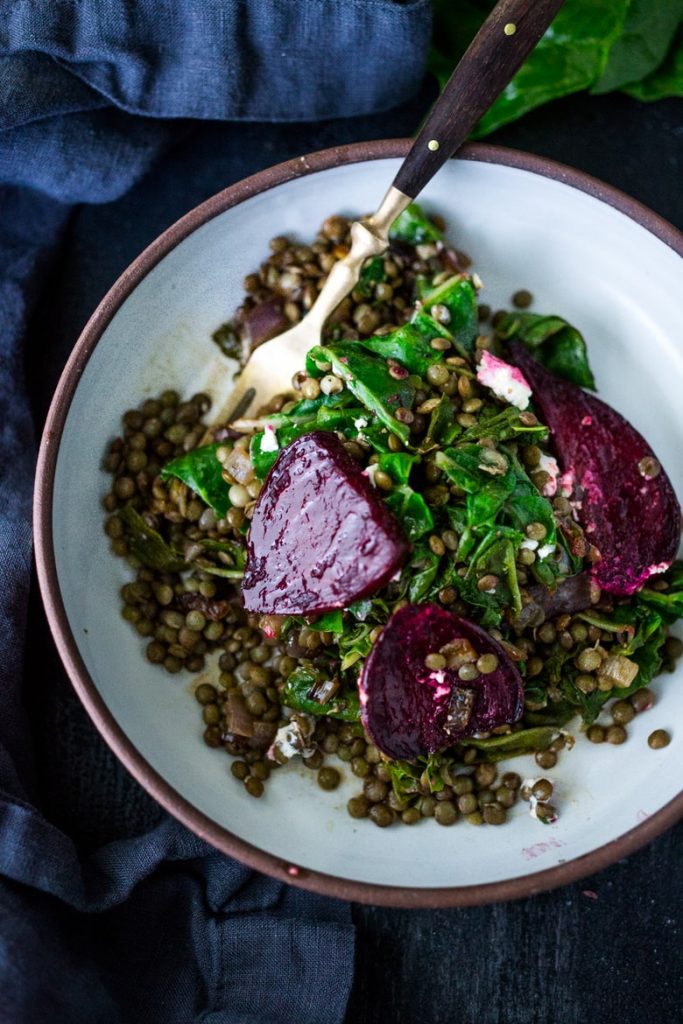 Ingredients
3–4 beetroot ( enough for 2 people)
2 cups cooked lentils
2 tablespoons olive oil
½ a red onion- diced
3 garlic cloves- rough chopped
4 cups (packed) swiss chard or rainbow chard- chopped (or sub beet greens, spinach)
salt and pepper to taste
1 tablespoon balsamic vinegar, more to taste
¼ cup goat cheese crumbles
2–3 tablespoons fresh basil, or parsley.
Instructions
Preheat oven to 220C. Scrub and trim beetrot and cut into ½ inch slices or wedges. Drizzle with olive oil and roast until tender, about 25- 30 minutes.
If cooking lentils, place ¾ cup dried lentils in a small pot and cover with 3 inches of water and a pinch salt. Bring to a boil, cover and turn heat down to a simmer, cook about 25-30 minutes or until tender but still hold their shape. Drain.
In a large frying pan, heat 2 tablespoons oil over medium high heat. Add diced onion and saute 3-4 minutes. Turn heat down to medium, add garlic and cook 2 more minutes, until golden and fragrant.
Lower heat to medium low. Add chard and gently wilt, just slightly, about 2-3 more minutes. Season with salt and pepper.
Add 2 cups cooked lentils to the frying pan, gently folding them in and warming. Season again with salt and pepper.
Add beetrot and splash with 1 tablespoon balsamic vinegar. Let vinegar cook down for just a couple of minutes so it's not so acidic. Taste, add more vinegar if you like, cooking it down. Sprinkle with goat cheese and herbs. Taste again, if it tastes bland it most likely needs salt. Serve immediately.
From https://www.feastingathome.com/warm-lentils-wilted-chard-roasted-beets-and-goat-cheese/
February 11, 2021 by General Administrator
Thanks to veg member Xandra for suggesting this recipe all the way back in September. When I needed a recipe today, and saw there's golden beetroot in the share next week, this unused recipe sprang to mind. All sizes of share will have enough beets for this recipe with some to spare. You could also use this week's more conventional red beetroot with dark chocolate for a luxury brownie.
White Chocolate and Golden Beetroot Brownie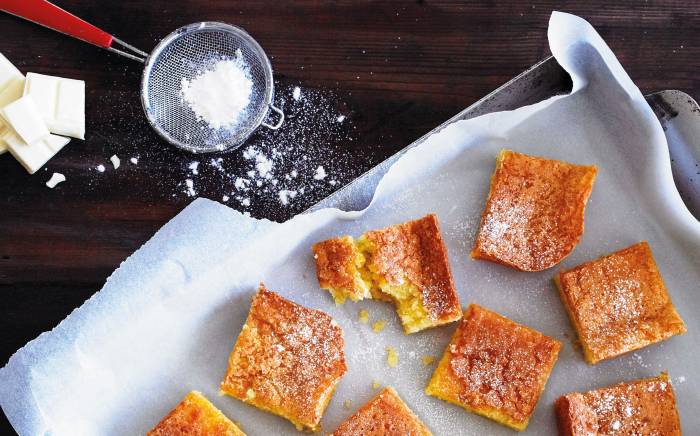 INGREDIENTS
250g white chocolate
250g unsalted butter
150g plain flour
2 tsp baking powder
250g golden beetroot, cooked
250g organic granulated sugar
3 eggs
METHOD
Grease and line with parchment paper a 10in square baking tin.
Melt the butter and add the white chocolate and stir until the chocolate starts to melt, be careful not to overheat the chocolate as it will start to split. Blend the cooked beetroot to a puree and add to the butter and chocolate and stir.
If you have one, place in an electric mixer, and using the paddle attachment add the sugar and eggs and mix until pale and light in colour. Otherwise do the same with a traditional mixing bowl and wooden spoon.
Slowly add the chocolate mix in 3 batches, mix thoroughly, then add the sieved flour, baking powder.
Pour into the baking tin and bake for 25 mins at 160°c or until golden brown, you want it to still have a slight wobble.
Remove from the oven and cool on a wire rack, once cool, remove from the tin and slice into portions, sprinkle with icing sugar and serve.
Adapted from https://www.yeovalley.co.uk/recipes/recipe/white-chocolate-golden-beetroot-brownie/
June 4, 2020 by General Administrator
In case you have a little time on your hands just now, here is an excellent use of a few hours. The result is the best borscht I, at least, have ever tasted. Alissa Timoshkina, whose recipe this is, notes that if you can make the broth 24 hours in advance, 'you will be rewarded with an even better tasting soup, but a few hours of resting will also do the trick'.
For the red cabbage sauerkraut, I recommend you get in touch with Canalside member Erica Moody, who makes superb sauerkrauts of all sorts.
Borscht
Serves 4
Ingredients
unrefined sunflower oil, for frying and roasting
1 large onion, finely diced
1 carrot, peeled and grated
6 raw beetroots
2 red peppers
2 tablespoons tomato purée
2 litres cold water
2 bay leaves
1 tablespoon black peppercorns
1 tablespoon coriander seeds
1 tablespoon fennel seeds
4 garlic cloves, peeled
bunch of dill
small bunch of flat leaf parsley
2 garlic cloves, grated
500g red cabbage sauerkraut
2 tablespoons pomegranate molasses
1 red onion
1 tablespoon brown sugar
400g can red kidney beans
2 teaspoons smoked paprika
4 tablespoons soured cream
salt
Preparation
Heat up a tablespoon of sunflower oil in a large pan and fry the onion and carrot for about 8 minutes until golden. Meanwhile, peel and grate 2 of the beetroots and core, deseed and thinly slice 1 red pepper. Add the vegetables to the pan together with the tomato purée and a splash of water. Season with salt to taste and fry for a further 5–8 minutes.
Top with the measured cold water, add the bay leaves along with the peppercorns and all the seeds, whole garlic cloves and half the bunches of dill and parsley. Season with a tablespoon of salt and bring to the boil. Reduce the heat, add the grated garlic and half the sauerkraut with its brine and simmer, covered, over a low heat for 40 minutes–1 hour.
Turn off the heat and let the borscht rest for another hour, while you prepare the rest of the elements.
So far, so good, but here is where the recipe starts to deviate from the norm quite a lot: to prepare the vegetables that will grace the plate and also add extra flavour and texture to the soup, you will need to do a bit of roasting.
Start by preheating the oven to 160°C fan/Gas Mark 4. Peel the remaining 4 beetroots, cut into wedges and dress with oil, salt and the pomegranate molasses. Peel the red onion, cut into wedges and season with salt and the brown sugar to bring out their sweetness and promote caramelization. Place on a roasting tray with the beetroot and roast together for 30 minutes. Drain the kidney beans, then dress them with salt, oil and the smoked paprika. Core and deseed the remaining red pepper, then cut into thin strips and dress with salt and oil. Roast the beans and pepper together, as they will need only 10–15 minutes.
When ready to serve, strain the broth through a sieve or a muslin cloth, discarding the solids. All we need is that rich broth! Reheat again if necessary. Next, create layers of texture and flavour in each bowl by adding a heaped tablespoon of the remaining sauerkraut to each, as well as a handful of roasted beetroot, onion, kidney beans and red pepper. Top each bowl with the hot broth and add a dollop of soured cream and a generous sprinkle of the remaining dill and parsley, chopped. The intensity of the flavours and textures of this dish is beyond words, while the look of the bowl will seduce the eye without a doubt.
Recipe from Alissa Timoshkina, Salt & Time: Recipes from a Russian Kitchen (2019).
May 14, 2020 by General Administrator
I tried a variation of this recipe tonight and it went down very well, it used a lot of Canalside produce and felt like an incredibly healthy meal! Feel free to adapt to what you have – I swapped the salad for boiled greens, the canned lentils for boiled red lentils and omitted the pomegranate seeds. I would be tempted to suggest some soy sauce on the lentils to cut through the sweetness of the other components (rocket probably does this job if you have it).
Roasted beets and squash with tahini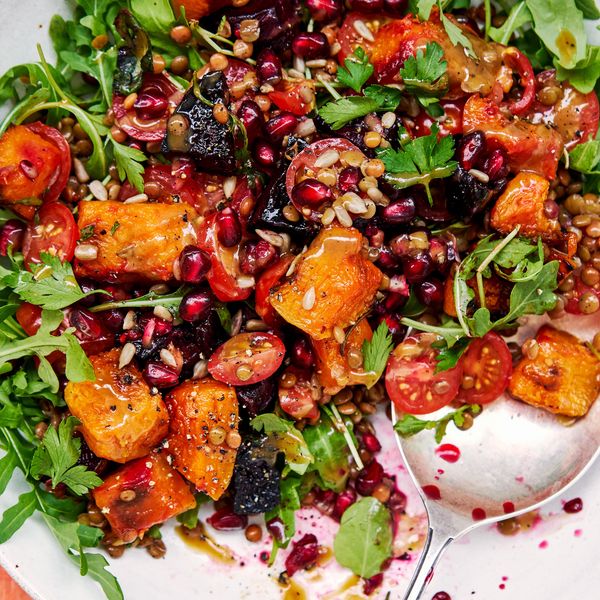 Ingredients:
2 large raw beetroots, peeled and chopped
1 medium squash, deseeded and chopped (no need to peel our squash)
Leaves from 2 rosemary sprigs, chopped
1 tbsp olive oil
1 tbsp maple syrup (I used honey)
1 × 400g tin brown lentils, drained and rinsed
200g mixed rocket and other salad leaves
200g cherry tomatoes, quartered
4 tbsp sunflower seeds
Handful fresh parsley, finely chopped
4 tbsp pomegranate seeds
Salt and black pepper
For the tahini vinaigrette:
3 tbsp extra-virgin olive oil
1 tbsp tahini
1 tsp maple syrup (I used golden syrup)
1 tsp Dijon mustard
1–2 tsp balsamic vinegar (to taste)
Method:
Preheat the oven to 200°C fan.
Place the beetroot, butternut squash and rosemary in a large baking tray or roasting tin and toss in the olive oil, maple syrup and some salt and pepper until evenly coated. Spread out the vegetables in a single layer and roast in the oven for 40–50 minutes, stirring once halfway through the cooking time, until tender and slightly crisp.
Meanwhile, combine all the ingredients for the tahini vinaigrette together in a bowl, seasoning to taste with salt and pepper.
Place the lentils and salad leaves in large bowl with the cherry tomatoes and a small drizzle of the tahini vinaigrette and toss until evenly coated.
Transfer the dressed salad to a serving dish and add the still-warm roast vegetables in layers with the sunflower seeds, parsley and pomegranate seeds. Finish with a generous drizzle of vinaigrette.
Adapted from: https://thehappyfoodie.co.uk/recipes/roasted-beets-and-butternut-squash-with-tahini
April 17, 2020 by General Administrator
We've had a whole lot of beetroot to contend with this winter and I'm still trying to find new ways to use it. This recipe seemed very lockdown themed as I imagine a lot of people have been trying out sourdough bread for the first time. I'm not a big fan myself but combined with a beetroot gratin I can give it a chance!
Beetroot and pink peppercorn gratin

As good with roast beef for Sunday lunch as it is a smart veggie main. The pink peppercorns add an extra rosy zing, but just use normal black pepper if you can't find them.
Serves 6 (Scale the recipe to match your share size.)
Ingredients
1.5kg beetroot, peeled
4 garlic cloves
250ml double cream
2 slices of day-old sourdough bread
40g butter, chilled, diced
Olive oil
3 tbsp finely ground pink peppercorns
Red wine vinegar
Salt and black pepper
Method:
1 Preheat the oven to 180C/350F/gas mark 4. Thinly slice the beetroot either by hand or using a mandolin.
2 Give the garlic cloves a good bash and pop them in a pan with the cream, slowly bring to the boil, simmer gently for 10 minutes and then leave to infuse for a further 10 minutes.
3 Sieve the cream on to the beetroot, pressing the garlic with the back of a spoon to extract the flavour. Season generously with salt and mix well.
4 Pack the beetroot into an ovenproof roasting dish. Cover tightly with foil. Bake for anywhere between 30-45 minutes (it will depend on the age and season of the beetroots) or until it yields easily to the tip of a knife.
5 Cut the crusts from your sourdough and blend the insides into a coarse crumb, add the cold butter and a small glug of olive oil and pulse again, as though you're making a crumble topping.
6 Remove foil and stir in the pink peppercorns, a dash of red wine vinegar to taste and check the seasoning. Arrange in a gratin dish and sprinkle with the breadcrumbs. Bake until golden brown on top and bubbling.
Rob Andrew, Riverford Field Kitchen, https://www.riverford.co.uk/recipes/beetroot-and-pink-peppercorn-gratin
Featured in Guardian Food, 10 Best Beetroot Recipes https://www.theguardian.com/lifeandstyle/2014/may/24/10-best-beetroot-recipes