May 4, 2023 by General Administrator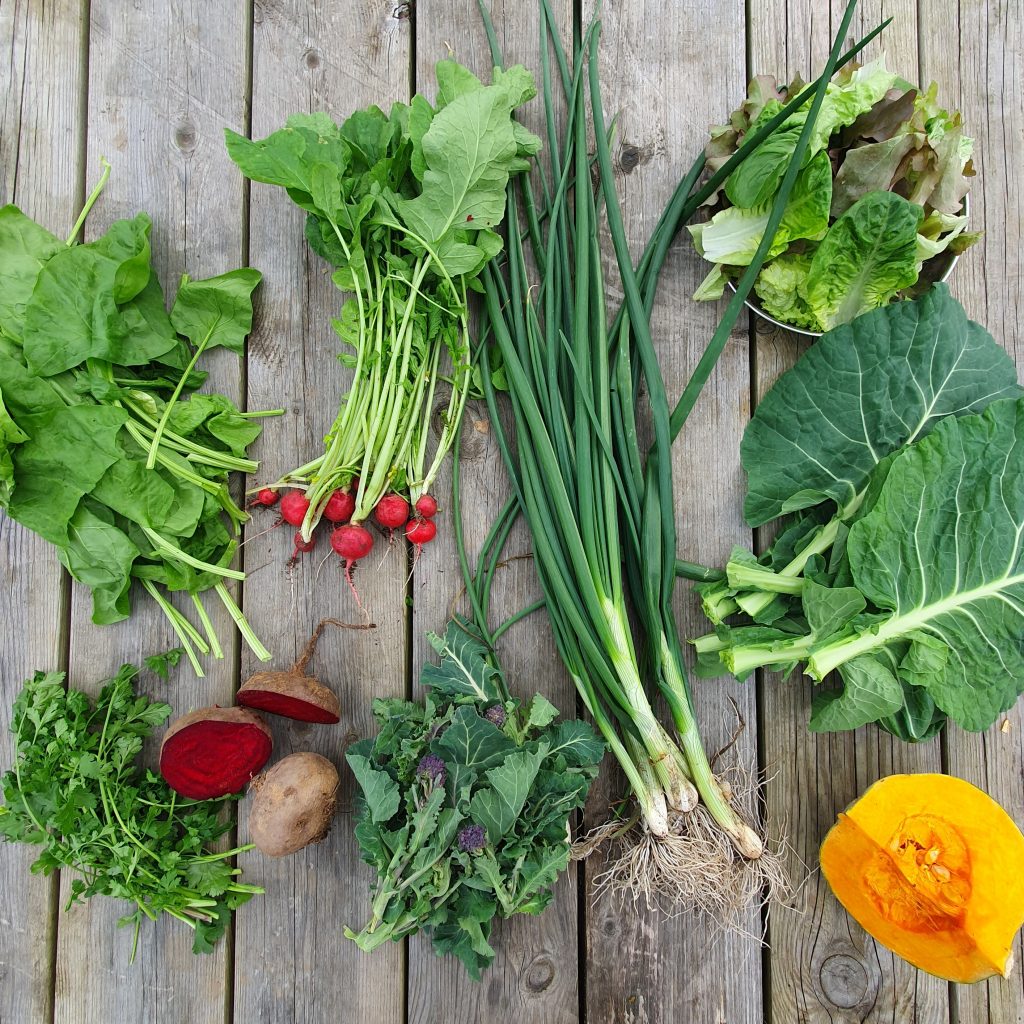 We're coming into the time of year for the earliest crops and, especially where they are roots, the young tender leaves can be as much an ingredient as the root veg. This is why we include them in the weight of the share – you will take the roots with any attached leaves in the weight for your size of share and get 2 share items in one!

Here are some insights about what might be coming in the share and ideas for how to make the most of all the edible parts. As a general rule, they all work well added to/as a basis for pesto, and in hummus, as well as like other greens in soups, stir fries and smoothies.

Radish tops:
As appeared in the share this week
The slightly rough/prickly texture on the surface of the leaves is lost with cooking
Try:
Chopped and used in stir fries, soups etc, as for any other green
One of the 5 ways suggested here

Carrot tops:
Will be in the share on the first baby carrots
Try:
Carrot top pesto
Roasted baby carrot and grain salad with carrot top dressing
More ideas and recipes here

Beet tops:
Similar to chard
Come with the first baby / early season beetroots
Try:
Braised beet tops with lemon juice
A number of ideas from Oddbox

Fennel tops/fronds:
Basically dill, and always plentiful on our fennel bulbs!
Try:
One of the 10 ways suggested here including in a pesto and salads, as a herby flavouring, in juices and curries

Celery tops:
Full of flavour and a great ingredient for a variety of uses
Try:
One of the 5 ways suggested here including in soups, to flavour salt and in a pesto
Ideas from Ali

April 6, 2023 by General Administrator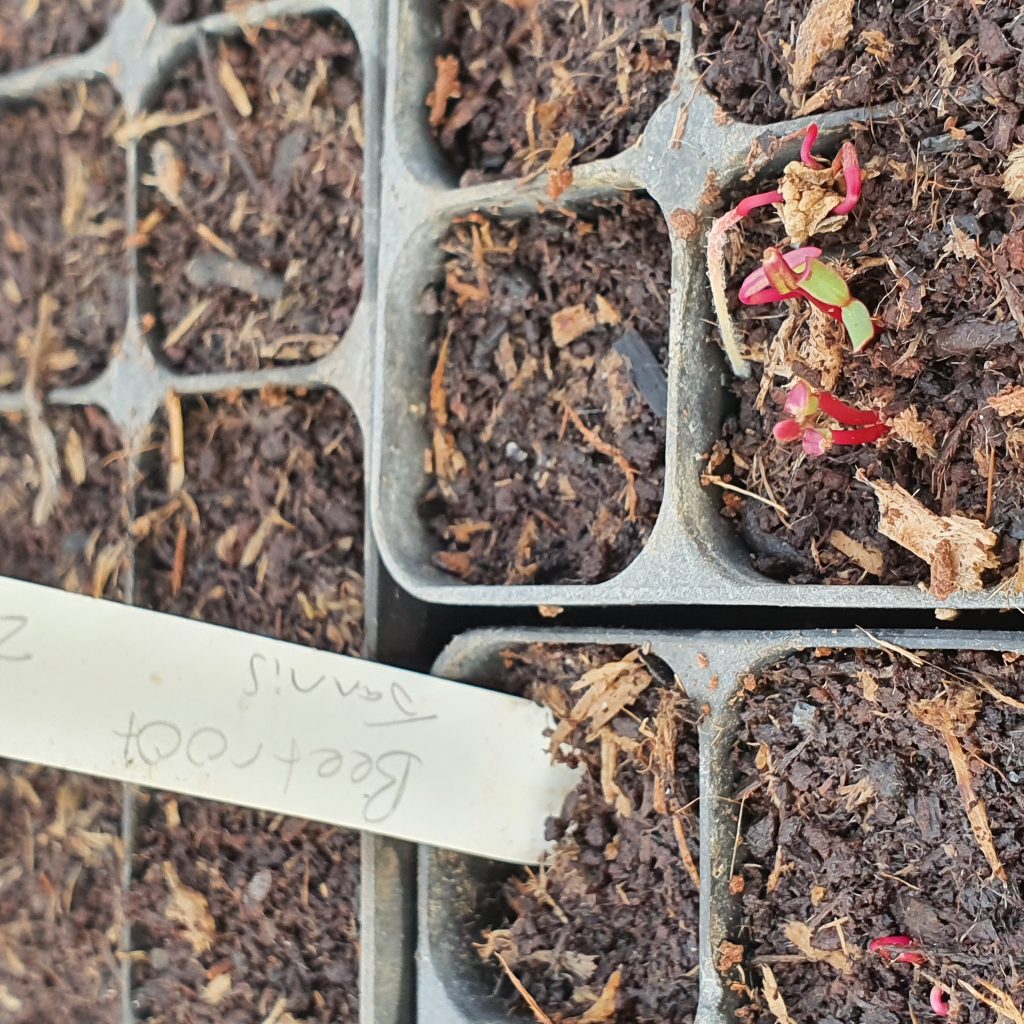 Beetroot (both golden and purple/red) have been in a share regularly over recent weeks as we had a good harvest last year. They are a staple of our winter shares since we can store them well in damp sand 'clamps' through the winter and into the spring. Here are a few ideas for how to use them if you're finding it difficult to get through the quantities in the share:

Beet kvass – fermented beets
Fermenting is a great way to increase the nutritional value of a food by introducing 'friendly' bacteria that help give a diverse microbiome in the gut when they are eaten. It also helps to extend the shelf life of food and spread useable period across a longer stretch of time, as you can be eating the food fresh while a batch is fermenting and then eat the fermented foods after that.

Here's a link to the recipe I've been using for several years. It produces tangy cubes of beet and a thick liquid you can drink as a tonic or use in a number of other ways suggested in the recipe. If it develops a white scum on the surface, just mix it in. Use something to keep the beets below the surface, eg. a jam jar that fits exactly inside your fermenting container (a larger jar in my case), and this will prevent lumps of mould forming.

Beet soup aka borscht (this is an adaptation of the recipe in my old and well used copy of the Cranks recipe book)
Chop an onion and fry it until it's beginning to soften. Add c. 450g beetroot cubed, a medium potato also cubed, a stock cube or a teaspoonful or so of yeast extract, a bay leaf and water to cover. You can also increase the nutritional value by adding red lentils, maybe 100-150g and increasing the water. When everything is cooked (though the beets might still be quite firm), remove the bay leaf and blend until smooth. Add some ground nutmeg (not too much as it's strong), freshly ground black pepper and cider vinegar (or whatever vinegar you've got would probably be fine) – c. 1-2tbsp, to taste – it gives the soup a little bit of a sour edge. If you've got liquid from your beet kvass to use, you could add this once it's off the heat – cooking it will kill all those lovely bacteria I mentioned above. Serve with a dollop of sour cream/crème fraiche/natural yoghurt and a sprinkle of parsley if you have some. According to the toddler in the house, the yoghurt is the main feature and she will devour quite a bit from eating the thin layer yoghurt that sits above it! (Sneaky mama trick!)

Other ideas:
Juiced – you could use a blender, some water and a piece of muslin if you don't have a fancy juicer
Grated into a winter slaw
Roasted in chunks, with olive oil (add slivers of orange zest and a squeeze of fresh orange juice for extra zazoom)
Thinly sliced and crisped in the oven to make beetroot crisps
In brownies/cakes
Ideas from Ali and the grower team
November 10, 2022 by General Administrator
A great way of using beetroot for a little sweet treat!
Beetroot brownies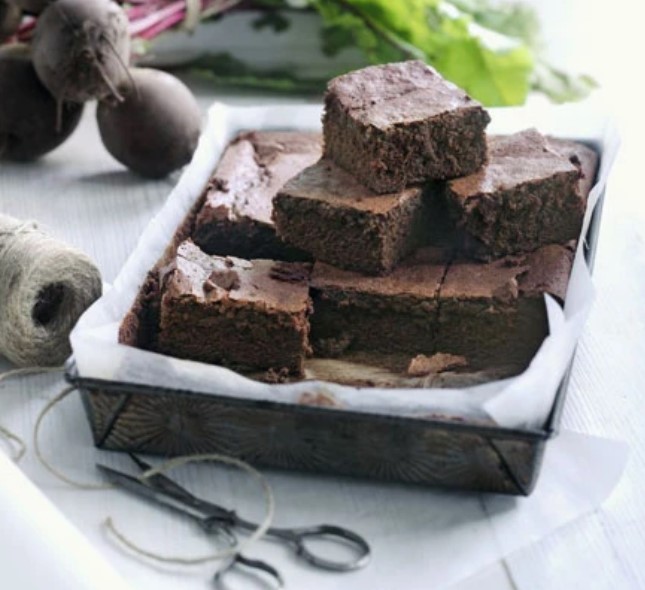 Ingredients
500g whole raw beetroot (3-4 medium beets)
100g unsalted butter, plus extra for the tin
200g bar plain chocolate (70% cocoa)
1 tsp vanilla extract
250g golden caster sugar
3 eggs
100g plain flour
25g cocoa powder
Method
Wear a pair of rubber gloves to stop your hands from staining, then top, tail and peel the beetroot – you'll need about 400g flesh. Roughly chop and put into a large bowl. Add a splash of water, cover with cling film, then microwave on High for 12 mins or until tender.
Heat oven to 180C/160C fan/gas 4. While the beetroot cooks, butter then line a 20 x 30cm traybake or small roasting tin. Roughly chop the chocolate and cut the butter into cubes. Tip the cooked beetroot into a sieve, drain off any excess liquid, then put into a food processor or blender with the chocolate, butter and vanilla. Whizz until the mix is as smooth as you can get it. The chocolate and butter will melt as you do this.
Put the sugar and eggs into a large bowl, then beat using an electric hand whisk until thick, pale and foamy, about 2 mins. Spoon the beetroot mix into the bowl (it won't look too pretty at this stage, but bear with me), then use a large metal spoon to fold it into the whisked eggs. Try to conserve as much air in the mixture as you can. Sift in the flour and cocoa powder, then gently fold these in to make a smooth batter.
Pour into the prepared tin and bake for 25 mins or until risen all over, with just the merest quiver under the centre of the crust when you shake the pan. Cool completely in the tin, then cut into squares.
September 30, 2022 by General Administrator
My sister Susan, who recommended this recipe, says 'This sorbet is a surprisingly tasty method of using up excess beetroot from one's farm share. You might not think that beets would work as a dessert but if you try this recipe you will be pleasantly surprised'. You will need an ice cream maker for this.
Beet Sorbet
Serves 8-10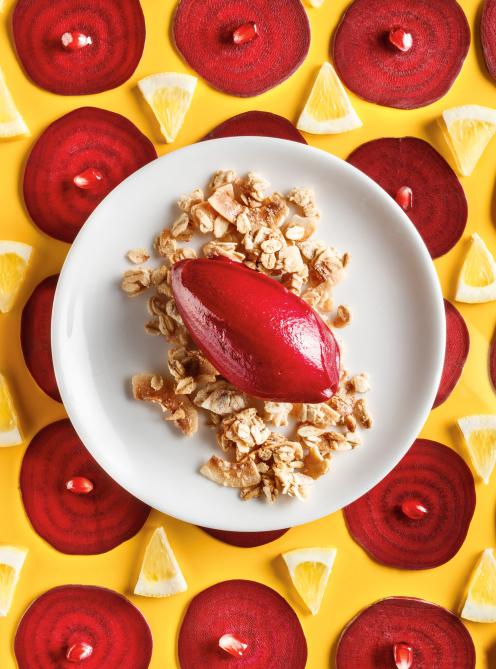 Ingredients
250ml pomegranate juice (use 100% pomegranate juice, not pomegranate juice drink)
600g beetroot, peeled and cut into cubes
100g sugar
1 tablespoon lemon juice
Method
In a saucepan, bring the pomegranate juice and beet cubes to a boil. Cover and simmer for 20 minutes or until the beets are very tender.
In a blender, purée the beets and their juice, along with the sugar and lemon juice. Transfer to a bowl. Cover and refrigerate for 4 hours or until completely chilled.
Pour the chilled purée into an ice cream maker and churn for 20 minutes, until thickened (or follow the manufacturer's instructions).
Transfer to an airtight container and freeze for 4 hours or until firm. If desired, let the sorbet soften for a few minutes at room temperature before serving.
Recipe adapted from Ricardo Cuisine, https://www.ricardocuisine.com/en/recipes/8007-beet-sorbet
March 31, 2022 by General Administrator
I imagine you're already aware of how good roasted beets are in a salad, especially if they are accompanied by some salty cheese. Here is a particularly tasty variant on this classic combination. Suzanne Goin, whose recipe this is, claims it converted her beetroot-hating mother into a beetroot fan. The cumin vinaigrette, fried chickpeas, flat-leaf parsley and sharp black olives combine with the rich, roasted beets and salty ricotta to make a treat for your mouth.
Ricotta salata is a hard, dried version of ricotta. You could use a hard goat or sheep cheese in its stead.
Roasted Beet Salad with Fried Chickpeas, Black Olives and Ricotta Salata
Suzanne Goin says this serves 6 as a starter. Matt and I ate the whole thing for dinner, with some bread.
Ingredients
1kg beetroot, cleaned
120ml olive oil
1½ teaspoons cumin seeds
¼ teaspoon salt
2 tablespoons red wine vinegar
1 tablespoon lemon juice
2 shallots, thinly sliced
250g cooked chickpeas
a fragment of chopped Canalside chile pepper, seeds removed if you like (optional)
90 grams dry, Niçoise-style black olives
15g flat-leaf parsley, coarsely chopped
100g ricotta salata, cut into thin slivers
more salt and pepper
Method
Preheat the oven to 200C.
Put the beetroots in a roasting pan, add a splash of water, and cover the pan tightly with foil. (I know it's not great to use foil. You can at least try to reuse this foil, since it won't get dirty.) Roast the beets for 40-90 minutes, or until tender when pierced with a knife. How long they take to roast will depend on their size. Let cool and remove the skins. They should rub off easily. If they don't, you can use a knife. Slice the beetroots into wedges and place in a large bowl.
While the beetroots are roasting, toast the cumin seed in a dry medium pan over medium heat for 2 to 3 minutes, or until they smell cumin-y. Let cool a bit and then grind coarsely in a mortar and pestle. Transfer to a bowl.
To this bowl add the salt, red wine vinegar and lemon juice. Whisk in 100ml of olive oil. Taste and balance the seasoning, if necessary. Does it need a little more lemon juice, or salt? Add the shallots and set aside to marinate a bit.
Heat the remaining 20ml of olive oil in the pan you used for the cumin. When it is really hot, add the chickpeas and the chile (if you're using it), and fry for 4-5 minutes, until the chickpeas are crispy. Shake the pan often. Once they're crispy, season with a bit more salt and pepper and set aside.
Gently toss the beetroots with the cumin-shallot vinaigrette. Add the olives and parsley leaves and taste again. Balance the flavours with more lemon juice, salt or pepper, if necessary.
Array half the salad on a platter. Tuck half the cheese around the vegetables, and top with half the chickpeas. Place the rest of the salad on top, nestle in the remaining cheese, and finish with the remaining chickpeas. Enjoy.
Recipe adapted from Suzanne Goin, Sunday Suppers at Lucques (2005).
March 10, 2022 by General Administrator
Some of you may have seen that Russian chef Alissa Timoshkina has teamed up with Ukrainian chef Olia Hercules to raise money for Ukraine. I thought this week I would repeat this recipe for their excellent borscht.
Borscht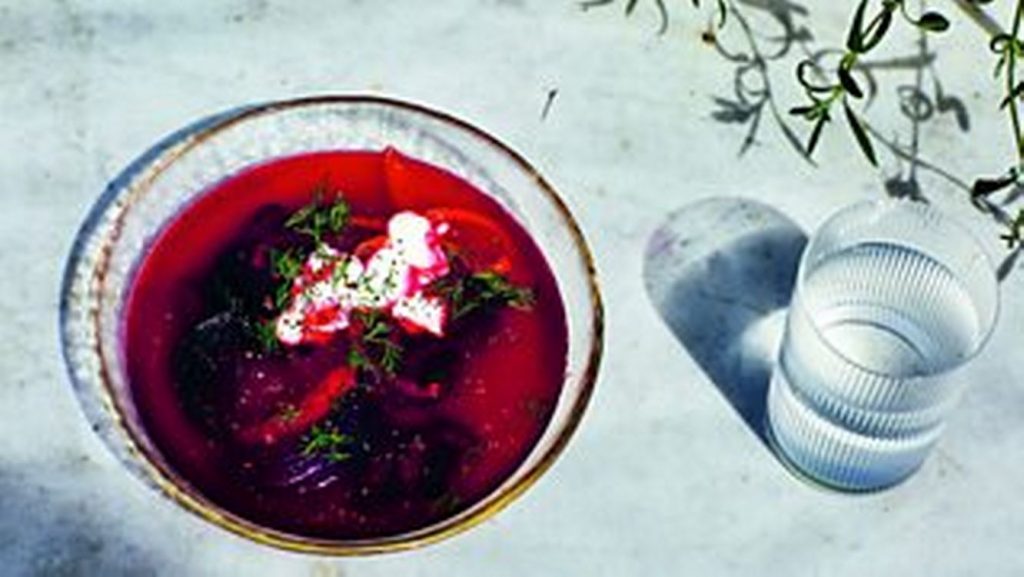 Serves 4
Ingredients
unrefined sunflower oil, for frying and roasting
1 large onion, finely diced
1 carrot, peeled and grated
6 raw beetroots
2 red peppers
2 tablespoons tomato purée
2 litres cold water
2 bay leaves
1 tablespoon black peppercorns
1 tablespoon coriander seeds
1 tablespoon fennel seeds
4 garlic cloves, peeled
bunch of dill
small bunch of flat leaf parsley
2 garlic cloves, grated
500g red cabbage sauerkraut
2 tablespoons pomegranate molasses
1 red onion
1 tablespoon brown sugar
400g can red kidney beans
2 teaspoons smoked paprika
4 tablespoons soured cream
salt
Preparation
Heat up a tablespoon of sunflower oil in a large pan and fry the onion and carrot for about 8 minutes until golden. Meanwhile, peel and grate 2 of the beetroots and core, deseed and thinly slice 1 red pepper. Add the vegetables to the pan together with the tomato purée and a splash of water. Season with salt to taste and fry for a further 5–8 minutes.
Top with the measured cold water, add the bay leaves along with the peppercorns and all the seeds, whole garlic cloves and half the bunches of dill and parsley. Season with a tablespoon of salt and bring to the boil. Reduce the heat, add the grated garlic and half the sauerkraut with its brine and simmer, covered, over a low heat for 40 minutes–1 hour.
Turn off the heat and let the borsch rest for another hour, while you prepare the rest of the elements.
So far, so good, but here is where the recipe starts to deviate from the norm quite a lot: to prepare the vegetables that will grace the plate and also add extra flavour and texture to the soup, you will need to do a bit of roasting.
Start by preheating the oven to 160°C fan/Gas Mark 4. Peel the remaining 4 beetroots, cut into wedges and dress with oil, salt and the pomegranate molasses. Peel the red onion, cut into wedges and season with salt and the brown sugar to bring out their sweetness and promote caramelization. Place on a roasting tray with the beetroot and roast together for 30 minutes. Drain the kidney beans, then dress them with salt, oil and the smoked paprika. Core and deseed the remaining red pepper, then cut into thin strips and dress with salt and oil. Roast the beans and pepper together, as they will need only 10–15 minutes.
When ready to serve, strain the broth through a sieve or a muslin cloth, discarding the solids. All we need is that rich broth! Reheat again if necessary. Next, create layers of texture and flavour in each bowl by adding a heaped tablespoon of the remaining sauerkraut to each, as well as a handful of roasted beetroot, onion, kidney beans and red pepper. Top each bowl with the hot broth and add a dollop of soured cream and a generous sprinkle of the remaining dill and parsley, chopped. The intensity of the flavours and textures of this dish is beyond words, while the look of the bowl will seduce the eye without a doubt.
Recipe from Alissa Timoshkina, Salt & Time: Recipes from a Russian Kitchen (2019).
February 10, 2022 by General Administrator
The Guardian calls this a dip, and doubtless it would be nice with something dipped in it, but I thought it worked very well as a thing-in-itself. If you are worried that would be too much coconut, it isn't.
South Indian Beetroot and Coconut 'Dip'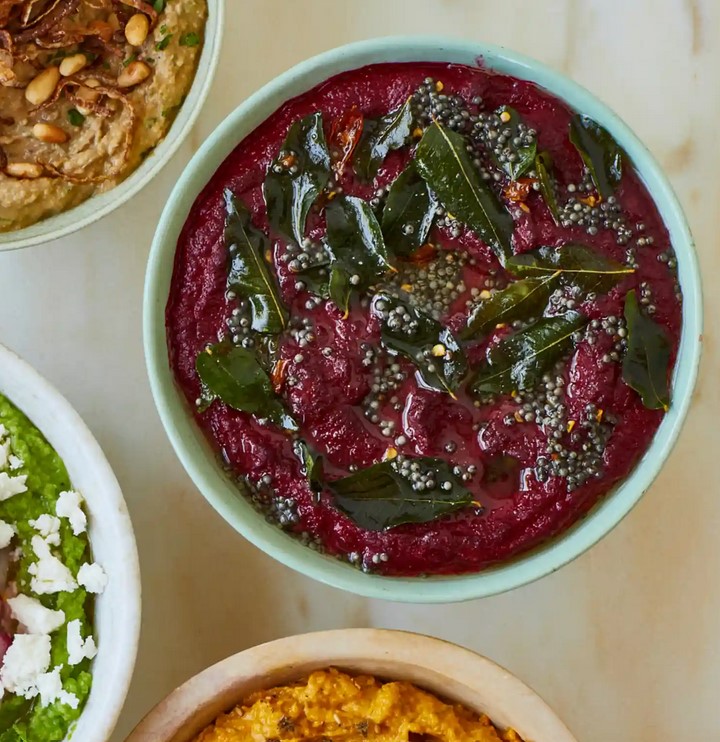 Serves 4 as part of a larger spread.
Ingredients
For the Beetroot
1 drizzle rapeseed oil
4 medium beetroot, peeled and grated
200g plain yoghurt
salt
1 teaspoon sugar
juice of 1 lime
For the Coconut Paste
½ teaspoon brown mustard seeds
1 teaspoon sesame seeds
½ teaspoon cumin seeds
8 cashews, toasted in a dry pan
100g fresh or frozen coconut, grated
1 tablespoon grated ginger
1 green chile, de-seeded if you desire
For the Topping
2 tablespoons coconut or rapeseed oil
2 teaspoons brown mustard seed
1 pinch asafoetida
15 curry leaves
1 dried chile
Preparation
Begin with the beetroot: In a large pan heat the rapeseed oil. When it is hot sauté the grated beetroot until is beginning to get tender, about 8-10 minutes.
Meanwhile, make the coconut paste: combine the mustard, sesame and cumin seeds in a blender and whizz them up. Add the cashews, coconut, ginger, chile and a little water. Whizz again until it is a smooth paste. Add more water if you need to.
Stir this coconut paste into the beetroot and cook over low-medium heat for another 5 to 8 minutes. Remove from the heat and leave to cool.
Once it is cool, blitz it up in the blender until it is smooth. Add the yoghurt and salt to taste. Add the sugar and lime juice, blend, and tip into a serving bowl.
When you are ready to eat prepare the topping: heat the coconut or rapeseed oil in a small frying pan. Once it is hot add the mustard seeds. As soon as they start to pop add the asafoetida, curry leaves and chile. Toss for another 30 seconds and then pour this over the beetroot and serve.
Recipe adapted from The Guardian, 12 June 2021.
July 22, 2021 by General Administrator
Diana Henry includes this light and uplifting dish in a menu she calls 'Too Hot to Cook', which is exactly what it is right now. In truth the recipe involves a bit of cooking, since you have to sauté the carrots and beetroots, but only for about 2 minutes total, so it's not too taxing. This is particularly good with the small, tender Canalside carrots we're getting just now. She observes that ready-cooked beetroot is perfectly fine. (Just avoid the ones in vinegar.) Her version is a bit more elaborate insofar as it involves straining the yoghurt through a cloth for a few hours to make it a bit thicker before you mix it with the herbs and other seasonings. You can do that if you want.
In case you're curious, the rest of her menu consists of roast tomatoes, fennel and chickpeas with preserved lemons and honey, and, for pudding, cherries in wine, with cardamom cream and rose pistachio shortbread. Yum!
Beetroots & Carrots with Cumin and Yoghurt
serves 4-6 as a starter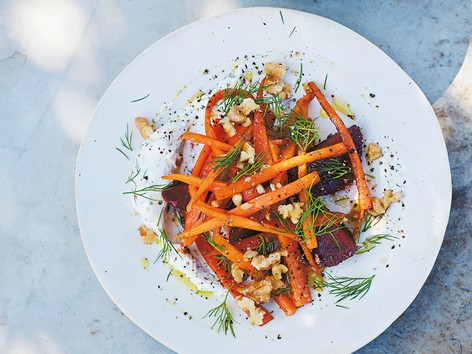 Ingredients
400g plain (full-fat) yoghurt
4 tablespoons olive oil
15g dill or coriander, roughly chopped
2 garlic gloves, peeled and crushed to a paste with a little salt in a mortar and pestle (optional)
¼ teaspoon Aleppo pepper (or to taste)—or use part of a chopped Canalside chile pepper
800g carrots
600g cooked beetroot
2 teaspoons cumin seeds
½ tablespoon white balsamic vinegar
½ lemon
25g walnuts, lightly toasted (optional)
Preparation
Mix the yoghurt with 2 tablespoons olive oil (i.e. not all of it!), most of the chopped herbs (keep a little back for a garnish), the crushed garlic and pepper. Swirl the yoghurt over the bottom of a serving plate and set aside.
Peel the carrots and cut them into thin matchsticks. Peel the beetroot and cut into slim wedges.
Heat 1 more tablespoon of olive oil in a large frying pan over medium heat. When it's hot add 1 teaspoon of cumin seeds (i.e. not all of them!) and sizzle for about 30 seconds, then add the carrots. Stir-fry for about 1-2 minutes, or until they lose their rawness but still have some crispness to contrast with the soft beetroot. Add the white balsamic vinegar and a generous squeeze of lemon juice and season to taste with salt and pepper. Transfer to a bowl and return the pan to the heat.
Add the final tablespoon of olive oil and heat up as before. Add the remaining cumin seeds and again let sizzle before adding the beetroot. Cook for about 30 seconds, until they are heated through but not hot. Squeeze some more lemon juice over the top and season to taste with salt and pepper.
Array the beetroots over the yoghurt and then spoon on the carrots. Sprinkle the remaining herbs over the top and garnish with the walnuts (if you're using them). Decorate with a final drizzle of olive oil and serve.
Recipe adapted from Diana Henry, How to Eat A Peach (2018).
July 8, 2021 by General Administrator
This salad is in honour of my younger son Isaac, who has moved to Peckham, home of Sally Butcher's wonderful restaurant Persepolis. The recipe is adapted from Butcher's 2011 Veggiestan. The combination of crispy, raw carrot and sweet, roasted beetroot works well with the orangey balsamic dressing. The original recipe includes several sweet potatoes alongside the beetroot. If you'd like to include these, peel and boil for about 15 minutes, and then toss with the other ingredients.
Beetroot and Orange Salad
serves 4 as a side dish
Ingredients
Salad
2 large beetroots
1 large carrot, peeled and grated
1 big handful of parsley, coarsely chopped (you can use all parsley or all mint if you prefer)
1 big handful of mint leaves, coarsely chopped (you can use all parsley or all mint if you prefer)
Dressing
zest and juice of 1 large orange
2cm of ginger, peeled and grated
½ teaspoon ground cumin
¼ teaspoon ground cinnamon
4 tablespoons olive oil
1 teaspoon orange flower water
2 teaspoons balsamic vinegar
salt and pepper
Preparation
Preheat the oven to 200C. Place the whole beetroot in the oven and roast for between 45 and 90 minutes, or until it is soft when poked with a fork. Remove and let cool.
While the beetroot roasts, prepare the dressing: put all the ingredients into a jar and shake vigorously until well mixed. Don't forget to zest the orange before you cut it in half to juice it!
Once the beetroot is cool enough to handle, peel it and cut into 1.5cm cubes. Combine it with the grated carrot and chopped herbs, and then pour the dressing over and toss.
Recipe adapted from Sally Butcher, Veggiestan (2011).
June 10, 2021 by General Administrator
This week we're getting beet tops. These are another little known highly nutritious gem that Canalside provides for us. Google tells me 1 cup of boiled tops provides 774% of your daily recommended vitamin K! (And less impressively, 48% of vitamin C and 15% calcium & iron). But there's no point in something being healthy unless it's good to eat too – hopefully this recipes will help with that.
Spicy chickpea and roasted beet salad with beet tops

Ingredients:
1 bunch beetroot, with leaves
olive oil
400g tin chickpeas, rinsed and drained
½ tsp ground cumin
½ tsp ground coriander
¼ tsp chilli powder
lemon juice
salt and pepper
Method:
Preheat oven to 200°C/Gas 6.
Cut the leaves from the beetroot. Trim, wash and peel. Cut the beetroot stems into short lengths and wash them and the leaves, then leave to drain.
Cut the beetroot into wedges and toss in just enough oil to coat. Season.
Pat the chickpeas dry with kitchen paper. Toss on another baking tray with just enough oil to coat.
Put the beetroot in the oven for about 30 minutes until tender. After the beetroot has been in the oven for 10 minutes, add the chickpeas.
Remove both from the oven and toss the chickpeas in the spices.
Heat a little oil in a large frying pan. Add the beetroot stems and fry for a minute or two. Add the leaves and stir to wilt.
Add a good squeeze of lemon, toss in the beetroot and chickpeas and stir. Check the seasoning before serving.
From: https://www.riverford.co.uk/recipes/spicy-chickpeas-with-roasted-beets