Welcome to Rob Liddle – the new addition to the weekly update, meaning we now have a recipe creator team!
Rob says: Next week's share contains beetroot and kohlrabi, so I've chosen the soup recipe below (I've been looking for something new for lunches for a while!). The recipe makes 4 servings but can be scaled to suit share sizes.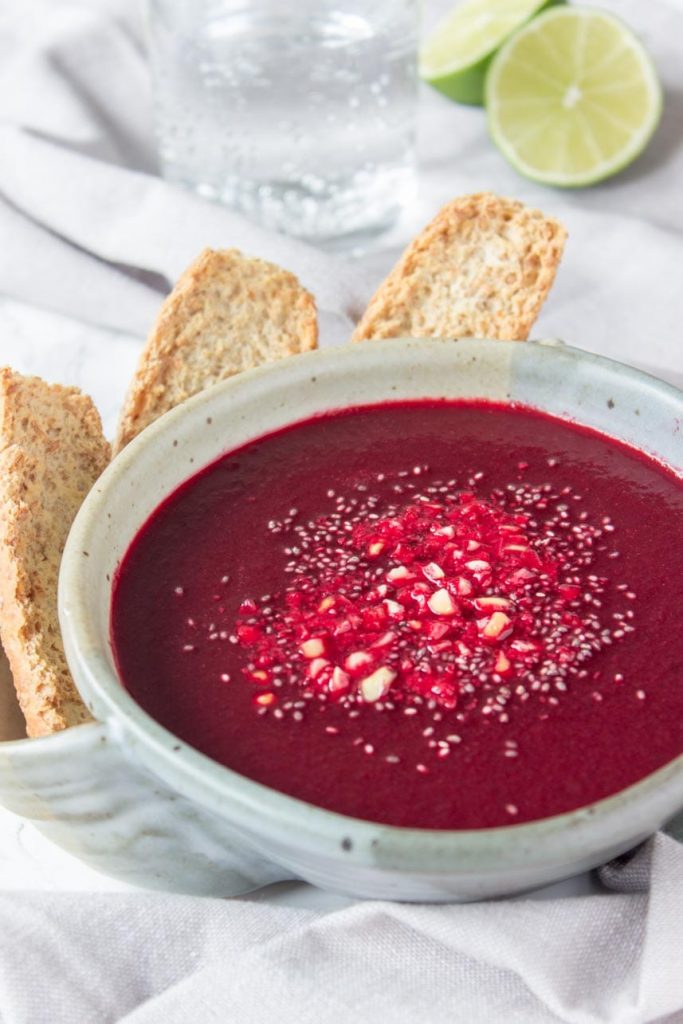 Ingredients
4 small-medium red beetroots diced (0.5cm pieces)
2 medium kohlrabi diced (0.5cm pieces)
1cm fresh ginger (peeled)
4 cups (~1L) water
1 teaspoon cinnamon powder
1 teaspoon turmeric powder
1/2 teaspoon ground cumin
1/4 teaspoon cayenne pepper
Pinch of ground cardamom
Salt to taste
Dash of lime juice to taste
2 tablespoons olive oil
Instructions
Put beetroot, kohlrabi, ginger, and water in a large pot. Bring to a boil over medium heat and then reduce heat to low. Cover and simmer for 25-30 minutes, until beets are fork tender.
Transfer soup to a blender. Add spices and lime juice. Purée on high until creamy and smooth. Return soup back to the pot. Add more water if soup is too thick.
Add olive oil and stir. Taste and adjust seasonings as needed, adding more salt to taste.
Serve hot or cold topped with some chia seeds, and chopped toasted peanuts.
Recipe and photo taken from: https://www.natalieshealth.com/beet-kohlrabi-soup/
Our resident Recipe Meister, Rebecca Earle, is having a break during July, and so newly joined member Pip Smith has stepped forward to tantalise our tastebuds in Rebecca's absence. Here's Pip's first recipe for us:
Beetroot, cabbage and spring onion in the veg share this week? It can only mean one thing…….slaw! I've been looking at lots of coleslaw recipes and it seems to me the general theme is either vinaigrette dressing or creamy mayonnaise/Dijon or horseradish. Pretty much anything can go into a slaw as long as there is a nice bite and balance of flavour in the main ingredients.
I've chosen a vinaigrette and will follow the rule of equal oil to vinegar. I've chosen not to massage the vinegar into the cabbage though this could be worth experimenting with to break down the fibres and change the texture.
Ingredients:
1 small cabbage
4 baby beets
2 – 4 spring onions
2 tablespoons extra virgin olive oil
2 tablespoons apple cider vinegar
Optional 1 teaspoon Dijon mustard
1/2 teaspoon salt
1/2 teaspoon black pepper
Method:
Cut the cabbage into quarters and remove core, then slice thinly.
Peel the beetroot then grate.
Trim and slice the spring onion
Put the oil, vinegar, mustard if using, salt and pepper into a lidded glass jar and shake.
Put the the slaw mix into a large bowl and toss with the vinaigrette.
For a tasty addition you could toast some seeds and sprinkle on top.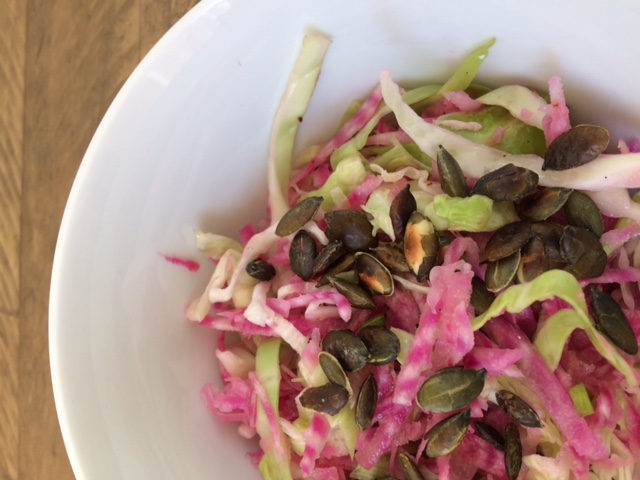 Warm herb-coated salmon in a winter salad of potatoes, beetroots and sharp greens, with hard-cooked eggs. The fish is cooked in a way that makes it extra-moist.
The recipe has a lot of separate steps but it's very easy and you can prepare almost everything in advance. The result is delicious and beautiful, so it's a fine choice if you're entertaining. The only thing you need to do after your guests arrive is put the fish in the oven 30 minutes before you'd like to eat.
Serve with lots of good bread and a bottle of white wine for a luxurious weekend lunch. When I made it last week we had poached pears for pudding, which rounded things off nicely.
Wild Salmon Salad with Beetroot, Potato, Egg and Mustard Vinaigrette
Serves 4.
A US cup measure is 8 fluid ounces.
Ingredients
For the Salad
500g beetroots, more or less
6 tablespoons olive oil
salt and pepper to taste
1 lemon, zest grated first
500g potatoes, more or less
1 teaspoon fresh thyme
3 extra-large eggs
½ cup shallots, minced
2 tablespoons dill, minced
1 tablespoon tarragon, minced
¼ cup parsley, minced
1kg salmon fillet in one piece. The recipe calls for wild salmon and if you can find that it is indeed tasty.
200g salad leaves, or more if you like a very leafy salad. Rocket and other sharp-tasting greens are best. In the summer you can use dandelion.
For the Dijon Vinaigrette
1 egg yolk
1 tablespoon Dijon mustard
1½ tablespoons red wine vinegar
1 tablespoon lemon juice
¾ cup olive oil
salt and pepper to taste
Preparation
Preheat the oven to 200C.
For the vinaigrette
Whisk the egg yolk in a small bowl with the mustard, vinegar and lemon juice. Slowly whisk in the olive oil. Season to taste. You might not use it all; the extra can be kept in the fridge for at least a week.
For the beetroot
Toss the beetroot with 2 tablespoons of oil and some salt and pepper. Place in a roasting tin with a splash of water, cover with foil, and roast until tender then poked with a fork. How long this takes will depend on the size of your beetroot. Small ones will cook in about 30 minutes; very large ones could take over an hour. When they're done, let them cool, and then peel them, and cut into bite-sized chunks. Season with 1 tablespoon of oil, a squeeze of lemon juice, and some salt and pepper.
For the potatoes
While the beets are roasting, prepare the potatoes: cut the potatoes into 3cm chunks (approximately), or leave whole if they are tiny. Toss in a roasting tin with one tablespoon oil, the thyme, and some more salt and pepper. Cover with foil and roast for about 30 minutes, or until tender. Leave to cool and then mix them with some salt and 2 tablespoons of the Dijon mustard vinaigrette.
For the eggs
Bring a small pan of water to the boil and carefully lower the eggs into it. Turn the heat to low and simmer for exactly 9 minutes. Remove the eggs and plunge them into cold water to prevent their cooking any further. When they are cool, cut them in half. Season them with a little salt and pepper.
For the salmon
Mix the lemon zest with the shallots, herbs and 2 tablespoons of oil in a small bowl.
Put the fish skin-side down on an oven-proof rack set over a baking tray or roasting tin. Pat a little of the herb mixture onto the non-skin side of the fish, turn over, and pat the remainder onto the skin side. Season with salt and pepper. You can now leave the fish in the fridge until you're ready to cook it. Just take it out an hour before you'd like to eat, so that it comes to room temperature.
When you are ready to cook the fish: Preheat the oven to 120C and boil a kettle of water. Pour the water into a shallow pan in the bottom of the oven, to create a humid environment in your oven. This will make the fish moist and custard-like. Put the fish, on its rack and tray, into the oven and bake for 20-30 minutes. It's done when it starts to separate into flakes. The centre should be slightly translucent. Try not to overcook it.
To assemble the salad
Scatter the salad leaves over a large serving platter and drizzle with ¼ cup of vinaigrette. Nestle the beetroot and potatoes amongst the greens. Arrange the eggs on top. You can do all this in advance, so that all remains to be done is add the warm salmon.
Once the salmon is cooked, use your hands to pull the warm salmon into chunks over the salad. Drizzle with another ¼ cup of vinaigrette, season with a squeeze of lemon juice, and serve. The additional vinaigrette can be served at the table in case anyone wants more.
Recipe adapted from Susanne Goin, Sunday Suppers at Luques: Seasonal Recipes from Market to Table (2005).
This week's recipe comes from share member, Judit Juhasz, with lovely warming spices as a delicious addition to a winter staple – ideal for anyone who has an abundance of winter roots! Thanks for sharing it Judit!
Roasted beetroot and apple in balsamic vinegar
This recipe is inspired by Jamie Oliver, but I've changed it around a bit to my liking. It is also very versatile because instead of apples you could use other root veg like celeriac or parsnips and carrots. You can also change the amount of the beetroot and apples if you want to make less or more.
Ingredients
400 g beetroot
400 g apples (on the sour side, it complements the sweetness of the beetroot)
1 tsp cinnamon
1 tsp ground ginger
1/2 tsp ground nutmeg
pinch of salt
25 g butter
300 ml balsamic vinegar
Preparation
Preheat the oven to 180ºC/gas 4. I make this in my cast iron pan as it makes it easier to transfer to the oven straight away, but you can sauté the veg in a pan and than transfer it into an oven dish to roast it in the oven.
Peel the beetroot and cut it into wedge sized chunks, roughly the same size as your apple wedges. I use the whole apple, as I like it rustic and the peel also protects it from the heat, but you can peel and core the apples if you'd like. Cut the apples into wedges.
Melt the butter in the pan and sauté the beetroot and the apples for 5 minutes. Add the spices and the salt, mixed it well and sauté for another 5 minutes until apples start to become soft.
Pour over the balsamic vinegar, toss the veg in it and transfer it to the oven or to an oven dish to roast. Roast it in the oven until the vinegar becomes a thick sauce, the apples are mushy and the beetroot is soft. You can test the beetroot with a fork or knife for softness.
It's a perfect side dish to accompany your roast next to some spuds and with the spices it is also quite Christmassy. Enjoy!
Roasted vegetables dotted with cheerful, green pesto. Delicious for a mid-week dinner. It's nice served with brown rice, or any other grain you might have lying about, but it's good on its own as well. I suspect it would be tasty tossed onto pasta.
Roasted Anything with Anything Pesto
Serves 2
Ingredients
Roast Vegetables
A mixture of root vegetables and/or pumpkin. For two people one of those little Canalside squashes, 2 medium potatoes, and 4 large carrots would be fine, for instance.
shell of a squeezed-out lemon, if you happen to keep such things around.
Olive oil to drizzle
Salt and pepper to taste
Any twigs of thyme or rosemary that you happen to have to hand
1 whole head of garlic, unpeeled
Anything Pesto
1 handful of packaged pumpkin or melon seeds, or pine nuts, or almonds, or a mixture. I think you could add sunflower seeds, as well.
1 bunch of any fresh herbs. A mixture is fine and the quantity isn't crucial. I used a blend of parsley and a little dill.
any feathery carrot tops
Olive oil
1 lemon
Salt and pepper to taste
Red pepper flakes, to taste (optional)
Optional Toppings
Capers
hard cheese, grated or chopped into little cubes
Home-made roasted squash seeds (see below)
Yoghurt
Preparation
For the Roast Vegetables
Preheat the oven to 220C.
Scrub the root vegetables and peel them if you prefer them unpeeled. Cut them into bite-sized pieces. Ditto the squash or pumpkin, if you are using it. After you cut it open remove the seeds and set them aside for use in the pesto.
Place all the vegetables in a roasting tin and toss them together with a little olive oil, salt and pepper. Slice the lemon shell into thin shreds and add this to the tray. Scatter any thyme or rosemary over the top. Place the unpeeled whole head of garlic in the tray as well.
Put the tray in the oven and roast for 30-45 minutes, until the vegetables are tender when you poke them with a fork. Toss them periodically so that they roast evenly.
For the Squash or Pumpkin Seed Garnish (if used)
Once you've put the vegetables in the oven you can prepare the fresh pumpkin seeds. Wash them carefully and pick out the seeds from the tangle of pumpkin fibres. Place the cleaned seeds on a baking tray and put them in the oven as well. Roast them for 10-15 minutes, tossing occasionally. They should begin to turn golden. At that point take the tray out of the oven and toss the seeds with a little more olive oil and salt. Put them back in the oven for another 3-5 minutes. They should now be crisp and toasted. Set them aside to cool. Nibble a few while you prepare the pesto.
For the Nuts or Seeds for the Pesto
Place the nuts or packaged seeds on a baking tray and put them in the oven to toast. Check them after about 3 minutes as pine nuts in particular burn easily. Once they start to turn golden remove them from the oven and set them aside to cool.
For the Anything Pesto
Blend the herbs and carrot tops (should you have any) in a hand-held blender, or, if you are feeling energetic, pound them a bit at a time in a mortar and pestle.
Add about the toasted nuts/seeds, and blend/pound some more to make a thick, herby paste.
Find the roasted head of garlic and squeeze out the now-tender garlic from each clove. Add this to the pesto and blend. Thin the pesto with olive oil until it reaches the consistency you like.
Grate in the zest of the lemon. Juice the lemon and add some juice to the pesto, along with some salt and pepper. Add a pinch of pepper flakes if you like.
Now taste it: does it need more lemon juice? More salt? More oil? Adjust the flavours and consistency until you are pleased with the result.
To Serve
Arrange the roasted vegetables on a platter. Dot or pour the pesto over the top and garnish as desired with capers, cheese, or your home-made roasted pumpkin seeds. Serve, if you like, with a bowl of salted yoghurt on the side.
You can serve this together with rice or another grain if you like. Perhaps you have some leftover rice in the freezer?
(Recipe adapted from Anna Jones, The Guardian.)
This week's recipe comes from share member Xandra, who made a big tray of beetroot halva for Saturday's social (along with 2 types of beetroot cake!).
Beetroot halva
Ingredients
1lb / 450g beetroot
1 ¼ pints / 700 ml milk
8 whole cardamom pods
5 tbsp vegetable oil or ghee
3 tbsp caster sugar
1-2 tbsp sultanas
1 tbsp shelled, unsalted pistachios, lightly crushed
Preparation
Peel the beets and grate them. Puncture the cardamom pods, then put the grated beetroot, milk and cardamom pods in a heavy bottomed pan and bring to the boil. Turn heat to medium and cook, stirring now and then, until there is no liquid left. Adjust the heat, if you need too. This boiling down of the milk with take at least half an hour (in this case 3 hours!) depending on the width of your pot.
Heat the oil in a non-stick frying pan over a medium-low flame. When hot, put in the beetroot mixture. Stir and fry until the beets no longer have a wet, milky look. This can take 10-15 minutes.
Add the sugar, sultanas and pistachios if using. Stir and fry for another 2 minutes.
This halva can be served warm or at room temperature. If you want, serve with clotted or double cream on the side (although it is already very rich indeed!).
Adapted from Carrot Halva in Madhur Jaffrey's 'Indian Cookery'
Did you make any of the roasted curry powder from the recipe on 28 July? Here's another opportunity to use it. Shreds of spiced beetroot mix with the flavours of curry leaf and coconut. Serve with rice and a peppery little relish for an uplifting dinner. If you have some of the curry powder to hand the whole thing comes together in well under half an hour. Making the curry powder will add about 15 minutes.
In case you didn't make any roasted curry powder I've repeated the recipe.
You can get curry leaves from the Oriental Store on the High Street, or at Sandhu's on Russell Terrace—just ask them and they'll fetch some from the back of the shop. They keep for a long time in the freezer.
Beetroot Curry with Roasted Curry Powder
Serves 2
Ingredients
For the Roasted Curry Powder
1 tablespoon basmati rice (brown or white)
3 tablespoons coriander seeds
2 tablespoons cumin seeds
1 tablespoon black peppercorns
1/2 tablespoon fenugreek seeds
1/2 teaspoon whole cloves
1/2 teaspoon ground cardamom
For the Beetroot
400g beetroot, peeled and cut into thick matchsticks
1 teaspoon fenugreek seeds
1/4 teaspoon turmeric powder
1/2 teaspoon chile powder
1 teaspoon salt
2 tablespoons oil
a spring of curry leaves
1 red onion, sliced
1 garlic clove, crushed
1/2 fresh green chilli
2 teaspoons roasted curry powder
1 tomato, sliced
150-200ml coconut milk
Preparation
For the Roasted Curry Powder: Heat a dry frying pan over medium heat. Add the rice and toast it for several minutes, until it starts to turn brown (or browner, if it's already brown). Add the other spices and toast for 3 to 5 minutes, until they start to darken but are not getting burnt. Turn the heat down if necessary and stir regularly.
Remove from the heat and let it cool. Once it's cool you need to grind the mix. You can either use a spice grinder, if you possess such a thing, or ask someone else to grind it for you in a mortar and pestle. The latter is hard work, which is why I'd recommend asking someone else to do it.
Put the ground spice mixture in a jar and label it so you don't forget what it is.
For the Beetroot: Put the beetroot in a bowl and toss them with the fenugreek, turmeric, chilli powder and salt. Set them aside.
Heat the oil in a frying pan over medium-high heat. When it's hot add the curry leaves and stir until they start to sizzle. Then add the onion, garlic and fresh chilli and fry for 5 minutes, until the onion is starting to brown.
Add the curry powder, stir, and cook for a few minutes, to allow the flavours to emerge with the heat.
Add the beetroot and fry for another 2-3 minutes. Mix in the tomato, and fry for another minute or so. Then add 150ml of coconut milk.
Turn the heat down a bit, and cook for about 10 minutes, until the beetroot is tender. If it looks a bit dry, you can add some more coconut milk. Check to see if it needs more salt, and serve, with rice and THIS refreshing relish:
Green Relish
Ingredients
1 cucumber, shredded on the coarse side of a grater
2 big handfuls of lettuce, OR fresh coriander, OR spinach OR anything else along these lines, shredded
3 spring onions OR half a red onion, thinly sliced
juice of 1 lime
salt, to taste
chilli flakes, to taste
Preparation
Put the shredded cucumber in a colander and set it to one side until you're ready to eat so that some of the cucumber's vast amount of moisture can drain away.
Mix the other ingredients in a bowl. When you're ready to eat mix the cucumber into the bowl, check for seasoning, and serve.
(Recipe adapted from Rosie Birkett, Guardian 22 July 2017.)
It's always useful to know how to make good salad dressings. Here is one from Alexandre Dumas, son of the Alexandre Dumas who wrote The Three Mustakeers. Our Alexandre Dumas, the autor of our salad dressing, also wrote La Dame aux Camélias, which provided the plot for Verdi's opera La Traviata. So there you have it!
Alexandre Dumas' Salad Dressing
Dumas recommended serving this on a potato salad (with beetroot, sliced celery and truffles). I think it's excellent on a simple green salad. It will also be good on a dish of lightly cooked French beans. You don't need to use all of the ingredients Dumas recommends—you can leave out the chervil, or the tuna, for instance—and it will still be tasty. You can toss it yourself. When he says 'the mustard of Maille' he is referring to a particular make of Dijon mustard which is, in fact, still available, but you can use any sort of French mustard that you have to hand. You'll see that he doesn't use measurements, aside from stipulating the number of hard-cooked eggs, which should make you feel bold and free to experiment.
'Into the my salad bowl I put one hard-cooked egg yolk for every two persons; six egg yolks for a dozen guests. These I mash with oil to form a paste, to which I add: chervil, [tinned] tuna, anchovies, the mustard of Maille, a large spoonful of soya sauce, chopped gherkins, and the chopped white of the eggs. I thin this mixture with the best vinegar I can procure. Finally I put the salad back in the bowl; I have my servant toss it. Over the tossed salad I sprinkle a pinch of paprika, that is, Hungarian red pepper.'
Recipe from Alexandre Dumas, Grand Dictionnaire de Cuisine (Paris, 1873).
Here are two very easy recipes for summer salads. The first one combines raw, shredded beetroot with a simple vinaigrette. For the second one the beetroot is cooked with allspice, before being combined with red onions and parsley. I love them both.
Shredded Beetroot Salad
Ingredients
beetroots
olive oil
sherry vinegar
salt and pepper
Preparation
Peel the raw beetroot and shred it. I use the fine blade on my ancient Moulinex but you can of course shred it using any device you favour.
Prepare a vinaigrette by combining two parts of olive oil to one part sherry vinegar (and salt and pepper to taste) in a small screw-capped jar. Shake vigorously. For 400g of beetroot I would use about 3 tablespoons of olive oil and 1.5 tablespoons sherry vinegar. Taste the dressing to see if you like it. If it's too sharp add a little more oil.
Combine the shredded beetroot with the vinaigrette. You can add some chopped parsley, or feta, or toasted walnuts, or all three, if you like. Serve.
Beetroot and Red Onion Salad
You'll notice this contains no oil at all.
Serves 4.
Ingredients
500g beetroot
3 whole cloves
3 whole allspice
1 bay leaf
1 large red onion, peeled, halved, and sliced thin.
2 tablespoons red wine vinegar
salt and pepper, to taste
½ teaspoon sugar
2 tablespoons parsley, chopped
Preparation
Place the beetroots, cloves, allspice and bay leaves in a pan and cover with water. Bring to a boil and then simmer until the beetroots are tender when you poke them with a fork. This might take from 25 to 45 minutes (or longer), depending on the size of the beetroots. Leave them to cool in the liquid.
Meanwhile combine the onion, vinegar, salt and pepper, and sugar in a bowl. Use your hands to scrunch up the onions a bit and leave them to marinate in the liquid. This will soften the raw onion a bit and make it less sharp.
When the beetroots are cool enough for you to handle remove them from the liquid and peel them. (Discard the liquid at this stage.) Slice them thick or thin, as you prefer. Combine them with the onion mixture and the parsley, toss well, taste to see if it needs more salt or pepper, and serve.
This week the recipe comes from Dom, head grower at Canalside:
We've reached that special time known amongst pro growers as the Beetroot Bonanza: the moment in late Spring when the new polytunnel beetroot crop is ready to pick whilst storage beetroot from the previous season is still clogging up the root store. In next week's share there will be freshly harvested Chioggia beets (that's right, the stripy one) but we will also be trying to shift the remaining blood-red Jannis beetroots from last year via the Extras table, so why not grab some while you still can to make this amazing novelty ketchup! (We also suspect that quite a few members may well have a backlog of shrivelly beetroots hiding away at the back of your veg cupboard…) It's great with potato wedges, chips or anything crispy. Many thanks to Kate at www.thevegspace.co.uk for the recipe.
Ingredients
1kg beetroot (about 12 medium-sized beetroot)
2 tbsp sunflower or rapeseed oil
1 red onion, peeled and finely chopped
1 carrot, peeled and finely chopped
1 stick celery, finely chopped
2 cloves garlic, peeled and finely chopped
1 tsp ground cumin
1 chilli, finely chopped
1 tsp salt
175ml red wine vinegar
70g soft brown sugar
Instructions
1. Preheat your oven to 200C/400F/Gas Mark 6. Place the beetroot (whole and un-peeled) in a large piece of foil, drizzle with a little oil, wrap up to enclose them and place on a baking tray in the oven for an hour. After the hour is up, test each one with a sharp knife – if it passes through easily, the beetroot is cooked so remove it. Return any which aren't cooked to the oven and keep testing every 10 minutes until they are all tender.
2. When they have cooled, peel the beetroots, trim the ends and chop into small-ish pieces.
3. In a large saucepan, heat the sunflower/rapeseed oil and add the onion, carrot, celery, garlic and cumin, and cook gently for 5 minutes until softened. Add the beetroot, chilli, salt and red wine vinegar, and simmer gently for 20 minutes.
4. Remove from the heat, and leave to cool for a few minutes. Spoon the beetroot mixture into a blender or food processor, and blitz on the highest possible speed for 2-3 minutes until completely smooth.
5. Return the ketchup to the pan, then add the sugar, bring to the boil, and lower to a very gentle heat. Cook until the ketchup has reached a good consistency – mine took about 5 minutes, but it depends on the water content of your beetroot (and how thick or pourable you prefer your ketchup!).
6. When it has cooled slightly, pour into warm, sterilised bottles or jars. The ketchup will keep, (ideally in a cool, dark place), for 3 months, and once opened, in the fridge for 2 weeks.
(Rebecca will be back as soon as she escapes from the beetroot store)